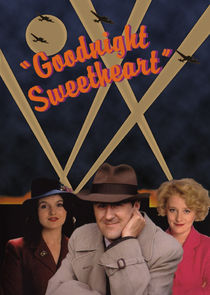 Gary Sparrow is an underachieving TV repairman, unhappily married to the loud and often mocking Yvonne Sparrow. However, Gary's life is changed forever upon discovering a time portal taking him back to a war-torn London, leading to an East End pub (the Royal Oak) and an attractive barmaid named Phoebe, who becomes his girlfriend. From then on, Gary leads a double life, going back and forth across time to please the two women in his life closest to his heart, but furthest apart.
Series Overview
Rating
imDb Rating: 7.5 (2,085 Votes)
Metascore: N/A
Plot
British sitcom in which an unhappily married man discovers he can time travel back to 1940s war-torn London where he masquerades as an MI5 agent and part-time songwriter whilst courting the local barmaid.
Details
Rated: Not Rated
Released: 18 Nov 1993
Runtime: 30 min
Genre: Comedy, Drama, Fantasy, History, Romance, Sci-Fi
Director: N/A
Writer: Maurice Gran, Laurence Marks
Actors: Nicholas Lyndhurst, Victor McGuire, Christopher Ettridge, Elizabeth Carling
Language: English
Country: UK
Awards: 2 wins.
Total Seasons: 7
Previous Episode
Accentuate the Positive
Episode 6x10; Jun 21, 1999
When Yvonne witnesses Gary go through the time portal, and then finds a picture of Gary and Phoebe from the 1940s, she's not satisfied with Gary's answer and demands the truth. In 1945, celebrations for VE Day are beginning and future Prime Minister, Clement Attlee, is in town to join the festivities. Unfortunately for Gary, things are about to change even more than he suspects.
Previous Episodes 6x10: Accentuate the Positive 6x9: Flash, Bang, Wallop 6x8: Something Fishie 6x7: How I Won the War 6x6: Just in Time 6x5: The 'ouses in Between 6x4: Grief Encounter 6x3: California Dreamin' 6x2: All About Yvonne

View All Episodes
Cast
Dervla Kirwan as Phoebe Bamford
Nicholas Lyndhurst as Gary Sparrow
Victor McGuire as Ron Wheatcroft
Elizabeth Carling as Phoebe Bamford
Emma Amos as Yvonne Sparrow
Michelle Holmes as Yvonne Sparrow
View Full Cast
Skip to:
Season 1
| Episode No. | No. Overall | Title | Airdate | Runtime | Summary |
| --- | --- | --- | --- | --- | --- |
| 1 | 1 | Rites of Passage | 1993-11-18 | 30 | After being called out on a television repair, Gary Sparrow stumbles down an alley way called Duckett's Passage and unknowingly finds himself in war-torn London. There he meets Police Constable Deadman, Royal Oak bar owner Eric, and Eric's young married daughter Phoebe. Gary thinks the Royal Oak is just a 1940s theme pub, however after an air raid Gary realises that he has actually travelled back in time. |
| 2 | 2 | Fools Rush In | 1993-11-25 | 30 | Ignoring Yvonne's advice, Gary goes for a promotion interview but does not wear a suit. His friend, Ron, hearing Gary's call to a radio phone-in program, is intrigued to know if he really did travel back in time. After another argument with Yvonne, Gary returns to Duckett's Passage to see if he can go back to 1940 again. |
| 3 | 3 | Is Your Journey Really Necessary? | 1993-12-02 | 30 | Gary is thrown into a panic after reading that Phoebe's East-End London neighbourhood got heavily bombed by the Germans exactly 53 years ago that day. After making excuses to Yvonne, Gary quickly darts back to the 1940's to warn Phoebe and the patrons of the Royal Oak. |
| 4 | 4 | The More I See You | 1993-12-09 | 30 | Yvonne becomes irritated with Gary and attends an Open University event in Huddersfield. Meanwhile, Gary persuades Ron to forge him the correct World War II identity papers, in exchange for a trip back to 1940. |
| 5 | 5 | I Get Along Without You Very Well | 1993-12-16 | 30 | Wanting to improve their marriage, Yvonne decides to share an interest with Gary. Meanwhile, Gary is distracted by an article in the paper concerning Phoebe Sparrow. Worrying that Phoebe will be waiting for him forever, he goes back to 1940 to end their relationship, telling Yvonne that he's going to a football match in Lithuania with Ron. |
| 6 | 6 | In the Mood | 1993-12-23 | 30 | Ron tries to convince Gary to deal in the1940 stock market, in order to make lots of money in 1993. PC Deadman brings news of the King's visit to East London. Gary takes Phoebe for a meal at the Savoy to say goodbye, and secretly books the Imperial Suite. |
Season 2
| Episode No. | No. Overall | Title | Airdate | Runtime | Summary |
| --- | --- | --- | --- | --- | --- |
| 1 | 7 | Don't Get Around Much Anymore | 1995-02-20 | 30 | After months avoiding going back in time, Gary returns to the 1940s to try another investment scheme using his knowledge of the future. Despite trying not to let Phoebe know he's there, he bumps into PC Deadman and discovers there have some big changes at the Royal Oak in his absence. |
| 2 | 8 | I Got It Bad and That Ain't Good | 1995-02-27 | 30 | In 1995, Yvonne is desperate to move house and start a family, and the pressure has started to affect Gary's "performance". In order to test his equipment, he goes back to 1941 to visit Phoebe, and finds she has a new admirer, a Czechoslovakian soldier named Ludo. |
| 3 | 9 | Just One More Chance | 1995-03-06 | 30 | In 1995, Gary's present-day marriage to Yvonne is under strain, and things only get worse when Gary is convicted of drink-driving, and loses his driving license and then his job. In 1941, Phoebe begins to warm to Gary again, and they begin to consider a possible future together. |
| 4 | 10 | Who's Taking You Home Tonight? | 1995-03-13 | 30 | Gary talks Ron into giving him a pretend job as a cover for his time travelling, but when Gary's constantly "working late", Ron starts to pay the price. Facing pivotal points in both his relationships, Gary agrees to have meals with both Yvonne and Phoebe at the same time... but 53 years apart! |
| 5 | 11 | Wish Me Luck... | 1995-03-20 | 30 | When Yvonne is offered a promotion at work, she wants them to move to Macclesfield in Chesire. Realising he can't continue his double life, Gary has to choose between Phoebe and Yvonne, and concocts of a risky scheme to get himself out of the situation. |
| 6 | 12 | ...As You Wave Me Goodbye | 1995-03-27 | 30 | Gary is disappointed to discover that 1941 is a great place to visit, but a terrible place to live. He's hungry, bored, and now that he lives in the East End, he's expected to enlist in fire-watching duty. Meanwhile, Phoebe is incensed to discover that her relationship with Gary is the subject of local gossip. Desperate to go back home, Gary tries to figure out how to un-kill himself in 1995. |
| 7 | 13 | Would You Like to Swing on a Star | 1995-04-03 | 30 | Gary's imaginary job working for Ron is starting to catch up with him, and he's struggling for money; until he hits upon the idea of taking pristine 1940s items to the 1995 and selling them as collectables. While in the 1940s Gary enters a talent contest to try to win a new radiogram for Phoebe. Meanwhile, Yvonne is heavily into her drama group and lands a lead role opposite a very good looking actor, much to Gary's chagrin. |
| 8 | 14 | Nice Work If You Can Get It | 1995-04-10 | 30 | Having made an impression with his performance in the 1940s talent show, Gary is signed up by Sidney Wix to perform around London. Gary's nerves aren't helped by the late night performances in rough areas, coupled with his promotion to lead actor in Yvonne's play. The pressure increases when Sidney Wix offers Gary a lucrative contract to sell "his" songs to recording artists, a deal Phoebe believes will provide them with a terrific future. |
| 9 | 15 | Let Yourself Go | 1995-04-24 | 30 | Yvonne thinks she may be pregnant, putting more strain on Gary's already frayed nerves. When Yvonne goes to her parents for the weekend, Gary joins Phoebe on a trip to the countryside to visit her young cousins, who have been evacuated. Spurned on by interest from an American man serving with the British, Gary takes his relationship with Phoebe to the next level. |
| 10 | 16 | Don't Fence Me In | 1995-05-01 | 30 | Phoebe receives an unexpected letter from the brewery saying they have another tenant for the Royal Oak and she has to leave. George Harrison, the brewery's sleazy representative says if she lets him stay in her spare room and provides "special favours", then he'll make sure she keeps her tenancy. In 1995, Gary campaigns to stop building in Duckett's Passage which could severely impact his ability to travel back to the 1940s. |
Season 3
| Episode No. | No. Overall | Title | Airdate | Runtime | Summary |
| --- | --- | --- | --- | --- | --- |
| 1 | 17 | It Ain't Necessarily So | 1996-01-01 | 30 | When Gary returns from his skiing holiday with Yvonne, he goes to see Phoebe, but makes an error in front of Mrs. Bloss. This creates problems for Phoebe, but Mrs. Bloss has her own secrets. Back in 1995, Stella arranges a New Year's Eve party but doesn't invite Ron. |
| 2 | 18 | One O'Clock Jump | 1996-01-08 | 30 | When his shop's success makes Yvonne depressed at her lack of employment prospects, Gary applies for a job on her behalf without telling her. After bumping into Reg's present-day doppelgänger yet again, he is surprised to find that Reg claims to have no children. |
| 3 | 19 | It's a Sin to Tell a Lie | 1996-01-15 | 30 | When counterfeit money is found in circulation around Royal Oak, Ron tells Gary that the Germans flooded England with forged notes, leading Gary, Reg, and Phoebe to attempt to catch a Nazi spy. Meanwhile, back in 1996, Ron and Stella's marriage problems are continuing to escalate. |
| 4 | 20 | Change Partners | 1996-01-22 | 30 | Gary is on top of the world, but pride comes before a fall, or in Gary's case, several falls. Meanwhile, after taking some seemingly sound advice from Gary, Ron's marriage hits an all-time low. |
| 5 | 21 | Goodnight Children Everywhere | 1996-01-29 | 30 | Much to Yvonne's dismay Ron unexpectedly turns up at the Sparrow household with suitcase in hand, Stella has thrown him out and he needs a place to stay. Meanwhile, back in 1942 Phoebe's orphaned niece and nephew Sally and Peter return from Buckinghamshire to move in with her at the Royal Oak. |
| 6 | 22 | Turned Out Nice Again | 1996-02-05 | 30 | Mr. Wix puts in an appearance at the Royal Oak and tries to convince Gary to sell a Beatles song which Gary claims to have written to his newest client, George Formby. Knowing he can't let that happen, Gary must find a way to protect history without upsetting Phoebe. |
| 7 | 23 | There's Something About a Soldier | 1996-02-12 | 30 | Phoebe's husband Donald, who has escaped from a prisoner of war camp in Italy, returns home to a hero's welcome, forcing Gary and Phoebe to re-evaluate their relationship. In 1996, Yvonne wants Gary to get a sensible job and arranges an interview for him with her company. |
| 8 | 24 | Someone to Watch Over Me | 1996-02-19 | 30 | After faking the flu to Yvonne to explain why he didn't turn for his job interview, Gary returns to 1942 to discover that Phoebe is seriously ill with pneumonia. Unwilling to gamble with Phoebe's health, Gary does the only thing he can and brings her some penicillin from 1996. |
| 9 | 25 | The Yanks Are Coming | 1996-02-26 | 30 | With America now in the war, her soldiers are in London and visiting the Royal Oak. Despite risking discovery of his imaginary life, when a racist American corporal tries to ban the black soldiers from the pub, Gary takes drastic action. Meanwhile, in 1996 Ron badgers Gary to get the parts he needs to build his own jeep, and Yvonne starts to see potential in Gary's memorabilia shop. |
| 10 | 26 | Let's Get Away from It All | 1996-03-04 | 30 | Gary's double lives start to run parallel as both Yvonne and Phoebe want to move home, but moving is the least of Gary's worries when both women have bigger news to tell him. |
Season 4
| Episode No. | No. Overall | Title | Airdate | Runtime | Summary |
| --- | --- | --- | --- | --- | --- |
| 1 | 27 | You're Driving Me Crazy | 1997-03-03 | 30 | About to be a father in two different eras, Gary is feeling under pressure and starts smoking 1940s cigarettes in Yvonne's presence. Meanwhile, in 1942 Gary is accused of being a fence after her places an advert in the Times saying he would like to buy Swiss watches. |
| 2 | 28 | In the Mood | 1997-03-10 | 30 | Yvonne and Gary agree to babysit their nephew, Arthur, who goes missing during his visit and is suspected of having time travelled to 1942. Meanwhile, both Yvonne and Phoebe are struggling with pregnancy related sickness, and Gary struggles to find his place in either era. |
| 3 | 29 | Out of Town | 1997-03-17 | 30 | Whilst Yvonne is in Korea on business, Gary and Ron concoct an elaborate scheme so that Gary can spend the week on holiday with Phoebe in 1942. When Gary's father unexpectedly turns up, Gary discovers his father has been keeping his own time travelling secret. |
| 4 | 30 | And Mother Came Too | 1997-03-24 | 30 | After a fight with Stella's new boyfriend, Ron finds himself in trouble with the law. Meanwhile, in 1942, Phoebe receives a telegram about Donald that impacts the future of Gary and Phoebe's relationship. |
| 5 | 31 | The Leaving of Liverpool | 1997-04-08 | 30 | Gary and Phoebe take a trip to Liverpool to visit Phoebe's gran, while there he meets Ron's grandfather, who was famous for saving a child from a burning building. However, when the apparent "hero" is arrested, Gary returns to a shockingly different 1997. |
| 6 | 32 | How Long Has This Been Going On? | 1997-04-15 | 30 | In 1942 Gary argues with Phoebe over where to send their unborn child to school, and Margie, the mother of Reg's son Frankie, turns up at the Royal Oak having left her abusive husband. Back in 1997, Yvonne experiences a complication with her pregnancy. |
| 7 | 33 | Easy Living | 1997-04-22 | 30 | While coming to terms with her miscarriage, Yvonne quits her job and becomes interested in alternate health therapies. Yvonne's constant presence at home makes it difficult for Gary to meet expectations in 1942, where Phoebe is starting to get frustrated at doing all the wedding planning on her own. |
| 8 | 34 | Come Fly with Me | 1997-04-29 | 30 | It's the eve of Gary and Phoebe wedding, and Gary is scheduled to attend two stag nights; one hosted by Ron in his new bachelor pad in 1997, another by visiting Canadian pilots at the Royal Oak in 1942, and Gary's night of heavy drinking in two centuries has predictably disastrous consequences. |
| 9 | 35 | Heartaches | 1997-05-06 | 30 | When Gary oversleeps in 1997, he misses his wedding to Phoebe in 1942. Meanwhile, Yvonne is upset that Gary's forgotten their anniversary, but all he can think about is how to make it up to Phoebe so that their wedding can still go ahead. |
| 10 | 36 | Careless Talk... | 1997-05-13 | 30 | Ron's marriage to Stella is over, and he isn't having any luck with the opposite sex. Meanwhile, he refuses to print any more white fivers for Gary to use in 1942, unless Gary sets him up with Yvonne's attractive friend Kate, who really isn't interested. |
| 11 | 37 | The Bells Are Ringing | 1997-05-20 | 30 | Against Gary's advice, Yvonne invests all of their money in her new health food venture with a suspicious new partner. Meanwhile, in 1942, Phoebe goes into labour with Gary's baby and things don't go quite the way they'd planned. |
Season 5
| Episode No. | No. Overall | Title | Airdate | Runtime | Summary |
| --- | --- | --- | --- | --- | --- |
| 1 | 38 | A Room with a View | 1998-02-23 | 30 | When Phoebe asks Gary to take Michael out for a nighttime stroll so she can get some rest, father and son are nearly killed by a bomb on Whitechapel Road. Thrown through the time portal by the blast, Gary is shocked to discover Michael has also arrived in 1998. Back in 1944, Phoebe is frantic with worry and resolves to move their family to a safer neighbourhood in the West End. |
| 2 | 39 | London Pride | 1998-03-02 | 30 | Gary is moving up the social ladder in both eras, though not particularly smoothly. In 1998, Yvonne has been invited to the Woman of the Year bash at 10 Downing Street but Gary is refused entry when nobody believes he's really her husband. In 1944, Phoebe experiences the sharp end of rejection when the local West End butcher refuses to serve her, as he deems her below the standards of his regular customers. |
| 3 | 40 | When Two Worlds Collide | 1998-03-09 | 30 | When an unexploded bomb detonates at the entrance to Duckett's Passage, the time portal between the 1940s and the 1990s is damaged and Phoebe unknowingly follows Gary through to 1998. Meanwhile, Reg receives a blow to the head that vastly increases his intelligence, and Gary enlists Ron to look after Phoebe in 1998 and keep her away from Yvonne. |
| 4 | 41 | Mairzy Doats | 1998-03-16 | 30 | With the time portal still haywire, Ron finally makes it back to the 1940s, where he inevitably makes Gary's life even more difficult. In 1998, Yvonne starts doing consultancy work for Chelsea FC, and much to Gary's delight, acquires some VIP match tickets. |
| 5 | 42 | Pennies from Heaven | 1998-03-23 | 30 | Gary desperately needs more wartime five pound notes, but Mrs. Flanagan, Ron's new boss at the printing works, won't let the staff do private work. Desperately short of cash, Gary tries to use his knowledge of the future to bet on certainties at the 1940s race track with an illegal bookmaker. Meanwhile, in 1998, Ron is arrested for counterfeiting white fivers. |
| 6 | 43 | We Don't Want to Lose You... | 1998-03-30 | 30 | In the present day, Yvonne's career is going soaring high, and so is she, to multiple locations across the world every week. Meanwhile, while out for dinner with Phoebe in 1944, Gary' discovers his assumed identity as a secret agent has drawn the attention of MI5. In an effort to keep himself from a short meeting with a firing squad, Gary agrees to go on a secret mission to the Isle of Wight. |
| 7 | 44 | ...But We Think You Have to Go | 1998-04-06 | 30 | It doesn't take long fro Gary to realise that MI5 have tricked him, he's not on the Isle of Wight, he's stuck behind enemy lines in France. As the severity of the situation dawns on him, the Gestapo rapidly begin to close in, and Gary's survival is entirely reliant on the loyalty of a French double-agent named Celeste. In 1998, Ron is recruited by Yvonne to escort a a statuesque fashion model to the launch of a new Nature Boy product, but things don't quite go to plan. |
| 8 | 45 | Have You Ever Seen a Dream Walking | 1998-04-13 | 30 | After his unexpected trip to France in 1944, Gary's double life starts to take its toll, and he begins experiencing extremely realistic, highly disturbing dreams. To ease his sleep, Ron slips Gary a sleeping pill, but this results in a nightmare in which Yvonne and Phoebe have found out about each other. |
| 9 | 46 | Love the One You're With | 1998-04-20 | 30 | As Gary gets Ron settled into the West End flat in 1998, he encounters the porter who tells him that in 1944 the owner of his flat was killed horribly in a road accident. Discovering Reg is still alive in the 1990s, Gary visits him to try and get more information. Meanwhile, Phoebe is struggling to balance taking care of Michael while running the Royal Oak, and Yvonne is celebrating the successful launch of her autobiography. |
| 10 | 47 | My Heart Belongs to Daddy | 1998-04-27 | 30 | Michael Sparrow, now an adult who has spent time in prison and lives in a bedsit, arrives in Gary's shop to sell some of his mum's old things. Disturbed by his son's state, Gary returns to 1944 determined to do better by his son and turns to Noël Coward to help change Michael's fate. |
Season 6
| Episode No. | No. Overall | Title | Airdate | Runtime | Summary |
| --- | --- | --- | --- | --- | --- |
| 1 | 48 | Mine's a Double | 1999-04-11 | 30 | When Gary is struck by lightning as he passes through the time portal in 1945, two clones of him suddenly appear - a selflessly good Gary and a pathologically evil Gary. The suave evil duplicate begins causing a stir in both of Gary's lives, yet while Yvonne and Ron prefer Gary's evil alter ego, Phoebe is alienated by his aloof behaviour. |
| 2 | 49 | All About Yvonne | 1999-04-18 | 30 | In 1999, a depressed Gary moves in with Ron after Yvonne kicks him out of their penthouse flat. Ron, who has problems of his own, has lied to his new girlfriend and claimed that he's incredibly rich. Things aren't going much better in 1945 either, Phoebe has become convinced that Gary is having an affair with another woman after he accidentally calls her Yvonne. |
| 3 | 50 | California Dreamin' | 1999-04-25 | 30 | Both of Gary's wives have their hearts set on starting new lives in California, but Gary knows he can't live that far from the time portal and must find a way to dissuade Phoebe and Yvonne from such drastic life changes. Meanwhile, in 1945, Reg is forced into retirement from the police force and is extremely disheartened when nobody turns up for his leaving party. |
| 4 | 51 | Grief Encounter | 1999-05-02 | 30 | In 1945, Phoebe and Gary are offered parts in Noël Coward's new film, Brief Encounter. However, worried that he might be recognised in the 1990s, he immediately backs out, which greatly angers Phoebe. Meanwhile, in 1999, Yvonne's shady business partner has done a deal behind her back and is attempting a hostile takeover of Nature Boy. |
| 5 | 52 | The 'ouses in Between | 1999-05-16 | 30 | When Gary travels the wrong way from the 1940s he finds himself in Victorian London, where Jack the Ripper is on the loose, and discovers the prolific murderer has been using the backyard of his shop to hide from the police. |
| 6 | 53 | Just in Time | 1999-05-23 | 30 | When a workman named Sparks appears in Gary's shop, he announces that he's there to check on a problem with the time portal that could result it its permanent closure. Forced to finally make a choice between his two lives, Gary decides his his priorities lie in 1945 with Phoebe and his son. He leaves the shop to Ron, who promptly sells the entire stock on credit to a teenager from the future. |
| 7 | 54 | How I Won the War | 1999-05-30 | 30 | In 1945, Gary and Phoebe join a concert party in Belgium to entertain the troops, but a sudden a sudden advance by the Germans leaves them stranded behind the lines. Meanwhile, in 1999, Gary thinks Yvonne might be having an affair and recruits Ron to spy on her while he's away. |
| 8 | 55 | Something Fishie | 1999-06-06 | 30 | In 1999 Ron has been dumped by his girlfriend Flic and has become extremely depressed, but Gary is distracted by the bulling tactics of a protection racket in 1945 and his attempts to get them arrested. Meanwhile, Yvonne is preparing to accept her peerage, but on the night she is due to unveil her statue at the Millennium Dome, she receives a rude surprise. |
| 9 | 56 | Flash, Bang, Wallop | 1999-06-13 | 30 | Yvonne is reading a biography of Noël Coward and when Gary realises it contains a picture of him in the 1940s, he must take drastic action to ensure his time travelling isn't exposed in the 1990s. Meanwhile, Ron accidentally books a singles holiday with amorous old ladies, and a recently discovered Noël Coward play, Gary & Phoebe, catches Yvonne's eye. |
| 10 | 57 | Accentuate the Positive | 1999-06-21 | 30 | When Yvonne witnesses Gary go through the time portal, and then finds a picture of Gary and Phoebe from the 1940s, she's not satisfied with Gary's answer and demands the truth. In 1945, celebrations for VE Day are beginning and future Prime Minister, Clement Attlee, is in town to join the festivities. Unfortunately for Gary, things are about to change even more than he suspects. |
Season 7
| Episode No. | No. Overall | Title | Airdate | Runtime | Summary |
| --- | --- | --- | --- | --- | --- |
Series Cast
| | | | |
| --- | --- | --- | --- |
| | Dervla Kirwan | as Phoebe Bamford | |
| | Nicholas Lyndhurst | as Gary Sparrow | |
| | Victor McGuire | as Ron Wheatcroft | |
| | Elizabeth Carling | as Phoebe Bamford | |
| | Emma Amos | as Yvonne Sparrow | |
| | Michelle Holmes | as Yvonne Sparrow | |
| | Christopher Ettridge | as Reginald "Reg" Deadman | |
| | David Ryall | as Eric Elward | |
Series Crew
| | Position | Name |
| --- | --- | --- |
| | Executive Producer | Jon Rolph |
| | Creator | Maurice Gran |
| | Producer | Humphrey Barclay |
| | Creator | Laurence Marks |
Related News
TVMaze