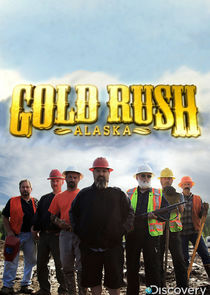 Gold Rush follows six men who, in the face of an economic meltdown, risk everything - their families, their dignity, and in some cases, their lives - to strike it rich mining for gold in the wilds of Alaska. Inspired by his father Jack, Todd Hoffman of Sandy, Oregon, leads a group of greenhorn miners to forge a new frontier and save their families from dire straits. While leasing a gold claim in Alaska, Todd and his company of newbies face the grandeur of Alaska as well as its hardships, including an impending winter that will halt operations and the opportunity to strike gold. In an effort to keep the operation running, the team takes fate into their own hands with a make or break venture that will change their lives forever.
Series Overview
Rating
imDb Rating: 7.3 (3,845 Votes)
Metascore: N/A
Plot
A reality TV show that follows crews mining the gold placer deposits of the Yukon Territory.
Details
Rated: TV-14
Released: 03 Dec 2010
Runtime: 45 min
Genre: Reality-TV
Director: N/A
Writer: N/A
Actors: Paul Christie, Parker Schnabel, Todd Hoffman, Chris Doumitt
Language: English
Country: USA
Awards: 4 wins & 1 nomination.
Total Seasons: 10
Next Episode
Monster Red Lives
Episode 10x6; Nov 15, 2019
Previous Episode
We're Gonna Need a Bigger Bucket
Episode 10x5; Nov 08, 2019
Parker throws down a huge engineering challenge to his team. Rick decides to make a major upgrade to his operation. Mike and Monica team-up to open more ground.
Episodes 10x7: Motherlode Mountain 10x6: Monster Red Lives 10x5: We're Gonna Need a Bigger Bucket 10x4: Leave No Gold Behind 10x3: The Nugget Hunter 10x2: A New Rush Begins 10x1: Crisis in the Klondike 9x21: Fire and Ice 9x20: Brace for Impact

View All Episodes
Skip to:
Season 1
| Episode No. | No. Overall | Title | Airdate | Runtime | Summary |
| --- | --- | --- | --- | --- | --- |
| 1 | 1 | No Guts No Glory | 2010-12-03 | 60 | When the going gets tough, the tough seek new frontiers. Six recession-hit patriots from Oregon become greenhorn old miners and head north to Alaska to dig for gold and save themselves from financial ruin. |
| 2 | 2 | Gold, Guns, and Bears | 2010-12-10 | 60 | The greenhorn miners are at risk when a mechanical accident threatens to close mining season. |
| 3 | 3 | Running Dirt | 2010-12-17 | 60 | The crew races to set up the mining plant and start running dirt. When the families arrive from Oregon and question the lack of gold and the men's only mechanic becomes dangerously ill, the tension builds so high Dorsey and Todd come to blows. |
| 4 | 4 | The Ultimate Price | 2011-01-07 | 60 | The team attempts to finally run dirt through the wash plant. But a visit from the Department of Fish and Game reveals a violation, jeopardizing their vital water supply to the mine. Then disaster strikes asTodd's daughter fights for her life. |
| 5 | 5 | The Pain Barrier | 2011-01-14 | 60 | The miners continue to run dirt but an equipment malfunction brings the operation to a halt. Meanwhile, James Harness collapses and Jimmy Dorsey drives a wedge between himself and the crew when he takes on an extra job to earn cash. |
| 6 | 6 | Gold Fever | 2011-01-21 | 60 | After 80 days, the miners are behind schedule and out of money. They need to find $10,000 worth of gold within two days or the families will be sent home. Meanwhile, after Dorsey struggles with the wave table, tensions flare and fists fly. |
| 7 | 7 | Going for Broke | 2011-01-28 | 60 | With winter weather closing in, a gold recovery expert comes to help the rookies. Todd discovers a major design flaw in the equipment and is forced to make huge modifications. With the credit cards maxed out, he is forced to take desperate measures. |
| 8 | 8 | Bad Blood | 2011-02-04 | 60 | After a hundred days in Porcupine Creek, the miners have dug themselves into a deep financial hole. The claim's owner wants to be paid and brings in a veteran outsider to turn the operation around, leading to high tension around the claim. |
| 9 | 9 | Bedrock or Bust | 2011-02-11 | 60 | Desperate to get to bedrock and large quantities of gold, Todd and Jack throw caution to the wind and dig deeper than ever before. With the brutal Alaskan winter threatening, they battle floods, cave-ins and equipment breakdowns. |
| 10 | 10 | Never Say Die | 2011-02-18 | 60 | With the arctic winter looming, the crew races against the clock. Rain and thawing snow flood the mine and Jack puts his life on the line as the glory hole caves in around the massive 100,000 pound excavator. |
| 11 | 11 | Full Disclosure | 2011-02-25 | 60 | The Hoffman crew spent five months and over quarter of a million dollars in a desperate attempt to find gold in Alaska. This special episode reveals what went wrong and how the guys plan to hit the mother lode next season. |
Season 2
| Episode No. | No. Overall | Title | Airdate | Runtime | Summary |
| --- | --- | --- | --- | --- | --- |
| 1 | 12 | Twist of Fate | 2011-10-28 | 60 | The crew finds gold at the Porcupine Creek claim, and "Dakota Fred" returns with a bombshell to drop on the Hoffmans. |
| 2 | 13 | Virgin Ground | 2011-11-04 | 60 | The crew seeks a new claim in the Klondike to salvage the mining season; Parker Schnabel takes control of the Big Nugget Mine. |
| 3 | 14 | Family Feud | 2011-11-11 | 60 | Todd and Jack clash over how to set up their new claim; Dakota Fred finds gold at Porcupine Creek; Parker hits pay dirt at Big Nugget. |
| 4 | 15 | Slippery Slope | 2011-11-18 | 60 | The crew confronts permafrost; Dakota Fred pushes his son too far; Parker suffers a setback in the form of a breakdown. |
| 5 | 16 | Drill or Die | 2011-11-25 | 60 | A crew revolt prompts Todd to dig test holes on the claim; Dakota Fred abandons mining after floods destroy his home. |
| 6 | 17 | Lovestruck | 2011-12-02 | 60 | Parker bulldozes a road up the side of a mountain; Dakota Fred returns to the Porcupine Creek claim; the Hoffmans find gold but a mechanic's new love may impact the operation. |
| 7 | 18 | Gold at Last | 2011-12-09 | 60 | The Hoffmans must tear out and rebuild the wash plant after realizing they could be losing thousands of dollars of gold; Parker becomes a lumberjack at the Smith Creek site. |
| 8 | 19 | On the Gold | 2011-12-16 | 60 | A wash plant shutdown sets Parker off; the Hoffman crew members have their first clean-out of the season. |
| 9 | 20 | Dead in the Water | 2012-01-06 | 60 | Jack Hoffman's excavator gets stranded and requires emergency surgery. Also, the crew fine-tunes its wash plant, which doubles their efficiency at finding gold. |
| 10 | 21 | Twenty-Four Seven | 2012-01-13 | 60 | The Hoffman Crew run night and day to get to the gold, while a federal mining inspector visits both Fred and Parker. He finds safety violations and both operations face closure. |
| 11 | 22 | Rock Bottom | 2012-01-20 | 60 | The Hoffmans are held up by their broken excavator, Parker Schnabel totals his season's hold and hands the mine back to his grandpa, and the Dakota boys work to re-open their mine. |
| 12 | 23 | Bedrock Gold | 2012-01-27 | 60 | A crew member quits; Dakota Fred's derocker is damaged by a massive rock; Parker ponders his future. |
| 13 | 24 | Man Down | 2012-02-03 | 60 | John Schnabel suffers a heart attack; the Hoffmans find a game-changing gold nugget; Dakota Fred achieves something Jack Hoffman couldn't do at Porcupine Creek. |
| 14 | 25 | In the Black | 2012-02-10 | 60 | Fred's excavator gets stuck; John Schnabel makes a comeback at the Big Nugget Mine; the Hoffman crew works through the night in a bid to break even. |
| 15 | 26 | Frozen Out | 2012-02-17 | 60 | Frozen dirt and frozen pipes hamper progress for the Hoffman crew; a damaged wash plant impacts operations for the Dakota boys; Parker makes a final effort at Smith Creek Hill. |
| 16 | 27 | Judgment Day | 2012-02-24 | 60 | The Big Nugget mine faces closure unless Parker hits a pay streak; Todd decides to run the dozer on solid ice, with disastrous results; Dakota Fred thinks he found Jack Hoffman's glory hole. |
Season 3
| Episode No. | No. Overall | Title | Airdate | Runtime | Summary |
| --- | --- | --- | --- | --- | --- |
| 1 | 28 | Million Dollar Season | 2012-10-26 | 60 | Todd makes two claims and Parker hires a new crew in the Season 3 opener. |
| 2 | 29 | The Wrong Claim | 2012-11-02 | 60 | Dave realizes that he is unable to mine his new claim in the Season 3 premiere. Meanwhile, floods threaten the Hurts. |
| 3 | 30 | Secret Weapons | 2012-11-09 | 60 | Todd helps Dave's crew get back to work; the Dakota boys hire new miners. |
| 4 | 31 | Battle of the Bridge | 2012-11-16 | 60 | Todd receives a surprise visit from an investor; a broken-down bulldozer causes problems for Turin's team. |
| 5 | 32 | The Ultimatum | 2012-11-23 | 60 | Todd is pressured by his main investor; Parker's crew is tasked with replacing a bridge. |
| 6 | 33 | Game Changer | 2012-11-30 | 60 | Parker sets a hefty goal; Dave's mine faces a potential shutdown. |
| 7 | 34 | Road to Gold | 2012-12-07 | 60 | Todd and his crew test a new piece of equipment; Parker uses dynamite to remove a boulder. |
| 8 | 35 | Up Smith Creek | 2012-12-14 | 60 | Todd faces closure; Parker receives bad news from his grandfather. |
| 9 | 36 | Leprechaun Gold | 2013-01-04 | 60 | Indian River faces a shutdown; Todd is forced to rebuild a piece of equipment. |
| 10 | 37 | Dozer Wars | 2013-01-11 | 60 | Todd and Dave argue over a bulldozer; Parker's crew threaten to rebel. |
| 11 | 38 | Pink Slip | 2013-01-18 | 60 | Parker hits bedrock at Emerson Trench; Todd shuts down the Quartz Creek operation; and Dave has a mishap with a bulldozer. |
| 12 | 39 | The Merger | 2013-01-25 | 60 | Parker explores an abandoned mine; Todd's and Dave's crews join forces. |
| 13 | 40 | The Night Shift | 2013-02-01 | 60 | Tensions mount between the day shift and night shift as Todd pushes his men harder than ever. Parker battles his ancient washplant and the treacherous road from Discovery Claim while Dustin risks it all diving for hidden gold in the frozen glory hole water. |
| 14 | 41 | Bedrock Blowout | 2013-02-08 | 60 | Fred and Dustin fight to save a broken-down excavator; a dangerous mine road claims a victim. |
| 15 | 42 | Redemption Road | 2013-02-15 | 60 | Todd concocts a risky plan; Fred sustains an injury. |
| 16 | 43 | The Motherlode | 2013-02-22 | 60 | The Hoffmans attempt to thaw frozen dirt; Parker probes the last section of the Big Nugget mine. |
Season 4
| Episode No. | No. Overall | Title | Airdate | Runtime | Summary |
| --- | --- | --- | --- | --- | --- |
| 1 | 44 | Queen of Diamonds | 2013-10-25 | 60 | Parker receives bad news in the Season 4 premiere. Meanwhile, the Dakota boys search for a safe route over thin ice. |
| 2 | 45 | Learning Curve | 2013-11-01 | 60 | Parker hits pay dirt; Todd discovers his claim has been mined out. |
| 3 | 46 | In Too Deep | 2013-11-08 | 60 | A crew member enrages Parker; the Hoffmans transport vital mining equipment to their claim. |
| 4 | 47 | Road from Hell | 2013-11-15 | 60 | The Dakota Boys strike gold; Parker has success at Little Blue. |
| 5 | 48 | Garnets or Gold | 2013-11-22 | 60 | Parker loses gold, prompting him to rebuild his wash plant. |
| 6 | 49 | Mutiny | 2013-11-29 | 60 | Todd returns to Guyana expecting good news; Parker faces a mutiny. |
| 7 | 50 | Paid in Full | 2013-12-06 | 60 | Todd makes a surprising discovery; Parker tries to avoid having his dozer repossessed. |
| 8 | 51 | Jungle Boogie | 2013-12-13 | 60 | Dustin gets stranded in Alaska during an electrical storm; Todd tries his hand at diamond mining. |
| 9 | 52 | Hope Creek | 2014-01-03 | 60 | Dave butts heads with Todd over their mining plan; Parker gets a second chance. |
| 10 | 53 | Blowout | 2014-01-10 | 60 | Dave is forced to dive deep into the pit when a tropical storm floods the Hoffman's operation. |
| 11 | 54 | Death of a Dream | 2014-01-17 | 60 | Parker hires a former Hoffman crew member; Todd becomes desperate. |
| 12 | 55 | The Resurrection | 2014-01-20 | 60 | Todd faces eviction; Parker modifies his plant; and Dustin gets mining equipment to Cahoon Creek. |
| 13 | 56 | Fantasy Land | 2014-01-24 | 60 | Todd's mining plan is changed by his claim owner; Parker receives a radical suggestion. |
| 14 | 57 | Medevac | 2014-01-31 | 60 | Todd is forced to arrange an emergency airlift for one of his men; Parker infuriates Tony. |
| 15 | 58 | Man on Wire | 2014-02-14 | 60 | Jack puts Dave in a jam; Parker's operation is disrupted; and Dustin makes a dangerous move. |
| 16 | 59 | Day of Reckoning | 2014-02-21 | 60 | Dustin returns from the mountains; Todd's claim owner arrives unannounced; and Parker tries out a new piece of equipment. |
| 17 | 60 | Go Big or Go Home | 2014-02-28 | 60 | Parker eyes a big payday. |
| 18 | 61 | Grandpa's Last Wish | 2014-03-07 | 60 | Parker and Payson join forces in their return to Big Nugget. |
| 19 | 62 | Unearthed | 2014-03-14 | 60 | This no-holds-barred show reveals how Fred coped with a dying wife, why a fateful choice cost Todd a huge amount of gold and how he coped with a murder in the jungle. A look forward reveals where the miners will be next season and who will return. |
Season 5
| Episode No. | No. Overall | Title | Airdate | Runtime | Summary |
| --- | --- | --- | --- | --- | --- |
| 1 | 63 | New Blood | 2014-10-17 | 60 | Parker sets a lofty goal. |
| 2 | 64 | From the Ashes | 2014-10-24 | 60 | Todd gets his washplant stuck in a river; Parker is forced to mine a swamp. |
| 3 | 65 | Golden Boy | 2014-10-31 | 60 | Parker fights with his crew; Todd, Jack and Thurber tackle their first clean up. |
| 4 | 66 | Viking Ship | 2014-11-07 | 60 | Todd is forced to sell his gold to get the mining equipment he needs. |
| 5 | 67 | Hard Bargain | 2014-11-14 | 60 | Parker and Rick butt heads; Dave forms a new agreement with the Hoffman crew. |
| 6 | 68 | Cursed Cut | 2014-11-21 | 60 | Dave and Todd clash over how to mine frozen ground; Tony's daughter gets stuck in a bad situation. |
| 7 | 69 | Goldzilla | 2014-11-28 | 60 | Parker buys new equipment; Todd needs to make a down payment on a big purchase. |
| 8 | 70 | Gold Blooded | 2014-12-05 | 60 | Parker sets his sights high; the Hoffman crew are stunned by the death of an old friend. |
| 9 | 71 | Colossal Clean Up | 2014-12-12 | 60 | Parker has a big day. |
| 10 | 72 | Parker's Accident | 2015-01-02 | 60 | Parker gets into a car accident. |
| 11 | 73 | Ship of Fools | 2015-01-09 | 60 | Parker and his grandpa hunt for a new claim; Tony's crew run out of bolts; and Todd suffers a major financial loss. |
| 12 | 74 | Piles of Gold | 2015-01-16 | 60 | Todd and Dave butt heads over how to mine. |
| 13 | 75 | Gold Road | 2015-01-23 | 60 | Logan has an accident with the rock truck; Parker discovers his new cut is frozen. |
| 14 | 76 | Rogue Miner | 2015-01-30 | 60 | Parker breaks an excavator; Todd and Dave get a pair of bulldozers stuck in mud |
| 15 | 77 | The Monster Lives | 2015-02-06 | 60 | A major electrical problem is discovered by Tony. |
| 16 | 78 | Rivers of Gold | 2015-02-13 | 60 | Parker diverts a creek in order to mine a pile of gold in the riverbed; Tony's crew is upset over fitting the tailings conveyor; Jack is accused of sabotage. |
| 17 | 79 | Frozen Gold | 2015-02-20 | 60 | Tony's plans are derailed when he realizes part of his bucket line is missing. |
| 18 | 80 | Hundreds of Ounces | 2015-02-27 | 60 | Desperate measures are taken by the Hoffman crew. |
| 19 | 81 | Freddy Dodge Returns | 2015-02-27 | 60 | Miners Freddy and Derek Dodge hunt for gold in the Yukon wilderness. |
| 20 | 82 | Millions in Gold | 2015-03-06 | 60 | Parker faces a mutiny. |
| 21 | 83 | The Whole Truth | 2015-03-13 | 60 | The miners discuss highs and lows, as well as conflicts and drama behind the scenes; Todd, Parker and Tony reveal plans for next season; a crew member calls it quits. |
Season 6
| Episode No. | No. Overall | Title | Airdate | Runtime | Summary |
| --- | --- | --- | --- | --- | --- |
| 1 | 84 | Blood, Sweat and Gold | 2015-10-16 | 120 | Parker loses key crew members as Tony orders him off his claim; Todd sets a huge goal for the season; Tony reveals plans for expansion. |
| 2 | 85 | Gold Ship | 2015-10-23 | 60 | A major issue brings Tony's dredge operation to a halt; Grandpa John is rushed to the hospital. |
| 3 | 86 | Moving the Monster | 2015-10-30 | 60 | Todd encounters big issues as he attempts to move his 50-ton washplant; Tony's dredge finally starts producing gold; Parker piles on the pressure and it proves to be too much for one of his young crew members. |
| 4 | 87 | Grandpa's Golden Advice | 2015-11-06 | 60 | Todd's attempt to deal with a mountain of tailings pits him against his son Hunter. Tony's dredge takes a hit as he puts a rookie winchman in the hot seat. Parker seeks advice from his Grandpa as he struggles to save his season. |
| 5 | 88 | Jack's Gold Shack | 2015-11-13 | 60 | As Parker's frustration boils over, he must look at his own attitude; at Eureka Creek, Tony Beets gets hands-on with his creaking 1938 gold dredge. |
| 6 | 89 | Treasure Island | 2015-11-20 | 60 | At McKinnon Creek, Todd Hoffman and his crew are doing their utmost to extract 2700 ounces of gold, but the pressure is beginning to get to them. |
| 7 | 90 | ElDorado Dream | 2015-11-27 | 60 | With business flourishing at McKinnon Creek, Todd and his father realize it's now or never to prospect at El Dorado Creek, where a fault line could make history. |
| 8 | 91 | Mammoth Channel | 2015-12-04 | 60 | The sons of the Klondike return for more gold digging; the Hoffmans try to rebuild their reputation; the Beets family attempts to rise again. |
| 9 | 92 | Mammoth Gold | 2015-12-11 | 60 | Todd's crew discovers that finding prehistoric mammoth tusks brings good luck; Tony rebuild his wash plant; Parker opens the biggest cut of his life in an attempt to get more gold than his rival. |
| 10 | 93 | Parker's 21st | 2015-12-18 | 60 | Parker celebrates his 21st birthday with a big new toy; Tony looks into making an investment; and Todd gets a wakeup call. |
| 11 | 94 | Captain Monica | 2016-01-01 | 60 | Monica covers Tony's dredging operation. Elsewhere, Parker attempts a large haul. |
| 12 | 95 | Crew War | 2016-01-08 | 60 | Parker's new mechanic sparks a mutiny; a drought shuts down Todd's operation; and Tony faces a major issue that could put him out of business. |
| 13 | 96 | Goldzilla Gold | 2016-01-15 | 60 | Breakdowns cause the Hoffman's day and night crews to be at odds; Parker's washplant continues to produce; Tony and Gene go head-to-head. |
| 14 | 97 | Million Dollar Mountain | 2016-01-22 | 60 | Tony makes a big purchase; Parker and Todd wager on who will get the most gold, leading to big changes on the claims. |
| 15 | 98 | Dead Even | 2016-01-29 | 60 | The sons of the Klondike return for more gold digging; the Hoffmans try to rebuild their reputation; Parker could be on borrowed time; the Beets family may rise again. |
| 16 | 99 | Golden Bombshell | 2016-02-05 | 60 | Parker leaves the Boundary Cut for a risky venture with more payoff. Elsewhere, Gene runs the dredge too fast and Todd receives shocking news from his landlord. |
| 17 | 100 | Klondike Legend | 2016-02-12 | 60 | Tony Beets travels to his roots in the Netherlands, where he talks about his transformation from a farm boy to a Klondike mining legend. |
| 18 | 101 | Oregon Gold | 2016-02-19 | 60 | The sons of the Klondike return for more gold; the Hoffman's try to rebuild their reputation. |
| 19 | 102 | Frozen Pay | 2016-02-26 | 60 | A frozen cut forces Parker to divert a creek and mine the thawed pay gravel beneath. Tony faces disaster when he breaks his dredge buckets and Todd doubles down with a second monster washplant. |
| 20 | 103 | King of the Klondike | 2016-03-04 | 60 | Todd runs two massive washplants, Tony pushes to get his dredge out of the water before it freezes and Grandpa John comes to see if Parker has beaten his rival Todd. Then, Parker, Todd and Tony appear together to discuss the epic season finale. |
| 21 | 104 | Gold Hard Truth | 2016-03-11 | 60 | A crew romance is revealed; Tony is accused of not honoring a deal; Parker's crew lets him have it; Todd reveals a secret talent; a sneak peek of plans for next season. |
Season 7
| Episode No. | No. Overall | Title | Airdate | Runtime | Summary |
| --- | --- | --- | --- | --- | --- |
| 1 | 105 | Miracle on the Mountain | 2016-10-14 | 60 | In the epic 2-hr premiere Todd Hoffman takes the biggest gamble and turns his back on guaranteed gold in the Klondike. Tony Beets expands his empire, buying a huge second dredge. Parker Schnabel starts his new season without his grandfather & mentor. |
| 2 | 106 | Eye in the Sky | 2016-10-21 | 60 | Todd Hoffman has his back against the wall when his new Oregon mine fails to deliver. Parker Schnabel's new $600,000 washplant breaks down on its first start-up and Tony Beets takes to the sky to check up on his children. |
| 3 | 107 | Frankenstein Machinery | 2016-10-28 | 60 | Todd returns to the Klondike to collect Monster Red while Parker confronts tough negotiator Tony over royalties and receives a shock offer which will change his season. |
| 4 | 108 | Mutiny | 2016-11-04 | 60 | Todd finally finds good gold at his new High Bar mine; Parker gives his foreman Rick his own operation and when Tony and Minnie decide to cut the dredge crew's pay, a key crew member calls it quits. |
| 5 | 109 | Misery on the Mountain | 2016-11-11 | 60 | Todd battles to get the 50oz of gold he needs to keep his High Bar mine open. Tony brings all his children together to get his Paradise Hill claim up and running. Parker is furious at a series of human errors which cost him thousands of dollars. |
| 6 | 110 | No Crane, No Gain | 2016-11-18 | 60 | Todd Hoffman moves his entire operation and starts to run paydirt at a new mine. Parker Schnabel is flooded out and Tony Beets' ancient dredge hits a record gold. |
| 7 | 111 | Watery Grave | 2016-11-25 | 60 | Tony arrives to find his million-dollar dredge in disaster. While Rick is at his grandpa's funeral, Parker shuts him down by taking his equipment, and the Hoffmans discover that their wash-plant doesn't work in their new mine. |
| 8 | 112 | Mega Barge & Kid Commando | 2016-12-02 | 60 | Todd Hoffman digs deeper than ever in a desperate search for gold. Tony Beets hauls a monster down the Yukon River. Parker Schnabel's $600,000 wash-plant starts to shake itself apart. |
| 9 | 113 | Record Gold | 2016-12-09 | 60 | In this mega-packed episode, Tony Beets breaks records with the biggest gold haul in Gold Rush history. Parker Schnabel battles to save his dream washplant, and after seven weeks at the Buckland, Todd Hoffman's finally on the gold. |
| 10 | 114 | Go Down Fighting | 2016-12-16 | 60 | Todd Hoffman hits rock bottom when, after seven seasons, a key crew member quits. Tony Beets transforms some rusty relics into a monster power barge, and a troubled Parker Schnabel misses his own birthday party. |
| 11 | 115 | Game Over | 2016-12-30 | 60 | With no paycheck for five weeks, Todd Hoffman's close-knit team turn on each other. Parker's gamble to run his washplant without protection from rocks proves costly. Tony builds a $10,000 mega-trailer to move his barge – but gets his measurements wrong. |
| 12 | 116 | Abandonment | 2017-01-06 | 60 | Todd Hoffman's crew has quit, and he desperately tries to keep mining with a skeleton team. Parker carelessly breaks his truck's air hoses while transporting his washplant, and Tony Beets discovers his dredge is blowing gold out of the sluice |
| 13 | 117 | Lifeline | 2017-01-13 | 60 | The remnants of the Hoffman crew are at their lowest, but someone brings Todd good news. Tony Beets fires his barge captain, then runs aground up the mighty Yukon River. Rick Ness finally gets Parker Schnabel's second operation up and running |
| 14 | 118 | Parker vs. Rick | 2017-01-20 | 60 | Rick outperforms Parker on his new Indian River claim. Tony's dredge suffers a catastrophic failure, threatening his season. Todd Hoffman's skeleton crew finally sees good gold at their new mine in Colorado. |
| 15 | 119 | Excavator Down | 2017-01-27 | 60 | Todd Hoffman eats humble pie when he begs his old crew to return, Parker loses an excavator in a swamp and Tony Beets gives daughter Monica her own operation. |
| 16 | 120 | Double Trouble | 2017-02-03 | 60 | The Hoffman crew opens a second mine in Colorado, Parker Schnabel tries out a new mechanic who fails to get approval from Mitch. Tony Beets sets sail in a power-barge up the mighty Yukon river. |
| 17 | 121 | Cruelest Cut | 2017-02-10 | 60 | Parker Schnabel is forced to call his dad in to help his struggling operation; Todd Hoffman has the best clean-up of the season; and Tony Beets' daughter, Monica, starts bringing home the gold. |
| 18 | 122 | Miners vs. Beavers | 2017-02-17 | 60 | Todd whole operation is brought to a halt when a beaver dams his water supply, Parker's plant move turns into an excavator nightmare and a massive fix means Tony can finally get his broken dredge up and running. |
| 19 | 123 | Dredge vs. Washplant | 2017-02-24 | 60 | Todd finds monster nuggets on the top of a mountain, Parker and Rick struggle with a conveyor and Tony pits Monica against Kevin to see if the dredge is more efficient than a modern washplant. |
| 20 | 124 | Viking Voyage | 2017-03-03 | 60 | |
| 21 | 125 | Final Fury | 2017-03-10 | 60 | As all three crews attempt to hit their final goals, a bare knuckle fight on the Hoffman claim ends in recriminations, & resignations. Tony's plan to relocate his dredge hits a brick wall & Parker Schnabel records the biggest gold weigh of his life. |
Season 8
| Episode No. | No. Overall | Title | Airdate | Runtime | Summary |
| --- | --- | --- | --- | --- | --- |
| 1 | 126 | Wagers and Wars | 2017-10-13 | 120 | Parker and Todd go head to head as they lay down the exact same gold-weight goal for their season, whilst Tony Beets fires up his second ancient dredge. |
| 2 | 127 | Blizzards and Bullets | 2017-10-20 | 60 | A rogue gunman fires shots at the Hoffman crew. Frozen ground destroys Parker Schnabel's dozers. Tony Beets starts to tear apart his 500 ton dredge. |
| 3 | 128 | The Viking vs. the Mechanic | 2017-10-27 | 60 | Todd interferes with son Hunter's wash-plant, pushing their relationship to a breaking point. Parker battles to maneuver a 150 foot super conveyor. Tony desperately needs dredge number 1 to deliver gold, but frozen ice may derail his plans. |
| 4 | 129 | The Curse of the Fairplay Mountains | 2017-11-03 | 60 | When Todd Hoffman's water supply is ruled illegal, Freddy comes up with a plan to save the day. Tony undertakes a $600,000 upgrade of dredge #1. |
| 5 | 130 | Son Dethrones Father | 2017-11-10 | 60 | While Parker Schnabel fights rising floodwaters to save his cut, Hunter Hoffman makes a bold decision shut down his operation and his father's. |
| 6 | 131 | Colorado Strikes Back | 2017-11-17 | 60 | Todd shuts down his operations to support Freddy Dodge as he pleads with the county commissioners to allow him to mine his claim. Plus, Kevin has bad news. |
| 7 | 132 | Inferno | 2017-11-24 | 60 | A massive forest fire tears through the Klondike towards Parker's claim threatening to end his season. Tony's desperately needs his barge to run, but can Sheamus deliver? |
| 8 | 133 | The Mighty Uppercut | 2017-12-01 | 60 | Todd is falling way short of his target and with his business struggling, he faces a tough ultimatum. Plus, Parker must move Sluicifer but is short on crew. |
| 9 | 134 | Gold Bars and Hail Marys | 2017-12-08 | 60 | In Colorado, Todd's only hope for the season rests on a new claim, 'the jewellery box' - but has it already been mined out? And, Freddy drops a bombshell. |
| 10 | 135 | The Devil's Finger | 2017-12-15 | 60 | Parker Schnabel is halfway through the season, but nowhere near halfway his goal. Plus, Tony Beets is ready to barge the bucket line down the Yukon River. |
| 11 | 136 | The Holy Grail | 2017-12-22 | 60 | Todd discovers a historic mine that could turn his season around and battles monster boulders to get to gold. Tony mounts a massive operation to replace a 24-ton bucket line and Parker's parents arrive for his birthday bearing extraordinary gifts. |
| 12 | 137 | Eclipsed | 2018-01-05 | 60 | Todd's Colorado mine is in the path of a rare solar eclipse, but he's in trouble with less than 800 ounces this season. Meanwhile, Rick has bad news for Parker. |
| 13 | 138 | Lost Gold | 2018-01-12 | 60 | Hunter Hoffman makes a rookie mistake that causes dysfunction in the team. Tony Beets has to improvise to tear down his second dredge. Parker Schnabel risks damaging his washplant as he races to finish his last cut at Scribner Creek. |
| 14 | 139 | The Father, the Son & the Holy Roller | 2018-01-19 | 60 | Parker Schnabel's opens a brand-new cut, but his crew gets stuck in the mud. Todd tries to get Hunter back on the team to assemble a new wash-plant and Tony's stuck up the creek without a barge. |
| 15 | 140 | Broken | 2018-01-26 | 60 | Parker Schnabel takes on a massive wash-plant move on his own. Todd Hoffman races to set up new trommel and faces a medical emergency, while Tony Beets' daughter Monica makes a $200,000 mistake. |
| 16 | 141 | Of Monsters and Men | 2018-02-02 | 60 | Parker threatens to shut down Rick's Indian River operation after production drops. Disaster strikes for Tony and Todd gives his crew a shock ultimatum. |
| 17 | 142 | Planes, Cranes, and Virgin Claims | 2018-02-16 | 60 | Parker suspects Tony of sabotage on his new ground and confronts him. Todd's new washplant hits the noise limits for local regulations and they must find a bush fix to solve the problem. Tony Beets takes on his biggest challenge yet in tearing down his second dredge. |
| 18 | 143 | King Kong | 2018-02-23 | 60 | Parker fulfils a life time ambition when he buys his first Klondike claim. Plus, Todd attempts to use chemical integrity to break a monster boulder that's in his path. |
| 19 | 144 | Independence Day | 2018-03-02 | 60 | Tony's dredge teardown hits a wall when they attempt to remove the heaviest piece yet. Todd's son, Hunter demands a change of mine site if they're going to have a future. Parker makes a bid for independence on his own claim, but Tony stands in his way. |
| 20 | 145 | The Spoils of War | 2018-03-09 | 93 | It's judgement day on Parker and Todd's 100-ounce bet. Parker chases a record breaking 7.2 million dollar season total. Todd desperately tries to stop his crew from falling apart. Tony struggles to get his dredge to Dawson before the Yukon River freezes. |
Season 9
| Episode No. | No. Overall | Title | Airdate | Runtime | Summary |
| --- | --- | --- | --- | --- | --- |
| 1 | 146 | Declaration of Independence | 2018-10-12 | 120 | New mine boss Rick gathers together his crew of greenhorns and arrives in the Yukon ready to start his season. Parker and Tony face off over royalties and land access in a confrontation that threatens to end one of their seasons before it's even begun. |
| 2 | 147 | Smoked Out | 2018-10-19 | 60 | Rick faces mutiny from his crew of greenhorns. Parker visits his parents for advice and makes a decision that affects the rest of his season. Tony's barge hits trouble on its way back to Dawson to finally begin the rebuild of his second monster dredge. |
| 3 | 148 | Gods and Monsters | 2018-10-26 | 60 | Rick hunts for a new washplant with his crew. With Parker's ground frozen he must find a way to mine the gold to pay his deposit to Tony. Tony orders son Kevin to train up a new dredgemaster, but a vital piece gets damaged and brings them to a halt. |
| 4 | 149 | Durt Reynolds | 2018-11-02 | 60 | Disaster strikes when Rick fires up his washplant for the first time. Parker tries a risky plan to keep the gold coming in and must decide on a new foreman to replace Rick. Tony must transport his tug Kid Commando to the dock for a crucial stability test. |
| 5 | 150 | The Return of Freddy Dodge | 2018-11-09 | 60 | To save his season, Rick drafts a Gold Rush vet and former member of team Hoffman. Chasing a record-breaking goal, Parker orders an unachievable goal. Tony and Monica fire up their wash plant as they battle to beat Parker to the gold. |
| 6 | 151 | Hoffman's Ghosts | 2018-11-16 | 60 | New mine boss Rick is buckling under debt, if he's going to prove himself to his crew he needs to get his first gold weigh. Parker attempts a treacherous river crossing and Tony Beets hits a snag removing a massive piece of his million-dollar dredge. |
| 7 | 152 | Hazard Pay | 2018-11-23 | 60 | Rick needs a quick fix from Freddy Dodge to keep his season on track. Parker races to get his second wash plant running, but struggles. Tony needs to re-float his sunken dredge and turns to a familiar face from the Hoffman crew for a solution. |
| 8 | 153 | Stormageddon | 2018-11-30 | 60 | Torrential rains hit the Klondike and Parker and Rick battle to save their mining operations from being flooded out. Tony sends son Mike on his first voyage as Captain on his tug the Kid Commando. |
| 9 | 154 | Megamorphosis | 2018-12-05 | 60 | Parker battles to save his season when his biggest wash plant collapses. Rick makes a shocking discovery about his gold mining claim and turns to his dad for help. Tony races to finish dismantling his dredge but a crucial piece comes crashing down. |
| 10 | 155 | Father's Day | 2018-12-14 | 60 | Rick Ness and his Dad, Rick Senior, battle together to open a new cut. Parker is struggling with mechanical breakdowns and one of his crew suffers a terrible injury. Tony races to dismantle the final sections of his million-dollar Dredge. |
| 11 | 156 | The Resurrection | 2018-12-21 | 60 | The flu brings Parker's operation to its knees, and it's up to foreman Dean to keep the claim running. Rick's mechanic, Carl, behaves strangely and reveals shocking news. Tony hits rock bottom as his entire operation grinds to a halt. |
| 12 | 157 | The Devil's Deadline | 2019-01-04 | 60 | Rick is forced to ask Tony for help. Parker runs a 24-hour test of his ground and suffers another washplant failure. Tony hauls the final piece of his million-dollar second dredge from Thistle Creek and prepares to rebuild it. |
| 13 | 158 | Sucker Punch | 2019-01-11 | 60 | Rick Ness and Freddy Dodge discover an issue with the wash plant, potentially losing thousands in gold. Parker must risk using a dozer to move his biggest wash plant and Tony's daughter Monica tries to keep their dream of a 6,000-ounce season alive. |
| 14 | 159 | Old School Heroes | 2019-01-18 | 60 | Rick makes a disastrous mistake that shuts down his claim. Parker threatens a long time member of the crew with demotion and Tony resurrects an ancient wash plant in an attempt to get back in the game. |
| 15 | 160 | Wedding Bells & Emergency Operations | 2019-01-25 | 60 | Parker tasks Brennan with moving wash plant Big Red in just 24 hours. Rick's crew struggles when someone falls prey to a life threatening illness. Wedding bells ring in the Yukon as the Beets family readies for the marriage of Tony's daughter Monica. |
| 16 | 161 | Broken Bones | 2019-02-01 | 60 | Parker crashes a jet boat resulting in a terrible injury. Frozen ground and machinery breakdowns threaten Rick's season. Its all hands on deck as Tony and family finally start to rebuild his million-dollar second dredge. |
| 17 | 162 | Make It Rain | 2019-02-15 | 60 | Tony and his family attempt a dangerous crane operation. Rick fights frozen ground to keep his season alive and Parker, in a desperate bid to get every last ounce of gold from his ground, pushes wash plant Sluicifer beyond the limit. |
| 18 | 163 | Big Red Is Dead | 2019-02-22 | 60 | Parker is closing in on his colossal $7.2 million target, but wash plant Big Red is running out of pay dirt. After weeks of plummeting gold totals Rick needs to run 24/7 to stand any chance of reaching his goal and Tony makes a desperate play. |
| 19 | 164 | Cold War | 2019-03-01 | 60 | Parker's parents visit and offer help. Rick battles to reach 1000 oz before the weather freezes him out and shocking news forces Tony to make a drastic decision about his season. |
| 20 | 165 | Brace for Impact | 2019-03-08 | 60 | Rick and crew fight to get as much gold as possible before they're shut down. Tony races to finish his second dredge and Parker makes the riskiest move of the season. |
| 21 | 166 | Fire and Ice | 2019-03-15 | 90 | While on target for an $8.4-million-dollar season, Parker's wash plant catches fire. Rick and crew finish their first mining season strong. Tony heads into the wilderness to find lost equipment and attempts to get his ancient dredge up and running. |
Season 10
| Episode No. | No. Overall | Title | Airdate | Runtime | Summary |
| --- | --- | --- | --- | --- | --- |
| 1 | 167 | Crisis in the Klondike | 2019-10-11 | 120 | A crisis in the Klondike forces Parker, Rick & Tony to take massive gambles to strike it rich and hunt for gold on new grounds. The setback hits just as the price of gold spikes, sparking a new gold rush to the area. |
| 2 | 168 | A New Rush Begins | 2019-10-18 | 120 | Parker bets millions on his crew sluicing in record time and is forced to make a decision when things don't go as planned. Rick rushes to fire up his washplant and find big nuggets. A showdown on the Indian River sends a Klondike legend scrambling. |
| 3 | 169 | The Nugget Hunter | 2019-10-25 | 60 | Rick and his dad fly high into Keno mountains on a treasure hunt for massive nuggets. Tony and Monica investigate a gold hot spot the old dredges may have missed. Parker makes a big decision about his crew that could determine the fate of his season. |
| 4 | 170 | Leave No Gold Behind | 2019-11-01 | 60 | Parker second guesses the ground he's mining and questions his new foremen. Tony Beets makes a big decision to move the family's entire operation. Rick's mechanic arrives at a critical moment. |
| 5 | 171 | We're Gonna Need a Bigger Bucket | 2019-11-08 | 60 | Parker throws down a huge engineering challenge to his team. Rick decides to make a major upgrade to his operation. Mike and Monica team-up to open more ground. |
| 6 | 172 | Monster Red Lives | 2019-11-15 | 60 | |
| 7 | 173 | Motherlode Mountain | 2019-11-22 | 60 | |
Series Crew
| | Position | Name |
| --- | --- | --- |
| | Executive Producer | Christo Doyle |
| | Executive Producer | Tim Pastore |
| | Executive Producer | Dimitri Doganis |
Related News
TVMaze