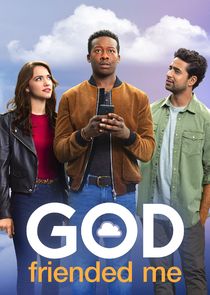 God Friended Me is described as a humorous, uplifting series, which explores questions of faith, existence, and science. It centers on an outspoken atheist whose life is turned upside down when he is "friended" by God on Facebook. Unwittingly, he becomes an agent of change in the lives and destinies of others around him.
Series Overview
Rating
imDb Rating: 6.9 (5,802 Votes)
Metascore: N/A
Plot
An atheist's life is turned upside down when God adds him as a friend on Facebook.
Details
Rated: TV-PG
Released: 30 Sep 2018
Runtime: 43 min
Genre: Comedy, Drama
Director: Marcos Siega
Writer: Steven Lilien, Bryan Wynbrandt
Actors: Brandon Micheal Hall, Violett Beane, Suraj Sharma, Javicia Leslie
Language: English
Country: USA
Awards: 2 wins & 2 nominations.
Total Seasons: 2
Previous Episode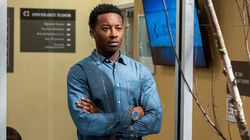 The Mountain
Episode 2x22; Apr 26, 2020
Miles is forced to examine his lack of faith more than ever before when the God Account sends him his sister, Ali, as a friend suggestion on the eve of her cancer surgery.
Previous Episodes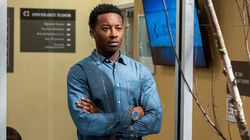 2x22: The Mountain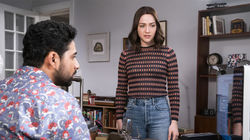 2x21: Miracles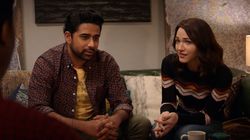 2x20: Collateral Damage


2x19: The Fugitive


2x18: Almost Famous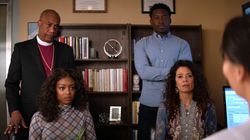 2x17: Harlem Cinema House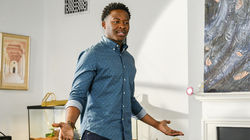 2x16: The Atheist Papers


2x15: The Last Little Thing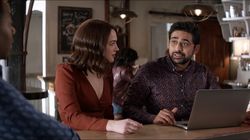 2x14: Raspberry Pie

View All Episodes
Cast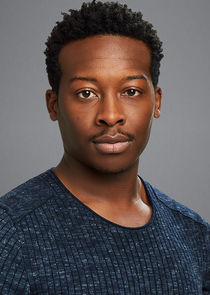 Brandon Micheal Hall as Miles Finer
Joe Morton as Reverend Arthur Finer
Suraj Sharma as Rakesh Singh
Violett Beane as Cara Bloom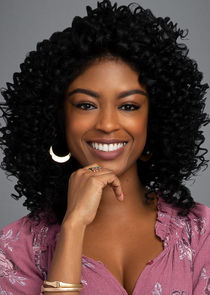 Javicia Leslie as Aliyah "Ali" Finer
Erica Gimpel as Trisha
View Full Cast
Skip to:
Season 1
| Episode No. | No. Overall | Title | Airdate | Runtime | Summary |
| --- | --- | --- | --- | --- | --- |
| 1 | 1 | Pilot | 2018-09-30 | 60 | Miles Finer, an outspoken atheist podcaster, finds his life turned upside down when he receives a friend request from "God" on social media and unwittingly becomes an agent of change in the lives and destinies of others around him. |
| 2 | 2 | The Good Samaritan | 2018-10-07 | 60 | Miles gets the opportunity of a lifetime when a satellite radio company wants to put his podcast on the air, and the God Account suggests that he befriend a single mother. Also, Cara tries to build a relationship with her estranged mom, and Rakesh is crushed when he spots Jaya on a date. |
| 3 | 3 | Heavenly Taco Truck | 2018-10-14 | 60 | Miles' wallet is stolen when he, Rakesh and Cara check out a food truck the God Account suggests that he "like." But when the account then suggests that he befriend a private investigator, Miles decides to turn the tables and have the PI help him track down the thief, who Miles believes is linked to the account. |
| 4 | 4 | Error Code 1.61 | 2018-10-21 | 60 | Suggestions from the God Account lead Miles and Cara to the Hayden Planetarium, where they meet a young woman, Fliss, who is searching for her old boyfriend who may have been "the one." Also, Rakesh and Jaya look into a tour guide at the planetarium who Rakesh thinks may be connected to the God Account, and Arthur tries to put a piece of his past behind him. |
| 5 | 5 | Unfriended | 2018-10-28 | 60 | The "God" account unfriends Miles after he's reluctant to act on the latest friend suggestion, a young woman who is dealing with emotional trauma following the death of her sister. Also, Cara reconnects with her ex-boyfriend, Eli; Jaya stuns Rakesh with some news; and Arthur is uncomfortable when Miles turns to his Uncle Terrance for advice instead of him. |
| 6 | 6 | A House Divided | 2018-11-04 | 60 | Miles is sent a friend suggestion for a cab driver who is opposed to his daughter marrying outside their faith. Also, Miles enrolls in a marketing class to help him promote his podcast. |
| 7 | 7 | The Prodigal Son | 2018-11-11 | 60 | Miles is forced to face uncomfortable truths about his family when the "God" account points him towards his Uncle Terrance. Also, Cara's father pays her a visit, and he discovers that she's reconnected with her mom who left them when she was a child. |
| 8 | 8 | Matthew 621 | 2018-11-18 | 60 | The "God" account sends Miles the profile of a lawyer who died six months ago, leading him, Cara and Rakesh to dig into the man's past in order to figure out who exactly they're supposed to help. Also, Miles asks Nia on a date; Rakesh and Lucy, his hacker friend, continue searching for the person behind the "God" account; and Ali encourages Arthur to play his saxophone publicly for the first time since his wife died. |
| 9 | 9 | King's Gambit | 2018-11-25 | 60 | The team reunites with private detective Ray Nicolette when Miles is sent a friend suggestion for a chess star who vanished after losing a huge match to his rival 10 years ago. |
| 10 | 10 | Coney Island Cyclone | 2018-12-09 | 60 | When the God Account sends Miles the name of one of Arthur's parishioners, a single father who recently lost his wife, the similarities to their own loss reopens old wounds. Also, Rakesh and Cara hunt down a new lead on the reclusive hacker they think may be behind the God Account. |
| 11 | 11 | 17 Years | 2018-12-16 | 60 | Miles is shocked and angered when the God Account sends him the name of the drunk driver who killed his mother 17 years earlier, leading Cara and Rakesh to help him face the worst moment of his life in order to move forward. Also, Miles and Rakesh learn revealing information about Falken, the mysterious hacker who they believe is tied to the God Account. |
| 12 | 12 | Ready Player Two | 2019-01-06 | 60 | Miles turns to his dad for help when he learns that his latest friend suggestion was adopted after being dropped off at Arthur's church as a baby. Also, Pria comes clean about Henry Chase, the real identity of the hacker Falken, and his possible connection to the God Account. |
| 13 | 13 | Miracle on 123rd Street | 2019-01-13 | 60 | Miles is shocked when the God Account sends him 76 simultaneous friend suggestions. Also, Ali moves in with Miles while her apartment is being fumigated, and Rakesh receives surprising news at work. |
| 14 | 14 | The Trouble with the Curve | 2019-02-17 | 60 | Miles reconnects with his high school baseball teammate, Cal, when he gets a friend suggestion for a promising young baseball player who Cal is coaching. Also, Arthur feels territorial when he's informed that the Diocese is sending an assistant rector to mentor under him. |
| 15 | 15 | Two Guys, a Girl, and a Thai Food Place | 2019-03-03 | 60 | Miles and Cara help a young woman who fell into a coma after disappearing the night before her wedding and wakes with no memory of that evening. Also, Rakesh comes face-to-face with Simon Hayes, the tech CEO who may be involved with the God Account, and Arthur's mentorship of Rev. Carver gets off to a rocky start. |
| 16 | 16 | Scenes from an Italian Restaurant | 2019-03-10 | 60 | When the God Account sends Miles and Cara the name of Sophia, a sous chef, they decide to help when they learn that her dreams of opening her own restaurant are in danger of falling apart. Also, Ali and Miles are concerned that the Diocese sent Rev. Carver to replace Arthur, and Rakesh gets closer to Simon Hayes. |
| 17 | 17 | The Dragon Slayer | 2019-03-17 | 60 | Miles gets an offer to join a podcast network that wants the exclusive rights to the God Account story. But when Cara has the chance to move up at her job by interviewing Simon Hayes about his possible connection to the Account, she must decide if she's willing to risk Miles' big break to further her own career. |
| 18 | 18 | Return to Sender | 2019-03-24 | 60 | When a package mistakenly shows up on Miles' doorstep, his search for its importance leads him to a couple grieving the loss of their daughter. Also, Miles, Cara and Rakesh reunite with John Dove, Miles' first friend suggestion, after Rakesh discovers a connection between Dove and Simon Hayes. |
| 19 | 19 | The Road to Damascus | 2019-03-31 | 60 | Arthur joins Miles on a road trip upstate after the God Account checks into a closed-down summer camp. Also, Cara makes a career-altering decision, Pria reveals unexpected news to Rakesh, and the hunt for answers to the God Account come to a head at the grand reveal of Simon Hayes' mystery project. |
| 20 | 20 | Que Será, Será | 2019-04-14 | 60 | Miles, Cara and Rakesh finally come face to face with the elusive Henry Chase when the God Account sends Miles Simon Hayes' name. |
Season 2
| Episode No. | No. Overall | Title | Airdate | Runtime | Summary |
| --- | --- | --- | --- | --- | --- |
| 1 | 21 | Joy | 2019-09-29 | 60 | Miles tries to help the God Account's new friend, Joy, figure out what the account wants from her after she receives her first friend suggestion since getting Miles' name – a soldier on leave in New York. Also, Simon helps Cara reconnect with an important person from her past while she's in Paris; Rakesh settles into his new role as head of Research & Development at IdentitySeal; and Trish is concerned when Arthur is reluctant to buy a new home with his fiancée and sell the house where he raised his family. |
| 2 | 22 | The Lady | 2019-10-06 | 60 | As Miles wonders what the God Account has in store for him, he and Rakesh help Joy with her new friend suggestion, Teddy, an aspiring self-help guru. Also, Cara follows a God Account-related lead in Paris, and Ali reveals to Arthur that she's left Harlem Episcopal for a progressive LGBTQ-friendly congregation. |
| 3 | 23 | From Paris with Love | 2019-10-13 | 60 | Miles reunites with Cara in Paris as they seek to unravel clues from the God Account. In New York, Rakesh helps Joy with her latest friend suggestion, Sarah, a parking officer who just ticketed Joy. |
| 4 | 24 | All Those Yesterdays | 2019-10-20 | 60 | Miles, Cara and Rakesh support Joy when The God Account sends her a friend suggestion that brings up painful memories for her. Also, Arthur is tempted by a professional opportunity. |
| 5 | 25 | The Greater Good | 2019-10-27 | 60 | Miles' world and Arthur's world intersect when the God Account indicates that Bishop Thompson's daughter, Claire, is in need of help. Also, Jaya's parents, impressed with Rakesh's success, want the pair to move forward in their relationship. |
| 6 | 26 | The Fighter | 2019-11-03 | 60 | The God Account sends Miles the name of Elena, a social worker who began training in mixed martial arts to help heal the emotional wounds of a traumatic experience. Also, Arthur is torn between a professional opportunity and promises he made to his fiancé, Trish, and Rakesh attempts to track down the artist behind the mysterious painting that Miles and Cara found in Paris. |
| 7 | 27 | Instant Karma | 2019-11-10 | 60 | Miles is confused when Sameer, a lawyer with financial problems, wants nothing to do with a winning lottery ticket that the God Account helps Miles return to him. Also, Ali opens up to the congregation at the LGBTQ-friendly church she joined, and Audrey, the artist behind the mysterious painting Miles saw in Paris, reveals surprising information behind the work. |
| 8 | 28 | The Last Grenelle | 2019-11-17 | 60 | Miles is shocked when the clues he began following in Paris lead him to Gideon, who had been helping friend suggestions years ago before making a fateful decision to leave the God Account behind. |
| 9 | 29 | Prophet & Loss | 2019-11-24 | 60 | When Miles gets the name of Cara's stepfather, Paul, they learn that he is potentially involved with an insider trading scheme. But when Cara asks Miles to ignore his urge to intervene, he is forced to choose between her wishes or the God Account. |
| 10 | 30 | High Anxiety | 2019-12-08 | 60 | When Miles grows concerned that the God Account is causing a rift with Cara, he decides to walk away from the account after helping one last friend suggestion, Miguel, a window washer with a sick daughter. |
| 11 | 31 | A New Hope | 2020-01-05 | 60 | Miles discovers a new clue as to who is behind the God Account when Joy reveals that his friend suggestions have all been clients of the same insurance company. Her theory is reinforced when they realize that Miles' latest friend suggestion, Abe, a Holocaust survivor looking for information on his sister's fate, is also a client of the company. |
| 12 | 32 | BFF | 2020-01-12 | 60 | Miles is surprised when the God Account sends him the name of Trish's daughter on the eve of Arthur and Trish's wedding. Also, the wedding gives Miles the opportunity to chase down a new lead on the God Account, and Ali receives important news. |
| 13 | 33 | The Princess and the Hacker | 2020-02-16 | 60 | Rakesh is stunned when his new soulmate app suggests that Lulu, the princess of an African nation, is his soulmate, instead of Jaya. So, when the God Account sends Miles Lulu's name, Rakesh takes the lead on figuring out how they can help her. Also, Ali reveals her cancer diagnosis to Arthur and Trish. |
| 14 | 34 | Raspberry Pie | 2020-02-23 | 60 | Miles is confused when the God Account sends him his own name as a friend suggestion. But when Rakesh discovers that Miles' Facebook account has been cloned and the suggestion was for the fake account, they turn their attention to the hacker, Zack, a teenage computer prodigy. Also, Ali begins fertility treatments in an effort to freeze her eggs before beginning chemo. |
| 15 | 35 | The Last Little Thing | 2020-03-01 | 60 | As Ali begins chemotherapy, Miles is determined to convince Anna, a young woman also diagnosed with cancer, that there is more to live for than just completing her bucket list. Also, Miles, Rakesh and Cara venture into an underground poker game as they continue to search for a hacker who may have information on the God Account. |
| 16 | 36 | The Atheist Papers | 2020-03-08 | 60 | A renowned author and atheist, criticizes Miles' podcast. But he must put aside his wounded pride to help Daryl when the God Account sends Miles his name. Also, Ali tests the waters of a new relationship as she deals with her cancer treatments. |
| 17 | 37 | Harlem Cinema House | 2020-03-15 | 60 | When the God Account sends Miles the names of three employees of an old movie theater he and Ali used to go to as children, he makes it his mission to help the theater's owner, Mr. Johnson, raise the money to save the theater before it closes down. |
| 18 | 38 | Almost Famous | 2020-03-29 | 60 | Ali is hopeful when she's told that she's a candidate for a new drug trial to help with her cancer treatment. But when the God Account suggests that Miles helps Kylie, the daughter of the hospital administrator in charge of the drug trial, Tammy, he's reluctant to get involved for fear of hurting Ali's chances of being accepted. |
| 19 | 39 | The Fugitive | 2020-04-12 | 60 | Miles, Cara and Rakesh try to stay a step ahead of a bounty hunter, Bonnie, who's searching for Miles' new friend suggestion, a petty criminal-turned-fugitive for evading court. Also, when Miles loses interest in who's behind the God Account, Rakesh intensifies the search by planning to hack a powerful government super computer that can break through the Account's firewall. |
| 20 | 40 | Collateral Damage | 2020-04-19 | 60 | Miles weighs the consequences of carrying out the God Account's wishes when his new friend suggestion, Trevor (Ben Rappaport), alleges Miles ruined his life when he helped Rose (Emma Thorne) reunite with Lt. Freemont (Zach Appleman), her former love and a previous friend suggestion. As Miles tries to help Trevor resolve his feelings for Rose on the eve of her wedding, he realizes he has lingering feelings of his own for Cara. |
| 21 | 41 | Miracles | 2020-04-26 | 60 | Miles helps his new friend suggestion, C.J., a young boy who claims an angel wants him to reunite his father, Corey, the creator of the God Account's original algorithm, with Corey's estranged father. |
| 22 | 42 | The Mountain | 2020-04-26 | 60 | Miles is forced to examine his lack of faith more than ever before when the God Account sends him his sister, Ali, as a friend suggestion on the eve of her cancer surgery. |
Series Cast
| | | | |
| --- | --- | --- | --- |
| | Brandon Micheal Hall | as Miles Finer | |
| | Joe Morton | as Reverend Arthur Finer | |
| | Suraj Sharma | as Rakesh Singh | |
| | Violett Beane | as Cara Bloom | |
| | Javicia Leslie | as Aliyah "Ali" Finer | |
| | Erica Gimpel | as Trisha | |
Series Crew
| | Position | Name |
| --- | --- | --- |
| | Executive Producer | Greg Berlanti |
| | Co-Producer | Jennifer Lence |
| | Producer | Jennifer Lence |
| | Co-Producer | Carl Ogawa |
| | Co-Executive Producer | Matt Ward |
| | Executive Producer | Sarah Schechter |
| | Co-Executive Producer | Robert Hull |
| | Executive Producer | Robert Hull |
| | Associate Producer | Stephen Judge |
| | Creator | Steven Lilien |
| | Executive Producer | Steven Lilien |
| | Creator | Bryan Wynbrandt |
| | Executive Producer | Bryan Wynbrandt |
| | Executive Producer | Marcos Siega |
| | Producer | Steve Harper |
| | Co-Producer | Jill Risk |
| | Co-Producer | Logan Slakter |
| | Producer | Logan Slakter |
| | Supervising Producer | Kristi Korzec |
| | Co-Executive Producer | Jessica Ball |
| | Casting | Tim Payne |
| | Co-Executive Producer | Lara Azzopardi |
| | Producer | Joseph Zolfo |
| | Executive Story Editor | Carmen Pilar Golden |
| | Story Editor | Carmen Pilar Golden |
| | Music Editor | Stuart Goetz |
| | Music Supervisor | Season Kent |
| | First Assistant Director | Peter Soldo |
| | Supervising Sound Editor | George Haddad |
| | Re-Recording Mixer | Yuri Reese |
| | Re-Recording Mixer | William Smith |
| | Casting | Suzanne Ryan |
| | Music | Michael Suby |
| | Production Designer | Sarah Knowles |
| | Producer | Ryan Lindenberg |
| | Casting Associate | Lisa Kitay |
| | Editor | Benjamin Bumgarner |
| | Co-Executive Producer | Safia M. Dirie |
| | Supervising Producer | Safia M. Dirie |
| | Production Designer | Beth Rubino |
| | Executive Story Editor | Devanshi Patel |
| | Director Of Photography | Stefan Czapsky |
| | Unit Production Manager | Jolian Blevins |
| | Second Assistant Director | Lisa McPherson |
Related News
TVMaze