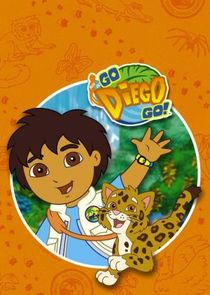 Nick Jr. introduces Go, Diego, Go!, an animated play-along series starring Dora the Explorer's cousin, Diego Marquez, an eight-year-old rough and tumble action-adventure hero with an intense love of nature and the animals around him. Diego takes viewers on high stakes animal rescue missions while encouraging them to jump, clap, cheer and speak in English and Spanish each step of the way. Diego is joined by his 11-year-old sister Alicia, along with a loving group of loyal animal friends who will encourage kids to use scientific thinking and investigative strategies to help the animal in trouble.
Series Overview
Rating
imDb Rating: 4.1 (1,243 Votes)
Metascore: N/A
Plot
A young Mexican boy goes on adventures to save animals with his little baby pet jaguar.
Details
Rated: TV-Y
Released: 01 Sep 2005
Runtime: 25 min
Genre: Animation, Adventure, Comedy, Family
Director: N/A
Writer: Chris Gifford, Valerie Walsh
Actors: Rosie Perez, Jake T. Austin, Keeler Sandhaus, Jose Zelaya
Language: English, Spanish
Country: USA, Canada
Awards: 7 nominations.
Total Seasons: 7
Previous Episode
Fiercest Animals!
Episode 5x6; Jul 16, 2011
Previous Episodes 5x6: Fiercest Animals! 5x5: Cotton-Top Tamarin Cave Rescue 5x4: Pampas Cat & Friends Help the Rescue Center 5x3: To Babysit a Bobo 5x2: Koala's Birthday Hug 5x1: Diego Rescues Prince Vicuna 4x12: Diego's International Rescue League 4x11: Welcome Home, Lion Cub 4x10: Ocean Animal Rescuer

View All Episodes
Skip to:
Season 1
| Episode No. | No. Overall | Title | Airdate | Runtime | Summary |
| --- | --- | --- | --- | --- | --- |
| 1 | 1 | Rescue the Red-Eyed Tree Frogs! | 2005-09-06 | 30 | |
| 2 | 2 | Diego Saves Mommy and Baby Sloth | 2005-09-07 | 30 | |
| 3 | 3 | Chinta the Baby Chinchilla | 2005-09-08 | 30 | |
| 4 | 4 | Diego Saves Baby Humpback Whale | 2005-09-09 | 30 | |
| 5 | 5 | Journey to Jaguar Mountain | 2005-09-12 | 30 | |
| 6 | 6 | Three Little Condors | 2005-09-13 | 30 | |
| 7 | 7 | Pepito's Penguin School | 2005-09-14 | 30 | |
| 8 | 8 | Armadillo's Rainforest Race | 2005-09-15 | 30 | |
| 9 | 9 | The Mommy Macaw | 2005-09-16 | 30 | |
| 10 | 10 | Linda the Llama Saves Carnival | 2005-10-10 | 30 | |
| 11 | 11 | A Booboo on the Pygmy Marmoset | 2006-01-23 | 30 | |
| 12 | 12 | A Blue Morpho Butterfly is Born | 2006-01-25 | 30 | |
| 13 | 13 | Cool Water for Ana the Anaconda | 2006-01-26 | 30 | |
| 14 | 14 | Linda the Librarian | 2006-03-20 | 30 | |
| 15 | 15 | Chito and Rita the Spectacled Bears | 2006-02-20 | 30 | |
| 16 | 16 | The Great Dinosaur Adventure (1) | 2006-03-07 | 30 | |
| 17 | 17 | The Great Dinosaur Adventure (2) | 2006-03-09 | 30 | |
| 18 | 18 | Diego's Wolf Pup Rescue | 2006-03-19 | 30 | |
| 19 | 19 | Baby Jaguar to the Rescue | 2006-03-26 | 30 | |
| 20 | 20 | Save the Sea Turtles | 2006-07-10 | 30 | |
Season 2
| Episode No. | No. Overall | Title | Airdate | Runtime | Summary |
| --- | --- | --- | --- | --- | --- |
| 1 | 21 | Diego Saves the River Dolphin | 2006-10-02 | 30 | |
| 2 | 22 | Diego and Baby Humpback to the Rescue | 2006-10-03 | 30 | |
| 3 | 23 | Little Kinkajou is in Beehive Trouble | 2006-10-30 | 30 | |
| 4 | 24 | Mackey the Macaroni Penguin | 2006-10-31 | 30 | |
| 5 | 25 | The Iguana Sing Along | 2006-11-19 | 30 | |
| 6 | 26 | Panchita Prairie Dog Finds a New Prairie | 2006-12-03 | 30 | |
| 7 | 27 | Diego Saves Christmas | 2006-12-08 | 30 | |
| 8 | 28 | Baby Jaguar's Lost Growl | 2007-01-15 | 30 | |
| 9 | 29 | Diego the Hero | 2007-02-05 | 30 | |
| 10 | 30 | Sammy's Valentine | 2007-02-14 | 30 | |
| 11 | 31 | The Great Roadrunner Race | 2007-03-26 | 30 | |
| 12 | 32 | The Tapir's Trip Home | 2007-03-06 | 30 | |
| 13 | 33 | Jorge the Little Hawk Learns to Migrate | 2007-03-07 | 30 | |
| 14 | 34 | Giant Octopus to the Rescue | 2007-03-08 | 30 | |
| 15 | 35 | An Underwater Mystery | 2007-06-26 | 30 | |
| 16 | 36 | Diego's African Safari (1) | 2007-10-08 | 30 | |
| 17 | 37 | Diego's African Safari (2) | 2007-10-15 | 30 | |
| 18 | 38 | Diego and Alicia Save the Otters | 2007-10-16 | 30 | |
| 19 | 39 | Alicia Saves the Crocodile | 2007-11-24 | 30 | |
| 20 | 40 | Rhea is an Animal Rescuer | 2007-12-19 | 30 | |
Season 3
| Episode No. | No. Overall | Title | Airdate | Runtime | Summary |
| --- | --- | --- | --- | --- | --- |
| 1 | 41 | Green Iguana Helps Abuelito Plant a New Strawberry Farm! | 2008-02-05 | 30 | |
| 2 | 42 | Kicho's Magic Flute! | 2008-03-02 | 30 | |
| 3 | 43 | Rainforest Rhapsody | 2008-03-03 | 30 | |
| 4 | 44 | Gorilla Fun | 2008-03-04 | 30 | |
| 5 | 45 | Tuga Helps the Moon | 2008-03-18 | 30 | |
| 6 | 46 | Whistling Willie Finds a Buddy | 2008-03-21 | 30 | |
| 7 | 47 | Super Flying Squirrel to the Rescue! | 2008-04-28 | 30 | |
| 8 | 48 | Diego and Porcupine Save the Pinata! | 2008-05-02 | 30 | |
| 9 | 49 | The Bobo's Mother's Day! | 2009-05-09 | 30 | |
| 10 | 50 | It's a Bug's World! | 2008-05-12 | 30 | |
| 11 | 51 | Diego and Dora Help Baby Monarch Get to the Festival | 2008-05-31 | 30 | |
| 12 | 52 | Save the Giant Tortoises | 2008-06-03 | 30 | |
| 13 | 53 | Alicia and Whitetail to the Rescue | 2008-06-06 | 30 | |
| 14 | 54 | Manatee's Mermaid Rescue! | 2008-06-20 | 30 | |
| 15 | 55 | Freddie the Fruit Bat Saves Halloween! | 2008-10-27 | 30 | |
| 16 | 56 | Egyptian Camel Adventure | 2008-11-21 | 30 | |
| 17 | 57 | A New Flamingo Mami | 2009-03-05 | 30 | |
| 18 | 58 | The Great Polar Bear Rescue | 2009-09-18 | 30 | |
Season 4
| Episode No. | No. Overall | Title | Airdate | Runtime | Summary |
| --- | --- | --- | --- | --- | --- |
| 1 | 59 | Diego Reunites Hippo & Oxpecker | 2009-09-28 | 30 | |
| 2 | 60 | Diego's Orangutan Rescue | 2009-09-29 | 30 | |
| 3 | 61 | Where is Okapi's Brother? | 2009-09-30 | 30 | |
| 4 | 62 | Puffin Fish Adventure | 2009-10-01 | 30 | |
| 5 | 63 | Diego's Ringed Seal Rescue | 2010-02-19 | 30 | |
| 6 | 64 | All Aboard the Giant Panda Express! | 2010-03-15 | 30 | |
| 7 | 65 | Bengal Tiger Makes a Wish | 2010-03-16 | 30 | |
| 8 | 66 | Leaping Lemurs! | 2010-03-17 | 30 | |
| 9 | 67 | Diego Saves the Beavers | 2010-03-18 | 30 | |
| 10 | 68 | Ocean Animal Rescuer | 2010-04-22 | 30 | |
| 11 | 69 | Welcome Home, Lion Cub | 2010-06-18 | 30 | |
| 12 | 70 | Diego's International Rescue League | 2010-09-24 | 30 | |
Season 5
| Episode No. | No. Overall | Title | Airdate | Runtime | Summary |
| --- | --- | --- | --- | --- | --- |
| 1 | 71 | Diego Rescues Prince Vicuna | 2010-11-05 | 30 | |
| 2 | 72 | Koala's Birthday Hug | 2011-02-07 | 30 | |
| 3 | 73 | To Babysit a Bobo | 2011-02-08 | 30 | |
| 4 | 74 | Pampas Cat & Friends Help the Rescue Center | 2011-02-09 | 30 | |
| 5 | 75 | Cotton-Top Tamarin Cave Rescue | 2011-02-10 | 30 | |
| 6 | 76 | Fiercest Animals! | 2011-07-16 | 30 | |
Season 6
| Episode No. | No. Overall | Title | Airdate | Runtime | Summary |
| --- | --- | --- | --- | --- | --- |
Season 7
| Episode No. | No. Overall | Title | Airdate | Runtime | Summary |
| --- | --- | --- | --- | --- | --- |
Related News
TVMaze