GLOW: Gorgeous Ladies of Wrestling, also known as GLOW or G.L.O.W., is a women's professional wrestling promotion begun in 1986 (the pilot was filmed in December 1985) and continued in various forms after it left television. Colorful characters, strong women, and over-the-top comedy sketches were integral to the series' success. Most of the performers were actresses, models, dancers, and/or stunt women hoping to get into show business through wrestling. GLOW was created by Matt Cimber as an evolution of a somewhat different original concept by David B. McLane. That began as an aftermath of Jackie Stallone's physical fitness gym for women only, Barbarella's. Mando Guerrero trained all of the women initially. After they moved the show to Las Vegas Ninotchka took control over training the new women. The syndicated GLOW TV show was produced for four seasons (1986–1990) from the Riviera Hotel on the Las Vegas Strip. Seasons 3 and 4 were in fact, filmed at a former warehouse building approximately three miles east of the Riviera hotel which is currently a Harley-Davidson outlet. During the casting for the pilot, not all of the women were taking it seriously, so Mando Guerrero put one woman in a submission hold and made her cry. They cast twelve women for the show and trained them for six weeks prior to the shoot. They wrestled approximately eight matches per show, which eventually was sold. Some of the women moved to Las Vegas to continue working with the promotion. The show itself differed from Vince McMahon's World Wrestling Federation in that they had actual seasons where some wrestlers were dropped, changed, or added before the new season began. Each season consisted of 26 episodes that were each rerun once to complete the year, with a total of 104 episodes produced.
Series Overview
Rating
imDb Rating: 7.2 (456 Votes)
Metascore: N/A
Plot
Wrestlers will portray heroes or villains as they follow a series of events that build tension and culminate in a wrestling match or series matches.
Details
Rated: Not Rated
Released: 01 Jan 1986
Runtime: 60 min
Genre: Action, Comedy
Director: N/A
Writer: David B. McLane
Actors: Jeanne Basone, Emily Dole, Lorilyn Palmer, Mike Morgan
Language: English
Country: USA
Awards: N/A
Total Seasons: 9
Previous Episode
Cheyenne Cher's Reign (24)
Episode 4x26; May 26, 1990
Previous Episodes 4x26: Cheyenne Cher's Reign (24) 4x25: Cheyenne Cher's Reign (23) 4x24: Cheyenne Cher's Reign (22) 4x23: Highlights (2); Seasons 3 & 4 4x22: Highlights (1); Seasons 1 & 2 4x21: Cheyenne Cher's Reign (21) 4x20: Cheyenne Cher's Reign (20) 4x19: Cheyenne Cher's Reign (19) 4x18: Cheyenne Cher's Reign (18)

View All Episodes
Cast
Andrea Baird as Angel
Annette Marroquin as Jungle Woman
Laura Dennis as Cherry Bomb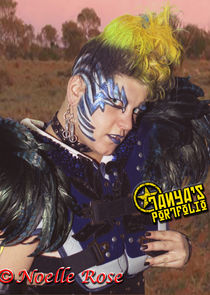 Kelle Favara as Beastie
Janet Bowers as Princess of Darkness
Christina Von Eerie as Christina Von Eerie
View Full Cast
Recent News
The 10 best streaming shows on Netflix
Here are ten great Netflix shows to watch, including Marriage Story, The Irishman, GLOW, the Get Down, One Day at a Time, Better Call Saul, and When They See Us
via NewsAPI
View More Related News
Skip to:
Season 1
| Episode No. | No. Overall | Title | Airdate | Runtime | Summary |
| --- | --- | --- | --- | --- | --- |
| 1 | 1 | Tammy's Reign (1) | 1986-09-13 | 60 | |
| 2 | 2 | Tammy's Reign (2) | | 60 | |
| 3 | 3 | Tammy's Reign (3) | | 60 | |
| 4 | 4 | Royal Hawaiian's Reign (1) | | 60 | |
| 5 | 5 | Royal Hawaiian's Reign (2) | | 60 | |
| 6 | 6 | Royal Hawaiian's Reign (3) | | 60 | |
| 7 | 7 | Royal Hawaiian's Reign (4) | | 60 | |
| 8 | 8 | Royal Hawaiian's Reign (5) | | 60 | |
| 9 | 9 | Royal Hawaiian's Reign (6) | | 60 | |
| 10 | 10 | Royal Hawaiian's Reign (7) | | 60 | |
| 11 | 11 | Royal Hawaiian's Reign (8) | | 60 | |
| 12 | 12 | Americana's Reign (1) | | 60 | |
| 13 | 13 | Americana's Reign (2) | | 60 | |
| 14 | 14 | Americana's Reign (3) | | 60 | |
| 15 | 15 | Americana's Reign (4) | | 60 | |
| 16 | 16 | Americana's Reign (5) | | 60 | |
| 17 | 17 | Americana's Reign (6) | | 60 | |
| 18 | 18 | Americana's Reign (7) | | 60 | |
| 19 | 19 | Americana's Reign (8) | | 60 | |
| 20 | 20 | Americana's Reign (9) | | 60 | |
| 21 | 21 | Americana's Reign (10) | | 60 | |
| 22 | 22 | Americana's Reign (11) | | 60 | |
| 23 | 23 | Americana's Reign (12) | | 60 | |
| 24 | 24 | Americana's Reign (13) | | 60 | |
| 25 | 25 | Americana's Reign (14) | | 60 | |
| 26 | 26 | Americana's Reign (15) | | 60 | |
Season 2
| Episode No. | No. Overall | Title | Airdate | Runtime | Summary |
| --- | --- | --- | --- | --- | --- |
| 1 | 27 | Vacant Crown (1) | 1990-06-01 | 60 | |
| 2 | 28 | Vacant Crown (2) | 1987-01-16 | 60 | |
| 3 | 29 | Vacant Crown (3) | 1987-02-06 | 60 | |
| 4 | 30 | Crown Still Vacant (1) | 1987-02-20 | 60 | |
| 5 | 31 | Crown Still Vacant (2) | 1987-03-20 | 60 | |
| 6 | 32 | Crown Still Vacant (3) | 1987-04-02 | 60 | |
| 7 | 33 | Crown Still Vacant (4) | 1987-04-10 | 60 | |
| 8 | 34 | Crown Still Vacant (5) | 1987-05-01 | 60 | |
| 9 | 35 | Crown Still Vacant (6) | 1987-05-15 | 60 | |
| 10 | 36 | Tina Ferrari's Reign (1) | 1987-05-29 | 60 | |
| 11 | 37 | Tina Ferrari's Reign (2) | 1987-06-05 | 60 | |
| 12 | 38 | Tina Ferrari's Reign (3) | 1987-06-19 | 60 | |
| 13 | 39 | Tina Ferrari's Reign (4) | 1987-07-03 | 60 | |
| 14 | 40 | Tina Ferrari's Reign (5) | 1987-07-17 | 60 | |
| 15 | 41 | Tina Ferrari's Reign (6) | 1987-07-31 | 60 | |
| 16 | 42 | Tina Ferrari's Reign (7) | 1987-08-07 | 60 | |
| 17 | 43 | Tina Ferrari's Reign (8) | 1987-08-21 | 60 | |
| 18 | 44 | Tina Ferrari's Reign (9) | 1987-09-04 | 60 | |
| 19 | 45 | Tina Ferrari's Reign (10) | 1987-09-18 | 60 | |
| 20 | 46 | Tina Ferrari's Reign (11) | 1987-10-02 | 60 | |
| 21 | 47 | Tina Ferrari's Reign (12) | 1987-10-16 | 60 | |
| 22 | 48 | Tina Ferrari's Reign (13) | 1987-10-30 | 60 | |
| 23 | 49 | Tina Ferrari's Reign (14) | 1987-11-06 | 60 | |
| 24 | 50 | Tina Ferrari's Reign (15) | 1987-11-20 | 60 | |
| 25 | 51 | Tina Ferrari's Reign (16) | 1987-12-04 | 60 | |
| 26 | 52 | Tina Ferrari's Reign (17) | | 60 | |
Season 3
| Episode No. | No. Overall | Title | Airdate | Runtime | Summary |
| --- | --- | --- | --- | --- | --- |
| 1 | 53 | Ninotchka's Reign (1) | | 60 | |
| 2 | 54 | Ninotchka's Reign (2) | | 60 | |
| 3 | 55 | Ninotchka's Reign (3) | | 60 | |
| 4 | 56 | Ninotchka's Reign (4) | | 60 | |
| 5 | 57 | Ninotchka's Reign (5) | | 60 | |
| 6 | 58 | Ninotchka's Reign (6) | | 60 | |
| 7 | 59 | Ninotchka's Reign (7) | | 60 | |
| 8 | 60 | Ninotchka's Reign (8) | | 60 | |
| 9 | 61 | Ninotchka's Reign (9) | | 60 | |
| 10 | 62 | Ninotchka's Reign (10) | | 60 | |
| 11 | 63 | Ninotchka's Reign (11) | | 60 | |
| 12 | 64 | Ninotchka's Reign (12) | | 60 | |
| 13 | 65 | Run for the Rubies Tournament | | 60 | |
| 14 | 66 | Run for the Rubies (1) | | 60 | |
| 15 | 67 | Run for the Rubies (2) | | 60 | |
| 16 | 68 | Run for the Rubies (3) | | 60 | |
| 17 | 69 | Run for the Rubies (4) | | 60 | |
| 18 | 70 | Run for the Rubies (5) | | 60 | |
| 19 | 71 | Run for the Rubies (6) | | 60 | |
| 20 | 72 | Run for the Rubies (7) | | 60 | |
| 21 | 73 | Run for the Rubies (8) | | 60 | |
| 22 | 74 | Run for the Rubies (9) | | 60 | |
| 23 | 75 | Run for the Rubies (10) | | 60 | |
| 24 | 76 | Run for the Rubies (11) | | 60 | |
| 25 | 77 | Run for the Rubies (12) | | 60 | |
| 26 | 78 | Run for the Rubies (13) | | 60 | |
Season 4
| Episode No. | No. Overall | Title | Airdate | Runtime | Summary |
| --- | --- | --- | --- | --- | --- |
| 1 | 79 | Cheyenne Cher's Reign (1) | | 60 | |
| 2 | 80 | Cheyenne Cher's Reign (2) | | 60 | |
| 3 | 81 | Cheyenne Cher's Reign (3) | | 60 | |
| 4 | 82 | Cheyenne Cher's Reign (4) | | 60 | |
| 5 | 83 | Cheyenne Cher's Reign (5) | | 60 | |
| 6 | 84 | Cheyenne Cher's Reign (6) | | 60 | |
| 7 | 85 | Cheyenne Cher's Reign (7) | | 60 | |
| 8 | 86 | Cheyenne Cher's Reign (8) | | 60 | |
| 9 | 87 | Cheyenne Cher's Reign (9) | | 60 | |
| 10 | 88 | Cheyenne Cher's Reign (10) | | 60 | |
| 11 | 89 | Cheyenne Cher's Reign (11) | | 60 | |
| 12 | 90 | Cheyenne Cher's Reign (12) | | 60 | |
| 13 | 91 | Cheyenne Cher's Reign (13) | | 60 | |
| 14 | 92 | Cheyenne Cher's Reign (14) | | 60 | |
| 15 | 93 | Cheyenne Cher's Reign (15) | | 60 | |
| 16 | 94 | Cheyenne Cher's Reign (16) | | 60 | |
| 17 | 95 | Cheyenne Cher's Reign (17) | | 60 | |
| 18 | 96 | Cheyenne Cher's Reign (18) | | 60 | |
| 19 | 97 | Cheyenne Cher's Reign (19) | | 60 | |
| 20 | 98 | Cheyenne Cher's Reign (20) | | 60 | |
| 21 | 99 | Cheyenne Cher's Reign (21) | | 60 | |
| 22 | 100 | Highlights (1); Seasons 1 & 2 | | 60 | |
| 23 | 101 | Highlights (2); Seasons 3 & 4 | | 60 | |
| 24 | 102 | Cheyenne Cher's Reign (22) | | 60 | |
| 25 | 103 | Cheyenne Cher's Reign (23) | | 60 | |
| 26 | 104 | Cheyenne Cher's Reign (24) | 1990-05-26 | 60 | |
Season 5
| Episode No. | No. Overall | Title | Airdate | Runtime | Summary |
| --- | --- | --- | --- | --- | --- |
Season 6
| Episode No. | No. Overall | Title | Airdate | Runtime | Summary |
| --- | --- | --- | --- | --- | --- |
Season 7
| Episode No. | No. Overall | Title | Airdate | Runtime | Summary |
| --- | --- | --- | --- | --- | --- |
Season 8
| Episode No. | No. Overall | Title | Airdate | Runtime | Summary |
| --- | --- | --- | --- | --- | --- |
Season 9
| Episode No. | No. Overall | Title | Airdate | Runtime | Summary |
| --- | --- | --- | --- | --- | --- |
Series Cast
| | | | |
| --- | --- | --- | --- |
| | Andrea Baird | as Angel | |
| | Annette Marroquin | as Jungle Woman | |
| | Laura Dennis | as Cherry Bomb | |
| | Kelle Favara | as Beastie | |
| | Janet Bowers | as Princess of Darkness | |
| | Christina Von Eerie | as Christina Von Eerie | |
| | Helena LaCount | as Daisy | |
| | Laurie Thompson | as Susie Spirit | |
| | Laura Fisher | as Attache | |
| | Narice Crockett | as Justice | |
| | Bonnie Maxon Gray | as Felony | |
| | Lynn Braxton | as Big Bad Mama | |
| | Janet Bowers | as Vine | |
| | Debi Pelletier | as Dallas | |
| | Debbie D'Amato | as Tammy Jones | |
| | Dee Booher | as Matilda the Hun | |
| | Penelope Johnson | as Liberty | |
| | Bella The Southen Bell | as Bella The Southen Bell | |
| | Brittany Astor | as The Brat | |
| | Tracee Meltzer | as Roxy Astor | |
| | Ann LaBree | as Debbie Debutante | |
| | Shiela Best | as Tara the Southern Belle | |
| | Tiffany Crystal | as Nadine Kadmiri | |
| | Jerrie Micheline Swoopes | as L'il Mama | |
| | Sneaky | as Sneaky | |
| | Eva Chirumbolo | as Broadway Rose #1 | |
| | April Homm | as The Royal Hawaiian | |
| | Michelle Duze | as Dementia #1 / Sugar | |
| | Dana Felton Howard | as Thunderbolt | |
| | Jane Hamlin | as The California Doll | |
| | Angelina Altishin | as Little Egypt | |
| | Queen Kong | as Queen Kong | |
| | Andrea Janell | as Broadway Rose #2 | |
| | Beckie Mullen | as Sally The Farmer's Daughter | |
| | Christy M. Smith | as Evangelina | |
| | Sandra Margot | as Tiffany Mellon | |
| | Ursula Hayden | as Babe The Farmer's Daughter | |
| | Nha Woo | as Little Fiji | |
| | Stephanie Finochio | as Trinity | |
| | Deann Murray | as Brunhilda | |
| | Charli Haynes | as Salt | |
| | Dawn Maestas | as Godiva | |
| | Sarah Del Ray | as Vallerie Vendetta | |
| | Janeen Jewitt | as Palestina | |
| | Noelle Rose | as Major Tanya | |
| | David B. McLane | as Announcer | |
| | Dee Chocktoot | as Cheyenne Cher | |
| | Janice Flynn | as Scarlet the Southern Belle | |
| | Nancy Daly | as Dementia #2 / The Widow | |
| | Sandy Manley | as Gremlina | |
| | Peach Janae | as Vicky Victory | |
| | Lisa Moretti | as Tina Ferrari | |
| | Eileen O'Hara | as MTV | |
| | Melissa Anderson | as Cheerleader Melissa | |
| | Canela Arechiga | as Cinnamon | |
| | Ericka Marr | as Spanish Red | |
| | Jackie Stallone | as Jackie Stallone | |
| | Christina Garcia | as Habana | |
| | Marie Moore | as Zelda The Brain | |
| | Cynthia Peretti | as Pepper | |
| | Mikaela Karr | as Mika the Headhunter | |
| | Sunny The California Girl | as Sunny The California Girl | |
| | Lori Palmer | as Colonel Ninotchka | |
| | Suzanne Duplessis | as Star | |
| | Jody Haselbarth | as Tulsa | |
| | Jeanne Basone | as Hollywood | |
| | Kitty Burke Municino | as Aunt Kitty | |
| | Cheryl Rusa | as Lightning | |
| | Emily Dole | as Mountain Fiji | |
| | Major Tanya #2 | as Major Tanya | |
| | Olympia Hartauer | as Corporal Kelly | |
| | Michelle Javas | as Stinky | |
| | Trudy Adams | as Amy The Farmer's Daughter | |
| | Trish Casella | as Jailbait | |
| | Nicole Bass | as Nicole Bass | |
| | Cindy Maranne | as Americana | |
| | Debbie Core | as Olympia | |
| | Daizee Haze | as Daizee Haze | |
| | Lillian Weaver Crabtree | as Corporal Kelly #2 | |
| | Patricia Summerland | as Sunny | |
Series Crew
| | Position | Name |
| --- | --- | --- |
| | Creator | David B. McLane |
Related News
TVMaze