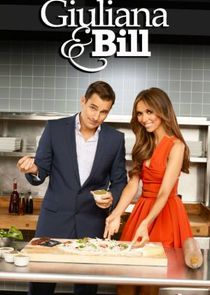 Once upon a time, E! News anchor Giuliana DePandi and Apprentice winner Bill Rancic fell in love, got married and settled down...in Chicago and L.A.! Wedded bliss has been one big adventure—but what happens when they try to bring a baby into their real-life romantic comedy?
Series Overview
Rating
imDb Rating: 4.8 (381 Votes)
Metascore: N/A
Plot
E! New reporter Giuliana Rancic and her husband, "Apprentice" winner Bill Rancic, lead a whirlwind life. She's a TV personality in LA, while Bill is a real estate developer and businessman ...
Details
Rated: TV-PG
Released: 05 Aug 2009
Runtime: 43 min
Genre: Drama, Family, Reality-TV
Director: N/A
Writer: N/A
Actors: Giuliana Rancic, Bill Rancic, Matt Jacobi
Language: English
Country: USA
Awards: 1 nomination.
Total Seasons: 7
Previous Episode
A Sibling for Duke?
Episode 7x10; Jun 03, 2014
Previous Episodes 7x10: A Sibling for Duke? 7x9: Couples Retreat 7x8: Marathon Not a Sprint 7x7: Saving Face 7x6: Rancic and Relaxation 7x5: The Italian Job 7x4: Up in the Air 7x3: Fifty Shades of G and B 7x2: Day of the Duke

View All Episodes
Skip to:
Season 1
| Episode No. | No. Overall | Title | Airdate | Runtime | Summary |
| --- | --- | --- | --- | --- | --- |
| 1 | 1 | Home Sweet Home | 2009-08-05 | 60 | |
| 2 | 2 | Suburbs or the City | 2009-08-12 | 60 | |
| 3 | 3 | An Italian Homecoming | 2009-08-19 | 60 | |
| 4 | 4 | Jet Set Jitters | 2009-08-26 | 60 | |
| 5 | 5 | Giuliana's Night Out | 2009-08-31 | 60 | |
| 6 | 6 | California Dreamin' | 2009-09-09 | 60 | |
| 7 | 7 | Cooking Up Trouble | 2009-09-16 | 60 | |
| 8 | 8 | Getting Better with Age | 2009-09-23 | 60 | |
| 9 | 9 | Royal Flush | 2009-09-30 | 60 | |
| 10 | 10 | I Do, Take Two | 2009-10-07 | 60 | |
Season 2
| Episode No. | No. Overall | Title | Airdate | Runtime | Summary |
| --- | --- | --- | --- | --- | --- |
| 1 | 11 | Knocked Up? | 2010-01-03 | 60 | |
| 2 | 12 | Operation Ovulation | 2010-01-10 | 60 | |
| 3 | 13 | Family Matters | 2010-01-17 | 60 | |
| 4 | 14 | Child's Play | 2010-01-24 | 60 | |
| 5 | 15 | Couple's Retreat | 2010-02-14 | 60 | |
| 6 | 16 | Made in Hong Kong | 2010-02-21 | 60 | |
| 7 | 17 | Make Room for Giuliana | 2010-02-28 | 60 | |
| 8 | 18 | Maybe... Baby? | 2010-03-14 | 60 | |
Season 3
| Episode No. | No. Overall | Title | Airdate | Runtime | Summary |
| --- | --- | --- | --- | --- | --- |
| 1 | 19 | Baby Steps | 2010-10-11 | 60 | |
| 2 | 20 | Honey, Where's Home? | 2010-10-18 | 60 | |
| 3 | 21 | A Heartbreaking Loss | 2010-10-25 | 60 | |
| 4 | 22 | Picking Up the Pieces | 2010-11-01 | 60 | |
| 5 | 23 | Roadtrip | 2010-11-08 | 60 | |
| 6 | 24 | Viva La Mancation | 2010-11-22 | 60 | |
| 7 | 25 | The Model Aunt | 2010-11-29 | 60 | |
| 8 | 26 | Mamma Mia! | 2010-12-06 | 60 | |
| 9 | 27 | Party Under Pressure | 2010-12-13 | 60 | |
| 10 | 28 | Last Chance | 2010-12-20 | 60 | |
Season 4
| Episode No. | No. Overall | Title | Airdate | Runtime | Summary |
| --- | --- | --- | --- | --- | --- |
| 1 | 29 | The Year of Fun Premiere Version | 2011-07-18 | 60 | |
| 2 | 30 | Rancics Go Royal | 2011-07-25 | 60 | |
| 3 | 31 | The DePandi Moving Company | 2011-08-01 | 60 | |
| 4 | 32 | Food Fight | 2011-08-08 | 60 | |
| 5 | 33 | Where to Next, Bill? | 2011-08-15 | 60 | |
| 6 | 34 | The Big 4-0 | 2011-08-22 | 60 | |
| 7 | 35 | It's Bill's Party and He'll Cry If He Wants To | 2011-08-29 | 60 | |
| 8 | 36 | All in the Familia | 2011-09-12 | 60 | |
| 9 | 37 | It's Complicated | 2011-09-19 | 60 | |
| 10 | 38 | A New Addition to the Family | 2011-09-26 | 60 | |
Season 5
| Episode No. | No. Overall | Title | Airdate | Runtime | Summary |
| --- | --- | --- | --- | --- | --- |
| 1 | 39 | The Battle Begins | 2012-04-03 | 60 | |
| 2 | 40 | The Booby Trap | 2012-04-10 | 60 | |
| 3 | 41 | Baby Mama? | 2012-04-17 | 60 | |
| 4 | 42 | Surgery Day | 2012-04-24 | 60 | |
| 5 | 43 | Back with a Bounce | 2012-05-01 | 60 | |
| 6 | 44 | New House Hunters | 2012-05-08 | 60 | |
| 7 | 45 | 48 Hour Hustle | 2012-05-15 | 60 | |
| 8 | 46 | Mama Depandi's Big Night | 2012-05-22 | 60 | |
| 9 | 47 | What Happens in Cabo... | 2012-05-29 | 60 | |
| 10 | 48 | Boy or Girl? | 2012-06-05 | 60 | |
| 11 | 49 | The Countdown Begins | 2012-10-02 | 60 | |
| 12 | 50 | We're Having A... | 2012-10-09 | 60 | |
| 13 | 51 | Babies Hate Me! | 2012-10-16 | 60 | |
| 14 | 52 | How to Be a Sexy Mom | 2012-10-23 | 60 | |
| 15 | 53 | Who's Your Nanny? | 2012-10-30 | 60 | |
| 16 | 54 | She's Having a Baby | 2012-11-13 | 60 | |
| 17 | 55 | Meet the Duke | 2012-11-20 | 60 | |
| 18 | 56 | Duke of Hazzard | 2012-11-27 | 60 | |
| 19 | 57 | Daddy Duty | 2012-12-04 | 60 | |
| 20 | 58 | Holy Baby! | 2012-12-11 | 60 | |
Season 6
| Episode No. | No. Overall | Title | Airdate | Runtime | Summary |
| --- | --- | --- | --- | --- | --- |
| 1 | 59 | Baby Hogs | 2013-07-16 | 60 | |
| 2 | 60 | Duke's Nanny and Pedi | 2013-07-23 | 60 | |
| 3 | 61 | G-String Surprise | 2013-07-30 | 60 | |
| 4 | 62 | Duking It Out | 2013-08-06 | 60 | |
| 5 | 63 | Baby on the Loose | 2013-08-13 | 60 | |
| 6 | 64 | Is Nonna Getting Botox? | 2013-08-20 | 60 | |
| 7 | 65 | G's First Mother's Day | 2013-08-27 | 60 | |
| 8 | 66 | One Tough Tot | 2013-09-03 | 60 | |
| 9 | 67 | Rancic Family Vacation | 2013-09-10 | 60 | |
| 10 | 68 | Time for Baby #2 | 2013-09-17 | 60 | |
Season 7
| Episode No. | No. Overall | Title | Airdate | Runtime | Summary |
| --- | --- | --- | --- | --- | --- |
| 1 | 69 | Home Alone | 2014-04-01 | 60 | |
| 2 | 70 | Day of the Duke | 2014-04-08 | 60 | |
| 3 | 71 | Fifty Shades of G and B | 2014-04-15 | 60 | |
| 4 | 72 | Up in the Air | 2014-04-22 | 60 | |
| 5 | 73 | The Italian Job | 2014-04-29 | 60 | |
| 6 | 74 | Rancic and Relaxation | 2014-05-06 | 60 | |
| 7 | 75 | Saving Face | 2014-05-13 | 60 | |
| 8 | 76 | Marathon Not a Sprint | 2014-05-21 | 60 | |
| 9 | 77 | Couples Retreat | 2014-05-28 | 60 | |
| 10 | 78 | A Sibling for Duke? | 2014-06-03 | 60 | |
Related News
TVMaze