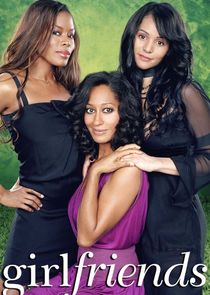 Girlfriends is a sophisticated comedy series that invites viewers into the lives of three professional African American women living in Los Angeles who are struggling with the weighty issues of life - men, love, money -- and more men. Girlfriends returns for its triumphant final year, providing an open, honest exploration of the hot-button issues about family, friends, relationships and life facing women today. With fearlessness and sincerity, the show takes on universal issues that interest all women. Whether it is being recently engaged, exploring your career or balancing friendships and a new baby, Girlfriends treats them all with tenderness, care and respect.
Series Overview
Rating
imDb Rating: 7.0 (3,135 Votes)
Metascore: N/A
Plot
A look at the lives, loves, and losses of four different women, Toni, Maya, Lynn, and Joan.
Details
Rated: TV-PG
Released: 11 Sep 2000
Runtime: 30 min
Genre: Comedy
Director: N/A
Writer: Mara Brock Akil
Actors: Tracee Ellis Ross, Golden Brooks, Persia White, Reginald C. Hayes
Language: English
Country: USA
Awards: Nominated for 1 Primetime Emmy. Another 8 wins & 37 nominations.
Total Seasons: 8
Previous Episode
Stand and Deliver
Episode 8x13; Feb 11, 2008
Previous Episodes 8x13: Stand and Deliver 8x12: What's Black-a-Lackin'? 8x11: Adapt to Adopt 8x10: Deck the Halls with Bags and Folly 8x9: R-E-S-P-E-C-T, Find Out What It Means to William 8x8: Save the Last Dance 8x7: Snap Back 8x6: Spree to Be Free 8x5: Good Grief

View All Episodes
Cast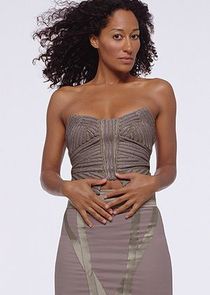 Tracee Ellis Ross as Joan Carol Clayton
Golden Brooks as Maya Denise Wilkes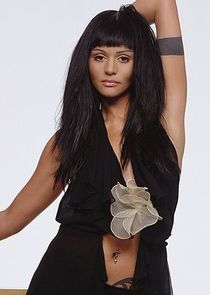 Persia White as Lynn Ann Searcy
Jill Marie Jones as Antoinette Marie "Toni" Childs-Garrett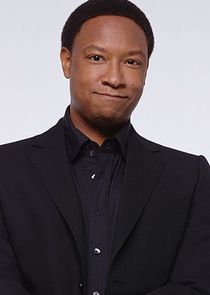 Reggie Hayes as William Jerome Dent
View Full Cast
Skip to:
Season 1
| Episode No. | No. Overall | Title | Airdate | Runtime | Summary |
| --- | --- | --- | --- | --- | --- |
| 1 | 1 | Toe Sucking | 2000-09-11 | 30 | |
| 2 | 2 | One Night Stand? | 2000-09-18 | 30 | |
| 3 | 3 | Girlfrenzy | 2000-09-25 | 30 | |
| 4 | 4 | Hip-Ocracy | 2000-10-02 | 30 | |
| 5 | 5 | I Pity the Fool | 2000-10-09 | 30 | |
| 6 | 6 | The Remains of the Date | 2000-10-30 | 30 | |
| 7 | 7 | Everything Fishy Ain't Fish | 2000-11-06 | 30 | |
| 8 | 8 | Pregnant Pause | 2000-11-13 | 30 | |
| 9 | 9 | Fried Turkey | 2000-11-20 | 30 | |
| 10 | 10 | Never a Bridesmaid | 2000-11-27 | 30 | |
| 11 | 11 | The Importance of Being Frank | 2000-12-11 | 30 | |
| 12 | 12 | The List | 2001-01-15 | 30 | |
| 13 | 13 | They've Gotta Have It | 2001-02-05 | 30 | |
| 14 | 14 | Bad Timing | 2001-02-12 | 30 | |
| 15 | 15 | Old Dog | 2001-02-19 | 30 | |
| 16 | 16 | Friends, Colleagues, Brothers | 2001-02-26 | 30 | |
| 17 | 17 | The Declaration of Lynndependence | 2001-03-05 | 30 | |
| 18 | 18 | Diss-regard | 2001-03-12 | 30 | |
| 19 | 19 | A Kiss Before Lying | 2001-04-16 | 30 | |
| 20 | 20 | The Burning Vagina Monologues | 2001-04-30 | 30 | |
| 21 | 21 | Loose Lips Sink Relationships | 2001-05-07 | 30 | |
| 22 | 22 | Jamaic-Up? | 2001-05-14 | 30 | |
Season 2
| Episode No. | No. Overall | Title | Airdate | Runtime | Summary |
| --- | --- | --- | --- | --- | --- |
| 1 | 23 | The Fallout | 2001-09-10 | 30 | |
| 2 | 24 | Just Say No | 2001-09-17 | 30 | |
| 3 | 25 | A Full Court Conspiracy | 2001-09-24 | 30 | |
| 4 | 26 | Un-Treatable | 2001-10-01 | 30 | |
| 5 | 27 | Buh-Bye | 2001-10-08 | 30 | |
| 6 | 28 | Willie or Won't He? | 2001-10-15 | 30 | |
| 7 | 29 | Trick or Truth | 2001-10-29 | 30 | |
| 8 | 30 | Joan's Birthday Suit | 2001-11-05 | 30 | |
| 9 | 31 | Maya Takes a Stan | 2001-11-12 | 30 | |
| 10 | 32 | Mom's the Word | 2001-11-19 | 30 | |
| 11 | 33 | You Better Watch Out | 2001-12-17 | 30 | |
| 12 | 34 | I Have a Dream House | 2002-01-21 | 30 | |
| 13 | 35 | Sister, Sistah | 2002-02-04 | 30 | |
| 14 | 36 | Willie or Won't He II: The Last Chapter? | 2002-02-11 | 30 | |
| 15 | 37 | Can't Stan Ya! | 2002-02-25 | 30 | |
| 16 | 38 | Take Me Out After the Ballgame | 2002-03-04 | 30 | |
| 17 | 39 | Childs in Charge | 2002-03-18 | 30 | |
| 18 | 40 | Taming of the Realtess | 2002-03-25 | 30 | |
| 19 | 41 | X Does Not Mark the Spot | 2002-04-29 | 30 | |
| 20 | 42 | My Mother, Myself | 2002-05-06 | 30 | |
| 21 | 43 | Just Dessert | 2002-05-13 | 30 | |
| 22 | 44 | Into the Woods | 2002-05-20 | 30 | |
Season 3
| Episode No. | No. Overall | Title | Airdate | Runtime | Summary |
| --- | --- | --- | --- | --- | --- |
| 1 | 45 | Coming to Terms | 2002-09-23 | 30 | |
| 2 | 46 | Getting Our Act Together | 2002-09-30 | 30 | |
| 3 | 47 | Secrets and Eyes | 2002-10-07 | 30 | |
| 4 | 48 | Star Craving Mad | 2002-10-14 | 30 | |
| 5 | 49 | Don't Leave Me a Loan | 2002-10-21 | 30 | |
| 6 | 50 | Invasion of the Gold Digger | 2002-10-28 | 30 | |
| 7 | 51 | Blinded by the Lights | 2002-11-04 | 30 | |
| 8 | 52 | Handling Baggage | 2002-11-11 | 30 | |
| 9 | 53 | The Mommy Returns | 2002-11-18 | 30 | |
| 10 | 54 | A Little Romance | 2002-11-25 | 30 | |
| 11 | 55 | Santa v. Monica | 2002-12-16 | 30 | |
| 12 | 56 | Take This Poem and Call Me in the Morning | 2003-01-06 | 30 | |
| 13 | 57 | Howdy Partner | 2003-01-07 | 30 | |
| 14 | 58 | Single Mama Drama | 2003-02-03 | 30 | |
| 15 | 59 | Happy Valentine's Day...Baby? | 2003-02-10 | 30 | |
| 16 | 60 | Sex, Lies and Books | 2003-02-17 | 30 | |
| 17 | 61 | A Stiff Good Man is Easy to Find | 2003-02-24 | 30 | |
| 18 | 62 | Runaway Bridesmaid | 2003-02-24 | 30 | |
| 19 | 63 | The Pact | 2003-03-17 | 30 | |
| 20 | 64 | Where Everyone Knows My Name | 2003-04-21 | 30 | |
| 21 | 65 | Too Much Sharin' | 2003-04-28 | 30 | |
| 22 | 66 | Blood is Thicker Than Liquor (a.k.a. Blood is Thicker Than Water) | 2003-05-05 | 30 | |
| 23 | 67 | The Fast Track and the Furious | 2003-05-12 | 30 | |
| 24 | 68 | Wedding (1) | 2003-05-19 | 30 | |
| 25 | 69 | Wedding (2) | 2003-05-19 | 30 | |
Season 4
| Episode No. | No. Overall | Title | Airdate | Runtime | Summary |
| --- | --- | --- | --- | --- | --- |
| 1 | 70 | Some Enchanted Evening | 2003-09-15 | 30 | |
| 2 | 71 | If It's Broke, Fix It | 2003-09-22 | 30 | |
| 3 | 72 | Snoop, There It Is | 2003-09-29 | 30 | |
| 4 | 73 | You Ain't Gotta Go Home But...You Know the Rest | 2003-10-06 | 30 | |
| 5 | 74 | Hopelessly Devoted to Two | 2003-10-13 | 30 | |
| 6 | 75 | Inherit the Lynn | 2003-10-20 | 30 | |
| 7 | 76 | And Baby Makes Four | 2003-11-03 | 30 | |
| 8 | 77 | Viva Las Vegas | 2003-11-10 | 30 | |
| 9 | 78 | Between Brock and a Hard Place | 2003-11-17 | 30 | |
| 10 | 79 | Don't You Want Me Baby? | 2003-11-24 | 30 | |
| 11 | 80 | Merry Ex-mas | 2003-12-15 | 30 | |
| 12 | 81 | Prophet and Loss | 2004-01-12 | 30 | |
| 13 | 82 | Comedy of Eros | 2004-02-09 | 30 | |
| 14 | 83 | Leggo My Ego | 2004-02-16 | 30 | |
| 15 | 84 | Good Catch or Bad Hop? | 2004-02-23 | 30 | |
| 16 | 85 | On the Couch | 2004-03-01 | 30 | |
| 17 | 86 | Love, Peace and Hair Grease | 2004-03-29 | 30 | |
| 18 | 87 | Wieners and Losers | 2004-04-12 | 30 | |
| 19 | 88 | He Loves Her, He Loves Me Not | 2004-04-26 | 30 | |
| 20 | 89 | A Partnerless Partner | 2004-05-03 | 30 | |
| 21 | 90 | Just the Three of Us | 2004-05-10 | 30 | |
| 22 | 91 | Love Thy Neighbor | 2004-05-17 | 30 | |
| 23 | 92 | New York Bound (1) | 2004-05-24 | 30 | |
| 24 | 93 | New York Unbound (2) | 2004-05-24 | 30 | |
Season 5
| Episode No. | No. Overall | Title | Airdate | Runtime | Summary |
| --- | --- | --- | --- | --- | --- |
| 1 | 94 | L.A. Bound | 2004-09-20 | 30 | |
| 2 | 95 | The Rabbit Died | 2004-09-27 | 30 | |
| 3 | 96 | A Mile in Her Loubous | 2004-10-04 | 30 | |
| 4 | 97 | The J-Spot | 2004-10-11 | 30 | |
| 5 | 98 | Maybe Baby | 2004-10-18 | 30 | |
| 6 | 99 | Too Big for Her Britches | 2004-10-25 | 30 | |
| 7 | 100 | The Mother of All Episodes (1) | 2004-11-08 | 30 | |
| 8 | 101 | When Hearts Attack (2) | 2004-11-15 | 30 | |
| 9 | 102 | Who's Your Daddy? | 2004-11-22 | 30 | |
| 10 | 103 | Porn to Write | 2004-11-29 | 30 | |
| 11 | 104 | All the Creatures Were Stirring | 2004-12-13 | 30 | |
| 12 | 105 | P.D.A. - D.O.A. | 2005-01-03 | 30 | |
| 13 | 106 | All in a Panic | 2005-02-07 | 30 | |
| 14 | 107 | Great Sexpectations | 2005-02-14 | 30 | |
| 15 | 108 | The Way We Were | 2005-02-21 | 30 | |
| 16 | 109 | See J-Spot Run | 2005-02-28 | 30 | |
| 17 | 110 | Good News, Bad News | 2005-03-28 | 30 | |
| 18 | 111 | Kids Say the Darndest Things | 2005-04-25 | 30 | |
| 19 | 112 | Finn-ished | 2005-05-02 | 30 | |
| 20 | 113 | The Bridges of Fresno County | 2005-05-09 | 30 | |
| 21 | 114 | Wedding on the Rocks | 2005-05-16 | 30 | |
| 22 | 115 | …With a Twist | 2005-05-23 | 30 | |
Season 6
| Episode No. | No. Overall | Title | Airdate | Runtime | Summary |
| --- | --- | --- | --- | --- | --- |
| 1 | 116 | Fits & Starts (1) | 2005-09-19 | 30 | |
| 2 | 117 | Odds & Ends (2) | 2005-09-26 | 30 | |
| 3 | 118 | And Nanny Makes Three | 2005-10-03 | 30 | |
| 4 | 119 | Latching on and Lashing Out | 2005-10-10 | 30 | |
| 5 | 120 | Judging Edward | 2005-10-17 | 30 | |
| 6 | 121 | Everything Old is New Again | 2005-10-24 | 30 | |
| 7 | 122 | Trial and Errors | 2005-11-07 | 30 | |
| 8 | 123 | Hot Girl on Girl Action | 2005-11-14 | 30 | |
| 9 | 124 | Sleeping Dogs | 2005-11-21 | 30 | |
| 10 | 125 | My Business, Not Your Business | 2005-11-28 | 30 | |
| 11 | 126 | All God's Children | 2005-12-12 | 30 | |
| 12 | 127 | The Music in Me | 2006-01-16 | 30 | |
| 13 | 128 | The It Girl | 2006-02-06 | 30 | |
| 14 | 129 | Work in Progress | 2006-02-13 | 30 | |
| 15 | 130 | Oh, Hell Yes: The Seminar | 2006-02-20 | 30 | |
| 16 | 131 | Game Over | 2006-02-27 | 30 | |
| 17 | 132 | I'll Be There for You... But Not Right Now | 2006-03-27 | 30 | |
| 18 | 133 | The Game | 2006-04-17 | 30 | |
| 19 | 134 | It's Raining Men | 2006-04-24 | 30 | |
| 20 | 135 | I Don't Wanna Be a Player No More | 2006-05-01 | 30 | |
| 21 | 136 | Party Over Here | 2006-05-08 | 30 | |
| 22 | 137 | Ain't Nothing Over There | 2006-05-08 | 30 | |
Season 7
| Episode No. | No. Overall | Title | Airdate | Runtime | Summary |
| --- | --- | --- | --- | --- | --- |
| 1 | 138 | After the Storm | 2006-10-02 | 30 | |
| 2 | 139 | In Too Deep | 2006-10-09 | 30 | |
| 3 | 140 | Bad Blood | 2006-10-16 | 30 | |
| 4 | 141 | Hustle & Dough | 2006-10-23 | 30 | |
| 5 | 142 | Everybody Hates Monica | 2006-10-30 | 30 | |
| 6 | 143 | If You Can't Stand the Heat, Get Out of the Boonies | 2006-11-06 | 30 | |
| 7 | 144 | Just Joan | 2006-11-13 | 30 | |
| 8 | 145 | Karaoke-Dokee | 2006-11-20 | 30 | |
| 9 | 146 | He Had a Dream | 2006-11-27 | 30 | |
| 10 | 147 | I'll Have a Blue Line Christmas | 2006-12-11 | 30 | |
| 11 | 148 | Wrong Side of the Tracks | 2007-01-22 | 30 | |
| 12 | 149 | I Want My Baby Back | 2007-01-29 | 30 | |
| 13 | 150 | Hot for Preacher | 2007-02-05 | 30 | |
| 14 | 151 | Time to Man Up | 2007-02-12 | 30 | |
| 15 | 152 | Willie He or Won't He III: This Time It's Personal | 2007-02-19 | 30 | |
| 16 | 153 | What Had Happened Was.... | 2007-02-26 | 30 | |
| 17 | 154 | Church Lady | 2007-03-19 | 30 | |
| 18 | 155 | Operation Does She Yield | 2007-03-26 | 30 | |
| 19 | 156 | A Dingo Ate My Dream House | 2007-04-23 | 30 | |
| 20 | 157 | A House Divided | 2007-04-30 | 30 | |
| 21 | 158 | To Be Determined… | 2007-05-07 | 30 | |
| 22 | 159 | It's Been Determined | 2007-05-07 | 30 | |
Season 8
| Episode No. | No. Overall | Title | Airdate | Runtime | Summary |
| --- | --- | --- | --- | --- | --- |
| 1 | 160 | Range of Emotions | 2007-10-01 | 30 | |
| 2 | 161 | Baghdad, My Bad | 2007-10-08 | 30 | |
| 3 | 162 | Where Did Lynn-digo? | 2007-10-15 | 30 | |
| 4 | 163 | Losing It | 2007-10-22 | 30 | |
| 5 | 164 | Good Grief | 2007-10-29 | 30 | |
| 6 | 165 | Spree to Be Free | 2007-11-05 | 30 | |
| 7 | 166 | Snap Back | 2007-11-12 | 30 | |
| 8 | 167 | Save the Last Dance | 2007-11-19 | 30 | |
| 9 | 168 | R-E-S-P-E-C-T, Find Out What It Means to William | 2007-11-26 | 30 | |
| 10 | 169 | Deck the Halls with Bags and Folly | 2007-12-10 | 30 | |
| 11 | 170 | Adapt to Adopt | 2008-02-04 | 30 | |
| 12 | 171 | What's Black-a-Lackin'? | 2008-02-11 | 30 | |
| 13 | 172 | Stand and Deliver | 2008-02-11 | 30 | |
Series Cast
| | | | |
| --- | --- | --- | --- |
| | Tracee Ellis Ross | as Joan Carol Clayton | |
| | Golden Brooks | as Maya Denise Wilkes | |
| | Persia White | as Lynn Ann Searcy | |
| | Jill Marie Jones | as Antoinette Marie "Toni" Childs-Garrett | |
| | Reggie Hayes | as William Jerome Dent | |
Series Crew
| | Position | Name |
| --- | --- | --- |
| | Co-Producer | Karin Gist |
| | Creator | Mara Brock Akil |
| | Executive Producer | Mara Brock Akil |
| | Executive Producer | Kelsey Grammer |
| | Co-Producer | Tim Edwards |
| | Co-Executive Producer | Michael B. Kaplan |
| | Co-Producer | Mary Fukuto |
| | Executive Producer | Rudy Hornish |
| | Executive Producer | Dee LaDuke |
| | Co-Executive Producer | Regina Hicks |
| | Co-Producer | Lamont Ferrell |
| | Supervising Producer | Lamont Ferrell |
| | Co-Producer | Norman Vance, Jr. |
| | Supervising Producer | Norman Vance, Jr. |
| | Co-Producer | Marcy Gray Rubin |
| | Co-Producer | Bernadette Luckett |
| | Co-Producer | Kyra Keene |
| | Consulting Producer | Mark Alton Brown |
| | Associate Producer | Suzanne Holmes |
| | Associate Producer | Chris Maul |
| | Co-Producer | David Silverman |
Related News
TVMaze