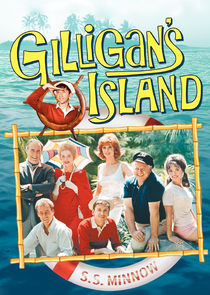 Seven people go on a three hour tour out of Hawaii. A bad storm hits and they end up shipwrecked on a deserted island. Many zany adventures ensue, mainly due to Gilligan's ineptness. The group includes the Skipper, Gilligan, Mr. & Mrs. Howell, two married millionaires, Ginger Grant a movie star, Mary Ann the simple girl next door and The Professor who seems to have a very wide field of knowledge.
Series Overview
Rating
imDb Rating: 7.3 (11,547 Votes)
Metascore: N/A
Plot
Seven men and women are stranded on an uncharted island following a torrential storm.
Details
Rated: TV-G
Released: 26 Sep 1964
Runtime: 30 min
Genre: Comedy, Family
Director: N/A
Writer: Sherwood Schwartz
Actors: Bob Denver, Alan Hale Jr., Jim Backus, Natalie Schafer
Language: English
Country: USA
Awards: 5 wins & 2 nominations.
Total Seasons: 3
Previous Episode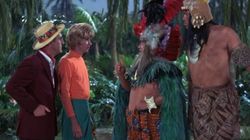 Gilligan, the Goddess
Episode 3x30; Apr 17, 1967
Previous Episodes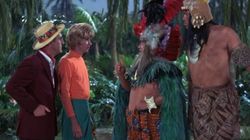 3x30: Gilligan, the Goddess


3x29: Bang! Bang! Bang! 3x28: The Pigeon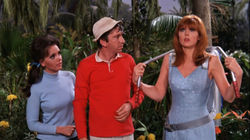 3x27: It's a Bird, It's a Plane 3x26: Slave Girl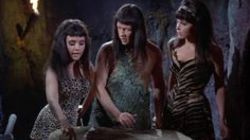 3x25: The Secret of Gilligan's Island 3x24: The Second Ginger Grant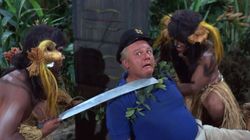 3x23: High Man on the Totem Pole 3x22: Splashdown

View All Episodes
Cast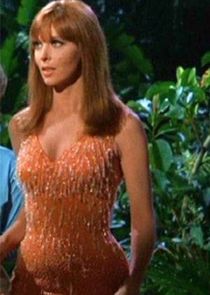 Tina Louise as Ginger Grant
Jim Backus as Thurston Howell III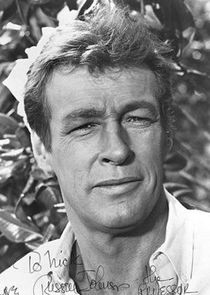 Russell Johnson as Professor Roy Hinkley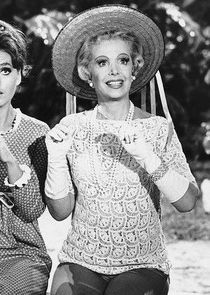 Natalie Schafer as Lovey Howell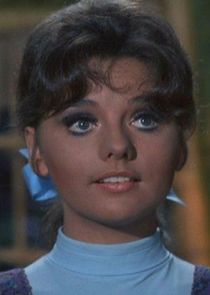 Dawn Wells as Mary Ann Summers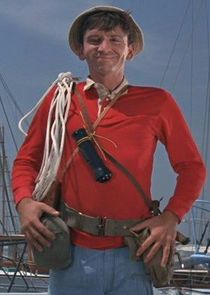 Bob Denver as Gilligan
View Full Cast
Skip to:
Season 1
| Episode No. | No. Overall | Title | Airdate | Runtime | Summary |
| --- | --- | --- | --- | --- | --- |
| 1 | 1 | Two on a Raft | 1964-09-26 | 30 | The castaways wake up with the Minnow beached on the island, the Skipper and Gilligan work on a raft then take off with it to find help. The professor discovers artifacts from a tribe of head hunters called the Marubi in a cave and sets a trap for the head hunters in case they show up. |
| 2 | 2 | Home Sweet Hut | 1964-10-03 | 30 | The Skipper wants the castaways to build a community hut because the is a bad tropical storm on the way. However, none of them can work together so they all start building their own huts. |
| 3 | 3 | Voodoo Something to Me | 1964-10-10 | 30 | Gilligan stands night watch as they are unfamiliar with the island yet. During the night, someone steals from the supply hut and the Skipper believes that it is voodoo. |
| 4 | 4 | Goodnight Sweet Skipper | 1964-10-17 | 30 | The Skipper starts sleepwalking and reliving a World War II experience, he thinks Gilligan is one of his Navy mates and tries to have Gilligan help him convert the receiver into a transmitter. |
| 5 | 5 | Wrongway Feldman | 1964-10-24 | 30 | Gilligan discovers a airplane while going through the jungle, the plane turns out to belong to Wrongway Feldman. Feldman disappeared years before. |
| 6 | 6 | President Gilligan | 1964-10-31 | 30 | The Skipper and Mr. Howell run for president of the island with surprising results. |
| 7 | 7 | The Sound of Quacking | 1964-11-07 | 30 | Gilligan finds a duck while a blight is hitting the island and the rest of the islanders start hungrily eyeing his pet duck. |
| 8 | 8 | Goodbye Island | 1964-11-21 | 30 | The professor tries to make nails that can be used to repair the Minnow. A glue like sap is then discovered by Gilligan that seems to work like magic. |
| 9 | 9 | The Big Gold Strike | 1964-11-28 | 30 | While doing work for Mr. Howell, Gilligan falls in a hole and discovers one of the island's valuable resources; meanwhile, the girls are fishing and latch onto a possible way off the island for the castaways. |
| 10 | 10 | Waiting for Watubi | 1964-12-05 | 30 | While digging near the lagoon, the idol of Kona is discovered and the Skipper who is deeply superstitious believes that something really bad will happen unless the idol is put to rest. |
| 11 | 11 | Angel on the Island | 1964-12-12 | 30 | Ginger is depressed because a play written especially with her in mind for the lead is not going to star her. Gilligan talks Mr. Howell into putting on the play there on the island to see if it is something he would like to produce back home. Then during practice, Mr. Howell looses track of why they are putting on the play and puts Lovey in the lead role instead of Ginger. |
| 12 | 12 | Birds Gotta Fly, Fish Gotta Talk | 1964-12-19 | 30 | The castaways reminisce about things that have happened to them on the island once they hear a news broadcast about a Coast Guard cutter being on the way to rescue the Minnow survivors. |
| 13 | 13 | Three Million Dollars More or Less | 1964-12-26 | 30 | Mr. Howell ends up betting on sinking golf putts with Gilligan and Gilligan wins 3 million dollars, Mr. Howell tries to figure out a way to trick Gilligan out of the money. |
| 14 | 14 | Water, Water Everywhere | 1965-01-02 | 30 | The castaways well runs out of water, Gilligan is put on guard duty over the remaining water supply. |
| 15 | 15 | So Sorry, My Island Now | 1965-01-09 | 30 | Gilligan is in the lagoon trying to catch food and see's what he thinks is a sea serpent. Later it turns out to be a Japanese world war II mini one man submarine who's pilot is not aware that World War II has been over for more than 20 years. |
| 16 | 16 | Plant You Now, Dig You Later | 1965-01-16 | 30 | While digging a barbque pit for Mr. Howell, Gilligan comes across a treasure chest. A battle ensues over who's property the chest is. |
| 17 | 17 | Little Island, Big Gun | 1965-01-23 | 30 | A gangster comes to the island posing as a doctor. |
| 18 | 18 | X Marks the Spot | 1965-01-30 | 30 | It is a normal day on the island, the Skipper and Gilligan are working on their normal projects for their little community. Meanwhile, the Pentagon decides to test a new missile, the target they choose is the Castaways island. |
| 19 | 19 | Gilligan Meets Jungle Boy | 1965-02-06 | 30 | Gilligan see's a jungle boy while he is out and about on the island and no one believes him when he tells the castaways about the boy. |
| 20 | 20 | St. Gilligan and the Dragon | 1965-02-13 | 30 | Tired of waiting for huts of their own, the women go on strike and then it is men vs. women as the guys come up with a plan to get them back. |
| 21 | 21 | Big Man on Little Stick | 1965-02-20 | 30 | A surfer rides his board into the lagoon and then becomes more infatuated with Ginger and Mary Ann than returning to civilization so the castaways can be rescued. |
| 22 | 22 | Diamonds Are an Ape's Best Friend | 1965-02-27 | 30 | Mrs. Howell's diamond broach disappears and then Mrs. Howell disappears. |
| 23 | 23 | How to Be a Hero | 1965-03-06 | 30 | When Gilligan's attempt to rescue Mary Ann fails and both of them has to be rescued by the Skipper, Gilligan gets a inferiority complex and the castaways devise schemes to help him feel like a hero. |
| 24 | 24 | The Return of Wrongway Feldman | 1965-03-13 | 30 | Wrongway Feldman returns to enjoy the island life he had before and the castaways try to come up with ways to get him to go back to civilization to help with their rescue. |
| 25 | 25 | The Matchmaker | 1965-03-20 | 30 | Mrs. Howell gets board because she is missing all her society activities and decides to get Gilligan and Mary Ann together as a couple. |
| 26 | 26 | Music Hath Charm | 1965-03-27 | 30 | Gilligan becomes infatuated with drumming and Mrs. Howell realizes that she misses music so she gets the castaways to form a island band. Gilligan's drumming is interpreted as war drums by natives on a nearby island. |
| 27 | 27 | New Neighbor Sam | 1965-04-03 | 30 | The castaways become concerned when Gilligan hears gangsters talking on the island and the Skipper confirms it. Once they discover the gangsters, Mr. Howell's greed kicks in and he wants to find their loot. |
| 28 | 28 | They're Off and Running | 1965-04-10 | 30 | After winning 39 turtle races, Mr. Howell wants to win the 40th. He talks the Skipper into betting Gilligan's services as a houseboy and soon starts to wish he had left well enough alone. |
| 29 | 29 | Three to Get Ready | 1965-04-17 | 30 | Gilligan finds the 'Eye of the Idol' which legend has it, can grant 3 wishes according to his best friend the Skipper. The professor objects and says there is no such thing as the wishes and that anything that might happen is pure coincidence. |
| 30 | 30 | Forget Me Not | 1965-04-24 | 30 | When the castaways have a possible chance of rescue because of Navy activities in the area, the Skipper gets amnesia and thinks everyone is Japanese soldiers. |
| 31 | 31 | Diogenes, Won't You Please Go Home? | 1965-05-01 | 30 | Gilligan is keeping a secret that is driving the rest of the castaways up a wall with curiosity to discover what it is. |
| 32 | 32 | Physical Fatness | 1965-05-08 | 30 | The Skipper has to go on a crash diet when he realizes that he weighs too much to re-enlist in the Navy again. Meanwhile, the professor invents a phosphorescent dye that he hopes will work for signalling passing ships. |
| 33 | 33 | It's Magic | 1965-05-15 | 30 | While fishing Gilligan finds a magicians trunk with all types of stage props in it. Later Gilligan feels useless when he overhears the other castaways talking about him and uses Ginger's trick to vanish. |
| 34 | 34 | Goodbye, Old Paint | 1965-05-22 | 30 | An eccentric painter is discovered living on the island and the castaways attempt to get him to help them get rescued. |
| 35 | 35 | My Fair Gilligan | 1965-06-05 | 30 | After Gilligan saves Mrs. Howel's life, he is adopted by the Howell's. He soon discovers that life among the rich and famous is not all it is cracked up to be, even on a deserted island. |
| 36 | 36 | A Nose by Any Other Name | 1965-06-12 | 30 | Gilligan gets a injured nose when he falls out of a Palm Tree while collecting coconuts. His nose swells up causing him to have emotional issues with his looks. He then decides he wants the professor to give him a new nose. |
Season 2
| Episode No. | No. Overall | Title | Airdate | Runtime | Summary |
| --- | --- | --- | --- | --- | --- |
| 1 | 37 | Gilligan's Mother-in-Law | 1965-09-16 | 30 | A native family from a nearby island visits looking for a husband for their daughter. Gilligan becomes the prime candidate. |
| 2 | 38 | Beauty Is as Beauty Does | 1965-09-23 | 30 | The castaways decide to hold a beauty contest to decide who the prettiest woman on the island is with Gilligan being conned into being the judge. |
| 3 | 39 | The Little Dictator | 1965-09-30 | 30 | An exiled dictator is dropped off onto the island until it is safe for him to return to his country. |
| 4 | 40 | Smile, You're on Mars Camera | 1965-10-07 | 30 | A Mars probe mistakenly comes down on the island and when the professor repairs the camera, scientists believe they are getting images of Mars Meanwhile Mr. Howell has put Gilligan to work on a secret project for his anniversary. |
| 5 | 41 | The Sweepstakes | 1965-10-14 | 30 | Gilligan hears his sweepstakes ticket numbers called off on the radio and wins a million dollars, Mr. Howell then invites Gilligan to become a member of the Howell's exclusive millionaires club. |
| 6 | 42 | Quick Before It Sinks | 1965-10-28 | 30 | Gilligan is trying to catch some nice lobsters in the lagoon so everyone can have a great dinner. Meanwhile, the professor notices that the water is getting higher on the measuring stick out in the lagoon that he is using to figure out if the island is sinking or not. While all this is occurring the women decide that the island needs to be landscaped around the huts. |
| 7 | 43 | Castaways Pictures Presents | 1965-11-04 | 30 | Gilligan finds a ship and the castaways salvage the cargo then come up with a scheme to get rescued. |
| 8 | 44 | Agonized Labor | 1965-11-11 | 30 | A radio news report announces that Mr. Howell has lost all his fortune and the castaways have to deal with the results. |
| 9 | 45 | Nyet, Nyet - Not Yet | 1965-11-18 | 30 | When two Russian Cosmonauts land in the lagoon, the castaways hope for rescue blossoms. They try everything they can to appease the cosmonauts and appear as the harmless people that they are. |
| 10 | 46 | Hi-Fi Gilligan | 1965-11-25 | 30 | Gilligan accidentally becomes a radio receiver after he has a accident when he and the Skipper are preparing for a coming typhoon. |
| 11 | 47 | The Chain of Command | 1965-12-02 | 30 | When the Skipper realizes that they have to have a chain of command on the island if something ever happens to him, Chaos ensues with Gilligan's help. |
| 12 | 48 | Don't Bug the Mosquitoes | 1965-12-09 | 30 | The members of a popular rock band known as the Mosquitoes (played by The Wellingtons, who do the Gilligan's Island theme for seasons 2-3) come to the island to get away from their fans so they can practice their music in peace. When the castaways find out that it will be quite a while before they can get off the island, they try to get the group to leave early. |
| 13 | 49 | Gilligan Gets Bugged | 1965-12-16 | 30 | Gilligan is bitten by a bug and the professor gives him 24 hours to live. |
| 14 | 50 | Mine Hero | 1965-12-23 | 30 | While fishing, Gilligan reels in a world war II mine and that ends up being activated. |
| 15 | 51 | Erika Tiffany Smith to the Rescue | 1965-12-30 | 30 | A rich playgirl comes to the island with the intent of turning it into a resort, the Howells prefer to be rescued by someone else. |
| 16 | 52 | Not Guilty | 1966-01-06 | 30 | The castaways suspect that a murder is among them when a newspaper makes its way onto the island. |
| 17 | 53 | You've Been Disconnected | 1966-01-13 | 30 | After a bad storm, a trans-ocean communications cable is washed up into the lagoon and the castaways try to contact civilization. |
| 18 | 54 | The Postman Cometh | 1966-01-20 | 30 | When the other castaways start acting odd around Mary Ann she thinks she has eaten poisonous mushrooms and is dying. |
| 19 | 55 | Seer Gilligan | 1966-01-27 | 30 | Gilligan discovers an island bush with seeds that make mind reading possible. |
| 20 | 56 | Love Me, Love My Skipper | 1966-02-03 | 30 | Everyone receives an invitation to the Howells' party except the Skipper. |
| 21 | 57 | Gilligan's Living Doll | 1966-02-10 | 30 | An experimental robot launched by the Air Force parachutes onto the island. |
| 22 | 58 | Forward March | 1966-02-17 | 30 | Mr. Howell organizes an army and appoints himself general after the castaways are attacked. |
| 23 | 59 | Ship Ahoax | 1966-02-24 | 30 | After so much time on the island with just the 7 people, the castaways are starting to go a bit island crazy. Snapping at each other for the littlest thing. The professor and Ginger come up with a way to relieve the pressure and tell everyone that Ginger is fortune teller. Gilligan is especially easy to convince. |
| 24 | 60 | Feed the Kitty | 1966-03-03 | 30 | A caged circus lion escapes after washing ashore on the island. |
| 25 | 61 | Operation: Steam Heat | 1966-03-10 | 30 | Hot water spurting from beneath the island warns the castaways that a volcano is about to erupt. |
| 26 | 62 | Will the Real Mr. Howell Please Stand Up? | 1966-03-17 | 30 | While listening to the radio, the castaways find out that a imposter has been posing as Mr. Howell in order to get his money. |
| 27 | 63 | Ghost a Go-Go | 1966-03-24 | 30 | |
| 28 | 64 | Allergy Time | 1966-03-31 | 30 | The Skipper becomes allergic to Gilligan and the Professor tries to figure out why. |
| 29 | 65 | The Friendly Physician | 1966-04-07 | 30 | A mad doctor visits the island and promises rescue, however when he takes the castaways to his nearby island they are in for a spooky surprise. |
| 30 | 66 | V for Vitamins | 1966-04-14 | 30 | The castaways are starting to suffer from vitamin C deficiency. They are getting weaker as time goes by and Gilligan has the last orange. After the last orange shrivels and Gilligan is standing guard over the seeds he has a Jack and the Giant dream. Of note is, when the giant Skipper is chasing small Gilligan around the orange cases, small Gilligan is played by Bob Denver's son. |
| 31 | 67 | Mr. and Mrs.??? | 1966-04-21 | 30 | While listening to the news on the radio, the castaways discover that the minister who married the Howells was not actually ordained so all the marriages are invalid. |
| 32 | 68 | Meet the Meteor | 1966-04-28 | 30 | When a radio active meteor hits the island, the castaways fear they have a limited time to live because of the radiation. |
Season 3
| Episode No. | No. Overall | Title | Airdate | Runtime | Summary |
| --- | --- | --- | --- | --- | --- |
| 1 | 69 | Up at Bat | 1966-09-12 | 30 | Gilligan is bitten by a bat and becomes obsessed with becoming a vampire because of it. He moves away from the rest of the castaways into a cave on the other side of the island. Gilligan then has a nightmare about being the Count living in a castle in Transylvania. |
| 2 | 70 | Gilligan vs. Gilligan | 1966-09-19 | 30 | Gilligan keeps seeing his double and the rest of the castaways do not believe him. |
| 3 | 71 | Pass the Vegetables, Please | 1966-09-26 | 30 | While fishing Gilligan reels in a crate of vegetables. The castaways are astonished at some of the properties of the vegetables until they discover that they are radioactive. |
| 4 | 72 | The Producer | 1966-10-03 | 30 | Harold Hecuba, a movie producer is shipwrecked on the island and the castaways try to get him to to help rescue them. They then end up putting on a musical to get his attention. |
| 5 | 73 | Voodoo | 1966-10-10 | 30 | |
| 6 | 74 | Where There's a Will | 1966-10-17 | 30 | |
| 7 | 75 | Man with a Net | 1966-10-24 | 30 | |
| 8 | 76 | Hair Today, Gone Tomorrow | 1966-10-31 | 30 | |
| 9 | 77 | Ring Around Gilligan | 1966-11-07 | 30 | |
| 10 | 78 | Topsy-Turvy | 1966-11-14 | 30 | |
| 11 | 79 | The Invasion | 1966-11-21 | 30 | Gilligan catches a old brief case while fishing that has U.S. Government Top Secret stamped on it and handcuffs on the handle. The castaways start speculating what the briefcase may contain. |
| 12 | 80 | The Kidnapper | 1966-11-28 | 30 | The Skipper finds a note saying Mrs. Howell has been kidnapped, Mr. Howell pays the ransom and she is returned. They then find out that all the women on the island are going to be kidnapped again and again. |
| 13 | 81 | And Then There Were None | 1966-12-05 | 30 | The castaways start disappearing one by one, since at first Gilligan is the only one who is with the women and he starts to think he is the cause of their vanishing. He then has a Dr. Jekyll and Mr. Hyde nightmare. |
| 14 | 82 | All About Eva | 1966-12-12 | 30 | |
| 15 | 83 | Gilligan Goes Gung-Ho | 1966-12-26 | 30 | |
| 16 | 84 | Take a Dare | 1967-01-02 | 30 | |
| 17 | 85 | Court-Martial | 1967-01-09 | 30 | |
| 18 | 86 | The Hunter | 1967-01-16 | 30 | |
| 19 | 87 | Lovey's Secret Admirer | 1967-01-23 | 30 | |
| 20 | 88 | Our Vines Have Tender Apes | 1967-01-30 | 30 | |
| 21 | 89 | Gilligan's Personal Magnetism | 1967-02-06 | 30 | Gilligan is hit by lightning and gets a stone bowling ball stuck on his hand. While the Professor and Skipper are trying to get the rock off, the rock is struck by lightning and Gilligan turns invisible. |
| 22 | 90 | Splashdown | 1967-02-20 | 30 | |
| 23 | 91 | High Man on the Totem Pole | 1967-02-27 | 30 | While taking the Howells for a drive, Gilligan discovers a head hunter totem pole with a replica of his head on it. Later the castaways are taken prisoner and Gilligan has to save them. |
| 24 | 92 | The Second Ginger Grant | 1967-03-06 | 30 | |
| 25 | 93 | The Secret of Gilligan's Island | 1967-03-13 | 30 | Gilligan discovers an incomplete stone tablet with hieroglyphics on it. The Professor interprets the markings to be a map of how to get off the island. The castaways then search all the caves on the island for the missing pieces of the tablet. |
| 26 | 94 | Slave Girl | 1967-03-20 | 30 | |
| 27 | 95 | It's a Bird, It's a Plane | 1967-03-27 | 30 | Gilligan finds a Buck Rogers style jet pack that was lost by the navy. The professor works to make fuel for it so they can be rescued from the island. |
| 28 | 96 | The Pigeon | 1967-04-03 | 30 | |
| 29 | 97 | Bang! Bang! Bang! | 1967-04-10 | 30 | The navy has a crate of plastic explosives washed overboard and Gilligan finds it. The castaways make all kinds of things out of it before discovering what it actually is. |
| 30 | 98 | Gilligan, the Goddess | 1967-04-17 | 30 | |
Series Cast
| | | | |
| --- | --- | --- | --- |
| | Tina Louise | as Ginger Grant | |
| | Jim Backus | as Thurston Howell III | |
| | Russell Johnson | as Professor Roy Hinkley | |
| | Natalie Schafer | as Lovey Howell | |
| | Dawn Wells | as Mary Ann Summers | |
| | Bob Denver | as Gilligan | |
| | Alan Hale Jr. | as Skipper Jonas Grumby | |
Series Crew
| | Position | Name |
| --- | --- | --- |
| | Consultant | David P. Harmon |
| | Composer | Sherwood Schwartz |
| | Creator | Sherwood Schwartz |
| | Executive Producer | Sherwood Schwartz |
| | Producer | Sherwood Schwartz |
| | Main Title Theme | Sherwood Schwartz |
| | Film Editor | Larry Heath |
| | Music Supervisor | Morton Stevens |
| | Creative Consultant | William Froug |
| | Executive Producer | William Froug |
| | Executive Producer | Jack Arnold |
| | Producer | Jack Arnold |
| | Set Decorator | Raymond Molyneaux |
| | Art Director | William Craig Smith |
| | Director Of Photography | Dick Rawlings |
| | Music | Frank Comstock |
| | Film Editor | Everett Sutherland |
| | Set Decorator | James Crowe |
| | Associate Producer | Robert L. Rosen |
| | Unit Production Manager | Robert L. Rosen |
| | Assistant Director | William D'Arcy |
| | Second Unit Director Of Photography | William D'Arcy |
| | Music Supervisor | Herschel Burke Gilbert |
| | Composer | George Wyle |
| | Main Title Theme | George Wyle |
| | Music | John Williams |
| | Transportation Coordinator | Frank Khoury |
| | Music Supervisor | Michael Burke Gilbert |
| | Art Director | Craig Smith |
| | Art Director | Malcolm C. Bert |
| | Set Decorator | Hal Gausman |
| | Unit Production Manager | Cy Brooskin |
| | Director Of Photography | Richard Rawlings |
| | Casting | James Lister |
| | Set Decorator | Herman N. Schoenbrun |
| | Composer | Gerald Fried |
| | Music | Gerald Fried |
| | Casting | Pam Polifroni |
| | Film Editor | Gene Fowler |
| | Film Editor | Frank Capacchione |
| | Assistant Director | Christopher N. Seiter |
| | Film Editor | Howard A. Smith |
| | Set Decorator | Donald E. Webb |
| | Film Editor | Ben Marmon |
| | Film Editor | Robert B. Warwick |
| | Assistant Director | Jack Bohrer |
| | Film Editor | Donald W. Ernst |
Related News
TVMaze