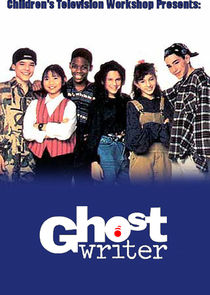 Ghostwriter was the story of a group of New York City kids, brought together by the spiritual being known as "Ghostwriter". The kids work together, with Ghostwriter's help, to solve the mysteries they encounter. The series featured a cast of widely different ethnic groups, and focused on the concept of "making reading fun.
Series Overview
Rating
imDb Rating: 7.8 (2,107 Votes)
Metascore: N/A
Plot
A group of teenagers solves local crimes, capers, and mysteries in their neighborhood, with the help of a ghost who can only communicate through writing and words.
Details
Rated: TV-Y7
Released: 04 Oct 1992
Runtime: 30 min
Genre: Family, Fantasy, Mystery
Director: N/A
Writer: N/A
Actors: Blaze Berdahl, David López, Marcella Lowery, Tram-Anh Tran
Language: English
Country: UK, USA
Awards: 1 win & 1 nomination.
Total Seasons: 3
Previous Episode
Attack of the Slime Monster, Part 4
Episode 3x12; Feb 12, 1995
Previous Episodes 3x12: Attack of the Slime Monster, Part 4 3x11: Attack of the Slime Monster, Part 3 3x10: Attack of the Slime Monster, Part 2 3x9: Attack of the Slime Monster, Part 1 3x8: Four Days of the Cockatoo, Part 4 3x7: Four Days of the Cockatoo, Part 3 3x6: Four Days of the Cockatoo, Part 2 3x5: Four Days of the Cockatoo, Part 1 3x4: A Crime of Two Cities, Part 4

View All Episodes
Recent News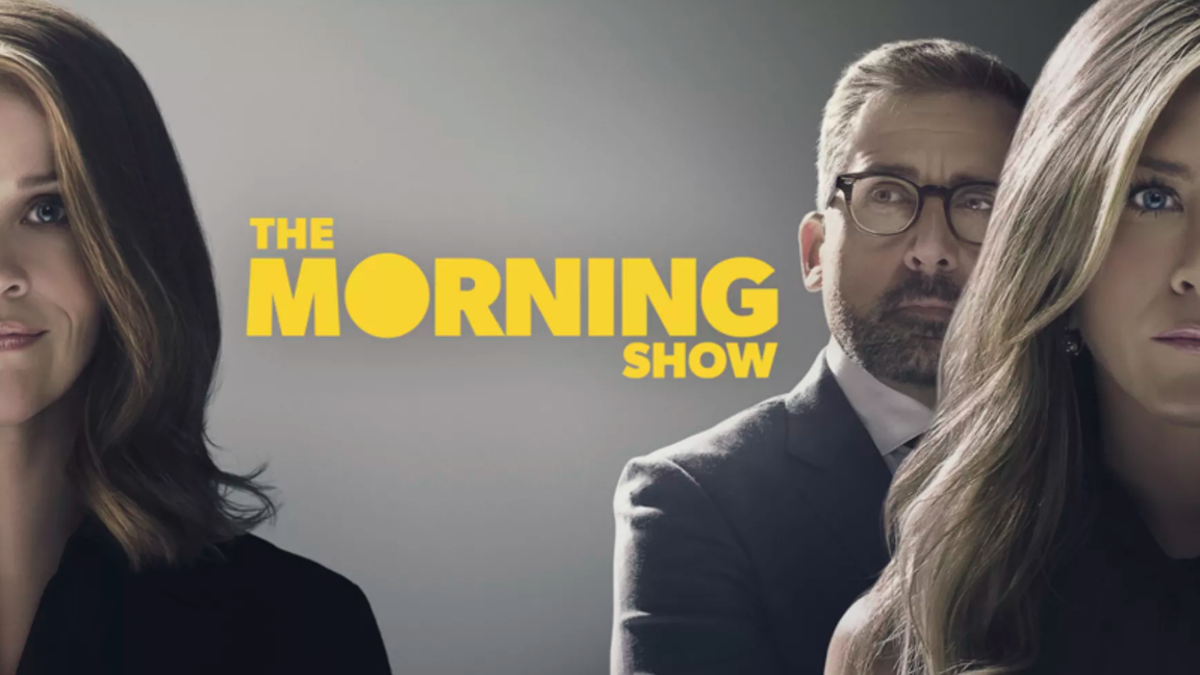 Every Apple TV+ Exclusive Available on Launch Day
Apple TV Plus launches on Friday, November 1, and though the $5 monthly price tag and slowly-expanding device support make it an easy sell for the passionate Apple fans out there, those who haven't already bought into the wider Apple ecosystem may need some c…
What's on TV this week: 'Shenmue III'
Nearly twenty years after the first game debuted on Dreamcast, Shenmue III will be released this week on PS4 and PC. Fans of TV can pick through the flood of content arriving on Apple TV+ and Disney+ at the end of the week, or select something like a Bikram y…
via NewsAPI
View More Related News
Skip to:
Season 1
| Episode No. | No. Overall | Title | Airdate | Runtime | Summary |
| --- | --- | --- | --- | --- | --- |
| 1 | 1 | Ghost Story, Part 1 | 1992-10-04 | 30 | |
| 2 | 2 | Ghost Story, Part 2 | 1992-10-11 | 30 | |
| 3 | 3 | Ghost Story, Part 3 | 1992-10-18 | 30 | |
| 4 | 4 | Ghost Story, Part 4 | 1992-10-25 | 30 | |
| 5 | 5 | Ghost Story, Part 5 | 1992-11-01 | 30 | |
| 6 | 6 | Who Burned Mr. Brinker's Store?, Part 1 | 1992-11-01 | 30 | |
| 7 | 7 | Who Burned Mr. Brinker's Store?, Part 2 | 1992-11-08 | 30 | |
| 8 | 8 | Who Burned Mr. Brinker's Store?, Part 3 | 1992-11-15 | 30 | |
| 9 | 9 | Who Burned Mr. Brinker's Store?, Part 4 | 1992-11-22 | 30 | |
| 10 | 10 | To Catch a Creep, Part 1 | 1992-11-29 | 30 | |
| 11 | 11 | To Catch a Creep, Part 2 | 1992-12-06 | 30 | |
| 12 | 12 | To Catch a Creep, Part 3 | 1992-12-13 | 30 | |
| 13 | 13 | To Catch a Creep, Part 4 | 1992-12-20 | 30 | |
| 14 | 14 | Into the Comics, Part 1 | 1992-12-27 | 30 | |
| 15 | 15 | Into the Comics, Part 2 | 1993-01-03 | 30 | |
| 16 | 16 | Into the Comics, Part 3 | 1993-01-10 | 30 | |
| 17 | 17 | Into the Comics, Part 4 | 1993-01-17 | 30 | |
| 18 | 18 | To the Light, Part 1 | 1993-01-24 | 30 | |
| 19 | 19 | To the Light, Part 2 | 1993-01-31 | 30 | |
| 20 | 20 | To the Light, Part 3 | 1993-02-07 | 30 | |
| 21 | 21 | To the Light, Part 4 | 1993-02-14 | 30 | |
| 22 | 22 | To the Light, Part 5 | 1993-02-21 | 30 | |
| 23 | 23 | Who's Who, Part 1 | 1993-03-07 | 30 | |
| 24 | 24 | Who's Who, Part 2 | 1993-03-14 | 30 | |
| 25 | 25 | Who's Who, Part 3 | 1993-03-21 | 30 | |
| 26 | 26 | Who's Who, Part 4 | 1993-03-28 | 30 | |
| 27 | 27 | Over a Barrel, Part 1 | 1993-04-11 | 30 | |
| 28 | 28 | Over a Barrel, Part 2 | 1993-04-18 | 30 | |
| 29 | 29 | Over a Barrel, Part 3 | 1993-04-25 | 30 | |
| 30 | 30 | Over a Barrel, Part 4 | 1993-04-25 | 30 | |
| 31 | 31 | Building Bridges, Part 1 | 1993-04-25 | 30 | |
| 32 | 32 | Building Bridges, Part 2 | 1993-05-02 | 30 | |
| 33 | 33 | Building Bridges, Part 3 | 1993-05-09 | 30 | |
| 34 | 34 | Building Bridges, Part 4 | 1993-07-04 | 30 | |
Season 2
| Episode No. | No. Overall | Title | Airdate | Runtime | Summary |
| --- | --- | --- | --- | --- | --- |
| 1 | 35 | Am I Blue?, Part 1 | 1993-09-12 | 30 | |
| 2 | 36 | Am I Blue?, Part 2 | 1993-09-19 | 30 | |
| 3 | 37 | Am I Blue?, Part 3 | 1993-09-26 | 30 | |
| 4 | 38 | Am I Blue?, Part 4 | 1993-10-03 | 30 | |
| 5 | 39 | Get the Message, Part 1 | 1993-10-03 | 30 | |
| 6 | 40 | Get the Message, Part 2 | 1993-10-10 | 30 | |
| 7 | 41 | Get the Message, Part 3 | 1993-10-17 | 30 | |
| 8 | 42 | Get the Message, Part 4 | 1993-10-24 | 30 | |
| 9 | 43 | Just in Time, Part 1 | 1993-10-31 | 30 | |
| 10 | 44 | Just in Time, Part 2 | 1993-11-07 | 30 | |
| 11 | 45 | Just in Time, Part 3 | 1993-11-17 | 30 | |
| 12 | 46 | Just in Time, Part 4 | 1993-11-24 | 30 | |
| 13 | 47 | Lost in Brooklyn, Part 1 | 1993-11-28 | 30 | |
| 14 | 48 | Lost in Brooklyn, Part 2 | 1993-12-05 | 30 | |
| 15 | 49 | Lost in Brooklyn, Part 3 | 1993-12-12 | 30 | |
| 16 | 50 | Lost in Brooklyn, Part 4 | 1993-12-19 | 30 | |
| 17 | 51 | Who is Max Mouse?, Part 1 | 1993-12-26 | 30 | |
| 18 | 52 | Who is Max Mouse?, Part 2 | 1993-01-03 | 30 | |
| 19 | 53 | Who is Max Mouse?, Part 3 | 1994-01-10 | 30 | |
| 20 | 54 | Who is Max Mouse?, Part 4 | 1994-01-16 | 30 | |
| 21 | 55 | Don't Stop the Music, Part 1 | 1994-01-23 | 30 | |
| 22 | 56 | Don't Stop the Music, Part 2 | 1994-01-30 | 30 | |
| 23 | 57 | Don't Stop the Music, Part 3 | 1994-02-06 | 30 | |
| 24 | 58 | Don't Stop the Music, Part 4 | 1994-02-13 | 30 | |
| 25 | 59 | What's Up with Alex?, Part 1 | 1994-04-10 | 30 | |
| 26 | 60 | What's Up with Alex?, Part 2 | 1994-04-17 | 30 | |
| 27 | 61 | What's Up with Alex?, Part 3 | 1994-04-24 | 30 | |
| 28 | 62 | What's Up with Alex?, Part 4 | 1994-05-01 | 30 | |
Season 3
| Episode No. | No. Overall | Title | Airdate | Runtime | Summary |
| --- | --- | --- | --- | --- | --- |
| 1 | 63 | A Crime of Two Cities, Part 1 | 1994-10-02 | 30 | |
| 2 | 64 | A Crime of Two Cities, Part 2 | 1994-10-09 | 30 | |
| 3 | 65 | A Crime of Two Cities, Part 3 | 1994-10-16 | 30 | |
| 4 | 66 | A Crime of Two Cities, Part 4 | 1994-10-23 | 30 | |
| 5 | 67 | Four Days of the Cockatoo, Part 1 | 1994-10-30 | 30 | |
| 6 | 68 | Four Days of the Cockatoo, Part 2 | 1994-11-06 | 30 | |
| 7 | 69 | Four Days of the Cockatoo, Part 3 | 1994-11-13 | 30 | |
| 8 | 70 | Four Days of the Cockatoo, Part 4 | 1994-11-20 | 30 | |
| 9 | 71 | Attack of the Slime Monster, Part 1 | 1995-01-22 | 30 | |
| 10 | 72 | Attack of the Slime Monster, Part 2 | 1995-01-29 | 30 | |
| 11 | 73 | Attack of the Slime Monster, Part 3 | 1995-02-05 | 30 | |
| 12 | 74 | Attack of the Slime Monster, Part 4 | 1995-02-12 | 30 | |
Related News
TVMaze