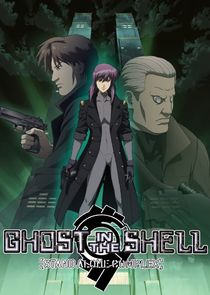 Major Motoko Kusanagi is a beautiful but deadly cyborg that is squad leader of Section 9-the Japanese government's clandestine unit assigned to battle terrorism and cyber warfare. Surrounded by an expertly trained team, Motoko faces her ultimate challenge- the Laughing Man- a terrorist who orchestrated a kidnapping and extortion plot many years ago and has suddenly reappeared. In order to discover the identity of this enigmatic criminal, Motoko and Section 9 are drawn into a deadly labyrinth and they ll have to use all their expertise to survive.
Series Overview
Rating
imDb Rating: 8.5 (17,223 Votes)
Metascore: N/A
Plot
The futuristic adventures of a female cyborg counter intelligence agent and her support team.
Details
Rated: TV-MA
Released: 07 Nov 2004
Runtime: 24 min
Genre: Animation, Action, Crime, Sci-Fi, Thriller
Director: N/A
Writer: N/A
Actors: Shirô Saitô, Mary Elizabeth McGlynn, William Frederick Knight, Richard Epcar
Language: Japanese
Country: Japan
Awards: 1 win.
Total Seasons: 2
Previous Episode
Endless Gig
Episode 2x26; Jan 08, 2005
The Tachikomas seize the AI satellite as the nuclear missile is about to be launched.
Previous Episodes 2x26: Endless Gig 2x25: This Side of Justice 2x24: Nuclear Power 2x23: Martial Law 2x22: Reversal Process 2x21: Embarrassment 2x20: Fabricate Fog 2x19: Chain Reaction 2x18: Trans Parent

View All Episodes
Cast
Atsuko Tanaka as Kusanagi, Motoko
Akio Ohtsuka as Batou
Kouichi Yamadera as Togusa
Saka Osamu as Aramaki, Daisuke
Sakiko Tamagawa as Tachikoma
Tarô Yamaguchi as Borma
View Full Cast
Skip to:
Season 1
| Episode No. | No. Overall | Title | Airdate | Runtime | Summary |
| --- | --- | --- | --- | --- | --- |
| 1 | 1 | Section 9 | 2002-10-01 | 30 | |
| 2 | 2 | Testation | 2002-10-08 | 30 | |
| 3 | 3 | Android and I | 2002-10-15 | 30 | |
| 4 | 4 | Intercepter | 2002-10-22 | 30 | |
| 5 | 5 | Decoy | 2002-10-29 | 30 | |
| 6 | 6 | Meme | 2002-11-05 | 30 | A virus outbreak targets a specific victim. Meanwhile, Tagusa and Bato search for Nanao=A. |
| 7 | 7 | Idolater | 2002-11-12 | 30 | Section 9 tracks a revolutionary who has come to Japan, their task is difficult because the man employs lookalikes. |
| 8 | 8 | Missing Hearts | 2002-11-19 | 30 | Black market organ dealers are investigated after a young girl receives a new heart that was given to her without the permission of the donor's family. |
| 9 | 9 | Chat! Chat! Chat! | 2002-11-26 | 30 | Motoko peruses chat rooms to gather information on the Laughing Man. |
| 10 | 10 | Jungle Cruise | 2002-12-03 | 30 | The group goes after a rogue CIA agent who is murdering people in a very brutal fashion. Batou takes a special interest in the case. |
| 11 | 11 | Portraitz | 2002-12-10 | 30 | |
| 12 | 12 | Escape From | 2002-12-17 | 30 | |
| 13 | 13 | Not Equal | 2002-12-24 | 30 | A kidnapped girl surfaces when the Maritime Safety Team spots her on a radiation scrubbing station and Section 9 is called in to rescue her. |
| 14 | 14 | Automated Capitalism - Yes | 2002-12-31 | 30 | Section 9 stops cabal thieves planning to rob a bank before being called away due to an assassination attempt by Chinese Socialists. |
| 15 | 15 | Machines Désirantes | 2003-01-07 | 30 | Kusanagi's concerns come to a head when she becomes disturbed by Section 9's behavior. |
| 16 | 16 | Ag2O | 2003-01-14 | 30 | Sensitive information is stolen from a U.S. Naval base and Batou is ordered to spy on the primary suspect, who happens to be a paralympic swimmer. |
| 17 | 17 | Angel's Share | 2003-01-21 | 30 | A friend asks Armaki for help to break up a mafia money laundering scheme involving a bank and an unknown third party. |
| 18 | 18 | Lost Heritage | 2003-01-28 | 30 | A foreign minister visits the Kagoshima War Memorial in Japan, but a death threat puts him in danger. |
| 19 | 19 | Captivated | 2003-02-04 | 30 | A former prime minister's daughter is abducted and Section 9 is called in to investigate. |
| 20 | 20 | Re-view | 2003-02-11 | 30 | Togusa investigates new information on the Laughing Man. |
| 21 | 21 | Eraser | 2003-02-18 | 30 | Section 9 goes on the hunt for Doctor Imakurusu. |
| 22 | 22 | Scandal | 2003-02-25 | 30 | Major Kusanagi's ghost is transferred into a new host body. |
| 23 | 23 | Equinox | 2003-03-04 | 30 | The director of Serano Genomics is abducted again. |
| 24 | 24 | Annihilation | 2003-03-11 | 30 | |
| 25 | 25 | Barrage | 2003-03-18 | 30 | Batou is ambushed while visiting Motoko's apartment, but he finds Motoko's weapons and is able to put up a fight. |
| 26 | 26 | Stand Alone Complex | 2003-03-25 | 30 | Togusa is released from jail and told that Section 9 is gone, so he plots to assassinate the person responsible. |
Season 2
| Episode No. | No. Overall | Title | Airdate | Runtime | Summary |
| --- | --- | --- | --- | --- | --- |
| 1 | 27 | Reembody | 2004-01-01 | 30 | |
| 2 | 28 | Night Cruise | 2004-01-01 | 30 | A Refugee wants to change the world with his violent vision. |
| 3 | 29 | Cash Eye | 2004-02-07 | 30 | A hacker plots to break into a vault, but his scheme is more complex than it seems. |
| 4 | 30 | Natural Enemy | 2004-02-07 | 30 | A live-fire training operation goes awry, ending with the helicopters opening fire on refugees. Section 9 has to contain the problem. |
| 5 | 31 | Inductance | 2004-03-06 | 30 | After the Prime Minister receives death threats, section nine serves as bodyguards. |
| 6 | 32 | Excavation | 2004-03-06 | 30 | Togusa investigates a hit and run that is not what it seems. |
| 7 | 33 | 239Pu | 2004-04-03 | 30 | Section 9 guards plutonium transfer from a nuclear facility after the plan is leaked to terrorists. |
| 8 | 34 | Fake Food | 2004-04-03 | 30 | Section 9 discovers that the Public Safety Sections are being compromised by false information. |
| 9 | 35 | Ambivalence | 2004-05-08 | 30 | Section 9 tries to prevent suicide bombings while the investigation into Gohda continues. |
| 10 | 36 | Trial | 2004-05-08 | 30 | Togusa faces murder charges after an off-duty incident but the courts seem to have a hidden agenda. |
| 11 | 37 | Affection | 2004-06-05 | 30 | Batou and Togusa test 8 new possible recruits for Section 9. The new recruits split into 4 teams and track the Major and while eluding them, the Major runs into a old woman who tells her a interesting story when she is drawn to a small shop on a side street. |
| 12 | 38 | Selecon | 2004-06-05 | 30 | The Individual Eleven plot to enact their plan, while members of Section 9 trail them and try to discover their objective. |
| 13 | 39 | Make Up | 2004-07-03 | 30 | The designer of Kuze's face is located |
| 14 | 40 | Poker Face | 2004-07-03 | 30 | Saito reflects back to his start with Section 9 and how he first met the Major. |
| 15 | 41 | PAT | 2004-08-07 | 30 | The Tachikomas discuss cases and the detached feelings they have been experiencing. |
| 16 | 42 | Another Chance | 2004-08-07 | 30 | Ishikawa returns to Section 9 to report what he learned about Kuze's past. |
| 17 | 43 | Red Data | 2004-09-04 | 30 | The Major goes to Taiwan while investigating Kuze and ends up getting involved with a local gang preying on refugees. |
| 18 | 44 | Trans Parent | 2004-09-04 | 30 | Batou and the Major track terrorists while on assignment in Berlin. |
| 19 | 45 | Chain Reaction | 2004-10-02 | 30 | The Major tries to find Kuze by accessing a cyberbrain hub at a refugee camp, where tensions are escalating quickly. |
| 20 | 46 | Fabricate Fog | 2004-10-02 | 30 | Kuze's location and true intentions are made known to section 9. |
| 21 | 47 | Embarrassment | 2004-11-06 | 30 | Section 9 is severely damaged when Kuze escapes. |
| 22 | 48 | Reversal Process | 2004-11-06 | 30 | Section 9 must defuse a nuclear bomb planted in the city and trace it's origins. |
| 23 | 49 | Martial Law | 2004-12-04 | 30 | Martial law is declared in Dejima when the government suspects refugees will seek independence. |
| 24 | 50 | Nuclear Power | 2004-12-04 | 30 | The Major and part of Section 9 go to Dejima to hand over a nuclear device in an effort to ease tensions. |
| 25 | 51 | This Side of Justice | 2005-01-08 | 30 | Kuze becomes trapped with the Major while trying to take down a jamming plane. |
| 26 | 52 | Endless Gig | 2005-01-08 | 30 | The Tachikomas seize the AI satellite as the nuclear missile is about to be launched. |
Series Cast
| | | | |
| --- | --- | --- | --- |
| | Atsuko Tanaka | as Kusanagi, Motoko | |
| | Akio Ohtsuka | as Batou | |
| | Kouichi Yamadera | as Togusa | |
| | Saka Osamu | as Aramaki, Daisuke | |
| | Sakiko Tamagawa | as Tachikoma | |
| | Tarô Yamaguchi | as Borma | |
Series Crew
| | Position | Name |
| --- | --- | --- |
| | Special Effects | Masahiro Murakami |
| | Editor | Junichi Uematsu |
| | Director Of Photography | Koji Tanaka |
Related News
TVMaze