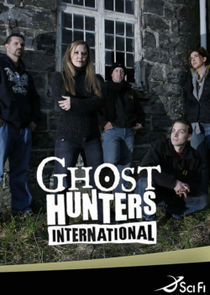 Ghost Hunters International is a spin-off of the highly successful SyFy Channel series Ghost Hunters that assembles a team of paranormal investigators to test out allegedly otherworldly activity in Europe. Armchair travelers with a taste for the extraordinary won't want to miss this one.
Series Overview
Rating
imDb Rating: 5.7 (1,256 Votes)
Metascore: N/A
Plot
Ghost Hunters International (GHI) is a reality series that follows a team of paranormal investigators; the GHI team travels around the world and documents some of the world's most legendary haunted locations.
Details
Rated: N/A
Released: 09 Jan 2008
Runtime: N/A
Genre: Documentary
Director: N/A
Writer: N/A
Actors: Barry Fitzgerald, Robb Demarest, Joe Chin, Paul Bradford
Language: English
Country: USA
Awards: N/A
Total Seasons: 3
Previous Episode
Hell's Gate: Canada
Episode 3x13; Apr 04, 2012
Previous Episodes 3x13: Hell's Gate: Canada 3x12: The Rise of Frankenstein: Belgium & Italy 3x11: Ghoul's School: American Samoa 3x10: Sacrificed Mayan Spirits: Belize and France 3x9: The Crystal Maiden: Belize & France 3x8: The Man in the Iron Mask: Italy 3x7: Temple of Doom: Peru 3x6: Imprisioned Souls: New Zealand 3x5: Murders and Mysteries: England and New Zealand

View All Episodes
Skip to:
Season 1
| Episode No. | No. Overall | Title | Airdate | Runtime | Summary |
| --- | --- | --- | --- | --- | --- |
| 1 | 1 | Chillingham | 2008-01-09 | 60 | In the chilling premiere episode, the team heads to England to unlock the mysteries behind the grisly 800-year history of Chillingham Castle, widely regarded as the most haunted castle in England. |
| 2 | 2 | Evil Unearthed | 2008-01-16 | 60 | In this episode, the team descends into the macabre depths of the Abbey at Lucedio, near Turin, Italy, to unlock the secrets behind the dark legends that make up the Abbey's lurid 1400-year history. |
| 3 | 3 | Whispers from Beyond | 2008-01-23 | 60 | The Ghost Hunters International team heads to an idyllic community in central England to investigate claims at the notorious Belgrave Hall. |
| 4 | 4 | Haunted Village | 2008-01-30 | 60 | The GHI team visits the Black Horse Inn, Elvey Farm Hotel and The Screaming Woods in Pluckley Village, England. |
| 5 | 5 | Fortress of Fear | 2008-02-06 | 60 | The team treks high into the mountains of Romania to pay a visit to the Citadel Rasnov, a 13th century fortress that was built to provide protection and defense to the neighboring village below. The castle has been the subject of local legends for years, the most notorious of which tells the tale of two captured soldiers who died in a well on the castle grounds in which they had spent years living as captives. |
| 6 | 6 | Headless Haunting | 2008-02-13 | 60 | GHI visits a German fortress whose chambers are haunted by the spirit of a beheaded 13th Century nobleman. Then it's all off to Slovakia, where the team separates legends from facts in the dark halls of Orava Castle. |
| 7 | 7 | Frankenstein's Castle | 2008-02-20 | 60 | Macabre rumors of witchcraft, wandering spirits and grave-robbing give GHI and special guest investigator Josh Gates of "Destination Truth" plenty to dig into at the real Frankenstein's Castle in Germany. |
| 8 | 8 | Larnach Castle | 2008-07-09 | 60 | In this episode, the team makes their way to what many believe is the most haunted site in New Zealand, Larnach Castle. |
| 9 | 9 | Devil Dog | 2008-07-16 | 60 | Join the Ghost Hunters International team as they visit Wellington, New Zealand's St. James Theatre and Opera House. Then, the team heads to Gloucestershire, England to investigate the mysteries of Woodchester Mansion. |
| 10 | 10 | Castle of the Damned | 2008-07-23 | 60 | The team travels to Ireland to explore the mysteries of the infamous Charleville Castle. From there the team visits Samlesbury Hall in Samlesbury, England. |
| 11 | 11 | Shattered Spirit | 2008-07-30 | 60 | The Ghost Hunters International team visits Bodelwyddan Castle in Denbighshire, Wales. Shrouded in mystery and housing unidentified bones in its walls, the only thing certain about this castle is the presence of unexplained shadows and drifting figures through its long corridors. |
| 12 | 12 | Hauntings of South Africa | 2008-08-06 | 60 | The GHI team investigates the Nottingham Road Hotel that is haunted by a dead prostitute, and Cape Town Castle. |
| 13 | 13 | Tortured Souls | 2008-08-13 | 60 | The first ever to investigate this ominous site, the team explores Slovenian national monument, the Predjama Castle. The team then travels to another castle with a far more gruesome tale, The Bathory Ruins at Cachtice Castle in Slovakia. |
| 14 | 14 | Dracula's Castle | 2008-08-20 | 60 | Join the GHI team as they explore Romania's Banffy Castle. Commonly known as "The Versailles of Transylvania". Then the team travels to Poienari Castle to visit the residence of Vlad the Impaler, better known as the legendary Dracula. |
| 15 | 15 | Real Felipe Fortress | 2009-01-07 | 60 | |
| 16 | 16 | City of the Doomed | 2009-01-14 | 60 | |
| 17 | 17 | A Call for Help | 2009-01-21 | 60 | |
| 18 | 18 | Restless Souls of Sweden | 2009-01-28 | 60 | |
| 19 | 19 | Buried Alive | 2009-02-04 | 60 | |
| 20 | 20 | Unknown Soldiers | 2009-02-11 | 60 | |
| 21 | 21 | Spanish Scares | 2009-02-18 | 60 | |
| 22 | 22 | Ghosts in the City of Lights | 2009-02-25 | 60 | |
| 23 | 23 | Karosta Prison | 2009-03-04 | 60 | |
Season 2
| Episode No. | No. Overall | Title | Airdate | Runtime | Summary |
| --- | --- | --- | --- | --- | --- |
| 1 | 24 | Wicklow's Gaol | 2009-07-08 | 60 | |
| 2 | 25 | Skeleton in the Closet | 2009-07-15 | 60 | |
| 3 | 26 | Gate to Hell | 2009-07-22 | 60 | |
| 4 | 27 | Witches Castle | 2009-07-29 | 60 | |
| 5 | 28 | Spirits of Italy | 2009-08-05 | 60 | |
| 6 | 29 | Holy Ghost | 2009-08-12 | 60 | |
| 7 | 30 | Hitler's Ghost | 2010-01-06 | 60 | |
| 8 | 31 | Silver Shadow | 2010-01-13 | 60 | |
| 9 | 32 | Quarantine Station | 2010-01-20 | 60 | |
| 10 | 33 | Port Arthur Penitentiary | 2010-01-27 | 60 | |
| 11 | 34 | Tasmanian Death Sentence | 2010-02-03 | 60 | |
| 12 | 35 | San Lucas Prison | 2010-02-10 | 60 | |
| 13 | 36 | The Legend of Rose Hall | 2010-02-17 | 60 | |
| 14 | 37 | The Spirit of Robin Hood | 2010-07-14 | 60 | |
| 15 | 38 | Sweeney Todd | 2010-07-21 | 60 | |
| 16 | 39 | Wolf's Lair | 2010-07-28 | 60 | |
| 17 | 40 | The Devil's Wedding | 2010-08-04 | 60 | The Ghost Hunters International team ventures out for two terrifying investigations as they head to Norway's Fredricksten Fortress and Estonia's Old House. |
| 18 | 41 | Demons of Nicaragua | 2010-08-11 | 60 | |
| 19 | 42 | Pirates of the Caribbean | 2010-08-18 | 60 | |
| 20 | 43 | Hamlet's Castle | 2011-01-05 | 60 | |
| 21 | 44 | Ghosts of the Eastern Bloc: Ukraine and Poland | 2011-01-12 | 60 | |
| 22 | 45 | Unfaithful Spirit: Germany | 2011-01-19 | 60 | |
| 23 | 46 | Amsterdamned: Netherlands | 2011-01-26 | 60 | |
| 24 | 47 | Army of the Dead: Serbia | 2011-02-02 | 60 | |
| 25 | 48 | Shadows in the Dark: Scotland | 2011-02-09 | 60 | |
| 26 | 49 | Soldiers of Misfortune: Puerto Rico | 2011-02-16 | 60 | |
Season 3
| Episode No. | No. Overall | Title | Airdate | Runtime | Summary |
| --- | --- | --- | --- | --- | --- |
| 1 | 50 | Rising from the Grave: Trinidad | 2011-07-13 | 60 | |
| 2 | 51 | Sensing Evil: Argentina & Trinidad | 2011-07-20 | 60 | |
| 3 | 52 | Touched by the Dead: Ireland | 2011-07-27 | 60 | |
| 4 | 53 | Search for the She-wolf: England | 2011-08-03 | 60 | |
| 5 | 54 | Murders and Mysteries: England and New Zealand | 2011-08-10 | 60 | |
| 6 | 55 | Imprisioned Souls: New Zealand | 2011-08-17 | 60 | |
| 7 | 56 | Temple of Doom: Peru | 2012-02-22 | 60 | |
| 8 | 57 | The Man in the Iron Mask: Italy | 2012-02-29 | 60 | |
| 9 | 58 | The Crystal Maiden: Belize & France | 2012-03-07 | 60 | |
| 10 | 59 | Sacrificed Mayan Spirits: Belize and France | 2012-03-14 | 60 | |
| 11 | 60 | Ghoul's School: American Samoa | 2012-03-21 | 60 | |
| 12 | 61 | The Rise of Frankenstein: Belgium & Italy | 2012-03-28 | 60 | |
| 13 | 62 | Hell's Gate: Canada | 2012-04-04 | 60 | |
Related News
TVMaze