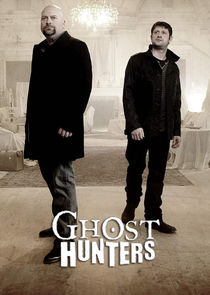 Ghost Hunters follows a group of real-life ghostbusters as they investigate reported hauntings throughout the country. Plumbers by trade, Jason Hawes and Grant Wilson head up a group of intrepid souls that are far from the usual collection of be-spectacled Ph.D.s. They're ordinary, everyday people with an interest in getting to the bottom of your otherworldly disturbances.
Series Overview
Rating
imDb Rating: 6.2 (6,132 Votes)
Metascore: N/A
Plot
This one-hour weekly docu-soap from the creator/executive producer of "American Chopper" follows a group of real-life paranormal researchers as they investigate haunted houses throughout ...
Details
Rated: N/A
Released: 06 Oct 2004
Runtime: 60 min
Genre: Documentary
Director: N/A
Writer: N/A
Actors: Jason Hawes, Steve Gonsalves, Dave Tango, Grant Wilson
Language: English
Country: USA
Awards: 2 wins.
Total Seasons: 11
Previous Episode
Manor of Mystery
Episode 11x13; Oct 26, 2016
A museum director and volunteer fear an upcoming Victorian exhibit will agitate entities from that time period. Actors Rachel Nichols and Jonathan Sadowski join as special guest investigators.
Previous Episodes 11x13: Manor of Mystery 11x12: Dudley Dead Wright 11x11: Haunting of the Garde 11x10: Stone Cold Colonists 11x9: Overdue for Death 11x8: Angel of Death 11x7: Public Poltergeist Number 1 11x6: Fighting Spirit 11x5: Paranormal Pirates

View All Episodes
Cast
Grant Wilson as Grant Wilson
Jason Hawes as Jason Hawes
View Full Cast
Skip to:
Season 1
| Episode No. | No. Overall | Title | Airdate | Runtime | Summary |
| --- | --- | --- | --- | --- | --- |
| 1 | 1 | Altoona, PA (1) | 2004-10-06 | 60 | |
| 2 | 2 | Altoona, PA (2) | 2004-10-13 | 60 | |
| 3 | 3 | Lighthouse Inn / John Stone Tavern | 2004-10-20 | 60 | |
| 4 | 4 | Race Rock Lighthouse | 2004-10-27 | 60 | |
| 5 | 5 | Eastern State Penitentiary | 2004-11-03 | 60 | |
| 6 | 6 | The Converted Church | 2004-11-10 | 60 | |
| 7 | 7 | The Armory | 2004-11-17 | 60 | |
| 8 | 8 | Fortuna & Topton | 2004-12-01 | 60 | |
| 9 | 9 | New Boston Inn | 2004-12-08 | 60 | |
| 10 | 10 | Albany, NY / Adam's House | 2004-12-15 | 60 | |
Season 2
| Episode No. | No. Overall | Title | Airdate | Runtime | Summary |
| --- | --- | --- | --- | --- | --- |
| 1 | 11 | Myrtle's Plantation | 2005-07-27 | 60 | |
| 2 | 12 | Grafton & Cranson Case | 2005-08-03 | 60 | |
| 3 | 13 | Deville's House and Brennan's Restaurant (Meehan's House) | 2005-08-10 | 60 | |
| 4 | 14 | Mordecai House & U.S.S. North Carolina | 2005-08-17 | 60 | |
| 5 | 15 | Theater / Firehouse Haunting | 2005-08-24 | 60 | |
| 6 | 16 | NY Museum / CT Lighthouse | 2005-08-31 | 60 | |
| 7 | 17 | Child Haunting / Sutcliff House | 2005-09-07 | 60 | |
| 8 | 18 | Astor Mansion / NJ Affiliate | 2005-09-14 | 60 | |
| 9 | 19 | Worthington Home / Asylum | 2005-09-21 | 60 | |
| 10 | 20 | Eastern State / Vacation Home | 2005-09-28 | 60 | |
| 11 | 21 | Winchester House / Queen Mary | 2005-10-05 | 60 | |
| 12 | 22 | Shawshank Prison / Lizzie Borden | 2005-10-12 | 60 | |
| 13 | 23 | Ghostly Soldier / Medium House | 2005-10-19 | 60 | |
| 14 | 24 | Haunted Sanatorium | 2006-03-29 | 60 | |
| 15 | 25 | Ghostly Child | 2006-04-05 | 60 | |
| 16 | 26 | Home of Three Ghosts | 2006-04-12 | 60 | |
| 17 | 27 | Grey Lady Haunting | 2006-04-19 | 60 | |
| 18 | 28 | Shadowy Figure | 2006-04-26 | 60 | |
| 19 | 29 | Haunted Lighthouse | 2006-05-03 | 60 | |
| 20 | 30 | Old Jail | 2006-05-10 | 60 | |
| 21 | 31 | Toxic House | 2006-05-17 | 60 | |
| 22 | 32 | Best of | 2006-05-24 | 60 | |
| 23 | 33 | Shining Hotel | 2006-05-31 | 60 | |
Season 3
| Episode No. | No. Overall | Title | Airdate | Runtime | Summary |
| --- | --- | --- | --- | --- | --- |
| 1 | 34 | Tombstone | 2006-10-11 | 60 | |
| 2 | 35 | O.K. Corral | 2006-10-18 | 60 | |
| 3 | 36 | Shadow People | 2006-10-25 | 60 | |
| 4 | 37 | Whispers and Voices | 2006-11-01 | 60 | |
| 5 | 38 | Best of Stanley Hotel | 2006-11-08 | 60 | |
| 6 | 39 | Attack of the Irish Elemental | 2006-11-15 | 60 | |
| 7 | 40 | Irish Ruins | 2007-06-06 | 60 | |
| 8 | 41 | Hellfire Caves | 2007-06-13 | 60 | |
| 9 | 42 | Nightmare Noises | 2007-06-20 | 60 | |
| 10 | 43 | Toys of Terror | 2007-06-27 | 60 | |
| 11 | 44 | U.S.S. Lexington | 2007-07-11 | 60 | |
| 12 | 45 | Manson Murders | 2007-07-18 | 60 | |
| 13 | 46 | Lost Souls | 2007-09-26 | 60 | |
| 14 | 47 | Spirits of San Francisco | 2007-10-03 | 60 | |
| 15 | 48 | Ghostly Houseguest | 2007-10-10 | 60 | |
| 16 | 49 | Houses of the Holy | 2007-10-17 | 60 | |
| 17 | 50 | Lyceum Restaurant & Hawthorne Hotel (aka Salem Witch) | 2007-10-24 | 60 | |
| 18 | 51 | Halloween Reveal (aka Sanatorium Live Findings) | 2007-11-07 | 60 | |
| 19 | 52 | Revelations | 2007-11-14 | 60 | |
Season 4
| Episode No. | No. Overall | Title | Airdate | Runtime | Summary |
| --- | --- | --- | --- | --- | --- |
| 1 | 53 | Fort Mifflin | 2008-03-05 | 60 | |
| 2 | 54 | Two to Tango | 2008-03-12 | 60 | |
| 3 | 55 | Words from Beyond | 2008-03-19 | 60 | |
| 4 | 56 | Fear Cage | 2008-03-26 | 60 | |
| 5 | 57 | Ghostly Bounty Hunter | 2008-04-02 | 60 | |
| 6 | 58 | Wright-Patterson Air Force Base | 2008-04-09 | 60 | |
| 7 | 59 | Ghostly Conversation | 2008-04-16 | 60 | |
| 8 | 60 | Spirits of the Old West | 2008-04-23 | 60 | |
| 9 | 61 | Haunted Asylum | 2008-04-30 | 60 | |
| 10 | 62 | House of Spirits | 2008-05-28 | 60 | |
| 11 | 63 | Widow's Watch | 2008-06-04 | 60 | |
| 12 | 64 | Garden State Ghosts | 2008-06-11 | 60 | |
| 13 | 65 | Fort Delaware | 2008-06-18 | 60 | |
| 14 | 66 | Iron Island | 2008-09-03 | 60 | |
| 15 | 67 | So She Married an Axe Murderer | 2008-09-10 | 60 | |
| 16 | 68 | The Boy in the Brothel | 2008-09-17 | 60 | |
| 17 | 69 | Speaking with the Dead | 2008-09-24 | 60 | |
| 18 | 70 | Ghosts of the Sunshine State | 2008-10-01 | 60 | |
| 19 | 71 | Oak Alley Plantation | 2008-10-08 | 60 | |
| 20 | 72 | Bottled Spirits | 2008-10-15 | 60 | |
| 21 | 73 | Home Town Haunts | 2008-10-22 | 60 | |
| 22 | 74 | U.S.S. Hornet | 2008-10-29 | 60 | |
| 23 | 75 | Live Show Results | 2008-11-05 | 60 | |
| 24 | 76 | Ghost Hunters: All Access | 2008-11-12 | 60 | |
| 25 | 77 | Recycled Souls | 2008-11-19 | 60 | |
| 26 | 78 | Spirits on the Water | 2008-12-03 | 60 | |
| 27 | 79 | Portsmouth Harbor Lighthouse | 2008-12-10 | 60 | |
Season 5
| Episode No. | No. Overall | Title | Airdate | Runtime | Summary |
| --- | --- | --- | --- | --- | --- |
| 1 | 80 | Betsy Ross House | 2009-03-11 | 60 | |
| 2 | 81 | Star Island | 2009-03-18 | 60 | |
| 3 | 82 | Edith Wharton Estate | 2009-03-25 | 60 | |
| 4 | 83 | Club Dead | 2009-04-01 | 60 | |
| 5 | 84 | Soul Searching | 2009-04-08 | 60 | |
| 6 | 85 | Titanic Terror | 2009-04-15 | 60 | |
| 7 | 86 | Crossing Over | 2009-04-22 | 60 | |
| 8 | 87 | Garden State Asylum | 2009-04-29 | 60 | |
| 9 | 88 | Inhuman Entity | 2009-08-19 | 60 | |
| 10 | 89 | I Am Not Guilty | 2009-08-26 | 60 | The Ghost Hunters visit a house where John Wilkes Booth stopped. |
| 11 | 90 | Civil War Spirits | 2009-09-02 | 60 | Looking at haunted civil war houses. |
| 12 | 91 | Essex County Penitentary | 2009-09-09 | 60 | |
| 13 | 92 | Judgment Day | 2009-09-16 | 60 | |
| 14 | 93 | Little Drummer Boy | 2009-09-23 | 60 | |
| 15 | 94 | A Bat Out of Hell | 2009-09-30 | 60 | |
| 16 | 95 | Glimmer Man | 2009-10-07 | 60 | |
| 17 | 96 | Fort Henry | 2009-10-14 | 60 | |
| 18 | 97 | Congress Theater | 2009-10-21 | 60 | |
| 19 | 98 | Rocky Mountain Hauntings | 2009-10-28 | 60 | |
| 20 | 99 | Ghost of Buffalo Bill | 2009-11-04 | 60 | |
| 21 | 100 | New Hampshire Gothic | 2009-11-11 | 60 | |
| 22 | 101 | Pensacola Lighthouse | 2009-11-18 | 60 | |
| 23 | 102 | Mark Twain House | 2009-12-02 | 60 | |
| 24 | 103 | Unexplained Phenomena | 2009-12-09 | 60 | |
| 25 | 104 | Hindenburg Crash Site | 2009-12-16 | 60 | |
Season 6
| Episode No. | No. Overall | Title | Airdate | Runtime | Summary |
| --- | --- | --- | --- | --- | --- |
| 1 | 105 | Alcatraz Live Event | 2010-03-03 | 60 | |
| 2 | 106 | Fort Ticonderoga | 2010-03-10 | 60 | |
| 3 | 107 | Shamrock Spirits | 2010-03-17 | 60 | |
| 4 | 108 | Phantoms of Jersey | 2010-03-24 | 60 | |
| 5 | 109 | Touched by Evil | 2010-03-31 | 60 | |
| 6 | 110 | Haunted Reform School | 2010-04-07 | 60 | |
| 7 | 111 | Ghosts in the Attic | 2010-04-14 | 60 | |
| 8 | 112 | Inn of the Dead | 2010-04-21 | 60 | |
| 9 | 113 | Spirits of the Night | 2010-04-28 | 60 | |
| 10 | 114 | Norwich State | 2010-05-05 | 60 | |
| 11 | 115 | Haunted Hotel | 2010-08-25 | 60 | |
| 12 | 116 | America's First Zoo | 2010-09-01 | 60 | |
| 13 | 117 | Uninvited Guests | 2010-09-08 | 60 | |
| 14 | 118 | A Shot in the Dark | 2010-09-15 | 60 | |
| 15 | 119 | Signals from the Past | 2010-09-22 | 60 | |
| 16 | 120 | Lemp Mansion | 2010-09-29 | 60 | |
| 17 | 121 | Grammar School Ghosts | 2010-10-06 | 60 | |
| 18 | 122 | Time to Get Touched | 2010-10-13 | 60 | |
| 19 | 123 | The Chopping Block | 2010-10-20 | 60 | |
| 20 | 124 | The Oldest House in Georgia | 2010-10-27 | 60 | |
| 21 | 125 | Home Is Where the Heart Is | 2010-11-03 | 60 | |
| 22 | 126 | Empire State Haunt | 2010-11-10 | 60 | |
| 23 | 127 | Sloss Furnace | 2010-11-17 | 60 | |
| 25 | 128 | TAPS Meets the Real Housewives of Atlanta | 2010-12-01 | 60 | |
| 26 | 129 | Ghost of Christmas Past | 2010-12-08 | 60 | |
Season 7
| Episode No. | No. Overall | Title | Airdate | Runtime | Summary |
| --- | --- | --- | --- | --- | --- |
| 1 | 130 | Haunted Town | 2011-02-23 | 60 | |
| 2 | 131 | Pennsylvania Asylum | 2011-03-02 | 60 | |
| 3 | 132 | Century of Hauntings | 2011-03-09 | 60 | |
| 4 | 133 | French Quarter Phantoms | 2011-03-16 | 60 | |
| 5 | 134 | Hotel Haunts Unleashed | 2011-03-23 | 60 | |
| 6 | 135 | Frozen in Fear | 2011-03-30 | 60 | |
| 7 | 136 | Residual Haunts | 2011-04-06 | 60 | |
| 8 | 137 | Knights of the Living Dead | 2011-04-13 | 60 | |
| 9 | 138 | A Soldier's Story | 2011-04-20 | 60 | |
| 10 | 139 | Pearl Harbor Phantoms | 2011-06-01 | 60 | |
| 11 | 140 | Urgent | 2011-08-24 | 60 | |
| 12 | 141 | Hill View Manor | 2011-08-31 | 60 | |
| 13 | 142 | Dark Shadows | 2011-09-07 | 60 | |
| 14 | 143 | Ghostly Evidence | 2011-09-14 | 60 | |
| 15 | 144 | Ghost of Carnegie | 2011-09-21 | 60 | |
| 16 | 145 | Harvesting Murder | 2011-09-28 | 60 | |
| 17 | 146 | Well of Horror | 2011-10-05 | 60 | |
| 18 | 147 | Roasts and Ghosts | 2011-10-12 | 60 | |
| 19 | 148 | Stage Fright | 2011-10-19 | 60 | |
| 20 | 149 | Murdered Matron | 2011-10-26 | 60 | |
| 21 | 150 | The Bloodiest 47 Acres | 2011-11-02 | 60 | |
| 22 | 151 | Voices of Pain | 2011-11-09 | 60 | |
| 23 | 152 | Distillery of Spirits | 2011-11-16 | 60 | |
| 24 | 153 | Membership Denied | 2011-11-30 | 60 | |
| 25 | 154 | Christmas Spirit | 2011-12-07 | 60 | |
Season 8
| Episode No. | No. Overall | Title | Airdate | Runtime | Summary |
| --- | --- | --- | --- | --- | --- |
| 1 | 155 | Roller Ghoster | 2012-01-11 | 60 | |
| 2 | 156 | Buyer Beware | 2012-01-18 | 60 | |
| 3 | 157 | Flooded Souls | 2012-01-25 | 60 | The team goes to guild, Tenn. to investigate an underwater graveyard. |
| 4 | 158 | Dead & Breakfast | 2012-02-01 | 60 | |
| 5 | 159 | Moonshine & Madness | 2012-02-08 | 60 | |
| 6 | 160 | City Hell | 2012-02-15 | 60 | |
| 7 | 161 | Frighternity | 2012-04-11 | 60 | |
| 8 | 162 | Ghost of a Marine | 2012-04-18 | 60 | |
| 9 | 163 | A Family of Spirits | 2012-04-25 | 60 | |
| 10 | 164 | Haunted by Heroes | 2012-05-02 | 60 | |
| 11 | 165 | The Princess and the EVP | 2012-05-09 | 60 | |
| 12 | 166 | Please Sign the Ghost Book | 2012-05-16 | 60 | |
| 13 | 167 | A Serial Killer's Revenge | 2012-09-05 | 60 | |
| 14 | 168 | Camp Fear | 2012-09-12 | 60 | |
| 15 | 169 | French Quarter Massacre | 2012-09-19 | 60 | |
| 16 | 170 | Don't Feed the Apparition | 2012-09-26 | 60 | |
| 17 | 171 | Ghostly Refuge | 2012-10-03 | 60 | |
| 18 | 172 | Paranormal Politics | 2012-10-10 | 60 | |
| 19 | 173 | Curtain Call | 2012-10-17 | 60 | |
| 20 | 174 | Fear Factory | 2012-10-24 | 60 | |
| 21 | 175 | Tunnels of Terror | 2012-10-31 | 60 | |
| 22 | 176 | Heir Apparition | 2012-11-07 | 60 | |
| 23 | 177 | Paranormal Pioneers | 2012-11-14 | 60 | |
| 24 | 178 | Higher Dead-ucation | 2012-11-21 | 60 | |
| 25 | 179 | Due Date with Death | 2012-11-28 | 60 | |
| 26 | 180 | Haunted Home for the Holidays | 2012-12-05 | 60 | |
Season 9
| Episode No. | No. Overall | Title | Airdate | Runtime | Summary |
| --- | --- | --- | --- | --- | --- |
| 1 | 181 | Hollywood Horror Stories | 2013-01-16 | 60 | |
| 2 | 182 | Ghost Mission | 2013-01-23 | 60 | |
| 3 | 183 | Prescription for Fear | 2013-01-30 | 60 | |
| 4 | 184 | Permanent Residents | 2013-02-06 | 60 | |
| 5 | 185 | All Ghosts on Deck | 2013-02-13 | 60 | |
| 6 | 186 | Ghosts from Hale | 2013-02-20 | 60 | |
| 7 | 187 | Scream Park | 2013-02-27 | 60 | |
| 8 | 188 | The Ghost Hasn't Left the Building | 2013-06-12 | 60 | |
| 9 | 189 | Ghost Friends Forever | 2013-06-19 | 60 | |
| 10 | 190 | Vintage Spirits | 2013-06-26 | 60 | |
| 11 | 191 | Hoover Damned | 2013-07-10 | 60 | |
| 12 | 192 | Something in the Water | 2013-07-17 | 60 | |
| 13 | 193 | Undying Love | 2013-10-09 | 60 | |
| 14 | 194 | The Coroner's Case | 2013-10-16 | 60 | |
| 15 | 195 | Shock Island | 2013-10-23 | 60 | |
| 16 | 196 | Hyde and Seek | 2013-10-30 | 60 | |
| 17 | 197 | Orphans of Gettysburg | 2014-01-22 | 60 | |
| 18 | 198 | Phantom Fleet | 2014-01-29 | 60 | |
| 19 | 199 | Don't Forget About Us | 2014-02-05 | 60 | |
| 20 | 200 | Family Plot | 2014-02-12 | 60 | |
| 21 | 201 | Dead Presidents | 2014-02-19 | 60 | |
| 22 | 202 | Nine Men's Misery | 2014-02-26 | 60 | |
| 23 | 203 | An Officer and an Apparition | 2014-10-08 | 60 | |
| 24 | 204 | A Textbook Case | 2014-10-15 | 60 | |
| 25 | 205 | 200th Episode: Grant Is Back | 2014-10-22 | 60 | |
| 26 | 206 | Phantoms of the Opera | 2014-10-29 | 60 | |
Season 10
| Episode No. | No. Overall | Title | Airdate | Runtime | Summary |
| --- | --- | --- | --- | --- | --- |
| 1 | 207 | Barrels of Boos | 2015-08-26 | 60 | |
| 2 | 208 | Too Many Apparitions in the Kitchen | 2015-09-02 | 60 | |
| 3 | 209 | Last Will and Evidence | 2015-09-09 | 60 | |
| 4 | 210 | Over My Dead Body | 2015-09-16 | 60 | |
| 5 | 211 | Fright at the Opera | 2015-09-23 | 60 | |
| 6 | 212 | There Ghosts the Neighborhood | 2015-09-30 | 60 | |
| 7 | 213 | The Plot Thickens | 2015-10-07 | 60 | |
| 8 | 214 | Fortress of Phantoms | 2015-10-14 | 60 | |
| 9 | 215 | Houghton Hears a Who? | 2015-10-21 | 60 | |
| 10 | 216 | Darker Learning | 2015-10-28 | 60 | |
| 11 | 217 | Innocent Until Proven Dead | 2015-11-04 | 60 | |
| 12 | 218 | Rockets Red Scare | 2015-11-11 | 60 | Investigating the renowned USS Constitution in Boston; re-enactors at Old Fort Harrod State Park have encountered spirits of early settlers. |
| 13 | 219 | 1st Edition Apparition | 2015-11-18 | 60 | A reinvestigation of Edith Wharton's home in Massachusetts after an increase in activity since the team's last investigation. |
Season 11
| Episode No. | No. Overall | Title | Airdate | Runtime | Summary |
| --- | --- | --- | --- | --- | --- |
| 1 | 220 | All Aboard the Ghost Train | 2016-08-03 | 60 | Taps heads to Cleveland to investigate a historic roundhouse and rail yard, where the remnants of a serial killer, a number of horrific accidents, and a terrible train crash have left two people in doubt over the safety of the place. |
| 2 | 221 | Ghost Guards | 2016-08-10 | 60 | When recent female leadership coincides with increased paranormal activity at an armory that's been standing for over 100 years, those involved believe that either deceased members or the death of an employee could be behind it. |
| 3 | 222 | Phantom for the First Course | 2016-08-17 | 60 | When a renowned restaurant, The Whitney, experiences disturbances during its renovations, it's possible that the family of the restaurant's original owner, a lumber baron of the 1800's, might still be walking around the halls. |
| 4 | 223 | Children in the Attic | 2016-08-24 | 60 | TAPS investigate one of the oldest yacht clubs in the U.S., which is also purportedly one of the most haunted. Included: A mother and her son are entangled in phenomena involving a frightening family from the past with a strange story to tell. |
| 5 | 224 | Paranormal Pirates | 2016-08-31 | 60 | Fear is spreading at Fort Taber-Fort Rodman that a new "living history event" has stirred up frightening paranormal activity on the park grounds. |
| 6 | 225 | Fighting Spirit | 2016-09-07 | 60 | TAPS is called to investigate a historic armory. An upcoming renovation has those involved fearful the construction might provoke lingering spirits attached to artifacts with documented violent pasts. |
| 7 | 226 | Public Poltergeist Number 1 | 2016-09-14 | 60 | The historic Old Lake County Jail was once considered to be inescapable.. until notorious gangster John Dillinger escaped from it in 1934. Now, over 80 years later, aggressive "prisoners" are breaking free as sealed areas and doors are being reopened. Later, TAPS travels to My Old Kentucky Home where 16 people died within 24 hours of contracting cholera. Will TAPS come face to face with those who once suffered within this historic home's walls?. |
| 8 | 227 | Angel of Death | 2016-09-21 | 60 | Behind the facade of a beautiful old inn lies the haunting memories of a home that was once part of the Underground Railroad, and a family that helped slaves secure freedom. Could the 150th Anniversary of the end of the Civil War be stirring spirits? Later, TAPS visits a pizzeria that holds a dark energy of hangings, prisoners and threatening entities. |
| 9 | 228 | Overdue for Death | 2016-09-28 | 60 | Newly designated as a landmark, Rhode Island's Westerly Library is consumed with ghostly visitors with a thirst for knowledge. TAPS is being called in to find out if these entities would be categorized as fiction or non-fiction - and if the latter, is a bad ending for visitors in the works?. |
| 10 | 229 | Stone Cold Colonists | 2016-10-05 | 60 | A house formerly owned by the "Father of American Surgery" harbors a dark secret deep beneath its floors. Now restless spirits, once the subjects of experiments and research, inhabit the home. Next up, TAPS visits a 19th century almshouse and adjacent jail after new tenants report that the former occupants never left. |
| 11 | 230 | Haunting of the Garde | 2016-10-12 | 60 | A 1920's historic theater is rumored to be haunted by one of New London's most prominent whaling families, who once inhabited the land. Could this family still be living here?. |
| 12 | 231 | Dudley Dead Wright | 2016-10-19 | 60 | A homeowner's property borders what was once a cursed 1740's village. Could evil entities threaten her family? Later, a restaurant and nearby house seem to be linked by spirits. |
| 13 | 232 | Manor of Mystery | 2016-10-26 | 60 | A museum director and volunteer fear an upcoming Victorian exhibit will agitate entities from that time period. Actors Rachel Nichols and Jonathan Sadowski join as special guest investigators. |
Series Cast
| | | | |
| --- | --- | --- | --- |
| | Grant Wilson | as Grant Wilson | |
| | Jason Hawes | as Jason Hawes | |
Series Crew
| | Position | Name |
| --- | --- | --- |
| | Co-Producer | James Dugan |
| | Creator | Craig Piligian |
| | Executive Producer | Craig Piligian |
| | Executive Producer | Rob Katz |
| | Executive Producer | Tom Thayer |
| | Executive Producer | Peter Zasuly |
| | Co-Producer | Matt Meltzer |
| | Supervising Producer | Matt Meltzer |
| | Supervising Producer | Mitchell Tanen |
| | Supervising Producer | Mark Marinaccio |
| | Co-Producer | Robert Callow |
| | Co-Producer | Kiran Gonsalves |
| | Co-Producer | Duncan White |
| | Associate Producer | Amanda Ross |
| | Associate Producer | Matthew Hobin |
| | Associate Producer | Crystal Harrell |
| | Associate Producer | Jason Fay |
| | Co-Producer | Michael Becker |
Related News
TVMaze