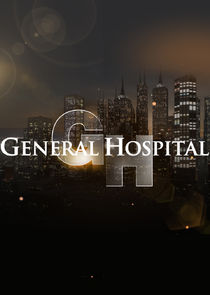 General Hospital, which celebrated its golden anniversary on April 1, 2013, continues its tradition of passion, intrigue and adventure that takes place in the fictional town of Port Charles in upstate New York. The glamour and excitement of those who have come to find their destinies in this familiar seaport town intertwine with the lives, loves and fortunes of beloved, well-known faces. As always, love, danger and mind blowing plot twists continue to abound on General Hospital with contemporary storylines and unforgettable characters.
Series Overview
Rating
imDb Rating: 6.5 (4,127 Votes)
Metascore: N/A
Plot
Families, friends, enemies, and lovers experience life-changing events in the large upstate city of Port Charles, New York, which has a busy hospital, upscale hotel, cozy diner, and dangerous waterfront frequented by the criminal underworld.
Details
Rated: TV-PG
Released: 01 Apr 1963
Runtime: 60 min
Genre: Crime, Drama, Romance
Director: N/A
Writer: Doris Hursley, Frank Hursley
Actors: Maurice Benard, Steve Burton, Laura Wright, Kelly Monaco
Language: English
Country: USA
Awards: Nominated for 1 Golden Globe. Another 285 wins & 579 nominations.
Total Seasons: 1
Next Episode
Ep. #14541
Episode 2020x85; May 18, 2020
Previous Episode
Ep. #14540
Episode 2020x84; May 14, 2020
Episodes 2020x88: Ep. #14544 2020x87: Ep. #14543 2020x86: Ep. #14542 2020x85: Ep. #14541 2020x84: Ep. #14540 2020x83: Ep. #14539 2020x82: Ep. #14538 2020x81: Ep. #14537 2020x80: Ep. #14536

View All Episodes
Cast
Maurice Benard as Sonny Corinthos
Laura Wright as Carly Jacks Corinthos
Tamara Braun as Carly Jacks Corinthos
Sarah Brown as Carly Jacks Corinthos
Jennifer Bransford as Carly Jacks Corinthos
Kelly Monaco as Sam McCall
View Full Cast
Skip to:
Season 1
| Episode No. | No. Overall | Title | Airdate | Runtime | Summary |
| --- | --- | --- | --- | --- | --- |
Series Cast
| | | | |
| --- | --- | --- | --- |
| | Maurice Benard | as Sonny Corinthos | |
| | Laura Wright | as Carly Jacks Corinthos | |
| | Tamara Braun | as Carly Jacks Corinthos | |
| | Sarah Brown | as Carly Jacks Corinthos | |
| | Jennifer Bransford | as Carly Jacks Corinthos | |
| | Kelly Monaco | as Sam McCall | |
| | Rebecca Herbst | as Elizabeth Webber | |
| | Dylan Cash | as Michael Corinthos | |
| | Chad Duell | as Michael Corinthos | |
| | Drew Garrett | as Michael Corinthos | |
| | Steve Burton | as Jason Morgan | |
| | Nancy Lee Grahn | as Alexis Davis | |
| | Billy Miller | as Drew Cain | |
| | Maura West | as Ava Jerome | |
| | Julie Berman | as Lulu Spencer Falconeri | |
| | Emme Rylan | as Lulu Spencer Falconeri | |
| | Roger Howarth | as Franco Baldwin | |
| | James Franco | as Franco Baldwin | |
| | Michelle Stafford | as Nina Clay | |
| | Cynthia Watros | as Nina Clay | |
| | Jen Lilley | as Maxie Jones | |
| | Kirsten Storms | as Maxie Jones | |
| | Jason Culp | as Julian Jerome | |
| | William deVry | as Julian Jerome | |
| | Michael Easton | as Hamilton Finn | |
| | Donnell Turner | as Curtis Ashford | |
| | Vinessa Antoine | as Jordan Ashford | |
| | Briana Nicole Henry | as Jordan Ashford | |
| | Finola Hughes | as Anna Devane | |
| | Genie Francis | as Laura Spencer | |
| | Matt Cohen | as Dr. Griffin Munro | |
| | Dominic Zamprogna | as Dante Falconeri | |
| | Chloe Lanier | as Nelle Benson | |
| | Eden McCoy | as Josslyn Jacks | |
| | Wes Ramsey | as Peter August | |
| | Josh Swickard | as Harrison Chase | |
| | Hayley Erin | as Kiki Jerome | |
| | Kristen Alderson | as Kiki Jerome | |
| | Tamara Braun | as Dr. Kim Nero | |
| | Leslie Charleson | as Monica Quartermaine | |
| | Lisa LoCicero | as Olivia Falconeri | |
| | Rebecca Budig | as Hayden Barnes | |
| | Ryan Paevey | as Nathan West | |
| | Jon Lindstrom | as Kevin Collins | |
| | Lindsey Morgan | as Kristina Corinthos-Davis | |
| | Lexi Ainsworth | as Kristina Corinthos-Davis | |
| | Kali Rodriguez | as Kristina Corinthos-Davis | |
| | Gideon Emery | as Jasper Jacks | |
| | Ingo Rademacher | as Jasper Jacks | |
| | Kin Shriner | as Scott Baldwin | |
| | Jacklyn Zeman | as Bobbie Spencer | |
| | William Lipton | as Cameron Webber | |
| | Braden Walkes | as Cameron Webber | |
| | Garren Lake Stitt | as Oscar Nero | |
| | Katelyn MacMullen | as Willow Tait | |
| | Jane Elliot | as Tracy Quartermaine | |
| | Sofia Mattsson | as Sasha Gilmore | |
| | Wally Kurth | as Ned Quartermaine | |
| | Lynn Herring | as Lucy Coe | |
| | Ryan Carnes | as Lucas Jones | |
| | Bradford Anderson | as Damien Spinelli | |
| | Tristan Rogers | as Robert Scorpio | |
| | Anthony Montgomery | as Dr. Andre Maddox | |
| | Kimberly McCullough | as Robin Scorpio Drake | |
| | Kristina Wagner | as Felicia Scorpio | |
| | Coby Ryan McLaughlin | as Shiloh | |
| | Marcus Coloma | as Nikolas Cassadine | |
| | Tyler Christopher | as Nikolas Cassadine | |
| | Stephen Martines | as Nikolas Cassadine | |
| | Jon Lindstrom | as Ryan Chamberlain | |
| | Robert Palmer Watkins | as Dillon Quartermaine | |
| | Scott Clifton | as Dillon Quartermaine | |
| | John J. York | as Mac Scorpio | |
| | George Juarez | as Morgan Corinthos | |
| | Bryan Craig | as Morgan Corinthos | |
| | Sonya Eddy | as Epiphany Johnson | |
| | Tequan Richmond | as T.J. Ashford | |
| | Krys Meyer | as T.J. Ashford | |
| | Brandon Barash | as Johnny Zacchara | |
| | Sydney Mikayla | as Trina Robinson | |
| | Brytni Sarpy | as Valerie Spencer | |
| | Jason Thompson | as Patrick Drake | |
| | Anthony Geary | as Luke Spencer | |
| | Davin Ransom | as Spencer Cassadine | |
| | Jacob Young | as Lucky Spencer | |
| | Jonathan Jackson | as Lucky Spencer | |
| | Greg Vaughan | as Lucky Spencer | |
| | Marc Anthony Samuel | as Felix DuBois | |
| | Kelly Sullivan | as Connie Falconeri | |
| | Richard Burgi | as Paul Hornsby | |
| | Scott Reeves | as Steven Webber | |
| | Jason Cook | as Matt Hunter | |
| | Tonja Walker Davidson | as Olivia Jerome | |
| | Adrianne León | as Brook Lynn Quartermaine | |
| | Amanda Setton | as Brook Lynn Quartermaine | |
| | Teresa Castillo | as Sabrina Santiago | |
| | Ian Buchanan | as Duke Lavery | |
| | Stuart Damon | as Alan Quartermaine | |
| | Megan Ward | as Kate Howard | |
| | Sean Blakemore | as Shawn Butler | |
| | Jack Wagner | as Andrew "Frisco" Jones | |
| | Nathan Parsons | as Ethan Lovett | |
| | Kelly Thiebaud | as Britt Westbourne | |
| | Sarah Brown | as Claudia Zacchara | |
| | John Ingle | as Edward Quartermaine | |
| | David Lewis | as Edward Quartermaine | |
| | Les Tremayne | as Edward Quartermaine | |
| | Elizabeth Keifer | as Sister Mary Camellia McKay | |
| | Brad Maule | as Tony Jones | |
| | Kristen Alderson | as Starr Manning | |
| | Robin Mattson | as Heather Webber | |
| | Guy Mack | as Patrick O'Connor | |
| | Finola Hughes | as Alex Devane | |
| | Rick Hearst | as Ric Lansing | |
| | Sam Behrens | as Jake Meyer | |
| | John Reilly | as Sean Donely | |
| | Claire Coffee | as Nadine Crowell | |
| | Sharon Wyatt | as Tiffany Donely | |
| | Josh Duhon | as Logan Hayes | |
| | Don Galloway | as Buzz Stryker | |
| | Nathin Butler | as Ewen Keenan | |
| | Robyn Bernard | as Terry Brock | |
| | Stephen Macht | as Trevor Lansing | |
| | Constance Towers | as Helena Cassadine | |
| | Roger Howarth | as Todd Manning | |
| | Amber Tamblyn | as Emily Quartermaine | |
| | Natalia Livingston | as Emily Quartermaine | |
| | Brianna Brown | as Lisa Niles | |
| | Bruce Weitz | as Anthony Zacchara | |
| | Michael Easton | as John McBain | |
| | Kodi Kitchen | as Maggie Wurth | |
| | Shell Kepler | as Amy Vining | |
| | Tia Carrere | as Jade Soong | |
| | Hilary Edson | as Tania Roskov Jones | |
| | Sean Kanan | as A.J. Quartermaine | |
| | Billy Warlock | as A.J. Quartermaine | |
| | Anna Lee | as Lila Morgan Quartermaine | |
| | Yvette Nipar | as Sandy Stryker | |
| | Guy Doleman | as Angus McKay | |
| | Brook Kerr | as Dr. Portia Robinson | |
| | Drew Cheetwood | as Milo Giambetti | |
| | Rachel Ames | as Audrey Hardy | |
| | John Beradino | as Steve Hardy | |
| | Sebastian Roché | as Jerry Jacks | |
| | Rebeka Montoya | as Delores Padilla | |
| | Senta Moses | as Winifred Leeds | |
| | Norma Connolly | as Ruby Anderson | |
| | Todd Davis | as Bryan Phillips | |
| | Michael Easton | as Silas Clay | |
| | Erin Chambers | as Siobhan McKenna | |
| | Robin Christopher | as Skye Chandler | |
| | Jeffrey Vincent Parise | as Carlos Rivera | |
| | Nazanin Boniadi | as Leyla Mir | |
| | Ron Hale | as Mike Corbin | |
| | Emma Samms | as Holly Sutton Scorpio | |
| | Andrea Bogart | as Abby Haver | |
| | Mark Pinter | as Agent Thomas Rayner | |
| | Jason Gerhardt | as Cooper "Coop" Barrett | |
| | Joseph C. Phillips | as Justus Ward | |
| | Mfundo Morrison | as Justus Ward | |
| | Bianca Ferguson | as Claudia Johnston Phillips | |
| | David Wallace | as Tom Hardy | |
| | Vanessa Marcil | as Brenda Barrett | |
| | Rena Sofer | as Lois Cerullo | |
| | Denise Alexander | as Lesley Webber | |
| | Blake Gibbons | as Coleman | |
| | John Bolger | as Mayor Garrett Floyd | |
| | Rosalind Cash | as Mary Mae Ward | |
| | Erik Valdez | as Joseph Mitchell "Trey" Scully III | |
| | Brighton Hertford | as B.J. Jones | |
| | Patrick Francis Bishop | as Yank Se Chung | |
| | Laura Harrington | as Simone Ravelle Hardy | |
| | Ignacio Serricchio | as Diego Alcazar | |
| | Bergen Williams | as Big Alice Gunderson | |
| | Lindze Letherman | as Georgie Jones | |
| | Antonio Sabàto Jr. | as Jagger Cates | |
| | Cari Shayne | as Karen Wexler | |
| | Ted King | as Lorenzo Alcazar | |
| | Natalia Livingston | as Rebecca Shaw | |
| | Florencia Lozano | as Tea Delgado | |
| | Michael Sutton | as Stone Cates | |
| | Leigh McCloskey | as Damien Smith | |
| | Jakob Kring | as Danny Morgan | |
| | Jaxon Kring | as Danny Morgan | |
| | Brian Patrick Clarke | as Grant Putnam | |
| | Demi Moore | as Jackie Templeton | |
| | A. Martinez | as Roy DiLucca | |
| | Adrienne Barbeau | as Suzanne Stanwyck | |
| | Daniel Benzali | as Theo Hoffman | |
| | Ronnie Marmo | as Ronnie Dimestico | |
| | Alicia Leigh Willis | as Courtney Matthews | |
| | Mary Beth Evans | as Katherine Bell | |
| | Ricky Martin | as Miguel Morez | |
| | Lilly Melgar | as Lily Rivera | |
| | Senait Ashenafi | as Kesha Ward | |
| | Felecia M. Bell | as Simone Hardy | |
| | Brandyn Artis | as Diane Erskin | |
| | Steven Vincent Leigh | as Kim Soong | |
| | Aaron Seville | as Bradley Ward | |
| | John Capodice | as Carmine Cerullo | |
| | Ellen Travolta | as Gloria Cerullo | |
| | Mike Robelo | as Grandpa Cerullo | |
| | Tony Mangano | as Louie Cerullo | |
| | Richard Tanner | as Mark Cerullo | |
| | Rae Dubow | as Noreen Cerullo | |
| | Jason Himber | as Patrick Cerullo | |
| | Drew Himber | as Vincent Cerullo | |
| | Jack Axelrod | as Victor Jerome | |
| | Annie Ilonzeh | as Maya Ward | |
| | Dahlia Salem | as Claire Walsh | |
| | Christian Alexander | as Kiefer Bauer | |
| | Kari Wuhrer | as Reese Marshall | |
| | Dakin Matthews | as Judge Peter Carroll | |
| | Michael Learned | as Shirley Smith | |
| | Bradley Cole | as Warren Bauer | |
| | Andrea Marcovicci | as Sophia | |
| | Brad Rowe | as Murphy Sinclair | |
| | Susan Brown | as Gail Baldwin | |
| | Kent Masters-King | as Lainey Winters | |
| | Matt Marraccini | as Jesse Beaudry | |
Series Crew
| | Position | Name |
| --- | --- | --- |
| | Executive Producer | Jill Farren Phelps |
| | Creator | Frank Hursley |
| | Creator | Doris Hursley |
| | Main Title Theme | Jack Urbont |
| | Composer | Paul Glass |
| | Composer | Steve Hopkins |
Related News
TVMaze