In order to protect humanity against dark demonic manifestations, Kouga Saezima assumed the title of Makai Knight. He encounters the young girl Kauro, who is imprisoned by the so-called 'Horrors', during his quest to purify them. As a rule Kouga has to kill those who are slained by the blood of horror or they will die within 100 days of a painful death, but somehow spares Kauro's life to find a way to purify her before she passes away.
Series Overview
Rating
imDb Rating: 7.6 (175 Votes)
Metascore: N/A
Plot
Garo focuses on Kouga Saezima, the current possessor of the title, Golden Knight Garo, who protects humanity against dark demonic infestations called Horrors. One day he meets a young girl ...
Details
Rated: N/A
Released: 07 Oct 2005
Runtime: 24 min
Genre: Action, Fantasy, Horror
Director: N/A
Writer: N/A
Actors: Ai Higa, Mika Hijii, Ryosei Konishi, Anri Okamoto
Language: Japanese
Country: Japan
Awards: N/A
Total Seasons: 4
Previous Episode
GAME OVER
Episode 9x6; May 07, 2020
Previous Episodes 9x6: GAME OVER 9x5: BUG 9x4: FREEZE 9x3: ITEM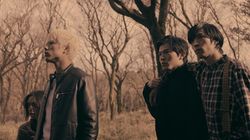 9x2: SAVE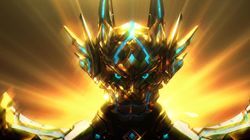 9x1: NEW GAME 8x12: Destruction / Creation 8x11: Fictitious Justice / Truthful Reality 8x10: Self-Conceit/Predicament

View All Episodes
Cast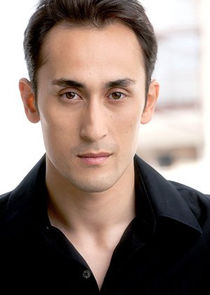 Mark Musashi as Kodama
Ai Orikasa as Silva
Alisa Yuriko Durbrow as Shizuka
Hironobu Kageyama as Zaruba
Hiroyuki Watanabe as Taiga Saejima/Golden Fang GARO
Kimika Yoshino as Garuma
View Full Cast
Skip to:
Season 1
| Episode No. | No. Overall | Title | Airdate | Runtime | Summary |
| --- | --- | --- | --- | --- | --- |
| 1 | 1 | Picture Book | 2005-10-07 | 25 | |
| 2 | 2 | Shadow Self | 2005-10-14 | 25 | |
| 3 | 3 | Clock | 2005-10-21 | 25 | |
| 4 | 4 | Dinner | 2005-10-28 | 25 | |
| 5 | 5 | Moonlight | 2005-11-04 | 25 | |
| 6 | 6 | Beauty | 2005-11-11 | 25 | |
| 7 | 7 | Silver Fang | 2005-11-18 | 25 | |
| 8 | 8 | Ring | 2005-11-25 | 25 | |
| 9 | 9 | Trial | 2005-12-02 | 25 | |
| 10 | 10 | Doll | 2005-12-09 | 25 | |
| 11 | 11 | Game | 2005-12-16 | 25 | |
| 12 | 12 | Taiga | 2005-12-23 | 25 | |
| 13 | 13 | Promise | 2006-01-06 | 25 | |
| 14 | 14 | Nightmare | 2006-01-13 | 25 | |
| 15 | 15 | Statue | 2006-01-20 | 25 | |
| 16 | 16 | Red Sake | 2006-01-27 | 25 | |
| 17 | 17 | Tank | 2006-02-03 | 25 | |
| 18 | 18 | Realm Charm | 2006-02-10 | 25 | |
| 19 | 19 | Black Fire | 2006-02-17 | 25 | |
| 20 | 20 | Life | 2006-02-24 | 25 | |
| 21 | 21 | Magic Bullet | 2006-03-03 | 25 | |
| 22 | 22 | Mark | 2006-03-10 | 25 | |
| 23 | 23 | Soul Ruination | 2006-03-17 | 25 | |
| 24 | 24 | Girl | 2006-03-24 | 25 | |
| 25 | 25 | Heroic Spirits | 2006-03-31 | 25 | |
Season 2
| Episode No. | No. Overall | Title | Airdate | Runtime | Summary |
| --- | --- | --- | --- | --- | --- |
| 1 | 26 | Spark | 2011-10-06 | 25 | |
| 2 | 27 | Street Light | 2011-10-13 | 25 | |
| 3 | 28 | Wheels | 2011-10-20 | 25 | |
| 4 | 29 | Wild Card | 2011-10-27 | 25 | |
| 5 | 30 | Purgatory | 2011-11-03 | 25 | |
| 6 | 31 | Letter | 2011-11-10 | 25 | |
| 7 | 32 | Flash | 2011-11-17 | 25 | |
| 8 | 33 | Demon Sword | 2011-11-24 | 25 | |
| 9 | 34 | Makeup | 2011-12-01 | 25 | |
| 10 | 35 | Secret | 2011-12-08 | 25 | |
| 11 | 36 | Roaring | 2011-12-15 | 25 | |
| 12 | 37 | Fruit | 2011-12-22 | 25 | |
| 13 | 38 | Enduring Water | 2012-01-05 | 25 | |
| 14 | 39 | Reunion | 2012-01-12 | 25 | |
| 15 | 40 | Brethren | 2012-01-19 | 25 | |
| 16 | 41 | Masks | 2012-01-26 | 25 | |
| 17 | 42 | Red Brush | 2012-02-02 | 25 | |
| 18 | 43 | Herd | 2012-02-09 | 25 | |
| 19 | 44 | Paradise | 2012-02-16 | 25 | |
| 20 | 45 | Train | 2012-02-23 | 25 | |
| 21 | 46 | Stronghold | 2012-03-01 | 25 | |
| 22 | 47 | Sworn Friends | 2012-03-08 | 25 | |
| 23 | 48 | Golden | 2012-03-15 | 25 | |
| 24 | 49 | Era | 2012-03-22 | 25 | |
Season 3
| Episode No. | No. Overall | Title | Airdate | Runtime | Summary |
| --- | --- | --- | --- | --- | --- |
| 1 | 50 | Ryuga | 2013-04-05 | 25 | |
| 2 | 51 | Gold Wave | 2013-04-12 | 25 | |
| 3 | 52 | Dungeon | 2013-04-19 | 25 | |
| 4 | 53 | Dream | 2013-04-26 | 25 | |
| 5 | 54 | Nightmare | 2013-05-03 | 25 | |
| 6 | 55 | Rock | 2013-05-10 | 25 | |
| 7 | 56 | Dining | 2013-05-17 | 25 | |
| 8 | 57 | Scoop | 2013-05-24 | 25 | |
| 9 | 58 | Sonshi | 2013-05-31 | 25 | |
| 10 | 59 | Promise | 2013-06-07 | 25 | |
| 11 | 60 | Desire | 2013-06-14 | 25 | |
| 12 | 61 | Trap | 2013-06-21 | 25 | |
| 13 | 62 | Hunting | 2013-06-28 | 25 | |
| 14 | 63 | Hyena | 2013-07-05 | 25 | |
| 15 | 64 | Hint | 2013-07-12 | 25 | |
| 16 | 65 | Lost | 2013-07-19 | 25 | |
| 17 | 66 | Tousei | 2013-07-26 | 25 | |
| 18 | 67 | War | 2013-08-02 | 25 | |
| 19 | 68 | Hope | 2013-08-09 | 25 | |
| 20 | 69 | Mother | 2013-08-16 | 25 | |
| 21 | 70 | Justice | 2013-08-23 | 25 | |
| 22 | 71 | Master | 2013-08-30 | 25 | |
| 23 | 72 | Gold | 2013-09-06 | 25 | |
| 24 | 73 | Future | 2013-09-13 | 25 | |
| 25 | 74 | Beginning | 2013-09-27 | 25 | |
Season 4
| Episode No. | No. Overall | Title | Airdate | Runtime | Summary |
| --- | --- | --- | --- | --- | --- |
| 1 | 75 | Fossil | 2014-04-04 | 25 | |
| 2 | 76 | Vermin | 2014-04-11 | 25 | |
| 3 | 77 | Greenhouse | 2014-04-18 | 25 | |
| 4 | 78 | Movie | 2014-04-25 | 25 | |
| 5 | 79 | Star Charts | 2014-05-02 | 25 | |
| 6 | 80 | Wind Chime | 2014-05-09 | 25 | |
| 7 | 81 | Mythology | 2014-05-16 | 25 | |
| 8 | 82 | Family | 2014-05-23 | 25 | |
| 9 | 83 | Raising | 2014-05-30 | 25 | |
| 10 | 84 | Dining Table | 2014-06-06 | 25 | |
| 11 | 85 | Manga | 2014-06-13 | 25 | |
| 12 | 86 | The Power of Words | 2014-06-20 | 25 | |
| 13 | 87 | Rabid | 2014-06-27 | 25 | |
| 14 | 88 | Transformation | 2014-07-12 | 25 | |
| 15 | 89 | Black Tea | 2014-07-18 | 25 | |
| 16 | 90 | Scream | 2014-07-25 | 25 | |
| 17 | 91 | Boy | 2014-08-01 | 25 | |
| 18 | 92 | Crimson Lotus | 2014-08-09 | 25 | |
| 19 | 93 | Suite | 2014-08-15 | 25 | |
| 20 | 94 | Iron Man | 2014-08-22 | 25 | |
| 21 | 95 | Afterimage | 2014-08-29 | 25 | |
| 22 | 96 | Watchdog | 2014-09-05 | 25 | |
| 23 | 97 | Reminiscence | 2014-09-12 | 25 | |
| 24 | 98 | Visitor from Afar | 2014-09-19 | 25 | |
| 25 | 99 | God's Will | 2014-09-27 | 25 | |
Series Cast
| | | | |
| --- | --- | --- | --- |
| | Mark Musashi | as Kodama | |
| | Ai Orikasa | as Silva | |
| | Alisa Yuriko Durbrow | as Shizuka | |
| | Hironobu Kageyama | as Zaruba | |
| | Hiroyuki Watanabe | as Taiga Saejima/Golden Fang GARO | |
| | Kimika Yoshino | as Garuma | |
| | Masaki Kyomoto | as Ryuuzaki Saejima | |
| | Mika Hijii | as Kaoru Mitsuki | |
| | Mina Fukui | as Asami | |
| | Ray Fujita | as Rei Suzumura | |
| | Yasue Sato | as Jabi the Makai Priest | |
| | Yukijirou Hotaru | as Gonza Kurahashi | |
| | Kenichi Ogata | as Goruba | |
| | Hiroki Konishi | as Kouga Saejima/Golden Fang GARO | |
Related News
TVMaze