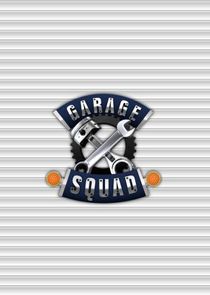 You know that "project car" you've been working on for the last five years? The car just sitting in your garage collecting dust? Well, today could be the day you can finally drive that project out of your garage. Velocity's series Garage Squad, surprises the people working on car projects with the opportunity to get expert help to finally finish them. The Garage Squad team of ace mechanics searches auto parts stores across America for worthy backyard automotive restorers, and walks out with them ready to take those cars from DIY to DONE.
Series Overview
Rating
imDb Rating: 6.7 (163 Votes)
Metascore: N/A
Plot
"Garage Squad" rescues weekend mechanics who perhaps lack the time, resources or simple know-how to get their "project" autos road-worthy again.
Details
Rated: N/A
Released: 01 Aug 2014
Runtime: 22 min
Genre: Reality-TV
Director: N/A
Writer: N/A
Actors: Ron Gregurich, Cy Kellogg, Bruno Massel, Joe Zolper
Language: N/A
Country: USA
Awards: N/A
Total Seasons: 5
Next Episode
Cutlass Comeback
Episode 6x9; Oct 23, 2019
When tragedy cut a family of four in half, their black 1972 Oldsmobile Cutlass convertible just faded away in their garage. The Squad does its best to help father and son move forward with their lives and their project.
Previous Episode
License to Cruise
Episode 6x8; Oct 16, 2019
Fighting through high-functioning autism, a 16-year-old gearhead has big plans for his 1987 Land Cruiser. He's already come pretty far, but he'll need the Squad's help to get his truck in shape for an off-road race.
Episodes 6x10: Santa's New Sleigh 6x9: Cutlass Comeback 6x8: License to Cruise 6x7: Hell of a Chevelle 6x6: The Mercury is Falling! 6x5: A C10 For Jake 6x4: Rising to the Challenge 6x3: Li'l Red Distress 6x2: King Cobra

View All Episodes
Skip to:
Season 1
| Episode No. | No. Overall | Title | Airdate | Runtime | Summary |
| --- | --- | --- | --- | --- | --- |
| 1 | 1 | Flood of Fords (Pilot) | 2014-08-01 | 30 | |
| 2 | 2 | Mopar Monster | 2014-08-08 | 30 | |
| 3 | 3 | Disheveled Datsun | 2014-08-15 | 30 | |
| 4 | 4 | Shell of A Chevelle | 2014-08-22 | 30 | |
| 5 | 5 | Red Menace | 2014-08-29 | 30 | |
| 6 | 6 | Trans Am Tragedy | 2014-09-05 | 30 | |
| 7 | 7 | Camaro in Crisis | 2014-09-12 | 30 | |
| 8 | 8 | Cady-strophic | 2014-09-19 | 30 | |
| 9 | 9 | Triumphant Return | 2014-09-26 | 30 | |
Season 2
| Episode No. | No. Overall | Title | Airdate | Runtime | Summary |
| --- | --- | --- | --- | --- | --- |
| 1 | 10 | Mystery 442 | 2015-08-11 | 30 | A mouse infested 1972 Olds Cutlass is a riddle, wrapped in a mystery, inside an enigma. |
| 2 | 11 | 52 Card Pickup | 2015-08-18 | 30 | While restoring a 1952 Chevy pickup, the team runs into some unforeseen problems. |
| 3 | 12 | A Camaro Fit For a Wedding | 2015-08-25 | 30 | It's crunch time for the crew as they struggle to transform a 1972 Camaro into a wedding dream carriage. |
| 4 | 13 | Going Commando | 2015-09-01 | 30 | A 1972 Jeep Commando project is stuck in the mud and needs a complete overhaul. |
| 5 | 14 | 1963 Impala | 2015-09-08 | 30 | A 1963 Impala bucks off every attempt to restore her. |
| 6 | 15 | Galaxie Grief | 2015-09-15 | 30 | A 1963 Galaxie sends the team's heads spinning. |
| 7 | 16 | 71 VW Bug | 2015-09-22 | 30 | A 1971 VW Bug refuses to speak the language of repair. |
| 8 | 17 | The Challenger | 2015-09-29 | 30 | A 1972 Challenger lives up to its name for the Garage Squad. |
| 9 | 18 | Corvette Calamity | 2015-10-06 | 30 | A 1969 Corvette causes new headaches with every turn of the wrench. |
| 10 | 19 | 74 Chevy Truck | 2015-10-13 | 30 | |
| 11 | 20 | Monte Carlo | 2015-10-20 | 30 | A 1985 Monte Carlo doubles down in a high-stakes rescue. |
| 12 | 21 | Hot Rod Ford | 2015-10-27 | 30 | A 1934 Ford gets a drag race makeover. |
Season 3
| Episode No. | No. Overall | Title | Airdate | Runtime | Summary |
| --- | --- | --- | --- | --- | --- |
| 1 | 22 | 87 Buick Grand National | 2016-08-24 | 30 | Restoring a Grand National takes a hard left turn.A 1987 Grand National owned the road in the 1980's, but has fallen on hard times. After her owner got swindled by repairs that didn't stick, all she has now is gathering dust. |
| 2 | 23 | 68 El Camino | 2016-08-24 | 30 | After five years in pieces, this El Camino finally comes together.A 1968 El Camino should be out cruising, not collecting dust in its owner's garage. But time is working against its owner, who's just too busy to do the job right. |
| 3 | 24 | 69 Charger | 2016-08-31 | 30 | This Charger has been a family staple for decades but it's fighting the Garage Squad every step of the way. A 1969 Dodge Charger has been in the owner's family since it rolled off the lot. But time and storage have taken their toll on this once-proud car. |
| 4 | 25 | 63 Porsche | 2016-08-31 | 30 | Good ol' American ingenuity is needed to fix this German original.A 1963 Porsche 356 has been a stone-cold classic since the day it rolled off the lot. But after being parked for years, it's lost its edge and needs more love than its owner has to give. |
| 5 | 26 | 69 Super Bee | 2016-09-07 | 30 | After years up on blocks, a Bee gets buzzing again.A 1969 Dodge Super Bee has been in storage for a couple of decades. Some recent tinkering has made things go from bad to worse. |
| 6 | 27 | 56 Ford Truck | 2016-09-14 | 30 | A Ford truck gets dragged out of the corn crib and back on the road. A 1956 Ford pickup is currently stored in a corn crib and if things don't change, that's where she's going to stay. The question is, how much life is left in the old girl? |
| 7 | 28 | '93 Typhoon | 2016-09-21 | 30 | A battered old Typhoon gets saved from some crooked mechanics and its turbo-charged bite is restored. |
| 8 | 29 | 64 GTO | 2016-09-28 | 30 | |
| 9 | 30 | 63 Lincoln Convertible | 2016-10-05 | 30 | |
| 10 | 31 | 65 Impala | 2016-10-12 | 30 | |
| 11 | 32 | 66 Nova | 2016-10-19 | 30 | |
| 12 | 33 | 56 Chevy Gasser | 2016-10-26 | 30 | The Garage Squad heads back in time to the golden age of drag racing with this 56 Gasser. |
| 13 | 34 | 63 Corvette | 2016-10-26 | 30 | Restoring a Split Window Corvette runs into unexpected problems. The owner of a '63 Corvette never had time or money to keep it running. After dozens of swap meets searching for the parts to rebuild the car, he's still nowhere close. |
Season 4
| Episode No. | No. Overall | Title | Airdate | Runtime | Summary |
| --- | --- | --- | --- | --- | --- |
| 1 | 35 | A Tri-Five Comes Alive | 2017-08-30 | 60 | A Chevy Tri-Five that's been in the family for decades hasn't moved in 17 years. Two brothers join the Squad to try and get this 4-wheel family member back on the road. |
| 2 | 36 | Camaro Comeback | 2017-09-06 | 60 | A vandalized 1969 Camaro tries to make a comeback after 27 years on blocks, but not before fighting the Garage Squad all the way down to the wire. |
| 3 | 37 | Freeing a Ford F3 | 2017-09-13 | 60 | After sitting in a barn for 47 years, a farm family tries to save their grandfather's cherished 1950 Ford F3. |
| 4 | 38 | Busted Duster | 2017-09-20 | 60 | A race against time to take a shell of a 1970 Duster and get it ready to be the VIP at the owners upcoming wedding. |
| 5 | 39 | Foul Fairlane | 2017-09-27 | 60 | After a devastating engine fire and the onset of some serious health issues, the owner of a 1966 Fairlane dreams of having this beauty rumble back to life. |
| 6 | 40 | GT-Oh No | 2017-10-04 | 60 | Once a quarter-mile drag racer, a 1968 GTO that's been sitting in the garage for over 2 decades searches for its second act as a family cruiser. |
| 7 | 41 | Chevy Four-by-Fix | 2017-10-11 | 60 | After a terrible family tragedy, getting this 1967 4x4 outside and into the mud means a lot for this family. |
| 8 | 42 | Double Trouble | 2017-10-18 | 60 | Trouble has TWO middle names - Mustang and GTO. Can the Squad get the Mustang resurrected for the owner's wife while also struggling to get the GTO street legal? |
| 9 | 43 | Malibu Mayhem | 2017-10-25 | 60 | After an American hero loses his battle with PTSD, the Squad teams up with his father to restore the 1968 Malibu that his son bought on eBay while deployed in Iraq. |
| 10 | 44 | Funny Business | 2017-11-01 | 60 | This 1967 Nova nostalgia funny car has been lost in mechanical limbo for over 4 years. As a memorial to the owner's late father, the Garage Squad tries to help him achieve his dream of taking it down the track. |
Season 5
| Episode No. | No. Overall | Title | Airdate | Runtime | Summary |
| --- | --- | --- | --- | --- | --- |
| 1 | 45 | The Faster Pastor | 2018-08-29 | 60 | This Pastor travels the world saving souls. Saving his '74 Bronco? Not so much. The Garage Squad needs some divine intervention to get this hulk out of garage hell. |
| 2 | 46 | Little Red Corvette | 2018-09-05 | 60 | A gift from his soon-to-be wife, this disaster of a '75 Corvette has been sitting in this Police Officer's garage for 15 years in pieces. Can the Garage Squad get this Cop's Corvette back in high speed pursuit? |
| 3 | 47 | Brothers in Mopar | 2018-09-12 | 60 | These best friends from high school spent their youth wrenching on Mopars together instead of playing video games. Now young men, they are back together with the Squad to rescue a '71 Dodge Dart. |
| 4 | 48 | A Farm Girl's Beloved Truck | 2018-09-19 | 60 | Having fallen in love with this beat-up old '78 Chevy K20 as a teenager, this farm girl knew she had to have it. After a tough year, can the Garage Squad help her and her truck start a new chapter in life? |
| 5 | 49 | Ragtop 'Cuda in a Barn | 2018-09-26 | 60 | This very rare '70 'Cuda convertible has been sitting for over 10 years, slowly dying. How could the Garage Squad pass up this amazing opportunity to help its cancer-surviving owner get this Mopar monster back on the road? |
| 6 | 50 | Grandma Loves Her Nova | 2018-10-03 | 60 | This Nova has been in the family for 3 generations and seen more that its share of rough patches. Now the grandson is on a mission with the Garage Squad to bring it back to glory for Grandma. |
| 7 | 51 | A Studebaker For A Studebaker | 2018-10-10 | 60 | An 8th generation member of the Studebaker family got a hold of this '59 Studebaker pickup on eBay. The Squad discovers it has turned into the mechanical black sheep of the family. |
| 8 | 52 | A Charger Tribute | 2018-10-17 | 60 | This father-son project took a tragic turn to became a father-only project. The Garage Squad tackles this '70 Charger as a tribute car to the entire family. |
| 9 | 53 | Gasser Plus-one | 2018-10-24 | 60 | Having lost his gear-head father at a young age this young man wants to finish what his Dad couldn't. The '57 Gasser has been sitting for decades but what's that sitting next to it? |
| 10 | 54 | Dually Concerned | 2018-10-31 | 60 | Having been seriously injured, a mechanic's life was turned upside down, until the kindness of a stranger gave him hope. Now these best buddies want to team up with the Garage Squad to tackle the rescue of a beloved '93 Chevy Dually. |
Related News
TVMaze