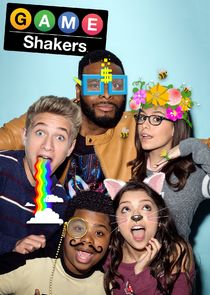 When Babe and Kenzie created Sky Whale for a seventh grade science project, they were hoping for a passing grade at best. They never expected it to become the most popular game of the year! Now they're making millions with their insanely successful business. What could go wrong on Game Shakers?
Series Overview
Rating
imDb Rating: 4.3 (1,291 Votes)
Metascore: N/A
Plot
A live-action sitcom about two 12-year-old girls who start a multi-million-dollar gaming company and take on rap superstar Double G as a business partner.
Details
Rated: TV-PG
Released: 12 Sep 2015
Runtime: 30 min
Genre: Comedy, Family
Director: N/A
Writer: Dan Schneider
Actors: Cree Cicchino, Madisyn Shipman, Benjamin Flores Jr., Kel Mitchell
Language: English
Country: USA
Awards: 5 nominations.
Total Seasons: 3
Previous Episode
He's Back
Episode 3x18; Jun 08, 2019
Babe has to make a choice when multiple guys from her past want to date her. Meanwhile, Trip and Hudson have to buy a famous watch for Dub. Guest Stars: Snoop Dogg and Jace Norman
Previous Episodes 3x18: He's Back 3x17: Boy Band Cat Nose 3x16: Why Tonya 3x15: Bug Tussle 3x14: Breaking Bad News 3x13: Hungry Hungry Hypno 3x12: Demolition Dollhouse 3x11: Wet Willy's Wild Water Park 3x10: Flavor City

View All Episodes
Cast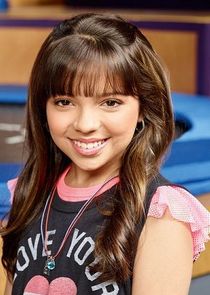 Cree Cicchino as Babe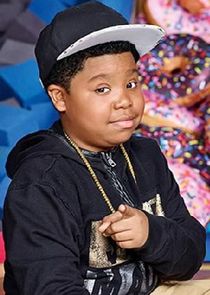 Benjamin Flores Jr. as Triple G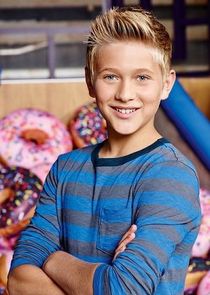 Thomas Kuc as Hudson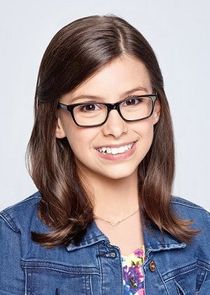 Madisyn Shipman as Kenzie
Bubba Ganter as Bunny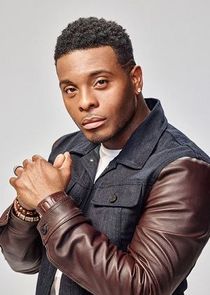 Kel Mitchell as Double G
View Full Cast
Skip to:
Season 1
| Episode No. | No. Overall | Title | Airdate | Runtime | Summary |
| --- | --- | --- | --- | --- | --- |
| 1 | 1 | Sky Whale | 2015-09-12 | 60 | Babe and Kenzie's school project becomes an online gaming sensation; rapper Double G finds out that Babe and Kenzie used his song in their game. |
| 2 | 2 | Lost Jacket, Falling Pigeons | 2015-09-19 | 30 | Babe buys herself a fancy new jacket after Dub gives the girls bonuses for Sky Whale's success; a flock of pigeons takes up residence in Game Shakers. |
| 3 | 3 | Dirty Blob | 2015-09-26 | 30 | After Trip accidentally destroys a copy of the Game Shakers' latest game, the gang must sneak into Dub's recording studio to retrieve the last remaining copy. |
| 4 | 4 | MeGo the Freakish Robot | 2015-10-03 | 30 | A company asks the Game Shakers to build a game based on a robot they created; the robot becomes depressed and malfunctions. |
| 5 | 5 | Tiny Pickles | 2015-10-10 | 30 | Babe and Kenzie's new game is ready, but Dub promises the world another game based on a crazy dream he had. |
| 6 | 6 | Scared Tripless | 2015-10-24 | 30 | Double G has scared Triple G every Halloween since he was a baby. This year he asks Babe and Kenzie to help, but they double-cross him telling Trip his elaborate plan. But you can't mess with Dub. |
| 7 | 7 | Trip Steals the Jet | 2015-11-07 | 30 | Feeling pressure to fit in with Trip's rich friends, Babe convinces Trip to borrow Dub's jet for the night. |
| 8 | 8 | Lost on the Subway | 2015-11-14 | 30 | The Game Shakers take the subway to a boxing game pitch, but forget the gloves and send Trip and Hudson back for them. |
| 9 | 9 | You Bet Your Bunny | 2015-11-21 | 30 | The Game Shakers host a tournament to promote a new Sky Whale update; Double G bets Bunny, thinking Babe will beat one of her classmates. |
| 10 | 10 | A Reggae Potato Christmas | 2015-11-28 | 30 | When the Game Shakers visit Double G on the set of his Christmas special, an accident during the opening number forces them to finish the show without him. |
| 11 | 11 | Poison Pie | 2016-01-09 | 30 | Babe and Kenzie get noise complaints from the neighbor, so they bake him a pie to make amends. After the pie sends the neighbor to the hospital, Dub and Trip go undercover to clear the girls' names. |
| 12 | 12 | Party Crashers | 2016-01-16 | 30 | Babe and Kenzie's plans to hang with Mason are ruined when Bunny and Ruthless crash a birthday party; Dub uses Hudson to make Trip jealous when Trip chooses work over hanging out with him. |
| 13 | 13 | The Girl Power Awards | 2016-01-23 | 30 | When Babe and Kenzie are nominated for a Girl Power Award, Kenzie quickly realizes that the award show is a scam. |
| 14 | 14 | A Job for Jimbo | 2016-01-30 | 30 | At Game Shakers, Babe, Kenzie, Hudson and Trip are working on a garbage tank game called Scuburoo. Hudson then drops Trip's backpack into the tank. Trip's headpones die. The delivery guy arrives and when Dub arrives he leaves. Dub tells them he is gonna do a duet with a famous singer named Diana Devane. She arrives and says her step-grandson will love it at Game Shakers. His name is Jimbo and is 22 years old. Jimbo is finding a new job and Dub says that he can work at Game Shakers. Hudson then dives into garbage water. |
| 15 | 15 | Shark Explosion | 2016-02-06 | 30 | Triple G's mother invites the Game Shakers on her yacht to see some fireworks, but she and Double G have both booked the yacht for the same time. |
| 16 | 16 | Nasty Goats | 2016-02-20 | 30 | When the gang discovers that a hacker has put their new game on an illegal Web site, they track him down in Alaska. |
| 17 | 17 | Babe's Fake Disease | 2016-02-27 | 30 | Kenzie invites an uninterested Babe to her coding club; Babe swoons when she meets a member of Kenzie's coding club; an aging app predicts that Trip will go bald. |
| 18 | 18 | The Diss Track | 2016-03-05 | 30 | When a rival rapper releases a track about Double G, the Game Shakers convince him to release a response track. |
| 19 | 19 | Revenge @ Tech Fest | 2016-05-21 | 30 | While at Tech Fest, the Game Shakers enlist the Girls Who Code to help them take down an old enemy of Double G's who has returned seeking revenge. |
Season 2
| Episode No. | No. Overall | Title | Airdate | Runtime | Summary |
| --- | --- | --- | --- | --- | --- |
| 1 | 20 | Armed & Coded | 2016-09-17 | 30 | Babe convinces Kenzie to teach Mason Kendal coding, but then gets jealous when Kenzie starts spending more and more time with him. |
| 2 | 21 | Secret Level | 2016-09-24 | 30 | When Hudson releases false information about a secret level in a Game Shakers' game, Game Shakers is besieged by angry, crazy fans. Babe uses the secret level to go on a date with Mason Kendal. |
| 3 | 22 | The Very Old Finger | 2016-10-01 | 30 | The Game Shakers visit a mummy exhibit to get ideas for a new game they're working on. Hudson accidentally snaps off one of its fingers, and Babe leads a quest to glue it back on without getting caught. |
| 4 | 23 | Buck the Magic Rat | 2016-10-08 | 30 | Kenzie saves a rat in the subway and the kids are grossed out. But it starts bringing them luck and they all use it to solve their problems. When the rat gets sick, Kenzie returns it to the subway. |
| 5 | 24 | Baby Hater | 2016-11-05 | 30 | The Game Shakers step up to help Dub get over his fear of babies when it threatens his recently announced bid for mayor. |
| 6 | 25 | Byte Club | 2016-11-12 | 30 | When Trip's sponsorship deal turns out to be a nightmare, Dub and the gang must help Trip tarnish his reputation and lose his contract. |
| 7 | 26 | Babe's Bench | 2016-11-19 | 30 | Babe spends the entire Game Shakers advertising budget on a high-tech bus bench, only to find out the bench is a magnet for weirdos. |
| 8 | 27 | The Mason Experience | 2017-02-11 | 30 | Babe is upset to learn that Mason Kendal is moving, so Kenzie designs her a virtual reality version of Mason. |
| 9 | 28 | Bunger Games | 2017-02-18 | 30 | When pop star Kayla Bunger hires The Game Shakers to make a lifestyle game, she invites Babe to join her elite squad while Kenzie is left on the outs. |
| 10 | 29 | Wedding Shower of Doom | 2017-02-25 | 30 | When Dub's brother shows up at Game Shakers and invites everyone except Dub to his wedding, the kids convince him to bring his brother into the fold, promising to make Dub behave himself at the event. |
| 11 | 30 | Bear Butt Laser Runner | 2017-03-04 | 30 | After learning that the exact same game idea they are about to pitch to a client was already released by another company, the Game Shakers have 20 minutes to think up a new game. |
| 12 | 31 | Air TnP | 2017-03-18 | 30 | After the Game Shakers sign up for a restroom-sharing app, one of their customers sabotages their new game with a virus, and the Game Shakers have to figure out a way to undo the damage. |
| 13 | 32 | Llama Llama Spit Spit | 2017-03-25 | 30 | The Game Shakers are kicked out of Fooders for a guest who has his photo on the wall. Babe is aiming to get her own photo on the wall, which is necessary to get in. |
| 14 | 33 | Clam Shakers, Part 1 | 2017-05-06 | 30 | The Game Shakers try to hack a billboard and livestream their new game to seal a promotional partnership with Clam Jumper. |
| 15 | 34 | Clam Shakers, Part 2 | 2017-05-13 | 30 | A failed hacking attempt and blackmail put the Game Shakers' big deal with Clam Jumper in jeopardy. |
| 16 | 35 | Wing Suits & Rocket Boots | 2017-05-20 | 30 | The Game Shakers set Hudson up with an account to help promote their games, but things quickly get out of hand when Hudson puts on Dub's rocket boots for fun. |
| 17 | 36 | Game Shippers | 2017-09-09 | 30 | To settle a dispute over whether Freddie liked Carly or Sam from ``iCarly'' more, the Game Shakers track down Nathan Kress himself and try to get the answer out of him by any means necessary. |
| 18 | 37 | The One with the Coffee Shop | 2017-09-16 | 30 | After being snubbed in an online story about Game Shakers and a fight with Babe, Kenzie takes a job as a coffee shop waitress. |
| 19 | 38 | The Trip Trap | 2017-09-23 | 30 | Babe and Kenzie are suspicious of Trip's new fame-hungry girlfriend and are determined to find out if she's using him to get closer to Double G. |
| 20 | 39 | The Switch | 2017-09-30 | 30 | When Dub and the Game Shakers swap Bunny for Hudson, the Game Shakers quickly regret it and have to figure out how to get Hudson back. |
| 21 | 40 | Dancing Kids, Flying Pig | 2017-10-07 | 30 | In order to finish their new dance game on time, The Game Shakers have to wear a motion capture suit and dance their way through the next 48 hours. |
| 22 | 41 | War and Peach | 2017-10-14 | 30 | In an attempt to get to know each other better and increase productivity, Kenzie organizes a team building retreat. |
| 23 | 42 | Spy Games | 2017-10-21 | 30 | After Kenzie installs security cameras, Babe and Trip try to teach her a lesson about spying on people. |
| 24 | 43 | Babe Gets Crushed | 2017-11-04 | 30 | After Trip fervently asks Babe for a romantic advice for his friend "Chuck", she comes to the suspicion that Trip is having a crush on her and tries everything to avoid an embarrassing situation at work. |
Season 3
| Episode No. | No. Overall | Title | Airdate | Runtime | Summary |
| --- | --- | --- | --- | --- | --- |
| 1 | 44 | Babe Loves Danger | 2018-02-10 | 30 | Babe tries to plan the perfect date when she learns that Henry Hart is coming to New York to visit her. |
| 2 | 45 | Lumples | 2018-02-18 | 30 | A toy company hires Game Shakers to make a game based on a toy that they are not allowed to see. |
| 3 | 46 | Subway Girl | 2018-02-25 | 30 | When a video of Babe dancing to Dub's new music video goes viral, Dub challenges Babe to a dance battle to prove he is the better dancer. |
| 4 | 47 | Snackpot! | 2018-03-04 | 30 | Hudson and Trip open a vending machine that dispenses snacks at random on the subway; Dub quickly becomes obsessed with the device. |
| 5 | 48 | Babe & The Boys | 2018-03-11 | 30 | Kenzie's dating app causes huge problems for Babe. |
| 6 | 49 | Escape From Utah! | 2018-04-01 | 30 | The girls go to Utah to rescue Trip after Dub sends him to Captive Meadows, a center for boys with bad behavior. |
| 7 | 50 | Super Ugly Head | 2018-04-08 | 30 | Kenzie is torn whether to tell on Dub after she sees him tear down his own statue. |
| 8 | 51 | Snoop Therapy | 2019-03-30 | 30 | The Game Shakers haven't been getting along. Dub recommends they see his office therapist: Snoop Dogg. Special Guest Star: Snoop Dogg |
| 9 | 52 | Hot Bananas | 2019-04-06 | 30 | Trip becomes depressed after losing a big video game battle to a 7-year-old. |
| 10 | 53 | Flavor City | 2019-04-13 | 30 | Dub gets tickets to a VIP performance of the hottest musical of all time - Flavor City. |
| 11 | 54 | Wet Willy's Wild Water Park | 2019-04-20 | 30 | The Game Shakers go to Wet Willy's Wild Water Park on its last day to try and break the speed record on the extremely dangerous water slide, the Big Ripper. |
| 12 | 55 | Demolition Dollhouse | 2019-04-27 | 30 | Babe and Kenzie try to locate a cute boy who waved to Kenzie on the subway while Hudson and Trip become obsessed with a model doll house. Special Guest Star: Snoop Dogg |
| 13 | 56 | Hungry Hungry Hypno | 2019-05-04 | 30 | Kenzie is hypnotized into being very, very hungry after the Game Shakers take her to see a hypnotist for her birthday. |
| 14 | 57 | Breaking Bad News | 2019-05-11 | 30 | The Game Shakers have to figure out how to break the news to Dub that they broke his expensive new television. |
| 15 | 58 | Bug Tussle | 2019-05-25 | 30 | After Dub goes to Vegas and leaves Trip behind, the Game Shakers take Trip to Dub's awesome apartment to show him a good time. |
| 16 | 59 | Why Tonya | 2019-05-25 | 30 | The Game Shakers are approached by a fan who demands they make changes to one of their games. |
| 17 | 60 | Boy Band Cat Nose | 2019-06-01 | 30 | Dub recommends Kenzie see an eccentric pet plastic surgeon in order to fix her cat's loud nose holes. Meanwhile, Trip tries to get Hudson into a Boy Band. |
| 18 | 61 | He's Back | 2019-06-08 | 30 | Babe has to make a choice when multiple guys from her past want to date her. Meanwhile, Trip and Hudson have to buy a famous watch for Dub. Guest Stars: Snoop Dogg and Jace Norman |
Series Cast
| | | | |
| --- | --- | --- | --- |
| | Cree Cicchino | as Babe | |
| | Benjamin Flores Jr. | as Triple G | |
| | Thomas Kuc | as Hudson | |
| | Madisyn Shipman | as Kenzie | |
| | Bubba Ganter | as Bunny | |
| | Kel Mitchell | as Double G | |
| | Sheldon Bailey | as Ruthless | |
| | Emma Rose Maloney | as Kaylie | |
| | Regi Davis | as Mr. Sammich | |
| | Nick Baga | as Scotty | |
Related News
TVMaze