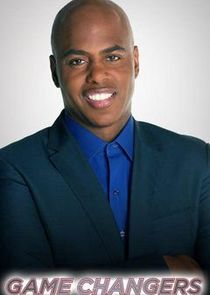 Celebrating athletes and fans who give back to their communities making life better for so many, Game Changers, hosted by "The Insider's" Kevin Frazier, highlights professional athletes who use their public image to make positive changes in the lives of fans in need. Young reporters seek their stories from the field, and bring back journalistic gold to the Game Changers studios to culminate in heartfelt reflection and insight from the host. Whether on or off the field, Game Changers takes an inspirational look at how sports positively impact individuals and the communities they serve.
Series Overview
Rating
imDb Rating: 5.5 (6 Votes)
Metascore: N/A
Plot
N/A
Details
Rated: N/A
Released: 28 Sep 2013
Runtime: 30 min
Genre: Family, News, Sport, Talk-Show
Director: N/A
Writer: N/A
Actors: Kevin Frazier, Andrew Anthony, Ross Thomas, Allie LaForce
Language: English
Country: USA
Awards: 3 nominations.
Total Seasons: 3
Previous Episode
Leaders of the Pack
Episode 3x26; May 28, 2016
Magic guard Victor Oladipo is leading by example both on and off the court; Seahawks defensive lineman Michael Bennett crusades against childhood obesity; Warriors forward Draymond Green builds a better life for teenagers in Oakland; award-winning cinematographers are making video games look as authentic as ever. Kevin Frazier hosts.
Previous Episodes 3x26: Leaders of the Pack 3x25: The Mighty Duck 3x24: Brotherly Love 3x23: Mile High Moxie 3x22: Heart of a Lion 3x21: Boston Pride 3x20: Keeping the Dream Alive 3x19: Blue-Collar Bold 3x18: Ultimate Warrior

View All Episodes
Skip to:
Season 1
| Episode No. | No. Overall | Title | Airdate | Runtime | Summary |
| --- | --- | --- | --- | --- | --- |
| 1 | 1 | Kershaw's Challenge | 2013-09-28 | 30 | |
| 2 | 2 | The Iron Man | 2013-10-05 | 30 | |
| 3 | 3 | NFL Stars in Hollywood | 2013-10-12 | 30 | |
| 4 | 4 | NFL Thrills | 2013-10-19 | 30 | |
| 5 | 5 | The NFL Linebacker with Heart | 2013-10-26 | 30 | |
| 6 | 6 | Noah's Arc | 2013-11-02 | 30 | |
| 7 | 7 | The 3 Point Machine | 2013-11-09 | 30 | |
| 8 | 8 | The New York Nick Surprise | 2013-11-16 | 30 | |
| 9 | 9 | The Eagle Has Landed | 2013-11-23 | 30 | |
| 10 | 10 | Best Of: The NFL Quarterback Faceoff | 2014-01-25 | 30 | |
| 11 | 11 | Sleepless in Seattle | 2014-02-01 | 30 | |
| 12 | 12 | Living the NFL Dream | 2014-02-08 | 30 | |
| 13 | 13 | Impossible Dreams on the Way Green Bay | 2014-02-15 | 30 | |
| 14 | 14 | Maui Magic | 2014-02-22 | 30 | |
| 15 | 15 | Best Of: Sherman's Army | 2014-03-01 | 30 | |
| 16 | 16 | Secrets from an NFL Star | 2014-04-26 | 30 | |
| 17 | 17 | Not a Problem in Houston | 2014-05-03 | 30 | |
| 18 | 18 | World Cup Fever | 2014-05-10 | 30 | |
| 19 | 19 | The Hawaiian Hero | 2014-06-07 | 30 | |
| 20 | 20 | World Cup Stars | 2014-06-14 | 30 | |
| 21 | 21 | Seattle Soccer Surprise | 2014-06-21 | 30 | |
| 22 | 22 | A Day with the Champ | 2014-06-28 | 30 | |
| 23 | 23 | A Diamondback Surprise | 2014-07-05 | 30 | |
| 24 | 24 | Sherman's Wild Ride | 2014-07-12 | 30 | |
| 25 | 25 | Mayor of Lob City | 2014-07-19 | 30 | |
| 26 | 26 | Watt Is Up | 2014-07-26 | 30 | |
Season 2
| Episode No. | No. Overall | Title | Airdate | Runtime | Summary |
| --- | --- | --- | --- | --- | --- |
| 1 | 27 | Lights! Camera! Action! | 2014-09-27 | 30 | |
| 2 | 28 | Flash Point | 2014-10-04 | 30 | |
| 3 | 29 | Soccer's Human Shield | 2014-10-11 | 30 | |
| 4 | 30 | An Absolute Messi | 2014-10-18 | 30 | |
| 5 | 31 | Surf's Up! | 2014-10-25 | 30 | |
| 6 | 32 | Going to Camp | 2014-11-01 | 30 | |
| 7 | 33 | Agassi's Second Serve | 2014-11-08 | 30 | |
| 8 | 34 | King of the Courts | 2014-11-15 | 30 | |
| 9 | 35 | Wild Man of New Orleans | 2014-11-22 | 30 | |
| 10 | 36 | A Rose by Any Name | 2015-01-17 | 30 | NFL star Anquan Boldin talks about being a father and serving his community; the world's smallest football player. |
| 11 | 37 | An Angel Here to Help | 2015-01-24 | 30 | |
| 12 | 38 | The Perfect Storm in Sports | 2015-01-31 | 30 | |
| 13 | 39 | Wade, Wheels and the Human Wall | 2015-02-07 | 30 | |
| 14 | 40 | The Diamond in Denver | 2015-02-14 | 30 | |
| 15 | 41 | Baltimore's Super Hero | 2015-02-21 | 30 | |
| 16 | 42 | California Dreamin' | 2015-04-04 | 30 | |
| 17 | 43 | Back on Top | 2015-04-11 | 30 | |
| 18 | 44 | Rory's World | 2015-04-18 | 30 | |
| 19 | 45 | Hometown Hero | 2015-04-25 | 30 | |
| 20 | 46 | Action Jackson | 2015-05-02 | 30 | |
| 21 | 47 | Never Give Up | 2015-05-09 | 30 | |
| 22 | 48 | How the West Was Won | 2015-05-16 | 30 | |
| 23 | 49 | Bold Move | 2015-07-04 | 30 | |
| 24 | 50 | The Giant on the Sideline | 2015-07-11 | 30 | |
| 25 | 51 | Deep Sea Charger | 2015-07-18 | 30 | |
| 26 | 52 | Height of His Career | 2015-07-25 | 30 | |
Season 3
| Episode No. | No. Overall | Title | Airdate | Runtime | Summary |
| --- | --- | --- | --- | --- | --- |
| 1 | 53 | The Healing Power | 2015-10-03 | 30 | A former professional surfer named Izzy Paskowitz helps children with autism; professional football player Brandon Marshall's efforts to bring awareness to mental illness; the high-tech side of sports with NBA star Russell Westbrook. |
| 2 | 54 | Boy Wonder | 2015-10-10 | 30 | A young boy's enthusiasm for sports unites the disabled community; NFL star Antonio Brown helps his hometown; a university goes above and beyond regarding high-tech gaming. |
| 3 | 55 | Ring of Redemption | 2015-10-17 | 30 | Disadvantaged youth benefit from a historic Brooklyn boxing gym; football player Andre Johnson expresses his love for Houston; NFL stars seek fame in Hollywood. |
| 4 | 56 | Two of a Kind | 2015-10-24 | 30 | Twin brothers and NFL stars Jason and Devin McCourty discuss their campaign against sickle-cell disease; NBA player Vince Carter helps the youth in his hometown; surgeons use video games to prepare them for operations. |
| 5 | 57 | Man on a Mission | 2015-10-31 | 30 | NBA player Matt Barnes' drive to find a cure for cancer in order to honor his mother; an NFL rookie's inspiring story; the Hollywood adventures of two NHL stars. |
| 6 | 58 | Brainchild | 2015-11-07 | 30 | Snowboarder Kevin Pearce's recovery from a traumatic brain injury; Cincinnati Bengals wide receiver A.J. Green. |
| 7 | 59 | A Driving Force | 2015-11-14 | 30 | |
| 8 | 60 | The American Dream | 2015-11-21 | 30 | A Green Beret is determined to make it in the NFL; Tennessee Titans linebacker Wesley Woodyard; engineers who work on video games. |
| 9 | 61 | My Brother's Keeper | 2016-01-16 | 30 | |
| 10 | 62 | Pride of the Panthers | 2016-01-23 | 30 | |
| 11 | 63 | Waves of Change | 2016-01-30 | 30 | |
| 12 | 64 | Selfless | 2016-02-06 | 30 | |
| 13 | 65 | Still Strong | 2016-02-13 | 30 | |
| 14 | 66 | Fight On | 2016-02-20 | 30 | |
| 15 | 67 | Sign of the Times | 2016-02-27 | 30 | |
| 16 | 68 | Cardinal Rule | 2016-03-05 | 30 | |
| 17 | 69 | Blazing a Trail | 2016-03-12 | 30 | |
| 18 | 70 | Ultimate Warrior | 2016-04-02 | 30 | Golden State Warriors forward Draymond Green helps teenagers in Oakland; Pro Bowl cornerback Patrick Peterson encourages kids to reach their potential; using football in science and math. |
| 19 | 71 | Blue-Collar Bold | 2016-04-09 | 30 | Professional basketball player Zach Randolph inspires high school students in his adopted hometown; retired professional football player Chris Long brings clean water to Africa; a high-tech lab makes video games look real. |
| 20 | 72 | Keeping the Dream Alive | 2016-04-16 | 30 | Pelicans guard Eric Gordon provides a shining example to underprivileged kids in New Orleans; Devon Still raises awareness for pediatric cancer; the story of blind long snapper Jake Olson on the USC football team; artists bring golf courses to life. |
| 21 | 73 | Boston Pride | 2016-04-23 | 30 | Celtics guard Marcus Smart overcomes a tragic setback to make it to the NBA; Seahawks defensive lineman Michael Bennett's crusade against childhood obesity; transforming video games into a virtual world of information. |
| 22 | 74 | Heart of a Lion | 2016-04-30 | 30 | Lions safety Glover Quin provides hope to the community of Detroit; horseback riding is helping change the lives of disabled children; a groundbreaking facility is using science to give athletes a competitive edge; and an innovative look at how Ronda Rousey is revolutionizing her sport. Kevin Frazier hosts. |
| 23 | 75 | Mile High Moxie | 2016-05-07 | 30 | The inspiring story of Broncos linebacker Brandon Marshall and his improbable road to NFL stardom; Cavaliers guard Iman Shumpert is dedicated to helping the community of Cleveland; the technology involved in creating weather within the virtual sports world. Kevin Frazier hosts. |
| 24 | 76 | Brotherly Love | 2016-05-14 | 30 | Philadelphia 76er Jahlil Okafor shows underprivileged kids a path to success; Saints wide receiver Brandin Cooks; sports science with NFL stars. |
| 25 | 77 | The Mighty Duck | 2016-05-21 | 30 | Anaheim Ducks captain Ryan Getzlaf is a shining light for children struggling with illness. Detroit Lions wide receiver Golden Tate is committed to improving the lives of military families. Cutting-edge technology is bringing the faces of NBA superstars to life. Kevin Frazier hosts. |
| 26 | 78 | Leaders of the Pack | 2016-05-28 | 30 | Magic guard Victor Oladipo is leading by example both on and off the court; Seahawks defensive lineman Michael Bennett crusades against childhood obesity; Warriors forward Draymond Green builds a better life for teenagers in Oakland; award-winning cinematographers are making video games look as authentic as ever. Kevin Frazier hosts. |
Series Cast
| | | | |
| --- | --- | --- | --- |
| | Kevin Frazier | as Host | |
Related News
TVMaze