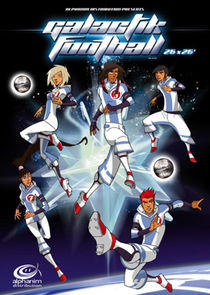 Galactik Football is a French animated television series, co-produced by Alphanim, France 2, Jetix and Welkin-Animation. It follows the story of a futuristic football team - The Snow Kids - as they try to win the Galactik Football Cup for their home planet Akillian, with the help of The Flux - a mystical energy, specific for every planet.
Series Overview
Rating
imDb Rating: 7.9 (2,086 Votes)
Metascore: N/A
Plot
You've watched a football match, but have you ever seen it played with a mystic flux force? Aliens, Wambas, Technoids and boys & girls all compete in this ultimate sci-fi sports special and...
Details
Rated: N/A
Released: N/A
Runtime: 26 min
Genre: Animation, Action, Comedy, Drama, Sci-Fi, Sport
Director: N/A
Writer: Pascal Boutboul, Flavien Vandelli
Actors: Anne Byrne, Dominic Catrambone, Malcolm Douglas, Michael Ford-FitzGerald
Language: French, English, German
Country: France
Awards: N/A
Total Seasons: 3
Previous Episode
The Stars of Akillian Are Eternal
Episode 3x26; Oct 27, 2011
Previous Episodes 3x26: The Stars of Akillian Are Eternal 3x25: On All Fronts 3x24: Second Chance 3x23: Lost Illusions 3x22: All Together! 3x21: Farewell, Paradisia 3x20: Walk for a Pirate 3x19: The Ghost of Paradisia 3x18: Sinedds Shadow

View All Episodes
Skip to:
Season 1
| Episode No. | No. Overall | Title | Airdate | Runtime | Summary |
| --- | --- | --- | --- | --- | --- |
| 1 | 1 | The Comeback | 2006-06-03 | 25 | |
| 2 | 2 | A New Hope | 2006-06-04 | 25 | |
| 3 | 3 | The Challenge | 2006-06-10 | 25 | |
| 4 | 4 | The Team | 2006-06-11 | 25 | |
| 5 | 5 | The Captain | 2006-06-17 | 25 | |
| 6 | 6 | Second Wind | 2006-06-18 | 25 | |
| 7 | 7 | Coach's Pet | 2006-06-24 | 25 | |
| 8 | 8 | The Storm | 2006-06-25 | 25 | |
| 9 | 9 | Revenge Match | 2006-07-01 | 25 | |
| 10 | 10 | The Pirates | 2006-07-02 | 25 | |
| 11 | 11 | The Professor | 2006-07-08 | 25 | |
| 12 | 12 | The Escape | 2006-07-09 | 25 | |
| 13 | 13 | The Striker | 2006-07-09 | 25 | |
| 14 | 14 | Black Hole | 2006-07-16 | 25 | |
| 15 | 15 | Last Chance | 2006-07-17 | 25 | |
| 16 | 16 | Genesis Stadium | 2006-07-24 | 25 | |
| 17 | 17 | Get Ready | 2006-07-24 | 25 | |
| 18 | 18 | Under Pressure | 2006-07-25 | 25 | |
| 19 | 19 | The Star | 2006-07-26 | 25 | |
| 20 | 20 | Metaflux | 2006-07-27 | 25 | |
| 21 | 21 | The Forfeit | 2006-07-28 | 25 | |
| 22 | 22 | The Missing Link | 2006-07-29 | 25 | |
| 23 | 23 | Blackmail | 2006-07-30 | 25 | |
| 24 | 24 | The Duel | 2006-07-30 | 25 | |
| 25 | 25 | The Traitor | 2006-07-31 | 25 | |
| 26 | 26 | The Cup | 2006-08-01 | 25 | |
Season 2
| Episode No. | No. Overall | Title | Airdate | Runtime | Summary |
| --- | --- | --- | --- | --- | --- |
| 1 | 27 | Return to Genesis | 2008-04-05 | 25 | |
| 2 | 28 | The Suspension | 2008-04-06 | 25 | |
| 3 | 29 | The Team Reinvented | 2008-04-12 | 25 | |
| 4 | 30 | The New Captain | 2008-04-13 | 25 | |
| 5 | 31 | The Homecoming | 2008-04-19 | 25 | |
| 6 | 32 | Netherball Rules! | 2008-04-20 | 25 | |
| 7 | 33 | Doubts Within | 2008-04-26 | 25 | |
| 8 | 34 | Rocket's Descent | 2008-04-27 | 25 | |
| 9 | 35 | The All-Stars | 2008-05-03 | 25 | |
| 10 | 36 | Rocket vs. Sinedd | 2008-05-04 | 25 | |
| 11 | 37 | The Champions Stumble | 2008-05-10 | 25 | |
| 12 | 38 | Last Stand | 2008-05-11 | 25 | |
| 13 | 39 | Fluxless | 2008-05-17 | 25 | |
| 14 | 40 | A New Order | 2008-07-26 | 25 | |
| 15 | 41 | Revlations | 2008-07-27 | 25 | |
| 16 | 42 | New Rules | 2008-08-02 | 25 | |
| 17 | 43 | Open Doors | 2008-08-03 | 25 | |
| 18 | 44 | Warren Steps In | 2008-08-09 | 25 | |
| 19 | 45 | The Techndroids V3s | 2008-08-10 | 25 | |
| 20 | 46 | The Fallen Star | 2008-08-16 | 25 | |
| 21 | 47 | Coach Artegor | 2008-08-17 | 25 | |
| 22 | 48 | Rocket the Midfielder | 2008-08-23 | 25 | |
| 23 | 49 | Destiny | 2008-08-24 | 25 | |
| 24 | 50 | Final Preparations | 2008-08-31 | 25 | |
| 25 | 51 | A Team Unravels | 2008-08-31 | 25 | |
| 26 | 52 | Bleylock's Revenge | 2008-09-06 | 25 | |
Season 3
| Episode No. | No. Overall | Title | Airdate | Runtime | Summary |
| --- | --- | --- | --- | --- | --- |
| 1 | 53 | Stars in Danger | 2010-07-05 | 25 | |
| 2 | 54 | The Break Up | 2010-07-06 | 25 | |
| 3 | 55 | Welcome to Paradisia | 2010-07-07 | 25 | |
| 4 | 56 | A New Strategy | 2010-07-08 | 25 | |
| 5 | 57 | Resonance | 2010-09-04 | 25 | |
| 6 | 58 | May the Show Begin ! | 2010-09-11 | 25 | |
| 7 | 59 | Fathers and Sons | 2010-09-18 | 25 | |
| 8 | 60 | The Other Side of Paradisia | 2010-09-25 | 25 | |
| 9 | 61 | The Secret of Deep Stadium | 2011-10-10 | 25 | |
| 10 | 62 | Friends and Enemies | 2011-10-11 | 25 | |
| 11 | 63 | Battle for the Final | 2011-10-12 | 25 | |
| 12 | 64 | Betrayal on the Field | 2011-10-13 | 25 | |
| 13 | 65 | Endgame | 2011-10-14 | 25 | |
| 14 | 66 | A New Start | 2011-10-15 | 25 | |
| 15 | 67 | Crossed Fates | 2011-10-16 | 25 | |
| 16 | 68 | The Secrets of the Breath | 2011-10-17 | 25 | |
| 17 | 69 | Reconstituted Families | 2011-10-18 | 25 | |
| 18 | 70 | Sinedds Shadow | 2011-10-19 | 25 | |
| 19 | 71 | The Ghost of Paradisia | 2011-10-20 | 25 | |
| 20 | 72 | Walk for a Pirate | 2011-10-21 | 25 | |
| 21 | 73 | Farewell, Paradisia | 2011-10-22 | 25 | |
| 22 | 74 | All Together! | 2011-10-23 | 25 | |
| 23 | 75 | Lost Illusions | 2011-10-24 | 25 | |
| 24 | 76 | Second Chance | 2011-10-25 | 25 | |
| 25 | 77 | On All Fronts | 2011-10-26 | 25 | |
| 26 | 78 | The Stars of Akillian Are Eternal | 2011-10-27 | 25 | |
Series Crew
| | Position | Name |
| --- | --- | --- |
| | Creator | Pascal Boutboul |
| | Creator | Flavien Vandelli |
Related News
TVMaze