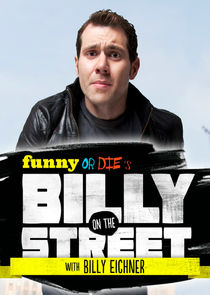 Coming October 8 to truTV, Funny or Die's Billy on the Street with Billy Eichner is a pop culture game show that follows unfiltered and unapologetic comedian Billy Eichner as he hits the streets of New York City to test unsuspecting passersby. Billy gives contestants the chance to win cash and other prizes by playing games such as "Quizzed in the Face," with lifeline options to "Beg a Stranger" or "Compliment His Hair." Other games could include "Dead or Boring?" and "Name 20 White People in 30 Seconds."
Series Overview
Rating
imDb Rating: 7.6 (1,426 Votes)
Metascore: N/A
Plot
Billy Eichner quizzes people in the face for "amazing" gifts and money.
Details
Rated: TV-14
Released: 22 Dec 2011
Runtime: 30 min
Genre: Comedy, Game-Show, Reality-TV
Director: N/A
Writer: Billy Eichner
Actors: Billy Eichner
Language: English
Country: USA
Awards: Nominated for 2 Primetime Emmys. Another 3 nominations.
Total Seasons: 5
Previous Episode
The NY Bubble with Stephen Colbert!
Episode 5x10; Jan 24, 2017
Previous Episodes 5x10: The NY Bubble with Stephen Colbert! 5x9: Super Sloppy Semi-Automatic Double Dare! with Keegan-Michael Key 5x8: Curbside Conga Line with James Corden 5x7: Do Gay People Care About John Oliver? with John Oliver! 5x6: Billy's Holiday Wonderland with Jacob Tremblay! 5x5: Aziz on the Street! 5x4: Miracle on 34th Street with Andy Samberg! 5x3: Lupita Nyong'o: Bring the Pain 5x2: "Death Rogen" with Special Guest Seth Rogen!

View All Episodes
Skip to:
Season 1
| Episode No. | No. Overall | Title | Airdate | Runtime | Summary |
| --- | --- | --- | --- | --- | --- |
| 1 | 1 | And Away We Go... | 2011-12-18 | 30 | |
| 2 | 2 | Are You Smarter Than a Gay 5th Grader? | 2011-12-22 | 30 | |
| 3 | 3 | Can Rachel Dratch Name 20 White People in 30 Seconds? | 2011-12-29 | 30 | |
| 4 | 4 | The Meryl Streep Showdown | 2012-01-05 | 30 | |
| 5 | 5 | Ask an Asian! | 2012-01-12 | 30 | |
| 6 | 6 | Where in the World is Scarlett Johansson's Vagina? | 2012-01-19 | 30 | |
| 7 | 7 | Joan Rivers Gets Quizzed in the Face | 2012-01-26 | 30 | |
| 8 | 8 | Drunk Rich | 2012-02-02 | 30 | |
| 9 | 9 | Did You Hear Madonna Died? | 2012-02-09 | 30 | |
| 10 | 10 | Television is the Greatest Thing to Ever Happen to Me! | 2012-02-16 | 30 | |
Season 2
Episode No.
No. Overall
Title
Airdate
Runtime
Summary
1
11
Name Three White People!, with Rashida Jones
2012-12-07
30
2
12
Scream for an American Girl Doll
2012-12-14
30

Games include:

"Would Drew Barrymore like that?,"

"Scream for an American Girl Doll,"

"Quizzed in the Face"

Special guest: Will Ferrell

3
13
Billy Meets Mr. Singh!
2012-12-21
30
4
14
The Lesbian Lightning Round
2013-01-04
30
5
15
The Julia Robstacle Course
2013-01-18
30
6
16
Do You Think Gisele Bundchen Understands the Jokes on Portlandia?
2013-01-25
30
7
17
It's Spock! Do You Care?
2013-02-01
30
8
18
Whistleblow That Jew!
2013-02-08
30
9
19
It's Debra Messing, You Gays!
2013-02-15
30
10
20
Billy in the Air!
2013-02-22
30
11
21
The Humpty Hump!
2013-03-01
30
12
22
The Rally to Raise Awareness of Nicole Kidman
2013-03-08
30
Season 3
Episode No.
No. Overall
Title
Airdate
Runtime
Summary
1
23
Olivia Wilde is Very Pretty and You're All Disgusting!
2014-03-12
30
2
24
Cash Cow
2014-03-19
30

Games include:

"Steve Harvey or Harvey Milk"

"For A Dollar"

"Screaming Tweets"

"Cash Cow"

"Quizzed in the Face"

"Tyler Perry or Art"

"HBO Girls or Berenstain Bears"

Special guest: Lena Dunham


3
25
Billy Destroys a Car
2014-03-26
30

Games include:

"For A Dollar"

"Racist or Vegetarian"

"Quizzed in the Face"

"How I Met Your Mother Lighting Round"

"How I Met Your Mother Car Thrashing"

"Twitter Questions"

Special guest: Neil Patrick Harris and Lindsay Lohan

4
26
She Clucks or She Sucks?
2014-04-02
30
5
27
Would You Have Sex with Paul Rudd?
2014-04-09
30
6
28
When the Easter Bunny Attacks!
2014-04-16
30
7
29
It's Not Pitbull, It's Amy Poehler
2014-04-23
30
8
30
Billy Loves Ratatouille
2014-04-29
30
9
31
John Mayer or Pepé Le Pew
2014-05-07
30
10
32
The Lana Del Race for the Cure
2014-05-14
30
Season 4
| Episode No. | No. Overall | Title | Airdate | Runtime | Summary |
| --- | --- | --- | --- | --- | --- |
| 1 | 33 | Billy Helps Tina Fey Find a Friend | 2015-10-08 | 30 | Tina Fey joins host Billy Eichner as they hit the streets of New York to find Tina a friend; Billy ambushes innocent civilians with the news that Emma Stone seems down to Earth. |
| 2 | 34 | For a Dollar, It's Chris Pratt! | 2015-10-15 | 30 | |
| 3 | 35 | Anna Kendrick's 'Tinder in Real Life' Lightning Round! | 2015-10-22 | 30 | |
| 4 | 36 | Billy Plays "Is Beyoncè Scared of That?" with Jason Sudeikis! | 2015-10-29 | 30 | |
| 5 | 37 | Shondaland! with Bill Hader and Amy Sedaris | 2015-11-12 | 30 | Billy plays "Make That Noise" with "SNL" and "Trainwreck" star Bill Hader; Billy plays Amateur Speed Sketching with Andy the film editor; Amy Sedaris joins Billy in one of the biggest obstacle courses the show has ever seen, Shondaland. |
| 6 | 38 | Billy's Thanksgiving Parade! | 2015-11-19 | 30 | Billy takes to the street with Meg Ryan for a special Thanksgiving For A Dollar game; Lucy Liu plays a brand new game called You're an A... Billy or Screw You Lucy Liu. |
| 7 | 39 | The Julianne Moore Acting Attack! | 2015-12-03 | 30 | Emmy(R) nominated comedian Billy Eichner returns to the streets of New York City to surprise unsuspecting pedestrians with quick-witted, rapid-fire questions on pop-culture. This season, some of the biggest names in Hollywood, including Chris Pratt, Will Ferrell, Anna Kendrick and Julianne Moore, Sarah Jessica Parker, Bill Hader, and Jason Sudeikis, will hit the pavement with Billy as the show moves to its new home on truTV. |
| 8 | 40 | Christmas on the Street with Will Farrell! | 2015-12-10 | 30 | Emmy(R) nominated comedian Billy Eichner returns to the streets of New York City to surprise unsuspecting pedestrians with quick-witted, rapid-fire questions on pop-culture. This season, some of the biggest names in Hollywood, including Chris Pratt, Will Ferrell, Anna Kendrick and Julianne Moore, Sarah Jessica Parker, Bill Hader, and Jason Sudeikis, will hit the pavement with Billy as the show moves to its new home on truTV. |
| 9 | 41 | Sex on the Street with Sarah Jessica Parker | 2015-12-17 | 30 | Sarah Jessica Parker gives out shoes to people who appreciate her work; playing "Kevin Hart or Gabby Giffords'' and "Santa's Reindeer or Sex App." |
| 10 | 42 | Elena vs. Her Sister! | 2015-12-24 | 30 | In the season finale of Billy on the Street, Billy is joined by Julianna Margulies for a brand new game called "That's Not Sia, It's Julianna Margulies!" Additionally, Elena returns to the show to face off against her real-life sister, Edie, in "The Other Sister". Finally, Lucy Liu helps Billy with the exhilarating game "What Does Lucy Liu Think?" Other games include "For A Dollar" and "Kris Jenner or Geppetto?" |
Season 5
| Episode No. | No. Overall | Title | Airdate | Runtime | Summary |
| --- | --- | --- | --- | --- | --- |
| 1 | 43 | Immigrant, or Real American? with Jon Hamm | 2016-11-15 | 30 | |
| 2 | 44 | "Death Rogen" with Special Guest Seth Rogen! | 2016-11-22 | 30 | Billy and Seth Rogen hit the streets for a new segment; Sarah and Billy play ``What Does Michelle Rodriguez Bring to the Table.'' |
| 3 | 45 | Lupita Nyong'o: Bring the Pain | 2016-11-29 | 30 | Billy is joined by Oscar winner Lupita Nyong'o for the brand new game Gay or Old?; everyone's favorite contestant Elena is back with a very patriotic Lightning Round. |
| 4 | 46 | Miracle on 34th Street with Andy Samberg! | 2016-12-06 | 30 | |
| 5 | 47 | Aziz on the Street! | 2016-12-13 | 30 | |
| 6 | 48 | Billy's Holiday Wonderland with Jacob Tremblay! | 2016-12-20 | 30 | |
| 7 | 49 | Do Gay People Care About John Oliver? with John Oliver! | 2017-01-03 | 30 | |
| 8 | 50 | Curbside Conga Line with James Corden | 2017-01-10 | 30 | |
| 9 | 51 | Super Sloppy Semi-Automatic Double Dare! with Keegan-Michael Key | 2017-01-17 | 30 | |
| 10 | 52 | The NY Bubble with Stephen Colbert! | 2017-01-24 | 30 | |
Series Cast
| | | | |
| --- | --- | --- | --- |
| | Billy Eichner | as Host | |
Related News
TVMaze