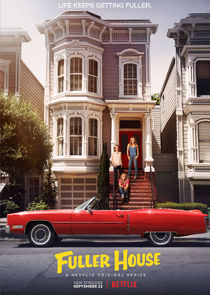 In Fuller House, D.J. Tanner-Fuller is a widow and mother of three. Things become too much to handle, so she asks for help from her sister Stephanie and her best-friend Kimmy.
Series Overview
Rating
imDb Rating: 6.8 (21,870 Votes)
Metascore: N/A
Plot
In a continuation of Full House (1987), D.J. Fuller is a mother of three young boys and is a recent widow. D.J.'s sister Stephanie, her best friend Kimmy and Kimmy's teenage daughter all move in to help raise her sons. The house is now a lot fuller.
Details
Rated: TV-G
Released: 26 Feb 2016
Runtime: 30 min
Genre: Comedy, Family
Director: N/A
Writer: Jeff Franklin
Actors: Michael Campion, Candace Cameron Bure, Jodie Sweetin, Andrea Barber
Language: English
Country: USA
Awards: 4 wins & 4 nominations.
Total Seasons: 4
Previous Episode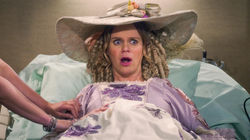 Opening Night
Episode 4x13; Dec 14, 2018
A ladies' night out to see "Hamilton" with a fully pregnant Kimmy ends differently than anyone expected. Whoa, baby!
Previous Episodes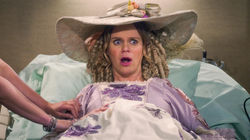 4x13: Opening Night


4x12: The Prom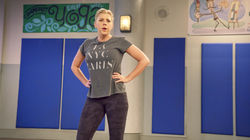 4x11: It's Always Open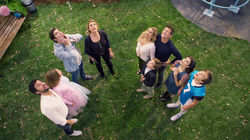 4x10: Golden-Toe Fuller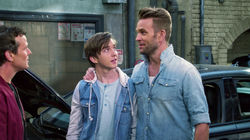 4x9: Perfect Sons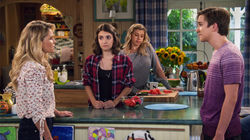 4x8: Driving Mr. Jackson


4x7: President Fuller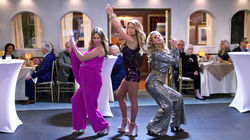 4x6: Angels' Night Out


4x5: No Escape

View All Episodes
Cast
Dashiell Messitt as Tommy Fuller, Jr
Fox Messitt as Tommy Fuller, Jr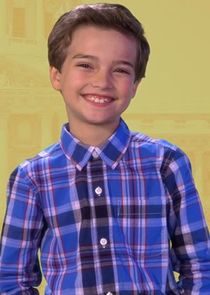 Elias Harger as Max Fuller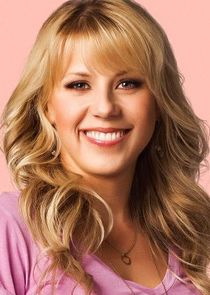 Jodie Sweetin as Stephanie Tanner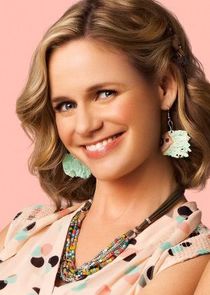 Andrea Barber as Kimmy Gibbler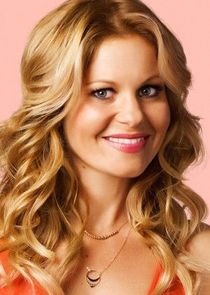 Candace Cameron Bure as D.J. Tanner-Fuller
View Full Cast
Skip to:
Season 1
| Episode No. | No. Overall | Title | Airdate | Runtime | Summary |
| --- | --- | --- | --- | --- | --- |
| 1 | 1 | Our Very First Show, Again | 2016-02-26 | 30 | D.J. Tanner-Fuller is a recently widowed mother to three boys. Going through this very difficult time for her, losing her husband and her kids losing their father, she seeks for the help of her best friend and neighbor since childhood Kimmy Gibbler, now raising a teenage daughter on her own, as well as her middle sister Stephanie, an aspiring singer who is always on the road. |
| 2 | 2 | Moving Day | 2016-02-26 | 30 | D.J. and her three sons move into the original Tanner house with Kimmy and her daughter, along with Stephanie, as Danny, Teri, Jesse, Becky, Nicky, and Alex move to Los Angeles. |
| 3 | 3 | Funner House | 2016-02-26 | 30 | When Stephanie, Kimmy and DJ have a girls' night out and leave Joey in charge of the kids, things get wild out on the town and at home. |
| 4 | 4 | The Not-So-Great Escape | 2016-02-26 | 30 | Jackson tries to help Ramona at school but that lands them both in trouble and leads to a disagreement between DJ and Kimmy over parenting styles. |
| 5 | 5 | Mad Max | 2016-02-26 | 30 | When an old friend whisks her away for a concert and after-hours fun, Stephanie realizes how much her nephews mean to her. Kimmy finds DJ a date. |
| 6 | 6 | The Legend of El Explosivo | 2016-02-26 | 30 | DJ punishes Jackson, causing him to miss his favorite Mexican wrestling league, Lucha Kaboom. But that only leads to more action for the fans. |
| 7 | 7 | Ramona's Not-So-Epic Party | 2016-02-26 | 30 | Steve tries setting up DJ's handsome coworker with Kimmy, and Ramona's much-anticipated 13th birthday party doesn't turn out as planned for anybody. |
| 8 | 8 | Secrets, Lies and Firetrucks | 2016-02-26 | 30 | When Max learns to lie, he also learns that lies can backfire. Meanwhile, the ladies of the house fall in love with secrets. |
| 9 | 9 | War of the Roses | 2016-02-26 | 30 | After 1,000 roses show up without a card, DJ, Kimmy and Stephanie must figure out which one of them has a secret admirer. |
| 10 | 10 | A Giant Leap | 2016-02-26 | 30 | Things get out of hand when Stephanie's new boyfriend, Hunter Pence of the San Fransisco Giants, invites everybody to one of his baseball games. |
| 11 | 11 | Partnerships in the Night | 2016-02-26 | 30 | Stephanie and Kimmy form a strange partnership. DJ's boss retires, and Max has Jackson and Ramona right where he wants them. |
| 12 | 12 | Save the Dates | 2016-02-26 | 30 | DJ has a date with her past that catches get off guard, and Kimmy's date with Fernando is nothing but surprises. |
| 13 | 13 | Love is in the Air | 2016-02-26 | 30 | When Jesse and Becky return to renew their vows, a bachelorette party leads to trouble for DJ, who is forced to make a decision. |
Season 2
| Episode No. | No. Overall | Title | Airdate | Runtime | Summary |
| --- | --- | --- | --- | --- | --- |
| 1 | 14 | Welcome Back | 2016-12-09 | 30 | D.J. Tanner-Fuller finally decides between Matt Harmon and Steve Hale, but they throw her a curveball before her annual back-to-school barbecue. A homeless Fernando moves in. |
| 2 | 15 | Mom Interference | 2016-12-09 | 30 | It's a full house for game night when Steve and Matt bring uninvited guests. Jackson decides to join the football team. |
| 3 | 16 | Ramona's Not-So-Epic First Kiss | 2016-12-09 | 30 | Ramona's first kiss leads to a heartbreaking lesson in love. A memorable "Sister Night" makes wedding crashes out of D.J and Stephanie. |
| 4 | 17 | Curse of Tanner Manor | 2016-12-09 | 30 | Jackson and Ramona would rather die than go to D.J.'s "scary" family Halloween party, where Fernando and Kimmy pull off the ultimate couples costume... |
| 5 | 18 | Doggy Daddy | 2016-12-09 | 30 | A not-so-typical day involves a dance audition, a toddler play date, four chickens and a vet emergency. Matt comes to an important realization. |
| 6 | 19 | Fuller Thanksgiving | 2016-12-09 | 30 | The house feels overstuffed when the entire Tanner family shows up for Thanksgiving, pushing D.J.'s organizational skills into overdrive. |
| 7 | 20 | Girl Talk | 2016-12-09 | 30 | Kimmy hatches a plan to get the girls' childhood band, Girl Talk, back together. A vengeful video making fun of Ramona goes viral. |
| 8 | 21 | A Tangled Web | 2016-12-09 | 30 | While Jackson pet-sits for Lola, D.J. works overtime to help Max ace a school project. Jimmy makes a music video for Stephanie's latest song. |
| 9 | 22 | Glazed and Confused | 2016-12-09 | 30 | With out-of-town trips planned for the adults, Joey delivers doughnuts -- and unexpected drama. Stephanie's nervous about singing on television. |
| 10 | 23 | New Kids in the House | 2016-12-09 | 30 | Kimmy and Stephanie have an epic surprise planned for D.J.'s 39th birthday, but Max cooks up a painful twist that changes everything. |
| 11 | 24 | DJ and Kimmy's High School Reunion | 2016-12-09 | 30 | A high school reunion leaves D.J. wondering whether she still has feelings for Steve, while a hapless Kimmy is trending for all the wrong reasons. |
| 12 | 25 | Nutcrackers | 2016-12-09 | 30 | Tis the season to be in love, but Stephanie doesn't want to hear it. Max gets a girlfriend for Christmas, and Ramona suits up for "The Nutcracker." |
| 13 | 26 | Happy New Year Baby | 2016-12-09 | 30 | Steve comes to D.J. for help with an important proposal. Jesse and Becky's new addition brings Danny and Joey home -- and has Jimmy spouting baby talk. |
Season 3
| Episode No. | No. Overall | Title | Airdate | Runtime | Summary |
| --- | --- | --- | --- | --- | --- |
| 1 | 27 | Best Summer Ever | 2017-09-22 | 30 | CJ and Steve reveal they're having a destination wedding; DJ enrolls Jackson in summer school. Stephanie and Jimmy are suspicious of Fernando. |
| 2 | 28 | Break a Leg | 2017-09-22 | 30 | Kimmy goes the extra mile to be Steve and CJ's wedding planner, and DJ agrees to give Stephanie life coaching. Fernando moves in with Jimmy. |
| 3 | 29 | Declarations of Independence | 2017-09-22 | 30 | It's Danny Tanner's Annual Fourth of July Barbecue, and the whole family is home to celebrate -- but heartbreak might come to the party too. |
| 4 | 30 | My Little Hickey | 2017-09-22 | 30 | Steve taste-tests some wedding cakes; Ramona is desperate to cover a hickey. The house is filled with kids from Jackson's study group. |
| 5 | 31 | Uncle Jesse's Adventures in Babysitting | 2017-09-22 | 30 | The girls are out tonight, leaving Uncle Jesse in charge of the chaos at home. Fernando renovates the house Kimmy grew up in. |
| 6 | 32 | M-M-M-My Ramona | 2017-09-22 | 30 | DJ is so excited to have Jackson shadow her at work. Fernando constructs a fancy bedroom for Ramona with her own fro-yo bar. |
| 7 | 33 | Say Yes to the Dress | 2017-09-22 | 30 | An accident at the bridal store has DJ questioning her and Steve's relationship. A study session ends up with Gia sleeping over. |
| 8 | 34 | Maybe Baby | 2017-09-22 | 30 | Becky accompanies Stephanie to the doctor to see the likelihood of her getting pregnant. Joey gets some help from Kimmy showing his kids he's in charge. |
| 9 | 35 | Wedding or Not Here We Come | 2017-09-22 | 30 | The family flies coach for CJ and Steve's wedding -- except Max and Fernando booked first class seats. Stephanie sets out to find a sperm donor. |
| 10 | 36 | My Best Friend's Japanese Wedding | 2017-12-22 | 30 | The Fuller/Tanner/Gibblers fly out to Japan for Steve and CJ's wedding, but unexpected things occur that change the course of their lives forever. |
| 11 | 37 | Troller Coaster | 2017-12-22 | 30 | Ramona reconsiders her future, while Max tempts fate on the "Troller Coaster". |
| 12 | 38 | Fast Times at Bayview High | 2017-12-22 | 30 | Jimmy and Stephanie take a step toward their future, as Jackson and Ramona begin high school. |
| 13 | 39 | A Tommy Tale | 2017-12-22 | 30 | D.J. attempts to get Tommy into a fancy daycare. |
| 14 | 40 | Surrogate City | 2017-12-22 | 30 | Stephanie and Jimmy begin their search for a surrogate. Jackson's rebellion pushes all of D.J.'s buttons. |
| 15 | 41 | Soul Sisters | 2017-12-22 | 30 | Stephanie and Kimmy try and connect, while DJ has a "diddily" day. Max and Jackson broke a classic statue in the living room, and get Ramona to Help with repairs. Fernando buys something awesome for Tommy. |
| 16 | 42 | Happily Ever After | 2017-12-22 | 30 | The she-wolves come to the rescue when Ramona gets in trouble. Stephanie and Kimmy deal with a demanding client. |
| 17 | 43 | Fullers in a Fog | 2017-12-22 | 30 | D.J. preps for an important date, while Danny, Joey, and Jesse celebrate their 30 year "Dadiversary". |
| 18 | 44 | Here Comes the Sun | 2017-12-22 | 30 | The gang tries to get their magic back with an 80s themed party. |
Season 4
| Episode No. | No. Overall | Title | Airdate | Runtime | Summary |
| --- | --- | --- | --- | --- | --- |
| 1 | 45 | Oh My Santa | 2018-12-14 | 30 | When Max gets a case of the bah-humbugs -- and Tommy has a meltdown at the mall -- DJ does everything she can to get them back in the Christmas spirit. |
| 2 | 46 | Big Night | 2018-12-14 | 30 | The pressure's on for Steve and DJ to have a perfect date. Meanwhile, back at the house, Steph forbids Kimmy and Fernando from canoodling. |
| 3 | 47 | A Sense of Purpose | 2018-12-14 | 30 | With a baby on the way, Steph starts thinking like a provider. Danny ponders going back to work, and Matt and DJ try to bust each other's businesses. |
| 4 | 48 | Ghosted | 2018-12-14 | 30 | Steve and DJ's "two-week-iversary" turns into a gift-giving competition. Steph performs at her first kids' party, and Ramona gets ghosted. |
| 5 | 49 | No Escape | 2018-12-14 | 30 | DJ and Steve go on a double date with Matt and his new girlfriend. Steph and Kimmy host a Lamaze class at the house -- with hilarious results. |
| 6 | 50 | Angels' Night Out | 2018-12-14 | 30 | While Joey watches the boys at home, DJ and the girls don flashy costumes for a '70s-themed cruise. But it's not quite the crowd they expected. |
| 7 | 51 | President Fuller | 2018-12-14 | 30 | Max runs for fourth-grade class president -- but his girlfriend Rose is running, too. DJ tries to make up with CJ, and Steph picks a fight with a clown. |
| 8 | 52 | Driving Mr. Jackson | 2018-12-14 | 30 | Jackson and Ramona's first high school party has major consequences. Becky and Jesse team up to host an awards show, where a big win goes to Matt's head. |
| 9 | 53 | Perfect Sons | 2018-12-14 | 30 | Fernando's mother pays a surprise visit, and Steve teaches Jackson how to drive. Max makes a memorable debut on "Wake Up San Francisco." |
| 10 | 54 | Golden-Toe Fuller | 2018-12-14 | 30 | Jackson's a star football player -- but the pressure is getting to him. DJ plans a gender reveal party, and Jesse tries to bond with other dads. |
| 11 | 55 | It's Always Open | 2018-12-14 | 30 | When DJ worries that Jimmy isn't ready for fatherhood, an angry Steph responds by joining a dodgeball team. Kimmy sets Ramona up with her new intern. |
| 12 | 56 | The Prom | 2018-12-14 | 30 | Prom night brings big problems for Jackson and Ramona. Meanwhile, a power-hungry DJ is taking her role as head chaperone a little too seriously. |
| 13 | 57 | Opening Night | 2018-12-14 | 30 | A ladies' night out to see "Hamilton" with a fully pregnant Kimmy ends differently than anyone expected. Whoa, baby! |
Series Cast
| | | | |
| --- | --- | --- | --- |
| | Dashiell Messitt | as Tommy Fuller, Jr | |
| | Fox Messitt | as Tommy Fuller, Jr | |
| | Elias Harger | as Max Fuller | |
| | Jodie Sweetin | as Stephanie Tanner | |
| | Andrea Barber | as Kimmy Gibbler | |
| | Candace Cameron Bure | as D.J. Tanner-Fuller | |
| | Soni Nicole Bringas | as Ramona Gibbler | |
| | Michael Campion | as Jackson Fuller | |
| | Juan Pablo Di Pace | as Fernando | |
| | Scott Weinger | as Steve Hale | |
| | John Brotherton | as Dr. Matt Harmon | |
| | Adam Hagenbuch | as Jimmy Gibbler | |
| | Ashley Liao | as Lola | |
Series Crew
| | Position | Name |
| --- | --- | --- |
| | Executive Producer | John Stamos |
| | Executive Producer | Thomas L. Miller |
| | Executive Producer | Robert L. Boyett |
| | Producer | Kelly Sandefur |
| | Composer | Jeff Franklin |
| | Creator | Jeff Franklin |
| | Executive Producer | Jeff Franklin |
| | Composer | Carly Rae Jepsen |
| | Set Designer | Francoise Cherry-Cohen |
| | Costume Designer | Mary Kate Killilea |
| | Composer | Butch Walker |
| | Composer | Bennett Salvay |
| | Composer | Jesse Frederick |
Related News
TVMaze