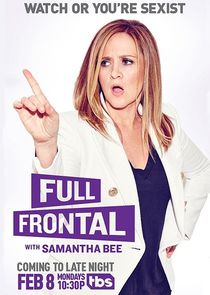 One of the most unique and visible comedic voices on television is coming to TBS in Full Frontal with Samantha Bee. Breaking up late-night's all-male sausage fest, this new show from the longtime Daily Show correspondent will feature Samantha's nuanced view of political and cultural issues, her sharp interview skills, her repartee with world leaders and, of course, her 10-pound lady balls.
Series Overview
Rating
imDb Rating: 5.8 (5,399 Votes)
Metascore: N/A
Plot
Comedian Samantha Bee gives her own wry commentary to the contemporary issues of the day.
Details
Rated: TV-MA
Released: 08 Feb 2016
Runtime: 21 min
Genre: Comedy, News, Talk-Show
Director: N/A
Writer: N/A
Actors: Samantha Bee
Language: English
Country: USA
Awards: Won 1 Primetime Emmy. Another 4 wins & 27 nominations.
Total Seasons: 3
Next Episode
November 20, 2019
Episode 4x29; Nov 20, 2019
Previous Episode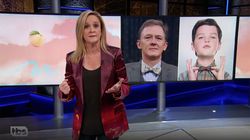 November 13, 2019
Episode 4x28; Nov 13, 2019
In the spirit of the holiday season, Full Frontal recaps the start of impeachment hearings for all to enjoy! Plus, we get a lesson in the "prosperity gospel" from Trump's very own spiritual advisor Paula White!
Episodes 4x30: December 11, 2019 4x29: November 20, 2019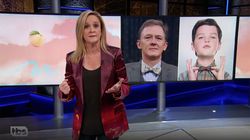 4x28: November 13, 2019


4x27: November 6, 2019


4x26: October 30, 2019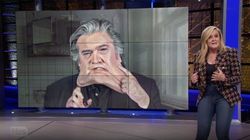 4x25: October 23, 2019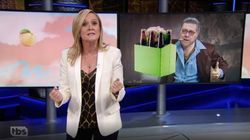 4x24: October 2, 2019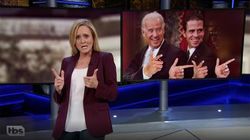 4x23: September 25, 2019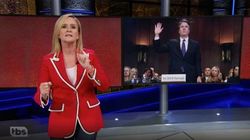 4x22: September 18, 2019

View All Episodes
Recent News
Here are all the nominees for the 2019 People's Choice Awards
The nominees for the 2019 People's Choice Awards include a variety of celebrities, including Zac Efron, Brie Larson, Beyoncé, and Kit Harington. Shows like " Game of Thrones " and films like " Avengers: Endgame " also garnered several nominations. And singers…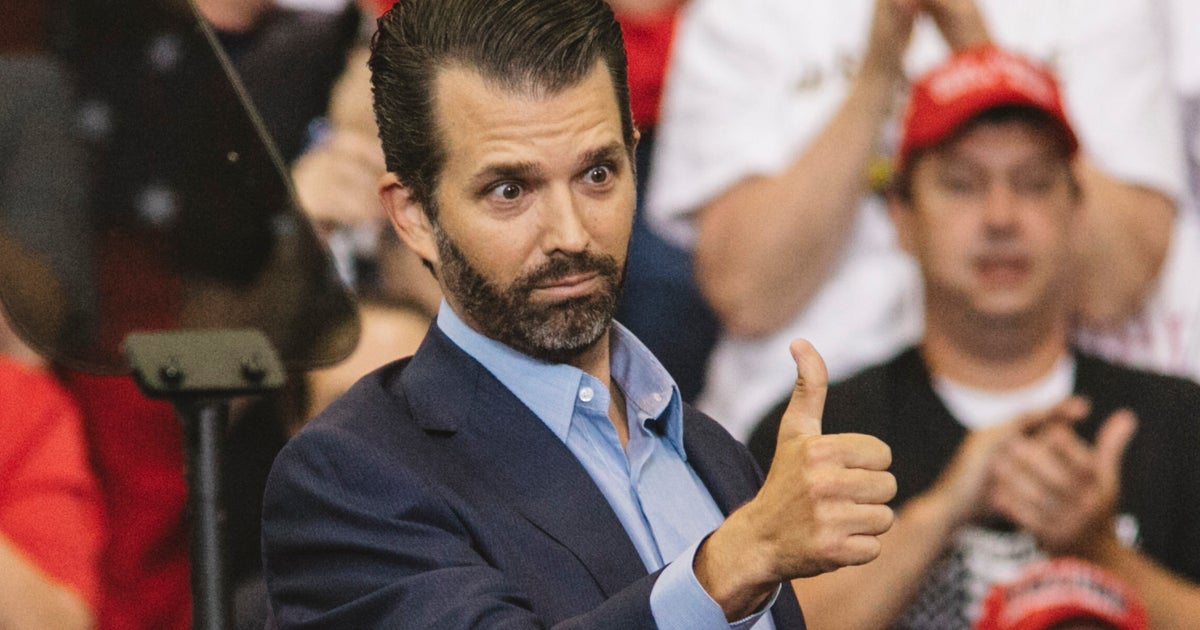 via NewsAPI
View More Related News
Skip to:
Season 1
Episode No.
No. Overall
Title
Airdate
Runtime
Summary
1
1
New Hampshire Primary
2016-02-08
30

On the road with Jeb Bush's campaign.

2
2
Syrian Refugees, Part 1
2016-02-15
30

Samantha Bee travels to Jordan to speak to Syrian refugees and the State Department about the kind of vetting that refugees have to go through to enter the United States.

3
3
Syrian Refugees, Part 2
2016-02-22
30

Sam visits Syrian refugees in Jordan and teaches them lessons about America that they aren't receiving in their cultural classes.

4
4
2010 Was the Most Important Election, Part 1
2016-02-29
30

Sam sends a correspondent to an abortion clinic in Texas to see how new restrictions are making life even more difficult for women seeking an abortion.

5
5
2010 Was the Most Important Election, Part 2
2016-03-07
30

Samantha discusses the loss of a great political institution, the Democratic debate in Michigan, and a new approach to combat school shootings.

6
6
Trump Voters
2016-03-14
30

Samantha discusses the loss of a great political institution, the Democratic debate in Michigan, and a new approach to combat school shootings.

7
7
American Atheists at CPAC
2016-03-21
30

Full Frontal follows a delegation from the American Atheists on what seems like a doomed mission: to spread their message to the right-wing attendees of CPAC.

8
8
Eddie Eagle
2016-04-11
30

Sam does everything in her power to hunt down the NRA's mascot.

9
9
Bernie Voters
2016-04-18
30

Sam sits down with a panel of Bernie supporters to try to understand their point of view.

10
10
Guantanamo Bay
2016-04-25
30

Sam travels to Germany to interrogate a man wrongly imprisoned for years in Guantanamo Bay.

11
11
Crisis Pregnancy Centers
2016-05-09
30

Full Frontal explores the ultimate con: Crisis Pregnancy Centers.

12
12
Super PACs
2016-05-16
30

Sam sits down with a Super PAC donor to discuss his contributions.

13
13
Vaping
2016-05-23
30

New FDA regulations threaten the growing vaping industry . so contributor Allana Harkin stops by a vaping convention to see what America may be losing.

14
14
Gary Johnson, Part 1
2016-06-06
30

Sam talks to Gary Johnson, the Libertarian Party's 2016 candidate for President.

15
15
Again? Again.
2016-06-13
30

What can we learn from the mass shooting in Orlando? Whatever it is, you can count on our elected officials to ignore it.

16
16
Tribal Courts
2016-06-20
30

Full Frontal takes a trip to a Native American tribal court and explores the debate over tribal sovereignty.

17
17
Muslim-American Reporting
2016-06-27
30

Full Frontal visits a Muslim-American community to see if they're reporting terrorists to the police

18
18
Cleveland
2016-07-18
30

Full Frontal visits Cleveland to see how the city is preparing for the Republican National Convention.

19
19
Special: Full Frontal Election Documentary
2016-07-20
30

In this new documentary film from the makers of Full Frontal, Samantha Bee accidentally discovers America on her way to the conventions.

20
20
Republican National Convention
2016-07-25
30

Sam visits the Republican National Convention in Cleveland, Ohio.

21
21
Democratic National Convention
2016-08-01
30

Sam visits the Democratic National Convention in Philadelphia, Pennsylvania.

22
22
Latinos for Trump
2016-09-12
30

Speaking with the Mexican immigrant behind "Latinos for Trump.''

23
23
Super Lobbyist
2016-09-19
30

In order to get a better understanding of the Democratic Party's optics problem, Sam sits down with a superdelegate who is also a lobbyist.

24
24
Presidential Debate Special
2016-09-28
30

Full Frontal has a special Wednesday episode for the first presidential debate of 2016.

25
25
Rigged!
2016-10-05
30

Full Frontal correspondents Allana Harkin and Amy Hoggart visit a Trump rally to find out if his supporters think the upcoming election is rigged against him.

26
26
Second Presidential Debate Special
2016-10-10
30

Full Frontal breaks down the second presidential debate.

27
27
United Nations
2016-10-24
30

Sam visits the UN to speak with female leaders from around the world.

28
28
President Obama
2016-10-31
30

Sam interviews President Obama. She also takes on trolls, conspiracy theories, and the alt-right movement.

29
29
Meet the (Russian) Press
2016-11-07
30

Sam travels to Moscow, decides not to move her show there.

30
30
Election: The Day After
2016-11-09
30

Samantha reacts to the news of president-elect Donald Trump.

31
31
Did We Stutter: Syrian Refugees
2016-11-14
30

Sam addresses America's empathy failure.

32
32
December 5, 2016
2016-12-05
30

North Carolina: don't let the bathroom door hit you on the way out.

33
33
December 12, 2016
2016-12-12
30

What do you do when Big Brother is a vindictive toddler?

North Carolina Republicans change the rules to hurt the incoming NC Governor.

Sam and Glenn Beck explore their commonalities.

Veterans and Syrians discuss American values.

34
34
December 19, 2016
2016-12-19
30

Sam interviews Glenn Beck. It's a Christmas miracle!

35
35
January 11, 2017
2017-01-11
30

Sam takes a break from sobbing and clinging to Obama's pant leg to discuss his f***ed-up legacy of deportation and detainment.

36
36
January 18, 2017
2017-01-18
30

Sam interviews Masha Gessen to learn how to survive an autocracy-or at least how to drink our way through one.

37
37
January 25, 2017
2017-01-25
30

Full Frontal visits the nation's capital to see a live taping of America's

38
38
February 1, 2017
2017-02-01
30

Full Frontal discusses the real "bad dudes" who are rushing in to ruin America. Spoiler alert: they live in the White House.

39
39
February 8, 2017
2017-02-08
30

Full Frontal takes a trip across the pond before Trump decides to drain that too.
Season 2
| Episode No. | No. Overall | Title | Airdate | Runtime | Summary |
| --- | --- | --- | --- | --- | --- |
| 1 | 40 | February 15, 2017 | 2017-02-15 | 30 | Full Frontal finally takes a look at all the bulls**t we've been missing since the White House of Horrors opened. |
| 2 | 41 | March 8, 2017 | 2017-03-08 | 30 | Full Frontal takes a look at the Department of... well, it used to be Justice. We're not quite sure what it is now. |
| 3 | 42 | March 15, 2017 | 2017-03-15 | 30 | Full Frontal is ready to talk about the Deep State; right after we destroy the spy microwave in our kitchen. |
| 4 | 43 | March 22, 2017 | 2017-03-22 | 30 | Samantha Bee tries to save journalism one small-town newspaper at a time. |
| 5 | 44 | March 29, 2017 | 2017-03-29 | 30 | Remember that Georgia Rape Kits story? Well, get ready for Rape Kits 2... |
| 6 | 45 | April 5, 2017 | 2017-04-05 | 30 | Full Frontal inducts a new "she-leader" into the Great Feminists in Feminism Herstory Hall of Lady Fame. |
| 7 | 46 | NOT the Correspondents' Dinner | 2017-04-29 | 75 | Celebrating the free press, while there's still a free press to celebrate. |
| 8 | 47 | May 10, 2017 | 2017-05-10 | 30 | Between Religious freedom and healthcare reform, Republicans have been very busy, so Samantha examines the fruits of their labors. |
| 9 | 48 | May 31, 2017 | 2017-05-31 | 30 | Sam joins former White House Counsel John Dean to settle the great debate of "Who Wore Corruption Better"... Nixon or Trump? |
| 10 | 49 | June 7th, 2017 | 2017-06-07 | 30 | Nobody asked to return to the War on Drugs... but looks like we're doing it anyway. Full Frontal reluctantly revisits the '80s. |
| 11 | 50 | June 14th, 2017 | 2017-06-14 | 30 | Sam sets out to prove that civil discourse isn't dead, it just took an island vacation. Rikers Island, to be specific. |
| 12 | 51 | June 21st, 2017 | 2017-06-21 | 30 | Full Frontal takes a walk through the Upside Down! Or as it was known before Trump... the English language. |
| 13 | 52 | June 28th, 2017 | 2017-06-28 | 30 | Samantha sits down with Senator Elizabeth Warren to breathe in a little bit of secondhand hope. |
| 14 | 53 | July 19th, 2017 | 2017-07-19 | 30 | Full Frontal drops by an impeachment rally to see how the left is oh-so-productively using its time and energy to combat the Trump administration. |
| 15 | 54 | July 26th, 2017 | 2017-07-26 | 30 | Samantha Bee offers up a warning to the newest member of the Trump administration... beware the spreading taint! |
| 16 | 55 | August 2nd, 2017 | 2017-08-02 | 30 | Full Frontal presents a musical tribute to Kris Kobach's unconstitutional laws, with help from Javier Munoz. |
| 17 | 56 | August 9, 2017 | 2017-08-09 | 30 | Eat your heart out Ivanka! Sam meets the Kurdish women who've taken work-life balance to a new level. |
| 18 | 57 | September 13, 2017 | 2017-09-13 | 30 | Hurricanes, fires and nazis, oh my! Full Frontal returns from summer break just in time to witness the end of days. |
| 19 | 58 | September 20, 2017 | 2017-09-20 | 30 | Full Frontal joins progressives at the Netroots Nation conference to try to answer the burning question: can the left get its s**t together by 2018? |
| 20 | 59 | September 27, 2017 | 2017-09-27 | 30 | Full Frontal stuns the nation with its second sports-related segment in just 2 weeks. |
| 21 | 60 | October 4, 2017 | 2017-10-04 | 30 | |
| 22 | 61 | October 11, 2017 | 2017-10-11 | 30 | |
| 23 | 62 | October 25th, 2017 | 2017-10-25 | 30 | Serving up the scariest Halloween fright with an entire show on climate change. |
| 24 | 63 | November 1, 2017 | 2017-11-01 | 30 | |
| 25 | 64 | November 8, 2017 | 2017-11-08 | 30 | |
| 26 | 65 | November 15, 2017 | 2017-11-15 | 30 | Meet The Pences, get acquainted with the kinkiest conservative second family since Mr & Mrs Levi P. Morton. Can Allana Harkin respectfully convince the people of Tangier Island that climate change is real before it swallows them whole? |
| 27 | 66 | December 6, 2017 | 2017-12-06 | 30 | The Greatest Tax Bill Ever Sold, billionaires prayed and prayed for relief from taxes and the Republican Gods smiled upon them. Men were able to shape the media's coverage of Hillary with one hand, while holding their dicks in the other. Sure, Americans already know BOTH things about North Korea, but is there maybe something we're missing? When you're voting in Alabama next Tuesday, don't forget to choose life! The lives of teen girls, that is. |
| 28 | 67 | December 13, 2017 | 2017-12-13 | 30 | Alabamians dealt a blow to Republicans by narrowly deciding child molester was a bridge too far. Sure Ryan Zinke believes in climate change, he just doesn't care about stopping it whatsoever. When Mexico was devastated by an earthquake, La Brigada Feminista was there to help, whether men wanted them to or not. There's no bully too big for Kirsten Gillibrand to handle, even the President of the United States. |
| 29 | 68 | December 20, 2017 | 2017-12-20 | 30 | While Fox is trying to get the FBI shit-canned, aliens have mercifully come to Earth to end it all. Trump has finally done something and surprise! It may trigger the End of Days. Sam sits down with the first preacher with enough chutzpah to leave Trump's evangelical advisory board, A.R. Bernard. |
| 30 | 69 | January 10, 2018 | 2018-01-10 | 30 | Saluting a week full of "Fire and Fury," but there are more things to be furious then a book. |
| 31 | 70 | January 17, 2018 | 2018-01-17 | 30 | Samantha explores the MeToo Movement and the working class who didn't vote for Trump. |
| 32 | 71 | January 24, 2018 | 2018-01-24 | 30 | The exciting conclusion of Full Frontal's first-ever Apology Race! For two weeks, the Full Frontal correspondents have been dashing around the globe to try to make amends for any deeply embarrassing thing our President has said. Tune in to find out which correspondent wins at being the most repentant!. |
| 33 | 72 | January 31, 2018 | 2018-01-31 | 30 | Sam covers everything President Trump forget to mention during his state of the union address. |
Season 3
| Episode No. | No. Overall | Title | Airdate | Runtime | Summary |
| --- | --- | --- | --- | --- | --- |
| 1 | 73 | February 7, 2018 | 2018-02-07 | 30 | |
| 2 | 74 | March 7, 2018 | 2018-03-07 | 30 | Full Frontal gets to know the bully that's been targeting Congress for decades. Meet the NRA! |
| 3 | 75 | March 14, 2018 | 2018-03-14 | 30 | Talk about "March madness"... Full Frontal rounds up all of the latest threats to our democracy. |
| 4 | 76 | March 21, 2018 | 2018-03-21 | 30 | Full Frontal offers the gift of hindsight for the Iraq War's 15th Birthday and celebrates Women's History Month with help from Laurie Metcalf. |
| 5 | 77 | Puerto Rico Special | 2018-03-28 | 60 | Full Frontal travels to Puerto Rico to see how our fellow Americans are doing post-Hurricane Maria ... and to remind our government that Puerto Ricans, are in fact, Americans! |
| 6 | 78 | April 18, 2018 | 2018-04-18 | 30 | Full Frontal floats a radical idea for helping out Syrian refugees, bids adieu to the 'Pride of Janesville,' and breaks out the Sean Hannity conspiracy yarn. Meanwhile, Allana Harkin rounds up the 'Reefer Safety Sanity Army' to help our vets. |
| 7 | 79 | April 25, 2018 | 2018-04-25 | 30 | Full Frontal reluctantly gets to know our future Secretary of State and checks in on Steve Bannon's study abroad trip. As a palate cleanser, Sam interviews Preet Bharara. |
| 8 | 80 | May 2, 2018 | 2018-05-02 | 30 | Full Frontal welcomes Sarah Huckabee Sanders into the Feminist Herstory club, posts its last bratty Facebook status, and sends one unlucky correspondent to a Trump rally in Michigan. |
| 9 | 81 | May 9, 2018 | 2018-05-09 | 30 | Full Frontal addresses the newest addition to the "Dirtbag Hall of Fame" and checks in with the #MeToo movement. So pop a couple throat lozenges and get ready to scream along with us as a slew of celebrity creeps start popping their heads out to see if it's safe for them to make their return, we'd like to remind them that all women are armed with mallets now. President spite-shredded the Iran Deal to maybe screw Obama? Or punish Muslims? Maybe some combo of both? But definitely not to make us safer. On Sam's return to her rescue farm for abandoned government workers, she sits down with Mustafa Santiago Ali to discuss how EPA Administrator Scott Pruitt doesn't care about the environment, racism, or environmental racism. In his non-apology, Harvey Weinstein promised to focus his energy on defeating the NRA. How's that going, Harv? Ready to fuck off forever yet? |
| 10 | 82 | May 23, 2018 | 2018-05-23 | 30 | Full Frontal reminisces about the good ol' days when abortion rights still existed, ICE didn't, and we were in a war we actually knew about. For Republicans looking to cut government fat, we found one bloated, cruel, and useless agency that is begging to be abolished. And no, "President" is not considered an agency. Welcome to the only comedy piece that has ever existed about Yemen! And unless you're Representative Chris Murphy, you probably have a lot to learn on the subject. Another wonderful week for women, with high highs (Stacey Abrams's win in Georgia) and low lows (Trump is back on his abortion bullshit.) You know who gets turned down all the time but doesn't go on mass shooting rampages? Nearly everyone! Learn to take the L and turn it into emo poetry, not violence. |
| 11 | 83 | May 30, 2018 | 2018-05-30 | 30 | ICE "misplaced" 1500 children, howler-monkey Rudy Giuliani is on the loose, and Ashley is on a mission to save democracy in California. |
| 12 | 84 | June 6, 2018 | 2018-06-06 | 30 | America, thanks for all the comments and suggestions! We're back with a freshly cleaned mouth and some thoughts on civility. |
| 13 | 85 | June 13, 2018 | 2018-06-13 | 30 | Full Frontal discusses the repercussions of the NK summit, and while Trump dumped Trudeau to draw hearts around Kim Jong Un's initials, we were focused on another relationship – one with the initials AG. Last month, Ireland blew past the United States by bringing its women's rights into the 21st century. Allana Harkin was there to see how they managed it. The Parkland kids have had to suffer a number of cruel trends with increasingly ridiculous names like "swatting" and "crisis acting." It takes a special kind of monster to say that children who survived school shootings are just "actors" and that monster is holding Alex Jones' beer. The Supreme Court may have allowed Ohio to purge its voting rolls, but we have Ohio's favorite son to remind you to visit myohiovote.com and keep your registration active. |
| 14 | 86 | June 20, 2018 | 2018-06-20 | 30 | Tonight is an all new Full Frontal, but more importantly, PLEASE STOP SEPARATING MIGRANT CHILDREN FROM THEIR PARENTS AT THE BORDER. IT'S CRUEL, INHUMANE, AND IT NEEDS TO STOP. Comedians' dads always have notes, but they don't all have Mark Hamill to read them. Impeachment is the shining city on the hill that Tom Steyer has been preaching to his followers. We sacrificed Mike Rubens to see if it's all that it's made out to be. #WhatIsHannityLookingAt His next victim? Gas station sushi? A clown coaxing him into a drain? Tag us with your theories. |
| 15 | 87 | July 18, 2018 | 2018-07-18 | 30 | This week, many Republicans found out Trump is terrible for the first time, all over again. |
| 16 | 88 | July 25, 2018 | 2018-07-25 | 30 | It's just another week in this, The Year of Our Satan, 2018, when we found out that a real-life Russian agent infiltrated the NRA with sex and examine whether we have a Watergate reboot. |
| 17 | 89 | August 1, 2018 | 2018-08-01 | 30 | Samantha takes one small step for women and one giant leap for mankind by getting to know Donald Trump Jr., and interviews a group of people that wants to leave the planet and form a new space nation. |
| 18 | 90 | August 8, 2018 | 2018-08-08 | 30 | Examining another way in which women have it tougher in the workplace; Donald Trump Jr. becomes the one thing all of Donald Trump's scandals have in common; the correspondents take a page out of Sean Spicer's book |
| 19 | 91 | August 15, 2018 | 2018-08-15 | 30 | Full Frontal presents a list of the country's newest fascists, then cooks up a lesson on undocumented food workers with Padma Lakshmi, and lastly enjoys a good healing cry while listening to Brandi Carlile. |
| 20 | 92 | August 22, 2018 | 2018-08-22 | 30 | In a special #metoo episode, Full Frontal looks back on the not-so-good ol' days of rampant workplace harassment and how far we haven't come since then. |
| 21 | 93 | September 12, 2018 | 2018-09-12 | 30 | Full Frontal is back from summer vacay and hotter than ever! With the midterms fast approaching, Full Frontal debuts a new look and gets ready to bring its A-game (literally) to help get out the vote. |
| 22 | 94 | September 19, 2018 | 2018-09-19 | 30 | In preparation for the midterms, Full Frontal offers the Democrats some advice on generating voter excitement with just three little words: Universal Healthcare, Bitches! |
| 23 | 95 | September 26, 2018 | 2018-09-26 | 30 | Full Frontal covers all the infuriating news of this year-long week. Will our white hot rage melt our new set? We're gonna try! Poor Brett Kavanaugh. If he doesn't get to have the best possible job of all time, his life will be absolutely destroyed. Certainly the NFL is famous for being racist and dangerous, but sexist? That too! It truly does have it all. Sam sits down with Gloria Allred and the cheerleaders suing the NFL. Produced by Razan Ghalayini with Adam Howard. Edited by Anthony Mascorro. Youths, if you don't vote, THE OLDS WILL WIN. Thanks @gabegundacker for teaching us the words. |
| 24 | 96 | October 17, 2018 | 2018-10-17 | 30 | |
| 25 | 97 | October 24, 2018 | 2018-10-24 | 30 | |
| 26 | 98 | October 31, 2018 | 2018-10-31 | 30 | |
| 27 | 99 | November 5, 2018 | 2018-11-05 | 30 | It's Election Day Eve! If you've been exhausted by the 2-year rage marathon we've all been running together, Tuesday is the finish line! Or the starting line of another 2-year marathon. Midterms might not have the sex-appeal of a presidential election, but there are still plenty of races that will affect you every single day and they're hidden all over your ballot. Sam teams up with Ben of Ben & Jerry's to get the money out of our democracy and into our ice cream! |
| 28 | 100 | November 7, 2018 | 2018-11-07 | 30 | Stacey Abrams broke down barriers, knocked on doors, and also had Oprah! Brian Kemp, however, had the much more American strategy of racism, which is likely to bring him the governorship. Sessions was forced to resign and Trump accosted Acosta. Ted Cruz oozed out a victory against Beto O'Rourke, but the good news is Mike Rubens and Allana Harkin were there to witness it. We're 100 episodes old and we've learned our lesson about expecting certain electoral outcomes. This time we prepared a cake for all occasions. |
| 29 | 101 | December 5, 2018 | 2018-12-05 | 30 | |
| 30 | 102 | December 12, 2018 | 2018-12-12 | 30 | |
| 31 | 103 | Christmas on I.C.E. | 2018-12-19 | 30 | Join Samantha Bee for a less-godless-than-the-usual-liberal Christmas variety spectacular with all the traditional trimmings: music, laughter, joy, deep rage that the administration is separating migrant families, and gingerbread. And did we mention that the whole thing is on ice? Your move, John Legend! But also, good tidings to you. |
| 32 | 104 | January 23, 2019 | 2019-01-23 | 30 | |
| 33 | 105 | January 30, 2019 | 2019-01-30 | 30 | |
Series Cast
| | | | |
| --- | --- | --- | --- |
| | Samantha Bee | as Host | |
Series Crew
| | Position | Name |
| --- | --- | --- |
| | Executive Producer | Jason Jones |
| | Executive Producer | Tony Hernandez |
| | Executive Producer | Samantha Bee |
| | Executive Producer | Jo Miller |
| | Executive Producer | Miles Kahn |
Related News
TVMaze