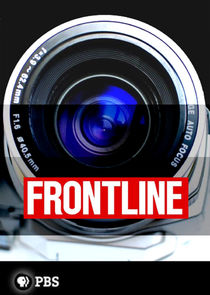 Since it began in 1983, Frontline has been airing public-affairs documentaries that explore a wide scope of the complex human experience. Frontline's goal is to extend the impact of the documentary beyond its initial broadcast by serving as a catalyst for change.
.
Series Overview
Rating
imDb Rating: 8.5 (1,408 Votes)
Metascore: N/A
Plot
Investigative journalist documentaries.
Details
Rated: TV-MA
Released: 17 Jan 1983
Runtime: 60 min
Genre: Documentary
Director: N/A
Writer: N/A
Actors: Will Lyman, Sarah Childress
Language: English
Country: USA
Awards: 93 wins & 129 nominations.
Total Seasons: 37
Next Episode
Zero Tolerance
Episode 2019x15; Oct 22, 2019
How Trump turned immigration into a powerful political weapon that fueled division and violence.
Previous Episode
On the President's Orders
Episode 2019x14; Oct 08, 2019
A searing, on-the-ground look at President Rodrigo Duterte's deadly campaign against drug dealers and suspected drug users in the Philippines, told with unprecedented access to police officials implicated in the killings, families of users, and others from both sides of the nation's war on drugs.
Episodes 2019x16: Targeting El Paso 2019x15: Zero Tolerance 2019x14: On the President's Orders 2019x13: The Crown Prince of Saudi Arabia 2019x12: Flint's Deadly Water 2019x11: Sex Trafficking In America 2019x10: Supreme Revenge 2019x9: One Day In Gaza 2019x8: Trump's Trade War

View All Episodes
Skip to:
Season 1
| Episode No. | No. Overall | Title | Airdate | Runtime | Summary |
| --- | --- | --- | --- | --- | --- |
Season 2
| Episode No. | No. Overall | Title | Airdate | Runtime | Summary |
| --- | --- | --- | --- | --- | --- |
Season 3
| Episode No. | No. Overall | Title | Airdate | Runtime | Summary |
| --- | --- | --- | --- | --- | --- |
Season 4
| Episode No. | No. Overall | Title | Airdate | Runtime | Summary |
| --- | --- | --- | --- | --- | --- |
Season 5
| Episode No. | No. Overall | Title | Airdate | Runtime | Summary |
| --- | --- | --- | --- | --- | --- |
Season 6
| Episode No. | No. Overall | Title | Airdate | Runtime | Summary |
| --- | --- | --- | --- | --- | --- |
Season 7
| Episode No. | No. Overall | Title | Airdate | Runtime | Summary |
| --- | --- | --- | --- | --- | --- |
| 1 | 1 | The Real Life of Ronald Reagan | 1989-01-18 | 60 | |
| 2 | 2 | The Spy Who Broke the Code | 1989-01-24 | 60 | |
| 3 | 3 | The Battle for Eastern Airlines | 1989-01-31 | 60 | |
| 4 | 4 | Running with Jesse | 1989-02-07 | 60 | |
| 5 | 5 | Children of the Night | 1989-02-14 | 60 | |
| 6 | 6 | Who Profits from Drugs | 1989-02-21 | 60 | |
| 7 | 7 | Prescriptions for Profit | 1989-03-28 | 60 | |
| 8 | 8 | The Dallas Drug War | 1989-04-04 | 60 | |
| 9 | 9 | Murder in the Amazon | 1989-04-11 | 60 | |
| 10 | 10 | The Shakespeare Mystery | 1989-04-18 | 60 | |
| 11 | 11 | Extraordinary People | 1989-05-02 | 60 | |
| 12 | 12 | Yellowstone Under Fire | 1989-05-09 | 60 | |
| 13 | 13 | Remember My Lai | 1989-05-23 | 60 | |
| 14 | 14 | Israel: The Covert Connection | 1989-05-16 | 60 | |
| 15 | 15 | Babies at Risk | 1989-05-30 | 60 | |
| 16 | 16 | Death of a Terrorist | 1989-06-13 | 60 | |
| 17 | 17 | Who's Killing Calvert City? | 1989-06-20 | 60 | |
| 18 | 18 | Tracking the Pan Am Bombers | 1989-11-28 | 60 | |
| 19 | 19 | The Right to Die? | 1989-12-13 | 60 | |
Season 8
| Episode No. | No. Overall | Title | Airdate | Runtime | Summary |
| --- | --- | --- | --- | --- | --- |
Season 9
| Episode No. | No. Overall | Title | Airdate | Runtime | Summary |
| --- | --- | --- | --- | --- | --- |
Season 10
| Episode No. | No. Overall | Title | Airdate | Runtime | Summary |
| --- | --- | --- | --- | --- | --- |
Season 11
| Episode No. | No. Overall | Title | Airdate | Runtime | Summary |
| --- | --- | --- | --- | --- | --- |
Season 12
| Episode No. | No. Overall | Title | Airdate | Runtime | Summary |
| --- | --- | --- | --- | --- | --- |
Season 13
| Episode No. | No. Overall | Title | Airdate | Runtime | Summary |
| --- | --- | --- | --- | --- | --- |
Season 14
| Episode No. | No. Overall | Title | Airdate | Runtime | Summary |
| --- | --- | --- | --- | --- | --- |
Season 15
| Episode No. | No. Overall | Title | Airdate | Runtime | Summary |
| --- | --- | --- | --- | --- | --- |
Season 16
| Episode No. | No. Overall | Title | Airdate | Runtime | Summary |
| --- | --- | --- | --- | --- | --- |
Season 17
| Episode No. | No. Overall | Title | Airdate | Runtime | Summary |
| --- | --- | --- | --- | --- | --- |
Season 18
| Episode No. | No. Overall | Title | Airdate | Runtime | Summary |
| --- | --- | --- | --- | --- | --- |
Season 19
| Episode No. | No. Overall | Title | Airdate | Runtime | Summary |
| --- | --- | --- | --- | --- | --- |
Season 20
| Episode No. | No. Overall | Title | Airdate | Runtime | Summary |
| --- | --- | --- | --- | --- | --- |
Season 21
| Episode No. | No. Overall | Title | Airdate | Runtime | Summary |
| --- | --- | --- | --- | --- | --- |
Season 22
| Episode No. | No. Overall | Title | Airdate | Runtime | Summary |
| --- | --- | --- | --- | --- | --- |
Season 23
| Episode No. | No. Overall | Title | Airdate | Runtime | Summary |
| --- | --- | --- | --- | --- | --- |
Season 24
| Episode No. | No. Overall | Title | Airdate | Runtime | Summary |
| --- | --- | --- | --- | --- | --- |
Season 25
| Episode No. | No. Overall | Title | Airdate | Runtime | Summary |
| --- | --- | --- | --- | --- | --- |
Season 26
| Episode No. | No. Overall | Title | Airdate | Runtime | Summary |
| --- | --- | --- | --- | --- | --- |
Season 27
| Episode No. | No. Overall | Title | Airdate | Runtime | Summary |
| --- | --- | --- | --- | --- | --- |
Season 28
| Episode No. | No. Overall | Title | Airdate | Runtime | Summary |
| --- | --- | --- | --- | --- | --- |
Season 29
| Episode No. | No. Overall | Title | Airdate | Runtime | Summary |
| --- | --- | --- | --- | --- | --- |
Season 30
| Episode No. | No. Overall | Title | Airdate | Runtime | Summary |
| --- | --- | --- | --- | --- | --- |
Season 31
| Episode No. | No. Overall | Title | Airdate | Runtime | Summary |
| --- | --- | --- | --- | --- | --- |
Season 32
| Episode No. | No. Overall | Title | Airdate | Runtime | Summary |
| --- | --- | --- | --- | --- | --- |
Season 33
| Episode No. | No. Overall | Title | Airdate | Runtime | Summary |
| --- | --- | --- | --- | --- | --- |
Season 34
| Episode No. | No. Overall | Title | Airdate | Runtime | Summary |
| --- | --- | --- | --- | --- | --- |
Season 35
| Episode No. | No. Overall | Title | Airdate | Runtime | Summary |
| --- | --- | --- | --- | --- | --- |
Season 36
| Episode No. | No. Overall | Title | Airdate | Runtime | Summary |
| --- | --- | --- | --- | --- | --- |
Season 37
| Episode No. | No. Overall | Title | Airdate | Runtime | Summary |
| --- | --- | --- | --- | --- | --- |
Series Cast
| | | | |
| --- | --- | --- | --- |
| | Will Lyman | as Narrator | |
Series Crew
| | Position | Name |
| --- | --- | --- |
| | Creator | David Fanning |
| | Executive Producer | David Fanning |
Related News
TVMaze