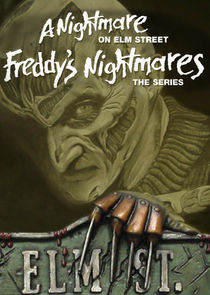 Freddy's Nightmares (full title: Freddy's Nightmares: A Nightmare on Elm Street: The Series) is an American horror anthology series, which aired in syndication from October 1988 until March 1990. A spin-off from the Nightmare on Elm Street series, each story was introduced by Freddy Krueger (played, as in the movies, by Robert Englund).
Series Overview
Rating
imDb Rating: 6.4 (2,503 Votes)
Metascore: N/A
Plot
Freddy, the dream serial killer, hosts this anthology of stories set in Springwood.
Details
Rated: TV-14
Released: 09 Oct 1988
Runtime: 60 min
Genre: Horror, Thriller
Director: N/A
Writer: Wes Craven, Jeff Freilich
Actors: Robert Englund
Language: English
Country: USA
Awards: 1 nomination.
Total Seasons: 2
Previous Episode
Life Sentence
Episode 2x22; Mar 11, 1990
Andy Caulfield is a prisoner who is about to get parole, until he is faced with a prison counselor who also happens to be a relative of one of his victims. The second half centers on Warden Hendler, who is using prisoners as guinea pigs to test a new drug for extracting vital information, until the experiment backfires with drastic results.
Previous Episodes 2x22: Life Sentence 2x21: Prisoner of Love 2x20: Dust to Dust 2x19: A Family Affair 2x18: Funhouse 2x17: Interior Loft-Later 2x16: Interior Loft 2x15: Prime Cut 2x14: Easy Come, Easy Go

View All Episodes
Skip to:
Season 1
| Episode No. | No. Overall | Title | Airdate | Runtime | Summary |
| --- | --- | --- | --- | --- | --- |
| 1 | 1 | No More Mr. Nice Guy | 1988-10-09 | 60 | Freddy Krueger has slain many children and teenagers, and is currently on the loose, but after a police officer catches Freddy trying to kill his daughters, Freddy is arrested. During the trial, the judge unfortunately discovers Freddy was never read his rights, so the judge must let him go, but it does not end there. |
| 2 | 2 | It's a Miserable Life | 1988-10-16 | 60 | A fast food employee (John Cameron Mitchell) hates his life, but when someone robs the restaurant, his life gets a little more interesting; Meanwhile his girlfriend (Lar Park Lincoln) is tormented by hospital staff after she was shot. |
| 3 | 3 | Killer Instinct | 1988-10-23 | 60 | A girl (Lori Petty) accidentally kills her friend by using a magical gem she stole from her that lets whatever she is imagining happen. |
| 4 | 4 | Freddy's Tricks and Treats | 1988-10-30 | 60 | A college student (Mariska Hargitay) is tormented by Freddy after he hears that she does not believe in him. |
| 5 | 5 | Judy Miller, Come on Down | 1988-11-06 | 60 | Judy Miller (Siobhan E. McCafferty) wins big money on a game show, which solves life's little nightmares while creating newer, more tragic nightmares. |
| 6 | 6 | Saturday Night Special | 1988-11-13 | 60 | Two nobodies yearn for perfection. Gordon (Scott Burkholder) fantasizes a dream date with a sex goddess, Lana (Shari Shattuck). |
| 7 | 7 | Sister's Keeper | 1988-11-20 | 60 | In this sequel to the pilot episode, the twin daughters of the cop who killed Freddy are now being haunted by Freddy so the twins plot to find a way to get Krueger out of their dreams for good. |
| 8 | 8 | Mother's Day | 1988-11-27 | 60 | When Billy's (Byron Thames) mother and new stepfather go on their honeymoon, he meets neighbor Barbara (Jill Whitlow) who convinces him to throw a party that proves to be fatal. Meanwhile a radio psychologist (Elizabeth Savage) finds herself in hot water when she gives her callers bad advice. |
| 9 | 9 | Rebel Without a Car | 1988-12-11 | 60 | Alex (Craig Hurley) finds an abandoned muscle car to be his "ticket out of Springwood". Instead he keeps envisioning the fate of the previous owner. Connie (Katie Barberi) is determined to belong to a sorority, but the initiation process puts her through her own private hell. |
| 10 | 10 | The Bride Wore Red | 1988-12-18 | 60 | During his bachelor party, a man meets a stripper; Meanwhile, his bride to be is upset after finding out her parents are getting divorced. |
| 11 | 11 | Do Dreams Bleed | 1989-01-08 | 60 | A man has dreams that depict information about local killer, "The Springwood Chopper". |
| 12 | 12 | The End of the World | 1989-01-15 | 60 | A woman discovers she can change events that happened to her in her childhood, altering her life. Soon she is discovered by the CIA and they use her to prevent a nuclear disaster. |
| 13 | 13 | Deadline | 1989-01-29 | 60 | A washed-up newspaper editor is given a story of a lifetime, but finds out the paper tells the future, and sees an article about him committing suicide. |
| 14 | 14 | Black Tickets | 1989-02-05 | 60 | Rick (Brad Pitt) and Miranda are teenage lovers who leave Springwood. Their car stalls so they check into a hotel, but the hotel is run by sadistic hicks. Also Miranda is pregnant but is trying to hold down her job. |
| 15 | 15 | School Daze | 1989-02-12 | 60 | Steve Dart a student at Springwood High School decides to take it easy to escape stress. When he is called to the principal's office he starts having nightmares and soon discovers the high school's shocking secret. In the second half, Matt is a young Springwood High School student whose SATs are coming up soon. He begins to have strange nightmares and illusions of his life if he fails his SATs. |
| 16 | 16 | Cabin Fever | 1989-02-19 | 60 | An airline heir discovers he is on a flight to Hell. A flight attendant thinks she has found Mr. Right. |
| 17 | 17 | Love Stinks | 1989-02-26 | 60 | After teenager Adam is coerced into cheating on Laura (Tamara Glynn) with Loni, a girl he meets at a party, he finds that she's looking for a more permanent relationship. Meanwhile Adam's friend Max is forced to abandon his planned summer trip and take a job in a pizza place working under his creepy, tyrannical uncle (Jeffrey Combs). |
| 18 | 18 | The Art of Death | 1989-03-12 | 60 | A young artist's comic is brought to life; A claustrophobic woman is tormented by her roommate's friend. |
| 19 | 19 | Missing Persons | 1989-05-07 | 60 | A college student (Eva LaRue) with past weight problems goes back to her childhood house to babysit two children who love junk food; A man (Timothy Bottoms) soon regrets his wish of spending a day in the life of another person. |
| 20 | 20 | The Light at the End of the Tunnel | 1989-05-14 | 60 | A man tries to overcome his fear of the dark after getting a job in the sewer; A pornographic store owner becomes trapped in his nightmares. |
| 21 | 21 | Identity Crisis | 1989-05-21 | 60 | An ex-hippie (Jeff_Conaway) who still values peace and love above all else gets crosswise with his son and his money-obsessed boss; a teen who shares nothing with her mother asks pointblank if she was adopted and doesn't receive the answer she was looking for. |
| 22 | 22 | Safe Sex | 1989-05-28 | 60 | A teenager is in love with a goth girl who is obsessed with Freddy Krueger and soon enough the teenager is plagued with dreams involving Freddy. In the second half, the goth girl is tormented by the man of her dreams. |
Season 2
| Episode No. | No. Overall | Title | Airdate | Runtime | Summary |
| --- | --- | --- | --- | --- | --- |
| 1 | 23 | Dream Come True | 1989-10-08 | 60 | A therapist who tries to help a boy suffering from repeated nightmares about Freddy Krueger winds up dreaming about the killer as well. Meanwhile, a cameraman who wants to settle the question of Freddy's existence for good gets drawn into his own news story. |
| 2 | 24 | Heartbreak Hotel | 1989-10-15 | 60 | A tabloid reporter learns that the stories he has been fabricating are coming true when he is sent into the field to write about an Elvis sighting; an amnesiac whose memory is returning in bits and pieces worries that he may have killed someone. |
| 3 | 25 | Welcome to Springwood | 1989-10-22 | 60 | Doug and Roxanne move to Springwood, but while Doug's at work, Roxanne begins to unpack and discovers that a mix-up with the movers has left their house filled with someone else's possessions – in the boxes she finds bloody knives and shredded dresses. Meanwhile, Emily discovers a stack of 19th century love letters hidden behind a panel in her new home, and she begins to envision the relationships of the authors. |
| 4 | 26 | Photo Finish | 1989-10-29 | 60 | A photographer (Patty McCormack) who's anxious to get her career back on track gets some unexpected help on her latest photo shoots from Freddy, who's terrorizing her models. Meanwhile, three FBI agents come to Springwood to investigate a family homicide, but Freddy has some surprises in store for them. |
| 5 | 27 | Memory Overload | 1989-11-05 | 60 | Professor Windom is a man with a drinking problem. But he has to get over his fears, and quickly, as a former student of his is in a lot of trouble and needs his help. Barbara starts getting stressed out when her computer starts talking to her and believes she's going to be in trouble with the cops for tax evasion. Unwittingly she jumps into her computer to stop a certain file from being saved. |
| 6 | 28 | Lucky Stiff | 1989-11-12 | 60 | A recent widow (Mary Crosby) comes to the realization that her late husband (David L. Lander) purchased a winning lottery ticket, so she goes to great lengths to recover it – and keep the winnings for herself. Meanwhile, a grave digger (Tracey Walter) resorts to blackmail to land the woman of his dreams. |
| 7 | 29 | Silence is Golden | 1989-11-19 | 60 | After accidentally assaulting a mime, obnoxious radio disc jockey Rick Rake is tormented by the clown. Meanwhile, it turns out that the mime is also a burglar who learns that the last people he robbed were also killed. |
| 8 | 30 | Bloodlines | 1989-11-26 | 60 | An escaped convict (Marc Alaimo) returns home to retrieve the money he hid from a bank robbery, and discovers his son is bitter and his wife (Sheree North) has lost her mind. Later, a couple (Chris Nash, Ruth de Sosa) illegally adopts a baby, but as the little girl (Irina Cashen) grows, her new parents come to the realization that she may be evil. |
| 9 | 31 | Monkey Dreams | 1989-12-03 | 60 | A gambling-addict lab researcher must race to complete his work before his bookie's enforcers show up to collect. In the second half, a monkey from the lab exacts revenge upon his captors. |
| 10 | 32 | Do You Know Where Your Kids Are? | 1989-12-10 | 60 | Teenager Lisa (Suzanne Tara) agrees to swap babysitting duties with her friend, Heidi (Julie St. Claire) as a favour. She discovers that a relative who's locked in the family's cellar wants revenge - even invading her dreams to get it. |
| 11 | 33 | Dreams That Kill | 1989-12-17 | 60 | In this follow-up to "Dream Come True", Charlie Nichels, the new host of "Springwood Confidential", receives a warning from Freddy not to proceed with his latest show topic: Dreams That Kill. Meanwhile, a doctor performs an experimental brain matter transplantation surgery on a patient that results in the man awakening with another man's personality—and dreams. |
| 12 | 34 | It's My Party and You'll Die If I Want You To | 1989-12-24 | 60 | In the sequel to "Photo Finish", a fake psychic gets possessed by Freddy during a trance and Kruger, using the psychic's body, starts killing people off. The second half is about Freddy crashing his class reunion to seek revenge on a girl who stood him up at the prom. |
| 13 | 35 | What You Don't Know Can Kill You | 1990-01-07 | 60 | A lecherous psychiatrist who hypnotizes and seduces his female patients is caught in the act by a colleague, so he hatches a devious plot to get out of doing time. Meanwhile, a man who accidentally murdered is convinced by his girlfriend to undergo surgery to alter his appearance... but the face they choose also belongs to a mobster. |
| 14 | 36 | Easy Come, Easy Go | 1990-01-14 | 60 | In this follow-up to "Lucky Stiff", Greta, who has already murdered to avoid sharing her first husband's lottery winnings, devises a plan to rub out her current husband. Later Greta finds out a deep, dark family secret when her sister Peggy drops in with her new husband for a surprise visit. |
| 15 | 37 | Prime Cut | 1990-01-21 | 60 | During a camping trip, a female tracker's strange behavior leads the men to believe that she may be a vampire. Later, plane crash survivors are forced to eat the corpses of the dead to survive. As the fiancee of one survivor desperately searches for the wreckage, an escaped convict also wanders through the mountains. |
| 16 | 38 | Interior Loft | 1990-01-28 | 60 | After Kim leaves her job to pursue her dream of writing a novel, her husband, David, convinces her to make an erotic recording on a 976 number to bring in extra cash. But Kim starts to have a mental breakdown when an obsessed caller begins murdering. Meanwhile, after reading Kim's manuscript, David wonders if Kim has herself assumed the murderous, sexually deviant personality of the heroine of her novel. |
| 17 | 39 | Interior Loft-Later | 1990-02-04 | 60 | In this follow-up to "Interior Loft", an artist (Robert F. Lyons) fakes his own death to both increase the value of his work and avoid prosecution for the accidental death of one of his models. Trapped in his apartment, he becomes stir crazy and accuses his wife (Fabiana Udenio) of having an affair. Later, two ladies (Leslie Bega, Tory Polone) reluctantly agree to let a guy (Dean Fortunato) move into their loft, and he quickly begins playing them both. |
| 18 | 40 | Funhouse | 1990-02-11 | 60 | In this follow-up to "Welcome To Springwood", a couple moves into a house that's allegedly haunted, but after a few strange occurrences, the wife realizes who the ghost is. Later another couple moves into the house and form a most unusual relationship with the moving man. |
| 19 | 41 | A Family Affair | 1990-02-18 | 60 | After Paul scorns his lover, Claire, he resorts to drastic measures to ensure his family never learns of their affair. Later a guilt-ridden man who's trying to reconcile with his son learns that it's not possible to cheat death. |
| 20 | 42 | Dust to Dust | 1990-02-25 | 60 | In this follow-up to "Prime Cut", three recovering cannibals have an unfortunate relapse and wind up eating an intruder who's been afflicted with a strange disease. |
| 21 | 43 | Prisoner of Love | 1990-03-04 | 60 | A priest who is giving the last rites to a woman on death row is seduced, and he plans an unimaginable escape from the death house with a tragic ending. Violet Rodriguez tries to escape the same way as the other prisoner tried, hopefully with better results. |
| 22 | 44 | Life Sentence | 1990-03-11 | 60 | Andy Caulfield is a prisoner who is about to get parole, until he is faced with a prison counselor who also happens to be a relative of one of his victims. The second half centers on Warden Hendler, who is using prisoners as guinea pigs to test a new drug for extracting vital information, until the experiment backfires with drastic results. |
Series Cast
| | | | |
| --- | --- | --- | --- |
| | Robert Englund | as Freddy Krueger | |
Series Crew
| | Position | Name |
| --- | --- | --- |
| | Executive Story Editor | Jonathan Glassner |
| | Executive Producer | Jeff Freilich |
| | Executive Producer | Robert Shaye |
| | Producer | Gilbert Adler |
| | Supervising Producer | Jonathan Betuel |
| | Creative Consultant | Jill Donner |
| | Executive Producer | Scott A. Stone |
Related News
TVMaze