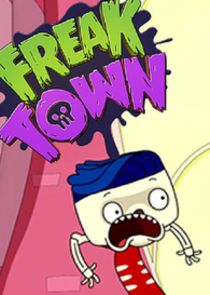 Ben Bones and Lenny try to keep Freaktown from being sweetened by Sweetlandia's Princess Boo Boo.
Series Overview
Rating
imDb Rating: 6.5 (26 Votes)
Metascore: N/A
Plot
Freaktown is the place where it is cool to be a ghoul and best friends Ben Bones and Lenny aim to keep it that way. But Princes Boo Boo is intent on turning Freaktown into a place so sweet it'll make you barf rainbows.
Details
Rated: N/A
Released: 01 Jun 2016
Runtime: 11 min
Genre: Animation
Director: N/A
Writer: Phil Ivanusic, Peter Ricq
Actors: Steph Lynn Robinson
Language: English
Country: Canada
Awards: 1 nomination.
Total Seasons: 1
Previous Episode
Bistro Blitz
Episode 1x52; Oct 09, 2016
Previous Episodes 1x52: Bistro Blitz 1x51: Toe Jam Jam 1x50: Tooth Ninjas 1x49: The Weather Ghoul 1x48: Biker Bones 1x47: Sven and Kenny 1x46: Fright Light 1x45: Boo-Boo's New Crush 1x44: Mind Over Chatter

View All Episodes
Skip to:
Season 1
| Episode No. | No. Overall | Title | Airdate | Runtime | Summary |
| --- | --- | --- | --- | --- | --- |
| 1 | 1 | Flush Fest; The Princess and the Skull | 2016-06-20 | 30 | Princess Boo-Boo bans Freaktown's annual Flush Fest; Sparkles conjures up a spell that gives Boo-Boo the power to transform Ben into a Prince. |
| 2 | 2 | Tinker Taylor Soldier Spy; Nap Trap | 2016-06-27 | 30 | Ben's noisiness interferes with Boo-Boo's nap-time, so Cuddles creates a giant mobile that threatens to put all the Freaks to sleep; Priscilla sends the guys on a quest. |
| 3 | 3 | The Tale of Buttsilk; Slumberdome | 2016-07-04 | 30 | Ben wants to win the annual Pillow-Fighting Championship, so Priscilla outfits him with an undefeatable bionic limb; Ben and Manny discover that Manny's butt silk transforms Freaks into cute butterflies. |
| 4 | 4 | B-1000; Lord Cuddles the Zitty | 2016-07-11 | 30 | Cuddles builds a Ben Robot, hoping to replace the real Ben; Priscilla creates a potion to make Mayor Cuddles more attractive to Boo-Boo. |
| 5 | 5 | Build-a-Ben; Ben's Bones | 2016-07-18 | 30 | Sparkles sucks the stuffing out of Cuddles in order to make a living Ben doll for Boo-Boo; the doll turns out to awkwardly control Ben like a voodoo doll. |
| 6 | 6 | Ben's Buff Bod/Dare Ya | 2016-07-25 | 30 | Ben breaks every bone in his body trying a stunt and Manny finds him a temporary replacement body. |
| 7 | 7 | Cupid Crisis; Date with Danger | 2016-08-01 | 30 | Boo-Boo hires a thoroughly incompetent cupid/hit-man to shoot Ben with an arrow and make him fall in love with her; the hit-man manages to hit everybody but Ben. |
| 17 | 8 | Dream to Scream | 2016-08-15 | 11 | |
| 18 | 9 | The Fluff Stuff | 2016-08-15 | 11 | |
| 19 | 10 | Senior's Discount | 2016-08-22 | 11 | |
| 20 | 11 | Infurnace | 2016-08-22 | 11 | |
| 21 | 12 | Baby-Sitter Ben | 2016-08-27 | 11 | |
| 22 | 13 | Barfrrritos | 2016-08-27 | 11 | |
| 23 | 14 | Plant a Freak | 2016-08-27 | 11 | |
| 24 | 15 | Magic School | 2016-08-27 | 11 | |
| 25 | 16 | The Wishing Rat | 2016-08-27 | 11 | |
| 26 | 17 | Raining Cats and Cats | 2016-08-27 | 11 | |
| 27 | 18 | Freaks in Space | 2016-10-01 | 11 | |
| 28 | 19 | Glitter Goo | 2016-10-01 | 11 | |
| 29 | 20 | Moosequito Day | 2016-10-01 | 11 | |
| 30 | 21 | The Snozz | 2016-10-01 | 11 | |
| 31 | 22 | Bed Monster | 2016-10-01 | 11 | |
| 32 | 23 | Princess Bloorgh-Bloorgh | 2016-10-01 | 11 | |
| 33 | 24 | Sneezy Peasy | 2016-10-01 | 11 | |
| 34 | 25 | Boo-Boo's Breakdown | 2016-10-01 | 11 | |
| 35 | 26 | Chrysalenny | 2016-10-01 | 11 | |
| 36 | 27 | Fountain of Freak | 2016-10-01 | 11 | |
| 37 | 28 | Sunshineopolypse | 2016-10-08 | 11 | |
| 38 | 29 | Horn to be Shorn | 2016-10-08 | 11 | |
| 39 | 30 | Scarego | 2016-10-08 | 11 | |
| 40 | 31 | The Bees-ness | 2016-10-08 | 11 | |
| 41 | 32 | Conquer With Kindness | 2016-10-08 | 11 | |
| 42 | 33 | The Sweet Outdoors | 2016-10-08 | 11 | |
| 43 | 34 | Air Sweet | 2016-10-09 | 11 | |
| 44 | 35 | Mind Over Chatter | 2016-10-09 | 11 | |
| 45 | 36 | Boo-Boo's New Crush | 2016-10-09 | 11 | |
| 46 | 37 | Fright Light | 2016-10-09 | 11 | |
| 47 | 38 | Sven and Kenny | 2016-10-09 | 11 | |
| 48 | 39 | Biker Bones | 2016-10-09 | 11 | |
| 49 | 40 | The Weather Ghoul | 2016-10-09 | 11 | |
| 50 | 41 | Tooth Ninjas | 2016-10-09 | 11 | |
| 51 | 42 | Toe Jam Jam | 2016-10-09 | 11 | |
| 52 | 43 | Bistro Blitz | 2016-10-09 | 11 | |
Related News
TVMaze