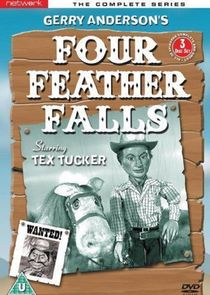 Four Feather Falls was an animated puppet TV show produced by Gerry Anderson for Granada Television that aired on the ITV network in 1960.
The setting is the late 19th-century fictional Kansas town of Four Feather Falls, where the hero of the series, Tex Tucker, is a sheriff. The four feathers of the title refers to four magical feathers given to Tex by the Indian chief Kalamakooya as a reward for saving his grandson: two allowed Tex's guns to swivel and fire without being touched whenever he was in danger, and two conferred the power of speech on Tex's horse and dog.
Series Overview
Rating
imDb Rating: 7.9 (42 Votes)
Metascore: N/A
Plot
Sheriff Tex Tucker makes sure all is well in Four Feather Falls with the help of his dog Dusty and Rocky the horse. Done with puppets, even the animals talk and sing along with the humans as problems are quickly wrapped up.
Details
Rated: N/A
Released: 25 Feb 1960
Runtime: 15 min
Genre: Family, Western
Director: N/A
Writer: Gerry Anderson, Arthur Provis
Actors: Nicholas Parsons, David Graham, Kenneth Connor, Denise Bryer
Language: N/A
Country: UK
Awards: N/A
Total Seasons: 1
Previous Episode
Ride 'Em Cowboy
Episode 1x39; Nov 17, 1960
Tex takes part in the rodeo against Silver City's best rider, Bart Stevens, who decides to cheat by using Pedro and Fernando to sabotage his opponents.
Previous Episodes 1x39: Ride 'Em Cowboy 1x38: Ambush 1x37: Happy Birthday 1x36: Fancy Shooting 1x35: First Train Through 1x34: Safe as Houses 1x33: Buffalo Rocky 1x32: Teething Troubles 1x31: A Cure for Everything

View All Episodes
Cast
Kenneth Connor as Various
David Graham as Various
Denise Bryer as Various
Nicholas Parsons as Sheriff Tex Tucker (speaking voice)
Michael Holliday as Sheriff Tex Tucker (singing voice)
View Full Cast
Recent News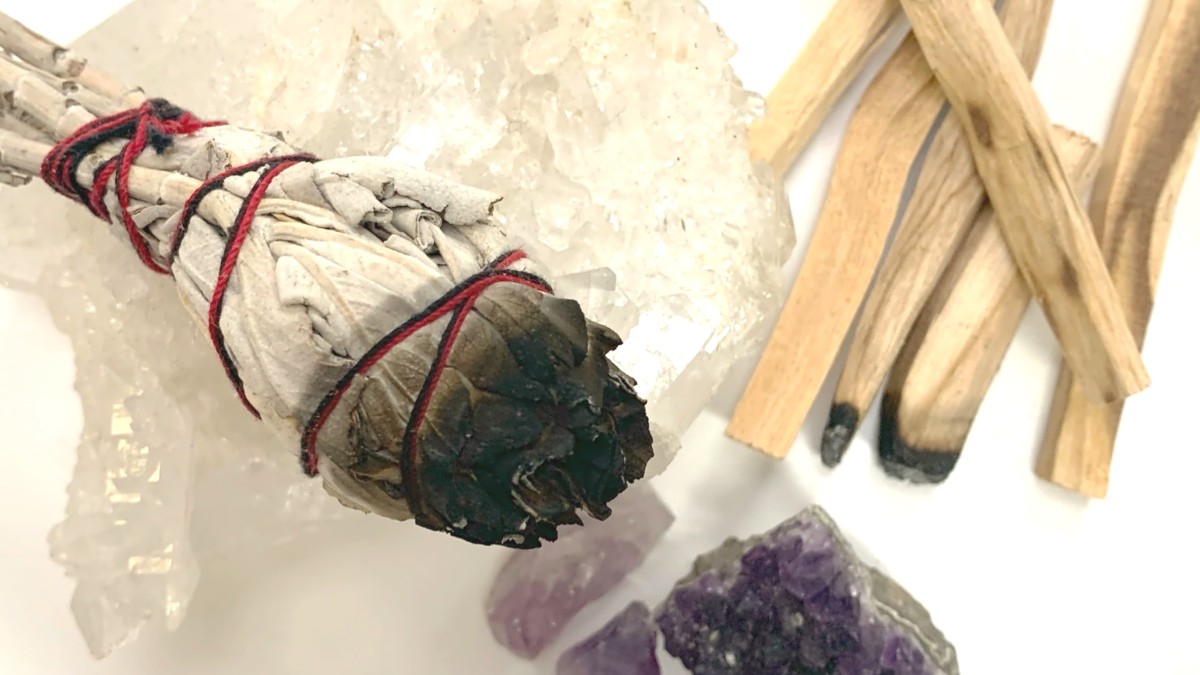 It's Time to Rethink the 'Trend' of Burning Sage on Instagram
"Cleanse Your Head of Bad Vibes," reads an email that recently landed in my inbox, announcing a new sage-infused shampoo — one of many 2019 beauty launches that cheekily refers to the energy-clearing power of white sage, or Salvia apiana, a medicinal herb nat…
John Ruskin, A Wreath of Emotion
I can no longer sum up John Ruskin as neatly as I did when I was working at the Morgan Library. I was a young, privateering scholar then, conducting swift, efficient raids on the legacy of one writer after another as the manuscript exhibition came together. R…
Signaling: The Language Peacocks, Gazelles, and Humans All Speak
Signaling and countersignaling are hidden methods of communicating with each other. We do it all the time as a way to "prove" we are who and what we claim to be. *** The Basics We are constantly signaling. Every minute of the day, we send signals to others to…
via NewsAPI
View More Related News
Skip to:
Season 1
| Episode No. | No. Overall | Title | Airdate | Runtime | Summary |
| --- | --- | --- | --- | --- | --- |
| 1 | 1 | How It Began | 1960-02-25 | 15 | Tex finds and shelters an Indian boy and is rewarded with four magic feathers. |
| 2 | 2 | Kidnapped | 1960-03-03 | 15 | Pedro and Fernando take "Doc" Haggerty and hold him hostage. |
| 3 | 3 | Pedro Has a Plan | 1960-03-10 | 15 | Pedro and Fernando plan to rid themselves of the sheriff. |
| 4 | 4 | Pedro's Pardon | 1960-03-17 | 15 | Pedro decides to "go straight" and become respectable. |
| 5 | 5 | A Close Shave | 1960-03-24 | 15 | Pedro and Fernando plot again to foil the sheriff. |
| 6 | 6 | Indian Attack | 1960-03-31 | 15 | Pedro and Fernando try to steal Tex's magic feathers. |
| 7 | 7 | Sheriff for a Day | 1960-04-07 | 15 | Tex is called away and lends his magic guns to Little Jake. |
| 8 | 8 | Dusty Becomes Deputy | 1960-04-14 | 15 | Pedro and Fernando aim to rob the bank while Tex is away. |
| 9 | 9 | Gunrunners | 1960-04-21 | 15 | Tex and Dusty go in search of villains selling guns to Indians. |
| 10 | 10 | Trouble at Yellow Gulch | 1960-04-28 | 15 | Pedro and Fernando hold Four Feather Falls to ransom. |
| 11 | 11 | Frame Up | 1960-05-05 | 15 | Tex rides off alone into the desert, unaware of a ghostly legend. |
| 12 | 12 | Gold Diggers | 1960-05-12 | 15 | Fernando and Pedro ask to spend the night in Tex's jail. |
| 13 | 13 | Gold Is Where You Find It | 1960-05-19 | 15 | Pedro and Fernando try to swindle the people of Four Feather Falls out of their savings. |
| 14 | 14 | Trapped | 1960-05-26 | 15 | Little Jake and Makooya head to the creek for some fishing. Finding a cave along the way they decided on a little spelunking. They interrupt Red Scalp at work while he's manufacturing counterfeit money and he quickly seals them in. |
| 15 | 15 | The Best Laid Plans | 1960-06-02 | 15 | Hank Frisbee arrives in town and tells Pedro and Fernando about his plan to rob the bank. Nobody knows him in Four Feather Falls, so he reckons on taking a room over the bank, then they'll be able to cut a way in. Frisbee takes the room, then goes off to the saloon where he buys drinks all round and gets music and singing going; the noise is supposed to cover up the row that Pedro and Fernando make as they cut their way into the bank. The plan works fine until Pedro gets stuck as he tries to clamber through the hole into the bank and makes an almighty row. Tex hears the noise and guesses that it's coming from the bank. Frisbee tries to stop Tex from going to investigate, He draws his firearms, but Tex and the magic guns win the fight. Pedro and Fernando hear the shooting, they grab hold of an iron box, and make a run for it. But there's nothing in the box except a collection of old iron, They decide to go back to Four Feather Falls and join Hank in jail - at least they'll be able to get something to eat there, even if they haven't got the gold. |
| 16 | 16 | Escort | 1960-06-09 | 15 | Tex Tucker releases Pedro and Fernando from custody, but neither is keen to leave the comfort of the jail. On their way out they overhear a message from a Mister Huckenbacker requesting a Sheriff's escort into Four Feather Falls. Huckenbacker is on his way to town with a load of gold, so Pedro and Fernando decide to pose as sheriffs so they can steal all the gold. Big Ben, too, has heard this news and hits the trail to meet with the gold shipment. Can Tex deal with all the robbers? |
| 17 | 17 | The Toughest Guy in the West | 1960-06-16 | 15 | Grandpa Twink is a teller of tales and his buddies tease him about his supposed heroics. Twink redeems himself when he captures Indian Jack, a notorious renegade. |
| 18 | 18 | Ghost of a Chance | 1960-06-23 | 15 | Marvin Jackson is trying to sell the Eureka Silver Mine, but the main buyer, Harman, pays Pedro and Fernando to pretend to be ghosts to bring the price down. |
| 19 | 19 | Gunplay | 1960-06-30 | 15 | Two cattle rustlers, Johnny Pasto and The Nevado Kid, challenge Tucker to fight without his magic guns. |
| 20 | 20 | A Lawman Rides Alone | 1960-07-07 | 15 | Sheriff Tucker receives a wanted poster for Blackie and Whitey Strutt who, along with a third man robbed a Wells Fargo office. Soon the trio arrive in Four Feather Falls. |
| 21 | 21 | Jailbreak | 1960-07-14 | 15 | Zack Morrill a bandit wanted for murder, cattle rustling, horse stealing and train robbery, has a wanted poster outside the Sheriff's office offering a reward of £500 for the capture of him. Pedro sees the poster and decides to help Tex capture a criminal in return for the reward money. |
| 22 | 22 | A Little Bit of Luck | 1960-07-21 | 15 | Tex is away visiting family and the marshal filling in for him, Ike Burns, is hopelessly ineffective. But the sheriff's a crook and is not a real lawman and is secretly in league with Big Ben and another outlaw called Johnny. |
| 23 | 23 | Land Grabbers | 1960-07-28 | 15 | The Circle Z Ranch is under siege from Morg Fenton and Big Ben, but Tex discovers it is outside his area of juristiction and cannot help defend it. |
| 24 | 24 | Once a Lawman | 1960-08-04 | 15 | With the townspeople unhappy with Tex's dealing of a spate of robberies, Tex turns in his badge. |
| 25 | 25 | Election Day | 1960-08-11 | 15 | Usually Tex is the only one to run for sheriff on election days, but this time Pedro makes a bid for the position. |
| 26 | 26 | Gunfight on Main Street | 1960-08-18 | 15 | Tex's old friend, Cass Morgan, arrives in town looking for two men, Tobin and Billy Pinto, who he says killed his brother during a robbery. He tells Tex to stay out of it which he does until a telegram arrives telling Tex who the real killer is. |
| 27 | 27 | A Bad Name | 1960-08-25 | 15 | Big Ben needs Tex's help after being falsely accused of stealing cattle. |
| 28 | 28 | Horse Thieves | 1960-09-01 | 15 | Big Ben tells Pedro and Fernando that a partner of his is paying good money for horses. He persuades the banditos to steal all of the horses in Four Feather Falls, which they do including Tex's own horse Rocky. |
| 29 | 29 | The Ma Jones Story | 1960-09-08 | 15 | Ma Jones falls for a scam by two con men and is almost swindled out of her shop. |
| 30 | 30 | Bandits Abroad | 1960-09-15 | 15 | Fernando bears a striking resemblance to another master criminal, called Pancho Gomez, so Pedro comes up with an idea to get the $200 reward money for capturing him. |
| 31 | 31 | A Cure for Everything | 1960-09-22 | 15 | A medicine man arrives in town claiming to have a cure for everything and almost puts Doc Haggerty out of business before he discovers the true source of the medicines. |
| 32 | 32 | Teething Troubles | 1960-09-29 | 15 | Rocky has a toothache, but nothing anyone says can persuade him to have his tooth removed by Doc Haggerty. |
| 33 | 33 | Buffalo Rocky | 1960-10-06 | 15 | When several horses are stolen, the only suspects seems to be a buffalo. But it is actually a clever horse thief covering his tracks by wearing false buffalo hooves. |
| 34 | 34 | Safe as Houses | 1960-10-13 | 15 | Missouri Mike arrives in town claiming to be able to sell things to people they didn't even know they wanted including selling safes $5 each with a free bottle of brandy. But the brandy is drugged and Mike is actually a criminal planning to rob the town blind. |
| 35 | 35 | First Train Through | 1960-10-20 | 15 | The railroad finally comes to Four Feather Falls connecting it to Dallas, however someone keeps sabotaging the tracks. |
| 36 | 36 | Fancy Shooting | 1960-10-27 | 15 | The 'fastest and bestest in the westest' Gunman, Buck Reevers, arrives in town, worrying Tex that he will attract other gunmen to the town. |
| 37 | 37 | Happy Birthday | 1960-11-03 | 15 | The townspeople plan a party for Tex's birthday. |
| 38 | 38 | Ambush | 1960-11-10 | 15 | Red Scalp leads an Indian war party on a raid to ambush the train from Dallas and steal the $10,000 payroll on board, with the help of bank messenger William J. Haddon, who is apparently kidnapped during the raid to add some authenticity. But Red Scalp decides to double-cross Haddon and keep all the money for himself, until Tex recovers Haddon and the money. |
| 39 | 39 | Ride 'Em Cowboy | 1960-11-17 | 15 | Tex takes part in the rodeo against Silver City's best rider, Bart Stevens, who decides to cheat by using Pedro and Fernando to sabotage his opponents. |
Series Cast
| | | | |
| --- | --- | --- | --- |
| | Kenneth Connor | as Various | |
| | David Graham | as Various | |
| | Denise Bryer | as Various | |
| | Nicholas Parsons | as Sheriff Tex Tucker (speaking voice) | |
| | Michael Holliday | as Sheriff Tex Tucker (singing voice) | |
Series Crew
| | Position | Name |
| --- | --- | --- |
| | Creator | Gerry Anderson |
| | Creator | Barry Gray |
Related News
TVMaze