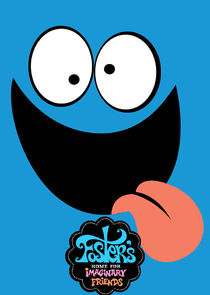 What happens when children outgrow their imaginary friends? They take them to Madame Foster's Home for Imaginary Friends, a vast Victorian mansion with endless rooms and hundreds of thought-up playmates. At the heart of the story is Blooregard (aka Bloo), an imaginary friend created by an eight-year-old boy named Mac. Although he's usually shy, Mac feels confident when Bloo's around. Bloo, on the other hand, is bold and self-assured, and often gets himself into a mess by acting before he thinks. Follow the adventures of Mac and Bloo in a world where imaginary friends actually come to life. Nothing is ever mundane when you hang out at "Foster's Home for Imaginary Friends"!
Series Overview
Rating
imDb Rating: 7.6 (17,012 Votes)
Metascore: N/A
Plot
A boy and his beloved imaginary friend are able to stay together at an orphanage of sorts for imaginary friends that children have outgrown to be adopted by new children.
Details
Rated: TV-Y7
Released: 13 Aug 2004
Runtime: 30 min
Genre: Animation, Short, Adventure, Comedy, Family, Fantasy
Director: N/A
Writer: Craig McCracken, Lauren Faust, Mike Moon
Actors: Keith Ferguson, Grey Griffin, Candi Milo, Tom Kenny
Language: English
Country: USA
Awards: Won 6 Primetime Emmys. Another 5 wins & 19 nominations.
Total Seasons: 6
Previous Episode
Goodbye to Bloo
Episode 6x13; May 03, 2009
Previous Episodes 6x13: Goodbye to Bloo 6x12: Fools and Regulations 6x11: Read 'Em and Weep 6x10: Bad Dare Day 6x9: The Bloo Superdude and the Great Creator of Everything's Awesome Ceremony of Fun That He's Not Invited To 6x8: Destination: Imagination (3) 6x7: Destination: Imagination (2) 6x6: Destination: Imagination (1) 6x5: Race for Your Life Mac & Bloo

View All Episodes
Cast
Tara Strong as Terrence
Sean Marquette as Mac
Tom Kenny as Eduardo
Kevin Michael Richardson as Clock Friend
Jeff Bennett as Adam
Phil LaMarr as Wilt
View Full Cast
Skip to:
Season 1
| Episode No. | No. Overall | Title | Airdate | Runtime | Summary |
| --- | --- | --- | --- | --- | --- |
| 1 | 1 | House of Bloo's (1) | 2004-08-13 | 30 | |
| 2 | 2 | House of Bloo's (2) | 2004-08-13 | 30 | |
| 3 | 3 | House of Bloo's (3) | 2004-08-13 | 30 | |
| 4 | 4 | Store Wars | 2004-08-20 | 30 | Mr. Herriman sends Frankie to the mall to get streamers for Madame Foster's birthday party, and Mac, Bloo, Eduardo, Wilt, and Coco end up coming along. Eventually, they each wander off in a different direction after being distracted by something. |
| 5 | 5 | The Trouble With Scribbles | 2004-08-27 | 30 | Bloo discovers a door in Foster's that everyone is forbidden to open, and nobody tells him what's behind it. One night he opens it, and releases Scribbles, a friend that does jobs around the house and causes everyone to become lazy. |
| 6 | 6 | Busted | 2004-09-03 | 30 | |
| 7 | 7 | Dinner Is Swerved | 2004-09-10 | 30 | |
| 8 | 8 | World Wide Wabbit | 2004-09-17 | 30 | |
| 9 | 9 | Berry Scary | 2004-09-24 | 30 | |
| 10 | 10 | Seeing Red / Phone Home | 2004-10-01 | 30 | |
| 11 | 11 | Who Let the Dogs In? | 2004-10-08 | 30 | |
| 12 | 12 | Adoptcalypse Now | 2004-10-15 | 30 | |
| 13 | 13 | Blooooo | 2004-10-22 | 30 | |
Season 2
| Episode No. | No. Overall | Title | Airdate | Runtime | Summary |
| --- | --- | --- | --- | --- | --- |
| 1 | 14 | Partying Is Such Sweet Soiree | 2005-01-21 | 30 | |
| 2 | 15 | The Big Lablooski | 2005-01-28 | 30 | |
| 3 | 16 | Where There's a Wilt There's a Way / Everyone Knows It's Bendy | 2005-02-04 | 30 | |
| 4 | 17 | Sight for Sore Eyes / Bloo's Brothers | 2004-03-04 | 30 | |
| 5 | 18 | Cookie Dough | 2005-03-11 | 30 | |
| 6 | 19 | Frankie My Dear | 2005-03-18 | 30 | |
| 7 | 20 | Mac Daddy | 2005-05-06 | 30 | |
| 8 | 21 | Squeakerboxxx | 2005-05-13 | 30 | |
| 9 | 22 | Beat with a Schtick | 2005-05-20 | 30 | |
| 10 | 23 | The Sweet Stench of Success | 2005-05-27 | 30 | |
| 11 | 24 | Bye Bye Nerdy | 2005-07-01 | 30 | |
| 12 | 25 | Bloo Done It | 2005-07-08 | 30 | |
| 13 | 26 | My So-Called Wife | 2005-07-15 | 30 | |
Season 3
| Episode No. | No. Overall | Title | Airdate | Runtime | Summary |
| --- | --- | --- | --- | --- | --- |
| 1 | 27 | Eddie Monster | 2005-07-22 | 30 | |
| 2 | 28 | Hiccy Burp | 2005-09-05 | 30 | |
| 3 | 29 | Camp Keep a Good Mac Down | 2005-09-09 | 30 | |
| 4 | 30 | Imposter's Home for Um... Make 'Em Up Pals | 2005-09-16 | 30 | |
| 5 | 31 | Duchess of Wails | 2005-09-23 | 30 | |
| 6 | 32 | Foster's Goes to Europe | 2005-11-04 | 30 | |
| 7 | 33 | Go Goo Go | 2005-11-11 | 30 | |
| 8 | 34 | Crime After Crime | 2005-11-18 | 30 | |
| 9 | 35 | Land of the Flea | 2005-11-25 | 30 | |
| 10 | 36 | A Lost Claus | 2005-12-01 | 30 | |
| 11 | 37 | One False Movie | 2006-02-10 | 30 | |
| 12 | 38 | Setting a President | 2006-02-17 | 30 | |
| 13 | 39 | Room With a Feud | 2006-03-16 | 30 | |
| 14 | 40 | Cuckoo for Coco Cards | 2006-03-24 | 30 | |
Season 4
| Episode No. | No. Overall | Title | Airdate | Runtime | Summary |
| --- | --- | --- | --- | --- | --- |
| 1 | 41 | Challenge of the Superfriends | 2006-04-28 | 30 | |
| 2 | 42 | The Big Picture | 2006-05-05 | 30 | |
| 3 | 43 | Squeeze the Day | 2006-05-12 | 30 | |
| 4 | 44 | Neighbor Pains | 2006-05-19 | 30 | |
| 5 | 45 | Infernal Slumber | 2006-07-17 | 30 | |
| 6 | 46 | I Only Have Surprise for You | 2006-07-27 | 30 | |
| 7 | 47 | Bus the Two of Us | 2006-08-01 | 30 | |
| 8 | 48 | The Big Cheese | 2006-08-07 | 30 | |
| 9 | 49 | Bloo's the Boss | 2006-11-03 | 30 | |
| 10 | 50 | Emancipation Complication | 2006-11-10 | 30 | |
| 11 | 51 | Make-Believe It or Not! | 2005-11-17 | 30 | |
| 12 | 52 | Good Wilt Hunting (1) | 2006-11-23 | 30 | |
| 13 | 53 | Good Wilt Hunting (2) | 2006-11-23 | 30 | |
Season 5
| Episode No. | No. Overall | Title | Airdate | Runtime | Summary |
| --- | --- | --- | --- | --- | --- |
| 1 | 54 | Cheese a Go-Go | 2007-05-04 | 30 | |
| 2 | 55 | The Buck Swaps Here | 2007-05-18 | 30 | |
| 3 | 56 | Say It Isn't Sew | 2007-06-08 | 30 | |
| 4 | 57 | Something Old, Something Bloo | 2007-06-15 | 30 | |
| 5 | 58 | The Bloo Superdude and the Magic Potato of Power! | 2007-09-10 | 30 | |
| 6 | 59 | Schlock Star | 2007-09-11 | 30 | |
| 7 | 60 | The Bride to Beat | 2007-09-12 | 30 | |
| 8 | 61 | Affair Weather Friends | 2007-09-13 | 30 | |
| 9 | 62 | Ticket to Rod | 2007-10-05 | 30 | |
| 10 | 63 | Nightmare On Wilson Way | 2007-10-12 | 30 | |
| 11 | 64 | Better Off Ed | 2007-10-19 | 30 | |
| 12 | 65 | The Little Peas | 2007-11-22 | 30 | |
| 13 | 66 | Let Your Hare Down | 2008-03-06 | 30 | |
Season 6
| Episode No. | No. Overall | Title | Airdate | Runtime | Summary |
| --- | --- | --- | --- | --- | --- |
| 1 | 67 | Jackie Khones and the Case of the Overdue Library Crook | 2008-03-13 | 30 | |
| 2 | 68 | Mondo Coco | 2008-04-10 | 30 | |
| 3 | 69 | Pranks for Nothing | 2008-04-24 | 30 | |
| 4 | 70 | Bloo Tube | 2008-05-08 | 30 | |
| 5 | 71 | Race for Your Life Mac & Bloo | 2008-05-29 | 30 | |
| 6 | 72 | Destination: Imagination (1) | 2008-11-27 | 30 | |
| 7 | 73 | Destination: Imagination (2) | 2008-11-27 | 30 | |
| 8 | 74 | Destination: Imagination (3) | 2008-11-27 | 30 | |
| 9 | 75 | The Bloo Superdude and the Great Creator of Everything's Awesome Ceremony of Fun That He's Not Invited To | 2009-05-03 | 30 | |
| 10 | 76 | Bad Dare Day | 2009-05-03 | 30 | |
| 11 | 77 | Read 'Em and Weep | 2009-05-03 | 30 | |
| 12 | 78 | Fools and Regulations | 2009-05-03 | 30 | |
| 13 | 79 | Goodbye to Bloo | 2009-05-03 | 30 | |
Series Cast
| | | | |
| --- | --- | --- | --- |
| | Tara Strong | as Terrence | |
| | Sean Marquette | as Mac | |
| | Tom Kenny | as Eduardo | |
| | Kevin Michael Richardson | as Clock Friend | |
| | Jeff Bennett | as Adam | |
| | Phil LaMarr | as Wilt | |
| | Tom Kane | as Mr. Herriman | |
| | Keith Ferguson | as Blooregard | |
| | Candi Milo | as Coco | |
| | Grey Griffin | as Frances 'Frankie' Foster | |
Related News
TVMaze