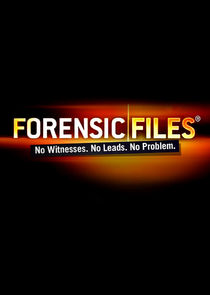 On Forensic Files, eagle-eyed technical experts prove there is no such thing as a perfect crime as they assemble the pieces every criminal leaves behind. Dramatic crime re-creations and, sometimes, part of the investigations are a staple of the series. Some of the re-creations include alternate versions of the crimes, which are disproved by science. The show's episodes follow each case from the initial investigation until it reaches its legal resolution.
Series Overview
Rating
imDb Rating: 8.8 (3,570 Votes)
Metascore: N/A
Plot
A series featuring detailed accounts on how notable crimes and diseases were solved through forensic science.
Details
Rated: TV-14
Released: 21 Apr 1996
Runtime: 30 min
Genre: Documentary, Crime
Director: N/A
Writer: Paul Dowling
Actors: Peter Thomas
Language: English
Country: USA
Awards: N/A
Total Seasons: 13
Previous Episode
Expert Witness
Episode 14x21; Jun 17, 2011
The killer was meticulous, washing everything at the scene, including the victim's body. The only definitive evidence was a single hair. Three years later he struck again and, this time, what he left behind would prove he committed both crimes.
Previous Episodes 14x21: Expert Witness 14x20: Funeral Services 14x19: Skeleton Key 14x18: Auto-Motive 14x17: Seeing Red 14x16: Gone Ballistic 14x15: Trail of a Killer 14x14: Fate Date 14x13: Low Maintenance

View All Episodes
Skip to:
Season 1
| Episode No. | No. Overall | Title | Airdate | Runtime | Summary |
| --- | --- | --- | --- | --- | --- |
| 1 | 1 | The Disappearance of Helle Crafts | 1996-04-21 | 30 | In the series premiere (pilot) of Forensic Files, the longest running true crime series in television history, a Connecticut flight attendant went missing and was never seen again. Police suspected her husband was guilty of murder, and they were able to prove it - even though they never found the woman's body. |
| 2 | 2 | The Magic Bullet | 1996-10-03 | 30 | A fifteen-year-old boy died from a mysterious gunshot wound to his head while he was sitting in the lobby of his father's gun club. Ballistics, laser technology, made-to-scale models, and the latest in forensic animation showed that bullet had followed a tragic course after a misfire at the outdoor range. |
| 3 | 3 | The House That Roared | 1996-10-10 | 30 | A woman disappeared and her husband became the prime suspect -- especially after police found a huge bloodstain on the carpet of their bedroom. When they sprayed the bedroom with Luminol, they discovered it was awash with blood spatter. Complex DNA testing proved it was the wife's blood. Now all they had to do was find her body. |
| 4 | 4 | The Footpath Murders | 1996-10-17 | 30 | British detectives worked with a pioneering scientist to solve crimes of sexual assault and serial murder. This 1986 case marked the first time DNA was used as evidence in a court of law. |
| 5 | 5 | Planted Evidence | 1996-10-23 | 30 | Early one morning in a deserted area outside of Phoenix, a motorcyclist discovered the body of a young woman. She had been beaten, bound, strangled and possibly raped. The nearby plants would tell investigators more about the killer than any other single piece of evidence. |
| 6 | 6 | Southside Strangler | 1996-10-31 | 30 | Shortly after Thanksgiving in 1987, an intruder broke into a residence in Arlington, Virginia. That crime launched a new era in police investigations: DNA evidence and psychological profiling helped catch a serial killer and free an innocent man. |
| 7 | 7 | Legionnaires' Disease | 1996-11-07 | 30 | Philadelphia, the birthplace of the United States, played host to millions of tourists and hundreds of gatherings as America celebrated its 200th year of independence. History was made that summer of 1976 - not because of the bicentennial, but because of the mysterious death of 34 people at an American Legion convention. The groundbreaking investigation by the CDC had to explain why dozens inside a hotel - and some who just walked by outside - all got sick. |
| 8 | 8 | The Wilson Murder | 1996-11-14 | 30 | On the night of May 22, 1992, Betty Wilson returned home after a meeting. She walked up the stairs to the bedroom and discovered her husband, lying in a pool of blood. Jack Wilson had obviously been murdered... but how? And by whom? Even the experts couldn't agree. |
| 9 | 9 | Deadly Neighborhoods | 1996-11-21 | 30 | Eleven children in an elementary school in Phoenix contracted childhood leukemia; nine of them died. And in Guilford, Connecticut, five people were diagnosed with brain tumors on a street where there were only nine homes. Two towns, two cancer clusters, two mysteries. The investigation answered some questions, but raised many more. |
| 10 | 10 | Insect Clues | 1996-11-28 | 30 | Between 1985 and 1988, 18 people were choked, molested and left for dead in the remote desert mountains of California. The only witnesses were the insects -- and they also proved to play an important role in solving the crimes and bringing the killer to justice. |
| 11 | 11 | Outbreak | 1996-12-05 | 30 | In 1985, 121 people in South Dakota and Minnesota were struck with a mysterious illness. There had been only one outbreak like it, and when it happened then, no one could figure out why. This time, disease detectives would use scientific tools to unravel a mystery centered on the technique of a butcher. |
| 12 | 12 | The List Murders | 1996-12-12 | 30 | For 18 years, a man who murdered his entire family successfully eluded the FBI. This episode describes how investigators used both art and forensic science to catch the killer, John List. |
| 13 | 13 | Raw Terror | 1996-12-19 | 30 | In 1991 after a weekend earning wilderness merit badges, a boy scout ended up with slight fever and diarrhea, sending him to the hospital. His kidneys started shutting down and his diarrhea turned into hemorrhaging, leaving doctors puzzled. |
Season 2
| Episode No. | No. Overall | Title | Airdate | Runtime | Summary |
| --- | --- | --- | --- | --- | --- |
| 1 | 14 | The Common Thread | 1997-10-02 | 30 | In 1984, a serial killer was on the loose in Florida. Eight women had been found dead. At each crime scene, investigators found tiny red fibers, fibers they hoped would lead them to the killer. |
| 2 | 15 | The Dirty Deed | 1997-10-09 | 30 | On November 18, 1993 friends of Eileen and Derek Severs called and notified the police that the couple had been missing for several days. The police searched the Severs' home and questioned their son Roger who had recently moved in with his parents. Although the bodies had not yet been found, police arrested and detained Roger on suspicion of murdering his parents. Only after finding blood samples in Eileen's car and careful analysis of the mud flaps on Derek's car, were the police able to determine where Roger had buried his parents. Roger had used his mother's car to discard incriminating evidence and used his father's car to transport the bodies to the burial site. |
| 3 | 16 | Killer Fog | 1997-10-16 | 30 | It was the single, most deadly automobile accident in American history. Almost a hundred vehicles were involved, twelve people died, and more than fifty people were injured. It happened along a three mile stretch of highway long known for dense, thick fog. Investigators set out to determine if the fog was a natural phenomenon, or the result of something else. |
| 4 | 17 | Sex, Lies & DNA | 1997-10-23 | 30 | While Earl Morris was vacationing in California, he learned his wife had gone missing from their home in Arizona. The search for Ruby Morris involved dozens of investigators and scientists, even the coast guard. And the results of that investigation surprised everyone...especially Earl Morris. |
| 5 | 18 | Bitter Potion | 1997-10-30 | 30 | The flu-like symptoms of a mother and her children proved to be indicative something much more serious: thallium poisoning. Investigators had to find the source of the poison and when the mother died, to determine if the exposure was accidental, or if they also needed to find a killer. |
| 6 | 19 | The Blood Trail | 1997-11-06 | 30 | In a quiet village in Great Britain, a farmer came upon a chilling sight. Impaled on his fence post was a severed lamb's head along with a note which read, "You next." The author of the note didn't elaborate on why the farmer had been targeted, but between the lines, he'd said plenty. |
| 7 | 20 | Fatal Fungus | 1997-11-20 | 30 | An infant was rushed to a Cleveland emergency room with serious breathing problems. The baby's lungs were bleeding, an extremely rare life-threatening condition. Within months, there were more than 30 cases - an incidence more than a thousand times higher than anywhere else in the world. Doctors had never seen anything like it, and searched frantically for the cause and a cure. |
| 8 | 21 | Charred Remains | 1997-11-13 | 30 | Shortly after daybreak in Vancouver, British Columbia, a fire was set in a dumpster. No one saw either the arsonist or the fire, and it burned for hours in the deserted parking lot. But there was more than garbage in the container, and it would take sophisticated science to find the evidence in the ashes. |
| 9 | 22 | Something's Fishy | 1997-12-04 | 30 | Two people in Seattle, Washington died after taking an over-the-counter pain reliever; lab analysis of the pills showed they were tainted with a lethal concentration of cyanide. The investigation which followed led police to a suspect with a motive for murder and a callous disregard for others. |
| 10 | 23 | Sealed with a Kiss | 1997-12-18 | 30 | For more than a year, angry, hateful letters were sent to a first grade school teacher in a small town in Pennsylvania. When scientists analyzed the letters, they found evidence that the sender knew a lot about the victim - more, in fact, than anyone could possibly have imagined. DNA analysis would eventually help seal the perpetrator's fate. |
| 11 | 24 | Postal Mortem | 1998-01-15 | 30 | On October 15, 1985, two bomb explosions rocked Salt Lake City and resulted in two deaths. A third explosion occurred the next day; this time, the victim was injured but survived. As the investigation progressed, police came to believe the survivor was more than an innocent by-stander. |
| 12 | 25 | Micro-Clues | 1998-02-05 | 30 | After a day of fishing in a small, quiet village in Switzerland, a teenage boy did not return home as planned. The investigation revealed some important microscopic evidence in the water near where he was last seen. It was the only forensic evidence detectives had. But would it be enough for them to find him? |
| 13 | 26 | Deadly Parasites | 1998-03-05 | 30 | In the Spring of 1993, an unexplained illness struck the residents of Milwaukee, Wisconsin. Four-hundred-thousand people developed a serious gastrointestinal illness, 4,000 were hospitalized and, by the time the epidemic was under control, more than 100 people were dead. Health officials suspected it was influenza, but it proved to be more serious and more difficult to identify. |
Season 3
| Episode No. | No. Overall | Title | Airdate | Runtime | Summary |
| --- | --- | --- | --- | --- | --- |
| 1 | 27 | Without a Trace | 1998-10-01 | 30 | When eleven-month-old Chad Shelton was admitted to the hospital, his His liver function was abnormal, his platelet count was dangerously low, and there was unexplained bleeding from his gums, nose and eyelids. Eventually, Chad went into a coma, and died. When other people in the house began to get ill as well, investigators and scientists must frantically search for a cause. |
| 2 | 28 | Knot for Everyone | 1998-10-08 | 30 | In 1996 a woman named Stephanie Brown was driving some friends home to a foreign part of town. She took a wrong turn on Interstate 5 to get home and was later found dead in a flooded irrigation ditch. |
| 3 | 29 | The Talking Skull | 1998-10-15 | 30 | In 1987, a human skull and some bones were discovered at a Boy Scout Camp near Farmington, Missouri. A facial reconstruction aided the investigators in this case. Once the victim was identified as Bun Chee Nyhuis, her husband Richard H. Nyhuis, was no longer just a person of interest. |
| 4 | 30 | Foreign Body | 1998-10-22 | 30 | A mysterious illness with the same symptoms as Mad Cow Disease causes the unexpected deaths of several young people in England. Medical investigators rush to find the cause of the illness. |
| 5 | 31 | Deadly Delivery | 1998-10-29 | 30 | On December 16, 1989 Judge Bob Vance was killed when he opened up a package that contained a pipe bomb. Two days later an Attorney lost part of his arm when he opened a similar package. The police found two unopened packages that contained similar pipe bombs. The FBI's Behavioral Sciences Unit provided a psychological profile of the bomber. The profile matched that of Walter Leroy Moody, who was convicted of a similar bombing in 1972. A store clerk identified Moody as the individual who purchased four pounds of gunpowder and one thousand CCI primers. Walter Leroy Moody was convicted, and sentenced to seven life sentences. |
| 6 | 32 | Similar Circumstances | 1998-11-05 | 30 | In January 1987, Robert and Paula Sims moved to Alton, Illinois. There she gave birth to her son, Randy and daughter, Heather. Six weeks after Heather's birth, a masked individual reportedly broke into their home and kidnapped their daughter, Heather. The police learned that this wasn't the first time that the Sim's had a baby kidnapped. |
| 7 | 33 | Grave Evidence | 1998-11-12 | 30 | Stephen Scher and Martin Dillon went skeet shooting in rural Pennsylvania on a beautiful Spring day in 1976. Martin was shot dead that day, and Scher maintained a freak accident had cost his friend his life. It would take more than 20 years for the truth to be revealed, and for the jury to rule on who was responsible for the death of Martin Dillon. |
| 8 | 34 | Deadly Formula | 1998-11-19 | 30 | When four month old Ryan Stallings died under suspicious circumstances, his mother was arrested, charged, and ultimately convicted of his murder. But months later the verdict would be questioned when new evidence emerged from a startling source - his newborn brother. |
| 9 | 35 | Beaten by a Hair | 1998-12-03 | 30 | In 1992, Laura Houghteling disappeared from her Bethesda home and was never seen again. Five days later, police discovered a bloody pillow and pillowcase lying in the woods near Laura's house. Laura's bedroom was then searched and forensic science was used to direct them a to prime suspect. |
| 10 | 36 | Crime Seen | 1998-12-03 | 30 | On Friday, June 22, 1984, a couple set off for a camping trip but got lost and fell asleep at a scenic overlook in rural Virginia. They awoke to a person tapping on their car window; they both got out of the car to find out this man had a gun. He ordered the boyfriend to run to the woods and drove off with his girlfriend. The man repeatedly raped and sodomised the young woman and threatened to kill her. Instead, he let her go. When she arrived back to her car, she met her boyfriend who was there with the cops. The young lady positively identified Edward Honaker as the man who raped her. Honaker was given three life sentences, but new DNA testing might provide new information about the rapist. |
| 11 | 37 | Speck of Evidence | 1999-01-07 | 30 | On September 17, 1984 nine-year-old Vicki Lynne Hoskinson left on her pink bicycle to run an errand for her mother. She never returned home. Vicki's bike was found abandoned later that afternoon on a nearby street, slightly damaged, but there was no sign of her. |
| 12 | 38 | Broken Bond | 1999-01-14 | 30 | When a two-year-old boy was rushed to the hospital suffering from brain seizures and breathing difficulties, doctors could not find the cause of his illness. Then the boy's sister provided an important clue, and raised the possibility of a syndrome of which few had ever heard, a syndrome that would need both medical investigators, and legal authorities. |
| 13 | 39 | Out of the Ashes | 1999-01-21 | 30 | December 7, 1993, was the last time anyone saw 18 year old Rose Larner, alive or dead. Her boyfriend, John Ortiz-Kehoe, and her childhood friend, Billy Brown, told police they saw her early on December 7, but they had no idea where she went after they last saw her. |
Season 4
| Episode No. | No. Overall | Title | Airdate | Runtime | Summary |
| --- | --- | --- | --- | --- | --- |
| 1 | 40 | Invisible Intruder | 1999-10-06 | 30 | The crime scene was awash with blood, bespeaking the horror of the crime: the murder of two young boys and the stabbing of their mother. Forensic scientists carefully analyzed the blood evidence and found it told the story of an assailant who had gone to great lengths to alter the crime scene. |
| 2 | 41 | The Killing Room | 1999-10-13 | 30 | Scott Dunn's case was filed as missing persons although large traces of blood and cover-up were clearly found in his bedroom. Scott's father refused to have his son's disappearance ruled as such. |
| 3 | 42 | Ultimate Betrayal | 1999-10-20 | 30 | On a windy Kansas night in October, 1995, a mysterious fire swept through the home of a prominent doctor. Two of her family members made it out alive; two did not. In the debris, investigators found evidence which told them much more than how the fire started. |
| 4 | 43 | Cement the Case | 1999-10-27 | 30 | In 1990, Shirley Andronowich's body was found one morning after she was murdered and mutilated. Eyewitnesses told police Shirley and her husband Ed were seen fighting in a bar the night before. Police first suspected Ed and even arrested him after he confessed to the murder. But all forensic evidence proved that Ed had actually nothing to do with the crime |
| 5 | 44 | Innocence Lost | 1999-11-03 | 30 | Sometime during a neighborhood Christmas party, five-year-old Melissa Brannen disappeared. No one saw where she went or noticed anything unusual. Investigators turned to forensic science to help them see what the witnesses missed. The young girl was never seen again... but fiber analysis led police to a suspect nonetheless. |
| 6 | 45 | 'Til Death Do Us Part | 1999-11-10 | 30 | The doctors at the hospital couldn't determine the cause of Bobby Curley's hallucinations and intense pain. At first, they treated it as a neurological disorder, Guillen-Barre Syndrome. But Bobby's condition deteriorated. Something he was being given in the hospital wasn't curing him, it was poisoning him. |
| 7 | 46 | Ties That Bind | 1999-11-17 | 30 | Who was the sexual offender that murdered two adolescent boys in Nebraska? A criminal profiler from the FBI said he would definitely kill again. The key to stopping him would be the unique composition of the "junk rope" he used to tie his victims. Omaha police and the FBI use rope analysis, psychological profiling, forensic odontology, and even hypnosis to bring a 116-day manhunt to a close, and solve yet another murder in another state. |
| 8 | 47 | Body of Evidence | 1999-11-24 | 30 | Mark Fair left for work and his fiancée, Karla Brown, stayed home. Later, Mark found Karla dead. Karla's body told police that she was a victim of sexual assault. During the autopsy, they were able to re-examine bite marks on her body. A computer gave a view of the marks and forensic odontology identified the killer. |
| 9 | 48 | Accident or Murder | 1999-12-01 | 30 | Janice Johnson was found dead at the foot of her basement stairs. Police in Nova Scotia had to unravel the circumstances surrounding Janice's death and answer the question: Was it an accident... or murder? Different authorities rule both ways, and it takes years - and a astonishingly unique recreation of the death - before justice is finally done. |
| 10 | 49 | Core Evidence | 1999-12-08 | 30 | In 1996, more than a dozen children in Seattle, Washington, were fighting for their lives. Each one of them had contracted a serious illness, and no one knew what it was. When one of the children died, investigators knew the clock was ticking... and they needed to isolate the cause and find the cure before time ran out. Epidemiologists and other scientists find all the victims contracted the same strain of bacteria... but how? |
| 11 | 50 | Haunting Vision | 1999-12-15 | 30 | Lori Keidel, her two sisters and her brother were left home alone while their father went to a nearby laundromat. Suddenly, a large fire engulfed their brick ranch home. Only a few months earlier, the children's mother had disappeared and made no effort to contact them. Lori found the courage to tell police that she had witnessed her own mother's death. |
| 12 | 51 | With Every Breath | 1999-12-22 | 30 | Young Navajos on a reservation in the southwest were dying at an alarming rate. CDC officials had never seen anything like it; the mysterious illness had claimed the lives of more than 20 people. The tribe's medicine men provided investigators with a critical clue... which would lead halfway around the world to a most unlikely killer. |
| 13 | 52 | Slippery Motives | 1999-12-29 | 30 | While on a business trip in 1986, Ed Post started his day by jogging in downtown St. Louis. When he returned, he found his wife lying face-down in the bathtub, unconscious. She was rushed to the hospital, but it was too late. She had drowned. Was it possible a faulty towel ring was to blame? An industrial testing laboratory, an accident re constructionist, metallurgy analysis and a determined detective unravel a family's secrets and the truth about what happened in the hotel bath. |
Season 5
| Episode No. | No. Overall | Title | Airdate | Runtime | Summary |
| --- | --- | --- | --- | --- | --- |
| 1 | 53 | Badge of Deceit | 2000-09-12 | 30 | For more than a decade, women in a small Louisiana city lived in fear of a rapist who becomes so experienced, he leaves no clues to his identity. But computer technology and behavioral science combine to give police a new forensic tool: geographical profiling. Police narrow their search to one man, local policeman Randy Comeaux. |
| 2 | 54 | Dew Process | 2000-09-19 | 30 | New evidence points to a different killer in the case of a dentist's murdered wife. |
| 3 | 55 | A Woman Scorned | 2000-09-26 | 30 | When Joann Katrinak is found dead with her infant son Alex next to her, the obvious suspect is the husband and father of the victims. But some insects found on the bodies reveal a vital clue, as does a blonde hair found on the victims which shares a commonality with the brunette hair of the husband's former love interest. |
| 4 | 56 | A Voice from Beyond | 2000-10-03 | 30 | A decomposed body is found stuffed in a barrel -- but the body had been placed in the barrel 30 years earlier. One of the few clues was an address book found along with the body, however, years of moisture had washed away the ink. Scientists desperately searched for a way to reveal the information written on the pages of the address book. |
| 5 | 57 | Burning Ambition | 2000-10-10 | 30 | When a Seattle policeman's house goes up in flames, fire experts suspect arson - possibly committed by someone with a vendetta against the officer. One month later, in an ironic twist, the officer whose home was torched, arrests a low-level drug dealer, who confesses to the arson! But when the suspect vanishes, investigators start to question the authenticity of the so-called confession. |
| 6 | 58 | Memories | 2000-10-17 | 30 | Dianna Green is brutally attacked in her own home and her unborn child is killed. After coming out of her coma and regaining her memory, she identifies her husband as the perpetrator. |
| 7 | 59 | Trail of Truth | 2000-10-24 | 30 | A mother and her two young daughters are found brutally murdered and sexually violated. The crime scene has no shortage of evidence, but investigators cannot find a conclusive link to their prime suspect. To solve the puzzle, an FBI analyst designs a unique experiment, in which pubic hairs found at the scene are used to establish not only that the perpetrator was in the home, but that he was there when the crime was committed. |
| 8 | 60 | Material Evidence | 2000-10-31 | 30 | The murder of two young girls and abduction of a store clerk may all be linked to one man. Unusual orange carpet fibers found on the scene are the key to aid the police in solving the crime and bringing to justice the killer. |
| 9 | 61 | Killigraphy | 2000-11-07 | 30 | The autopsy played an important role in a murder investigation fof the suspicious 1997 death of Georgia resident Virginia Ridley. Police charged her mentally-unstable husband Alan with murder, but a medical examiner discovered that she died of other causes. |
| 10 | 62 | Nursery Crimes | 2000-11-14 | 30 | A police investigation of a pediatrician, after the mysterious death of one of her patients, leads them to a Texas hospital where the pediatric mortality rate was higher than at any hospital in the country. The common link was nurse Genene Jones. |
| 11 | 63 | Lasting Impression | 2000-11-21 | 30 | When the decomposed body of a young girl is discovered, police have no clues to her identity. But days earlier, a stabbing victim told them she thought she might have witnessed a murder. Police think the cases might be related, and to prove it, turn to bug larvae found on the body and a surprise piece of evidence: a tiny wad of chewing gum found near the victim's body. |
| 12 | 64 | Foundation of Lies | 2000-11-28 | 30 | Police suspect Dr. Boyle in the disappearance of his wife Noreen after he signs mortgage papers for a new house with a woman pretending to be his spouse. Using the recollections of their twelve year-old son regarding what he heard the night his mother went missing, investigators discover Noreen's body in the basement of Dr. Boyle's new house. |
| 13 | 65 | Unholy Vows | 2000-12-05 | 30 | The story of Archbishop Valerian D. Trifa, former head of the Romanian Orthodox Church in America, is related. Following World War II, Trifa emigrated from Romania to the U.S. In 1957, survivors of Nazi atrocities recognized him. |
| 14 | 66 | Broken Promises | 2000-12-12 | 30 | When Russ Stager, a popular gym teacher, is found dead of what appears to be an accidental gunshot wound, his family becomes suspicious. They think his wife may have planned his murder. When police find that her previous husband died in questionable circumstances, they re-examine the crime scene and uncover evidence that the death was no accident. |
| 15 | 67 | Time Will Tell | 2000-12-19 | 30 | In this international case of extortion, murder, and stolen identities, a Canadian financier assumes the name of a co-worker as part of a money-laundering scheme. The man later turns up dead in an ocean with an anchor tied around his torso. The only clues to his real identity are a Rolex watch and a maple leaf tattoo. Neither item is as helpful to cracking the case as the 10 lb. anchor to which he was tied. |
| 16 | 68 | Second Shot at Love | 2000-12-26 | 30 | When heart surgeon Darryl Sutorius is found dead in the basement of his upscale Cincinnati home, police assume he committed suicide. Friends and family indicate that the man suffered prolonged bouts of depression. |
| 17 | 69 | Journey to Justice | 2001-01-02 | 30 | What does a prosecutor do when he has evidence linking a habitual drunk driver to a hit-and-run in which a child is killed, and he needs to make the crash clear to jurors? In this case, he combines the talents of an accident reconstruction expert with a video specialist to create graphic demonstration of the moment of impact. This was the first case in which video in the courtroom withstood an appeal, and helped make video testimony viable in other cases. |
| 18 | 70 | Video Diary | 2001-01-09 | 30 | When convenience store employee Wanda Mason is found dead, having been shot at point blank range, investigators find the entire murder has been caught on the store's videotape security camera. |
| 19 | 71 | Deadly Knowledge | 2001-01-16 | 30 | The investigation into a missing college coed leads police to discover that, unbeknownst to her friends, she lived a bizarre double life, attending school by day and working as a call-girl by night. When her body is found, investigators gather evidence that implicates her killer. |
Season 6
| Episode No. | No. Overall | Title | Airdate | Runtime | Summary |
| --- | --- | --- | --- | --- | --- |
| 1 | 72 | Missing in Time | 2001-05-07 | 30 | A woman was reported missing after a fight with her husband. She was presumed dead and her husband was the only suspect. Police were suspicious of a secondary suspect when he reported a suspicious fire in his car. A tiny clue inside the suspect's watchband and a popular TV show helped close the case. |
| 2 | 73 | Missing Pearl | 2001-05-21 | 30 | In 1991, Maine resident Pearl Smith is missing after an argument with her husband. Despite pleas from her children, police treat it as a routine missing person's case. But, when an investigation turns up a blood trail that leads to the couple's basement, police are certain they'll finally find the victim's body. |
| 3 | 74 | Man's Best Friend? | 2001-06-04 | 30 | In 1989, 4-year-old April Loveless was found dead in the backyard of her Texas home. Her mother, Debbie Loveless, and step-father John Miller told police that April was attacked and killed by the family dogs. Investigators did not agree and believed that April's wounds were not dog bites at all. |
| 4 | 75 | Hand Delivered | 2001-06-11 | 30 | Anonymous letters sent through the United States mail aren't always untraceable. One such letter, an anonymous tip to police about a murder, mentioned information about the crime that had been withheld from the press. It was information only the killer would know. Laser technology helped to identify the state, city, street address and even the office number from where the anonymous letter was mailed. This narrowed the list of suspects significantly. |
| 5 | 76 | Death Play | 2001-06-18 | 30 | In 1993, 16-year-old Marie Robards suffered the devastating loss of her father Steve Robards. The death was ruled the result of cardiac arrest. |
| 6 | 77 | Fire Dot Com | 2001-06-25 | 30 | In 1996, seventeen month-old Josh Hinson died in a fire in his home. A federal agency ruled that it was arson and Josh's mother Terri Strickland was charged with murder. An independent fire investigator was able to poke enough holes in the government's scientific conclusions to ask serious questions about whether the fire was intentionally set |
| 7 | 78 | Mistaken for Dead | 2001-07-02 | 30 | When a man dies unexpectedly in the office of a noted California doctor, police begin what they think will be a routine investigation. What they find throws doubt on the identity of the dead man and raises questions about the doctor's role in his death. Soon they uncover a bizarre story of corpse stealing, faked identities, and sexual perversion - all part of an elaborate insurance case that will centre on what actually caused the victim's death: a sex act gone wrong, or premeditated murder. |
| 8 | 79 | Frozen Evidence | 2001-07-09 | 30 | If a perpetrator leaves a shoe print in the mud, investigators use established techniques to made a mold of the shoe impression for later identification. But what happens if the impression is left in the snow? Here's the story of one investigator, whose quick thinking and knowledge of science enabled him to capture a shoe impression made in snow, before the evidence melted away. |
| 9 | 80 | Soft Touch | 2001-07-16 | 30 | The 1990 murder of a Virginia woman is solved when new technology detects fingerprint evidence on a blood-stained pillow case. |
| 10 | 81 | Church Disappearance | 2001-07-23 | 30 | When a six year old girl disappears from church during a Sunday service, investigators fear a stalker is preying on children in the church shadows. A psychological profile of the perpetrator lead investigators to taxi cab driver who was in the vicinity of the church at the time of the disappearance. |
| 11 | 82 | Photo Finish | 2001-07-30 | 30 | In 1995, California model Linda Sobek goes missing. Some vital pieces of information are found in a dumpster, which eventually led investigators to professional photographer Charles Rathbun. Rathbun claims Sobek died during a consensual sexual encounter gone wrong, but Sobek's corpse and some high tech digital imagery tell a more sinister story. |
| 12 | 83 | Whodunit | 2001-08-05 | 30 | An evening out at a Maryland murder mystery theatre performance turns into a real life whodunit when the badly burned body of Stephen Hricko is found in his hotel room after a fire. Lies, greed and medical trickery can't match the skills of forensic scientists, who pull the curtain down on the real killer. |
| 13 | 84 | Horse Play | 2001-08-12 | 30 | Michigan resident Shannon Mohr died tragically in what was reported by her new husband, David Davis, as a horseback riding accident. Upon deeper investigation, police found a thread of lies and a proficiency with pharmaceuticals in Davis' background that provided a different explanation for Shannon's accidental death. |
| 14 | 85 | Treads and Threads | 2001-08-19 | 30 | For 15 months, a serial killer was strangling prostitutes in Florida, then taunting police by leaving the bodies in plain sight. The only clues were a tire impression and some threads. By the time scientists identified the source of these treads and the threads, police discovered that the killer James Randall was right under their noses the entire time. |
| 15 | 86 | Killer's Cattle-Log | 2001-08-26 | 30 | When police in the Great Plains were called to retrieve a dead body, they did a background check on the victim. The trail guided them into a strange thread of homeless drifters, cattle auctions and bad checks - all fronted by an elderly couple with a penchant for money and murder. |
| 16 | 87 | Skin of Her Teeth | 2001-09-03 | 30 | In 1994, a human skull found in an Ohio pond uncovers a ghastly crime. Markings on the skull indicate that the victim had been stabbed many times and that the teeth had been removed with needle-nose pliers in an attempt to keep the victim's identity a secret. Forensic scientists use DNA matches to indentify the skull. |
| 17 | 88 | Line of Fire | 2001-09-10 | 30 | When a fundamentalist group starts attacking and robbing banks in the Pacific Northwest, authorities know immediately that they are dealing with experienced criminals. A tip leads them to the alleged perpetrators and the evidence found at their homes is extensive and incriminating. But in court, this wealth of evidence must withstand a well-funded defense. Finally, two juries - in an extraordinarily high profile case - are presented with a combination of old fashioned forensic science and the latest in crime technology in order to render a verdict. |
| 18 | 89 | Bad Blood | 2001-09-17 | 30 | Forensic Files examines the case of Dr. John Schneeberger who raped one of his patients and his own step-daughter. Initially, he manages to avoid suspicious by beating a DNA test. At the trial he reveals that he implanted a plastic tube containing another person's blood in order to beat the test. |
| 19 | 90 | Pure Evil | 2001-09-24 | 30 | Creating a profile of a serial killer, is part science and part intuition. The science involves studying criminals who have committed similar crimes, to see what characteristics they all have in common. One common trait among serial killers, is a past history of abusing animals. In a search for the killer of two teenagers in Texas, a behavioral profile led to a possible suspect - and hard science proved the profile was correct. |
| 20 | 91 | Root of All Evil | 2001-10-01 | 30 | The wife of prominent Illinois farmer Fred Grabbe disappeared from her farm without a trace. For three years, investigators searched in vain for any trace of her. Eventually, Fred Grabbe's former lover came forward with a fascinating tale filled with rage, murder, mutilation and cremation, but there seemed to be no way to test the validity of her story. |
| 21 | 92 | Where the Blood Drops | 2001-10-08 | 30 | In 1987, Susie Mowbray was charged for the death of her husband, Bill Mowbray, which had the appearance of suicide. Her son was so convinced of her innocence that he enrolled in law school, studied all of the evidence and, eventually, discovered the truth of what really happened that fateful night between his mother and father. |
| 22 | 93 | Punch Line | 2001-10-15 | 30 | When a patient in a hospital emergency room said he cut his hand on a dumpster, the doctor recognized the injury as something else. That doctor became the chief witness in a crime involving the murder of a 67-year-old grandmother. |
| 23 | 94 | Sibling Rivalry | 2001-10-22 | 30 | Two of America's premier pornographers happen to be brothers. When one turns up dead, his brother confesses to shooting him. The question for investigators is whether the shooting was premeditated. A 911 call in which the fatal shots can be heard, and a computer reconstruction of the crime scene, provide the answer. |
| 24 | 95 | Pastoral Care | 2001-10-29 | 30 | In 1981, New York correctional officer Donna Payant disappeared and was later found in a landfill. The medical examiner not only identified the cause of death, but also found an important clue. Upon further investigation, it was discovered that a prison inmate might be responsible. |
| 25 | 96 | Bagging a Killer | 2001-11-05 | 30 | When a nine-year-old girl headed for school vanishes from her quiet suburban neighborhood, an entire community starts searching for her abductor. Investigators wonder if her long-lost mother might be connected to the disappearance. Finally, police use satellites surveilling the Pacific Northwest to find who took her and where. Tracing the perpetrator's movements not only leads them to the girl, but shows the twisted motive in the perpetrator's mind. The Secret Service finds a hidden fingerprint to help detectives seal the case. |
| 26 | 97 | Double Trouble | 2001-11-12 | 30 | When off-duty Maine State Trooper Vicky Gardner is attacked during a routine stop, it triggers a series of events which jumpstarts a slow-paced murder case in New Jersey. |
| 27 | 98 | Cats, Flies and Snapshots | 2001-11-19 | 30 | In 1989, 19-year-old Lori Auker left her Pennsylvania home for work but never arrived. Police investigators viewed this case as a missing persons or possible homicide and focussed on her estranged husband, Robert Auker. It takes space-age technology, cat hairs and insects to pinpoint the image of the woman's abductor before the real story can be told. |
| 28 | 99 | Naked Justice | 2001-11-26 | 30 | An attorney's pregnant wife is found dead at home, shot in the head. |
| 29 | 100 | Treading Not So Lightly | 2001-12-03 | 30 | In 1980, a four year-old is found unconscious in a parking lot with major head trauma. Police concluded it was a hit-and-run vehicle accident and closed the case. But Vicky's mother, Crystal, suspected there was more to the story and was determined to find out exactly what had happened. |
| 30 | 101 | Shopping Spree | 2001-12-10 | 30 | Lisa Manderach and her daughter Devon left their home to go shopping, but didn't come back home at the expected time. Lisa's husband Jimmy called police in a panic to report their disappearance and directed them to a nearby shopping center. Later that day, Devon's body was found dumped off the side of the road, but there was no sign of Lisa. |
Season 7
| Episode No. | No. Overall | Title | Airdate | Runtime | Summary |
| --- | --- | --- | --- | --- | --- |
| 1 | 102 | The Cheater | 2002-01-01 | 30 | Walter Notheis, Jr. was better known to the American public as entertainer Walter Scott, lead singer of the band, "Bob Kuban and the In-Men." Their most popular single was the 1966 hit, "The Cheater." Little did Walter know that the song would foreshadow the events that would lead to his demise. An autopsy on woman who died years earlier in a peculiar car wreck, a backyard hiding space, and years of investigation combine to finally solve the singer's disappearance. |
| 2 | 103 | Forever Hold Your Peace | 2002-01-08 | 30 | Two men confess to a murder that took place behind a restaurant and are sentenced to a life in prison. Eight years later, another man, who sentenced for an unrelated crime, claims responsibility. Who really did it? |
| 3 | 104 | Reel Danger | 2002-01-15 | 30 | The investigation into a brutal attack on two boys near a pond relies on evidence fished out of the murky water. It was the first case where Diatom evidence was used to place a suspect at the scene of the crime. The evidence helped in the conviction Christopher Green and Brian Davis. |
| 4 | 105 | Who's Your Daddy | 2002-01-22 | 30 | In 1988, the body of a young woman was discovered in an Ohio river under ice. Most of the evidence found at the crime scene -- like hairs, fibers and fingerprints -- had been washed away. But the victim's six year-old son unwittingly told investigators all they needed to know about the killer without saying single a word. The clue was in his genes. |
| 5 | 106 | The Alibi | 2002-01-29 | 30 | In this classic episode of Forensic Files, the longest running true crime series in television history, we explore the case of 17-year-old Crystal Faye Todd, who was raped and murdered in her small town. When one of Crystal's male acquaintances' DNA matched semen at the crime scene, it raised the question, why would he volunteer for a DNA sample?. |
| 6 | 107 | A Bite Out of Crime | 2002-02-05 | 30 | Evidence in an old pick-up leads police to a man who has been committing sexual assaults against women. |
| 7 | 108 | Purr-fect Match | 2002-02-12 | 30 | In 1994, on Canada's Prince Edward Island, the body of Douglas Beamish's estranged wife, Shirley Duguay, was discovered. Authorities linked 20 cat hairs found on her jacket to a cat owned by Beamish's parents, with whom Doug Beamish lived. Scientists estimated that chances that the hairs came from another feline were one in 50 million. |
| 8 | 109 | Bio-Attack | 2002-02-19 | 30 | The 1984 Rajneeshee bioterror attack: Investigators uncover a plot to overthrow the government, after a unique strain of salmonella makes people ill. |
| 9 | 110 | A Shot in the Dark | 2002-02-26 | 30 | Two sets of scientists, probe a woman's death. |
| 10 | 111 | Without a Prayer | 2002-03-05 | 30 | Forensic File, episode titled, "Without a Prayer", was created because of atheist, Madalyn Murray-O'Hair's activities in removing daily prayers, from public schools, in the early 1960's. There were three deaths, Madalyn, her second son, Jon Garth Murray, and Robin Murray-O'Hair. Robin was a daughter of Madalyn's Christian son, William J. Murray. All three were killed by a temporary atheistic member she fired, David Roland Waters. Madalyn fired Waters after he stole from the atheist headquarters. When Waters returned the stolen money and police did not jail him, this infuriated Madalyn! Leading her to write a story of Waters, calling him homosexual and claimed Waters even had sexual affairs with animals. After reading O'Hair's newspaper article, Waters' tension was so sharp, that David Roland Waters immediately planned to kill Madalyn Murray-O'Hair (and anyone else that was with her) as his quickest his way of revenge. He and Gary Karr also planned on torturing them so she and anyone else that maybe with her, died in heavy grieving pains! Waters' three murders were at the same time, because they were together, when he was wanting revenge to kill Madalyn O'Hair, for firing him and especially the deeply embarrassing newspaper article she composed, after Austin Police did not jail David Roland Waters, after he immediately paid back the money he had stolen. The three disappearances and deaths was almost five and a half years unsolved, are much like Jimmy Hoffa's disappearance, near Detroit, Michagin, on Wednesday, July 30th, 1975. Hoffa's disappearance is still unsolved, being over forty years. Madalyn's first son, and father of Robin, O'Hair, William J. Murray personally spoke for himself, in this Forensic File. He become a Christian and picked Baptist faith, near Mother's Day weekend, of Sunday, May 11th, 1980. When Madalyn heard this, she never spoke to him anymore. William personally said that he regretted in being a part of taking prayer out of public schools. |
| 11 | 112 | A Clutch of Witnesses | 2002-03-12 | 30 | While standing outside of a motorcycle gang's clubhouse, two witnesses watched in horror as a truck intentionally ran over an unconscious man -- not once, but twice. Fearing for their safety, the witnesses ran into the clubhouse; when they looked outside, both the truck and the victim were gone. |
| 12 | 113 | Scout's Honor | 2002-03-19 | 30 | Investigators turn to insects and the forensic entomologist are needed to solve this case. |
| 13 | 114 | A Touching Recollection | 2002-03-26 | 30 | A clever Ohio girl remembers to leave fingerprints on her kidnapper's vehicle when she is abducted which aids police in their search along with a tire imprint in the mud. |
| 14 | 115 | A Leg to Stand On | 2002-04-02 | 30 | When a severed leg is found in a dumpster, investigators are faced with the challenge of identifying the victim. Conventional methods -- fingerprinting, comparison with dental records, reports of missing persons -- are useless. |
| 15 | 116 | Partners in Crime | 2002-04-09 | 30 | It takes a long time and a very hot fire to cremate a human body and destroy all evidence. But the coroner who performed the autopsy on the badly burned body of Charles Lynch found telltale evidence. Not only had the victim been burned, he'd also been stabbed twenty-four times with two different knives. Police search for more than one murderer. |
| 16 | 117 | Within a Hair | 2002-04-16 | 30 | A look at the forensic evidence in the case of the "River Park Rapist," who assaulted four women in South Bend, Indiana during 1996. Three victims identify one man as the perpetrator, however, forensic evidence points to another man. |
| 17 | 118 | Chief Evidence | 2002-04-23 | 30 | The murder of couple Raquel Rivera & Jay Johnson was first believed to be the result of a drug deal gone bad. However, no drugs are found in the house and the victims' blood isn't present on the clothing of the suspects. Evidence from the couple's dog eventually ties one of the murderers to the scene. This is one of the first cases where dog DNA was used. |
| 18 | 119 | A Bitter Pill to Swallow | 2002-04-30 | 30 | A 33-year old woman meets, falls in love with, and marries a successful young doctor, but an unusual amount of discomfort during her pregnancy arouses her suspicions, prompting a personal investigation that culminates in a startling revelation. |
| 19 | 120 | Sip of Sins | 2002-05-07 | 30 | A trio of unsolved murders that occurred in Wichita Falls, Texas during the 1980s, details how a fourth murder from the same time period provided the police with more than they realized. John Little, an investigator for the DA's office, picked up the cold cases years later. He soon connected the fourth crime's confessed killer to the other murders. |
| 20 | 121 | Telltale Tracks | 2002-05-14 | 30 | The disappearance of Philadelphia college athlete Aimee Willard is investigated after her car was found, still running on the roadside. When her body is found, the police find unusual marks on her body and DNA evidence that eventually lead to her killer, Arthur Bomar. |
| 21 | 122 | Ghost in the Machine | 2002-05-21 | 30 | A pastor's wife appears to have committed suicide by taking an overdose of sleeping pills. But as the investigation progresses, detectives discover incriminating computer files and learn that the pastor had been having an affair. |
| 22 | 123 | Frozen in Time | 2002-05-28 | 30 | The 1991 disappearance of Newport Beach, California resident Denise Huber stumps investigators. Three years later, Arizona residents call police to report a suspicious neighbor, who has kept a Ryder rental truck in his driveway, which they suspect is stolen. |
| 23 | 124 | Cold Storage | 2002-06-04 | 30 | The 1987 disappearance of Tracy Jo Shine is recalled. The investigation went cold until 2000, when a special cold case squad discovered that the woman's ex-boyfriend had bragged about killing her. |
| 24 | 125 | The Metal Business | 2002-06-11 | 30 | A man who runs a car restoration company believes his business partner is trying to kill him. |
| 25 | 126 | Dressed to Kill | 2002-06-18 | 30 | When six-year-old Michelle Door disappeared without a trace, her father became the prime suspect. He failed a polygraph test and even confessed to the murder of his daughter, but his confession was later discounted. |
| 26 | 127 | Palm Print Conviction | 2002-06-25 | 30 | The 1996 investigation into 48-year-old Martha Hansen's murder in Anchorage is helped by a legal requirement that bars have video cameras installed on the premises. Using video, hair and blood evidence, investigators determine that Evans Lee Curtis was the murderer. |
| 27 | 128 | A Vow of Silence | 2002-07-02 | 30 | A Texan's mail-order bride disappears. |
| 28 | 129 | Elephant Tracks | 2002-07-09 | 30 | The murders of an elderly couple leave police stumped. That is, until two years later when they get a huge break. A jeweler looking through old newspaper clippings recognizes a necklace the female victim wore as having been pawned in her own shop. |
| 29 | 130 | A Bag of Evidence | 2002-07-16 | 30 | A plastic garbage bag leads authorities to the killer of a nine-year-old Florida girl. |
| 30 | 131 | Tooth or Consequences | 2002-07-23 | 30 | An investigation into the murder of Katie Poirier is stymied by the lack of a body, but they find a few charred remains including a tooth. The unique properties of the filling in the tooth helps investigators identify her remains. Further forensic evidence is then used to convict Donald Blom of her murder. |
| 31 | 132 | Sniffing Revenge | 2002-07-30 | 30 | The investigation into a suspicious death hits a dead end when the autopsy indicates that no foul play was involved. But a telephone tip and the sensitive nose of a forensic examiner indicate otherwise. |
| 32 | 133 | Sleight of Hand | 2002-08-06 | 30 | The suspect in a crime eludes arrest for 16 years because the police can't tie him to it. That changes, however, when investigators learn the culprit is left-handed, putting a new spin on old facts. |
| 33 | 134 | Scratching the Surface | 2002-08-13 | 30 | In Miami, Florida, a sniper opened fire from the rooftop of a manufacturing plant, killing one employee and injuring two others in the parking lot below. |
| 34 | 135 | Fire Proof | 2002-08-20 | 30 | A mysterious arsonist sets dozens of fires in Seattle in the early 1990s. |
| 35 | 136 | X Marks the Spot | 2002-08-27 | 30 | The use of the computers by law enforcement is detailed in this look at a series of crimes in St. Louis that stumped the local police and the FBI. |
| 36 | 137 | All Charged Up | 2002-09-03 | 30 | The case of the Center City Rapist and the murder of Shannon Schieber. Philadelphia authorities use an anonymous letter and geographic profiling to hone in on a suspect who attacks victims who live on upper floors of apartment buildings. |
| 37 | 138 | Breaking the Mold | 2002-09-10 | 30 | Investigators look into what is making a family unwell. |
| 38 | 139 | House Call | 2002-09-17 | 30 | A murder investigation in St. Petersburg, Florida, crosses jurisdictions from New York and Jamaica. The police rely heavily on cell phone mapping, wiretapping and a host of forensic evidence to reveal a suspect to the crime. |
| 39 | 140 | Marathon Man | 2002-09-24 | 30 | A man's body is discovered near his family's horse ranch. His wife claims he went jogging, but investigators doubt her story. |
| 40 | 141 | The Sniper's Trail | 2002-10-01 | 30 | Details the case of the Beltway sniper attacks, a 3-week shooting spree which left 10 people dead in the Washington, D.C. area. |
| 41 | 142 | Plastic Fire | 2002-10-08 | 30 | An elderly Georgia woman dies in a car fire. Police claim the woman was murdered by her daughter, but an expert witness believes otherwise. |
| 42 | 143 | Last Will | 2002-10-15 | 30 | Sharon ("Shari") Smith, kidnapped and murdered in South Carolina in 1985, died about two hours after writing her last will which her killer sent to her parents. The document itself enabled police to identify and convict Larry Gene Bell. |
Season 8
| Episode No. | No. Overall | Title | Airdate | Runtime | Summary |
| --- | --- | --- | --- | --- | --- |
| 1 | 144 | Dessert Served Cold | 2003-01-01 | 30 | Emergency personnel were called to the home of Richard Alfredo, who was slumped over, dead of an apparent heart attack. No one thought foul play was a possibility until police looked into the odd behavior of his girlfriend Christina Martin. Controversy surrounded the case for almost a decade, which pitted competing teams of toxicologists against each other. |
| 2 | 145 | The Music Case | 2003-01-15 | 30 | When 12-year-old Cally Jo Larson was found dead in her own home, it shattered the sense of security residents usually associated with Waseca, Minnesota. Despite a meticulous search of the Larson home and an exhaustive investigation, police had no suspects. |
| 3 | 146 | Paintball | 2003-01-22 | 30 | In 1962, the people of the small town of Hanford, California lost their sense of peace when one of their own, 15-year-old Marlene Miller, was murdered. It would take 24 years and countless retrials before forensic scientists discovered the microscopic evidence that brought the killer to justice. |
| 4 | 147 | Sign Here | 2003-01-29 | 30 | A mother of two disappears after a shopping trip. Her body is found a month later. Witnesses saw the victim being forced into a car by an unknown person. Police learn that the car had been rented, but the signature on the rental agreement does not match that of their number one suspect. A forensic handwriting expert points to the murderer. |
| 5 | 148 | Shadow of a Doubt | 2003-02-05 | 30 | A woman is shot to death in her store just one day before she is to testify against the man accused of robbing her. The robber becomes the number one suspect, but he has a solid alibi: a time-stamped videotape of his outdoor activities on the day of the murder. Police authenticate the videotape and find the killer who has been hiding in the shadows. |
| 6 | 149 | Tourist Trap | 2003-02-12 | 30 | In 1993, thieves were robbing and killing tourists in Florida, making worldwide headlines. One victim fought back, suffering a bite mark that became key evidence against a determined suspect - who ran into a even more determined detective. |
| 7 | 150 | Once Bitten | 2003-02-19 | 30 | Due to a bite mark, an Arizona man is convicted and sentenced to death for the 1991 murder of a bartender. However, he fights to prove his innocence. |
| 8 | 151 | All Wet | 2003-02-26 | 30 | A woman's death in Pennsylvania triggers a homicide investigation into another woman's death in North Carolina. The similarities in the two cases are shocking, and medical examiners must determine if the suspect's story about accidental drowning is all wet. |
| 9 | 152 | Shot of Vengeance | 2003-03-05 | 30 | A nurse has a variety of flu-like symptoms. None of her doctors are able to find the cause, until she visits the gynecologist for a routine check-up. Then she learns it's something way worse than the flu. She is HIV-positive. Science determines not only how she had been infected, but also by whom. They will discover that it wasn't an accident. |
| 10 | 153 | Dinner and a Movie | 2003-03-12 | 30 | Time of death becomes pivotal when a pregnant woman is found murdered in her Connecticut home. The couple's adventurous sex life comes into play, and a striking similarity between the woman's death and an HBO movie gives forensic examiners the clues they need to thaw out the alibi of a cold-blooded killer. |
| 11 | 154 | A Wrong Foot | 2003-03-19 | 30 | In Peoria, Illinois, police discover a footprint that could identify an intruder who killed a young man and attacked two teenage girls. |
| 12 | 155 | Order Up | 2003-03-26 | 30 | A man is found shot to death in his home. Determining time of death becomes fatally important, and in order to do so, investigators need to know when the victim ate his last meal. An endocrinologist, a forensic botanist and a short-order cook try to solve their mystery. |
| 13 | 156 | When the Dust Settled | 2003-04-02 | 30 | Neighbers do not hear the gunshots when a union official is killed in his home. |
| 14 | 157 | A Welcome Intrusion | 2003-04-09 | 30 | A man is declared a hero after claiming that he shot an intruder who killed his wife, but four years later, newly acquired forensic evidence leads authorities to reexamine his story. |
| 15 | 158 | Within Arm's Reach | 2003-04-16 | 30 | When a police officers wife is found dead from an apparent shotgun blast at close range investigators and peers of the officer are quick to make judgment in the case. Were the original conclusions and theories about the wife's mysterious deaths accurate? And would the suspicions for and against the officer righteous? Investigators and forensic professionals unveil the truth about who pulled the trigger ending this young woman's life one tragic day. |
| 16 | 159 | Private Thoughts | 2003-04-23 | 30 | When firefighters discovered an entire family dead inside their home, it seemed like a murder-suicide, but there were many inconsistent clues in the rubble. Could ballistics, a time card and some secret audiotapes uncover the truth?. The killer, Earl Bramblett, was charged with the murders and was sentenced to death on April 9, 2003. |
| 17 | 160 | Brotherhoods | 2003-04-30 | 30 | The double homicide of a gay couple leads investigators into the twisted world of White Supremacists. Shell casings, paint chips and an analysis of glass shards help authorities link their prime murder suspects to a string of hate crimes in California. |
| 18 | 161 | Hair of the Dog | 2003-05-07 | 30 | With no forensic evidence inside a murder scene, investigators are left puzzled. But they suspected that the victim's dog had witnessed the crime. If she had, forensic scientists would have to find some way to know what the dog had seen. |
| 19 | 162 | Breaking News | 2003-05-14 | 30 | A TV news producer is killed in her apartment. The case goes cold until investigators turn to the Commonwealth of Virginia's DNA Databank which houses profiles convicted felons and is the first of its kind in the country. A comparison of the crime scene evidence with the Databank profiles results in Virginia's first cold hit in a homicide investigation. |
| 20 | 163 | All the World's a Stage | 2003-05-21 | 30 | Police are dispatched to the scene of a shooting and find the victim's husband is one of their own: a homicide detective who says his wife accidentally shot herself in the head. The detective claims he called 911 immediately, but the evidence seems to indicate otherwise. |
| 21 | 164 | The Big Chill | 2003-05-28 | 30 | For years, a woman suffered from what appeared to be the unpleasant side effects of lithium, a drug prescribed to treat bipolar disorder. Her search for help led her to severals doctors and hospitals and resulted in a 4000-page medical file. When she died, investigators had to determine if her death was caused by natural causes, suicide or murder. |
| 22 | 165 | Bound for Jail | 2003-06-04 | 30 | A woman is found dead in a ravine near a jogging path. Significant crime scene evidence had been washed away by a series of thunderstorms. Twice, the trail turned cold. Then, almost twenty years later, an old hat and a chip of stainless steel no longer than a fingernail would finally bring the killer to justice. |
| 23 | 166 | Sphere of Influence | 2003-06-11 | 30 | When an 11-year-old girl disappeared from a small town in a remote area of Alaska, investigators wondered if she'd been attacked by a bear or become lost in the dense woods. Her body was discovered 10 days later; she'd been shot twice at close range, and sexually assaulted. An eyewitness led police to a suspect and trace evidence found at the crime scene. |
| 24 | 167 | Nailed | 2003-06-18 | 30 | Just weeks before a witness is to testify against the man accused of sexually assaulting her, she is murdered in the front yard of her own home. Investigators immediately suspect her attacker, but they don't have enough evidence to prove his guilt. It would take fifteen years, and the remarkable advances in forensic science and DNA testing which occurred during that time, to enable police to nail the killer. |
| 25 | 168 | Sign of the Zodiac | 2003-06-25 | 30 | In 1996 a killer terrorized New York murdering 8 random people. Investigators begin finding with each new victim a strange pattern began to immerge. Each victim found at different locations and appeared to be unrelated victims were being killed each month representing the astrological sign of the new victims. With little evidence and no apparent connection between the victims the investigators were stumped as the city began to fear the unknown self proclaimed zodiac killer. Investigators needed a break and confident this suspect was not the same one who terrorized San Francisco the case needed another victim if they were to get a new clue. And the next victim of the zodiac proved to be the break needed. Growing sloppy or unlucky, the zodiac failed to kill the next victim, giving investigators their first their first account of the suspect. Next in his letters to authorities the second clue was uncovered a licked envelope by the suspect provided the DNA of the zodiac to authorities. They now possibly had the forensic evidence needed to bring down this maniac and end his murdering spree haunting the City |
| 26 | 169 | Letter Perfect | 2003-07-01 | 30 | A healthy young man dies mysteriously in his sleep. There are no signs of trauma or injury, but toxicology tests reveal a lethal dose of lidocaine in his blood. Investigators find a suicide note, and presume he killed himself -- until a forensic linguist examines the note and determines that what the victim said is less important than how he said it. |
| 27 | 170 | True Lies | 2003-07-08 | 30 | Kathleen Lipscomb's body was found on a deserted street outside of San Antonio. Months passed, then years, and the crime went cold. Then Kathleen's family hired a private investigator who discovered a diary among her personal effects. Two of the diary entries helped police to piece together what had happened to Kathleen Lipscomb, and why. |
| 28 | 171 | Bed of Deceit | 2003-07-15 | 30 | A retired police officer is found fatally shot in his bed, the apparent victim of a suicide. But evidence at the crime scene, along with forensic textbooks and a bank surveillance tape, prove it was murder. |
| 29 | 172 | Smoke in Your Eyes | 2003-07-22 | 30 | A suspicious fire burned down an apartment, killing two young women. The cause of the fire and the identity of the victims were unclear. However, a deeper look at the fire scene revealed something hidden in the ashes. Could gas chromotography, a burnt pair of eyeglasses and a half smoked cigarette solve the case? |
| 30 | 173 | Flower Power | 2003-07-29 | 30 | Two men called police to report the same murder. Apparently, neither one knew that the other had called and the investigation uncovered even more unusual circumstances. But a few small seeds and a discarded candy wrapper will ultimately tell a story of revenge. |
| 31 | 174 | Past Lives | 2003-08-05 | 30 | The body of a rich businessman was found in his rental car. Teeth and bone fragments were all that remained of the body; miraculously, an engraved wristwatch and medic alert bracelet had survived the inferno. When the victim's wife filed a claim for $7 million worth of life insurance, investigators sought the help of a renowned forensic anthropologist. |
| 32 | 175 | Over and Out | 2003-08-12 | 30 | When a pipe bomb ripped through a rural home, killing a young man and seriously injuring his mother, police had no idea who was responsible. A lot number on a 9-volt battery and the remnants of a mailing label found on a computer's hard drive enabled investigators to determine who sent the bomb, and why. |
| 33 | 176 | Death by a Salesman | 2003-08-12 | 30 | No one in a quiet residential community saw or heard anything unusual the day one of their neighbors was brutally attacked and murdered. Fingerprints found at the crime scene and surveillance video from a security camera helped investigators to apprehend the presumed killer within twelve hours, even though he'd already left the state and was on a bus, headed for New York City. |
| 34 | 177 | Web of Seduction | 2003-08-26 | 30 | A man is found dead in his Michigan auto-salvage shop. |
| 35 | 178 | Grounds for Indictment | 2003-09-02 | 30 | A drive-by shooting leaves one man dead and another seriously wounded. Cell phone calls and shell casings point to a suspect, but authorities are unable to place him at the crime scene. When a forensic geologist compared soil from the crime scene with soil found in the wheel wells of the suspect's car, he proved that dirt is anything but dumb. |
| 36 | 179 | Dueling Confessions | 2003-09-09 | 30 | In 1963, Australian teenager John Button is accused of running down his girlfriend on the roadway after a fight. After a brutal police interrogation he confesses, than recants. He is tried and convicted of manslaughter, sentenced to a primitive Victorian-era prison. He regains his physical freedom, but is branded a guilty man. Almost forty years later, a writer uncovers evidence that another man, a known serial killer, might really be responsible. In fact, he had confessed. An accident reconstruction expert tracks down antique cars to re-create the accident, and clear a man's name decades after a cruel injustice. |
| 37 | 180 | Traces of Truth | 2003-09-16 | 30 | A high school gym teacher mysteriously leaves town without saying goodbye to anyone. He later sends letters to explain why. But a closer forensic look at those letters and a microscopic piece of tissue gives investigators an entirely different explanation for where he went and why. |
| 38 | 181 | Honor Thy Father | 2003-09-23 | 30 | Detectives try to discover the cause of a Palestinian daughter's death in America. Did she provoke her parents and attack them or did her parents commit an honor killing? |
| 39 | 182 | Hack Attack | 2003-09-30 | 30 | A mysterious computer crash pushes a thriving manufacturing company to the brink of collapse, jeopardizing the jobs of hundreds of employees. There is no apparent cause and no obvious clues. Forensic investigators must determine if the crash was the result of a computer defect, human error, or sabotage. |
| 40 | 183 | Deadly Curve | 2003-10-07 | 30 | Car with three Secret Service agents collides with local deputy's car; investigation launched into who was responsible for the deadly car accident finds two very different conclusions. |
| 41 | 184 | Visibility Zero | 2003-10-14 | 30 | In 1993, the Amtrak Railroad experienced the deadliest train crash in United States history, when the Sunset Limited derailed while crossing Alabama's Big Bayou Canot bridge. Forty-seven passengers and crew were killed; scores more were injured. The clues to the cause of the crash lay etched in twisted steel and buried in the mud of the Big Bayou Canot. |
| 42 | 185 | Flashover | 2003-10-21 | 30 | A fire erupted in the Kings Cross Underground Station in London, killing 31 people and injuring dozens more. Arson investigators were able to pinpoint the cause of the fire, but it would take state-of-the-art computer technology and experts in the field of fluid dynamics to explain why it became a deadly inferno. |
Season 9
| Episode No. | No. Overall | Title | Airdate | Runtime | Summary |
| --- | --- | --- | --- | --- | --- |
| 1 | 186 | Road Rage | 2004-06-02 | 30 | In the Season Nine premiere of Forensic Files, the longest running true crime series in television history, the investigation of a discarded sleeping bag, containing bloody sneakers and a purse, leads police to the body of a young woman. Only a mark found on the victim's body enables police to track the killer. |
| 2 | 187 | Hunter or Hunted | 2004-06-09 | 30 | On the last day of deer hunting season, a woman is killed while walking her dogs in the woods. Police assume it was a hunting accident, until a strange letter turns up, allegedly written by the woman before her death. Police begin to wonder if the woman may have been the target all along. |
| 3 | 188 | In Harm's Way | 2004-06-16 | 30 | An Alaskan police officer discovered a woman's body while patrolling a public park. A knife thought to be the murder weapon was found days later, two thousand miles away. Forensic scientists now had an opportunity, which seldom occurs: to compare the microscopic marks on the presumed murder weapon with the marks on the victim's bone. |
| 4 | 189 | No Corpus Delicti | 2004-06-23 | 30 | Nearly two decades after a photographer went missing, her skeletal remains are discovered in the Colorado mountains. |
| 5 | 190 | News at 11 | 2004-06-27 | 30 | A talented television news anchor was shot to death outside her home; it appeared to be a crime of passion, perpetrated by an obsessed fan. A police dog tracked the scent of the killer through the adjacent woods and back to the crime scene. Could the murderer be one of the onlookers, watching the police conduct their investigation? |
| 6 | 191 | Burning Desire | 2004-07-07 | 30 | Investigators sifted through the ashes of a fire that had killed a 40-year-old woman, the estranged wife of a police officer. At first glance, the fire appeared to have been started by an unattended cigarette. But when forensic scientists looked closely, they discovered the cause was far more complicated. |
| 7 | 192 | Cloak of Deceit | 2004-07-08 | 30 | During the 1990s, a trio of bank robbers struck in both North and South Carolina. They got away with their crimes for years, until forensic experts studied the bank surveillance tapes and identified them by their clothes and stances. |
| 8 | 193 | Bad Medicine | 2004-07-08 | 30 | When a plastic surgeon's wife becomes the victim of arsenic poisoning, investigators must determine who is trying to kill her and why. |
| 9 | 194 | Stick 'em Up | 2004-07-15 | 30 | Residents of Noel, Missouri were stunned to learn that their bank had been robbed and the bank president was found floating in a lake, securely bound to a chair with duct tape. When the tape was carefully reassembled using a technique known as end match analysis, investigators discovered one piece was missing, and that piece would solve the crime. |
| 10 | 195 | Head Games | 2004-07-22 | 30 | A young couple goes camping in Oregon with their dog and only one of them comes out alive. Detectives work to determine whether the incident was accidental or intentional. |
| 11 | 196 | Making the Collar | 2004-08-11 | 30 | The body of a 16-year-old girl was discovered nine months after she disappeared. Forensic scientists found clues that painted a virtual portrait of her killer. They knew that he had a dog, that he worked for the postal service, and that he had red carpeting in his home. |
| 12 | 197 | Financial Downfall | 2004-08-11 | 30 | In California, woman appears to have accidentally fallen to her death from a cliff, until an investigation uncovers proof of murder and a financial motive. |
| 13 | 198 | A Daughter's Journey | 2004-08-23 | 30 | Haunted by the disappearance of her mother some twenty years earlier, a young woman undertook an investigation of her own. Her mother's diary was in the now "cold" case file; there, in her mother's own handwriting, she discovered a dark family secret, which might have been the reason her mother vanished. |
| 14 | 199 | Over a Barrel | 2004-08-24 | 30 | Murder of a retired couple in California. It took 10 years to bring their killer to justice. |
| 15 | 200 | Pinned by the Evidence | 2004-08-25 | 30 | After a street fight claimed the life of a national wrestling champion, a jury decided it was murder, and sentenced the accused to twenty years in prison. Six years later, he was granted another trial; a forensic animator, who testified on his behalf, gave a different explanation for the most shocking piece of evidence. |
| 16 | 201 | Cries Unheard | 2004-08-26 | 30 | 19 year old Devon Guzman is part of a love quadrangle that ends up getting her killed. |
| 17 | 202 | Buried Treasure | 2004-08-27 | 30 | A man fond of square-dancing disappears exactly one year after starting an affair with his friend's wife. Fifteen years later, a hobbyist with a metal detector helps police find evidence proving what happened, and who was responsible. |
| 18 | 203 | Badge of Betrayal | 2004-09-08 | 30 | The body of a young California co-ed was found under an isolated ramp of the Interstate, and San Diego police had no idea who would want this girl dead. But their questions would be answered when they discovered a tiny, unique fiber on the victim's clothing, which led them straight to the most unlikely of killers. |
| 19 | 204 | Deadly Matrimony | 2004-09-15 | 30 | An Ohio go-go dancer went missing in 1974. Twenty-six years later, her disappearance was solved with the help of tool mark analysis, a homemade box, and an old car. |
| 20 | 205 | Muddy Waters | 2004-09-22 | 30 | While investigating the case of a Colorado hunter shot three times and killed, police suspect two murder weapons, and two killers, but forensic evidence points them closer to home. A newlywed is found dead in the Colorado wilderness. |
| 21 | 206 | Point of Origin | 2004-09-29 | 30 | In 1984, California firefighters had battled ten arson fires in three weeks. When cigarettes and a scrap of paper connected the southern California fires to several fires further north, the hunt was on for a dangerous pyromaniac. Investigators finally found a fingerprint, and it pointed to a most unlikely suspect. |
| 22 | 207 | Seeds for Doubt | 2004-10-06 | 30 | A small community in upstate New York was devastated when a car accident claimed the life of a well-respected nurse. Investigators initially thought alcohol was to blame, but blood tests proved the victim was not intoxicated. The seedpods found in her hair and on her clothes would prove that this was no accident. It was cold-blooded murder. |
| 23 | 208 | Saving Face | 2004-10-13 | 30 | A woman in Austin, Texas disappears and police begin investigating two possible explanations: kidnapping, and murder. They become even more concerned when they learn two other women vanished under similar circumstances. Careful investigation, the talents of a forensic artist, forensic anthropology and DNA profiling enabled police to link the crimes to a single suspect. |
| 24 | 209 | Northern Exposure | 2004-12-08 | 30 | Hikers near Anchorage, Alaska discovered a body wrapped in sheets that were edged in orange stitching. Authorities hydrated the fingers and obtained a fingerprint, enabling them to identify the victim. Clinging to the sheet, they also discovered a tuft of red carpet fibers - threads of evidence that led them straight to the killer. |
| 25 | 210 | Silk Stalkings | 2004-12-29 | 30 | Nancy Ludwig is found stabbed to death her hotel room in Detroit. Nancy's death is similar to another woman who was murdered 5 years earlier, Margaret Eby. |
| 26 | 211 | Fishing for the Truth | 2005-01-05 | 30 | Two fishermen get caught in the gulf in the middle of a storm. Only one man swims out alive. Was it an accident or was it murder? |
| 27 | 212 | For Love or Money | 2005-01-19 | 30 | When a wealthy real estate tycoon went missing, it appeared to be foul play. He had been aware that he was in danger. In his will, he left instructions regarding what was to happen if he died under violent circumstances - instructions which were carried out after a hiker came across a bullet-ridden skull. |
| 28 | 213 | South of the Border | 2005-02-02 | 30 | The cold-blooded murder of an American tourist in a Mexican resort focused law enforcement resources on both sides of the border. At first glance, the motive appeared to be robbery, but careful analysis of the forensic evidence pointed to something much more sinister. |
| 29 | 214 | The Stake-Out | 2005-02-09 | 30 | Entomology and computer forensics help solve the 1988 kidnapping and murder of a Pennsylvania banker's wife. |
| 30 | 215 | Walking Terror | 2005-03-02 | 30 | In the middle of the night, a neighbor witnessed a man stab his wife, push her into the swimming pool, and hold her head under water. When questioned by the police, the husband not only had no explanation for his actions, he had no recollection of the crime. A jury would have to decide between the evidence at the scene and the mysteries of the mind. |
Season 10
| Episode No. | No. Overall | Title | Airdate | Runtime | Summary |
| --- | --- | --- | --- | --- | --- |
| 1 | 216 | Trial by Fire | 2005-04-27 | 30 | Beverly Jean Long of Jackson, Georgia is put on trial for murdering her husband James on a cold night in 2003 and setting their home on fire. The state's experts say it was clearly arson. But defense experts say it was an accident. |
| 2 | 217 | Marked for Life | 2005-05-18 | 30 | It would take forty-six years, handwriting analysis, and new fingerprint technology to solve the 1957 murders of two California police officers. |
| 3 | 218 | Plastic Puzzle | 2005-06-01 | 30 | In this classic episode of Forensic Files, the longest running true crime series in television history, a man riding a bicycle is fatally injured, and police believe he is the victim of a hit-and-run accident. Tiny clues found at the scene create a picture of the vehicle that struck him... and lead police to its driver. |
| 4 | 219 | Up in Smoke | 2005-06-29 | 30 | Investigators must determine what caused a house fire that killed an elderly couple and whether the victims' son is responsible. |
| 5 | 220 | Soiled Plan | 2005-07-06 | 30 | Detectives are suspicious after a woman is killed in a hunting accident, but it takes more than twenty years before a trace evidence analyst is able to match fibers on a soiled blanket to the killer. |
| 6 | 221 | Headquarters | 2005-07-13 | 30 | Hunters make a grisly find in a Texas canyon: a human skull. Crime scene analysis reveals bits of clothing, a woman's shoe, some small bones and one strand of hair. An anthropologist determines the victim was a Caucasian woman who had been stabbed repeatedly. A forensic artist reconstructs her face and police eventually learn who she was. Now all they have to do is find her killer. |
| 7 | 222 | One for the Road | 2005-07-20 | 30 | A married couple decided to escape the cold of winter with a vacation in Key West. The wife went missing and police searched every inch of the island; they found nothing but a pair of sandals that may have belonged to her. Then two pieces of video surfaced and investigators started to wonder if they should be searching for a missing person or a murderer. |
| 8 | 223 | Army of Evidence | 2005-07-27 | 30 | A mother of two young children was found dead in her bedroom. It seemed she had killed herself; there were suicide notes near her body and a pistol was in her hand. Her death was ruled a suicide – but when investigators discovered she had almost died in a house fire three years earlier, they decided to take a deeper look at the evidence. |
| 9 | 224 | Shear Luck | 2005-08-03 | 30 | The violent death of an Air Force officer's wife outside a Philippines air base is examined, amid accusations of a love triangle involving the murdered woman's husband. Investigators use groundbreaking computer forensics to make their case. |
| 10 | 225 | Tagging a Suspect | 2005-08-10 | 30 | Bombings are difficult to solve, because the perpetrator isn't usually at the scene, and the evidence goes up in smoke. But there are clues if investigators know where to look. In this case, pieces of plastic the size of grains of sand held the key to a man's murder. |
| 11 | 226 | Strong Impressions | 2005-08-17 | 30 | The wife of an Air Force officer was found dead in her bed, with a plastic laundry bag near her face. At first glance, it appeared she'd been doing laundry, fell asleep, rolled onto the bag, and suffocated. But further investigation proved that the scene had been staged. Her death wasn't an accident; it was cold-blooded murder. |
| 12 | 227 | Cereal Killer | 2005-08-24 | 30 | When a fire destroyed most of a home and a young boy went missing, police organized the largest search in the history of their small town. First the boy's backpack was discovered five miles from home, and then his body was found 50 miles away. But the killer had been careless, and the evidence he left behind would lead police directly to him. |
| 13 | 228 | Crash Course | 2005-08-31 | 30 | A highway patrolman was dispatched to what he thought would be a routine traffic accident. While he had no formal training in forensic science, he had seen hundreds of accidents, but none had had as much blood as this. He was shocked by the coroner's ruling of accidental death. Then, an anonymous phone call breathed new life into his investigation. |
| 14 | 229 | A Leg Up on Crime | 2005-09-07 | 30 | The decomposed body of a young woman was discovered in a Bakersfield irrigation canal. If there was trace evidence, it had been washed away. Another victim was found in that same canal a year later; this time, the perpetrator had been careless. The shoe prints found at the scene would lead police to the most unlikely of killers. |
| 15 | 230 | TIght-Fitting Genes | 2005-09-14 | 30 | The light of day and DNA picture painted by molecular biologist reveals new clues about a nighttime traffic accident. |
| 16 | 231 | Deadly Valentine | 2005-09-21 | 30 | On Valentine's Day, an obstetrician finds his wife dead and calls 911. However, police discover inconsistencies between the blood spatter evidence and his version of events. |
| 17 | 232 | Picture This | 2005-09-28 | 30 | Weed analysis and photogrammetry are used to help solve the 1995 murder of a California teenager who was found dead after disappearing from her home. |
| 18 | 233 | Oily in the Morning | 2005-10-17 | 30 | When police recovered the submerged car of a man reported missing, they expected to find his body - but it wasn't there. His broken eyeglasses were on the floor of the vehicle and the interior was coated with motor oil. The investigation which followed would uncover an obsession turned deadly, and the motive for murder. |
| 19 | 234 | Gold Rush | 2005-10-18 | 30 | Emergency dispatch received a call from a man saying his girlfriend shot and killed herself. Police found the victim in the caller's house, lying in a pool of blood with the gun next to her on the floor. The autopsy revealed the gunshot wound was not self-inflicted, and the evidence found on her body gave police a golden opportunity to catch her killer. |
| 20 | 235 | Four on the Floor | 2005-10-19 | 30 | 'Four on the Floor' dealt with New Mexico law enforcement's successful effort to find and convict the killer of Betty Lee, a Navajo mother of five who was found brutally slain in a remote area near Farmington, N.M.. Once the police investigation led to Robert Fry, currently a death row inmate in New Mexico, it was learned that Fry might also be connected to other violent crimes in the area. This eventually led to Fry and an accomplice being suspected of the murder of Donald Tsosie, a Native American man found slain near the Navajo reservation, as well as to the deaths of two young men killed at the 'Eclectic' counterculture store in Farmington. Production locations inside New Mexico included Farmington, Aztec, Kirtland, Shiprock, Santa Fe and Albuquerque. Locations outside of New Mexico included Portland, Oregon, San Francisco, Phoenix and Red Valley, Az. |
| 21 | 236 | Writers Block | 2005-10-20 | 30 | A brilliant young architect was poisoned and died just before she was to testify in a criminal trial. |
| 22 | 237 | A Clean Getaway | 2005-10-21 | 30 | An employee of a drycleaner was raped and killed in the store, and investigators thought themselves fortunate to have two witnesses. Their descriptions were similar but not identical, and the prime suspect didn't come close to resembling that person. Police turned to forensic science for the answers they were looking for. |
| 23 | 238 | Prints Among Thieves | 2005-11-02 | 30 | The murder of an eccentric millionaire was not really unexpected; he showed off his wealth and cared little for personal security. The evidence at the crime seemed to lean towards robbery, but investigators questioned if there was something more. |
| 24 | 239 | Unholy Alliance | 2005-11-09 | 30 | Some of the refugees who sought asylum in the United States after World War II lied about the atrocities in which they'd participated. Years later, when a high-ranking religious figure was suspected of war crimes, there seemed to be no way to prove his guilt or innocence... until a postcard allegedly written by him 40 years earlier was found in a German archive. |
| 25 | 240 | Signed, Sealed, Delivered | 2005-11-16 | 30 | Forensics hopes to determine if this was revenge when the home of a state's witness is bombed, killing his father. |
| 26 | 241 | Cop Out | 2005-11-30 | 30 | A college student was found dead, and the evidence suggested he knew his killer. Three hairs and some microscopic cells helped police to unravel a web of lies, and find the motive for murder. |
| 27 | 242 | Summer Obsession | 2005-12-07 | 30 | In an affluent suburb of Philadelphia, police were called to the scene of what appeared to be an accidental drowning. The investigation gradually focused on one person, a suspect who had more than a million reasons to want the victim dead. |
| 28 | 243 | Enemy Within | 2005-12-07 | 30 | A Kansas City attorney is beaten to death in his office and suspicion falls on his business partner. |
| 29 | 244 | Elemental Clue | 2005-12-14 | 30 | When two women from the same town were killed in the same way, police feared a serial killer was on the loose. At first they thought the victims had nothing in common until they found very small clues linking them to one man. |
| 30 | 245 | Moss, Not Grass | 2005-12-21 | 30 | A young woman was found dead on a golf course in the Bahamas. The grass on that course was so distinctive that it had evidentiary value. The evidence led police to two suspects. Each blamed the other, and they had to find out who the killer was. |
| 31 | 246 | Material Witness | 2005-12-28 | 30 | A teenager went missing after an evening of horseback riding; her body was found a month later, three miles from her home. The killer unknowingly left trace evidence behind, tiny but unmistakable clues that pointed to him and him alone. |
| 32 | 247 | Garden of Evil | 2006-01-04 | 30 | When a popular disc jockey was found murdered in a community garden, police swung into action. A sniffer dog and a blood spatter expert led police to the killer... and he'd been much closer than they realized. |
| 33 | 248 | Sunday School Ambush | 2006-01-11 | 30 | When a woman's husband was gunned down in his own garage by intruders, investigators worked tirelessly to find the assassins. But when they discovered that a wound sustained by the grieving widow during the attack may have been self-inflicted, they turned to science to help them unravel a twisted tale of lust, greed and deception. |
| 34 | 249 | Penchant for Poison | 2006-01-18 | 30 | Three seemingly unrelated deaths proved to be serial murders. The killer had been careful - he used poison which had no taste or odour. Fortunately for investigators, it also had a unique chemical signature. |
| 35 | 250 | Bump in the Night | 2006-01-25 | 30 | The crime scene was awash with blood. The victim had been brutally murdered as he slept in his own bed. There were no foreign fingerprints in his home, but investigators did find a shoe impression in the mud outside... physical evidence they hoped would lead them to the killer. |
| 36 | 251 | Sole Searching | 2006-02-01 | 30 | While on the phone with 911, a woman is murdered in her bathroom, during a break in at her home. The investigation's strongest evidence is a shoe print on a piece of glass. |
| 37 | 252 | Murder on the Menu | 2006-02-08 | 30 | The owner of a historic restaurant killed. Investigators uncover tales of debt and deceit. But the case remains open, until one detective gets inspired by an earlier episode of "Forensic Files", and looks for clues in an empty holster. |
| 38 | 253 | Hot on the Trail | 2006-02-15 | 30 | A serial arsonist was on the loose in Washington, DC. Each of the fires was started with the same type of incendiary device. The perpetrator was very careful, and seemed to leave no evidence behind... but there were clues in the ashes and it was up to forensic scientists to find them. |
| 39 | 254 | High 'n' Dry | 2006-02-22 | 30 | When a woman was found dead in her bathroom, the evidence pointed to suicide. But a coroner's inquest and a unique application of forensic science gave investigators a different explanation for her death. It was a theory that, if true, could turn the grieving husband into the prime suspect. |
| 40 | 255 | To the Viktor | 2006-03-01 | 30 | Three homicides on two continents looked like professional executions. Investigators on both sides of the Atlantic needed to find out if they were related and, if they were, who or what they had in common. |
| 41 | 256 | Wired for Disaster | 2006-03-08 | 30 | A 29-year-old woman was killed instantly when a bomb exploded in her home. The device was so powerful that shrapnel was imbedded in houses across the street. The bomber had not only knowledge and skill, but also a motive for murder. |
| 42 | 257 | Wood-be Killer | 2006-03-15 | 30 | A killer tried to destroy everything which could link them to the crime. But in doing so, they inadvertently created new forensic evidence - evidence which came to light using a technique never before used in a criminal investigation. |
Season 11
| Episode No. | No. Overall | Title | Airdate | Runtime | Summary |
| --- | --- | --- | --- | --- | --- |
| 1 | 258 | Naughty or Nyce | 2006-07-19 | 30 | Investigators examine evidence left at an automobile accident to determine if this was murder, including footprints leading away from the scene, blood on the outside of the car, and the victim was not wearing shoes in the middle of winter. |
| 2 | 259 | Going for Broke | 2006-07-26 | 30 | After a corpse is found without its head and hands at a compose site, a single finger tip leads to the identity of the body. A single dog hair found on the body, witness tips, and blood evidence lead to the suspect. |
| 3 | 260 | Just Desserts | 2006-08-09 | 30 | The bodies of a murdered Florida couple are discovered along a dirt road. A man with a criminal record is suspected since his driver's license is discovered at the crime scene, until DNA extracted from a spoon points to another man. |
| 4 | 261 | Sunday's Wake | 2006-08-16 | 30 | After moving with her family from Sudan to the United States, a little girl becomes ill and dies; authorities must determine how and why it happened. |
| 5 | 262 | Shattered Dreams | 2006-08-23 | 30 | In this classic episode of Forensic Files, the longest running true crime series in television history, a man and woman are found shot dead in car in a drainage ditch. The windows are broken and shattered glass should be everywhere, but it isn't. A fingertip torn from a latex glove points investigators to both the crime scene and the killer. |
| 6 | 263 | Dockter Visit | 2006-08-23 | 30 | A World War II veteran was found dead in his home, and the investigation ground to a halt when the prime suspect had a solid alibi. But a lucky break led to a shady character who wore distinctive boots and had a sweet tooth. |
| 7 | 264 | Murder, She Wrote | 2006-08-30 | 30 | A woman who was known to have suffered from depression seemingly took her own life. But her sister told police that, a year before her death, she said if anything were to happen to her, there would be a note in the china cabinet. Police read the note and found the killer. |
| 8 | 265 | Concrete Alibi | 2006-09-06 | 30 | Karen Slover, 23, model and mother, is killed in 1996. Thanks to a forensic geologist, the police may now be able to solve the puzzling IL case after many years. |
| 9 | 266 | Key Evidence | 2006-09-13 | 30 | In 2001, Kevin Rice, 38, had stopped his car in a Rockford, IL residential area. The husband, father and policeman is shot to death inside the car. There are some clues left behind, including an asthma inhaler, hoodie, and keys. Forensic Science coupled with old-fashioned detective work must now be used in tandem in order to track down his killer(s). |
| 10 | 267 | The Gambler | 2006-09-20 | 30 | The world of high rollers and offshore gambling becomes the focus of the investigation into a Wisconsin triple murder. |
| 11 | 268 | Weakest Link | 2006-09-27 | 30 | The body of a young girl was discovered on a remote farm near Delano, California. She had no ID, but investigators found mailbox and house keys in the pocket of her jeans. With no other clues to follow, they checked the mailboxes of every apartment building in Delano and their persistence finally paid off. |
| 12 | 269 | Capitol Crimes | 2006-10-04 | 30 | The driver said he couldn't have hit and killed a pedestrian on a Harrisburg street. The Jeep Grand Cherokee he was leasing around that time had been sold months ago to a buyer in another state. Police were able to find the vehicle. They impounded it, took it apart, and discovered evidence which would tell them what really happened that night. |
| 13 | 270 | Undertaken | 2006-10-11 | 30 | A funeral handyman is found dead underneath a parked car in Paterson, New Jersey. Although a medical examiner rules the death an accident, three years of investigation and a second autopsy prove it was murder. |
| 14 | 271 | Dark Waters | 2006-10-18 | 30 | A local celebrity is killed and a passenger injured in a hit-and-run boating accident in New York State, leaving very little forensic evidence. |
| 15 | 272 | Nice Threads | 2006-10-25 | 30 | Bible missionary student is murdered whilst baking cookies on Mother's Day Weekend for her mother. Police use a bloody palm print to provide forensic evidence as to the identity of her rapist and murderer. |
| 16 | 273 | Grave Danger | 2006-11-01 | 30 | A young man was killed in a mysterious car crash, but the evidence at the scene led investigators to believe it was not an accident. Forensic science revealed what really happened, and the truth devastated three families. |
| 17 | 274 | Internal Affair | 2006-11-08 | 30 | When a woman went missing, friends and family were determined to find her. Their worst fears were confirmed weeks later when her body was discovered. Blood evidence and computer forensics helped investigators to catch the killer, and convince the jury of his guilt. |
| 18 | 275 | A Case of the Flue | 2006-11-15 | 30 | This robbery/homicide was unusual. The evidence at the scene proved that the perpetrator had been running out of the house, not breaking into it. Tiny clues on the victim's body would tell police what happened that night, and who was responsible. |
| 19 | 276 | No Safe Place | 2006-11-22 | 30 | A wealthy man and his wife were mugged by three men outside of their luxurious Louisiana home. He was shot dead and she was forced to open their hidden safe. The woman was unable to identify the men because they wore masks. To solve the case, police would have to find out who knew about the concealed safe, and who would benefit from the crime. |
| 20 | 277 | Live Wire | 2006-11-29 | 30 | The bomb was constructed to cause as much damage as possible... and it did, killing the victim with deadly force and flame. A painstaking search yielded tiny clues, which identified the killer as surely as if he'd signed them. |
| 21 | 278 | Van-ished | 2006-12-06 | 30 | A twelve-year-old girl claims that she was abducted and sexually assaulted. However, her story seems unbelievable until police discover fibers on her clothing. |
| 22 | 279 | A Novel Idea | 2006-12-13 | 30 | Emergency Dispatch in Durham, North Carolina received a frantic call from a man who said his wife fell down the stairs; she was unconscious but still breathing. When paramedics arrived, they could do little more than pronounce the woman dead. The number and volume of bloodstains at the scene was greater than usual. Forensic scientists had to find out why. |
| 23 | 280 | Chief Suspect | 2006-12-20 | 30 | The wife of a respected police officer was murdered in her own home. The crime went unsolved for more than a decade, and then a newly formed Cold Case Unit took a fresh look at the evidence. A few seconds of a 911 call enabled them to determine not only who was responsible for the victim's death, but also the motive for her murder. |
| 24 | 281 | Water Hazard | 2006-12-27 | 30 | A flawed envelope is an unlikely clue to identifying a killer who laced a water cooler with cyanide and caused the death of a woman. |
| 25 | 282 | Shell Game | 2007-01-03 | 30 | When a mussel-shell diver and his fiancée are found dead in their burned home, it doesn't take investigators long to realize that the fire was arson and their death was murder. And when detectives discover thousands of dollars worth of shells missing from the property, it's up to a ballistics expert to find the clues to put the greedy killers behind bars. |
| 26 | 283 | Ring Him Up | 2007-01-10 | 30 | For ten years, the disappearance of a college co-ed remained a mystery. And then new scientific testing cast a different light on a man who had been a suspect all along. |
| 27 | 284 | Killer Impression | 2007-01-17 | 30 | For sixteen years, the death of woman was considered an accident; then someone called police to suggest her husband had murdered her. Before the investigation could begin, the tipster was found dead... in much the same manner as the wife. Was this an unfortunate coincidence, or the MO of a serial killer? |
| 28 | 285 | If I Were You | 2007-01-24 | 30 | The murder of 53-year-old Paul Gruber is examined and the evidence points to Darryl Robin Kuehl, who was later convicted of the crime. |
| 29 | 286 | As the Tide Turns | 2007-01-31 | 30 | A woman is shot to death on a Florida beach. Her husband is also shot, but survives. He claims it was a robbery gone wrong, but investigators look further and learn that he had recently downloaded a song containing violent lyrics. |
| 30 | 287 | A Tight Leash | 2007-02-07 | 30 | How did the stalker obtain the security system code for his victim's home? How did he steal her personal photographs? Police needed answers, and they found them in the most unlikely of places: the letters he wrote to frighten the victim and taunt those trying to protect her. |
| 31 | 288 | Muffled Cries | 2007-02-14 | 30 | After inspecting storm damage to a home in Tampa, the insurance assessor simply disappeared. Thirty hours later, her body was found in a nearby river. But the killer had been careless, using a murder weapon so unique and leaving behind clues so blatant that police would have no trouble tracking him down. |
| 32 | 289 | Critical Maneuver | 2007-02-21 | 30 | When a hit-and-run accident claimed the life of a young high school athlete, everyone in town mourned his passing. Finding the killer was a long shot at best, but investigators hoped tiny paint chips and bits of plastic found at the scene would direct them to the person who was driving. |
| 33 | 290 | Skirting the Evidence | 2007-02-28 | 30 | She won $5,000 at the Blackjack tables. Three hours later, she was abducted; a month after that, she was found dead. Then the trail turned cold, until police got a call from a woman whose husband had a criminal past and a fondness for Chevy Berettas. |
| 34 | 291 | Small Town Terror | 2007-03-07 | 30 | A small town in Colorado is on edge after a series of deadly bombings, and police race to find the culprit before he strikes again. Ultimately, it was the tools the bomber used which led investigators to the perpetrator. |
| 35 | 292 | Fresh Heir | 2007-03-14 | 30 | Lives changed in the 20 years following an unsolved murder, and so did forensic science. In time, a high-powered microscope and DNA profiling revealed not only a clue no one had seen before... but also the identity of the killer. |
| 36 | 293 | Ticker Tape | 2007-03-21 | 30 | Scientists analyze the memory of a murdered man's pacemaker to catch his killers. |
| 37 | 294 | Step By Step | 2007-03-28 | 30 | When a wealthy socialite died after falling down the stairs, the eyewitnesses said one thing and the evidence seemed to indicate another. To find out what really happened, investigators turned to forensic science, a physicist and an expert in accident reconstruction. |
| 38 | 295 | Blanket of Evidence | 2007-04-04 | 30 | Two women murdered in the same state park. Indiana police feared it was the work of a serial killer until the forensic evidence pointed them in two different directions. |
| 39 | 296 | Fired-Up | 2007-04-11 | 30 | When a house burned to the ground and a woman's charred remains were found in the rubble, investigators had to determine if it was an unfortunate accident, or arson and murder. Microscopic clues on a piece of pipe would give them the answers they needed. |
| 40 | 297 | Two in a Million | 2007-04-18 | 30 | A millionaire and his family were executed in their own home. For three years, the murders went unsolved... and then a 30-year-old box of ammunition and some fluorescent fibers revealed the ultimate betrayal. |
| 41 | 298 | Bitter Brew | 2007-04-25 | 30 | It was one of the most brazen crimes of the 20th century. Adolph Coors, chairman of the Coors Brewing Company, was kidnapped and held for ransom... prompting one of the most intense manhunts in United States history. |
| 42 | 299 | Message in a Bottle | 2007-05-02 | 30 | For twelve years, the murder of a young woman went unsolved, but with the passage of time came the development of technology. Would a used tissue found at the crime scene give police the evidence they needed to bring a killer to justice? |
Season 12
| Episode No. | No. Overall | Title | Airdate | Runtime | Summary |
| --- | --- | --- | --- | --- | --- |
| 1 | 300 | Sharper Image | 2007-09-26 | 30 | In the Season 12 premiere of Forensic Files, the longest running true crime series in television history, a young girl is found dead, and police quickly arrest the most likely suspect. But when cutting-edge technology from NASA enables a forensic odontologist to prove the wrong man is behind bars, the investigation resumes |
| 2 | 301 | Insulated Evidence | 2007-10-03 | 30 | When a Texas man is found dead in his fire-damaged San Antonio apartment, police discover fiber evidence that leads to a killer who entered and exited the apartment through a ceiling. |
| 3 | 302 | Cold Hearted | 2007-10-10 | 30 | When a young fireman died from what appeared to be serious but undiagnosed heart disease, his family and friends were devastated but they had no proof of foul play. Then they learned that six years earlier in a nearby town, a young police officer died in the same way. The men had one thing in common: they had been married to the same woman. |
| 4 | 303 | Wheel of Misfortune | 2007-10-17 | 30 | Security cameras in a casino tracked a young woman's movements until shortly before she disappeared. She was never seen again, but through the evidence she left behind, she was able to tell investigators what happened to her and who was responsible. |
| 5 | 304 | Quite a Spectacle | 2007-10-24 | 30 | Police in Canada received a chilling 9-1-1 call from a woman who was just attacked in her apartment, but by the time they arrived, she was dead. Little evidence remained at the scene, except for a pair of eyeglasses and a shoeprint in a squished tomato. With the help of Canada's only forensic optometrist, police put away a killer that is larger than life. |
| 6 | 305 | Transaction Failed | 2007-10-31 | 30 | When a dedicated, well-respected teacher disappeared, police had to determine if she'd gone on vacation without telling anyone, or if she was the victim of foul play. Investigators turned to forensic science, hoping to find the answers they needed. |
| 7 | 306 | The Day the Music Died | 2007-11-07 | 30 | The mystery surrounding the 1993 slaying of Mia Zapata, the lead singer for the Seattle punk-rock band the Gits, is solved a decade later with DNA evidence. |
| 8 | 307 | Sole Survivor | 2007-11-14 | 30 | A case of a disappearance and presumed death of a Michigan State student. A professor of geological sciences is on hand to help dig up some dirt of her killer. |
| 9 | 308 | Insignificant Others | 2007-11-21 | 30 | When the investigation of a woman's apparent suicide turns up some anomalies, investigators reopen the case of the suicide of another woman that had dated the same man. |
| 10 | 309 | Catch 22 | 2007-11-28 | 30 | A woman was ambushed in her driveway and shot to death. During their investigation, police learned that a co-worker half her age was in love with her, and that she'd spurned his advances. They now had to determine if love had turned into obsession... and a motive for murder. |
| 11 | 310 | A Cinderella Story | 2007-12-17 | 30 | The victim had been sexually assaulted and stabbed to death on the beach, just ten yards from the hotel where she was staying. A pair of men's tennis shoes was discovered near her body. Police were sure that if they found the man who fit the shoes, they would also find the man who committed the crime. |
| 12 | 311 | Screen Pass | 2008-01-07 | 30 | Fingerprints on a window screen hold the key to solving the abduction and murder of a 13-year-old Colorado girl. |
| 13 | 312 | Pressed for Crime | 2008-01-14 | 30 | A killer drives off in his victim's car after the crime. Forensic scientists match an iron found in the car to some broken pieces of plastic found near the victim's body. |
| 14 | 313 | Finger Pane | 2008-01-21 | 30 | Two women are found dead in a Texas field, and a bloody fingerprint is found on one of the bodies. Police hope it will lead them to the killer. |
| 15 | 314 | Good as Gold | 2008-01-28 | 30 | On Halloween night 2004, Adriane Insogna and Leslie Mazzara were brutally murdered in their Napa, California home. The killer was not seen by their downstairs roommate, but he left his DNA behind in some cigarette butts and a groundbreaking test determined his race and even the color of his eyes and hair. |
| 16 | 315 | Freedom Fighter | 2008-02-06 | 30 | A county social worker is murdered and her home set on fire. Bite marks are used to convict a man who had threatened people in her office. The man, Roy Brown, protests his innocence, and spends 15 years in jail finding the real killer. |
| 17 | 316 | Dog Day Afternoon | 2008-02-25 | 30 | When the only witness to a brutal killing is the family dog, investigators turn to a microscopic analysis of some articles of clothing to find the guilty party. |
| 18 | 317 | Shattered Innocence | 2008-03-07 | 30 | The murderer probably hoped to cover his tracks by staging the crime scene. But police saw through the attempt almost immediately, and they turned to forensic science to discover what really happened that night. |
| 19 | 318 | All Butt Certain | 2008-03-14 | 30 | A man is sent to jail based on eye-witness testimony that he killed his mother-in-law. But it was dark and the witness was a young child - is her identification reliable? His family says no, and armed with a DNA sample of the real, unidentified, killer; his courageous wife conducts her own investigation. |
| 20 | 319 | Jean Pool | 2008-04-18 | 30 | The 1984 murder of a college student, Laura Salmon, seems to have plenty of suspects, but nothing which solidly links any of them to the crime. After a decade now, this cold case has a breath of new life. |
| 21 | 320 | Traffic Violations | 2008-05-09 | 30 | An attractive waitress is found dead a mile and a half from her abandoned vehicle. |
| 22 | 321 | Brotherly Love | 2008-05-23 | 30 | Fingerprints from a 1969 murder investigation turn up more than 30 years later, and detectives wonder if there could be a match in a modern fingerprint database. |
| 23 | 322 | Disrobed | 2008-06-06 | 30 | The crime scene was especially violent: A husband and wife had been shot to death in their bedroom. At first, investigators thought their teenage daughter was lucky to have survived... but after a while, they wondered if the reason she was alive had more to do with careful planning than luck. |
| 24 | 323 | Driven to Silence | 2008-06-20 | 30 | A witness comes forward to help solve the murder of a South Carolina hairdresser. |
| 25 | 324 | Printed Proof | 2008-06-28 | 30 | A pair of lesbian women are found murdered in Oregon. Forensic investigators trace fingerprints on duct tape used to bind them and make a composite sketch of a man seen nearby. |
| 26 | 325 | About Face | 2008-07-18 | 30 | A human skeleton was found in the North Carolina marshlands and, when investigators learned she'd been dead for several months, they knew it would be difficult to find out who she was much less who killed her. It would take an inventive computer consultant to give her a face and a name. |
| 27 | 326 | In the Bag | 2008-07-25 | 30 | After shooting his victims in the head, the killer staged the scene, placed the evidence into a plastic bag and tossed it into the river. But instead of floating downstream, it became entangled in overhanging branches. A few days later, when investigators found it, they hoped clues to the killer's identity and the solution to the crime were "in the bag." |
| 28 | 327 | Yes, In Deed | 2008-08-08 | 30 | In a terrible twist of fate, just days after the woman sold her home and moved to a modest trailer, a fire claimed both the trailer and her life. But the autopsy proved this was no accident. It was arson and murder. Police had to find out who wanted the woman dead... and why. |
| 29 | 328 | Guarded Secrets | 2008-08-22 | 30 | When a security guard disappeared from work without a trace, investigators couldn't determine if he left willingly or if foul play was involved. But homicide was confirmed when the body was found 19 months later. Without any substantial evidence or leads the case went cold. 14 years later, a cold case investigator solved the case after finding crucial evidence hidden beneath the victim's sole. |
| 30 | 329 | Smoking Out a Killer | 2008-08-29 | 30 | For years, a brutal series of rapes and murders of college girls shocked a local campus. Police feared a serial killer was on the loose and they needed to determine what – or who – these women had in common. |
Season 13
| Episode No. | No. Overall | Title | Airdate | Runtime | Summary |
| --- | --- | --- | --- | --- | --- |
| 1 | 330 | Frozen Assets | 2008-09-12 | 30 | A bag full of evidence recovered from an iced-over river helps to reveal the murderer of a businesswoman in her own shop. |
| 2 | 331 | House Hunting | 2008-09-19 | 30 | In 2006, Texas real estate agent Sarah Anne Walker was found murdered in a model home. Weeks later, a witness came forward who may have seen the killer. Police used forensic hypnosis to help him recall every detail of the man's appearance. His description was used to create a composite sketch, which investigators used to pull the killer out of hiding. |
| 3 | 332 | Shoot to Thrill | 2008-10-03 | 30 | In 2003, Jason MacLennan returned home after a night out with friends and found his father's body lying in a pool of blood. There were shoe impressions outside in the snow. Police needed to determine who had the most to gain from his death. |
| 4 | 333 | Political Thriller | 2008-10-10 | 30 | After a politician dies of an apparent heart attack, an observant medical aide suspects poisoning and takes blood and urine samples. They become crucial evidence when investigators learn of incriminating remarks made by a suspect. |
| 5 | 334 | Double Cross | 2008-10-24 | 30 | A U.S. Navy air traffic controller is found raped and murdered in her own home, and the body of one of her male co-workers is found right next to her bed. Is this crime the result of workplace sexual harassment and rape? |
| 6 | 335 | Dancing with the Devil | 2008-10-31 | 30 | A man is found stabbed to death after a night in a strip club. A drop of blood on a bedspread becomes critical evidence five yeas later. |
| 7 | 336 | Last Dance | 2008-11-14 | 30 | In 2000, the body of an exotic dancer was found beneath a New Jersey bridge, making police believe she committed suicide. But evidence at the scene proved not only that she'd been carried to the bridge and thrown over the side, but also that she was alive when she fell. |
| 8 | 337 | Constructive Criticism | 2008-11-21 | 30 | A construction foreman's murder is solved when an investigator notices some unusual characteristics of a few drops of blood. |
| 9 | 338 | Home Evasion | 2008-12-05 | 30 | In 2000, Judy Southern came home from work and was shot by a gunman waiting for her. Her husband Allen arrived afterwards, called 911 and drove her to the hospital. She died on arrival and the investigation focused on her husband Allen, but forensic analysis and a suicide note found at the scene pointed to someone else. |
| 10 | 339 | Window Watcher | 2008-12-12 | 30 | A woman's story seemed far fetched: A man wearing only underwear and gloves broke into the house, stabbed her boyfriend to death, and raped and terrorized her for hours afterward. But the evidence at the scene supported her story, and investigators turned for help to the FBI and their criminal profilers. |
| 11 | 340 | Stranger in the Night | 2008-12-19 | 30 | Suspected in the murder of his mother, a Delaware man tries to convince detectives that the real killer is a hitchhiker he had picked up. |
| 12 | 341 | Kidnapping (The Ginger Hayes Murder) | 2009-01-09 | 30 | A family vacation turns into a terrifying search for a missing wife and baby, then becomes a manhunt for a killer who committed a horrific crime. |
| 13 | 342 | Sands of Crime | 2009-01-16 | 30 | A college student is abducted and murdered five days before Christmas. Eight years pass before a cell phone and a pair of running shoes implicates a suspect. |
| 14 | 343 | Calculated Coincidence | 2009-01-23 | 30 | A North Carolina woman is raped and strangled in her apartment. Authorities are unable to link the prime suspect to the homicide, until they discover a connection to an unsolved Michigan murder that was committed a few years earlier. |
| 15 | 344 | Sworded Scheme | 2009-01-30 | 30 | A college student is reported missing, and police discover blood spatter in her boyfriend's bedroom – blood spatter someone has gone to great lengths to conceal. |
| 16 | 345 | Unmasked (The Stevie Green Case) | 2009-02-20 | 30 | A serial rapist is on the loose in a Texas town. No one knows where he'll strike next, but the audacity of his attacks and the escalation of violence against his victims make finding him imperative. |
| 17 | 346 | Fashion Police | 2009-03-13 | 30 | The victim has been stabbed more than thirty times, and the crime scene is awash with her blood. Near her head, police discover a distinctive button with strands of thread still attached. If they can find the owner of the shirt the button came from, they'll also find the killer. |
| 18 | 347 | Church Dis-service | 2009-04-03 | 30 | A young woman attends evening church services... then disappears. When her abandoned car is found, the tank is empty and a gas can she kept in her trunk for emergencies is missing. Eyewitnesses place her at a nearby gas station, getting into a van, but their descriptions of the vehicle don't match. Three days later when her body is discovered, the search for the driver of that van intensifies. |
| 19 | 348 | Seedy Intentions | 2009-04-17 | 30 | When a nine-year-old girl goes missing, police and volunteers spend weeks searching for her. A psychic's vision leads to a field where her body is discovered, along with what investigators hope is enough evidence to also find her killer. |
| 20 | 349 | DNA Dragnet | 2009-05-15 | 30 | Digital enhancement of security camera video shows that what appears to be a casual encounter is actually a forced abduction, leading to murder. The perpetrator's MO is remarkably similar to another murder which occurred five months earlier, 15 miles away. When investigators learn the crimes might not be isolated or random, they also realize a serial killer may be on the loose. |
| 21 | 350 | Smiley Face | 2009-05-22 | 30 | The woman was sexually assaulted, stabbed, and left for dead. She survived and provided a description of her attacker. When someone who fit the description came forward, police were sure they had their man… until the DNA evidence proved them wrong. |
| 22 | 351 | Dirty Laundry | 2009-06-05 | 30 | The victim was a self-made man who never minced words. Perhaps he was murdered by a disgruntled employee. Perhaps the racy photos in his safe held the clue to solving the crime. Or perhaps investigators could follow the money and find the killer. |
| 23 | 352 | Drowning Sorrows | 2009-06-12 | 30 | A family vacation becomes a nightmare when the wife is found face-down in the lake. Determining the manner of her death proves to be difficult… until a forensic pathologist uses a groundbreaking technique to discover the truth. |
| 24 | 353 | As Fault | 2009-06-19 | 30 | The woman in the back of the truck was flailing her arms, screaming. They thought she was doing something dangerous for the fun of it. But when they found a jacket near a pool of blood, they knew what they'd seen wasn't a joy ride; it was an abduction. |
| 25 | 354 | Family Ties | 2009-07-17 | 30 | After he got inside, the assailant used an ax to kill the husband and critically injure his wife. Nothing was taken; this wasn't a robbery. DNA from skin cells collected hundreds of miles away would reveal the killer's identity and his motive for murder. |
| 26 | 355 | Trouble Brewing | 2009-07-24 | 30 | Two suspects living together were linked to a murder by bloodstained boots and a gun – items that belonged to the one who claimed he'd never met the victim. Police hoped the manufacturing code on beer bottles would prove who was telling the truth. |
| 27 | 356 | Holy Terror | 2009-08-14 | 30 | A serial bomber was on the loose in Illinois. Two churches had been bombed and one person was killed. Investigators had to stop the perpetrator before he struck again… and they hoped to find him by following a thin copper wire. |
| 28 | 357 | Needle in a Haystack | 2009-09-04 | 30 | There was no apparent reason for the young, healthy college student to be dead. But when the medical examiner found the tiniest of clues during the autopsy, investigators were able to unravel the mystery of betrayal and revenge. |
| 29 | 358 | Room with a View | 2009-09-11 | 30 | The victim had been stabbed more than a hundred times; her bedroom was blood-soaked. While her body was positioned in a suggestive way, she hadn't been sexually assaulted. Was this a sex crime, or the random act of a man with an intense hatred of women? |
| 30 | 359 | Dollars and Sense | 2009-09-25 | 30 | Even though the victim was burned beyond recognition, police were able to create a composite sketch from his remains and identify him. But knowing who he was isn't enough. Investigators still had to determine where he was killed and who wanted him dead. |
| 31 | 360 | Hair Line | 2009-10-02 | 30 | Doctors don't know why the young scientist is gravely ill. When tests finally reveal the cause, it's too late to save him. Police hope that lab analysis of his hair, showing when attempts were made on his life and what was used, will lead to the killer. |
| 32 | 361 | All That Glitters is Gold | 2009-10-16 | 30 | A bullet-riddled car, a missing driver, and no witnesses. Was this an ambush or a random attack? Had the victim been abducted or was she dead? The answers lay in a unique clue, so tiny it was measured in millionths of a meter. |
| 33 | 362 | Deadly Rebellion | 2009-10-30 | 30 | The teen's parents weren't really worried. She'd run away before, and they were sure she'd be back… but they were wrong. She was found on the side of the road, with her throat slit. Would a single hair lodged in a defensive wound lead to her killer? |
| 34 | 363 | Sign of the Crime | 2009-11-13 | 30 | Two women who lived in the same apartment complex were brutally murdered. The similarities of the crime scenes led police to believe they were dealing with a serial killer who hated women, and they had to find him before he struck again. |
| 35 | 364 | Covet Thy Neighbor | 2009-11-20 | 30 | A college co-ed simply vanishes, and her fellow students are concerned about her safety… and their own. Weeks later, when a body is discovered 700 miles away in the ashes of a barn fire, an alert police officer realizes the two crimes might be connected. |
| 36 | 365 | Writing on the Wall | 2009-12-11 | 30 | The victim was well liked and successful, which made the brutality of the crime hard to understand. She'd written a name on the wall, presumably that of the killer, in her own blood. But to catch the killer, police would have to read between the lines. |
| 37 | 366 | Hundreds of Reasons | 2010-01-08 | 30 | The assistant manager of the restaurant had been stabbed to death. Police knew why he'd been killed: $8,000 was missing from the safe. As to who was responsible, his family and friends couldn't even imagine who'd want to hurt him. |
| 38 | 367 | Cold Feet | 2010-02-05 | 30 | The convenience store safe was empty and the clerk, missing. Hours later, her bound, half-naked body was discovered in nearby woods. Almost two decades would pass before advances in forensic science gave police the proof they needed to convict a killer. |
| 39 | 368 | Seperation Anxiety | 2010-02-19 | 30 | When a man's body is discovered burned in a parking lot, police use tire track impressions and security camera video to track down the killer. |
| 40 | 369 | Office Visit | 2010-03-05 | 30 | A respected surgeon was stabbed to death in the parking lot next to his office. The most likely suspect is seen having dinner in a restaurant at the time of the murder. But a cryptic conversation leads police to believe that, while the suspect may not have wielded the knife, he could very well have hired the man who did. |
| 41 | 370 | Palm Saturday | 2010-03-12 | 30 | A young couple is found murdered in their Graham, Washington home; detectives discover shoe impressions, a partial palm print, and a neighbor's criminal past. |
| 42 | 371 | Shoe-In for Murder | 2010-03-19 | 30 | Terrified, the young girl hid in her bedroom while her mother was attacked and stabbed to death. The day was May 12, 1994, when Crystal Perry was viciously murdered in her home in Bridgton, Maine. Investigators had a wealth of evidence: shoe impressions, distinctive blood drops, and the killer's DNA. What they didn't have was a basis for comparison. |
| 43 | 372 | Family Interrupted | 2010-04-02 | 30 | The gunman opened fire as the family of four entered their home, killing two and wounding the others. He'd pulled open a few drawers to make it look like a robbery, but the scene was clearly staged. When police pieced together the clues, they discovered an unlikely suspect and a carefully orchestrated plot. In short, on December 10, 2003, in a murder-for-hire scheme, |
| 44 | 373 | Runaway Love | 2010-04-16 | 30 | It was classic "overkill." The woman floating in the harbor of an upscale yacht club had been stabbed more than 50 times. Her ex-husband and daughter are missing, and investigators turn to forensic science to determine if they're searching for victims... or perpetrators. |
| 45 | 374 | Watchful Eye | 2010-04-30 | 30 | On May 20, 2001, Carrie Nelson, then 20, was beaten to death while working alone in a state park office. There's a wealth of evidence at the scene, but it didn't implicate the prime suspect, it cleared him. The case went unsolved for six years until May 2007 when, in a routine check of DNA samples of prison inmates in South Dakota, police found a match with DNA samples gathered from the crime scene. |
| 46 | 375 | Waste Mis-Management | 2010-05-14 | 30 | The evidence suggested the woman had been bound, sexually assaulted and murdered. Afterwards, the killer spent hours at the crime scene, wiping away his fingerprints and disposing of everything which might incriminate him, including the woman's body. Police now face a daunting task: they not only have to find the killer, they also have to find the body of the victim. |
| 47 | 376 | Dirty Little Seacret | 2010-05-28 | 30 | The couple spent Memorial Day weekend at the beach, and then they simply vanished. Their clothes and personal items were still in the rented condo, their car was parked outside, and there were no signs of forced entry or foul play. A week later, police would get an unexpected lead from a robbery in progress, and the evidence they found helped them to solve a crime of unparalleled violence and brutality. |
| 48 | 377 | Lights Out | 2010-06-11 | 30 | Whoever stabbed the young mother to death had also savagely beaten her four-year-old daughter. Police had a suspect, but not enough evidence to tie him to the crimes. It would take 15 years and advances in DNA technology to bring the killer to justice. |
| 49 | 378 | Pet Rock | 2010-06-18 | 30 | The woman hadn't shown up for work in two days, and her boss reported her missing. When her body was found, the evidence pointed to suspects who claimed they had nothing to do with the crime. The victim, herself, would help police prove they were lying. |
| 50 | 379 | Best Foot Forward | 2010-07-09 | 30 | The investigation of an exotic dancer's disappearance leads to an isolated site where someone has been shot and cremated. Soft tissue attached to a piece of a foot yields enough DNA for a genetic profile, and positive identification of the victim. |
Related News
TVMaze