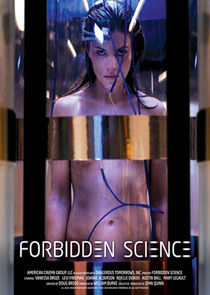 Passion and science collide in this compilation of episodes from the futuristic erotic series that follows life at a corporation that builds clones.
Series Overview
Rating
imDb Rating: 5.5 (568 Votes)
Metascore: N/A
Plot
Forbidden Science is a unique blend of noir science fiction and erotic programming combining intelligent scripts, attractive characters with great production value. Set in the near future, ...
Details
Rated: TV-MA
Released: 09 Jan 2009
Runtime: 30 min
Genre: Drama, Fantasy, Mystery, Romance, Sci-Fi, Thriller
Director: N/A
Writer: Doug Brode
Actors: Vanessa Broze, Joanne Alderson, Levi Freeman, Noelle DuBois
Language: English
Country: Canada
Awards: N/A
Total Seasons: 1
Previous Episode
Home
Episode 1x13; Mar 27, 2009
Philip is determined to find out how the Gold Chip caused the death of a clone. Penny tries to distract Philip with a little sexy role-playing, but Philip is still determined to prove the Gold Chip couldn't have killed the clone. With the Gold Chip project shelved, Julia tells Bethany that she is going to resign from 4Ever. Bethany learns some interesting information from an unexpected source -- Senator Joan Montgomery. Colin's missing, and as Bethany searches for him, she is led back to her former home with Adrian. It is there that Bethany uncovers the startling secrets of 4Ever and the Level 6 project.
Previous Episodes 1x13: Home 1x12: Secrets 1x11: Erase 1x10: Virus 1x9: Tarot 1x8: Lonely 1x7: Property, Part 2 1x6: Property, Part 1 1x5: Hotzone

View All Episodes
Cast
Noelle DuBois as Dr. Penny Serling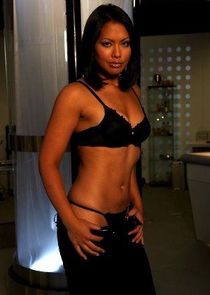 Joanne Alderson as Bethany Montrose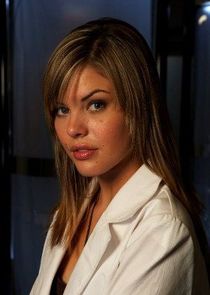 Vanessa Broze as Julia White
Austin Ball as Dr. Philip Wise
Levi Freeman as Colin Sommers
View Full Cast
Skip to:
Season 1
| Episode No. | No. Overall | Title | Airdate | Runtime | Summary |
| --- | --- | --- | --- | --- | --- |
| 1 | 1 | 4Ever | 2009-01-10 | 30 | CEO, Colin Sommers, gives an old college acquaintance, Bethany Montrose a job opportunity at 4Ever Technologies. Bethany's first client, Michael White requests a clone of his dead wife, Stephanie. A bit suspicious of his motives – and his involvement with his sexy attorney, Monica -- Bethany and the very young and very brilliant, Dr. Penny Sterling investigate the Whites. When Stephanie (actually her clone) wakes, she is a bit dazed and confused. Michael explains that she was in a car accident. Stephanie downloads her memory from a microchip and realizes that her husband killed her in an attempt to take over her billion-dollar microchip business. Bethany helps the clone get a second chance at life not as Stephanie but as Julia. |
| 2 | 2 | Adversaries, Part 1 | 2009-01-16 | 30 | Colin holds a press conference telling the world about the life-saving and life-improving benefits of cloning organs. The moral issue of cloning brings out religious protesters who picket 4Ever Technologies. Among the protesters is Jacob, the father of Samantha, a young woman who is paralyzed. Laura, Colin's assistant and also Samantha's friend, puts in a request for a spinal transplant. Colin confronts Laura about requesting the surgery behind his back but eventually approves it. Laura and Colin have been involved in a secret affair and her need for him in this instance brings them closer. Julia (formerly known as Stephanie) starts working at 4Ever and sets up a business agreement with Colin. Bethany is having recurring dreams about her ex-husband, who surprises her at the job with divorce papers. Later in the evening a security guard finds Jacob on the premises and moments later there is an explosion in the Cloning Lab. |
| 3 | 3 | Adversaries, Part 2 | 2009-01-23 | 30 | Colin and Jacob are trapped in the lower level of 4Ever Technologies and Jacob is being accused for setting off the bomb. Colin climbs under debris to check out the destroyed android's brain hoping it will provide some answers. Lack of oxygen causes Coin to pass out but Jacob carries him back to safety until they are both rescued. While visiting Colin, Laura spots a pile of confidential forms being shredded and she secretly takes one of the papers. Robert Armstrong, owner of a company that produces artificial limbs, stops by to check on Colin but he seems to have his own agenda. Philip discovers that there has been a glitch in security and that Jacob is not responsible for the explosion. Immediately, Colin knows who planted the bomb, so he pays a visit to Robert. The men talk and Robert begs Colin to stop mixing android and clone organs. He feels that Colin is crossing the lines. From the next room, Robert's sexy lover and paid assassin, Bianca, listens in on their conversation. Samantha is in the hospital recovering and can now feel her legs. Jacob sits at her bedside to let her know that he is there for her. Julia talks to the priest and realizes that she must start her life from scratch. |
| 4 | 4 | Weekend | 2009-01-30 | 30 | Laura visits an abandoned warehouse and her curiosity forces Colin to end their relationship and to erase her memory of everything connected to the warehouse. A very busy Bethany finds a note from Laura about something called Level 6 and goes to the warehouse where Colin stops Bethany from nosing around. While out jogging Julia meets David but their relationship is short lived when she discovers that she doesn't have a family history like most people. Penny builds the perfect male lover, but when he becomes too much to handle she makes a gender adjustment. The female android brings another set of problems and Penny realizes she needs a real man. Delivering android parts back to the 4Ever, Penny is surprised to find Philip watching her favorite classic sci-fi movie. |
| 5 | 5 | Hotzone | 2009-02-07 | 30 | Colin threatens to terminate the Gold Chip project unless Julia, Penny and Philip can prove its worth, within 72 hours. At the same time, a janitor at 4Ever Technologies agrees to go on a mission to expose the company's Biotech secrets in order to help his blind girlfriend. When the janitor's dead body ends up at 4Ever, Philip uses the Gold Memory Chip and discovers the deadly web of S&M sex, lies and deceit of the Hot Zone that lead to the janitor's death. With the Memory Chip, Philip is also able to save the life of the dead man's blind girlfriend. Penny finds this heroic side of Philip very attractive. |
| 6 | 6 | Property, Part 1 | 2009-02-13 | 30 | After a love making session, Max, the pleasure providing Android of Senator Joan Montgomery, mysteriously malfunctions. Returning Max to 4Ever Technologies for repair, Joan reconnects with Colin. Their past romantic history leads to an afternoon of real passion. In order to protect political secrets that are connected to 4Ever, Colin and Joan agree to destroy the android. Meanwhile, Julia has fallen in love with Max and to protect him from destruction, she takes him to a secluded love nest. |
| 7 | 7 | Property, Part 2 | 2009-02-14 | 30 | Julia brings Max, the android, to a new safe house, the mansion of the woman she was cloned for, Stephanie White. 4Ever competitor, Armstrong Industry wants to find out the secrets that are stored in Max. Colin is considering making Bethany a vice president of the company to help with his chaotic workload. Despite their better judgment, they gave into the sexual tension and make love. Max and Julia go to the warehouse, where Max believes he was created. They are ambushed by the secret assassin of Armstrong Industries, Bianca. Julia helps Max escape but remains to face-off with Colin and his armed guards. Shots are fired and one of them falls. |
| 8 | 8 | Lonely | 2009-02-21 | 30 | Laura has hot virtual sex with Lonely311. When she hears her neighbor playing the same song that she just heard during her virtual encounter, she becomes intrigued. She discovers that her neighbor, Harold, an eccentric blind recluse, was a founding partner of the creation team of 4Ever Innovations. He recruits Laura to access a computer password that will help him expose the secrets of 4Ever. Laura is on a mission and doesn't seem fazed by Colin and Bethany's sexual affair. But Laura's snooping comes to an abrupt and tragic end when she encounters Adrian Turner, the true owner and co-creator of 4Ever. Colin angrily confronts a newly re-cloned Julia about her part in the kidnapping of the pleasure bot, Max. |
| 9 | 9 | Tarot | 2009-02-28 | 30 | An sexy, but deadly, woman leads a group of Bio-Terrorists on a mission to steal scientific data from a brilliant scientist. When things go awry and the scientist ends up in a self-induced coma, the group kidnaps Bethany and coerces Colin into helping them tap into the mind of the scientist. Colin is forced to ask Julia for her help. She acquiesces, for Bethany's sake, only to find that the comatose scientist is her former mentor, colleague and lover, Julius. Julia must use a highly experimental and dangerous procedure to enter the mind of the dying scientist. In the virtual world of their connected minds, they have one last tryst. |
| 10 | 10 | Virus | 2009-03-06 | 30 | A blackout at 4Ever Tech is caused by a thinking computer virus, which turns out to be Harold. He has returned from the dead through the computer's mainframe to seek revenge on Adrian by revealing the sordid secrets of 4Ever. Penny comes to the rescue with a new virtual program which allows her to use her Penny Power. Dressed in her sexy virtual superhero outfit, she destroys Harold with deadly lightning bolts that shoot out of her fingertips. This scary heroic virtual act leads to Penny and Philip's first real sexual encounter. In the meantime, while also trapped in 4Ever, Adrian faces an old foe. |
| 11 | 11 | Erase | 2009-03-13 | 30 | The memories of the late Stephanie White's past are haunting her clone, Julia. After the successful simulation of encoding and removing a person's memory with the Gold chip, Julia realizes that she can also use the same chip to erase her mind of Stephanie's memories. Bethany insists that the process be tested before Julia thinks about undergoing any kind of memory extraction. But when Julia has a chance meeting with an old lover, she is propelled to start a life with her own memories. Meanwhile Bethany's past creeps up on her as she starts to have recurring vivid nightmares of her ex-husband having sex with another woman. Adrian orders Colin to end his affair with Bethany. When Colin seems to resist, Adrian takes matters into his own hands. |
| 12 | 12 | Secrets | 2009-03-20 | 30 | The Gold Chip has passed all tests and is ready to be put on the market. But Adrian tells Colin that he has other plans for the valuable memory chip. Colin's ex-lover, Senator Joan Montgomery, tells him about career opportunities with 4Ever Innovations' competitor, Armstrong Industries. Meanwhile, Robert Armstrong has a disturbing meeting with Adrian. Later, when Colin agrees to a hush-hush meeting with Robert he gets the surprise of his life. It seems that everyone at 4Ever has a secret, and some of them are deadly. |
| 13 | 13 | Home | 2009-03-27 | 30 | Philip is determined to find out how the Gold Chip caused the death of a clone. Penny tries to distract Philip with a little sexy role-playing, but Philip is still determined to prove the Gold Chip couldn't have killed the clone. With the Gold Chip project shelved, Julia tells Bethany that she is going to resign from 4Ever. Bethany learns some interesting information from an unexpected source -- Senator Joan Montgomery. Colin's missing, and as Bethany searches for him, she is led back to her former home with Adrian. It is there that Bethany uncovers the startling secrets of 4Ever and the Level 6 project. |
Series Cast
| | | | |
| --- | --- | --- | --- |
| | Noelle DuBois | as Dr. Penny Serling | |
| | Joanne Alderson | as Bethany Montrose | |
| | Vanessa Broze | as Julia White | |
| | Austin Ball | as Dr. Philip Wise | |
| | Levi Freeman | as Colin Sommers | |
Related News
TVMaze