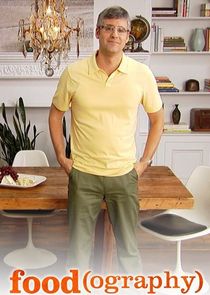 Ever wonder how people and societies were shaped by food? Take a look at cultural food themes by learning about the past, present and future of iconic, classic and tasty treats.
Series Overview
Rating
imDb Rating: 8.1 (16 Votes)
Metascore: N/A
Plot
A history of food.
Details
Rated: N/A
Released: 31 May 2010
Runtime: 30 min
Genre: Reality-TV
Director: N/A
Writer: N/A
Actors: Mo Rocca, Francis Lam, Melissa Clark
Language: English
Country: USA
Awards: N/A
Total Seasons: 2
Previous Episode
Hawaiian Islands
Episode 3x13; Oct 11, 2011
We've discovered the best the Big Island and Oahu have to offer, as well as the stories and passion behind the dishes. Kick it off with a Mai Thai from star bar chef Christian Self at Honolulu's Waikiki EDITION hotel. Then head over to legendary four star chef Alan Wong's restaurant and then the small gem Town, with up and coming chef Ed Kenney. Follow that up with the best farm-raised Wagyu beef at Merriman's Waimea and a seafood odyssey at the Manta & Pavilion Wine Bar and we've got the main courses covered! And of course there's plate lunch at Helena's and some sweet Hawaiian treats, mochi and Kona coffee. Plus, a Kanack Attack and a major Luau ... Aloha!
Previous Episodes 3x13: Hawaiian Islands 3x12: Olive Oil 3x11: Greek 3x10: Las Vegas 3x9: Sugar 3x8: Bar Food 3x7: Mexican 3x6: Campfires & Cowboys 3x5: San Francisco

View All Episodes
Skip to:
Season 1
| Episode No. | No. Overall | Title | Airdate | Runtime | Summary |
| --- | --- | --- | --- | --- | --- |
| 1 | 1 | Ice Cream | 2010-05-31 | 30 | Long before the advent of the icebox was the ice age! Ice cream has a long history as a human comfort food. Pastry genius Johnny Iuzzini takes us from ices to ice cream in a knockout dessert. Take a ride on Ben van Leeuwen's organic ice cream truck, discover ice cream that stretches like taffy and tastes like BLT. Marvel at an instant frozen treat made with the miraculous anti-griddle and explore the secret halls of the IFF, where vanilla is born. |
| 2 | 2 | Outdoor | 2010-06-06 | 30 | Once upon a time, eating outdoors was the only option. But even when life got a little cushier, mankind found that to their surprise, they still yearned to dine al fresco. To see how cooking has evolved beyond the hearth, journey with us from Plimoth Plantation to the Red Hook Ball Fields. Whether it's artisanal sausages in Rhode Island, whole baby lambs on a spit in Williamsburg, or luxury barbecue in L.A., outdoor cooking and dining is here to stay. |
| 3 | 3 | Chocolate | 2010-06-13 | 30 | Follow the deep, dark path of chocolate from the depths of the rainforest to the back rooms of master chocolatiers. Visit Ultra Marinos where Maricel Presilla will take us back to the earliest Meso-American chocolate beverage or see how Hershey's Kisses have been challenged by Victorian clad blenders at Mast Brothers Chocolate in New York. |
| 4 | 4 | Noodles | 2010-06-20 | 30 | Slurp, twirl and trace the delicious journey of the noodle from its twisted past via China, the Arab world and of course, the famed pastas of Italy. Meet handmade noodle makers from Italian, Chinese and Japanese traditions, take a tour of D. Maldari & Sons pasta die factory in Brooklyn, meet American pasta royalty and watch as the noodle takes the road less traveled. |
| 5 | 5 | Cookbooks | 2010-06-27 | 30 | From the first cookbook, Apicius, to Julia Child's masterpiece, we're diving headfirst into the glossy oversized tomes spread across your kitchen table. You don't even need a library card -- we'll help you click through virtual cookbooks and phone apps for all of your favorite recipes. |
| 6 | 6 | Cocktails | 2010-07-05 | 30 | Learn where the cocktail has been, who's leading it into the future and how to mix up one of your own. Cocktail experts and historians like David Wondrich will get you up to speed on everything alcohol. Jim Meehan from PDT will show us the path of the American speakeasy and cocktail master Eben Freeman will mix up some incredible cocktails with some unusual flavors like bacon. We'll enjoy a round at Manhattan's posh Carlyle Hotel where we'll imbibe in New York's best kept secret, Bemelman's Bar. From bargain pirate punches to $22 mixologist cocktails, we'll stir it all up. |
| 7 | 7 | Pastry | 2010-07-12 | 30 | Ah, the art of dessert pastry! The history of these delicacies is one of exacting skill and indulgent excess. Watch the wizardry and take a taste from the otherworldly arts of L.A. pastry hotshot Jordan Kahn to the classic French mille feuille puff pastry at the French Culinary Institute. Don't miss Del Posto's drummer turned master pastry chef Brooks Headley's unusually delicious Eggplant Chocolate Crostata. Plus San Francisco's hottest bakery: Tartine's Bavarian splendor. |
| 8 | 8 | Cheese | 2010-07-19 | 30 | Whey through the ripe, gooey and intentionally moldy history of cheese, and meet some of the eccentric and passionate artisans who take milk and turn it into so much more. Chef and owner Jon Shook is serving up a new twist on a classic comfort food at his restaurant Animal and James Beard winner Barbara Lynch is making a ricotta gnudi to share. Cheese can be an appetizer, a main course and of course, a dessert. We'll even gaze into the future and see what wacky flavors are starting to make their way into cheese! |
| 9 | 9 | Street Food | 2010-07-26 | 30 | From the classic hot dog in Midtown Manhattan to the newest fleet of gourmet food trucks, to the unexpected treasures in Minneapolis, eating on the run has gone from drab to today's hottest trend in haute cuisine. We'll see how Dante Gonzales is combining soul, food, music and art into his new roving restaurant. With blog alerts, tweets and phone apps to help you keep track of your favorite mobile meal, we'll map out a course; meeting the personalities behind the trucks and getting a few delicious recipes along the way. |
| 10 | 10 | Pies | 2010-08-01 | 30 | You should always save room for pie. Pies and Thighs, the hottest, hippest kitchen on the east coast shows us how they earned their cult-like following. Pulino's restaurant shows us why the ancient crostata still has a place of honor on their menu. Chef Landon Schoenefeld takes comfort food out of its comfort zone in Minneapolis with a Ham and Escargot Pot Pie. And Gilt's David Carmichael peeks into the future with an Inside-Out Blueberry Pie. Plus many more crusty, crumbly tidbits including star April Bloomfield's Stilton Pie at the The Breslin! |
| 11 | 11 | Hot and Spicy | 2010-08-08 | 30 | Few foodies are more dedicated than those who belong to the heat-seeking cult called the Spiceheads! Learn exactly what makes those habanero peppers so much hotter than the rest, discover the hottest wings in New York and snack on some crunchy Korean kimchee at Good Fork. Aarón Sánchez will take us south of the border and Joey Campanaro will serve up a spicy Italian peasant dish made with lobster. Later, we'll imbibe in a cocktail called the Sangrita that heats you up while it cools you down. There's even room for a spicy dessert with Pichet Ong. You'll want to keep a glass of milk close at hand. |
| 12 | 12 | Sandwiches | 2010-08-15 | 30 | This very special Food(ography) takes an in-depth look at the sandwich, literally the greatest thing since sliced bread. From its inception at the poker table to its international hits like the spicy Mexican Torta, the hearty Chicken Parmesan, or the proper English Tea Sandwich, this show's got you covered like cheese on a tuna melt. And yes, that is a Sea Urchin Sandwich that Chef George Mendes put in your lunchbox. |
| 13 | 13 | Candy | 2010-08-22 | 30 | You want candy, you know you do. Step inside the ultimate candybox, Economy Candy, where you can get candy from your childhood, candy from the future and even some that only costs a penny! Sugar artist Elizabeth Hodes makes blown candy glass sculptures that will blow your mind. We explore every gooey, stretchy, hard and chewy candy you've ever heard of and some you haven't, like Eddie Huang's incredible candy-filled pork sandwich, the Chairman Bao. Pastry chef Michael Laiskonis of Le Bernardin will transform an old-fashioned favorite into a four-star dessert. And of course we'll find time to deep-fry some Mars Bars. |
Season 2
| Episode No. | No. Overall | Title | Airdate | Runtime | Summary |
| --- | --- | --- | --- | --- | --- |
| 1 | 14 | Thanksgiving | 2010-11-21 | 30 | Here's a 360 degree look at Thanksgiving, the ultimate food-lover's holiday, from the first harvest table to Thanksgiving re-imagined with twists on traditional fare. We'll dig into Akhtar Nawab's Indian fusion feast, serve up Aki and Alex's molecular turkey meatballs and even taste a bit of luxury at Christopher Kostow's posh Napa Valley Thanksgiving. You'll wanna savor every bite, from the oyster stuffing to the pumpkin pie! |
| 2 | 15 | Winter Holidays | 2010-12-05 | 30 | Bring on the fruit cake, Hanukkah gelt and Gingerbread! Let's loosen our belts and dig into Anthony Pucciarello's Feast of the Seven Fishes and Norma Jean Darden's Hoppin' John with collard greens. And, you'll definitely want to save room for King's Cake at the ultra-exclusive LudoBites. Plus, it's Chinese New Year, so have some Lobster Yee Mein! Remember, your diet starts back up the day AFTER the holiday. |
| 3 | 16 | Pork | 2010-12-19 | 30 | From snout to tail, pound for pound, the possibilities of pork are endless, and Foodography is going whole hog! Check out the Meat Hook butcher shop where Brent Young and Ben Turley will walk us through the best cuts. Pile your plate high with Pork Braciola Marinara at Frankie's. And later, follow us to Louisville, Ky., for some Pig's Feet Wasabi Griddle Cakes and Pork Shoulder with Chef Edward Lee. Fear not, pork-lovers, there will be bacon! |
| 4 | 17 | Breakfast/Brunch | 2011-01-23 | 30 | Up and at 'em early-birds, from the nutritious to the delicious, we're exploring the history of the morning meal. Plus, we'll brunch our way around the world! Join us for Dim Sum at Chinatown Brasserie, a Sunday Smorgasbord at Aquavit and the breakfast of the future with Dave Arnold. They say it's the most important meal of the day, but breakfast is so much more! |
| 5 | 18 | Cakes & Cookies | 2010-02-06 | 30 | Get your sweet tooth ready -- it's time for cakes, cookies and everything in-between. We'll learn to make a 30-second chocolate cake, meet celebrity food stylist Susan Spungen and even try meatloaf cupcakes complete with mashed potato frosting! Plus, don't miss an astounding artist whose cakes are meant to be experienced, not eaten and the ancient history of the birthday cake -- in this sweet and savory slice of food(ography)! |
| 6 | 19 | NYC | 2011-02-20 | 30 | From bagels to burgers, discover the history and the most delicious foods of New York. Join host Mo Rocca as we criss-cross the boroughs to bring you the secrets of the perfect fried Chicken at Dirty Bird To Go and stop by the legendary Sardi's restaurant for a pre-theatre bite. Later, we'll quench our thirst with an old-fashioned egg cream at Brooklyn Farmacy and taste flavors from around the world in just one block. Think you've seen everything New York has to offer? Fuggedaboutit. |
| 7 | 20 | Southern Food | 2010-02-27 | 30 | Grab your iron skill for some Southern cooking as we explore all of the delicious history and lore from Mississippi to Charleston -- and even Brooklyn! From the tastiest catfish at Taylor Grocery to Dean Corbett's fried green tomatoes. Plus, the Lee Brothers boil up some peanuts and bubbling, pimento cheese potato gratin from their porch swing. And don't miss the fried gator -- plus Chef Sean Brock's molecular makeover for his signature shrimp and grits. You've heard of Southern comfort, well this is Southern comfort food. |
| 8 | 21 | Websites & Food | 2011-03-20 | 30 | Double click on delicious as Food(ography) explores the recent history of how websites, bloggers and social networking is changing our culinary mainframe. Log on for bloggers like Matt Bites who style food, see how a 12-year-old culinary prodigy masters the web and pick up more than cooking tips with internet sensation Hungry Girl. Plus, detour down the information superhighway with the wackier side of the web as viral video vixens shake up cocktails and meet a molecular gastro-girl who is Salty Seattle. Be sure to save some room on your hard drive as we take a mega-bite out of high-tech ordering with 4food. |
| 9 | 22 | Cheap Eats & Drinks | 2011-03-13 | 30 | Great food doesn't have to be overly expensive, and to foodographists there's nothing tastier than a bargain. From the Brooklyn flea market for great food and finds to the 99 Cent Chef for a cheap and delicious make-at-home meal. Plus, we'll transform fast food into a fancy feast with a few tricks, grab some grub at L.A.'s oldest dive bar and meet Emily Farris, the Casserole Queen. Don't worry about the bill! Food(ography) is picking up the tab. |
| 10 | 23 | New Orleans | 2011-04-03 | 30 | The history of New Orleans takes place on the plate, which is why Food(ography) has dedicated an entire hour to celebrating The Big Easy! We'll dive into a big bowl of gumbo at the famous Dooky Chase, where Louisiana legend Leah Chase shares her recipes and her amazing stories and meet some new culinary treasures with a rich past. Plus, Mo shucks his first oyster at Casamento's, learns the secret to making the perfect Po'Boy at Parkway and samples some fancy drinks at the swanky Sazerac. Don't miss dinner and the band! |
| 11 | 24 | Restaurants | 2011-04-17 | 30 | Cancel your plans because Food(ography) is taking you out to dinner! On the menu tonight: the history of restaurants from the Romans to the French. Plus some spunky upstarts like iconoclast Gabrielle Hamilton's personal menu at Prune and a VIP ticket to a hot Supper Club with Tamara Reynolds. We'll even check out Anfora Wine bar and Frenchman Michel Richard's fine dining experience at Citronelle. But we're not done, we're making our rounds to the restaurants people, so please, don't fill up on the bread. |
| 12 | 25 | Seafood | 2011-04-24 | 30 | When it comes to seafood, we want it all, so we're casting a very wide net! We'll set a course for Hugo's restaurant in Portland, Maine, where Chef Rob Evans takes a common fish and gets a little crazy with his Cod Cheeks and Pierced Cod Tongue creation. We'll sample some sushi at Jewel Bako in New York and learn the history behind it, plus we'll munch on monkfish at the Michelin Award-winning Brooklyn Fare. Then we'll sail off to the rocky shores of Maine for a lobster bake, dock our boat at Providence for some fresh John Dory fish and find time to pound some octopus. And if you've never encountered a Geoduck then you definitely don't want this episode to be the one that got away! |
| 13 | 26 | Los Angeles | 2011-01-05 | 30 | Mo hits Hollywood in a major way, so put on that bikini and grab your rollerblades, we're heading to L.A.! Mo's found stars who eat carbs -- actress Debi Mazar and her husband, Tuscan chef Gabriele Corcos. Meet a top private chef to the stars, plus, who knew that you can sample all the exotic flavors of Thailand and Iran by visiting West Coast strip malls? And join Mo as he discovers that the best Fish Tacos in Ensenada are actually in L.A.! Grill up gastropub burgers at Father's Office and stop by the exclusive Viceroy Hotel where Chef Tony DiSalvo schools Mo on some veal tenderloin. |
Series Cast
| | | | |
| --- | --- | --- | --- |
| | Mo Rocca | as Host | |
Related News
TVMaze