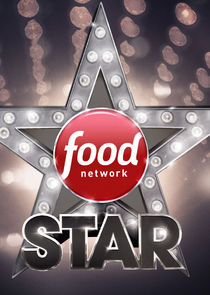 Food Network Star is a reality television series produced by and aired on the Food Network in the United States which awards the winner his or her own series on the Food Network.
Series Overview
Rating
imDb Rating: 6.3 (1,083 Votes)
Metascore: N/A
Plot
A food network contest to find a well rounded great chef with a unique point of view and hosting type of personality to host their own show!
Details
Rated: TV-G
Released: 05 Jun 2005
Runtime: 60 min
Genre: Game-Show, Reality-TV
Director: N/A
Writer: N/A
Actors: Bobby Flay, Giada De Laurentiis, Bob Tuschman, Susie Fogelson
Language: English
Country: USA
Awards: N/A
Total Seasons: 12
Previous Episode
The Newest Star
Episode 14x10; Aug 05, 2018
The pilots are in, and Giada De Laurentiis and Bobby Flay determine the fates of the three finalists. Watch what happens behind the scenes and find out who will join the Food Network family and become a Food Network Star!
Previous Episodes 14x10: The Newest Star 14x9: Who Gets a Pilot? 14x8: Star Salvation 4 14x7: Can You Host an Icon? 14x6: Shark Night Dinner 14x5: Take This Title and Run with It 14x4: Panic on the Panel 14x3: Summer Bite Bash 14x2: Destination Videos

View All Episodes
Cast
Bobby Flay as Judge
Susie Fogelson as Judge
Bob Tuschman as Judge
Giada De Laurentiis as Judge
Bobby Flay as Coach
Alton Brown as Coach
View Full Cast
Recent News
14 dynamite gifts for the Guy Fieri fans of the world
Guy Fieri is a food god among men. The Mayor of Flavortown isn't just an expert at taste testing, meme-making, and getting fellow food lovers excited about each and every culinary experience. He's also a beloved Food Network star, restaurateur, author, and an…
Chrissy Teigen is now a YouTuber
Longtime fans of Chrissy Teigen will remember that before she was a social media star, she was a Wordpress food blogger and lowkey chef. Now, after a successful cookbook and line of cookware, Teigen is returning to the kitchen and starting her own website and…
via NewsAPI
View More Related News
Skip to:
Season 1
| Episode No. | No. Overall | Title | Airdate | Runtime | Summary |
| --- | --- | --- | --- | --- | --- |
| 1 | 1 | Episode 1 | 2005-06-05 | 60 | |
| 2 | 2 | Episode 2 | 2005-06-12 | 60 | |
| 3 | 3 | Episode 3 | 2005-06-19 | 60 | |
| 4 | 4 | Episode 4 | 2005-06-26 | 60 | |
Season 2
| Episode No. | No. Overall | Title | Airdate | Runtime | Summary |
| --- | --- | --- | --- | --- | --- |
| 1 | 5 | Iron Chef Bootcamp | 2006-03-19 | 60 | |
| 2 | 6 | Rachael Ray TV 101 | 2006-03-19 | 60 | |
| 3 | 7 | 2nd Elimination | 2006-03-26 | 60 | |
| 4 | 8 | Giada Elimination | 2006-04-02 | 60 | |
| 5 | 9 | Alton Brown TV 101 | 2006-04-09 | 60 | |
| 6 | 10 | TV Guide Press Conference | 2006-04-16 | 60 | |
| 7 | 11 | Paula Deen Pilots | 2006-04-16 | 60 | |
| 8 | 12 | Season 2 Finale | 2006-04-23 | 60 | |
Season 3
| Episode No. | No. Overall | Title | Airdate | Runtime | Summary |
| --- | --- | --- | --- | --- | --- |
| 1 | 13 | Potluck, Cakes and Wedding Challenge | 2007-06-03 | 60 | |
| 2 | 14 | Bon Appetit Challenge | 2007-06-10 | 60 | |
| 3 | 15 | NBA Chocolate Challenge | 2007-06-17 | 60 | |
| 4 | 16 | Fort Dix Challenge | 2007-06-24 | 60 | |
| 5 | 17 | Alton's Classroom | 2007-07-01 | 60 | |
| 6 | 18 | Iron Chef Showdown | 2007-07-08 | 60 | |
| 7 | 19 | Meet the Press | 2007-07-15 | 60 | |
| 8 | 20 | Finale | 2007-07-22 | 60 | |
Season 4
| Episode No. | No. Overall | Title | Airdate | Runtime | Summary |
| --- | --- | --- | --- | --- | --- |
| 1 | 21 | Star Quality | 2008-06-01 | 60 | |
| 2 | 22 | FN Star on the Go | 2008-06-08 | 60 | |
| 3 | 23 | You . . . In a Jar | 2008-06-15 | 60 | |
| 4 | 24 | Being an Expert | 2008-06-22 | 60 | |
| 5 | 25 | Enticing and Easy with Bon Appetit | 2008-06-29 | 60 | |
| 6 | 26 | Into the Studio | 2008-07-06 | 60 | |
| 7 | 27 | Vegas Throwdown | 2008-07-13 | 60 | |
| 8 | 28 | Ultimate Vegas Buffet | 2008-07-20 | 60 | |
| 9 | 29 | Finale | 2008-07-27 | 60 | |
Season 5
| Episode No. | No. Overall | Title | Airdate | Runtime | Summary |
| --- | --- | --- | --- | --- | --- |
| 1 | 30 | Press Party for Food Network's 16th Birthday | 2009-06-07 | 60 | |
| 2 | 31 | Holidays with Giada | 2009-06-14 | 60 | |
| 3 | 32 | Dinner at Ina's | 2009-06-21 | 60 | |
| 4 | 33 | The Ultimate American Meal | 2009-06-28 | 60 | |
| 5 | 34 | FN Star - Rachael Ray | 2009-07-05 | 60 | |
| 6 | 35 | Miami Up All Night | 2009-07-12 | 60 | |
| 7 | 36 | Red Lobster Battle on the Beach | 2009-07-19 | 60 | |
| 8 | 37 | Miami VIP | 2009-07-26 | 60 | |
| 9 | 38 | Finale | 2009-02-08 | 60 | |
Season 6
| Episode No. | No. Overall | Title | Airdate | Runtime | Summary |
| --- | --- | --- | --- | --- | --- |
| 1 | 39 | Welcome to Los Angeles! | 2010-06-06 | 60 | |
| 2 | 40 | Sweet to Savory Carnival | 2010-06-13 | 60 | |
| 3 | 41 | Grammy Award Celebration | 2010-06-20 | 60 | |
| 4 | 42 | Spicy Competition | 2010-06-27 | 60 | |
| 5 | 43 | Lunch Trucks with Paula | 2010-07-11 | 60 | |
| 6 | 44 | Retro Palm Springs | 2010-07-18 | 60 | |
| 7 | 45 | Secret Supper Club | 2010-07-25 | 60 | |
| 8 | 46 | Cooking for Eva Longoria | 2010-08-01 | 60 | |
| 9 | 47 | Iron Chef Battle | 2010-08-08 | 60 | |
| 10 | 48 | Rachael Ray Directs | 2010-08-15 | 60 | |
Season 7
| Episode No. | No. Overall | Title | Airdate | Runtime | Summary |
| --- | --- | --- | --- | --- | --- |
| 1 | 49 | Lights, Camera, Cook | 2011-06-05 | 60 | |
| 2 | 50 | In the Line of Fire | 2011-06-12 | 60 | |
| 3 | 51 | Dueling Desserts | 2011-06-19 | 60 | |
| 4 | 52 | Cougar Town and Paula Deen | 2011-06-26 | 60 | |
| 5 | 53 | Diners, Drive-Ins and Fourth of July | 2011-07-03 | 60 | |
| 6 | 54 | Food Truck Face-Off | 2011-07-10 | 60 | |
| 7 | 55 | Dinner Party for Wolfgang Puck | 2011-07-17 | 60 | |
| 8 | 56 | Ina Garten & Rachael Ray | 2011-07-24 | 60 | |
| 9 | 57 | Comedy Roast | 2011-07-31 | 60 | |
| 10 | 58 | Iron Chef | 2011-08-07 | 60 | |
| 11 | 59 | Cook for Your Life & Pilots | 2011-08-14 | 60 | |
Season 8
| Episode No. | No. Overall | Title | Airdate | Runtime | Summary |
| --- | --- | --- | --- | --- | --- |
| 1 | 60 | Impossible Beginnings | 2012-05-13 | 60 | |
| 2 | 61 | NYC on the Go | 2012-05-20 | 60 | |
| 3 | 62 | Dessert Chopping Block | 2012-05-27 | 60 | |
| 4 | 63 | Fashion Week Food Makeover | 2012-06-03 | 60 | |
| 5 | 64 | Guy Live | 2012-06-10 | 60 | |
| 6 | 65 | Iron Chef Food Court | 2012-06-17 | 60 | |
| 7 | 66 | Meet the Press-Ure | 2012-06-24 | 60 | |
| 8 | 67 | Deen Family Beach Party | 2012-07-01 | 60 | |
| 9 | 68 | Deliciously Unpredictable Demos | 2012-07-08 | 60 | |
| 10 | 69 | Pilot Greenlights | 2012-07-15 | 60 | |
| 11 | 70 | Finale: A Star is Born | 2012-07-22 | 60 | |
Season 9
| Episode No. | No. Overall | Title | Airdate | Runtime | Summary |
| --- | --- | --- | --- | --- | --- |
| 1 | 71 | Are You Ready for Prime Time? | 2013-06-02 | 60 | |
| 2 | 72 | Burger Bash | 2013-06-09 | 60 | |
| 3 | 73 | A Star is Chopped | 2013-06-16 | 60 | |
| 4 | 74 | Big Screen Bites | 2013-06-23 | 60 | |
| 5 | 75 | 4th of July Live | 2013-06-30 | 60 | |
| 6 | 76 | Product Pitch | 2013-07-07 | 60 | |
| 7 | 77 | Star Charity Auction | 2013-07-14 | 60 | |
| 8 | 78 | Food Stories from the Road | 2013-07-21 | 60 | |
| 9 | 79 | Menu: Impossible | 2013-07-28 | 60 | |
| 10 | 80 | Network Pitch | 2013-08-04 | 60 | |
| 11 | 81 | America Picks a Star | 2013-08-11 | 60 | |
Season 10
| Episode No. | No. Overall | Title | Airdate | Runtime | Summary |
| --- | --- | --- | --- | --- | --- |
| 1 | 82 | Hollywood Calling | 2014-06-01 | 60 | |
| 2 | 83 | Please Try This at Home | 2014-06-08 | 60 | |
| 3 | 84 | Cutthroat Food Star | 2014-06-15 | 60 | |
| 4 | 85 | Internet Marketing Video | 2014-06-22 | 60 | |
| 5 | 86 | Live Demo at Knott's Berry Farm | 2014-06-29 | 60 | |
| 6 | 87 | Product Commercial | 2014-07-06 | 60 | |
| 7 | 88 | Vegas Pool Party | 2014-07-13 | 60 | |
| 8 | 89 | One-of-a-Kind Experience | 2014-07-20 | 60 | |
| 9 | 90 | Rachael Ray Show | 2014-07-27 | 60 | |
| 10 | 91 | Promos and Pilots | 2014-08-03 | 60 | |
| 11 | 92 | A Food Star is Born | 2014-08-10 | 60 | |
Season 11
| Episode No. | No. Overall | Title | Airdate | Runtime | Summary |
| --- | --- | --- | --- | --- | --- |
| 1 | 93 | Food Star Food Festival | 2015-06-07 | 60 | |
| 2 | 94 | Savory Baking | 2015-06-14 | 60 | |
| 3 | 95 | Trendy Dinner | 2015-06-21 | 60 | |
| 4 | 96 | Fourth of July Cookout | 2015-06-28 | 60 | |
| 5 | 97 | The Perfect Match | 2015-07-05 | 60 | |
| 6 | 98 | Improv | 2015-07-12 | 60 | |
| 7 | 99 | Food Truck Throwdown | 2015-07-19 | 60 | |
| 8 | 100 | Lifestyle Brand | 2015-07-26 | 60 | |
| 9 | 101 | Live TV | 2015-08-02 | 60 | |
| 10 | 102 | Dish of a Lifetime and Pilots | 2015-08-09 | 60 | |
| 11 | 103 | We Have a Winner | 2015-08-16 | 60 | |
Season 12
| Episode No. | No. Overall | Title | Airdate | Runtime | Summary |
| --- | --- | --- | --- | --- | --- |
| 1 | 104 | Cinematic Debut! | 2016-05-22 | 60 | |
| 2 | 105 | Mash Up Throwdown | 2016-05-29 | 60 | |
| 3 | 106 | Show Promos | 2016-06-05 | 60 | |
| 4 | 107 | Room Service Revenge | 2016-06-12 | 60 | |
| 5 | 108 | Motorsports Tailgating | 2016-06-19 | 60 | |
| 6 | 109 | Good Mythical Morning | 2016-06-26 | 60 | |
| 7 | 110 | Tiki Takeover | 2016-07-03 | 60 | The remaining six finalists have to be ready for anything, as they are tasked with baking a dish from a pantry stocked only with frozen foods. Special guest Lorraine Pascale helps hosts Bobby Flay and Giada De Laurentiis determine whose dish makes the cut. Then it's time for one of the most festive trends out there - a Tiki party! The finalists are split into teams of three, as they must create an island-inspired menu, then take the stage for a team food demo to a crowd of partygoers. Special guest judge Anne Burrell will help Giada and Bobby pick the best Tiki team, and send another finalist home. |
| 8 | 111 | Guilty Pleasures Dinner | 2016-07-10 | 60 | Guilty pleasures, everyone has them and Food Network stars love to dish on them. In this challenge, the remaining finalists join forces to create a five-course meal composed of nothing but over-the-top guilty pleasure dishes. Each finalist gives a presentation of their course, describing their unique take in all its guilty glory to hosts Bobby Flay and Giada De Laurentiis, and guest judges Alex Guarnaschelli and Trisha Yearwood. One finalists' guilty pleasure dish does not hit the mark, sending another competitor home. |
| 9 | 112 | Food Holiday Fray | 2016-07-17 | 60 | For the next challenge, the finalists are each assigned a different holiday party - St. Patrick's Day, Cinco de Mayo, Mardi Gras, New Year's Eve, or Easter - and take turns planning and hosting their own holiday special. Special guests, Tia Mowry and Donal Skehan, are on hand to help Giada De Laurentiis and Bobby Flay taste the food and judge the holiday specials. |
| 10 | 113 | Pushing for a Pilot | 2016-07-24 | 60 | It's down to three finalists, but there's a surprise in store when an eliminated finalist re-enters the competition, after winning Star Salvation on FoodNetwork.com. The final four competitors battle it out with the help of former finalists assisting as sous chefs. Past Food Network Star winner Aarti Sequeira is on hand to help select which three finalists move on to shoot their own Food Network pilots with none other than Guy Fieri directing them! |
| 11 | 114 | A New Food Network Star | 2016-07-31 | 60 | After 10 grueling weeks of the toughest culinary challenges on television, the remaining three finalists watch their Food Network pilots with hosts Bobby Flay and Giada De Laurentiis. One finalist will be crowned the winner and will take their rightful place as the next Food Network Star! |
Series Cast
| | | | |
| --- | --- | --- | --- |
| | Bobby Flay | as Judge | |
| | Susie Fogelson | as Judge | |
| | Bob Tuschman | as Judge | |
| | Giada De Laurentiis | as Judge | |
| | Bobby Flay | as Coach | |
| | Alton Brown | as Coach | |
| | Giada De Laurentiis | as Coach | |
| | Marc Summers | as Host | |
| | Alton Brown | as Judge | |
| | Bobby Flay | as Host | |
| | Giada De Laurentiis | as Mentor | |
Related News
TVMaze