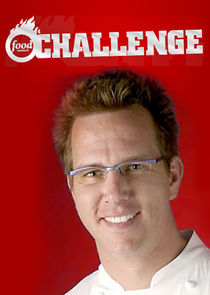 Food Network Challenge is a series comprised of various challenges placed upon real chefs who are working in the culinary world, whether their specialities be pastry, sugar, ice, or otherwise. Who can make the best cupcakes? The best BBQ? Who's the fastest bartender in the country or even the world? Join the judges as they find the answers to those very questions on the Food Network Challenge.
Series Overview
Rating
imDb Rating: 7.0 (190 Votes)
Metascore: N/A
Plot
N/A
Details
Rated: TV-G
Released: N/A
Runtime: 60 min
Genre: Game-Show, Reality-TV
Director: N/A
Writer: N/A
Actors: Keegan Gerhard, Kerry Vincent, Claire Robinson
Language: English
Country: USA
Awards: N/A
Total Seasons: 13
Previous Episode
Monopoly Cakes
Episode 14x6; Jan 27, 2020
Game on! Challenge celebrates the 85th anniversary of one of the world's most-popular board games, Monopoly. Ian Ziering challenges four skilled cake artists to create iconic anniversary cakes that have it all, from treasured game pieces to Park Place. One Challenger will go bankrupt before the end, but another will pass Go, win $10,000 and take home the title of Food Network Challenge Champion.
Previous Episodes 14x6: Monopoly Cakes 14x5: Back to the Future Cakes 14x4: Pokemon Cakes 14x3: The Wizard of Oz Cakes 14x2: Winter Sports Cakes 14x1: A Christmas Story Cakes 13x12: Christmas Classics 13x11: Charlie Brown Thanksgiving Cakes 13x10: LEGO Cakes

View All Episodes
Skip to:
Season 1
| Episode No. | No. Overall | Title | Airdate | Runtime | Summary |
| --- | --- | --- | --- | --- | --- |
| 1 | 1 | World Pastry Cup | | 60 | Go behind the scenes of the exclusive World Pastry Cup, an 11 hour marathon in which 45 International teams of Pastry chefs compete for the title of Wold Pastry Chef. Follow the Canadian and American team as they work there way to this Championship. |
| 2 | 2 | The Road to Bocuse d'Or | 2000-11-05 | 60 | Go behind the scenes of the upcoming Bocuse d'Or 2001 competition as two young North American chefs try to break the stranglehold held by the European powerhouses of cuisine over the past decade. |
| 3 | 3 | Gordon Elliott's Door Knock Dinner College Cook-Off | 2000-10-11 | 60 | Jim White of Casa Vieja in Corralis, NM, and Paula Deen of the Lady and Sons Restaurant in Savannah Georgia joins Gordon as he invades the fraternity and sorority-rich Union Street at Rutgers University in New Brunswick, NJ. |
| 4 | 4 | World Pastry Championship | | 60 | Premier pastry chefs from twelve different countries travel to Las Vegas for a two-day competition that's known for setting new standards in the industry. Each team shows its artistic talent with a sugar showpiece and a chocolate showpiece, and its culinary prowess with pastries |
| 5 | 5 | Mystery Cake | | 60 | It's a cake competition with a mystery twist. The best cake makers in the country came to Phoenix with no idea what they'd be asked to do. Just hours before the competition, the theme was announced: sports cakes! Watch as the pros squirm under the pressure, with just a few hours to plan, and 7 hours to build world-class cakes. |
| 6 | 6 | Spooky Cake & Candy Cook-Off | | 60 | Haunted houses, ghostly pumpkins and edible eyeballs make for a Halloween thriller, when five top cake teams gather for an intense cake and candy competition. Elaborate cakes, some weighing 80+ pounds, must impress a panel of tough judges with their delectable craftsmanship and creative use of candy decorations. |
| 7 | 7 | Holiday Cake-Off | | 60 | Forget the good cheer, these cake artists just want to win! Six of the nation's top cake teams come to Sea Island Georgia to make the best holiday cakes they can create in just six hours. The icing is flying and the air is sparkling with glitter as the nation's best create grand holiday masterpieces |
| 8 | 8 | Reno Rib Cook-Off | | 60 | Twenty-five barbecue teams are invited Reno, Nevada to compete for a $16,500 purse in one of the biggest rib cook-offs in the country. |
| 9 | 9 | America's Bread Battle | | 60 | For the first time in America, the top bread and pastry artists join forces to compete in a two-day competition that showcases both their unique talents and combined creativity. |
| 10 | 10 | Fire & Ice | | 60 | Four teams compete in a unique competition that combines ice sculpture and pastry art. Each team consists of two competitors. Our experts have to come up with a sculpture that combines two very different elements under the umbrella theme of Fire and Ice. There will be many forces at work against the teams .heat, the clock and for some, almost no time to practice. |
| 11 | 11 | Wedding Cake Classic | | 60 | It's a bride's fantasy and a cake decorator's dream. Dozens of decorators travel to Tulsa to compete for a cut of the $10,000 purse. Art is the name of the game at this show, only these sculptures and paintings are done with sugar and icing. It is three days packed with taste, style and beauty, making for one grand reception with a sweet reward in the end. |
| 12 | 12 | Gingerbread Championships | | 60 | Beautiful homes, amusement parks, rustic barns, and ornate churches all made of America?s favorite holiday treat: gingerbread! A record 300 gingerbread creations (decorated with gum drops, Necco wafers, and chow mein noodles!) were brought to this 12th annual championship in Asheville, North Carolina. Watch as participants spend months planning their structures and then cringe with every pothole as they drive their creations to the show. |
| 13 | 13 | World's Best Bartender | | 60 | Their moves are mesmerizing, and their speed and accuracy mind-boggling. They're the top bartenders in the country, and they're in Las Vegas to flair their way to fame at the World Bartending Championships. Bartenders go through three grueling rounds of speed, accuracy, and flair tests, cheered-on by a huge crowd. The eleven who make it to the finals get a chance at the title and the grand prize of $6,000. |
| 14 | 14 | Al Roker's BBQ Showdown | | 60 | It's the biggest BBQ event in the nation - And our own Al Roker - a BBQ expert and cookbook author -- has entered the contest! See how Al's ribs stack up against the real pros, and see what it takes to compete in one very tasty cook-off. |
Season 2
| Episode No. | No. Overall | Title | Airdate | Runtime | Summary |
| --- | --- | --- | --- | --- | --- |
| 1 | 15 | U.S. BBQ Championship | 2002-06-09 | 60 | |
Season 3
| Episode No. | No. Overall | Title | Airdate | Runtime | Summary |
| --- | --- | --- | --- | --- | --- |
| 1 | 16 | Culinary Team USA | 2003-01-04 | 60 | |
Season 4
| Episode No. | No. Overall | Title | Airdate | Runtime | Summary |
| --- | --- | --- | --- | --- | --- |
| 1 | 17 | Great Chowder Cook-Off | 2004-01-03 | 60 | |
| 2 | 18 | Southern Living Cook-Off | 2004-01-10 | 60 | |
| 3 | 19 | Chocolate Festival Fantasies | 2004-02-14 | 60 | |
Season 5
| Episode No. | No. Overall | Title | Airdate | Runtime | Summary |
| --- | --- | --- | --- | --- | --- |
| 28 | 20 | Challenge: Bama-Que Cook-Off | 2007-07-28 | 60 | |
Season 6
| Episode No. | No. Overall | Title | Airdate | Runtime | Summary |
| --- | --- | --- | --- | --- | --- |
Season 7
| Episode No. | No. Overall | Title | Airdate | Runtime | Summary |
| --- | --- | --- | --- | --- | --- |
Season 8
| Episode No. | No. Overall | Title | Airdate | Runtime | Summary |
| --- | --- | --- | --- | --- | --- |
| 1 | 21 | Disney Celebration Cakes | 2009-03-15 | 60 | |
| 2 | 22 | Miley Cyrus' Sweet 16 Cakes | 2009-03-22 | 60 | |
| 3 | 23 | Surprise Birthday Cakes | 2009-03-29 | 60 | |
| 4 | 24 | Last Cake Standing: Personal Best Cakes | 2009-04-05 | 60 | |
| 5 | 25 | Last Cake Standing: Elopment Cakes | 2009-04-12 | 60 | |
| 6 | 26 | Last Cake Standing: Extreme Superhero Cakes | 2009-04-19 | 60 | |
| 7 | 27 | Last Cake Standing: Sweet 16 Sextuplets | 2009-04-26 | 60 | |
| 8 | 28 | Blind Date Cakes | 2009-05-17 | 60 | |
| 9 | 29 | Shrek Cakes | 2009-06-07 | 60 | |
| 10 | 30 | Surprise Birthday Cakes | 2009-06-14 | 60 | |
| 11 | 31 | Extreme Candy Carnivals | 2009-06-21 | 60 | |
| 12 | 32 | Ice Age Cakes | 2009-06-28 | 60 | |
Season 9
| Episode No. | No. Overall | Title | Airdate | Runtime | Summary |
| --- | --- | --- | --- | --- | --- |
| 1 | 33 | Food Magicians | 2009-07-12 | 60 | |
| 2 | 34 | Sesame Street Cakes | 2009-07-26 | 60 | |
| 3 | 35 | Fashion Cakes | 2009-08-16 | 60 | |
| 4 | 36 | Cereal Bridges 2 | 2009-08-30 | 60 | |
| 5 | 37 | Amazing Pie Championship | 2009-09-13 | 60 | |
| 6 | 38 | Fantasy Vacation Cakes | 2009-09-27 | 60 | |
| 7 | 39 | Edible Cities | 2009-10-04 | 60 | |
| 8 | 40 | Sugar Adventures | 2009-10-11 | 60 | |
| 9 | 41 | The Simpsons Mystery Cakes | 2009-11-01 | 60 | |
| 10 | 42 | Thanksgiving Family Feast | 2009-11-15 | 60 | |
| 11 | 43 | Giant Gingerbread | 2009-11-29 | 60 | |
| 12 | 44 | Newlywed Cakes | 2010-01-10 | 60 | |
| 13 | 45 | Chocolate Wonders | 2010-02-06 | 60 | |
Season 10
| Episode No. | No. Overall | Title | Airdate | Runtime | Summary |
| --- | --- | --- | --- | --- | --- |
| 1 | 46 | Great American BBQ Showdown | 2010-01-17 | 60 | |
| 2 | 47 | Beauty Pageant Cakes | 2010-01-24 | 60 | |
| 3 | 48 | Chocolate Wonders | 2010-03-07 | 60 | |
| 4 | 49 | Extreme Wedding Cakes | 2010-03-14 | 60 | |
| 5 | 50 | Incredible Anniversary Cakes | 2010-03-21 | 60 | |
| 6 | 51 | Spongebob Birthday Cakes | 2010-04-04 | 60 | |
| 7 | 52 | Extreme Villain Cakes | 2010-04-11 | 60 | |
| 8 | 53 | Sugar Impossible | 2010-04-18 | 60 | |
| 9 | 54 | High School Reunion Cakes | 2010-04-25 | 60 | |
| 10 | 55 | Sex and The City Cakes | 2010-05-23 | 60 | |
| 11 | 56 | All Star Grill-Off | 2010-05-30 | 60 | |
| 12 | 57 | Toy Story 3 Cakes | 2010-06-06 | 60 | |
| 13 | 58 | Extreme Candy Coasters | 2010-06-13 | 60 | |
Season 11
| Episode No. | No. Overall | Title | Airdate | Runtime | Summary |
| --- | --- | --- | --- | --- | --- |
| 1 | 59 | Rock and Roll Hall Of Fame Cakes | 2010-07-11 | 60 | |
| 2 | 60 | Food Landscapes | 2010-07-18 | 60 | |
| 3 | 61 | Paranormal Cakes | 2010-07-25 | 60 | |
| 4 | 62 | Ultimate Cookie Clash | 2010-08-01 | 60 | |
| 5 | 63 | Dora the Explorer Cakes | 2010-08-08 | 60 | |
| 6 | 64 | Roller Derby Cakes | 2010-08-22 | 60 | |
| 7 | 65 | Runaway Chocolate | 2010-08-29 | 60 | |
| 8 | 66 | Disney Beauty and the Beast Cakes | 2010-09-26 | 60 | |
| 9 | 67 | Outrageous Pumpkins 2 | 2010-10-03 | 60 | |
| 10 | 68 | Flying Sugar | 2010-10-24 | 60 | |
| 11 | 69 | Extreme Urban Legend Cakes | 2010-10-31 | 60 | |
| 12 | 70 | Giant Wedding Cakes | 2010-11-07 | 60 | |
| 13 | 71 | Thanksgiving Family Face-Off | 2010-11-14 | 60 | |
| 14 | 72 | Holiday Windows | 2010-11-28 | 60 | |
| 15 | 73 | Sugar Destinations | 2010-12-19 | 60 | |
Season 12
| Episode No. | No. Overall | Title | Airdate | Runtime | Summary |
| --- | --- | --- | --- | --- | --- |
| 1 | 74 | Monster Bugs | 2011-01-09 | 60 | |
| 2 | 75 | Standup Comedy Cakes | 2011-01-23 | 60 | |
| 3 | 76 | Chocolate Surprise Proposal | 2011-01-30 | 60 | |
| 4 | 77 | Best in Show Cakes | 2011-02-13 | 60 | |
| 5 | 78 | Extreme Mardi Gras Cakes | 2011-03-06 | 60 | |
| 6 | 79 | Demolition Derby Cakes | 2011-03-20 | 60 | |
| 7 | 80 | Easter Cakes | 2011-03-27 | 60 | |
| 8 | 81 | Donut Champions | 2011-04-10 | 60 | |
| 9 | 82 | Sugar Inventions | 2011-04-17 | 60 | |
| 10 | 83 | Sugar and Candy Fashion | 2011-04-24 | 60 | |
| 11 | 84 | Wrestling Cakes (WWE) | 2011-05-15 | 60 | |
| 12 | 85 | Wild West Chocolate | 2011-05-22 | 60 | |
| 13 | 86 | Awesome 80's Cakes | 2011-06-05 | 60 | |
| 14 | 87 | Romance Novel Cakes | 2011-06-12 | 60 | |
Season 13
| Episode No. | No. Overall | Title | Airdate | Runtime | Summary |
| --- | --- | --- | --- | --- | --- |
| 1 | 88 | Star Wars Cakes | 2011-07-03 | 60 | |
| 2 | 89 | Chocolate Myths | 2011-07-17 | 60 | |
| 3 | 90 | The Smurfs Movie Cakes | 2011-07-24 | 60 | |
| 4 | 91 | Renaissance Festival Cakes | 2011-08-07 | 60 | |
| 5 | 92 | Extreme Dinosaur Cakes | 2011-08-21 | 60 | |
| 6 | 93 | Extreme Pirate Cakes | 2011-09-04 | 60 | |
| 7 | 94 | Lion King Cakes | 2011-09-25 | 60 | |
| 8 | 95 | Extreme Alien Cakes | 2011-10-09 | 60 | |
| 9 | 96 | Halloween Ghost Story Cakes | 2011-10-23 | 60 | |
| 10 | 97 | LEGO Cakes | 2011-11-06 | 60 | |
| 11 | 98 | Charlie Brown Thanksgiving Cakes | 2011-11-13 | 60 | |
| 12 | 99 | Christmas Classics | 2011-11-27 | 60 | |
Related News
TVMaze