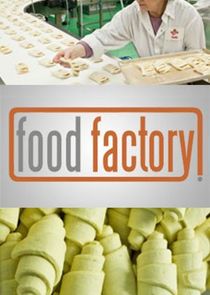 This season Food Factory is celebrating special occasions! From Valentine's Day to Easter, birthday bashes to fun filled fiestas, we dish up an entire season of sassy and delicious themed episodes. Along the way, Food Factory reveals the mouthwatering secrets behind your favourite tasty treats. Whether lovingly handcrafted in small artisanal batches, or mass-produced by robots on a mega-industrial scale; it's a wild culinary ride as mountains of raw ingredients are transformed into the delectable delicacies we all know and love.
Series Overview
Rating
imDb Rating: 8.1 (102 Votes)
Metascore: N/A
Plot
A behind-the-scenes view of production lines across the country to find out how some of the most-popular food items are really made.
Details
Rated: N/A
Released: 30 Aug 2012
Runtime: 30 min
Genre: Documentary
Director: N/A
Writer: N/A
Actors: Colleen Rusholme, Todd Schick
Language: English
Country: Canada
Awards: 1 nomination.
Total Seasons: 6
Previous Episode
Easter
Episode 6x13; Jun 24, 2017
Previous Episodes 6x13: Easter 6x12: Canada Day 6x11: Halloween, Part 2 6x10: Valentine's Day 6x9: Winter 6x8: Birthdays 6x7: Movie Night 6x6: Fiesta Night 6x5: Love

View All Episodes
Skip to:
Season 1
| Episode No. | No. Overall | Title | Airdate | Runtime | Summary |
| --- | --- | --- | --- | --- | --- |
| 1 | 1 | Warhol Soup | 2012-08-30 | 30 | |
| 2 | 2 | The Big Apple | 2012-08-30 | 30 | |
| 3 | 3 | A Griller Thriller | 2012-09-06 | 30 | |
| 4 | 4 | Pasta the Ice Cream | 2012-09-06 | 30 | |
| 5 | 5 | Smoking Salmon | 2012-09-13 | 30 | |
| 6 | 6 | Sweet as Sugar | 2012-09-13 | 30 | |
| 7 | 7 | Crunch Time | 2012-09-20 | 30 | |
| 8 | 8 | Whipping It Up | 2012-09-20 | 30 | |
| 9 | 9 | A Taste of India | 2012-09-27 | 30 | |
| 10 | 10 | In a Jam | 2012-09-27 | 30 | |
| 11 | 11 | From Toffee to Coffee | 2012-10-04 | 30 | |
| 12 | 12 | Pasta the Olives | 2012-10-04 | 30 | |
| 13 | 13 | Holy Pierogy | 2012-10-11 | 30 | |
| 14 | 14 | Flour Power | 2012-10-11 | 30 | |
| 15 | 15 | Come Fly with Me | 2012-10-18 | 30 | |
| 16 | 16 | Full Steam Ahead | 2012-10-18 | 30 | |
| 17 | 17 | Going Crackers | 2012-10-25 | 30 | |
| 18 | 18 | Hot Potato | 2012-10-25 | 30 | |
| 19 | 19 | Totally Tropical | 2012-11-01 | 30 | |
| 20 | 20 | Mousse Hunting | 2012-11-01 | 30 | |
| 21 | 21 | Like Momma Makes | 2012-11-08 | 30 | |
| 22 | 22 | Hitting the Trail | 2012-11-08 | 30 | |
| 23 | 23 | Gone Fishing | 2012-11-15 | 30 | |
| 24 | 24 | This is Toast | 2012-11-15 | 30 | |
| 25 | 25 | The Cream of the Crop | 2012-11-22 | 30 | |
| 26 | 26 | In the Hot House | 2012-11-22 | 30 | |
Season 2
| Episode No. | No. Overall | Title | Airdate | Runtime | Summary |
| --- | --- | --- | --- | --- | --- |
| 1 | 27 | All You Cone Eat | 2013-04-11 | 30 | |
| 2 | 28 | Salty and Sweet | 2013-04-11 | 30 | |
| 3 | 29 | All Bar Naan | 2013-04-18 | 30 | |
| 4 | 30 | Food Fortunes | 2013-04-18 | 30 | |
| 5 | 31 | Cut the Mustard | 2013-04-25 | 30 | |
| 6 | 32 | Spring in Georgia | 2013-04-25 | 30 | |
| 7 | 33 | Getting Saucy | 2013-05-02 | 30 | |
| 8 | 34 | Tikka My Breath Away | 2013-05-02 | 30 | |
| 9 | 35 | Double Trouble | 2013-05-09 | 30 | |
| 10 | 36 | From Sugar with Love | 2013-05-09 | 30 | |
| 11 | 37 | Colourful Candy | 2013-05-16 | 30 | |
| 12 | 38 | Use Your Noodle | 2013-05-16 | 30 | |
| 13 | 39 | Chee Cha Sambur | 2013-05-23 | 30 | |
| 14 | 40 | Fancy a Sausage Roll? | 2013-05-23 | 30 | |
| 15 | 41 | Hill of Beans | 2013-05-30 | 30 | |
| 16 | 42 | Welch Rare-Bite | 2013-05-30 | 30 | |
| 17 | 43 | The Name's Boondi | 2013-06-06 | 30 | |
| 18 | 44 | Abba Zaba Doo | 2013-06-06 | 30 | |
| 19 | 45 | The Rocky Road | 2013-06-13 | 30 | |
| 20 | 46 | Over the Rainbow | 2013-06-13 | 30 | |
| 21 | 47 | Put the Kettle On | 2013-06-20 | 30 | |
| 22 | 48 | Not Tonight Josephine | 2013-06-20 | 30 | |
| 23 | 49 | Chip Off the Old Block | 2013-06-26 | 30 | |
| 24 | 50 | Where You Bean? | 2013-06-26 | 30 | |
| 25 | 51 | The House That Santa Built | 2013-11-25 | 30 | |
| 26 | 52 | Yule Love This | 2013-11-25 | 30 | |
Season 3
| Episode No. | No. Overall | Title | Airdate | Runtime | Summary |
| --- | --- | --- | --- | --- | --- |
| 1 | 53 | Smell the Coffee | 2014-01-11 | 30 | |
| 2 | 54 | From Candy to a Baby | 2014-01-11 | 30 | |
| 3 | 55 | Ice Cup of Tea | 2014-01-18 | 30 | |
| 4 | 56 | Get Fruity | 2014-01-18 | 30 | |
| 5 | 57 | Nuts About Brittle | 2014-01-25 | 30 | |
| 6 | 58 | Snow and Ice | 2014-01-25 | 30 | |
| 7 | 59 | A Chocolate Orange | 2014-02-01 | 30 | |
| 8 | 60 | Sweet and Savoury | 2014-02-01 | 30 | |
| 9 | 61 | Fantastic Flavours | 2014-02-07 | 30 | |
| 10 | 62 | In a Pickle | 2014-02-07 | 30 | |
| 11 | 63 | Give It a Whirl | 2014-02-14 | 30 | |
| 12 | 64 | Berry, Berry Tasty | 2014-02-14 | 30 | |
| 13 | 65 | Fries, with a Twist | 2014-02-21 | 30 | |
| 14 | 66 | Plenty of Fish | 2014-02-21 | 30 | |
| 15 | 67 | The Perfect Burger | 2014-02-28 | 30 | |
| 16 | 68 | A Taste of Japan | 2014-02-28 | 30 | |
| 17 | 69 | What a Hunk! | 2014-03-07 | 30 | |
| 18 | 70 | Rock Around the Choc | 2014-03-07 | 30 | |
| 19 | 71 | Hot Stuff! | 2014-03-14 | 30 | |
| 20 | 72 | A Trip to Dijon | 2014-03-14 | 30 | |
| 21 | 73 | Thirst Quencher | 2014-03-21 | 30 | |
| 22 | 74 | Six Into Eight | 2014-03-21 | 30 | |
| 23 | 75 | Breakfast in Shred | 2014-03-28 | 30 | |
| 24 | 76 | Pasta Master | 2014-03-28 | 30 | |
Season 4
| Episode No. | No. Overall | Title | Airdate | Runtime | Summary |
| --- | --- | --- | --- | --- | --- |
| 1 | 77 | Pop Goes the Cake | 2014-09-20 | 30 | |
| 2 | 78 | Shaken Not Stirred | 2014-09-20 | 30 | |
| 3 | 79 | Gold Bars | 2014-09-27 | 30 | |
| 4 | 80 | Pasta Straight Up | 2014-09-27 | 30 | |
| 5 | 81 | Everyday is Sundae | 2014-10-04 | 30 | |
| 6 | 82 | Viva Los Churros | 2014-10-04 | 30 | |
| 7 | 83 | Lights, Camera, Popcorn | 2014-10-11 | 30 | |
| 8 | 84 | Fishing for Spuds | 2014-10-11 | 30 | |
| 9 | 85 | Crepe Escape | 2014-10-18 | 30 | |
| 10 | 86 | Green with Envy | 2014-10-18 | 30 | |
| 11 | 87 | My Cup Runneth Over | 2014-10-25 | 30 | |
| 12 | 88 | Cuckoo for Coconuts | 2014-10-25 | 30 | |
| 13 | 89 | Pigging Out | 2014-11-01 | 30 | |
| 14 | 90 | Chocolate Under Wraps | 2014-11-01 | 30 | |
| 15 | 91 | Let's TalkTofurky | 2014-11-08 | 30 | |
| 16 | 92 | Just the Flax | 2014-11-08 | 30 | |
| 17 | 93 | Pepper Party | 2014-11-15 | 30 | |
| 18 | 94 | Ready for This Jelly | 2014-11-15 | 30 | |
| 19 | 95 | From Argentina with Love | 2014-11-22 | 30 | |
| 20 | 96 | Juiced Up | 2014-11-22 | 30 | |
| 21 | 97 | Working for Peanuts | 2014-11-29 | 30 | |
| 22 | 98 | Miso Hungry | 2014-11-29 | 30 | |
| 23 | 99 | Brine Time | 2014-12-06 | 30 | |
| 24 | 100 | Pipe Dreams | 2014-12-06 | 30 | |
| 25 | 101 | Easy as Pie | 2014-12-13 | 30 | |
| 26 | 102 | Red Hot Delight | 2014-12-13 | 30 | |
Season 5
| Episode No. | No. Overall | Title | Airdate | Runtime | Summary |
| --- | --- | --- | --- | --- | --- |
| 1 | 103 | Red Red Vine | 2015-09-05 | 30 | |
| 2 | 104 | Elbow Grease | 2015-09-05 | 30 | |
| 3 | 105 | Sweet as Honey | 2015-09-12 | 30 | |
| 4 | 106 | Sunny Side Up | 2015-09-12 | 30 | |
| 5 | 107 | Noodling Around | 2015-09-19 | 30 | |
| 6 | 108 | Liquid Gold | 2015-09-19 | 30 | |
| 7 | 109 | Cut the Cheese | 2015-09-26 | 30 | |
| 8 | 110 | Snack Odyssey | 2015-09-26 | 30 | |
| 9 | 111 | Let Them Eat Caviar! | 2015-10-03 | 30 | |
| 10 | 112 | You've Got Kale | 2015-10-03 | 30 | |
| 11 | 113 | Mint Condition | 2015-10-10 | 30 | |
| 12 | 114 | Smooth as Butter | 2015-10-10 | 30 | |
| 13 | 115 | Puffins N' Cream | 2015-10-17 | 30 | |
| 14 | 116 | Butter Up! | 2015-10-17 | 30 | |
| 15 | 117 | Easy as ABC | 2015-11-07 | 30 | |
| 16 | 118 | Drumroll Please | 2015-11-07 | 30 | |
| 17 | 119 | It's Bittersweet | 2015-11-14 | 30 | |
| 18 | 120 | Hurry and Ketchup! | 2015-11-14 | 30 | |
| 19 | 121 | Night Shift: Ice, Ice, BLT | 2016-02-26 | 30 | |
| 20 | 122 | Night Shift: The Mother Lode | 2016-02-26 | 30 | |
| 21 | 123 | Baby Cakes | 2016-02-29 | 30 | A Toronto team prepares thousands of nutritious meals every night for preschoolers across the city. But with rigorous health regulations and their clients' picky palettes in mind, an over-spiced kettle of soup has the chefs heading back to the cutting board just hours before delivery. Meanwhile, it's Sunday at 2 a.m. and the team at Homestyle Desserts Bakery is rolling up their sleeves. Their mission is to prepare enough carrot cake for hundreds of hungry passengers on board a New York City brunch cruise. But when their order suddenly doubles, they find themselves seriously short on carrots and at risk of missing the boat. |
| 22 | 124 | Hole in One | 2016-02-29 | 30 | |
| 23 | 125 | King of Feasts | 2016-03-01 | 30 | |
| 24 | 126 | Brain Food | 2016-03-01 | 30 | |
Season 6
| Episode No. | No. Overall | Title | Airdate | Runtime | Summary |
| --- | --- | --- | --- | --- | --- |
| 1 | 127 | Backyard BBQ | 2016-09-24 | 30 | |
| 2 | 128 | Thanksgiving | 2016-10-01 | 30 | |
| 3 | 129 | The Big Game | 2016-10-15 | 30 | |
| 4 | 130 | Halloween | 2016-10-22 | 30 | |
| 5 | 131 | Love | 2016-11-05 | 30 | |
| 6 | 132 | Fiesta Night | 2016-11-12 | 30 | |
| 7 | 133 | Movie Night | 2016-11-19 | 30 | |
| 8 | 134 | Birthdays | | 30 | |
| 9 | 135 | Winter | 2016-12-03 | 30 | |
| 10 | 136 | Valentine's Day | | 30 | |
| 11 | 137 | Halloween, Part 2 | 2017-06-24 | 30 | |
| 12 | 138 | Canada Day | 2017-06-24 | 30 | |
| 13 | 139 | Easter | 2017-06-24 | 30 | |
Related News
TVMaze