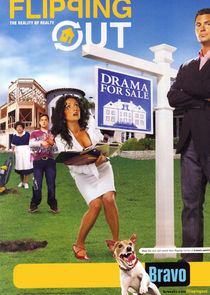 The always entertaining Flipping Out returns for a 10th season and follows Jeff Lewis and his loyal assistant, Jenni Pulos, as they work in the booming interior design business for a slate of high-profile -- and sometimes over-the-top -- clients. After what felt like an eternity, Jeff and his partner Gage are finally settled into their newly remodeled Los Angeles home, Gramercy. Jeff Lewis Designs, now focusing more on interior design and remodel than house flipping, is thriving with new business. With a growing paint line and a wide array of prominent clients, including CSI actor George Eads and his wife, Monika, who are undertaking a major remodel of their Hollywood Hills home, Jeff's time and resources are spread thin. Meanwhile, design assistant Andy is agitated over the hiring of a new assistant, Megan, who is getting more quality time with the boss. Jenni is now seven months pregnant, forcing Jeff to make plans for her impending maternity leave.
Series Overview
Rating
imDb Rating: 6.8 (1,036 Votes)
Metascore: N/A
Plot
Just when America's favorite house flipper thinks his life could not be any more chaotic, Jeff Lewis embarks on the most unpredictable challenge yet - fatherhood.
Details
Rated: TV-14
Released: 31 Jul 2007
Runtime: 60 min
Genre: Reality-TV
Director: N/A
Writer: N/A
Actors: Jeff Lewis, Jenni Pulos, Zoila Chavez, Gage Edward
Language: English
Country: USA
Awards: N/A
Total Seasons: 11
Previous Episode
The Final Flip
Episode 11x10; Nov 20, 2018
Lea Black leads a productivity seminar at Jeff Lewis Design, which brings a lot of issues to the surface and sparks a mass exodus. Jeff and Jenni have it out in what may be the biggest fight of their friendship. Can their relationship survive and will Jeff have any employees left?
Previous Episodes 11x10: The Final Flip 11x9: Destructive Criticism 11x8: Trimming The Fat 11x7: Diamonds Aren't Forever 11x6: The Straw(berry) That Broke the Camel's Back 11x5: Edward vs. Lewis 11x4: All That Glitters 11x3: A Very Lewis Christmas 11x2: Furniture Porn

View All Episodes
Cast
Ryan Brown as Ryan Brown
Jeff Lewis as Jeff Lewis
Chris Keslar as Chris Keslar
Christopher Elwood as Christopher Elwood
Jenni Pulos as Jenni Pulos
Zoila Chavez as Zoila Chavez
View Full Cast
Skip to:
Season 1
| Episode No. | No. Overall | Title | Airdate | Runtime | Summary |
| --- | --- | --- | --- | --- | --- |
| 1 | 1 | A New Project | 2007-07-31 | 60 | Lewis makes his living with the help of a group of diverse and oft disgruntled employees he counts as friends. These include an assistant who moonlights doing voiceover work, a housekeeper and two house assistants, as well as his official "trash man," who moonlights as an actor and his assistant's husband. Add to the mix his business partner and former boyfriend, his various therapists and spiritual advisors and it's clear that this intriguing cast of characters lives as one big dysfunctional family. |
| 2 | 2 | Under Pressure | 2007-08-07 | 60 | Despite the stress of trying to flip several multimillion-dollar homes at the same time and growing money concerns, it's Lewis's problems at home that are at the forefront of this week's episode. When a staff member calls to inform him that one of his beloved cats can't be located and then leaves to go to an appointment, Lewis is furious that he must drop everything to go look for the pet. He's also left wondering if he's made the right decision on a recent hire. The cat continues to wreak havoc on the lives of Lewis's house assistants, particularly Stephen who has to accompany him to an acupuncture treatment. After dealing with the enraged animal - during which both the fur and the epithets fly - Stephen is slightly injured and visibly upset, saying, "This is the craziest job I've ever had." In fact, he later tells Lewis he's just not capable of repeating the experience ever again. |
| 3 | 3 | Betting Men | 2007-08-14 | 60 | Real estate investor Jeff Lewis and his business partner make a bet to decide who will move into their biggest joint project, a $4.5 million dollar estate. |
| 4 | 4 | Bargaining Tactics | 2007-08-21 | 60 | When "Flipping Out" real estate investor Jeff Lewis pays a visit to his wheeler-dealer dad, a successful Long Beach developer, it becomes clear just how far the apple falls from the tree. When his father tries to explain why they should work together on a project, Jeff replies: "I see you four times a year and that's enough for me." Enough said. Lewis also struggles to keep his contractors in line and pits potential buyers against one another in order to turn a profit on a multimillion dollar property. |
| 5 | 5 | Inspections | 2007-08-28 | 60 | In the newest episode of "Flipping Out" real estate investor Jeff Lewis struggles to finalize two desperately needed deals even as he dreams of expanding his operation to Palm Springs. And Lewis's employees follow the saying, "When the cat is away the mice will play," as they let loose with the boss out of town. The result: damage to Lewis's computer and one employee's pride. |
| 6 | 6 | Moving On, Looking Forward | 2007-09-04 | 60 | |
| 7 | 7 | Jeff Lewis' Open House | 2007-09-11 | 60 | The final episode of "Flipping Out" may have aired, but the drama surrounding real estate investor Jeff Lewis and his quirky team of individuals hasn't. On "Flipping Out: Jeff Lewis' Open House," an hour long special hosted by Bravo's Andy Cohen, Lewis, his executive assistant Jenni, her husband Chris, Lewis' business partner and former boyfriend Ryan and his housekeeper Zoila, will sit down to answer fan-submitted questions, relive "best of" moments on the series, share never-before-seen footage and go on house tours of his newly renovated properties. |
Season 2
| Episode No. | No. Overall | Title | Airdate | Runtime | Summary |
| --- | --- | --- | --- | --- | --- |
| 1 | 8 | Selling Out | 2008-06-17 | 60 | |
| 2 | 9 | The Flip Side | 2008-06-24 | 60 | |
| 3 | 10 | Good Cop/Bad Jeff | 2008-07-01 | 60 | Jeff and Ryan's differences could not be more apparent. They may be business partners, but they each have their own approach not only on design, but also on how to manage the staff. Usually the two end up on the same page, but when Jeff notices work around his house isn't getting done, he grows more and more suspicious of his assistants and goes to some extreme measures to spy on his staff. Ryan desperately tries to talk some sense into him - but this is one battle where Jeff just won't back down. |
| 4 | 11 | Closer Inspection | 2008-07-08 | 60 | |
| 5 | 12 | Tear Down | 2008-07-15 | 60 | |
| 6 | 13 | Looks Like New | 2008-07-22 | 60 | |
| 7 | 14 | Tapped Out | 2008-07-29 | 60 | |
| 8 | 15 | Back in the Market | 2008-08-05 | 60 | |
| 9 | 16 | Reunion | 2008-08-12 | 60 | |
Season 3
| Episode No. | No. Overall | Title | Airdate | Runtime | Summary |
| --- | --- | --- | --- | --- | --- |
| 1 | 17 | Beware of Falling Houses | 2009-08-18 | 60 | |
| 2 | 18 | Pajamas and Other Games | 2009-08-25 | 60 | |
| 3 | 19 | Never Trust a Contractor | 2009-09-01 | 60 | |
| 4 | 20 | Bad Mojo | 2009-09-08 | 60 | |
| 5 | 21 | Jenni 911 | 2009-09-15 | 60 | |
| 6 | 22 | Friend or Foe | 2009-09-22 | 60 | |
| 7 | 23 | Irreconcilable Differences | 2009-09-29 | 60 | |
| 8 | 24 | Pledging Allegiance | 2009-10-06 | 60 | |
| 9 | 25 | Spirit of the Land | 2009-10-13 | 60 | |
| 10 | 26 | Baby Boom | 2009-10-20 | 60 | |
| 11 | 27 | Reunion | 2009-10-27 | 60 | |
Season 4
| Episode No. | No. Overall | Title | Airdate | Runtime | Summary |
| --- | --- | --- | --- | --- | --- |
| 1 | 28 | Hot Streak, Lots of Baggage | 2010-08-10 | 60 | |
| 2 | 29 | Hard to Break Family | 2010-08-17 | 60 | |
| 3 | 30 | Urine Trouble | 2010-08-24 | 60 | |
| 4 | 31 | Never Mix Food With Business | 2010-08-31 | 60 | |
| 5 | 32 | Bright Lewis, Big City | 2010-09-07 | 60 | |
| 6 | 33 | Too Much of a Good Thing | 2010-09-14 | 60 | |
| 7 | 34 | Hazard: Jeff at Work | 2010-09-21 | 60 | |
| 8 | 35 | It's Not Me, It's You | 2010-09-28 | 60 | |
| 9 | 36 | Never According to Planner | 2010-10-05 | 60 | |
| 10 | 37 | Rock, Paper and the Kitchen Sink | 2010-10-12 | 60 | |
Season 5
| Episode No. | No. Overall | Title | Airdate | Runtime | Summary |
| --- | --- | --- | --- | --- | --- |
| 1 | 38 | New Kid on the Block | 2011-07-06 | 60 | |
| 2 | 39 | Wake-up Call | 2011-07-12 | 60 | |
| 3 | 40 | New York or Bust | 2011-07-19 | 60 | |
| 4 | 41 | What Stays in Vegas | 2011-07-26 | 60 | |
| 5 | 42 | Dropping the Axe | 2011-08-02 | 60 | |
| 6 | 43 | Don't Be Tardy to the Party | 2011-08-09 | 60 | |
| 7 | 44 | Showdown at Sunshine Terrace | 2011-08-16 | 60 | |
| 8 | 45 | Money Changes Everything | 2011-08-23 | 60 | |
| 9 | 46 | Substitutes | 2011-08-30 | 60 | |
| 10 | 47 | There's No Place Like Home | 2011-09-06 | 60 | |
| 11 | 48 | Reunion | 2011-09-13 | 60 | |
Season 6
| Episode No. | No. Overall | Title | Airdate | Runtime | Summary |
| --- | --- | --- | --- | --- | --- |
| 1 | 49 | A House Divided | 2012-09-04 | 60 | |
| 2 | 50 | Showdown in Chi Town | 2012-09-11 | 60 | |
| 3 | 51 | Drawing the Line | 2012-09-18 | 60 | |
| 4 | 52 | The Talented Mr. Coleman | 2012-09-25 | 60 | |
| 5 | 53 | House of Lies | 2012-10-02 | 60 | |
| 6 | 54 | Bad Move | 2012-10-09 | 60 | |
| 7 | 55 | Cleaning House | 2012-10-16 | 60 | |
| 8 | 56 | Windy City Wedding | 2012-10-23 | 60 | |
| 9 | 57 | Barbie Bitch | 2012-10-30 | 60 | |
| 10 | 58 | Grandma's House | 2012-11-13 | 60 | |
| 11 | 59 | Cabogate | 2012-11-20 | 60 | |
| 12 | 60 | Til Death Do Us Part | 2012-11-27 | 60 | |
Season 7
| Episode No. | No. Overall | Title | Airdate | Runtime | Summary |
| --- | --- | --- | --- | --- | --- |
| 1 | 61 | When the Water Breaks | 2014-03-05 | 60 | |
| 2 | 62 | The New Girl | 2014-03-12 | 60 | |
| 3 | 63 | Road Trip | 2014-03-19 | 60 | |
| 4 | 64 | Back Flipping | 2014-03-26 | 60 | |
| 5 | 65 | Due Date | 2014-04-02 | 60 | |
| 6 | 66 | Flipping Nashville | 2014-04-09 | 60 | |
| 7 | 67 | I Want You Back | 2014-04-16 | 60 | |
| 8 | 68 | Out of Bounds | 2014-04-23 | 60 | |
| 9 | 69 | No Respect | 2014-04-30 | 60 | |
| 10 | 70 | Retreat | 2014-05-07 | 60 | |
Season 8
| Episode No. | No. Overall | Title | Airdate | Runtime | Summary |
| --- | --- | --- | --- | --- | --- |
| 1 | 71 | What the Flip! | 2015-07-01 | 60 | |
| 2 | 72 | A New Gage in Town | 2015-07-08 | 60 | |
| 3 | 73 | Womb for Rent | 2015-07-15 | 60 | |
| 4 | 74 | It's Sabotage | 2015-07-22 | 60 | |
| 5 | 75 | DSI: Design Scene Investigation | 2015-07-29 | 60 | |
| 6 | 76 | Say Hello to Hollywood | 2015-08-05 | 60 | Jeff Lewis and his team are settling into their new Hollywood office, but find that some human resources issues have followed them to the new space. With Joe not stepping up his game, and Vanina losing her focus, Jeff needs to figure out how to keep his current clients happy. |
| 7 | 77 | Trouble in Paradise | 2015-08-12 | 60 | Jeff and Gage have had a great year with their business and personal relationship...until now. From failing to adequately mourn the loss of their beloved cat, Stewie, to the stress of the move, things start to go wrong and tensions become unbearable. |
| 8 | 78 | The House That Jeff Built | 2015-08-19 | 60 | After years of trying to start a family, Jeff and Gage (with Jenni in tow) meet the woman they asked to carry their baby for the first time. However, the constant bickering between Gage and Zoila has become intolerable, leaving Jeff to hesitate on bringing home a newborn. |
Season 9
| Episode No. | No. Overall | Title | Airdate | Runtime | Summary |
| --- | --- | --- | --- | --- | --- |
| 1 | 79 | Appetite for Demolition | 2016-07-13 | 60 | |
| 2 | 80 | Todo Limpio | 2016-07-14 | 60 | Jeff heads to the doctor with Gage and their surrogate, Alexandra, for the implantation of their embryos. Also, Jenni tries to juggle her job and motherhood, and Zoila takes over as house manager. |
| 3 | 81 | Ready Set Glow | 2016-07-21 | 60 | An anxious Jeff and Gage are finally told that Alexandra is pregnant! However, Jeff hits a roadblock when he struggles to keep his long-standing client and friend Chaz Dean happy. On top of this, he questions whether or not his assistant Ashlyn wants to stay with the company. |
| 4 | 82 | Scope of Work | 2016-07-28 | 60 | Jeff heads to San Diego to meet a new client with million dollar condos. At the same time, Jenni reveals that she and her husband have decided to try for a second baby. Problems with Jeff's contractor arise when they push to change the way they have done business for 15 years. |
| 5 | 83 | Mary, Mary Quite Contrary | 2016-08-04 | 60 | |
| 6 | 84 | It's Not Your Fault | 2016-08-18 | 60 | |
| 7 | 85 | I Know What You Did Last Saturday | 2016-08-25 | 60 | Back from Chicago, an increase in clients has Jeff feeling like his luck has turned around. However, he soon begins to suspect that Gage's assistant Matt might be leaving JLD, a devastating prospect. Later, the pressure of living in a house under construction finally takes its toll and threatens to ruin Jeff's longest-standing relationship. |
| 8 | 86 | Unagi You Didn't! | 2016-09-01 | 60 | |
| 9 | 87 | What the Duck? | 2016-09-08 | 60 | |
| 10 | 88 | The End Is Nigh | 2016-09-15 | 60 | |
Season 10
| Episode No. | No. Overall | Title | Airdate | Runtime | Summary |
| --- | --- | --- | --- | --- | --- |
| 1 | 89 | What Will Jeff Do? | 2017-08-17 | 60 | The countdown to the baby's due date leaves no time for slowing down. While demo at home in Valley Vista starts on the master suite, Jeff and his team continue to work with clients. Gage's stress is obvious, while Jeff channels his by focusing on a to-do list. His control over every situation causes him to lash out at those around him. |
| 2 | 90 | Two Week Notice | 2017-08-24 | 60 | After Vanina's breakdown, she continues to report to work, leaving her boss unsure of whether or not she is leaving for good. Jeff comes up on the opportunity to buy another house, which means more change on the horizon. Jenni has good news of her own to share, but a swift illness threatens her health and her hope for a growing family. |
| 3 | 91 | Well, Hello, Monroe | 2017-08-31 | 60 | Only one week from the baby's due date, Jeff and team rush to make final preparations and wrap up projects. Worried about missing the birth, they head to northern California to wait for the call. After years of research, nine months of pregnancy, and over a week of anticipation, Jeff and Gage finally meet their daughter. |
| 4 | 92 | Welcome Home, Monroe | 2017-09-07 | 60 | Jeff and Gage bring baby Monroe home and officially step into parenthood. After a three-month hiatus, major changes have taken place at the JLD office. Vanina is gone and they've seen a revolving door of nannies. The office assistant has also left, but not before writing a detailed criticism of his first 90 days at the office. Gage struggles to keep up with work while continuously checking on the baby. Jeff starts to get frustrated with his lack of focus, driving an even-deeper wedge between them. |
| 5 | 93 | Baby Brain | 2017-09-14 | 60 | Jeff Lewis refuses to let his newborn slow him down. He plans to move into his New Hollywood project in order to make room for construction to finish at Valley Vista. Gage continues to lag behind, leaving Jeff to wonder if the tension between them will ever subside. |
| 6 | 94 | Baby's First Move | 2017-09-21 | 60 | Moving day proves difficult for Jeff and Gage, as they have to work around Monroe's nap and feeding schedules. Following the tumultuous move back into Hollywood, the trio is finally able to settle into a routine. When his client introduces him to the "Queen of Versailles," Jackie Siegel, the group preps for a trip to the sunshine state. |
| 7 | 95 | Oh My, Versailles | 2017-09-28 | 60 | After months of drama, life at New Hollywood promises a fresh start. Jeff might finally have the support he's been looking for when Monroe's newest nanny seems to be a great fit. Then the JLD team is off to Orlando to visit Jackie Siegel on her home turf and tour "Versailles," the largest house in the country also a potential new job for Jeff. |
| 8 | 96 | The Gema Dilemma | 2017-10-05 | 60 | Back from Orlando, Jeff is determined to push forward with all of his projects. He prepares his father Tom's condo for the market and schedules more demolition at Valley Vista. With current ventures under control, Jeff goes house hunting with one of his favorite clients, Jeanne Shaw. While business seems to be heading in the right direction, the childcare situation takes a turn for the worse. |
| 9 | 97 | The Good, the Bad, the Goodbye | 2017-10-12 | 60 | In the wake of Gema's exit, Jeff receives a text full of shocking accusations. Drama ensues between the remaining housekeepers and it becomes too much for Zoila. Without a nanny, Jeff and Gage juggle work and home life as they push to secure a luxurious consulting project. And when Jeff and Zoila meet to discuss the future of their relationship, their conversation takes the most unexpected turn yet. |
| 10 | 98 | Full Circle | 2017-10-19 | 60 | Jeff and Gage have faced numerous challenges as of late - caring for a newborn, moving into a new home and pushing the business into different directions - but Monroe's baptism is an opportunity to celebrate their blessings. While planning the event goes smoothly, the real test of faith transpires on the business side. Employees at JLD are dwindling, forcing Jeff to reevaluate his business and make a decision that will dramatically change the direction of his company for good. |
Season 11
| Episode No. | No. Overall | Title | Airdate | Runtime | Summary |
| --- | --- | --- | --- | --- | --- |
| 1 | 99 | A Series of Unfortunate Flips | 2018-09-11 | 60 | Life at the Jeff Lewis Design office is constantly in motion. Jeff is now focusing on flipping properties and has fewer clients to answer to. There have been multiple additions to the team, with Jeff relying heavily on his new full-time assistant Tyler. When Jenni returns from maternity leave, Jeff is not exactly sure where she fits in. Despite the added manpower, Valley Vista is still under construction with no completion date in sight. |
| 2 | 100 | Furniture Porn | 2018-09-18 | 60 | Gage lands a photo shoot for Jeff with furniture company Alder & Tweed. While the JLD crew scrambles to get everything in place, Jeff's focus is on Valley Vista. Between dealing with a forgetful inspector and his need to micromanage two project managers, Jeff is not endearing himself to his new clients. |
| 3 | 101 | A Very Lewis Christmas | 2018-09-25 | 60 | |
| 4 | 102 | All That Glitters | 2018-10-02 | 60 | |
| 5 | 103 | Edward vs. Lewis | 2018-10-09 | 60 | Jeff and Gage are at it again. Not only are they competing over who does what around the house, but whose flip is moving along fastest. Meanwhile, new troubles pop up at Valley Vista and Old Hollywood. Not to mention, team JLD has been rehired by Calabasas clients Liat and Trevor. Will the competition between Jeff and Gage break them or make them work harder? |
| 6 | 104 | The Straw(berry) That Broke the Camel's Back | 2018-10-16 | 60 | |
| 7 | 105 | Diamonds Aren't Forever | 2018-10-30 | 60 | |
| 8 | 106 | Trimming The Fat | 2018-11-06 | 60 | |
| 9 | 107 | Destructive Criticism | 2018-11-13 | 60 | Jeff meets with new client Randall, but is more concerned with pleasing his girlfriend Lala Kent, who will be making most of the design decisions. Lea Black is in town to finally get started on her kitchen demolition. Jeff realizes that his employees seem to lack motivation at the office, which pushes long-time employee Megan to make a difficult decision. |
| 10 | 108 | The Final Flip | 2018-11-20 | 60 | Lea Black leads a productivity seminar at Jeff Lewis Design, which brings a lot of issues to the surface and sparks a mass exodus. Jeff and Jenni have it out in what may be the biggest fight of their friendship. Can their relationship survive and will Jeff have any employees left? |
Series Cast
| | | | |
| --- | --- | --- | --- |
| | Ryan Brown | as Ryan Brown | |
| | Jeff Lewis | as Jeff Lewis | |
| | Chris Keslar | as Chris Keslar | |
| | Christopher Elwood | as Christopher Elwood | |
| | Jenni Pulos | as Jenni Pulos | |
| | Zoila Chavez | as Zoila Chavez | |
| | Jett Pink | as Jett Pink | |
| | Trace James Lehnhoff | as Trace James Lehnhoff | |
| | Sarah Berkman | as Sarah Berkman | |
| | Gage Edward | as Gage Edward | |
Series Crew
| | Position | Name |
| --- | --- | --- |
| | Executive Producer | Tom Rogan |
| | Executive Producer | Lauren Lexton |
Related News
TVMaze