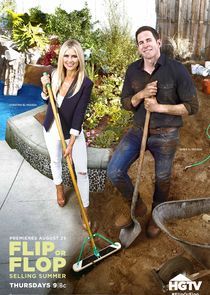 Tarek is a self-proclaimed real estate genius with determination and drive. Christina is Tarek's picture-perfect wife, who Tarek's friends still can't believe he landed. In each episode of Flip or Flop, Tarek and Christina flip a new property. From the nail-biting purchase at auction, to the frustrating renovations and maddening showings, to the giddy acceptance of an offer, we'll follow along as these two relatively novice flippers try their hand at the toughest game in town. From purchase to resale, weaving their personal lives within the story of the flip. From paying cash, sight unseen, for a property at auction, through the hapless remodeling process, to the frantic sale, this young couple is putting everything they have into this venture.
Series Overview
Rating
imDb Rating: 6.1 (1,472 Votes)
Metascore: N/A
Plot
Real estate agents Tarek and Christina flip houses in Southern California by purchasing old homes in need of TLC and renovating them to perfection. The couple re-sells the houses for a ...
Details
Rated: TV-G
Released: 01 Apr 2013
Runtime: 21 min
Genre: Reality-TV
Director: N/A
Writer: N/A
Actors: Tarek El Moussa, Christina Anstead, Taylor El Moussa
Language: English
Country: USA
Awards: N/A
Total Seasons: 8
Previous Episode
Broken Flip
Episode 8x18; Dec 12, 2019
Tarek and Christina flip a house with a weird vibe in Anaheim, CA. From the start, they can't tell if someone is squatting in the house or if the neighborhood hoodlums are pranking them.
Previous Episodes 8x18: Broken Flip 8x17: Treasure Hunt 8x16: Million-dollar Cookie Cutter 8x15: Big House, Big Budget 8x14: Small House, Big Problems 8x13: Buyer's Remorse 8x12: Hoarding Potential 8x11: Turf Wars 8x10: Cliff Makeover

View All Episodes
Cast
Tarek El Moussa as Tarek El Moussa
Christina El Moussa as Christina El Moussa
View Full Cast
Skip to:
Season 1
| Episode No. | No. Overall | Title | Airdate | Runtime | Summary |
| --- | --- | --- | --- | --- | --- |
| 1 | 1 | The Foreclosure Heebie-Jeebies | 2013-04-16 | 30 | |
| 2 | 2 | Vandalized Foreclosure | 2013-04-16 | 30 | |
| 3 | 3 | Awkward Floor Plan | 2013-04-23 | 30 | |
| 4 | 4 | Double Trouble Flip | 2013-04-23 | 30 | |
| 5 | 5 | Underwater Flip | 2013-04-30 | 30 | |
| 6 | 6 | Spanish Style Salvage | 2013-04-30 | 30 | |
| 7 | 7 | Inland Empire Cosmetic Nightmare | 2013-05-07 | 30 | |
| 8 | 8 | The Bungalow Gamble | 2013-05-07 | 30 | |
| 9 | 9 | Flop House Flip | 2013-05-13 | 30 | |
| 10 | 10 | Facelift Flip | 2013-05-14 | 30 | |
| 11 | 11 | A Flip with a View | 2013-05-21 | 30 | |
| 12 | 12 | The Moldy Mess | 2013-05-21 | 30 | |
| 13 | 13 | Keeping Up with the Joneses | 2013-05-28 | 30 | |
Season 2
| Episode No. | No. Overall | Title | Airdate | Runtime | Summary |
| --- | --- | --- | --- | --- | --- |
| 1 | 14 | Foreclosure Shock | 2014-04-08 | 30 | |
| 2 | 15 | Unfinished Flip | 2014-04-15 | 30 | |
| 3 | 16 | Nothing But Potential | 2014-04-22 | 30 | |
| 4 | 17 | Too Small to Fail | 2014-04-29 | 30 | |
| 5 | 18 | Dirty, Dated and Undesired | 2014-05-06 | 30 | |
| 6 | 19 | Flipper vs. Flipper | 2014-05-13 | 30 | |
| 7 | 20 | A Barnyard Dance | 2014-05-20 | 30 | |
| 8 | 21 | Hard Money Blues | 2014-05-27 | 30 | |
| 9 | 22 | Loud, Louder, Loudest | 2014-06-03 | 30 | |
| 10 | 23 | A Neglected Flip | 2014-06-10 | 30 | |
| 11 | 24 | A Risky Flip | 2014-06-17 | 30 | |
| 12 | 25 | Mid-Century Flip | 2014-06-24 | 30 | |
| 13 | 26 | Ranch House of Ruin | 2014-07-01 | 30 | |
| 14 | 27 | Hilltop Hangup | 2014-07-08 | 30 | |
Season 3
| Episode No. | No. Overall | Title | Airdate | Runtime | Summary |
| --- | --- | --- | --- | --- | --- |
| 1 | 28 | Custom Craftsman | 2014-10-07 | 30 | |
| 2 | 29 | Abandoned Flip | 2015-04-07 | 30 | |
| 3 | 30 | Cracked Flip | 2015-04-14 | 30 | |
| 4 | 31 | A Dinky Flip | 2015-04-21 | 30 | |
| 5 | 32 | Toxic Flip | 2015-04-28 | 30 | |
| 6 | 33 | Thrifty vs. Glitzy | 2015-05-05 | 30 | |
| 7 | 34 | The Money Pit | 2015-05-12 | 30 | |
| 8 | 35 | Junk Yard Flip | 2015-05-19 | 30 | |
| 9 | 36 | Pipe Dreams | 2015-05-26 | 30 | |
| 10 | 37 | A Flip with the Enemy | 2015-06-02 | 30 | |
| 11 | 38 | Too Good to Be True | 2015-06-09 | 30 | |
| 12 | 39 | Big Lot Little Flip | 2015-06-16 | 30 | |
| 13 | 40 | A Pig in a Poke | 2015-06-23 | 30 | |
| 14 | 41 | Freeway Flip | 2015-06-30 | 30 | |
| 15 | 42 | Abort Flip | 2015-07-07 | 30 | |
Season 4
| Episode No. | No. Overall | Title | Airdate | Runtime | Summary |
| --- | --- | --- | --- | --- | --- |
| 1 | 43 | Natural Disaster | 2015-12-03 | 30 | Tarek and Christina get a lead from their friend and investor, Pete, on a house he's recently purchased. It's situated in an upscale, gated neighborhood and it's a house Pete can't tackle on his own. A large, expensive flip can mean equally large profits; but it also takes time and even the littlest mistake is magnified. Will Tarek and Christina be able to partner with Pete to score their biggest profit yet, or could they lose it all in this natural disaster flip? |
| 2 | 44 | Big Money Flip | 2015-12-10 | 30 | Tarek and Christina are contacted by an out-of-state seller looking to sell an old family home. It's a large house in original condition and could be a great flip. But it's also more expensive than their usual projects and the renovation could get pricey on this midcentury modern time capsule. Can Tarek and Christina turn a big money profit from this big money flip? |
| 3 | 45 | House of Hidden Horrors | 2015-12-17 | 30 | Tarek and Christina head to La Habra, California to check out an enticing off-market listing. The home is typical for the area and appears to need only cosmetic updating. With the seller eager for a quick close, it could be a great deal if they can get it for the right price before it hits the market. Can Tarek and Christina transform this house into a dream home or could a nightmare renovation spell flop for this house of hidden horrors? |
| 4 | 46 | A Frantic Fiasco | 2016-01-07 | 30 | Tarek and Christina head to Placentia, California to check out a lead on a midcentury property. The home is dated but the size and layout is a designer's dream; and most importantly, the numbers indicate it could be a profitable deal. But as is often the case with old homes, no project is as straightforward as it seems. Can Tarek and Christina overcome surprises and setbacks to survive this frantic fiasco? |
| 5 | 47 | No Risk, No Reward | 2016-01-14 | 30 | Tarek and Christina get a lead on a trust sale property in Anaheim, California with an original layout and a dated design. It's in good shape and seems like a mostly cosmetic project with a lot of potential. But when their project manager comes back with a ballooning budget and a laundry list of contingencies, Tarek and Christina wonder if this home has more potential than pitfalls. Still, skilled flippers that they are, Tarek and Christina don't back down from a challenge and know that with no risk, comes no reward. |
| 6 | 48 | A Family Friendly Flip | 2016-01-21 | 30 | Tarek and Christina receive a call from their longtime friend, Carlos, who is deciding whether to sell his family's home or to try his hand at flipping it. It's a tall order for a novice flipper, but with the aid of Tarek and Christina's knowledge and experience, Carlos may be able to get his family a higher sale price. Can Tarek and Christina safely mix friendship and business to turn a profit on this family friendly flip? |
| 7 | 49 | Breaking Up | 2016-01-28 | 30 | Tarek and Christina get a lead on a house in Torrance, California that is not only in rough shape, but also has known foundation issues. Right away it seems like this might be a bad buy; but Torrance is an exploding market and the land value alone could make this flip worth the risk. The house is going to need it all: good design, structural improvement, and careful renovation. It's a big project but it has the potential to be a big profit. Can Tarek and Christina transform this down and out home or could significant problems leave their budget and their profit margin on the verge of breaking up? |
| 8 | 50 | Of Wreck and Ruin | 2016-02-04 | 30 | Tarek and Christina spot a home that's for sale by its owner in La Puente, California. It's in rough shape to say the least and because it's tenant occupied, they can't look inside. There's always a danger in purchasing a house sight unseen, but if they can get it for the right price, this home has the potential to pay off big time. Can Tarek and Christina right this sinking flip or could this home prove to be the stuff of wreck and ruin? |
| 9 | 51 | Diamond in the Rough | 2016-02-11 | 30 | Tarek and Christina spot a listing for a small home near the beach in Costa Mesa, California. The home is in rough shape and will surely require a lot of work to renovate, but it's in a desirable and eclectic neighborhood and properties in the surrounding beachside communities command top dollar. Can Tarek and Christina transform this house from the worst on the block to the showpiece by the beach, or could a ballooning budget prove this diamond in the rough to be a lump of coal? |
| 10 | 52 | Boxed in Flip | 2016-02-18 | 30 | Tarek and Christina scope out a house in Fullerton, California that's in a good neighborhood and shows potential for profit. And while it seems a little high-priced for the area, if they can buy it for the right price and stay on budget, it could be a great flip. Will Tarek and Christina be able to unpack this cramped floor plan or have they backed themselves into a corner on this boxed in flip? |
| 11 | 53 | Million Dollar Flip | 2016-02-25 | 30 | Tarek and Christina find a short sale listing for a large home in an upscale neighborhood of Yorba Linda, California. With an asking price just below a million dollars, this would be the most expensive flip they've taken on - and also the biggest risk. Can Tarek and Christina give this house the luxury treatment without busting the budget, or could this million dollar flip be a seven figure flop? |
| 12 | 54 | Dilapidated Flip | 2016-03-03 | 30 | Tarek and Christina get a lead on a property in Santa Ana, California that has the potential to be both a great entry level family home and a profitable flip. But after walking it with their contractor, it's clear this run down home is going to need a lot of work. Can Tarek and Christina bring this project in on time and on budget, or could bad luck and big problems threaten to bring the profit crashing down on this dilapidated flip? |
| 13 | 55 | Pesky Flip | 2016-03-10 | 30 | Tarek and Christina head to Santa Ana to check out an off-market listing. It appears to be in good shape, has a great layout, and with strong comparable sales in the area, this home could be a great buy. But profitable on paper doesn't always translate into profit on paper. Can Tarek and Christina stay on budget or could hidden problems and untimely mistakes make this a pesky flip? |
| 14 | 56 | Fun House Flip | 2016-03-17 | 30 | Tarek and Christina get a tip on a short sale in Anaheim, California that has plenty of potential and is certain to attract investor interest. With only hours to determine if this could be their next flip, they meet their contractor at the house and are puzzled by what they find - a maze of barricaded windows and suspicious additions. Tarek and Christina know that if they're going to flip this house, they'll have to stick to the budget. Can they revive this family home or could tricky obstacles distort this fun house flip? |
| 15 | 57 | Trickle Down Flip | 2016-03-24 | 30 | Tarek and Christina get a lead on a home for sale in Chino, California that's rundown, overgrown, and in desperate need of cosmetic help. The price is fair and recent sales in the area show potential for profit. But right away there's a problem and Tarek and Christina are left wondering if this is an isolated issue or sign of what's to come. Will they turn a profit on this home or could mounting problems threaten to topple this trickle down flip? |
Season 5
| Episode No. | No. Overall | Title | Airdate | Runtime | Summary |
| --- | --- | --- | --- | --- | --- |
| 1 | 58 | Down to the Studs | 2016-06-09 | 30 | Tarek and Christina get a lead on a for sale by owner property in Whittier, California that would scare most buyers away; but they're not most buyers. Tarek and Christina know that with a little hard work and design vision, they could turn a healthy profit on this home in just a few months. But as renovation begins, the surprises and expenses keep piling up. Can they keep this flip on track or could costly problems bring this house and their profit down to the studs? |
| 2 | 59 | Narrow Margin Flip | 2016-06-16 | 30 | Tarek and Christina are contacted by their friend and fellow investor, Pete. He's already purchased a home in Anaheim, California and wants to bring Tarek and Christina in on what should be a quick flip for a modest profit. But as renovation begins, Pete's budget estimate goes out the window and this is starting to look less and less like a good buy. Can the trio save their investment on this narrow margin flip? |
| 3 | 60 | Cat Nip Flip | 2016-06-23 | 30 | Tarek and Christina are contacted by a realtor about an exciting new listing. So new, in fact, that the realtor doesn't even have keys yet. If Tarek and Christina want to buy this house, they'll have to do so sight unseen. The price is right and the profit potential is huge, but who knows what lurks behind that front door? Can Tarek and Christina stay on budget or will they be left clawing for profits on this cat nip flip? |
| 4 | 61 | Fast Money Flip | 2016-06-30 | 30 | Tarek and Christina check out a home with a tight profit margin in Whittier, California. The house is in good shape though, and it shouldn't take much time or money to transform this property. It's a risk, but as long as they stick to the schedule and budget they could turn a quick profit and move on to their next flip. Will it finally be smooth sailing on this project or will setbacks threaten Tarek and Christina's fast money flip? |
| 5 | 62 | Beached Bungalow | 2016-07-07 | 30 | Tarek and Christina buy a charming bungalow home on the edge of a historic Long Beach, California neighborhood. Christina loves the period details and design while Tarek loves that the good condition of the interior could mean savings in the budget. Will Tarek and Christina be able to turn this home into a classic beauty or will this old house teach them a lesson. |
| 6 | 63 | Old Time Flip | 2016-07-14 | 30 | Tarek and Christina buy a turn of the century home in a historic Santa Ana, CA neighborhood. Old homes always present unseen problems throughout the process and this home is no exception. Can Tarek and Christina handle the issues that come along with renovating a century old home or will ancient issues come back to haunt them? |
| 7 | 64 | Communal Flip | 2016-07-21 | 30 | Tarek and Christina flip the worst home on the block in this Anaheim Hills neighborhood. With high profit margins in a desirable neighborhood this should be a slam dunk. Can Tarek and Christina renovate quickly or will a the strict HOA hold up this communal flip? |
| 8 | 65 | Fire Sale Flip | 2016-07-28 | 30 | Tarek and Christina are contacted by a homeowner in Costa Mesa, California on a great deal for a 1960's single story home. A good deal in a great neighborhood is exactly what Tarek and Christina look for. Once they start working on the home they immediately run into big ticket issues. Will they be able to handle these big issues or will they watch as their profits burn up in this fire sale flip. |
| 9 | 66 | New Flips, Familiar Faces | 2016-08-25 | 30 | With Christina pregnant on bed rest Tarek enlists help from his friend and real estate partner Pete DeBest. They go on the search for their next big project and land a great deal on a run down house in Corona, CA. Once they crack open the door they see that they have their work cut out for them on this one. Will these old friends be able to work together to resurrect this home or will Christina's absence spell disaster for this flip? |
| 10 | 67 | Labor of Love | 2016-09-01 | 30 | Tarek and Christina get a lead on home in Fullerton, CA which seems too good to be true. Upon arrival they see the house is riddled with cracks. Even with foundation repairs the profit margin is so large here it should be a good flip for them. With Christina close to having their baby, Tarek has his hand full with this one. Will they be able to rebuild this foundation from the ground up or will they watch as their profits disappear into this quicksand flip? |
| 11 | 68 | Substitute Flip | 2016-09-08 | 30 | Tarek gets contacted by his friend Pete DeBest who wants to go 50/50 on a smoking deal on a house in La Habra, CA. With the new addition of baby Brayden to the family they have their hand full. So while Christina is busy with Brayden, Tarek will team up with Pete to tackle this flip. Will the friendly duo be able to pull it off or will unforeseen problems sink this substitute flip? |
| 12 | 69 | Split at the Seams | 2016-09-15 | 30 | Tarek gets contacted about a house on a desirable corner lot in Torrance, CA. Upon initial inspection it looks like a quick flip but then they see the house and foundation have cracks everywhere! Will Tarek and Christina be able to repair this home or will these splitting seams become a total rip off? |
| 13 | 70 | Hidden Potential | 2016-09-22 | 30 | Tarek and Christina flip a house in Garden Grove, CA. They really have their work cut out for them on this one because not only is the house on a busy street but it is a mess! Have Tarek and Christina opened up a can of worms or does this flip have some hidden potential waiting to be uncovered? |
| 14 | 71 | Doll House Flip | 2016-12-01 | 30 | Tarek and Christina are contacted by a homeowner in Garden Grove, California, about a house they want to quickly sell off the market. The house needs a lot of work, and has strange rooms everywhere which could spell disaster when trying to get permits. Can Tarek and Christina rebuild this dated house into a dream home, or will troubles threaten this doll house flip? |
| 15 | 72 | Midcentury Miss | 2016-12-08 | 30 | Tarek and Christina get a lead on a midcentury house in La Habra, CA, that is towards the top of a hill. The margin is tight on this home so they need to get in and out quickly to maximize profits. The neighborhood calls for high design and they need to deliver if they want to sell this house for top dollar. Will they be able to nail the design, or will this home be a midentury miss? |
Season 6
| Episode No. | No. Overall | Title | Airdate | Runtime | Summary |
| --- | --- | --- | --- | --- | --- |
| 1 | 73 | Poolside Potential | 2016-12-15 | 30 | Tarek and Christina are on the hunt for a summer project and find a unique home in Whittier, CA. With an old pool and a large backyard, this house has potential to be an entertainer's paradise. Taking on a backyard is a big challenge, but with big risks come big rewards. Can Tarek and Christina transform this home and reinvigorate its depressed pool, or could this project with poolside potential be in danger of circling the drain? |
| 2 | 74 | Pooling Value | 2016-12-22 | 30 | Tarek and Christina find a large home in the desirable town of Cypress, California. They know they can make money on this flip, but the comparable sales indicate that an amazing backyard with a pool could bring even more profit in this family community. It'll cost a lot more than a standard flip to put in a pool and create an outdoor living space, but they decide it's worth the gamble. Can Tarek and Christina get top dollar for this entertainer's paradise, or could design and construction hiccups dry up the profits on this home's once pooling value? |
| 3 | 75 | Split-Level Falls | 2017-01-05 | 30 | Tarek and Christina get a lead on a split-level home in Long Beach, California. The style is unique among the other homes in the neighborhood and the small backyard is a ripe for creating classic California-style indoor/outdoor living. As work begins and the backyard starts to take shape, surprise interior costs threaten the overall budget. Can Tarek and Christina create a backyard beauty by the beach, or could design woes push them over the edge of this split-level falls? |
| 4 | 76 | Beachside Beauty | 2017-01-12 | 30 | Tarek and Christina get a lead on a home in Torrance, California, that's just miles from the ocean and several upscale beach communities. The yard is small and tiered, but buyers in this area demand luxury and are willing to pay top dollar to get it. Tarek and Christina decide to pull out all the stops and make use of every inch of yard space to create an entertainer's dream fitting of its anticipated million dollar list price. Can they keep a lid on their budget or will this hillside spool wash away their profits? |
| 5 | 77 | Backyard Staycation | 2017-01-19 | 30 | Tarek and Christina get a lead on a home in Riverside, California, with a massive backyard. It has great views and room to create a pool and outdoor living area fit for a five-star resort. The potential is there to make this the biggest backyard transformation they've ever done, but it won't come cheaply and they risk spending more than they can get back. Can Tarek and Christina create and reap the rewards of a resort-style backyard or could rising costs threaten to sink this backyard staycation dream home? |
| 6 | 78 | Addition and Subtraction | 2017-01-26 | 30 | Tarek and Christina get a lead on a home in Garden Grove, California, that is in need of a major makeover. The house is small and needs a lot of work but it does have a large yard where they could add an extra bathroom or bedroom. Could an addition be the perfect solution to their problems or will it just end up subtracting from their profits? |
| 7 | 79 | Double Lot Limbo | 2017-02-02 | 30 | Tarek and Christina get a lead on a house in Buena Park, California, that has a large lot behind it. This lot could mean extra profits if they are able to split and sell it separately from the house. The house poses its own problems with a strange layout and permit issues that could set the project back. Can Tarek and Christina take on this new challenge or will setbacks keep them in this double lot limbo? |
| 8 | 80 | Ready-to-Flip Ranch | 2017-02-09 | 30 | Tarek and Christina are contacted by an owner in Anaheim, California, looking to sell their three bedroom, two bathroom home. These three bedroom, two bathroom houses are quick and easy to flip, exactly what they are looking for. Upon inspection the house looks good, but there is only one hiccup in their plan -- the second bathroom is only a half bathroom and it doesn't meet code. Will they be able to make this bathroom functional and keep the value of the home or will they have to lose a bathroom and some profit along with it? |
| 9 | 81 | Hot Market, Fast Flip | 2017-02-16 | 30 | Tarek and Christina get a smoking deal on a house in an up-and-coming neighborhood of Garden Grove, CA. With not too much work to be done, this house should be quick flip for them. Can they keep this flip on schedule or will unpredictable problems douse this hot market flip? |
| 10 | 82 | Wishful Workshop | 2017-02-23 | 30 | Tarek and Christina get a lead on a home in Garden Grove, California. They always do well in this neighborhood and see big potential with this house. When they go to check out the house there is a large workshop addition which could be a huge selling point for a buyer later on. Will this addition help sell this home once it's renovated or will permit issues bring down this wishful workshop? |
| 11 | 83 | Lessons in Laguna Beach | 2017-03-02 | 30 | Tarek and Christina get a lead on a house in an upscale neighborhood in Laguna Beach, CA. Even though the house is small, it has an ocean view, which means big money. Having never flipped in the area, they aren't sure what to offer for the house, so they visit another flip in the area and see that the house they want is overpriced. When they offer below asking price for the home, the seller is shocked. Will they be able to get a good deal on this beachside home or will they miss their chance to make big money in Laguna? |
| 12 | 84 | Diving Into a Flip | 2017-03-09 | 30 | Tarek and Christina buy a large home in Anaheim, California, with some strange additions that could end up costing them thousands of dollars and sacrificing square footage. |
| 13 | 85 | Hillside Horror | 2017-03-16 | 30 | Tarek and Christina get a lead on a property in the upscale neighborhood of Palos Verdes, California. The house may be small but because of the area, it could sell for over $1 million. Can Tarek and Christina turn this hillside horror into a high-class home, or are they in over their heads in this beachside community? |
| 14 | 86 | False Start Flip | 2017-03-23 | 30 | Tarek and Christina are contacted about home in El Monte, California, but they can't take a look at the inside before making an offer. After checking out the outside, they make an offer and get it for a good price. But they think twice after they get inside and realize that they might have spent too much on this flip. Will they be able to keep costs to a minimum and maximize their profit, or did they jump the gun on this false-start flip? |
| 15 | 87 | Beaming with Potential | 2017-03-30 | 30 | Tarek and Christina get a lead on a four-bedroom home in Cypress, California, that the owner is looking to sell quickly. The home is a mess but already has an open floor plan, which will save them money in the long run. When they start demo on the kitchen, Tarek and Christina discover the ceiling isn't supported correctly, and they will have to reinforce it or add a post, which will close off the space. A house that was once beaming with potential could end up costing them more than they expected. |
Season 7
| Episode No. | No. Overall | Title | Airdate | Runtime | Summary |
| --- | --- | --- | --- | --- | --- |
| 1 | 88 | A Deceiving Deal | 2017-06-15 | 30 | Tarek and Christina see a great opportunity to purchase a three-bedroom house in Whittier, CA, for a low price since the seller is looking to unload it quickly and it is still tenant occupied. Their hopes are high, but once they get inside they find that the tenants left the place in an absolute wreck. Will they be able to handle this mess or have they been deceived by what's on the outside? |
| 2 | 89 | Switching Rooms | 2017-06-22 | 30 | Tarek and Christina are contacted by a homeowner wanting to sell their four-bedroom home in Garden Grove, California. Knowing the high returns for the area they decide to go for it, but find the layout strange and question whether it's actually a four-bedroom house after all. Did they make a huge mistake, or can they find an upside from this potential mishap? |
| 3 | 90 | Post-Purchase Problems | 2017-06-29 | 30 | Tarek and Christina are contacted about a three-bedroom, two-bathroom home in Anaheim, CA. The home appears to be in great shape and already has some major renovations completed, but the owner doesn't know how much they want to sell it for. There are structural issues that will have to be addressed before Christina's vision can come to fruition, but if she can pull it off, she and Tarek can make big bucks off this property. Is this house a flipper's dream home or are the structural issues the first of many problems to come? |
| 4 | 91 | Midcentury Maze | 2017-07-06 | 30 | Tarek and Christina check out a three-bedroom, two-bathroom home in their new stomping grounds of Garden Grove, CA. Hoping to snatch this property before it hits the market, they arrive to find the house is dirty with a mosquito-infested pool but has the potential to be charming. If they want to sell, the project will require a complex renovation with little room for error. Can they talk the seller down to a lower asking price or will Tarek and Christina have to pull off the perfect flip? |
| 5 | 92 | Infringing Flip | 2017-07-13 | 30 | A seller is looking to offload a three-bedroom, two-bathroom home in Garden Grove, CA, and asks Tarek and Christina to come have a look. The home already has an open floor plan and a master bedroom, but one of its bedrooms may be illegally permitted which could lead to hidden costs. Have they bought into a money trap or will they be able to pull out a profit on this infringing flip? |
| 6 | 93 | Flipping and Dating | 2018-05-31 | 30 | Tarek gets a lead on a house in Diamond Bar, CA, and asks Christina to meet him to view the property. Tarek rushes off for a date, however, and Christina relentlessly pokes fun at him. The underlying tension leads to a blowout, which could get in the way of finishing the flip and making a profit. |
| 7 | 94 | Junk-Pile Flip | 2018-06-07 | 30 | Tarek and Christina flip a small home with big problems in Long Beach, CA. What seems like a great home reveals an avalanche of problems from the front door to the garage. This junk-pile flip is filled to the brim with hidden obstacles -- can it be saved? |
| 8 | 95 | Bursting at the Seams | 2018-06-14 | 30 | Tarek and Christina are out of town when they get a lead on a house in La Mirada, California, and are forced to buy the house sight unseen. Christina worries the house may be packed with problems, but Tarek believes big risks come with big rewards. |
| 9 | 96 | Two Houses for Sale | 2018-06-21 | 30 | Tarek gets a lead on a house in Buena Park, CA, and calls Christina to check it out. When they arrive at the house, they find that it's dated inside and out and requires much more work than they'd hoped. As the renovation continues, Christina struggles to tell Tarek she wants to sell the house they lived in together because the news could send their flip off the rails. |
| 10 | 97 | Pigeonhole Flip | 2018-06-28 | 30 | Tarek and Christina take on a home that's full of surprises in Santa Ana, California. They work to modernize the house as much as possible to appeal to the modern-day buyer, but with every challenge comes many problems. |
| 11 | 98 | New Normal in Arcadia | 2018-07-05 | 30 | Tarek and Christina flip a large home in the unfamiliar neighborhood of Arcadia, CA, but their differing opinions threaten their profit margin in an area with a high market standard. |
| 12 | 99 | Shattered Flip | 2018-07-12 | 30 | |
| 13 | 100 | Dark and Dingy | 2018-07-19 | 30 | Tarek and Christina find a good flip in Garden, Calif., but Christina is worried that Tarek's penny-pinching will prevent them from making the necessary design decisions to maximize profits. |
| 14 | 101 | Tri-Level Flip | 2018-07-26 | 30 | Tarek and Christina flip a four-bedroom, tri-level home in Orange, CA, with a pool full of problems and a dated interior floor plan. As the problems pile up with the flip and Christina considers whether her new boyfriend is impacting her work relationship with Tarek, they work together to get this million-dollar flip finished without a falling-out. |
| 15 | 102 | Midcentury Markup | 2018-08-02 | 30 | Tarek and Christina get a lead on a Santa Ana, Calif., home with mid-century architectural details that could sell for top dollar; they're forced to outbid other investors to snag the home, leaving them wondering if more money means more problems. |
| 17 | 103 | Rock Bottom Flip | 2018-08-09 | 30 | Tarek and Christina take a gamble on a million-dollar possibility in Anaheim Hills, CA, that is rotted with mold. Tarek wrestles with keeping the project on track while Christina tip-toes around her ex being in a bad mood as things get worse with the home. The duo will have to come together and agree on a solid design if they want to sell the house for over a million dollars, otherwise this rotten flip may prove to be more than they can handle. |
| 18 | 104 | What's Old Is New Again | 2018-08-16 | 30 | Tarek and Christina get a lead on a home in Hacienda Heights, California, where they find some outdated designs and others that are in-style once again. The retro property could be profitable in this hot market, or they might just find something hiding underneath the old shag rug. |
| 19 | 105 | Rotten Flip | 2018-08-23 | 30 | Tarek and Christina take a gamble on a million-dollar possibility in Anaheim Hills, CA, that is rotted with mold. Tarek wrestles with keeping the project on track while Christina tip-toes around her ex being in a bad mood as things get worse with the home. The duo will have to come together and agree on a solid design if they want to sell the house for over a million dollars, otherwise this rotten flip may prove to be more than they can handle. |
| 20 | 106 | Fantastic Flip | 2018-08-30 | 30 | Tarek and Christina take on a home in a trendy Costa Mesa, CA, neighborhood but if they want to give the hip homebuyers what they want, they'll first have to nail the design. While Christina is shooting for the stars with her designs, however, Tarek has a hard time spending the money. Will they be able to attract the right kind of buyer in this hard-to-please neighborhood or will their design miss the mark? |
| 21 | 107 | Infested Flip | 2018-09-06 | 30 | Tarek and Christina land on a small three-bedroom, two-bathroom home that needs a lot of work in Santa Ana, California. Once they get inside, they realize it needs more love than they expected. While deciding how to rehab the home, the duo clashes over style so they decide to compete to see whose design is better. |
Season 8
| Episode No. | No. Overall | Title | Airdate | Runtime | Summary |
| --- | --- | --- | --- | --- | --- |
| 1 | 108 | Unpermitted Flip | 2019-08-01 | 30 | Tarek and Christina flip a home in Rowland Heights, CA, that's jam-packed with issues. There's a large pool in a small backyard, and unexpected additions create problems they've never seen before. As their budgets grow and profits shrink, Tarek and Christina need to figure out creative ways to get top dollar on this project. |
| 2 | 109 | Fish Out of Water | 2019-08-08 | 30 | Tarek and Christina take on a flip in West Covina, CA, which is a new area for them. They have to expand into new cities in order to grow their business, but the distance and their uncertainty of what buyers expect in the area lead to disagreements on the scope and design of the house. |
| 3 | 110 | Flea Bag Flip | 2019-08-15 | 30 | Tarek and Christina get a lead on a house in Rowland Height, CA. This 3 bedroom, 2 bathroom house should be a quick flip but once they open the door they see this is a bigger project then they anticipated. Can they turn this run down house into a profit or will this flea bag flip be a flop? |
| 4 | 111 | Bankrupt Flip | 2019-08-22 | 30 | Tarek and Christina find a good deal in a familiar neighborhood in Anaheim, CA. They need to act fast if they want to lock it in, but they have to make an offer without seeing the inside. |
| 5 | 112 | Alarming Flip | 2019-08-29 | 30 | Tarek and Christina return to the street of a previous flip in Cypress, Calif; when they can't agree on a design for the kitchen, they decide to settle matters with a quick game of hoops. |
| 6 | 113 | Midcentury Money Pit | 2019-09-05 | 30 | Tarek and Christina flip a house in Fullerton, CA, right across the street from Tarek's first flip. Before renovating, they have to deal with crumbling concrete, and they need to figure out the market for the house. A lot has changed since Tarek's first flip, and changes bring new challenges. |
| 7 | 114 | It's a Dump | 2019-09-12 | 30 | Tarek and Christina flip a house in Lakewood, CA, near one of their previous flips. They hope to repeat their past success, but modernizing an old house comes with a high price tag. A good flip will set the bar for the neighborhood, and a bad flip will leave them with minimal profits. |
| 8 | 115 | Money Mirage | 2019-09-19 | 30 | Tarek and Christina take a gamble on a tri-level house in Irvine, CA, buying it sight unseen. The neighborhood is hot, but the house needs a lot of work. After opening up the tiny kitchen and updating the master bedroom, there's still a lot to do with a shrinking budget. |
| 9 | 116 | Additional Problems | 2019-09-26 | 30 | Tarek and Christina find a house in Long Beach, CA, with tons of potential. To justify their investment, they decide to add a bedroom and bath. As work begins and problems spring up, they hope they haven't bitten off more than they can chew. |
| 10 | 117 | Cliff Makeover | 2019-10-03 | 30 | Tarek and Christina take on an expensive mid-century house in Anaheim, Calif., designed by architect Cliff May. |
| 11 | 118 | Turf Wars | 2019-10-10 | 30 | Tarek and Christina team up with their friend Pete De Best to renovate a house in Yorba Linda, Calif. |
| 12 | 119 | Hoarding Potential | 2019-10-17 | 30 | Tarek's friend, Robert, wants to get into flipping and they buy a home sight unseen in Lakewood, CA. When they discover it's a major hoarder house filled to the brim with junk, Robert worries they made a mistake. |
| 13 | 120 | Buyer's Remorse | 2019-10-24 | 30 | Tarek and Christina get a smoking deal on a Yorba Linda, CA, home with a closed-off floor plan. They spend big money to remove a fireplace and open up the space, but when Tarek goes behind Christina's back and changes a tile design, she tackles the new fireplace herself. |
| 14 | 121 | Small House, Big Problems | 2019-11-07 | 30 | |
| 15 | 122 | Big House, Big Budget | 2019-11-14 | 30 | |
| 16 | 123 | Million-dollar Cookie Cutter | 2019-11-21 | 30 | Tarek tackles a cookie-cutter home in Newport Beach, CA, where everything looks exactly the same. He creates a plan with contractor Jeff Lawrence, but when a comp for $1.4 million hits the market, Tarek goes all out to take his flip to the next level. |
| 17 | 124 | Treasure Hunt | 2019-12-05 | 30 | Tarek and Christina flip a house in Fullerton, CA, with a fantastic view. When strange additions and design challenges collide, however, this quick flip turns out to be harder than anticipated. |
| 18 | 125 | Broken Flip | 2019-12-12 | 30 | Tarek and Christina flip a house with a weird vibe in Anaheim, CA. From the start, they can't tell if someone is squatting in the house or if the neighborhood hoodlums are pranking them. |
Series Cast
| | | | |
| --- | --- | --- | --- |
| | Tarek El Moussa | as Tarek El Moussa | |
| | Christina El Moussa | as Christina El Moussa | |
Related News
TVMaze