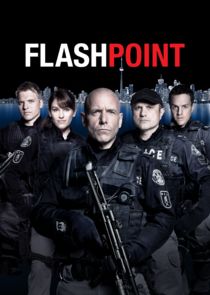 Flashpoint is a drama which depicts the emotional journey into the tough, risk-filled lives of a group of cops in the SRU (inspired by Toronto's Emergency Task Force). It's a unique unit that rescues hostages, busts gangs, defuses bombs, climbs the sides of buildings and talks down suicidal teens. Members of a highly-skilled tactical team, they're also trained in negotiating, profiling and getting inside the suspect's head to diffuse the situation to try and save lives.
Series Overview
Rating
imDb Rating: 7.7 (16,048 Votes)
Metascore: N/A
Plot
The missions and trials of a Toronto police tactical unit.
Details
Rated: TV-14
Released: 11 Jul 2008
Runtime: 41 min
Genre: Action, Crime, Drama, Thriller
Director: N/A
Writer: Mark Ellis, Stephanie Morgenstern
Actors: Hugh Dillon, Amy Jo Johnson, David Paetkau, Sergio Di Zio
Language: English
Country: Canada
Awards: 22 wins & 88 nominations.
Total Seasons: 5
Previous Episode
Keep the Peace (2)
Episode 5x13; Dec 13, 2012
Previous Episodes 5x13: Keep the Peace (2) 5x12: Keep the Peace (1) 5x11: Fit for Duty 5x10: A World of Their Own 5x9: Lawmen 5x8: We Take Care of Our Own 5x7: Forget Oblivion 5x6: Below the Surface 5x5: Sons of the Father

View All Episodes
Cast
Enrico Colantoni as Sgt. Gregory Parker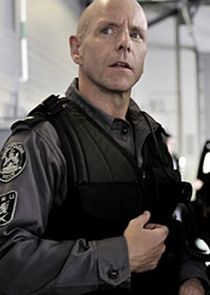 Hugh Dillon as Ed Lane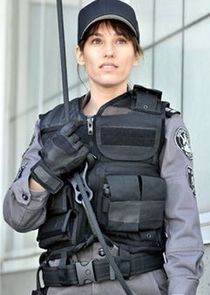 Amy Jo Johnson as Julianna "Jules" Callaghan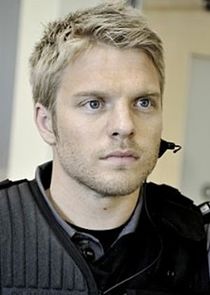 David Paetkau as Sam Braddock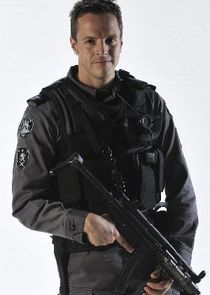 Sergio Di Zio as Michelangelo 'Spike' Scarlatti
Wendy Adeliyi as Leah Kerns
View Full Cast
Skip to:
Season 1
Episode No.
No. Overall
Title
Airdate
Runtime
Summary
1
1
Scorpio
2008-07-11
60

When an enraged gunman takes a hostage in a public square, the team must take drastic action and deal with the consequences.

2
2
First In Line
2008-07-18
60

A desperate father turns a policeman's gun on a surgical team, demanding a heart transplant for his dying daughter.

3
3
The Element of Surprise
2008-07-24
60

A reformed drug addict visits a dealer who owes him money, unwittingly putting his life at risk in the middle of an SRU takedown.

 

4
4
Asking for Flowers
2008-07-31
60

The SRU works to rescue a cop taken hostage on his boat, but soon learn that the captor is his battered wife's older sister.

5
5
Who's George
2008-08-07
60

A bank robber tests Parker's negotiating skills while the team scrambles to determine what he really wants before he kills his hostage.

6
6
Attention Shoppers
2008-08-14
60

A shooting at a mall brings the SRU into a situation involving a gang, retribution and a girl who's trying to make it against the odds.

7
7
He Knows His Brother
2008-08-21
60

The SRU responds to shots fired in a home where they find a lawyer shot and the rest of the family protecting the shooter.

8
8
Never Kissed a Girl
2008-09-11
60

Ed inserts himself into an incident at the courthouse when a parolee demands to see his prosecutor at gunpoint.

9
9
Planets Aligned
2008-09-18
60

While trying to rescue an abducted girl, the SRU finds another kidnapped girl and Jules must connect with her in order to save everyone.

10
10
Eagle Two
2009-01-09
60

A routine VIP protection shift turns into a tactical minefield for the SRU when the VIP's wife is kidnapped by a hotel employee.

11
11
Backwards Day
2009-01-16
60

When a depressed wife discovers suspicious texts between her husband and another woman, she lures her to the house and takes her hostage.

12
12
Haunting the Barn
2009-01-23
60

When a former SRU cop shows up intent on committing suicide, the team must use every trick in the book on a subject who already knows them.

13
13
Between Heartbeats
2009-02-13
60

Ed is taken hostage by a trained sniper who claims Ed murdered his father, forcing the team to hunt down the deadliest gunman they've faced.
Season 2
| Episode No. | No. Overall | Title | Airdate | Runtime | Summary |
| --- | --- | --- | --- | --- | --- |
| 1 | 14 | Business as Usual | 2009-02-27 | 60 | The team tests a potential replacement and then is called to a scene where three men have taken an executive hostage to force an apology. |
| 2 | 15 | The Fortress | 2009-03-06 | 60 | A robbery turns into a hostage situation, and Parker struggles to gain the trust of the nanny who may be more involved than first thought. |
| 3 | 16 | Clean Hands | 2009-03-13 | 60 | The SRU is tasked with the transfer of a serial killer being flown in from another country, but the job is beset by a hostage situation. |
| 4 | 17 | Aisle 13 | 2009-04-03 | 60 | When two desperate teenagers take hostages in a store, Parker uses a risky maneuver to reach one of them through the other. |
| 5 | 18 | The Perfect Family | 2009-04-10 | 60 | The team finds themselves in a high-speed pursuit after biological parents reclaim their baby from the adoptive family. |
| 6 | 19 | Remote Control | 2009-04-24 | 60 | The SRU steps in when a man attempting to steal money to clear his brother's debt with a gang decides to take hostages of his own. |
| 7 | 20 | Perfect Storm | 2009-05-01 | 60 | |
| 8 | 21 | Last Dance | 2009-05-08 | 60 | |
| 9 | 22 | Exit Wounds | 2009-05-15 | 60 | |
| 10 | 23 | One Wrong Move | 2009-09-25 | 60 | |
| 11 | 24 | Never Let You Down | 2009-10-02 | 60 | |
| 12 | 25 | Just a Man | 2009-10-09 | 60 | |
| 13 | 26 | Custody | 2009-10-16 | 60 | |
| 14 | 27 | Coming to You Live | 2009-10-23 | 60 | |
| 15 | 28 | The Farm | 2009-10-30 | 60 | |
| 16 | 29 | You Think You Know Someone | 2009-11-06 | 60 | |
| 17 | 30 | The Good Citizen | 2009-11-13 | 60 | |
| 18 | 31 | Behind the Blue Line | 2009-11-20 | 60 | |
Season 3
| Episode No. | No. Overall | Title | Airdate | Runtime | Summary |
| --- | --- | --- | --- | --- | --- |
| 1 | 32 | Unconditional Love | 2010-07-16 | 60 | |
| 2 | 33 | Severed Ties | 2010-08-06 | 60 | |
| 3 | 34 | Follow The Leader | 2010-08-13 | 60 | |
| 4 | 35 | Whatever It Takes | 2010-08-20 | 60 | |
| 5 | 36 | The Other Lane | 2010-09-03 | 60 | |
| 6 | 37 | Jumping at Shadows | 2010-09-10 | 60 | When a 911 operator gets a call from a young person who is constantly telephoning in false alarms, the operator tries to hang up but she hears a shot so the team is sent to check it out. When they arrive they find a woman shot, and the girl is not there. They also find several ids. When the woman wakes up she reveals that her daughter witnessed a crime a few years ago. So that the authorities can catch the criminals, they went into hiding. |
| 7 | 38 | Acceptable Risk | 2010-09-17 | 60 | |
| 8 | 39 | Collateral Damage | 2011-01-04 | 60 | |
| 9 | 40 | Thicker Than Blood | 2011-01-11 | 60 | |
| 10 | 41 | Terror | 2011-01-18 | 60 | |
| 11 | 42 | No Promises | 2011-01-25 | 60 | |
| 12 | 43 | I'd Do Anything | 2011-02-01 | 60 | |
| 13 | 44 | Fault Lines | 2011-02-06 | 60 | |
Season 4
| Episode No. | No. Overall | Title | Airdate | Runtime | Summary |
| --- | --- | --- | --- | --- | --- |
| 1 | 45 | Personal Effects | 2011-07-08 | 60 | |
| 2 | 46 | Good Cop | 2011-07-15 | 60 | |
| 3 | 47 | Run, Jamie, Run | 2011-07-22 | 60 | |
| 4 | 48 | Through A Glass Darkly | 2011-07-29 | 60 | |
| 5 | 49 | The Better Man | 2011-08-05 | 60 | |
| 6 | 50 | A Day In The Life | 2011-08-12 | 60 | |
| 7 | 51 | Shockwave | 2011-08-19 | 60 | |
| 8 | 52 | Grounded | 2011-09-19 | 60 | |
| 9 | 53 | The War Within | 2011-09-27 | 60 | |
| 10 | 54 | The Cost of Doing Business | 2011-10-04 | 60 | |
| 11 | 55 | Wild Card | 2011-10-11 | 60 | |
| 12 | 56 | A New Life | 2011-11-01 | 60 | |
| 13 | 57 | A Call To Arms | 2011-11-08 | 60 | |
| 14 | 58 | Day Game | 2011-11-15 | 60 | |
| 15 | 59 | Blue on Blue | 2011-11-22 | 60 | |
| 16 | 60 | Team Player | 2011-11-29 | 60 | |
| 17 | 61 | Priority of Life | 2011-12-06 | 60 | |
| 18 | 62 | Slow Burn | 2011-12-13 | 60 | |
Season 5
| Episode No. | No. Overall | Title | Airdate | Runtime | Summary |
| --- | --- | --- | --- | --- | --- |
| 1 | 63 | Broken Peace | 2012-09-20 | 60 | |
| 2 | 64 | No Kind of Life | 2012-09-27 | 60 | |
| 3 | 65 | Run To Me | 2012-10-04 | 60 | |
| 4 | 66 | Eyes In | 2012-10-11 | 60 | |
| 5 | 67 | Sons of the Father | 2012-10-18 | 60 | |
| 6 | 68 | Below the Surface | 2012-10-25 | 60 | |
| 7 | 69 | Forget Oblivion | 2012-11-01 | 60 | |
| 8 | 70 | We Take Care of Our Own | 2012-11-08 | 60 | |
| 9 | 71 | Lawmen | 2012-11-15 | 60 | |
| 10 | 72 | A World of Their Own | 2012-11-22 | 60 | |
| 11 | 73 | Fit for Duty | 2012-11-29 | 60 | |
| 12 | 74 | Keep the Peace (1) | 2012-12-06 | 60 | |
| 13 | 75 | Keep the Peace (2) | 2012-12-13 | 60 | |
Series Cast
| | | | |
| --- | --- | --- | --- |
| | Enrico Colantoni | as Sgt. Gregory Parker | |
| | Hugh Dillon | as Ed Lane | |
| | Amy Jo Johnson | as Julianna "Jules" Callaghan | |
| | David Paetkau | as Sam Braddock | |
| | Sergio Di Zio | as Michelangelo 'Spike' Scarlatti | |
| | Wendy Adeliyi | as Leah Kerns | |
| | Michael Cram | as Kevin 'Wordy' Wordsworth | |
| | Clé Bennett | as Rafik "Raf" Rousseau | |
| | Mark Taylor | as Lou "Lewis" Young | |
| | Ruth Marshall | as Dr. Amanda Luria | |
Series Crew
| | Position | Name |
| --- | --- | --- |
| | Consulting Producer | Graeme Manson |
| | Supervising Producer | Alex Levine |
| | Co-Executive Producer | Melissa R. Byer |
| | Consulting Producer | Melissa R. Byer |
| | Co-Executive Producer | Treena Hancock |
| | Consulting Producer | Treena Hancock |
| | Consulting Producer | Pamela Davis |
| | Co-Executive Producer | Tassie Cameron |
| | Co-Executive Producer | Adam Barken |
| | Consulting Producer | Tracey Forbes |
| | Co-Executive Producer | R.B. Carney |
| | Co-Executive Producer | Stephanie Morgenstern |
| | Co-Producer | Stephanie Morgenstern |
| | Creator | Stephanie Morgenstern |
| | Executive Producer | Stephanie Morgenstern |
| | Executive Producer | Anne Marie La Traverse |
| | Executive Producer | Bill Mustos |
| | Supervising Producer | Larry Bambrick |
| | Supervising Producer | James Hurst |
| | Associate Producer | Sharon Mustos |
| | Co-Producer | Sharon Mustos |
| | Co-Producer | Randi Kirshenbaum |
| | Co-Producer | Craig Merritt |
| | Consulting Producer | John Calvert |
| | Associate Producer | Adam Roberts |
| | Co-Executive Producer | Mark Ellis |
| | Co-Producer | Mark Ellis |
| | Creator | Mark Ellis |
| | Executive Producer | Mark Ellis |
Related News
TVMaze