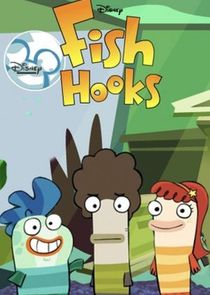 This inventive animated comedy series, set inside a giant fish tank in Bud's Pet Shop, presents high school life as seen through the eyes of three BFFs (best fish friends), Bea, Milo and Oscar. Together they experience the typical life challenges and triumphs, including friendship, dating and sports, along with more atypical situations such as giant lobster attacks and, with the use of special land suits, school field trips to the hamster cages. The series was created by children's book illustrator Noah Z. Jones and features a notable voice cast. It's produced using an innovative mixture of digital animation and photo collage.
Series Overview
Rating
imDb Rating: 4.6 (2,882 Votes)
Metascore: N/A
Plot
Three friends attend a school for fish submerged in a pet shop.
Details
Rated: TV-G
Released: 28 Aug 2010
Runtime: 22 min
Genre: Animation, Adventure, Comedy, Family
Director: N/A
Writer: Noah Jones, Alex Hirsch, William Reiss
Actors: Chelsea Kane, Justin Roiland, Kyle Massey
Language: English
Country: USA
Awards: 2 wins & 1 nomination.
Total Seasons: 3
Previous Episode
The Big Woo
Episode 3x28; Apr 04, 2014
Previous Episodes 3x28: The Big Woo 3x27: Freshwater Lives 3x26: Brothers of a Feather 3x25: I Have This Friend 3x24: Fish Taco 3x23: Milo in a Cup 3x22: Don't Let the Fish Drive the Party Bus 3x21: Surfing the Interwet 3x20: Bea Saves a Tree

View All Episodes
Skip to:
Season 1
| Episode No. | No. Overall | Title | Airdate | Runtime | Summary |
| --- | --- | --- | --- | --- | --- |
| 1 | 1 | Bea Stays in the Picture | 2010-09-03 | 30 | |
| 2 | 2 | Fish Sleepover Party | 2010-09-24 | 30 | |
| 3 | 3 | Fish Out of Water | 2010-09-24 | 30 | |
| 4 | 4 | Underwater Boy | 2010-10-01 | 30 | |
| 5 | 5 | Happy Birthfish Jocktopus | 2010-10-08 | 30 | |
| 6 | 6 | Bea Becomes an Adult Fish | 2010-10-15 | 30 | |
| 7 | 7 | Doggonit | 2010-10-22 | 30 | |
| 8 | 8 | Queen Bea | 2010-10-29 | 30 | |
| 9 | 9 | Fail Fish | 2010-11-05 | 30 | |
| 10 | 10 | Funny Fish | 2010-11-19 | 30 | |
| 11 | 11 | Baldwin the Super Fish | 2010-12-03 | 30 | |
| 12 | 12 | Dances with Wolf Fish | 2010-12-10 | 30 | |
| 13 | 13 | The Tale of Sir Oscar Fish | 2010-12-17 | 30 | |
| 14 | 14 | Hooray for Hamsterwood | 2010-12-17 | 30 | |
| 15 | 15 | Milo Gets a Ninja | 2011-01-07 | 30 | |
| 16 | 16 | Dropsy! | 2011-01-21 | 30 | |
| 17 | 17 | Fishing for Compliments: The Albert Glass Story | 2011-01-28 | 30 | |
| 18 | 18 | Big Fish | 2011-02-04 | 30 | |
| 19 | 19 | The Dark Side of the Fish | 2011-02-18 | 30 | |
| 20 | 20 | Dollars and Fish | 2011-02-18 | 30 | |
| 21 | 21 | Fish Floaters | 2011-02-25 | 30 | |
| 22 | 22 | Flying Fish | 2011-03-04 | 30 | |
| 23 | 23 | Two Clams in Love | 2011-03-11 | 30 | |
| 24 | 24 | Peopling | 2011-04-01 | 30 | |
| 25 | 25 | Legend of the Earth Troll | 2011-04-08 | 30 | |
| 26 | 26 | Parasite Fright | 2011-04-29 | 30 | |
| 27 | 27 | Pamela Hamster Returns | 2011-05-13 | 30 | |
| 28 | 28 | Riding in Cars with Fish | 2011-05-20 | 30 | |
| 29 | 29 | Milo's Big Idea | 2011-05-20 | 30 | |
| 30 | 30 | Mascotastrophe | 2011-05-27 | 30 | |
| 31 | 31 | Good Morning Freshwater | 2011-07-01 | 30 | |
| 32 | 32 | Diary of a Lost Fish | 2011-07-01 | 30 | |
| 33 | 33 | We've Got Fish Spirit, Part 1 | 2011-07-08 | 30 | |
| 34 | 34 | We've Got Fish Spirit, Part 2 | 2011-07-08 | 30 | |
| 35 | 35 | Run Oscar, Run | 2011-08-12 | 30 | |
| 36 | 36 | Good Times at PuPu Goodtimes | 2011-08-19 | 30 | |
| 37 | 37 | Oscar Makes an Impression | 2011-08-26 | 30 | |
| 38 | 38 | Fish School Musical, Part 1 | 2011-09-23 | 30 | |
| 39 | 39 | Fish School Musical, Part 2 | 2011-09-23 | 30 | |
| 40 | 40 | Employee Discount | 2011-09-30 | 30 | |
| 41 | 41 | Halloween Haul | 2011-10-07 | 30 | |
| 42 | 42 | Fish Talent Show | 2011-10-21 | 30 | |
Season 2
| Episode No. | No. Overall | Title | Airdate | Runtime | Summary |
| --- | --- | --- | --- | --- | --- |
| 1 | 43 | Bea's Commercial | 2011-11-04 | 30 | |
| 2 | 44 | Hairanoid | 2011-11-04 | 30 | |
| 3 | 45 | Adventues in Fish-Sitting | 2011-11-18 | 30 | |
| 4 | 46 | Banned Band | 2011-11-25 | 30 | |
| 5 | 47 | Merry Fishmas Milo | 2011-12-02 | 30 | |
| 6 | 48 | Milo on the Lam | 2012-01-06 | 30 | |
| 7 | 49 | Break Up Shake Down | 2012-01-06 | 30 | |
| 8 | 50 | Just One of the Fish | 2012-01-20 | 30 | |
| 9 | 51 | Rock Lobster Yeti | 2012-01-27 | 30 | |
| 10 | 52 | Spoiler Alert | 2012-01-27 | 30 | |
| 11 | 53 | Bea Dates Milo | 2012-02-10 | 30 | |
| 12 | 54 | Milo's Secret Admirer | 2012-02-10 | 30 | |
| 13 | 55 | Sixteen Clamandles | 2012-02-24 | 30 | |
| 14 | 56 | Send Me an Angel Fish | 2012-03-02 | 30 | |
| 15 | 57 | Science Fair Detective Mystery | 2012-04-13 | 30 | |
| 16 | 58 | Guys Night Out | 2012-04-27 | 30 | |
| 17 | 59 | Bea Sneaks Out | 2012-05-11 | 30 | |
| 18 | 60 | Busy Bea: Rise of the Machines | 2012-05-11 | 30 | |
| 19 | 61 | So-fish-ticated | 2012-06-01 | 30 | |
| 20 | 62 | Milo and Oscar Move In | 2012-06-08 | 30 | |
| 21 | 63 | Oscar is a Playa | 2012-06-22 | 30 | |
| 22 | 64 | Little Fish Sunshine | 2012-07-06 | 30 | |
| 23 | 65 | All Fins on Deck | 2012-07-13 | 30 | |
| 24 | 66 | Cattlefish, Ho! | 2012-07-13 | 30 | |
| 25 | 67 | Brothers' Day | 2012-07-20 | 30 | |
| 26 | 68 | Milo's Magical Shake | 2012-09-07 | 30 | |
| 27 | 69 | Spiders Bite | 2012-09-14 | 30 | |
| 28 | 70 | Principal Bea, Parts 1 & 2 | 2012-09-21 | 30 | |
| 29 | 71 | Fish at Work | 2012-09-28 | 30 | |
| 30 | 72 | Unfinished Doll Business | 2012-10-05 | 30 | |
| 31 | 73 | Chicks Dig Vampires | 2012-10-05 | 30 | |
| 32 | 74 | Fish Lips Sink Ships | 2012-10-26 | 30 | |
| 33 | 75 | Bea's Birthday Surprise | 2012-11-09 | 30 | |
| 34 | 76 | Get a Yob | 2012-11-09 | 30 | |
| 35 | 77 | Fuddy Duddy Study Buddy | 2012-11-30 | 30 | |
| 36 | 78 | Fish Flakes | 2013-01-11 | 30 | |
| 37 | 79 | Super Extrenme Grandma Games to the Max | 2013-01-18 | 30 | |
| 38 | 80 | Koi Story | 2013-02-15 | 30 | |
| 39 | 81 | See Bea Ski | 2013-04-26 | 30 | |
| 40 | 82 | Fish Prom | 2013-05-17 | 30 | |
Season 3
| Episode No. | No. Overall | Title | Airdate | Runtime | Summary |
| --- | --- | --- | --- | --- | --- |
| 1 | 83 | Milo vs Milo | 2013-06-07 | 30 | |
| 2 | 84 | Everything But the Chicken Sink | 2013-06-07 | 30 | |
| 3 | 85 | Live at Hamsterwood Ball | 2013-06-21 | 30 | |
| 4 | 86 | A Charity Fair to Remember | 2013-06-21 | 30 | |
| 5 | 87 | Bye Bye Bea Bea | 2013-07-05 | 30 | |
| 6 | 88 | Glass Man Standing | 2013-07-05 | 30 | |
| 7 | 89 | South Pafishic | 2013-07-26 | 30 | |
| 8 | 90 | Unresolved Fishues | 2013-08-02 | 30 | |
| 9 | 91 | Freshwater Five-O | 2013-08-09 | 30 | |
| 10 | 92 | Pool Party Panic | 2013-08-23 | 30 | |
| 11 | 93 | Labor of Love | 2013-09-20 | 30 | |
| 12 | 94 | Assignment: Babies | 2013-09-27 | 30 | |
| 13 | 95 | Hare and Back Again | 2013-10-18 | 30 | |
| 14 | 96 | Milo's Pony | 2013-10-18 | 30 | |
| 15 | 97 | The Brandon Bubble | 2013-11-01 | 30 | |
| 16 | 98 | Jocktopizza | 2013-11-01 | 30 | |
| 17 | 99 | Hats Amore! | 2013-11-22 | 30 | |
| 18 | 100 | Camp Camp | 2014-01-10 | 30 | |
| 19 | 101 | Algae Day | 2014-01-24 | 30 | |
| 20 | 102 | Bea Saves a Tree | 2014-01-24 | 30 | |
| 21 | 103 | Surfing the Interwet | 2014-02-21 | 30 | |
| 22 | 104 | Don't Let the Fish Drive the Party Bus | 2014-02-21 | 30 | |
| 23 | 105 | Milo in a Cup | 2014-02-28 | 30 | |
| 24 | 106 | Fish Taco | 2014-02-28 | 30 | |
| 25 | 107 | I Have This Friend | 2014-03-07 | 30 | |
| 26 | 108 | Brothers of a Feather | 2014-03-07 | 30 | |
| 27 | 109 | Freshwater Lives | 2014-03-21 | 30 | |
| 28 | 110 | The Big Woo | 2014-04-04 | 30 | |
Related News
TVMaze