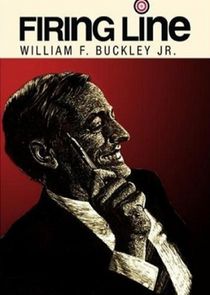 Firing Line was an American public affairs show founded and hosted by conservative William F. Buckley, Jr., founder and publisher of National Review magazine. Its 1,504 episodes over 33 years made Firing Line the longest-running public affairs show in television history with a single host. The program, which featured many influential public figures in the United States, won an Emmy Award in 1969. Although the program's format varied over the years, it typically featured Buckley interviewing a guest and exchanging views, with the two seated together in front of a small studio audience. Standing or sitting further away in the studio, an "examiner", typically a political liberal, would ask questions, generally toward the end of the show. Guests were people notable in the fields of politics to religion, literature and academia, and their views could sharply contrast or be in strong agreement with Buckley's. Most guests were intellectuals or those in positions of power, and they were interviewed about ideas and issues of the day.
Series Overview
Rating
imDb Rating: 8.3 (33 Votes)
Metascore: N/A
Plot
A debate program hosted by conservative pundit William F. Buckley who verbally sparred with many notable figures of the 20th century.
Details
Rated: N/A
Released: N/A
Runtime: 30 min
Genre: Talk-Show
Director: N/A
Writer: N/A
Actors: William F. Buckley
Language: English
Country: USA
Awards: N/A
Total Seasons: 34
Previous Episode
The End of Firing Line, Part I
Episode 34x36; Dec 14, 1999
Previous Episodes 34x36: The End of Firing Line, Part I 34x34: The Conservative Search for a Foreign Policy 34x31: Philanthropy and the Conservative Movement 34x20: Looking Back on Senator Joe McCarthy 34x16: Professor Galbraith Names Names 34x14: Kissinger's Years of Renewal 34x8: Legalize Pot? 34x6: Tom Wolfe and His Critics 34x1: Is New York City Out from Under?

View All Episodes
Skip to:
Season 1
| Episode No. | No. Overall | Title | Airdate | Runtime | Summary |
| --- | --- | --- | --- | --- | --- |
| 2 | 1 | Prayer in the Public Schools | 1966-04-06 | 120 | |
| 3 | 2 | Vietnam: Pull Out? Stay In? Escalate? | 1966-04-08 | 120 | |
| 4 | 3 | Capital Punishment | 1966-04-11 | 120 | |
| 7 | 4 | The Prevailing Bias | 1966-05-02 | 120 | |
| 8 | 5 | The New Frontier: The Great Society | 1966-05-06 | 120 | |
| 10 | 6 | McCarthyism: Past, Present, Future | 1966-05-16 | 120 | |
| 11 | 7 | Vietnam: What Next? | 1966-05-23 | 120 | |
| 12 | 8 | The Future of States' Rights | 1966-05-23 | 120 | |
| 14 | 9 | The Future of the American Theater | 1966-06-06 | 120 | |
| 15 | 10 | Bobby Kennedy and Other Mixed Blessings | 1966-06-06 | 120 | |
| 16 | 11 | The Future of Conservatism | 1966-06-09 | 120 | |
| 19 | 12 | The Role of the Church Militant | 1966-06-27 | 120 | |
| 20 | 13 | Why Are the Students Unhappy? | 1966-06-27 | 120 | |
| 21 | 14 | Senator Dodd and General Klein | 1966-08-22 | 120 | |
| 22 | 15 | Extremism | 1966-08-22 | 120 | |
| 23 | 16 | Civil Rights and Foreign Policy | 1966-08-22 | 120 | |
| 24 | 17 | The President and the Press | 1966-09-12 | 120 | |
| 25 | 18 | Are Public Schools Necessary? | 1966-09-12 | 120 | |
| 26 | 19 | The Playboy Philosophy | 1966-09-12 | 120 | |
| 28 | 20 | Should Labor Power Be Reduced? | 1966-09-19 | 120 | |
| 32 | 21 | Civilian Review Board: Yes or No? | 1966-10-07 | 120 | |
| 35 | 22 | The Failure of Organized Religion | 1966-11-14 | 120 | |
| 38 | 23 | Sports, Persecution, and Christians | 1966-11-28 | 120 | |
| 39 | 24 | The Warren Report: Fact or Fiction? | 1966-12-01 | 120 | |
| 41 | 25 | LBJ and the Intellectuals | 1967-01-12 | 120 | |
| 42 | 26 | Academic Freedom and Berkeley | 1967-01-16 | 120 | |
Season 2
| Episode No. | No. Overall | Title | Airdate | Runtime | Summary |
| --- | --- | --- | --- | --- | --- |
| 5 | 27 | The Role of the Advocate | 1967-01-19 | 120 | |
| 6 | 28 | The Future of the UN | 1967-01-19 | 120 | |
| 8 | 29 | LBJ and Vietnam | 1967-03-06 | 120 | |
| 9 | 30 | Politics and the President | 1967-03-07 | 120 | |
| 10 | 31 | Black Power | 1967-03-07 | 120 | |
| 11 | 32 | Is There a Role for a Third Party? | 1967-03-08 | 120 | |
| 14 | 33 | The World of LSD | 1967-04-10 | 120 | |
| 15 | 34 | Censorship and the Production Code | 1967-04-10 | 120 | |
| 16 | 35 | The Regular in Politics | 1967-05-01 | 120 | |
| 17 | 36 | How to Protest | 1967-05-01 | 120 | |
| 21 | 37 | Vietnam Protests | 1967-06-26 | 120 | |
| 23 | 38 | The Decline of Anti-Communism | 1967-06-29 | 120 | |
| 24 | 39 | Is It Possible to Be a Good Governor? | 1967-07-06 | 120 | |
| 25 | 40 | Is the World Funny? | 1967-07-07 | 120 | |
| 26 | 41 | Vietnam | 1967-07-08 | 120 | |
| 29 | 42 | A Foreign Policy for the GOP | 1967-09-11 | 120 | |
| 30 | 43 | The Future of the GOP | 1967-09-14 | 120 | |
| 32 | 44 | Medicare | 1967-09-25 | 120 | |
| 38 | 45 | The Struggle for Democracy in Brazil | 1967-11-13 | 120 | |
| 40 | 46 | Mobilizing the Poor | 1967-12-11 | 120 | |
| 42 | 47 | Was Goldwater a Mistake? | 1967-12-14 | 120 | |
Season 3
| Episode No. | No. Overall | Title | Airdate | Runtime | Summary |
| --- | --- | --- | --- | --- | --- |
| 2 | 48 | The Economic Crisis | 1968-01-08 | 120 | |
| 3 | 49 | Was the Civil-Rights Crusade a Mistake? | 1968-01-15 | 120 | |
| 7 | 50 | The Wallace Crusade | 1968-01-24 | 120 | |
| 8 | 51 | Wiretapping--Electronic Bugging | 1968-01-24 | 120 | |
| 9 | 52 | Philby and Treason | 1968-02-26 | 120 | |
| 10 | 53 | The Culture of the Left | 1968-02-26 | 120 | |
| 14 | 54 | The Wallace Movement | 1968-04-15 | 120 | |
| 18 | 55 | The Avant Garde | 1968-05-07 | 120 | |
| 21 | 56 | Armies of the Night | 1968-05-28 | 120 | |
| 31 | 57 | Capital Punishment | 1968-09-03 | 120 | |
| 32 | 58 | The Hippies | 1968-09-03 | 120 | |
| 41 | 59 | The Influence of TV on American Politics | 1968-09-03 | 120 | |
| 43 | 60 | The Black Panthers | 1968-11-13 | 120 | |
| 45 | 61 | The Republic of New Africa | 1968-11-18 | 120 | |
| 49 | 62 | Muhammad Ali and the Negro Movement | 1968-12-12 | 120 | |
Season 4
| Episode No. | No. Overall | Title | Airdate | Runtime | Summary |
| --- | --- | --- | --- | --- | --- |
| 2 | 63 | The Plight of the American Novelist | 1969-01-06 | 120 | |
| 7 | 64 | The Ripon Society | 1968-02-24 | 120 | |
| 10 | 65 | Restructuring the University | 1969-02-25 | 120 | |
| 13 | 66 | Vietnam and the Intellectuals | 1969-04-03 | 120 | |
| 16 | 67 | The Campus Destroyers | 1969-04-21 | 120 | |
| 20 | 68 | The Trouble with Enoch | 1969-05-19 | 120 | |
| 23 | 69 | The Decline of Christianity | 1969-06-12 | 120 | |
| 24 | 70 | Labor Unions and American Freedom | 1969-06-12 | 120 | |
| 29 | 71 | Reflections on the Current Scene | 1969-12-06 | 120 | |
| 38 | 72 | The Mylai Massacre | 1970-01-15 | 120 | |
Season 5
| Episode No. | No. Overall | Title | Airdate | Runtime | Summary |
| --- | --- | --- | --- | --- | --- |
| 10 | 73 | The Idea of The Great Ideas | 1970-03-13 | 120 | |
| 31 | 74 | How Does It Look for the Dollar? | 1970-09-03 | 120 | |
| 38 | 75 | Africa and Colonialism | 1970-10-20 | 120 | |
| 46 | 76 | Radical Chic | 1970-12-17 | 120 | |
| 47 | 77 | Vietnamization | 1970-12-17 | 120 | |
Season 6
| Episode No. | No. Overall | Title | Airdate | Runtime | Summary |
| --- | --- | --- | --- | --- | --- |
| 1 | 78 | Dump Nixon? | 1971-05-26 | 120 | |
| 3 | 79 | Separation of Church and State | 1971-04-22 | 120 | |
| 6 | 80 | The Lawyer's Role | 1971-06-24 | 120 | |
| 7 | 81 | War Crimes Part I | 1971-07-07 | 120 | |
| 10 | 82 | Is It Possible to Be a Good Governor? | 1971-07-15 | 120 | |
| 13 | 83 | The Problems of a Conservative Legislator | 1971-07-15 | 120 | |
| 19 | 84 | Is America Hospitable to the Negro? | 1971-10-02 | 120 | |
| 21 | 85 | The Case Against Freedom | 1971-10-02 | 120 | |
| 25 | 86 | The Place of the Treaty in International Affairs | 1971-11-02 | 120 | |
| 29 | 87 | The Edgar Smith Story: Part I | 1971-12-06 | 120 | |
| 30 | 88 | The Edgar Smith Story: Part II | 1971-12-06 | 120 | |
Season 7
| Episode No. | No. Overall | Title | Airdate | Runtime | Summary |
| --- | --- | --- | --- | --- | --- |
| 1 | 89 | Vietnamization | 1972-01-12 | 120 | |
| 3 | 90 | Vietnam: Looking Back | 1972-01-17 | 120 | |
| 8 | 91 | The Meaning of China | 1972-02-29 | 120 | |
| 10 | 92 | The Irish Problem | 1972-03-25 | 120 | |
| 12 | 93 | The Greek Dilemma | 1972-04-20 | 120 | |
| 19 | 94 | Richard Nixon and Young Conservatives | 1972-06-16 | 120 | |
| 27 | 95 | Abortion Laws: Pro and Con | 1972-07-25 | 120 | |
| 31 | 96 | Sex Education | 1972-10-02 | 120 | |
| 32 | 97 | Hate America | 1972-10-03 | 120 | |
| 40 | 98 | The Southern Imagination | 1972-12-12 | 120 | |
| 41 | 99 | The Young | 1972-12-21 | 120 | |
| 42 | 100 | A Conservative Look at Marijuana | 1972-12-21 | 120 | |
Season 8
| Episode No. | No. Overall | Title | Airdate | Runtime | Summary |
| --- | --- | --- | --- | --- | --- |
| 4 | 101 | What are the Challenges for Conservatives in 1973? | 1973-01-10 | 120 | |
| 7 | 102 | Texas Politics | 1973-01-23 | 120 | |
| 8 | 103 | How Does It Go with the Black Movement? | 1973-01-23 | 120 | |
| 13 | 104 | Corporal Punishment | 1973-02-27 | 120 | |
| 16 | 105 | The Equal Rights Amendment | 1973-03-30 | 120 | |
| 17 | 106 | Proposals for Welfare | 1973-04-23 | 120 | |
| 18 | 107 | What to Do About the Post Office? | 1973-04-23 | 120 | |
| 19 | 108 | The Implications of Watergate | 1973-05-16 | 120 | |
| 26 | 109 | Is There an Ecological Crisis? | 1973-05-01 | 120 | |
| 28 | 110 | What Now for the Ghetto? | 1973-07-24 | 120 | |
| 29 | 111 | World Federalism Today | 1973-07-30 | 120 | |
| 30 | 112 | Russian Jewry and American Foreign Policy | 1973-07-30 | 120 | |
| 34 | 113 | Has America Had It? | 1973-08-20 | 120 | |
| 35 | 114 | The Energy Crisis and Energy Policy | 1973-09-13 | 120 | |
| 36 | 115 | Amnesty | 1973-09-13 | 120 | |
| 38 | 116 | The Nixon Presidency | 1973-09-28 | 120 | |
| 39 | 117 | The Mechanism of Moral Development | 1973-10-16 | 120 | |
| 40 | 118 | Heredity, IQ, and Social Issues | 1973-10-16 | 120 | |
| 42 | 119 | The Middle East Explosion and American Detente | 1973-11-12 | 120 | |
| 46 | 120 | The Jesus Movement | 1973-12-07 | 120 | |
Season 9
| Episode No. | No. Overall | Title | Airdate | Runtime | Summary |
| --- | --- | --- | --- | --- | --- |
| 2 | 121 | The Revisionist Historians | 1974-01-23 | 120 | |
| 5 | 122 | The British Crisis | 1974-02-12 | 120 | |
| 6 | 123 | Enoch Powell and the British Crisis | 1974-02-13 | 120 | |
| 7 | 124 | Tax Reform | 1974-01-21 | 120 | |
| 8 | 125 | Politics and Black Progress | 1974-01-23 | 120 | |
| 11 | 126 | The Question of South Africa | 1974-03-13 | 120 | |
| 12 | 127 | The Question of Rhodesia | 1974-03-15 | 120 | |
| 13 | 128 | The Republican Party and Mr. Nixon | 1974-05-03 | 120 | |
| 14 | 129 | The Blackmailing of the President | 1974-05-10 | 120 | |
| 15 | 130 | Where Do We Go from Here in the Middle East? | 1974-05-15 | 120 | |
| 16 | 131 | Should the United States Disarm? | 1974-05-10 | 120 | |
| 19 | 132 | Amnesty | 1974-06-03 | 120 | |
| 20 | 133 | Government and the Arts | 1974-06-03 | 120 | |
| 21 | 134 | The Future of the GOP | 1974-06-28 | 120 | |
| 23 | 135 | The Limits of Journalistic Investigation | 1974-07-09 | 120 | |
| 24 | 136 | Shockley's Thesis | 1974-06-10 | 120 | |
| 26 | 137 | Public Medicine | 1974-06-10 | 120 | |
| 29 | 138 | The Political Responsibility of Artists | 1974-06-28 | 120 | |
| 31 | 139 | The Nixon Experience and American Conservatism | 1974-09-04 | 120 | |
| 33 | 140 | Chile and the CIA | 1974-09-20 | 120 | |
| 35 | 141 | The Economy | 1974-09-20 | 120 | |
| 41 | 142 | Democratic Culture | 1974-11-15 | 120 | |
| 42 | 143 | Jews and American Politics | 1974-12-02 | 120 | |
Season 10
| Episode No. | No. Overall | Title | Airdate | Runtime | Summary |
| --- | --- | --- | --- | --- | --- |
| 8 | 144 | The Intellectual's Responsibilities in a Totalitarian Age | 1975-02-05 | 120 | |
| 9 | 145 | William F. Buckley Jr., Malcolm Muggeridge, and the World | 1975-02-05 | 120 | |
| 10 | 146 | Integrity and Journalism | 1975-03-10 | 120 | |
| 13 | 147 | Feminism | 1975-03-31 | 120 | |
| 15 | 148 | Who Killed Bobby Kennedy? | 1975-04-11 | 120 | |
| 24 | 149 | The Ozone Controversy | 1975-07-09 | 120 | |
| 25 | 150 | Tom Wolfe and The Painted Word | 1975-07-09 | 120 | |
| 32 | 151 | The Politics of Henry Kissinger | 1975-09-10 | 120 | |
| 33 | 152 | The British Mess | 1975-09-14 | 120 | |
| 35 | 153 | How the Vietnam War Was Lost | 1975-09-10 | 120 | |
| 36 | 154 | The Practical Limits of Liberalism | 1975-10-03 | 120 | |
| 37 | 155 | Is Our Military Defense Adequate? | 1975-10-09 | 120 | |
Season 11
| Episode No. | No. Overall | Title | Airdate | Runtime | Summary |
| --- | --- | --- | --- | --- | --- |
| 6 | 156 | The Uses of the United Nations | 1976-01-26 | 120 | |
| 8 | 157 | The Future of Spain | 1976-02-23 | 120 | |
| 18 | 158 | Is There Any Soviet Justice? | 1976-05-06 | 120 | |
| 24 | 159 | Who's More Electable: Ford or Reagan? | 1976-07-15 | 120 | |
| 31 | 160 | Should Books like Little Black Sambo Be on Library Shelves? | 1976-08-26 | 120 | |
| 33 | 161 | Subversion and the Law | 1976-09-20 | 120 | |
| 45 | 162 | Deep Throat and the First Amendment | 1976-12-13 | 120 | |
| 46 | 163 | The Death Penalty | 1976-12-13 | 120 | |
| 47 | 164 | Ten Years of Firing Line (1966-1976): Part I | 1976-12-13 | 120 | |
Season 12
| Episode No. | No. Overall | Title | Airdate | Runtime | Summary |
| --- | --- | --- | --- | --- | --- |
| 6 | 165 | Borges South America's Titan | 1977-02-01 | 120 | |
| 7 | 166 | Terror in Latin America | 1977-02-01 | 120 | |
| 9 | 167 | Should the U.S. Pressure Argentina? | 1977-01-31 | 120 | |
| 12 | 168 | Is There a Solution for Rhodesia? | 1977-03-09 | 120 | |
| 20 | 169 | What's Happening in South Africa? | 1977-05-12 | 120 | |
| 23 | 170 | What's Up with Eurocommunism? | 1977-06-27 | 120 | |
| 26 | 171 | Human Rights in the USSR | 1977-07-25 | 120 | |
| 27 | 172 | What Have We Learned from the Failure of British Socialism? | 1977-07-25 | 120 | |
| 32 | 173 | The Problem of the Illegals | 1977-09-14 | 120 | |
| 39 | 174 | Is There a Case for Private Property? | 1977-11-07 | 120 | |
| 41 | 175 | Ferdinand Marcos: A Discussion | 1977-11-17 | 120 | |
Season 13
| Episode No. | No. Overall | Title | Airdate | Runtime | Summary |
| --- | --- | --- | --- | --- | --- |
| 1 | 176 | Debate: Resolved That the Senate Should Ratify the Proposed Panama Canal Treaties | 1978-01-13 | 120 | |
| 2 | 177 | G. Gordon Liddy: An Enigma | 1978-01-11 | 120 | |
| 4 | 178 | Exclusive Conversation with Chiang Ching-kuo | 1977-11-12 | 120 | |
| 7 | 179 | Is Soviet Policy an Extension of Russian Policy? | 1978-01-30 | 120 | |
| 8 | 180 | The Role of Liberals in the Republican Party | 1978-03-16 | 120 | |
| 11 | 181 | The Guilt of Alger Hiss | 1978-03-21 | 120 | |
| 12 | 182 | Debate: Resolved That the Price of Oil and Natural Gas Should Be Regulated by the Federal Government | 1978-03-30 | 120 | |
| 20 | 183 | The Crisis of Intelligence | 1978-05-31 | 120 | |
| 27 | 184 | The Rhodesian Dilemma | 1978-07-21 | 120 | |
| 28 | 185 | Muggeridge Revisited | 1978-06-27 | 120 | |
| 32 | 186 | Three vs. William F. Buckley Jr. | 1978-07-21 | 120 | |
| 35 | 187 | The Mission of the Pope | 1978-09-06 | 120 | |
| 44 | 188 | What Should Our China Policy Be? | 1978-12-12 | 120 | |
Season 14
| Episode No. | No. Overall | Title | Airdate | Runtime | Summary |
| --- | --- | --- | --- | --- | --- |
| 7 | 189 | NATO and European Security | 1979-02-12 | 120 | |
| 8 | 190 | Reason and Politics | 1979-02-12 | 120 | |
| 14 | 191 | The Rising Tide of Islam | 1979-03-16 | 120 | |
| 17 | 192 | The Crisis of Nuclear Energy | 1979-05-04 | 120 | |
| 22 | 193 | Real Music | 1979-06-08 | 120 | |
| 23 | 194 | Lifting the Trade Ban on Rhodesia | 1979-06-15 | 120 | |
| 30 | 195 | The Television Machine | 1979-06-29 | 120 | |
| 34 | 196 | Human Rights in Vietnam | 1979-09-06 | 120 | |
| 35 | 197 | SALT II and the U.S. Senate | 1979-09-20 | 120 | |
| 36 | 198 | The Crisis in the U.S. Military | 1979-09-20 | 120 | |
| 40 | 199 | Crime and Punishment: Gary Gilmore | 1979-10-11 | 120 | |
| 41 | 200 | Can New York City Govern Itself? | 1979-10-30 | 120 | |
| 42 | 201 | Is There a Role for the Private College? | 1979-10-20 | 120 | |
| 45 | 202 | Debate: Resolved That the United States Should Refuse Recognition to the PLO, Part I | 1979-11-28 | 120 | |
| 46 | 203 | Debate: Resolved That the United States Should Refuse Recognition to the PLO, Part II | 1979-11-28 | 120 | |
| 48 | 204 | The Year That Was | 1979-12-13 | 120 | |
Season 15
| Episode No. | No. Overall | Title | Airdate | Runtime | Summary |
| --- | --- | --- | --- | --- | --- |
| 2 | 205 | Presidential Hopeful: Ronald Reagan | 1980-01-14 | 120 | |
| 3 | 206 | The United States in the 1980s--Foreign Affairs | 1980-01-17 | 120 | |
| 4 | 207 | The United States in the 1980s--Domestic Affairs | 1980-01-17 | 120 | |
| 7 | 208 | Government Bailout | 1980-02-14 | 120 | |
| 15 | 209 | The Fight over Catholic Orthodoxy | 1980-04-22 | 120 | |
| 16 | 210 | Allard Lowenstein on Firing Line: A Retrospective | 1980-04-22 | 120 | |
| 25 | 211 | Is Camp David Falling Apart? | 1980-07-21 | 120 | |
| 27 | 212 | What Happened at Madison Square Garden? | 1980-08-15 | 120 | |
| 28 | 213 | Defense and the Democrats | 1980-08-15 | 120 | |
| 29 | 214 | Have We Learned Anything about Gun Control? | 1980-07-21 | 120 | |
| 31 | 215 | The Crisis in Labour | 1980-09-04 | 120 | |
| 33 | 216 | How Does One Find Faith? | 1980-09-06 | 120 | |
| 34 | 217 | Do We Need Religion or Religious Institution? | 1980-09-06 | 120 | |
| 43 | 218 | How Should Ex-Communists Cooperate? | 1980-12-04 | 120 | |
| 44 | 219 | Why Is Jazz Neglected? | 1980-12-09 | 120 | |
Season 16
| Episode No. | No. Overall | Title | Airdate | Runtime | Summary |
| --- | --- | --- | --- | --- | --- |
| 1 | 220 | Are Ideology and the CIA Compatible? | 1981-01-05 | 120 | |
| 2 | 221 | The Abscam Controversy | 1981-01-05 | 120 | |
| 4 | 222 | Are We Menaced by Moral Majority? | 1981-01-22 | 120 | |
| 13 | 223 | The Question of Gay Rights | 1981-03-25 | 120 | |
| 20 | 224 | What to Do about Terrorism? | 1981-06-05 | 120 | |
| 21 | 225 | John Kenneth Galbraith Looks Back | 1981-06-05 | 120 | |
| 26 | 226 | Do We Need a Foreign Policy Doctrine? | 1981-07-15 | 120 | |
| 29 | 227 | The Question of Namibia | 1981-07-17 | 120 | |
| 31 | 228 | A Strategy for Cuba | 1981-07-15 | 120 | |
| 32 | 229 | Does the Warren Report on the Kennedy Assassination Hold Up? | 1981-09-10 | 120 | |
| 33 | 230 | How to Win Arguments | 1981-09-10 | 120 | |
| 36 | 231 | Where Do We Go on Immigration? | 1981-10-01 | 120 | |
| 37 | 232 | Is Modern Architecture Disastrous? | 1981-10-01 | 120 | |
| 39 | 233 | Is There an Answer to Malthus? | 1981-10-15 | 120 | |
| 40 | 234 | The Economic Lot of Minorities | 1981-11-12 | 120 | |
| 41 | 235 | William F. Buckley Jr. on the Firing Line | 1981-11-12 | 120 | |
| 44 | 236 | What Is There to Learn from the Killing of Dr. Tarnower? | 1981-12-03 | 120 | |
| 45 | 237 | Why Are Our Intellectuals So Dumb? | 1981-12-03 | 120 | |
Season 17
| Episode No. | No. Overall | Title | Airdate | Runtime | Summary |
| --- | --- | --- | --- | --- | --- |
| 5 | 238 | The Issues Involved in Local Control of Reading Matter | 1982-01-11 | 120 | |
| 12 | 239 | The Libertarian Credo | 1982-04-02 | 120 | |
| 30 | 240 | The Economy and the Blacks, Part I | 1982-07-13 | 120 | |
| 31 | 241 | The Economy and the Blacks, Part II | 1982-07-13 | 120 | |
| 35 | 242 | Debate: Resolved That the Feds Should Get Out of Higher Education, Part I | 1982-10-05 | 120 | |
| 36 | 243 | Debate: Resolved That the Feds Should Get Out of Higher Education, Part II | 1982-10-05 | 120 | |
| 38 | 244 | The Roosevelt Legacy | 1982-10-27 | 120 | |
Season 18
| Episode No. | No. Overall | Title | Airdate | Runtime | Summary |
| --- | --- | --- | --- | --- | --- |
| 3 | 245 | Buckley's Turn to Explain Himself | 1983-01-24 | 120 | |
| 7 | 246 | Confidence and Betrayal | 1983-02-22 | 120 | |
| 11 | 247 | How to Speak, How to Listen | 1983-04-14 | 120 | |
| 23 | 248 | Was Gandhi for Real? | 1983-06-09 | 120 | |
| 30 | 249 | What Is Radio Free Europe Up To? | 1983-09-15 | 120 | |
| 36 | 250 | The Economics and Politics of Race | 1983-11-03 | 120 | |
Season 19
| Episode No. | No. Overall | Title | Airdate | Runtime | Summary |
| --- | --- | --- | --- | --- | --- |
| 4 | 251 | What's on Malcolm Muggeridge's Mind? | 1984-02-19 | 120 | |
| 29 | 252 | The Election: A View from New York | 1984-08-31 | 120 | |
| 36 | 253 | The Dalai Lama Looks Back | 1984-09-27 | 120 | |
| 44 | 254 | Where Is the GOP Headed? | 1984-12-06 | 120 | |
| 46 | 255 | Is There A Liberal Crack-Up? | 1984-12-11 | 120 | |
Season 20
| Episode No. | No. Overall | Title | Airdate | Runtime | Summary |
| --- | --- | --- | --- | --- | --- |
| 18 | 256 | Psychiatry: New Explorations | 1985-05-22 | 120 | |
| 25 | 257 | What Are Our Young Novelists Up To? | 1985-07-17 | 120 | |
| 32 | 258 | Three Approaches to Terrorists | 1985-09-26 | 120 | |
| 43 | 259 | What Does PEN Have to Offer? | 1985-12-02 | 120 | |
Season 21
| Episode No. | No. Overall | Title | Airdate | Runtime | Summary |
| --- | --- | --- | --- | --- | --- |
| 2 | 260 | 1966-1986: World Leaders | 1986-01-14 | 120 | |
| 4 | 261 | 1966-1986: A Potpourri of Persuaders | 1986-01-14 | 120 | |
| 5 | 262 | Bill Buckley and Firing Line Get Roasted | 1986-01-14 | 120 | |
| 14 | 263 | Debate: Resolved That We Should Move towards Privatization, Including the Schools, Part I | 1986-05-02 | 120 | |
| 15 | 264 | Debate: Resolved That We Should Move towards Privatization, Including the Schools, Part II | 1986-05-02 | 120 | |
| 20 | 265 | Terrorism Viewed from Abroad | 1986-05-30 | 120 | |
| 33 | 266 | For Central America: A Radical Prescription | 1986-10-02 | 120 | |
| 35 | 267 | The Textbook Controversy in Tennessee | 1986-10-10 | 120 | |
| 40 | 268 | Human Rights, Foreign Policy, and Ronald Reagan | 1986-10-16 | 120 | |
Season 22
| Episode No. | No. Overall | Title | Airdate | Runtime | Summary |
| --- | --- | --- | --- | --- | --- |
| 5 | 269 | Pull Out of NATO? | 1987-02-23 | 120 | |
| 13 | 270 | Higher Education Has Failed Democracy | 1987-04-15 | 120 | |
| 16 | 271 | Are We Getting Anywhere in the UN? | 1987-05-27 | 120 | |
| 28 | 272 | The Implications of MacDonald v. McGinniss | 1987-09-18 | 120 | |
| 36 | 273 | Three Young Latin Americans Wish to Be Heard | 1987-10-01 | 120 | |
Season 23
| Episode No. | No. Overall | Title | Airdate | Runtime | Summary |
| --- | --- | --- | --- | --- | --- |
| 2 | 274 | Do Capitalists Go Too Far? | 1988-01-07 | 120 | |
| 4 | 275 | The Libertarian Candidate | 1988-01-19 | 120 | |
| 13 | 276 | Dirty Rock Lyrics | 1988-06-08 | 120 | |
| 23 | 277 | Contra Aid | 1988-08-24 | 120 | |
Season 24
| Episode No. | No. Overall | Title | Airdate | Runtime | Summary |
| --- | --- | --- | --- | --- | --- |
| 5 | 278 | Saint or Sinner: Junipero Serra | 1989-01-10 | 120 | |
| 14 | 279 | Mother Teresa Talks with William F. Buckley Jr | 1989-06-02 | 120 | |
| 18 | 280 | The Fight for Bach | 1989-06-07 | 120 | |
| 30 | 281 | William F. Buckley Jr. Looks Back on Politics, Etc. | 1989-10-16 | 120 | |
| 31 | 282 | William F. Buckley Jr. Looks Forward on Politics, Etc. | 1989-10-16 | 120 | |
| 32 | 283 | President Kennedy and Prime Minister Macmillan, Part I | 1989-11-17 | 120 | |
Season 25
| Episode No. | No. Overall | Title | Airdate | Runtime | Summary |
| --- | --- | --- | --- | --- | --- |
| 2 | 284 | The Link between Attitude and Healing | 1990-01-22 | 120 | |
| 12 | 285 | Is England Still Influencing America? | 1990-05-22 | 120 | |
| 28 | 286 | Crime and Punishment | 1990-09-20 | 120 | |
| 32 | 287 | Two Friends Talk, Part I | 1990-10-11 | 120 | |
| 33 | 288 | Two Friends Talk, Part II | 1990-10-11 | 120 | |
| 38 | 289 | What Do We Owe Our Country? | 1990-12-13 | 120 | |
| 40 | 290 | New Insights on the Russian Revolution | 1990-12-13 | 120 | |
Season 26
| Episode No. | No. Overall | Title | Airdate | Runtime | Summary |
| --- | --- | --- | --- | --- | --- |
| 7 | 291 | Remembering Malcolm Muggeridge | 1991-01-15 | 120 | |
| 14 | 292 | Is There a Problem of Nuclear Waste Disposal? | 1991-06-04 | 120 | |
| 23 | 293 | Is the Democratic Party Falling Apart in the South? | 1991-08-29 | 120 | |
Season 27
| Episode No. | No. Overall | Title | Airdate | Runtime | Summary |
| --- | --- | --- | --- | --- | --- |
| 23 | 294 | Are Liberal Vulnerabilities Now Apparent? | 1992-09-16 | 120 | |
| 25 | 295 | Why Are We in a Recession? | 1992-10-06 | 120 | |
| 32 | 296 | What's Wrong with the Deficit?, Part I | 1992-12-08 | 120 | |
| 33 | 297 | What's Wrong with the Deficit?, Part II | 1992-12-08 | 120 | |
Season 28
| Episode No. | No. Overall | Title | Airdate | Runtime | Summary |
| --- | --- | --- | --- | --- | --- |
| 4 | 298 | Do We Need a Federal Community Property Act? | 1993-01-12 | 120 | |
| 14 | 299 | An Approach to Illegitimacy | 1993-05-23 | 120 | |
| 35 | 300 | The Threat of Nuclear Destruction in the New World Order: New Voices, Part I | 1993-08-16 | 120 | |
| 36 | 301 | The Threat of Nuclear Destruction in the New World Order: New Voices, Part II | 1993-08-16 | 120 | |
| 37 | 302 | The Threat of Nuclear Destruction in the New World Order: New Voices, Part III | 1993-08-16 | 120 | |
Season 29
| Episode No. | No. Overall | Title | Airdate | Runtime | Summary |
| --- | --- | --- | --- | --- | --- |
| 2 | 303 | Are Medical Costs Controllable? | 1994-01-26 | 120 | |
| 29 | 304 | Mini-Series on Crime, Part III: Do We Need Prisons at All | 1994-10-04 | 120 | |
| 30 | 305 | Mini-Series on Crime, Part IV: Realistic Insights into Crime and Punishment | 1994-10-04 | 120 | |
Season 30
| Episode No. | No. Overall | Title | Airdate | Runtime | Summary |
| --- | --- | --- | --- | --- | --- |
Season 31
| Episode No. | No. Overall | Title | Airdate | Runtime | Summary |
| --- | --- | --- | --- | --- | --- |
| 21 | 306 | Have We Learned Anything about the Good Society? | 1996-07-11 | 120 | |
Season 32
| Episode No. | No. Overall | Title | Airdate | Runtime | Summary |
| --- | --- | --- | --- | --- | --- |
| 3 | 307 | The Problems of Gay Life | 1997-01-23 | 120 | |
| 8 | 308 | Is Newt Permanently Damaged? | 1997-03-20 | 120 | |
| 13 | 309 | The Lucas Case and Private-Property Rights | 1997-04-29 | 120 | |
| 33 | 310 | Is the Cyberworld a Threat? | 1997-10-14 | 120 | |
| 34 | 311 | The Problems of Privacy | 1997-10-29 | 120 | |
Season 33
| Episode No. | No. Overall | Title | Airdate | Runtime | Summary |
| --- | --- | --- | --- | --- | --- |
| 4 | 312 | Did Camelot Have a Dark Side? | 1998-01-13 | 120 | |
| 8 | 313 | Do Economics and Morality Have Anything in Common? | 1998-04-07 | 120 | |
| 29 | 314 | Goldwater Revisited | 1998-07-09 | 120 | |
| 31 | 315 | Looking Back on Bosnia | 1998-07-09 | 120 | |
| 35 | 316 | On Impeachability | 1998-09-18 | 120 | |
| 44 | 317 | The GOP and the Hispanic Vote | 1998-12-03 | 120 | |
Season 34
| Episode No. | No. Overall | Title | Airdate | Runtime | Summary |
| --- | --- | --- | --- | --- | --- |
| 1 | 318 | Is New York City Out from Under? | 1999-01-13 | 120 | |
| 6 | 319 | Tom Wolfe and His Critics | 1999-01-19 | 120 | |
| 8 | 320 | Legalize Pot? | 1999-01-12 | 120 | |
| 14 | 321 | Kissinger's Years of Renewal | 1999-04-15 | 120 | |
| 16 | 322 | Professor Galbraith Names Names | 1999-05-18 | 120 | |
| 20 | 323 | Looking Back on Senator Joe McCarthy | 1999-06-29 | 120 | |
| 31 | 324 | Philanthropy and the Conservative Movement | 1999-10-04 | 120 | |
| 34 | 325 | The Conservative Search for a Foreign Policy | 1999-11-02 | 120 | |
| 36 | 326 | The End of Firing Line, Part I | 1999-12-14 | 120 | |
Series Cast
| | | | |
| --- | --- | --- | --- |
| | William F. Buckley Jr. | as Host & Moderator | |
Related News
TVMaze