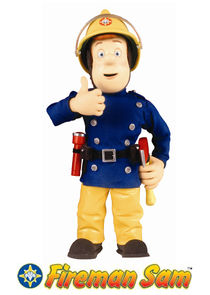 Fireman Sam is an animated comedy children's television series about a fireman called Sam, his fellow firefighters, and other townspeople in the fictional Welsh rural town of Pontypandy (a portmanteau of two real towns, Pontypridd and Tonypandy, which are situated approximately 5 miles (8.0 km) apart in the South Wales valleys). The original idea for the show came from two ex-firemen from Kent, who took their idea to artist and writer Rob Lee who developed the concept, and the show was later commissioned by S4C.
Fireman Sam first appeared in Welsh on S4C as Sam Tân in 1987, and later that year in English on BBC1. The original series finished in 1994, and a new series that expanded the character cast commenced in 2005. The series was also shown in Gaelic in Scotland, where it was known as Sam Smalaidh. The series was sold to over 40 countries and has been used across the United Kingdom to promote fire safety.
Series Overview
Rating
imDb Rating: 5.9 (135 Votes)
Metascore: N/A
Plot
Fireman Sam and his crew of firefighters interact with their small town neighbors and conduct rescues.
Details
Rated: N/A
Released: 01 Nov 2004
Runtime: 10 min
Genre: Animation, Family
Director: N/A
Writer: Dave Gingell, Dave Jones, Rob Lee
Actors: Steven Kynman, David Carling, Su Douglas, Tegwen Tucker
Language: Welsh, English
Country: UK
Awards: N/A
Total Seasons: 9
Previous Episode
James and the Giant Pumpkin
Episode 11x13; May 09, 2018
Previous Episodes 11x13: James and the Giant Pumpkin 11x12: Blast from the Past 11x11: Alien Bug Hunt 11x10: Night of the Norman 11x9: Wrong Turn Dilys 11x8: Who Let the Cat Out? 11x7: Pontypandy Slickers 11x6: The Why Files 11x5: Wally Wizzo

View All Episodes
Cast
David Carling as Charlie Jones
John Alderton as Fireman Sam
Su Douglas as Dilys Price
View Full Cast
Skip to:
Season 1
| Episode No. | No. Overall | Title | Airdate | Runtime | Summary |
| --- | --- | --- | --- | --- | --- |
| 1 | 1 | Kite | 1987-11-17 | 10 | On a very windy day, strong winds bring down a telegraph pole. Sarah and James' kite gets stuck on Dilys' roof and Sam has to come to rescue it. But then Fireman Trevor Evans hurts his arm. |
| 2 | 2 | Barn Fire | 1987-11-19 | 10 | On a very hot day, Sarah and James are picking potatoes for Bella. Fireman Sam wonders if he can help, but first he has to deal with a barn fire at Pandy Lane Farm. |
| 3 | 3 | Trevor's Training | 1987-11-24 | 10 | It's routine drill for Fireman Trevor Evans on his first day in the fire service, until a message comes over the radio. Meanwhile Fireman Cridlington is busy cooking mashed potatoes. |
| 4 | 4 | Flat Tyre | 1987-11-26 | 10 | After going to the sales at Newtown, Fireman Trevor Evans' tyre goes flat and The Spare Tyre invades Pontypandy, causing loads of delays. Luckily Fireman Sam comes to the rescue. |
| 5 | 5 | Camping | 1987-12-01 | 10 | What have a frog and an oily rag got to do with camping? Fireman Sam, Sarah and James soon find out. Meanwhile Fireman Trevor Evans' school bus breaks down, and then the campers' tent catches fire. |
| 6 | 6 | Norman's Tricky Day | 1987-12-03 | 10 | Norman Price is up to his old tricks as usual, but this time he plays one too many. He causes havoc at the fire station, making a hoax 999 call to Bella's cafe, putting grease on the fire pole and setting of the station alarm. Fireman Sam comes to the rescue. |
| 7 | 7 | Lost Cat | 1987-12-08 | 10 | Saturdays are busy enough for Bella, without having to deal with chip pan fires and lost cats. Meanwhile Fireman Trevor Evans gets stuck up a tree in Pandy Square. Fireman Sam comes to the rescue. Fireman Cridlington is painting the door red at Pontypandy Fire Station. |
| 8 | 8 | Telly Trouble | 1987-12-10 | 10 | TV Stardom comes to Station Officer Steele steel and everyone in Pontypandy is all for watching his television speech on fire safety. Fireman Sam and Fireman Cridlington come to the rescue when the television catches fire at Bella Lasagnae's Cafe. |
Season 2
| Episode No. | No. Overall | Title | Airdate | Runtime | Summary |
| --- | --- | --- | --- | --- | --- |
| 1 | 9 | Treasure Hunt | 1988-11-01 | 10 | Fireman Sam introduces Sarah and James to his new metal detector, and they get hooked on looking for treasure. Unfortunately, they manage to burst a water pipe in the park while searching for Bella's keys. Norman Price's game of "Knights of the Round Table" backfires when his saucepan helmet gets stuck on his head. Overall, it's a busy day for Fireman Sam and the crew. |
| 2 | 10 | Sam's Day Off | 1988-11-08 | 10 | Fireman Sam's popcorn machine is just the ticket for the cinemas, until it suffers from a touch of 'flumbustication'. Luckily, Fireman Cridlington, Trevor Evans and Station Officer Steele come to the rescue. |
| 3 | 11 | Thief in Pontypandy | 1988-11-15 | 10 | Fireman Sam's mislaid his watch, Bella's necklace has disappeared and Dilys' earrings have gone missing. Can Sam solve the mystery? Then there's a chimney on fire at Bella Lasagnae's Café and Fireman Sam comes to the rescue. |
| 4 | 12 | Chemistry Set | 1988-11-22 | 10 | Norman makes some really skink bombs with his chemistry set. |
| 5 | 13 | Safe with Sam | 1988-11-29 | 10 | There's lots of fireworks safety rules from Sam in this episode. |
| 6 | 14 | Wishing Well | 1988-12-06 | 10 | Fireman Trevor Evans organises a search party when Norman Price doesn't come back from picking strawberries. |
| 7 | 15 | Sam - The Great Inventor | 1988-12-13 | 10 | Fireman Sam is all set to win the Best Inventor in Wales competition, until Norman Price plays around with one of his inventions. Meanwhile Dilys Price leaves the iron on which causes a Fire at the General Store. Fireman Sam comes to the rescue. |
| 8 | 16 | Snow Business | 1988-12-22 | 20 | All Christmas preparations stop when the crew are called out to rescue Sarah and James who are trapped on ice. Fireman Cridlington is in the kitchen preparing the turkey for Christmas. Fireman Trevor Evans' bus gets stuck in the snow and Fireman Sam comes to the rescue. |
Season 3
| Episode No. | No. Overall | Title | Airdate | Runtime | Summary |
| --- | --- | --- | --- | --- | --- |
| 1 | 17 | Dilys' Forgetful Day | 1990-10-15 | 10 | While cleaning the windows, Dilys falls off the ladder and loses her memory, meaning Norman Price is having to do a lot of explaining. A new fire-fighter: Penny Morris comes to Pontypandy from Newtown, and Fireman Cridlington is smitten with her. Later Trevor's bus gets stuck in a ditch and has to call Fireman Sam for help. |
| 2 | 18 | Spot of Bother | 1990-10-22 | 10 | Norman Price's double bluff backfires when chicken pox hits Pontypandy. Firefighters do training fitness in the morning hours, when there's a Fire at Pontypandy Fire Station in the kitchen. Norman Price gets red crayon on his face, so Fireman Cridlington and Trevor Evans remark he is not looking too good. |
| 3 | 19 | Halloween | 1990-10-29 | 10 | It's Halloween in Pontypandy and Firefighter Penny Morris is in for a nasty shock. |
| 4 | 20 | Norman's Pitfall | 1990-11-05 | 10 | Not far from an old disused mineshaft at Pandy Lane farm Norman Price is fishing for chocolate cream eclairs at someone else's picnic! |
| 5 | 21 | Lost Ring | 1990-11-12 | 10 | Bella is very happy about the diamond ring she inherited, until it goes missing. When there is a Flood at Bella's Cafe Fireman Sam and Fireman Cridlington comes to the rescue. |
| 6 | 22 | All in a Good Cause | 1990-11-19 | 10 | Fireman Sam is dumbstruck when all the charity money they've raised for a good cause goes missing. |
| 7 | 23 | Brass Band | 1990-11-26 | 10 | Only practice makes perfect when it comes to playing music, but the Fire Service band needs something quicker than that. Fireman Trevor Evans gets stuck on the roof during a game of cricket and Fireman Sam comes to the rescue. |
| 8 | 24 | Lost in the Fog | 1990-12-03 | 10 | Firefighter Penny Morris becomes anxious when Sarah and James don't arrive for tea. But Sarah and James are lost in fog so Fireman Sam has to go to their rescue. |
| 9 | 25 | Bentley the Robot | 1990-12-10 | 10 | Fireman Sam's latest invention is almost superhuman, until it meets Norman Price. |
Season 4
| Episode No. | No. Overall | Title | Airdate | Runtime | Summary |
| --- | --- | --- | --- | --- | --- |
| 1 | 26 | Home from Rome | 1994-10-25 | 10 | Rosa stows away in Bella's shopping trolley, when she goes to Bingles' Department Store. But disaster strikes when a lift gets stuck and it is up to the Pontypandy Fire Service to rescue Bella and her cat. |
| 2 | 27 | Rich and Famous | 1994-10-27 | 10 | Dilys Price wishes she were rich and famous, so she goes off to do some treasure hunting in the attic. But she gets more than she bargained for when she knocks over a candle, setting the roof on fire. Fireman Trevor Evans gets out a video recorder and Fireman Sam comes to the rescue. |
| 3 | 28 | Quarry Rescue | 1994-11-01 | 10 | When Bella is making pizzas for Fireman Trevor Evans to deliver, James falls into an old quarry. Then Fireman Trevor Evans gets his finger stuck in the brake fluid chamber. |
| 4 | 29 | Deep Trouble | 1994-11-03 | 10 | Fireman Sam has a week off, so he goes to weed Firefighter Penny Morris' cottage garden. But when he falls over, the ground swallows him up. |
| 5 | 30 | Trevor's Bus Boot Sale | 1994-11-08 | 10 | Trevor Evans is holding a 'Bus Boot Sale', but then gets trapped at the old dump while suffering from the effect of some toxic fumes. Norman Price rescues Trevor and then gets a surprise from him. |
| 6 | 31 | What Goes Up | 1994-11-10 | 10 | Fireman Trevor Evans gets stuck in a hot air balloon and soon it is Fireman Sam who comes to the rescue. |
| 7 | 32 | Steele Under Par | 1994-11-15 | 10 | When Station Officer Steele is given a letter of retirement, he decides to go golfing. But then there's a little trouble in Trevor's shed which catches fire. Fireman Sam and Fireman Cridlington come to the rescue. |
| 8 | 33 | Disaster for Dinner | 1994-11-17 | 10 | A fire drill practice is being held at Bella's Cafe, but first there's trouble at 3 Vale Road when Fireman Sam's new robot chef catches fire. Fireman Sam comes to the rescue. |
Season 5
| Episode No. | No. Overall | Title | Airdate | Runtime | Summary |
| --- | --- | --- | --- | --- | --- |
| 1 | 34 | Danger Falling Sheep | 2003-03-31 | 10 | Norman wants to find fame by conquering the summit of Pontypandy Mountain but his ascent is stalled when Woolly, a falling lamb, lands on his head! Trapped on a ledge, Norman and Woolly nibble biscuits whilst their friends raise the alarm. Sam tries to reach Norman with Jupiter's extending ladder, but it won't reach! |
| 2 | 35 | Twist of Fate | 2003-04-01 | 10 | Station Officer Steele takes Norman Price and Mandy Flood pot-holing, the rest of the crew look forward to a restful afternoon. However, the peace is soon shattered when Station Officer Steele finds himself in a tight spot and the only way out is blocked. |
| 3 | 36 | A Real Live Wire | 2003-04-02 | 10 | Mandy Flood has her heart set on having a pet but her mum who's allergic to fur is not keen. However, when Mandy rescues a squirrel from Dusty's clutches, she decides to secretly smuggle him into her room. Left to his own devices, the little 'live wire' gnaws through the flex of Mandy's TV and starts a fire. |
| 4 | 37 | Bug Eyed Boy from Venus | 2003-04-03 | 10 | Fireman Trevor Evans tells the children that there's no such thing as little green men from outer space, but Norman Price is determined to prove him wrong. Fireman Sam and Cridlington come to stop him in his antics. |
| 5 | 38 | Bathtime for Dusty | 2003-04-04 | 10 | Scruffy dog Dusty is chosen to be the Fire Station mascot, but first he must have a bath. Not keen on the idea of a wash, he decides to flee. The twins are determined to find him and a game of hide and seek ensues. Meanwhile, accident-prone handyman Mike Flood starts a fire at the Mountain Rescue Station and has to radio for help. |
| 6 | 39 | Neighbourhood Watchout | 2003-04-07 | 10 | Mandy Flood, Sarah and James decide to start a junior neighbourhood watch scheme, but get rather carried away. They suspect Trevor Evans of stealing Dilys' fruit and veg, only to find that he's delivering it. Then they mistakenly administer first aid to Bella Lasagne before discovering that she's covered in ketchup, not blood. Finally they clear away an 'unattended' ladder, stranding Mike on the roof of the cafe. |
| 7 | 40 | Twitchers in Trouble | 2003-04-08 | 10 | Fireman Trevor Evans is looking forward to his date with Dilys Price and decides to take her birdwatching. However, a fire at Trevor Evans' birdwatching hide ensures that the date is hotter than planned. Fireman Sam comes to the rescue. |
| 8 | 41 | Carnival of Junk | 2003-04-09 | 10 | Mandy is looking forward to the family holiday in Jamaica because she's longing to see the carnival, but she is ill due to chicken pox and the holiday is called off. Meanwhile, the Twins are trying to keep Pontypandy tidy, but in their attempt to clear up, James gets trapped beneath an old boiler. When he escapes Mike manages to lay his hands on the boiler and turn it into a steel drum. He enlists Sam's help to bring a Caribbean carnival to Pontypandy. |
| 9 | 42 | Mummy's Little Pumpkin | 2003-04-10 | 10 | It's Halloween and Fireman Sam gives Norman the biggest pumpkin in the pumpkin patch so he can make a Jack 'O Lantern. Norman is determined to go all out for scares and leaves his lighted lantern unattended while he takes to the streets as "Count Norman, the scariest vampire in all of Pontypandy". While he is trick-or-treating at the fire-station Norman discovers his mum's shop is on fire and she's inside. |
| 10 | 43 | Joker Soaker | 2003-04-11 | 10 | There's a drought in Pontypandy. To everyone's horror, Naughty Norman Price has received a Joker Soaker, the most powerful water pistol in the world, and Sam reminds him not to waste water. He doesn't listen and takes to the streets to drench everyone. He's just about to give Dusty a drenching when he realises the dog has his head stuck in the railings. The reformed menace feeds the parched pooch water from his toy while Sam and the fire crew cut him free. |
| 11 | 44 | Fit for Nothing | 2003-04-14 | 10 | When Fireman Sam invents a new exercise machine called the Joggalator, everyone wants a go. All the fire station wants to be picked to appear in the new Wales's Fittest Firefighter calendar, but who'll be the winner? Meanwhile, outside a thunderstorm is raging and Bella's cat Rosa is scared up a tree by a flash of lightning. |
| 12 | 45 | Deep Water | 2003-04-15 | 10 | Norman Price is fascinated by Sam's Beep-o-matic, a high-tech metal-detector, in fact, he can't keep his hands off it. When Sam's back is turned, Norman and Mandy borrow the Beep-o-matic and go treasure hunting. But the children's over-zealous digging causes Mandy to tumble into a Celtic burial mound, and Norman is forced to run for help as the hole starts filling with water from the thunderstorm raging above. |
| 13 | 46 | Beast of Pontypandy | 2003-04-16 | 10 | Practical joker Norman Price gives his pet lamb Woolly a mudbath and passes him off as the Black Beast of Pontypandy. Mandy and James set off to track the beast, but Norman convinces them it's closing in on its hunters. Fireman Sam and his colleagues arrive to net the "Dangerous Monster" and get a surprise. |
| 14 | 47 | Pizza Palaver | 2003-04-17 | 10 | Bella is as sick as a parrot when a bird's nest falls down the chimney and into her new oven - thanks to Norman Price's antics. Mandy and Norman gathers "tomatoes" from Sam's garden not realising they are chilli peppers, and Norman tries one. Sam comes to the rescue. Meanwhile as Norman and Mandy are having pizza making lessons, Bella's chimney catches fire because of the bird's nest stuck there. |
| 15 | 48 | Fun Run | 2003-04-18 | 10 | Today in Pontypandy, a fun run has been organised for charity. Unfortunately Norman Price's cheating ways put James and the other competitors in danger. Fireman Sam comes to the rescue. |
| 16 | 49 | Trouble and Squeak | 2003-04-21 | 10 | Norman Price has taken the school mouse home to look after and manages to make twenty-five of his mum's toilet rolls disappear. Station Officer Steele has trouble with golf balls and hurts his foot, and Fireman Sam has fun with a new invention. The mouse goes on the run and ends up stuck in Bella's chimney. Fireman Sam comes to the rescue. |
| 17 | 50 | King of the Jungle | 2003-04-22 | 10 | As a heatwave puts Pontypandy's haystacks at risk from spontaneous combustion, so Sam invents a special thermometer for taking a haystack's temperature. The Tarzanesque jungle cry of Norman Price raises the alarm when the twins get caught in such a blazing haystack. |
| 18 | 51 | Norman's Invisible Friend | 2003-04-23 | 10 | Norman Price invents a fictitious friend to get double helpings of everything. Meanwhile, accident-prone Mike Flood is struggling to prepare a party buffet for his daughter when a fire starts, leaving Norman's 'friend' trapped inside. Fireman Sam comes to the rescue. |
| 19 | 52 | High Jinx | 2003-04-24 | 10 | Norman rigs up a wind-powered skateboard to help his with his newspaper deliveries. Sam is busily repairing the inflatable pontoon which the fire crew use for rescues on water. When Norman's kite carries him away and dumps him in Pontypandy lake, the twins raise the alarm. |
| 20 | 53 | The Case of the Liquorice Shoelaces | 2003-04-25 | 10 | Someone has been stealing shoelaces from Dilys' shop and the prime suspect is Norman Price, but not surprisingly, he isn't to blame. He sets out to prove his innocence. There's a shop fire at Dilys Price's General Store. Fireman Sam comes to the rescue. |
| 21 | 54 | Fiery Finale | 2003-04-28 | 10 | There's a talent show in Pontypandy and Norman Price is searching for an act. But whatever he tries, compère Trevor Evans "pours cold water" on it. Finally, when Norman tries to play Fireman Cridlington's electric guitar, he is asked to leave the stage. Then his eyes alight on a comic featuring 'Lasso Kid' and he decides to delight the crowd with his roping skills. However, Norman's rope tricks soon lead to a fire and Fireman Sam has to intervene. |
| 22 | 55 | Birthday Surprise | 2003-04-29 | 10 | It is Fireman Sam's birthday and everyone is preparing for a surprise party for him. Norman Price has to keep him away until it is time. Meanwhile, Dusty is sniffing around the buffet table and knocks over the birthday cake. The candles start a fire in Bella's cafe. |
| 23 | 56 | Firefighter of Tomorrow | 2003-04-30 | 10 | Norman Price wants to be a fireman when he grows up but he can't wait that long. This episode shows clips from 'Joker Soaker', 'Twitchers in Trouble' and 'Beast of Pontypandy'. Fireman Sam comes to the rescue. |
| 24 | 57 | Fields of Fire | 2003-05-01 | 10 | Sam receives new equipment for fighting fires. It proves to be useful when careless campers fail to put out their fires in the fields. Trevor tries to take the children swimming but his bus breaks down on the way and whilst he fixes it, the youngsters go off to explore. When they try to lead Dusty back to the bus, they are swallowed up in a pall of smoke from the burning fields. Fireman Sam arrives with his new piece of equipment to save the day. |
| 25 | 58 | Let It Snow | 2003-05-02 | 10 | The roads to Pontypandy are blocked with snow. When the villagers face a Christmas without a tree, one brave soul known as Norman Price, decides to try to get one. As a result. Fireman Sam ends up having to rescue him. |
| 26 | 59 | The Big Freeze | 2003-05-05 | 10 | There's a cold snap in Pontypandy and Norman's pet lamb Woolly is freezing. Dilys won't allow Woolly to share Norman's bed so Norman decides to make the lamb a bed of his own from an old electric blanket - he doesn't realise the faulty blanket is a fire hazard. The smouldering blanket bursts into flames and Sam is called out to fight the fire. But a falling icicle punctures the fire-hose and Sam is forced to improvise. |
Season 6
| Episode No. | No. Overall | Title | Airdate | Runtime | Summary |
| --- | --- | --- | --- | --- | --- |
| 1 | 60 | Blow Me Down | 2008-02-11 | 10 | Station Officer Steele gets out his kite and pretends it's his nephew's. When he tries to fly it at the Flood's house, it gets stuck on the roof. Meanwhile Norman Price, Charlie Jones and Dilys Price are in need of help in the sea. Fireman Sam is in charge at the Fire Station, so he goes to the rescue. |
| 2 | 61 | Pontypandy Extreme | 2008-02-12 | 10 | Norman is upset when Trevor accidentally runs over his skateboard. Not prepared to wait until his birthday for a new board, Norman decides to retrieve coins from the bottom of a wishing well and buy one himself. When Norman becomes trapped, Sam must use the abseiling skills he has just learned from Tom to rescue him. |
| 3 | 62 | Elvis Sings the Blues | 2008-02-13 | 10 | Fireman Elvis Cridlington breaks his leg dancing around the Fire Station and begins to wonder if he is really cut out to be a fireman. But when Mike Flood ends up dangling precariously from his roof and Norman gets his head stuck in railings, it is up to Elvis to save the day. |
| 4 | 63 | Fireworks for Mandy | 2008-02-14 | 10 | While playing hide-and-seek in the mountains with Norman, Mandy finds a distress flare. Norman wants to let it off but Mandy resists, fearing that it could be dangerous. When they discover Penny stranded on the cliff, they use the flare to raise the alarm. It is up to Sam, Elvis and Tom to rescue Penny. |
| 5 | 64 | Heap of Trouble | 2008-02-15 | 10 | For the Pontypandy Flower and Vegetable show, Mike is entering a marrow that he has been growing on his compost heap. But he did not heed Sam's advice about turning over his compost regularly, so when he removes his marrow the air gets into the heap and starts a fire! |
| 6 | 65 | Stuck in the Muck | 2008-02-18 | 10 | There's trouble for Trevor Evans as the school bus swerves off the road and breaks down in the Pontypandy hills. Unfortunately, mobile phones have no signal up in the Welsh hills and he is stranded - with a beast about. Fireman Sam comes to the rescue, with the assistance of Tom in the helicopter. Then they search for Trevor, who made an attempt of finding help. In the end everyone is safe and they go home. Norman spots a black animal passing over the road just before the bus rounds a corner, but when he tells everyone else about his sighting, nobody believes him. |
| 7 | 66 | Sausages Versus Shrimps | 2008-02-19 | 10 | Norman Price gets Trevor Evans and Tom Thomas to have a competition to see whose food tastes better. Trevor Evans puts a lot of coal on to his barbecue, soon causing some trees to catch fire. |
| 8 | 67 | Flood's Flood | 2008-02-20 | 10 | As preparations are made for a Pontypandy Karaoke night, Sam and the other firefighters prepare for a drill. Mike Flood works on repairs for Bronwyn but he gets trapped in the Jones' basement, after he accidentally jams the door and causing a small leak to turn into a flood. Fireman Sam comes to the rescue. |
| 9 | 68 | Off Duty Sam | 2008-02-21 | 10 | It is Fireman Sam's day off, but it doesn't last! He saves Mike Flood from the roof, and saves Norman Price from quicksand. He stops Trevor Evans' bus going off the road, and then puts out a fire in Dilys Price's store. |
| 10 | 69 | Stranded | 2008-02-22 | 10 | Mandy Flood and Norman Price head off to the beach with their buckets and nets challenging each other to see who will obtain the best catch of the day where Mandy finds a whale stranded on the beach and the crew have to try to rescue it. |
| 11 | 70 | Sheepdog Trials | 2008-02-25 | 10 | Norman Price practices his new career as a shepherd by rounding up Woolly with Radar. However, Woolly and her lamb run into the road and make Mike Flood's van tip over. Fireman Cridlington and Station Officer Steele get the hiccups. |
| 12 | 71 | Norman's Ghost | 2008-02-26 | 10 | It's Halloween and everyone in Pontypandy is looking forward to the big party at the Floods' house. Norman Price gets into the Halloween spirit by pretending Pontypandy is haunted by a ghost, but then manages to set the Floods' house on fire. Firemen Sam and Cridlington, and Station Officer Steele come to the rescue. |
| 13 | 72 | Poorly Penny | 2008-02-27 | 10 | On Fireman Sam's day off the crew are inundated with the Jones' emergencies. Firefighter Penny Morris has caught a cold, but she still tries to perform her firefighter duties. However, when the Joneses get stuck on Charlie's boat, Penny's illness takes hold while she is out on Neptune alone, and Sam has to come to the rescue. |
| 14 | 73 | Pirates of Pontypandy | 2008-02-28 | 10 | James and Norman get trapped in a row boat at sea when their pirating adventures get a little out of hand. Lion the cat is not allowed in the Fire Station so Fireman Sam takes him back to Bronwyn. |
| 15 | 74 | The Pontypandy Pioneers | 2008-02-29 | 10 | With Fireman Sam out on an emergency, Trevor Evans leads some young explorers on a nature walk to the Mountain Rescue Centre, but is he up to it? He gets himself stuck and Fireman Sam comes to the rescue. |
| 16 | 75 | Twitching the Night Away | 2008-03-03 | 10 | Norman and Trevor go bird watching. Elvis is preparing to go on a TV show and says he might not be a fireman for much longer. However he decides to help when the forest catches fire. |
| 17 | 76 | Double Trouble | 2008-03-04 | 10 | Norman Price sends his cousin Derek on a wild goose chase to get some Pontypandy pansies but starts worrying he has got into some kind of trouble when he doesn't return. Fireman Sam comes to the rescue. |
| 18 | 77 | Sailor Steele | 2008-03-05 | 10 | Fireman Sam and the rest of the team are training Mike Flood and Charlie Jones to be reserve firemen, and Station Officer Steele is very pleased with their progress. Both Charlie and Mike are itching to fight a fire but the training has prevented Charlie from going out in his fishing boat and there is no fish for the Wholefish Cafe. Charlie and Station Officer Steele they go out in the fishing boat, but are cast adrift after an engine fire leaves their boat stranded. |
| 19 | 78 | Fireman James | 2008-03-06 | 10 | James is keen to be a firefighter and listens to calls to Jupiter on his walkie-talkie. After one call he gets to Norman and Lion first and helps rescue them, but then a later call sees him trapped by fire at the Flood's house. |
| 20 | 79 | Dilys' Big Surprise | 2008-03-07 | 10 | Norman Price tries to make his Mum's birthday special by making a cake with Mike Flood, but they end up causing a fire. Fireman Sam comes to the rescue. |
| 21 | 80 | Day at the Seaside | 2008-03-10 | 10 | It is Station Officer Steele's day off from the Fire Service. Elvis persuades Sam to let him be in charge at the fire station. Station Officer Steele, Trevor Evans, Nurse Helen, Mandy Flood, Norman and Dilys Price go to the seaside together, but will the SatNav get them there? |
| 22 | 81 | Model Plane | 2008-03-11 | 10 | James has a new model airplane which Norman has a go at but flies it into Station Officer Steele who demands that he not fly it in Pontypandy. Norman persuades James to take it to the Mountain Rescue Center and fly it but it lands in a tree and leads to them getting stuck. |
| 23 | 82 | Three Legged Race | 2008-03-12 | 10 | In the annual three-legged race in Pontypandy, Fireman Sam is partnered with a less-than-confident Dilys Price. Norman Price tries to cheat but then hurts his leg. Fireman Sam and Tom Thomas come to the rescue in the helicopter. |
| 24 | 83 | Norman's Ark | 2008-03-13 | 10 | The residents of Pontypandy wake up to find the whole of the town flooded! Fireman Sam and Tom Thomas the helicopter pilot lend a hand where they can and Fireman Elvis Cridlington and Firefighter Penny Morris come to the rescue in the rescue boat. Meanwhile Norman Price goes off to look for Woolly and Lambykins. |
| 25 | 84 | Open Day | 2008-03-14 | 10 | It is open day at Pontypandy Fire Station and everyone is invited to visit and have a look around. Norman and James end up stuck on the roof when they want to see more and have to be rescued by Fireman Sam. |
| 26 | 85 | Mike's Rocket | 2008-03-17 | 10 | Mike has built a rocket and is preparing to launch it. Norman has become fascinated by Mike's project and wants to build and launch one of his own. |
Season 7
| Episode No. | No. Overall | Title | Airdate | Runtime | Summary |
| --- | --- | --- | --- | --- | --- |
| 1 | 86 | Paper Plane Down | 2008-11-11 | 10 | Norman's paper aeroplanes really heat things up at the fire station kitchen. |
| 2 | 87 | Hot and Cold Running Sniffer Dog | 2008-11-12 | 10 | Mike doesn't believe that Radar is a rescue dog, but he is soon proved wrong after he falls and breaks his arm in the Whole Fish Cafe cellar. |
| 3 | 88 | Hearts on Fire | 2008-11-13 | 10 | Norman, Trevor, and Dilys go camping and see the sunset from the woods. Dilys panics thinking it is a forest fire, and she unwittingly knocks a log from the camp fire causing a real fire to start. |
| 4 | 89 | Perilous Path | 2008-11-14 | 10 | Norman, Mandy, and Radar go out to find a golden eagle, but Norman ignores the danger signs and gets trapped on a crumbling cliff. |
| 5 | 90 | The New Hero Next Door | 2008-11-17 | 10 | Mandy wants to film a rescue but the Fire Brigade don't have anyone to rescue so along with Sarah, James and Norman, they fake an emergency but Charlie wanting to be a hero thinks Sarah's cries for help are real, and ends up needing rescuing himself. |
| 6 | 91 | Santa Overboard | 2008-11-18 | 10 | It is nearly Christmas in Pontypandy and Norman is keen to have the best Christmas decorations, which leads to Dilys putting too many into one plug socket, leading to a fire. |
| 7 | 92 | Best Foot Forward | 2008-11-19 | 10 | Norman Price goes mussel collecting with Charlie, Sarah and James. He attempts to get the most mussels, but ends up getting his foot wedged between two rocks. |
| 8 | 93 | Baa Baa Baby | 2008-11-20 | 10 | After being fooled into thinking Woolly's lamb is a baby crying, Sarah decides to push the lamb around in her old pram to see if she can trick the townsfolk. When it rains, Sarah leaves her coat over a heater in the cafe, leading to a fire and Sam needing to rescue the "baby". |
| 9 | 94 | Mother's Helper | 2008-11-21 | 10 | Helen goes away on a course, leaving Mike to do all of the housework. When he leaves the iron on whilst he goes out to fix Dilys' washing machine, a fire starts. |
| 10 | 95 | Cat Magic | 2008-11-24 | 10 | Bronwyn takes Sarah and James to the wishing well to make wishes, but nobody notices Lion the cat get stuck in the well and soon he needs to be rescued. |
| 11 | 96 | Seeing Red | 2008-11-25 | 10 | Bronwyn takes Sarah and Nipper the dog out on a walk along the cliffs to tire out Nipper, but trouble strikes when Sarah falls on a rock and hurts her leg. However, thanks to Fireman Cridlington's new song they remember that red is a sign for danger. |
| 12 | 97 | Going Out with a Bang | 2008-11-26 | 10 | While looking for Lion the cat, Mandy Flood knocks over a firework and starts a fire in Mike's workshop. |
| 13 | 98 | The Wrong Smell | 2008-11-27 | 10 | Helen Flood and Firefighter Penny Morris go on a mountain hike while Fireman Criddington tries to teach Radar the Rescue Dog how to roll over. When the fog rolls in and Firefighter Penny Morris hurts her ankle and she and Helen Flood become lost. Fireman Sam, Radar the Rescue Dog and Tom Thomas come to the rescue. |
| 14 | 99 | No Nurse Like You | 2008-11-28 | 10 | Mike Flood and Helen Flood are having their anniversary party, but a storm and a power cut end up causing a fire and Station Officer Steele to bump and hurt his nose. |
| 15 | 100 | The One That Got Away | 2008-12-01 | 10 | Norman Price goes fishing with Charlie, Sarah and James. They discover a baby whale heading for the beach and try to stop it, but land themselves into trouble when Norman makes the boat crash into the whale. |
| 16 | 101 | Dinosaur Hunt | 2008-12-02 | 10 | Norman Price and Trevor Evans discover an ammonite on the beach which inspires Norman to create the illusion of real dinosaurs for James and Sarah. James chases the sound of Norman's "dinosaur growls" into a beach cave where both boys become stranded by the rising tide. Meanwhile, Sarah is stranded on a rock. Sam and Penny come to their rescue. |
| 17 | 102 | Floating Kart | 2008-12-03 | 10 | Norman Price builds a go-cart with items he has collected from around Pontypandy, but of these items are collected without permission, causing problems for others. He loses control of the cart on its maiden voyage and falls off the quay. Fireman Sam comes to his rescue. |
| 18 | 103 | A Sticky Situation | 2008-12-04 | 10 | Norman Price doesn't follow the directions on his model airplane kit and ends up stuck to his bedroom door during a fire. Fireman Sam comes to the rescue. |
| 19 | 104 | Cry Wolf | 2008-12-05 | 10 | Norman accidentally sets off Dilys' new fire alarm, so she confiscates his football. To get it back, he sets the alarm off again, and again when a fox enters the shop. |
| 20 | 105 | Sheep on the Road | 2008-12-08 | 10 | Woolly is sent to stay with Norman, who is ill, whilst Mike mends her field's gate. Unfortunately, Norman and Woolly go out, resulting in Trevor's bus swerving off the road and dangling over the edge of the cliff. |
| 21 | 106 | Mam's Day | 2008-12-09 | 10 | It's Mother's Day, but Norman only wants to go skateboarding. He makes Dilys a very unsafe candle holder and when she takes it to the Whole Fish Cafe, a fire starts. |
| 22 | 107 | Alarm on the Beach | 2008-12-10 | 10 | When James and Mandy find a crate on the beach, they try to open it, but end up trapping James' legs under the crate. |
| 23 | 108 | Hot Air | 2008-12-11 | 10 | It's a very hot day in Pontypandy and Trevor Evans refuses to accept that his old bus may not make it up the mountain. When the engine overheats, Trevor ignores Norman's advice, opens the bonnet, and starts a fire. |
| 24 | 109 | Towering Inferno | 2008-12-12 | 10 | Norman Price, Mandy Flood and the twins play hide and seek, but Norman tries to hide in the fire tower while the firefighters are running a drill. Fireman Sam comes to the rescue. |
| 25 | 110 | Danger by the Double | 2008-12-15 | 10 | James and Sarah will not stop competing. When a fire starts in the forest they are too busy trying to out do each other to realize they are in danger. |
| 26 | 111 | When Fools Rush In | 2008-12-16 | 10 | James wants to get Bronwyn something special for her birthday, so he borrows Station Officer Steele's metal detector to find ancient coins, but he ignores Steele's advice and gets trapped by rocks near the cliffs. |
Season 8
| Episode No. | No. Overall | Title | Airdate | Runtime | Summary |
| --- | --- | --- | --- | --- | --- |
| 1 | 112 | Bronwyn's Millionth Customer | 2012-03-03 | 10 | When Sarah and James discover that the Wholefish Café is about to have its one millionth customer, they convince Bronwyn that there should be a big celebration to mark the event. |
| 2 | 113 | Runaway Train | 2012-03-10 | 10 | When Bronwyn gives her father Gareth Griffiths a sausage sandwich for his lunch, she has no idea the lengths Nipper the dog will go to for a bite! |
| 3 | 114 | Mandy's Mountain | 2012-03-17 | 10 | When Mandy reads Moose Roberts' book about his mountain climbing adventures, she decides that she wants to be a mountain climber when she grows up – and climb the highest mountain in the world! |
| 4 | 115 | Water Tower Inferno | 2012-03-24 | 10 | It's a big day in Pontypandy, Gareth is opening the Pontypandy mountain railway line and station; he has refurbished the old engine, The Pontypandy Flyer, to take people up and down the mountain. But the water tower threatens to fall and put the train in danger. |
| 5 | 116 | Jupiter on the Loose | 2012-03-31 | 10 | When the Pontypandy Pioneers go to the fire station to complete their fire safety badge, Norman wants to prove to his cousin Derek that he can drive a fire engine. |
| 6 | 117 | The Big Chill | 2012-04-07 | 10 | When the power goes out at the fire station, Sam has trouble lighting a fire. |
| 7 | 118 | Boyce Will Be Boyce | 2012-04-08 | 10 | Station Officer Steele hurts his back and Chief Fire Officer Boyce fills in his role for the day. |
| 8 | 119 | Elvis in Concert | 2012-04-14 | 10 | Pontypandy is holding a Charity Concert and Elvis is to be the star act. Mike and Elvis have got a giant wooden guitar, but they fail to see a cliff and Mike ends up falling down, clinging onto it. |
| 9 | 120 | Mandy at Sea | 2012-04-15 | 10 | Mandy wants to be a round-the-world yachtswoman, but when her mast breaks she finds herself stranded at sea. |
| 10 | 121 | The Great Guinea Pig Rescue | 2012-04-16 | 10 | Sarah and James have got a pet guinea pig and name him Norris, Station Officer Steele's real name, but then the guinea pig's taste for cables soon leads to a fire. |
| 11 | 122 | The Pontypandyness Monster | 2012-08-03 | 10 | Sarah makes up a story about a monster to get more customers on her Grandad's railway. |
| 12 | 123 | Disastrous Dilys | 2012-08-04 | 10 | Dilys tries her best to help her "little treasure" Norman get his Pontypandy pioneer fishing badge, with disastrous results. |
| 13 | 124 | Charlie's Big Catch | 2012-08-11 | 10 | Charlie takes the schoolchildren on a fishing trip and catches the biggest shoal of fish ever. |
| 14 | 125 | Bessie to the Rescue | 2012-08-18 | 10 | Station Officer Steele discovers his old fire engine, Bessie, which turns out to be useful in a railway emergency. |
| 15 | 126 | King of the Mountain | 2012-08-25 | 10 | Tom and Moose take the Pontypandy Pioneers on a mountain climbing expedition. |
| 16 | 127 | Lighthouse Lock Out | 2012-09-01 | 10 | Norman spoils everyone's trip to the lighthouse by locking them all out on the balcony in a bid to avoid cleaning Mike's muddy van, which he ruined. |
| 17 | 128 | Girls' Night In | 2012-09-08 | 10 | Mandy offers to babysit Lily when Helen Flood invites Mrs Chen and Penny over for a girls' night in, but things take a dangerous turn when some curling tongs start a fire. |
| 18 | 129 | To Outfox a Fox | 2012-09-15 | 10 | When Tom and Moose volunteer to help Mandy and Norman spot a fox, the animal scampers off with Moose's hat and Tom and Moose end up stuck in a fox hole. Meanwhile, Fireman Criddington takes his driving test in Jupiter with Chief Fire Officer Boyce. |
| 19 | 130 | Lily Lost and Found | 2012-09-22 | 10 | Everyone goes to the beach for a picnic but Lily, who wants to follow Norman all day, needs help when she gets stranded on a sandbank. |
| 20 | 131 | Sky Lanterns | 2012-09-29 | 10 | Mrs Chen's class make sky lanterns for Chinese New Year, but Norman Price creates a disaster when he lets go of his too early. |
| 21 | 132 | The Pontypandy Polar Bear | 2012-10-06 | 10 | Huge footprints in the snow convince Sarah that there's a polar bear in the area. But she and James get into difficulties when they try to photograph it for a local newspaper competition. |
| 22 | 133 | Ice Cold in Pontypandy | 2012-10-13 | 10 | When Trevor is driving his bus to Newtown he skids of the road and lands in a nearby lake. Moose decides to look for help and leaves but when Trevor starts a fire to keep the group warm the ice on the lake cracks and Fireman Sam comes to help |
| 23 | 134 | Snowball of Doom | 2012-10-20 | 10 | When Norman and Derek see a video of a champ snowboarder they decide to try snowboarding with an ironing table Norman makes a coarse with snowmen but when Derek crashes a snowball falls and begins to get bigger and is heading towards the road! |
| 24 | 135 | Floodlights | 2012-10-27 | 10 | Christmas is coming and there is to be a competition for the best Christmas lights in Pontypandy. |
| 25 | 136 | Norman's Halloween Heist | 2012-11-03 | 10 | Norman Price causes havoc on Halloween, when he tries to collect more sweets than the other children. |
| 26 | 137 | Wheel of Fire | 2012-11-10 | 10 | Charlie is so busy correcting Gareth's haphazard preparations for the firework display that he misses a Catherine wheel nailed too tightly to the door of Bessie's shed. |
Season 9
| Episode No. | No. Overall | Title | Airdate | Runtime | Summary |
| --- | --- | --- | --- | --- | --- |
| 1 | 138 | All at Sea | 2014-04-05 | 10 | It's the day of Pontypandy's new Ocean Rescue Centre launch and Station Officer Steele is taking the firefighters on a tour of the centre. As they arrive on the quay, so does the new coastguard, Ben Hooper. |
| 2 | 139 | Battle of the Birthdays | 2014-04-12 | 10 | As twins Sarah and James can never agree on what kind of birthday party to have, Bronwyn has decided that this year they will have two parties. James' will be a science party and Sarah's will be a football party. |
| 3 | 140 | Wild Cheese Chase | 2014-04-19 | 10 | It's the annual Pontypandy Cheese Roll Challenge (a race down a hill chasing a giant circular cheese) and Norman really wants the prize - the giant cheese! He sets out to win, but is it too late to enter the competition? |
| 4 | 141 | On Thin Ice | 2014-04-26 | 10 | It's a snowy day in Pontypandy when Moose announces he is opening his 'Winter Wonderland'. Norman, Sarah and James are very excited but unfortunately when they arrive there, they find that it's all about igloo building. |
| 5 | 142 | Magic Norman | 2014-05-03 | 10 | When Norman Price decides to put on a magic show at the Floods' house, he wants it to be the most 'spec-tac-ular' magic show ever! But as he sets up, he realises he is going to need lots of effects for the show. |
| 6 | 143 | Escape from Pontypandy Island | 2014-05-10 | 10 | When the Pontypandy Pioneers go on a day trip with Trevor to Pontypandy Island, Norman, Mandy, James and Sarah are all desperate to prove that they will be the best explorers. |
| 7 | 144 | Troubled Waters | 2014-05-17 | 10 | Station Officer Steele takes the day off. Sam assures him that the filing will be done and tells him that he should relax and enjoy himself! Steele then sets off only to find that Sarah and James are having a fun day out. |
| 8 | 145 | The Best Sleepover Ever | 2014-05-24 | 10 | Norman, Mandy, Sarah and James are having a sleepover at Mandy's house. But when Dilys accidentally packs his Cuddly Sheep Pyjamas instead of his Army Bob Pyjamas he has to hide them. |
| 9 | 146 | Whale Watch | 2014-05-31 | 10 | When Bronwyn decides she needs to record some relaxing whalesong, Charlie offers to take her out on the skiff to find a whale. Ben turns up and Bronwyn suggests that as he knows so much about whales, he should come along too. |
| 10 | 147 | Up, Up and Away | 2014-06-07 | 10 | Whilst doing some kite flying with the other kids, Mandy is inspired to want to fly over Pontypandy Mountain. Hannah tells her that her dad, Joe Sparkes, has just the thing...which turns out to be a hot air balloon! |
| 11 | 148 | Lights, Camera, Avalanche! | 2014-06-14 | 10 | It's snowy and Norman is directing his very first movie up in the mountains, starring Mandy and Sarah. Sam and Elvis are also up in the mountains, on their way to a skiing lesson with Penny. |
| 12 | 149 | The Pontypandy Cup | 2014-06-21 | 10 | When Joe and Mike discover that Norman is entering Pontypandy's big go-kart race, The Pontypandy Cup, they get very nostalgic about the go-karts they made when they were kids. |
| 13 | 150 | Treehouse Trouble | 2014-06-28 | 10 | The Pontypandy Pioneers are working towards their construction badges and what better way to do it than to build a treehouse under the supervision of Mike Flood! Norman is desperate to be the first one into the treehouse. |
| 14 | 151 | Record Breakers | 2014-07-05 | 10 | When Station Officer Steele takes dance classes so he can attend the Firefighter Gala Norman causes an emergency when trying to get in the record book. |
| 15 | 152 | Pontypandy Heatwave | 2014-07-12 | 10 | It's a very hot day in Pontypandy and Joe has created solar gadgets even one that has a fan but Hannah her daughter wishes he was more of a cool normal dad but when a fire occurs it might help. |
| 16 | 153 | Norman's Big Fossil Adventure | 2014-07-19 | 10 | Norman goes fossil hunting on the mountain with the others while Elvis thinks he and Penny are indanger of losing their jobs! |
| 17 | 154 | Turtle Hunt | 2014-07-26 | 10 | Sam and Ben work together to fix a special camera onto the shell of a beautiful blue Leatherback Sea Turtle, so that they can see underwater from its point of view. The camera comes in handy when Norman and Mandy, who are out turtle-spotting alone in a boat, get in trouble at sea. |
| 18 | 155 | The Treasure Trap | 2014-08-02 | 10 | Norman and James get lost in the fog at Pontypandy Island while out looking for buried treasure. |
| 19 | 156 | Rocky Rescue | 2014-08-09 | 10 | Sarah, James and Lily are out with their parents and Trevor, being guided along Pontypandy Mountain by Moose. Sarah and Lily wander off and find themselves trapped along the rocky edges of the mountain. But a cute little lamb comes to their rescue! |
| 20 | 157 | Pest in Show | 2014-08-16 | 10 | Pontypandy is holding a contest for its Most Talented Pet. Mandy and Sarah engage in a rivalry over whether Nipper or Lion will win. Things then get out of hand when Mandy lets Nipper off his lead and chases Lion into the Wholefish Cafe and they start a fire that traps them inside. It's up to Radar to rescue them. |
| 21 | 158 | Hide and Seek | 2014-08-23 | 10 | Norman, Mandy, Sarah and James decide to play hide and seek while the sausages are cooking, but disaster strikes. Meanwhile, Elvis and Mike try to fit in the new pole after Penny accidentally damages it, but Sam has a better idea. |
| 22 | 159 | One Way Street | 2014-08-30 | 10 | Mandy,Sarah,Helen,Hannah and Lizzy go to Newtown to see a boyband but Trevor's Bus goes off the road on the way there and they decide they shall go on foot but Mandy gets stuck . |
| 23 | 160 | Stage Fright | 2014-09-06 | 10 | When Sam is cast as the main lead in Mrs Chen's play, Elvis decides to give him some tips on acting. Meanwhile Hannah and Norman argue over how to decorate the pirate ship prop and end up floating out to sea. |
| 24 | 161 | Garden Force | 2014-09-13 | 10 | As a surprise for her mum Helen, Mandy creates the "Garden Force," a team dedicated to renovating the Floods' front garden and making it the best garden in Pontypandy. |
| 25 | 162 | The Return of Norman-Man | 2014-09-20 | 10 | Norman is playing Superheroes with James – Norman is Norman-Man and James is his sidekick Atomic Boy. Suddenly Lion the cat floats off in a boat and James and Norman find they have a real rescue on their hands. |
Series Cast
| | | | |
| --- | --- | --- | --- |
| | David Carling | as Charlie Jones | |
| | John Alderton | as Fireman Sam | |
| | Su Douglas | as Dilys Price | |
Related News
TVMaze