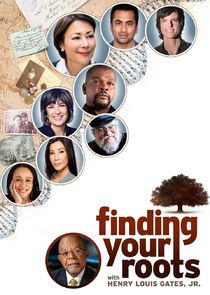 Since the premiere of his groundbreaking series African American Lives (2006) through the first season of Finding Your Roots (2012), noted Harvard scholar Henry Louis Gates, Jr. has been helping people discover long-lost relatives hidden for generations within the branches of their family trees. Professor Gates utilizes a team of genealogists to reconstruct the paper trail left behind by our ancestors and the world's leading geneticists to decode our DNA and help us travel thousands of years into the past to discover the origins of our earliest forebears.
Series Overview
Rating
imDb Rating: 8.4 (648 Votes)
Metascore: N/A
Plot
Harvard educator Henry Louis Gates Jr. hosts this enlightening PBS series that examines "the DNA of American culture" through an extensive discovery of the ancestors of today's celebrities....
Details
Rated: TV-PG
Released: 25 Mar 2012
Runtime: 53 min
Genre: Documentary, Biography, History, Mystery
Director: N/A
Writer: N/A
Actors: Henry Louis Gates Jr.
Language: English
Country: USA
Awards: 1 nomination.
Total Seasons: 4
Next Episode
Fashion's Roots
Episode 6x11; Oct 06, 2020
Previous Episode
Criminal Kind
Episode 6x10; Feb 25, 2020
Uncover the outlaw roots of actor Laura Linney and journalists Lisa Ling and Soledad O'Brien.
Episodes 6x16: Coming to America 6x15: Flight 6x14: War Stories 6x13: DNA Mysteries 6x12: Breaking Silences 6x11: Fashion's Roots 6x10: Criminal Kind 6x9: Italian Roots 6x8: Slave Trade

View All Episodes
Skip to:
Season 1
| Episode No. | No. Overall | Title | Airdate | Runtime | Summary |
| --- | --- | --- | --- | --- | --- |
| 1 | 1 | Harry Connick Jr. - Branford Marsalis | 2012-03-25 | 60 | Their European immigrant ancestors blazed unconventional trails in America, from capturing British ships for the American Revolution to crossing racial barriers in slave-era Louisiana. Generations later, as children growing up in New Orleans, Harry Connick, Jr. and Branford Marsalis found a deep and abiding friendship through their common love of jazz and of the city itself. In this hour, we trace the turbulent and contradictory history of the city of New Orleans through the family stories of these two fascinating men. |
| 2 | 2 | Cory Booker and John Lewis | 2012-03-25 | 60 | In this episode, we feature two African American politicians from different generations and opposite backgrounds. John Lewis grew up in a sharecropping family in rural Georgia, while Cory Booker was raised in an affluent, all-white New Jersey suburb. Although both men have devoted their lives to the betterment of African-American people, neither of them knows much about their own ancestors. In this episode, we introduce Booker to his white great-grandfather, a man he never knew, and move Lewis to tears over the extraordinary ambitions and accomplishments of his slave ancestors.. |
| 3 | 3 | Barbara Walters - Geoffrey Canada | 2012-04-01 | 60 | What's in a name? Well, a lot, at least when it comes to piecing together your family history. For former slaves, choosing a last name was one of their first acts of freedom. For Jewish immigrants, it was a way to fit in their new country. Whatever the reason for a name change, it can make the process of learning about one's ancestors difficult, if not impossible. In this episode, we unearth missing links in the family histories of media legend Barbara Walters and educational superstar Geoffrey Canada. Walters did not know her father's real last name. Canada did not know the name of his grandfather. Both of them had been unable to access their history... until now. |
| 4 | 4 | Kevin Bacon - Kyra Sedgwick | 2012-04-08 | 60 | What do Kevin Bacon and Kyra Sedgwick have in common? They are both famous actors and both descend from prominent American families that have been in this country since its inception. But they share something else, too: both had ancestors who were early opponents of slavery. Bacon's Quaker ancestors repudiated slavery long before the rest of the country, in 1780. And Sedgwick's ancestor Theodore Sedgwick argued the freedom case of Elizabeth Freeman, also known as "Mumbet," in 1781 -- which helped bring an end to slavery in Massachusetts. We reveal this fact - and many others - to Sedgwick and Bacon in this episode, and learn quite a bit about slavery in the North in the process. |
| 5 | 5 | Angela Buchdahl - Rick Warren - Yasir Qadhi | 2012-04-15 | 60 | Pastor Rick Warren, Rabbi Angela Buchdahl and Sheik Yasir Qadhi are of three different faiths, all with complex family histories that profoundly shaped their religious beliefs. Our research of their roots unearthed a story about the spiritual foundations of this country, an unrelenting struggle to achieve our ideal of religious freedom and tolerance, but also the difficulties sometimes of holding onto one's faith and still feeling like an "authentic" American. |
| 6 | 6 | Robert Downey, Jr. and Maggie Gyllenhaal | 2012-04-22 | 60 | Many American descend from a dense soups of European ethnicities; we could call them mutts, with ancestral roots across every country in Europe. Actors Robert Downey, Jr. and Maggie Gyllenhaal are textbook examples of Americans with a rich tapestry of European immigrant stories making up their family trees. We delve in to their deep American roots in early colonial communities, and we meet their Eastern European Jewish ancestors, who share almost identical migration stories From the Mayflower to Ellis Island, we journey through centuries of immigration that shaped and built our melting pot nation. |
| 7 | 7 | Samuel L. Jackson - Condoleezza Rice - Ruth Simmons | 2012-04-29 | 60 | Samuel L. Jackson, Condoleezza Rice and Brown University President Ruth Simmons have each climbed to the pinnacle of their profession, yet each started life as a second class citizen in the Jim Crow south. In this episode we will use DNA to investigate family mysteries: where do they come from in Africa, and who are the white men in their family trees? |
| 8 | 8 | Sanjay Gupta - Margaret Cho - Martha Stewart | 2012-05-06 | 60 | Catch a glimpse of three distinct yet oddly overlapping experiences of families leaving their homes and becoming American. Sanjay Gupta, Margaret Cho and Martha Stewart are children of first- or second-generation immigrants. |
| 9 | 9 | John Legend - Wanda Sykes - Margarett Cooper | 2012-05-13 | 60 | |
| 10 | 10 | Michelle Rodriguez - Adrian Grenier - Linda Chavez | 2012-05-20 | 60 | |
Season 2
| Episode No. | No. Overall | Title | Airdate | Runtime | Summary |
| --- | --- | --- | --- | --- | --- |
| 1 | 11 | In Search of Our Fathers | 2014-09-23 | 60 | Join Gates to uncover the paternal ancestry of Stephen King, Gloria Reuben and Courtney Vance. |
| 2 | 12 | Born Champions | 2014-09-30 | 60 | Examine the ancestral origins of athletes Derek Jeter, Billie Jean King and Rebecca Lobo. |
| 3 | 13 | Our American Storytellers | 2014-10-07 | 60 | Learn how the lives of forebears of Ken Burns, Anderson Cooper and Anna Deavere Smith intersected. |
| 4 | 14 | Roots of Freedom | 2014-10-14 | 60 | Learn how the ancestors of Ben Affleck, Khandi Alexander and Ben Jealous fought for freedom. |
| 5 | 15 | The Melting Pot | 2014-10-21 | 60 | Meet three chefs, Tom Colicchio, Ming Tsai and Aaron Sanchez, who cook the food of their ancestors. |
| 6 | 16 | We Come from People | 2014-10-28 | 60 | Trace the roots of Nas, Angela Bassett and Valerie Jarrett into the heart of slavery. |
| 7 | 17 | Our People, Our Traditions | 2014-11-04 | 60 | Learn how forebears of Alan Dershowitz, Carole King and Tony Kushner persevered in the face of bias. |
| 8 | 18 | The British Invasion | 2014-11-11 | 60 | Explore the British influence in the lives of Deepak Chopra, Sally Field and Sting. |
| 9 | 19 | Ancient Roots | 2014-11-18 | 60 | Watch as Tina Fey, David Sedaris and George Stephanopoulos recover lost stories of Greek ancestors. |
| 10 | 20 | Decoding Our Past | 2014-11-25 | 60 | See how DNA analysis reveals a family tree with a range of cultures and races for several guests. |
Season 3
| Episode No. | No. Overall | Title | Airdate | Runtime | Summary |
| --- | --- | --- | --- | --- | --- |
| 1 | 21 | The Stories We Tell | 2016-01-05 | 60 | The family stories of political organizer Donna Brazile, actor Ty Burrell and artist Kara Walker. |
| 2 | 22 | The Irish Factor | 2016-01-12 | 60 | The Irish ancestry of Soledad O'Brien, Bill O'Reilly and Bill Maher. |
| 3 | 23 | In Search of Freedom | 2016-01-19 | 60 | The struggle for freedom by the ancestors of Maya Rudolph, Shonda Rhimes and Keenen Ivory Wayans. |
| 4 | 24 | Tragedy + Time = Comedy | 2016-01-26 | 60 | Tragedies and triumphs in the families of three men known for comedy -- Jimmy Kimmel, Norman Lear and Bill Hader. |
| 5 | 25 | Visionaries | 2016-02-02 | 60 | The risk-taking ancestors of businessman Richard Branson, designer Maya Lin and architect Frank Gehry. |
| 6 | 26 | War Stories | 2016-02-09 | 60 | Uncover how military service binds the families of Patricia Arquette, Julianne Moore and John McCain. |
| 7 | 27 | Family Reunions | 2016-02-16 | 60 | Uncover family mysteries about two legends of hip hop through the use of DNA technology. |
| 8 | 28 | The Pioneers | 2016-02-23 | 60 | Discover the pioneering family histories of Neil Patrick Harris, Gloria Steinem and Sandra Cisneros. |
| 9 | 29 | The Long Way Home | 2016-03-01 | 60 | The preserved family traditions of actress Julianna Margulies, author Azar Nafisi and chef Lidia Bastianich. |
| 10 | 30 | Maps of Stars | 2016-03-08 | 60 | Learn how tragic deaths have shaped the families of Hollywood legends Dustin Hoffman and Mia Farrow. |
Season 4
| Episode No. | No. Overall | Title | Airdate | Runtime | Summary |
| --- | --- | --- | --- | --- | --- |
| 1 | 31 | The Impression | 2017-10-03 | 60 | Join Larry David and Bernie Sanders, who learn they have more in common than they thought. |
| 2 | 32 | Unfamiliar Kin | 2017-10-10 | 60 | See what Fred Armisen, Christopher Walken and Carly Simon each learn about a grandparent. |
| 3 | 33 | Puritans and Pioneers | 2017-10-17 | 60 | Learn about nonconformist ancestors of Ted Danson, Mary Steenburgen and William H. Macy. |
| 4 | 34 | The Vanguard | 2017-10-24 | 60 | Learn why Ta-Nehisi Coates, Ava DuVernay and Janet Mock's ideas of their families are upended. |
| 5 | 35 | Immigrant Nation | 2017-10-31 | 60 | Follow Scarlett Johansson, Paul Rudd and John Turturro as they learn about immigrant ancestors. |
| 6 | 36 | Black Like Me | 2017-11-07 | 60 | Watch as Bryant Gumbel, Tonya Lewis-Lee and Suzanne Malveaux discover unexpected ancestry. |
| 7 | 37 | Children of the Revolution | 2017-11-14 | 60 | Follow along as Lupita Nyong'o, Carmelo Anthony and Ana Navarro learn their heritage. |
| 8 | 38 | Relatives We Never Knew We Had | 2017-11-21 | 60 | Join actresses Tea Leoni and Gaby Hoffmann as they learn about unknown ancestors. |
| 9 | 39 | Southern Roots | 2017-12-12 | 60 | Uncover the family stories, rooted in the South, of Questlove, Dr. Phil and Charlayne Hunter-Gault. |
| 10 | 40 | Funny Business | 2017-12-19 | 60 | Hear the contrasting stories of comedic performers Garrison Keillor, Amy Schumer and Aziz Ansari. |
Series Cast
| | | | |
| --- | --- | --- | --- |
| | Henry Louis Gates Jr. | as Host | |
Related News
TVMaze