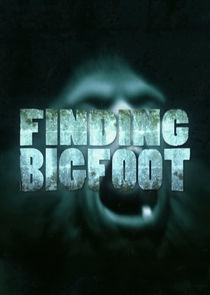 Finding Bigfoot follows four passionate researchers and explorers investigating potential evidence of Bigfoot.
Series Overview
Rating
imDb Rating: 4.2 (1,632 Votes)
Metascore: N/A
Plot
Matt Moneymaker, founder of the Bigfoot Field Researchers Organisation (B.F.R.O.), and a team of the B.F.R.O.'s top investigators travel North America and the world to search for the mysterious creature called Bigfoot.
Details
Rated: TV-PG
Released: 30 May 2011
Runtime: 45 min
Genre: Documentary, Drama, Thriller
Director: N/A
Writer: N/A
Actors: Cliff Barackman
Language: English
Country: USA
Awards: N/A
Total Seasons: 9
Previous Episode
The Squatchland
Episode 9x9; Feb 26, 2017
Previous Episodes 9x9: The Squatchland 9x8: Brews, Brats and Bigfoots 9x7: Bigfoot Town 9x6: Bright Lights and Bigfoots 9x5: Squatchy Tonk 9x4: Skeptic Showdown 9x3: Return to Four Corners 9x2: Hawaii's Little Foot 9x1: The Family That Squatches Together

View All Episodes
Cast
Cliff Barackman as Cliff Barackman
James "Bobo" Fay as James "Bobo" Fay
Matt Moneymaker as Matt Moneymaker
Ranae Holland as Ranae Holland
View Full Cast
Skip to:
Season 1
| Episode No. | No. Overall | Title | Airdate | Runtime | Summary |
| --- | --- | --- | --- | --- | --- |
| 1 | 1 | Bigfoot Crossing in Georgia | 2011-05-30 | 60 | |
| 2 | 2 | Swamp Ape | 2011-06-05 | 60 | |
| 3 | 3 | Caught on Tape | 2011-06-12 | 60 | |
| 4 | 4 | Fishing for Bigfoot in Oregon | 2011-06-19 | 60 | Bigfoot expert Matt Moneymaker takes his team of specialists to Oregon to examine a video taken on a rafting expedition. While investigating, the BFRO team hears a sound in the middle of the night that they believe could prove the creature's existence. |
| 5 | 5 | Frozen Bigfoot | 2011-06-26 | 60 | |
| 6 | 6 | Alaska's Bigfoot Island | 2011-07-10 | 60 | |
Season 2
| Episode No. | No. Overall | Title | Airdate | Runtime | Summary |
| --- | --- | --- | --- | --- | --- |
| 1 | 7 | Baby Bigfoot | 2012-01-01 | 60 | |
| 2 | 8 | Big Rhodey | 2012-01-08 | 60 | |
| 3 | 9 | Peeping Bigfoot | 2012-01-15 | 60 | |
| 4 | 10 | Canadian Bigfoot, Eh? | 2012-01-22 | 60 | |
| 5 | 11 | Buckeye Bigfoot | 2012-01-29 | 60 | |
| 6 | 12 | Virginia is for Bigfoot Lovers | 2012-02-12 | 60 | |
| 7 | 13 | Moonshine and Bigfoot | 2012-02-19 | 60 | |
| 8 | 14 | Hoosier Bigfoot | 2012-03-04 | 60 | |
| 9 | 15 | Holy Cow, It's Bigfoot | 2012-03-11 | 60 | |
Season 3
| Episode No. | No. Overall | Title | Airdate | Runtime | Summary |
| --- | --- | --- | --- | --- | --- |
| 1 | 16 | Ripped from the Headlines | 2012-11-11 | 60 | |
| 2 | 17 | Mother Bigfoot | 2012-11-18 | 60 | |
| 3 | 18 | CSI Bigfoot | 2012-11-25 | 60 | |
| 4 | 19 | The Sierra Spy | 2012-12-02 | 60 | |
| 5 | 20 | Dances with Bigfoot | 2012-12-09 | 60 | |
| 6 | 21 | Bigfoot and Wolverines | 2012-12-16 | 60 | |
| 7 | 22 | Bobo Marks His Turf | 2012-12-23 | 60 | |
| 8 | 23 | Australian Yowie | 2012-12-30 | 60 | |
| 9 | 24 | Squatch Spies | 2013-01-06 | 60 | |
| 10 | 25 | Bacon for Bigfoot | 2013-01-13 | 60 | |
| 11 | 26 | Bigfoot Merit Badge | 2013-01-20 | 60 | |
| 12 | 27 | Bigfoot Hoedown | 2013-01-27 | 60 | |
| 13 | 28 | Badlands Bigfoot | 2013-02-10 | 60 | |
| 14 | 29 | Indonesia's Little Bigfoot | 2013-02-17 | 60 | |
| 15 | 30 | Peek-a-boo Bigfoot | 2013-02-24 | 60 | |
| 16 | 31 | Bigfoot and the Redhead | 2013-03-03 | 60 | |
| 17 | 32 | Bigfoot Loves a Barbecue | 2013-03-10 | 60 | |
| 18 | 33 | Virgin Sasquatch | 2013-03-17 | 60 | |
| 19 | 34 | Bigfoot the Friendly Ghost | 2013-03-24 | 60 | |
| 20 | 35 | Heart of Squatchness | 2013-03-31 | 60 | |
Season 4
| Episode No. | No. Overall | Title | Airdate | Runtime | Summary |
| --- | --- | --- | --- | --- | --- |
| 1 | 36 | The Legend of Boggy Creek | 2013-11-10 | 60 | |
| 2 | 37 | Surf's Up Sasquatch | 2013-11-17 | 60 | |
| 3 | 38 | Best Evidence Yet | 2013-11-24 | 60 | |
| 4 | 39 | Kung-Fu Bigfoot | 2013-12-01 | 60 | |
| 5 | 40 | Sketching Sasquatch | 2013-12-08 | 60 | |
| 6 | 41 | Lonestar Sasquatch | 2013-12-15 | 60 | |
| 7 | 42 | Abominable Snowman | 2013-12-29 | 60 | |
| 8 | 43 | Big Sky Bigfoot | 2014-01-05 | 60 | |
| 9 | 44 | Bigfoot of Oz | 2014-01-12 | 60 | |
| 10 | 45 | Super Yooper Sasquatch | 2014-01-19 | 60 | |
| 11 | 46 | South Jersey Sasquatch | 2014-01-26 | 60 | |
| 12 | 47 | Coal Miner's Bigfoot | 2014-02-09 | 60 | |
| 13 | 48 | 1, 2, 3, 4, I Declare a Squatch War | 2014-02-16 | 60 | |
Season 5
| Episode No. | No. Overall | Title | Airdate | Runtime | Summary |
| --- | --- | --- | --- | --- | --- |
| 1 | 49 | Bigfoot Call of the Wildman | 2014-06-08 | 60 | |
| 2 | 50 | Squatters for Sasquatch | 2014-06-15 | 60 | |
| 3 | 51 | Beast of the Bayou | 2014-06-22 | 60 | |
| 4 | 52 | Squatching in a Winter Wonderland | 2014-06-29 | 60 | |
| 5 | 53 | Live to Squatch Another Day | 2014-07-06 | 60 | |
| 6 | 54 | 'Bama Bigfoot | 2014-07-13 | 60 | |
| 7 | 55 | Bobo's Backyard | 2014-07-20 | 60 | |
| 8 | 56 | Biggest Search Yet | 2014-07-27 | 60 | |
Season 6
| Episode No. | No. Overall | Title | Airdate | Runtime | Summary |
| --- | --- | --- | --- | --- | --- |
| 1 | 57 | Squatching in the Midnight Sun | 2014-11-09 | 60 | |
| 2 | 58 | Baked Potato Bigfoot | 2014-11-16 | 60 | |
| 3 | 59 | Squatchers Take New Jersey | 2014-12-28 | 60 | |
| 4 | 60 | British Bigfoot | 2015-01-04 | 60 | |
| 5 | 61 | Matt Goes Home | 2015-01-11 | 60 | |
| 6 | 62 | Bigfoot Basecamp | 2015-01-18 | 60 | |
| 7 | 63 | Paranormal Squatchtivity | 2015-01-25 | 60 | |
Season 7
| Episode No. | No. Overall | Title | Airdate | Runtime | Summary |
| --- | --- | --- | --- | --- | --- |
| 1 | 64 | Amazon Squatchin' | 2015-05-31 | 60 | The team travels to the Amazon River basin in search of the mythical Mapinguari. With one eye and a gaping mouth on its stomach, the team does not give into the myth, convinced it's yet another undiscovered primate, and set out to find it in the vast jungle. |
| 2 | 65 | Squatchin' in the Sunshine State | 2015-06-07 | 60 | The team works with Stacy Brown Jr. in the Myakka River State Park in Florida. |
| 3 | 66 | The Secret Squatch Spot | 2015-06-14 | 60 | The team are in South Carolina where they split up to investigate a video of a active track-way area. |
| 4 | 67 | Squatchsploitation | 2015-06-21 | 60 | The team treks back to Louisiana to investigate the hot-spot of Caddo Lake where they have a very eventful night after reminiscing about the 1970s monster films shot at this location. |
| 5 | 68 | A Squatch In The Ozarks | 2015-06-28 | 60 | The team treks into the Ozark hollows in search of sasquatch, known locally as the legendary Blue Man; a packed town hall confirms that bigfoots have been there for several years and an eventful final night has them convinced. |
| 6 | 69 | The Best Little Bigfoot In Texas | 2015-07-12 | 61 | The team moseys on back to Texas to hunt down a juvenile bigfoot by the tracks they believe were made by it. |
| 7 | 70 | Bigfoot State Of Mind | 2015-07-12 | 61 | It's off to the Adirondacks of New York to investigate recent reports in Whitehall and enlist the help of local police in hopes of catching a fugitive bigfoot. |
| 15 | 71 | The Booger Hole | 2016-04-14 | 126 | A BFRO investigator meets with the team in Mississippi to show them new ways to report bigfoot activity; an aftershow follows the program. |
| 16 | 72 | Skeptic Showdown | 2016-04-28 | 67 | The team invites a group of skeptics in Arkansas to join them on an expedition; the skeptics put up a large bounty for proof of bigfoot's existence; an aftershow follows the program. |
Season 8
| Episode No. | No. Overall | Title | Airdate | Runtime | Summary |
| --- | --- | --- | --- | --- | --- |
| 1 | 73 | Squatch Wars: U.S. vs. Canada | 2016-01-03 | 127 | The team wagers on whether the United States or Canada is the squatchier country, as it returns to the Pacific Northwest; Aftershow to follow. |
| 2 | 74 | Bigfoot's Maine Event | 2016-01-10 | 66 | Matt records multiple howlings and is confident he has pinned down a Pine Tree Sasquatch when the team makes its first trip to Maine; Aftershow to follow. |
| 3 | 75 | Grand Bigfoot Hotel | 2016-01-17 | 66 | The team reports to the Mount Washington resort, where Bigfoot sightings have been unnerving hotel guests, so they use an alpine horn to entice one: Aftershow to follow. |
| 4 | 76 | A Few Good Squatchers | 2016-01-24 | 70 | The team rolls out to Ft. Stewart Army base in Georgia to meet with a witness who saw a bigfoot through thermal imaging; Aftershow to follow. |
| 5 | 77 | Dronie Loves Squatchie | 2016-01-31 | 70 | For the fourth time, Cliff returns with his friends, and a few professional drone pilots, to his home state of Oregon; Aftershow to follow. |
| 6 | 78 | Supernatural Bigfoot | 2016-03-31 | 60 | The team treks to Mt. Shasta, Calif. where they team-up with the SBC, paranormal investigation group, who tries to convince Bobo that Bigfoots are in fact supernatural. |
| 7 | 79 | Squatching on Sacred Ground | 2016-04-07 | 60 | |
Season 9
| Episode No. | No. Overall | Title | Airdate | Runtime | Summary |
| --- | --- | --- | --- | --- | --- |
| 1 | 80 | The Family That Squatches Together | 2017-01-08 | 60 | |
| 2 | 81 | Hawaii's Little Foot | 2017-01-15 | 120 | The team makes a special journey to Hawaii, hoping to say aloha to the islands' little foot: the Menehune; taking their investigations across the beautiful Hawaiian Islands, they hope find one of the legendary 3-foot-tall creatures. |
| 3 | 82 | Return to Four Corners | 2017-01-22 | 120 | The team returns to the Four Corners of America to find previous witnesses have been plagued by recent activity; a wide search of all four states leads to their most intricate strategy yet in hopes of capturing footage of a bigfoot. |
| 4 | 83 | Skeptic Showdown | 2017-01-29 | 60 | The team invites a group of skeptics in Arkansas to join them on an expedition; the skeptics put up a large bounty for proof of bigfoot's existence. |
| 5 | 84 | Squatchy Tonk | 2017-01-29 | 70 | The team attends a bigfoot festival on the outskirts of the music city, Nashville; the team decides to use a country superstar as bait after a bizarre revelation occurs; an aftershow follows. |
| 6 | 85 | Bright Lights and Bigfoots | 2017-02-12 | 60 | The search for squatch brings the team to Southern California, where reports have been rampant; they zero in on the canyons of Deep Creek, enlisting the help of an LA local for a night investigation that yields proof that sasquatches live there. |
| 7 | 86 | Bigfoot Town | 2017-02-12 | 60 | The team travels to Remer, Minn., to investigate the small town's claim to be the Home of Bigfoot; as evidence continues to mount, the team pursues an exciting hot-off-the-press lead on a sighting and a footprint on their final investigation. |
| 8 | 87 | Brews, Brats and Bigfoots | 2017-02-19 | 60 | The team travels to Wisconsin for the first time on the heels of recent bigfoot activity, enlisting help from locals to investigate reports; they take the final night investigation to new heights as bigfoots stalk them in the dark. |
| 9 | 88 | The Squatchland | 2017-02-26 | 60 | |
Series Cast
| | | | |
| --- | --- | --- | --- |
| | Cliff Barackman | as Cliff Barackman | |
| | James "Bobo" Fay | as James "Bobo" Fay | |
| | Matt Moneymaker | as Matt Moneymaker | |
| | Ranae Holland | as Ranae Holland | |
Related News
TVMaze