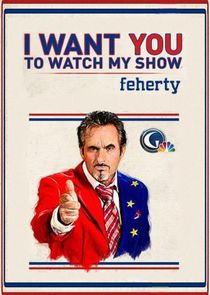 Feherty usually says whatever pops into his anecdote-filled, zany mind, a trait that has made David Feherty quite popular in his role as a golf commentator for CBS Sports. It should also come in handy in this prime-time series, with the bulk of each episode being an interview Feherty conducts with a well-known sports, entertainment or political figure. The former European and PGA tour pro, a born and bred Irishman who became a U.S. citizen in 2010, also shares unique golf stories and his ever-so-present observations on life's peculiarities.
Series Overview
Rating
imDb Rating: 7.7 (74 Votes)
Metascore: N/A
Plot
David Feherty hosts a golf-themed show, which includes in-depth discussions of his guests personal lives.
Details
Rated: N/A
Released: 20 Jun 2011
Runtime: N/A
Genre: Talk-Show
Director: N/A
Writer: N/A
Actors: David Feherty
Language: English
Country: USA
Awards: N/A
Total Seasons: 8
Previous Episode
Michael Strahan
Episode 9x12; Sep 02, 2019
Previous Episodes 9x12: Michael Strahan 9x11: John Mcenroe 9x10: Xander Schauffele 9x9: Bernhard Langer 9x8: Paul Casey 9x7: Kevin Hart 9x6: Carson Daly 9x5: Tony Finau 9x4: Bryson Dechambeau

View All Episodes
Skip to:
Season 1
| Episode No. | No. Overall | Title | Airdate | Runtime | Summary |
| --- | --- | --- | --- | --- | --- |
| 1 | 1 | Lee Trevino (Pilot) | 2011-06-20 | 60 | |
| 2 | 2 | Don Cheadle | 2011-06-28 | 60 | |
| 3 | 3 | Tom Watson | 2011-07-05 | 60 | |
| 4 | 4 | Charles Barkley | 2011-07-12 | 60 | |
| 5 | 5 | Johnny Miller | 2011-07-19 | 60 | |
| 6 | 6 | Rory McIlory | 2011-07-26 | 60 | |
| 7 | 7 | Ian Poulter | 2011-08-02 | 60 | |
| 8 | 8 | Best of Feherty Part 1 | 2011-08-09 | 60 | |
| 9 | 9 | Best of Feherty Part 2 | 2011-08-09 | 60 | |
| 10 | 10 | Fluff & Bones | 2011-08-16 | 60 | |
| 11 | 11 | Darren Clarke | 2011-08-23 | 60 | |
| 12 | 12 | Luke Donald | 2011-08-30 | 60 | |
| 13 | 13 | Greg Norman | 2011-09-06 | 60 | |
| 14 | 14 | Tony Romo | 2011-09-13 | 60 | |
| 15 | 15 | Special Best of! | 2011-10-04 | 60 | |
Season 2
| Episode No. | No. Overall | Title | Airdate | Runtime | Summary |
| --- | --- | --- | --- | --- | --- |
| 1 | 16 | Sergio Garcia | 2012-02-27 | 60 | |
| 2 | 17 | Bill Russell | 2012-03-05 | 60 | |
| 3 | 18 | Butch Harmon | 2012-03-12 | 60 | |
| 4 | 19 | Michelle Wie | 2012-03-26 | 60 | |
| 5 | 20 | Bubba Watson | 2012-04-02 | 60 | |
| 6 | 21 | Ken Venturi | 2012-04-10 | 60 | |
| 7 | 22 | Annika Sorenstam | 2012-04-16 | 60 | |
| 8 | 23 | Gary McCord | 2012-04-23 | 60 | |
| 9 | 24 | Samuel L. Jackson | 2012-04-30 | 60 | |
| 10 | 25 | Bill Clinton | 2012-05-14 | 60 | |
| 11 | 26 | Donald Trump | 2012-05-21 | 60 | |
| 12 | 27 | Roger Maltbie | 2012-05-28 | 60 | |
| 13 | 28 | Graeme McDowell | 2012-06-11 | 60 | |
| 14 | 29 | Chubby Chandler | 2012-06-25 | 60 | |
| 15 | 30 | Vince Gill, Rascal Flatts & Darius Rucker | 2012-07-02 | 60 | |
| 16 | 31 | Fuzzy Zoeller | 2012-07-09 | 60 | |
| 17 | 32 | Peter Alliss | 2012-07-23 | 60 | |
| 18 | 33 | John Daly | 2012-07-30 | 60 | |
Season 3
| Episode No. | No. Overall | Title | Airdate | Runtime | Summary |
| --- | --- | --- | --- | --- | --- |
| 1 | 34 | Jack Nicklaus | 2013-02-25 | 60 | |
| 2 | 35 | Paul Azinger | 2013-03-04 | 60 | |
| 3 | 36 | Lee Westwood | 2013-03-11 | 60 | |
| 4 | 37 | Jack Welch | 2013-03-18 | 60 | |
| 5 | 38 | Bobby Knight | 2013-04-01 | 60 | |
| 6 | 39 | Billy Casper | 2013-04-08 | 60 | |
| 7 | 40 | Nick Faldo | 2013-04-15 | 60 | |
| 8 | 41 | Curtis Strange | 2013-04-22 | 60 | |
| 9 | 42 | Rocco Mediate | 2013-05-13 | 60 | |
| 10 | 43 | Tom Lehman | 2013-05-27 | 60 | |
| 11 | 44 | Ben Crenshaw | 2013-06-24 | 60 | |
| 12 | 45 | Stacy Lewis | 2013-07-01 | 60 | |
| 13 | 46 | Raymond Floyd | 2013-07-08 | 60 | |
| 14 | 47 | David Duval | 2013-07-22 | 60 | |
| 15 | 48 | Keegan Bradley | 2013-07-29 | 60 | |
| 16 | 49 | Larry David | 2013-08-12 | 60 | |
Season 4
| Episode No. | No. Overall | Title | Airdate | Runtime | Summary |
| --- | --- | --- | --- | --- | --- |
| 1 | 50 | Brandt Snedeker | 2014-03-17 | 60 | |
| 2 | 51 | Jim Furyk | 2014-03-24 | 60 | |
| 3 | 52 | Matt Kuchar | 2014-03-31 | 60 | |
| 4 | 53 | Charlie Rose | 2014-04-28 | 60 | |
| 5 | 54 | Deane Beman | 2014-05-05 | 60 | |
| 6 | 55 | Bubba Watson | 2014-05-12 | 60 | |
| 7 | 56 | Tom Weiskopf | 2014-07-07 | 60 | |
| 8 | 57 | Padraig Harrington | 2014-07-14 | 60 | |
| 9 | 58 | Lanny Wadkins | 2014-07-21 | 60 | |
| 10 | 59 | Rudy Giulani | 2014-08-18 | 60 | |
| 11 | 60 | Sam Torrance | 2014-08-25 | 60 | |
| 12 | 61 | Lou Holtz | 2014-09-09 | 60 | |
| 13 | 62 | Zach Johnson | 2014-11-25 | 60 | |
| 14 | 63 | Doc Rivers | 2014-12-02 | 60 | |
| 15 | 64 | Dan Patrick | 2014-12-09 | 60 | |
Season 5
| Episode No. | No. Overall | Title | Airdate | Runtime | Summary |
| --- | --- | --- | --- | --- | --- |
| 1 | 65 | Al Michaels | 2015-01-26 | 60 | |
| 2 | 66 | Tim Finchem | 2015-05-04 | 60 | |
| 3 | 67 | Webb Simpson | 2015-06-10 | 60 | |
| 4 | 68 | Peter Jacobsen | 2015-06-24 | 60 | |
| 5 | 69 | John Boehner | 2015-08-03 | 60 | |
| 6 | 70 | Dave Stockton | 2015-08-17 | 60 | |
| 7 | 71 | Judy Rankin | 2015-08-24 | 60 | |
| 8 | 72 | Steve Spurrier | 2015-09-23 | 60 | |
| 9 | 73 | Nick Saban | 2015-09-30 | 60 | David Feherty talks with Alabama head football coach Nick Saban. |
| 10 | 74 | Paul McGinley | 2015-10-14 | 60 | |
Season 6
| Episode No. | No. Overall | Title | Airdate | Runtime | Summary |
| --- | --- | --- | --- | --- | --- |
| 1 | 75 | Jordan Spieth - A Year Like No Other | 2016-03-07 | 60 | Feherty sits down with Jordan Spieth, and they discuss his amazing 2015 season with major victories coming at The Masters and the U.S. Open. Other topics include his family, adjusting to life on the PGA TOUR and the pressures of competing in an era dominated by social media. |
| 2 | 76 | Jordan Spieth - Chasing the Grand Slam | 2016-03-14 | 60 | In the second half of Feherty's conversation with Jordan Spieth, they discuss his pursuit of the grand slam, his heartbreak at the final holes of The Open and his great rivalry with Jason Day, highlighted by their pairing in the final round of the PGA Championship. |
| 3 | 77 | George W. Bush | 2016-03-21 | 60 | From Dallas, Texas, Feherty rolls out of bed for an eye opening conversation with America's 43rd President, George W. Bush. The former Commander-in-Chief shares his obsession with golf, his devotion to family and the impact of 9/11 on his presidency, with humor and insight. Bush's only off limits topic is his underwear; Feherty asks, but Bush doesn't tell. |
| 4 | 78 | Jason Day | 2016-03-28 | 60 | Feherty sits down with fan favorite Jason Day and the Australian shares his amazing journey from that of an abused child to achieving the rank as the number one player in the world. Along the way, he talks about his transcendent 2015 season, recounts his friendly rivalry with Jordan Spieth, Rory McIlroy, and Rickie Fowler, and relives his record-setting triumph at the 2015 PGA Championship. |
| 5 | 79 | Rory McIlroy | 2016-06-20 | 60 | Feherty begins his summer swing with 4-time major champion, Rory McIlroy, the day after the Ulsterman's emotional win at the 2016 Irish Open. Rory thoughtfully shares about the thrill of winning under pressure, the historic return of golf to the Olympic Games, and his special place as a member of golf's new Big Three. |
| 6 | 80 | Peter Oosterhuis | 2016-06-27 | 60 | Feherty sits down with Ryder Cup legend and long-time announcer Peter Oosterhuis for a candid conversation that covers his career on and off the course and his current battle with Alzheimer's Disease. In addition to their discussion in Charlotte, David travels to Houston and visits the Nantz National Alzheimer's Center to find out the latest on the disease that is also affected his family. |
| 7 | 81 | Paula Creamer | 2016-07-04 | 60 | |
| 8 | 82 | Big Three | 2016-07-11 | 60 | |
| 9 | 83 | Episode 9 | 2016-07-18 | 60 | |
| 10 | 84 | Episode 10 | 2016-07-25 | 60 | |
| 11 | 85 | Bob Costas | 2016-08-23 | 60 | |
| 12 | 86 | Doug Collins | 2016-08-01 | 60 | |
| 13 | 87 | Bob Uecker | 2016-08-30 | 60 | |
| 14 | 88 | Emmitt Smith | 2016-09-06 | 60 | |
| 15 | 89 | Cris Carter | 2016-09-13 | 60 | David Feherty interviews former NFL wide receiver Cris Carter. |
| 16 | 90 | Terry Bradshaw | 2016-10-04 | 60 | Feherty talks with NFL Hall of Famer Terry Bradshaw about golfing with Arnold Palmer and Ben Hogan. |
Season 7
| Episode No. | No. Overall | Title | Airdate | Runtime | Summary |
| --- | --- | --- | --- | --- | --- |
| 1 | 91 | Phil Mickelson - Masters and Ryder Cup | 2017-02-27 | 60 | |
| 2 | 92 | Phil Mickelson - Hall of Fame Career | 2017-03-06 | 60 | |
| 3 | 93 | Patrick Reed | 2017-03-20 | 60 | |
| 4 | 94 | Condoleezza Rice | 2017-03-27 | 60 | |
| 5 | 95 | Mark O'meara | 2017-04-17 | 60 | |
| 6 | 96 | Matthew Mcconaughey | 2017-04-24 | 60 | |
| 7 | 97 | Nancy Lopez | 2017-05-01 | 60 | |
| 8 | 98 | Hale Irwin | 2017-05-08 | 60 | |
| 9 | 99 | Stephen Curry | 2017-05-15 | 60 | |
| 10 | 100 | Lee Trevino, John Daly, and Gary McCord | 2017-07-24 | 60 | |
| 11 | 101 | Matt Lauer | 2017-07-31 | 60 | Host David Feherty sits down to talk to television personality Matt Lauer about this life in the news business. |
| 12 | 102 | Jackie Burke | 2017-08-14 | 60 | |
| 13 | 103 | Louis Oosthuizen | 2017-08-21 | 60 | |
| 14 | 104 | Darius Rucker | 2017-08-28 | 60 | |
| 15 | 105 | Justin Thomas | 2017-09-04 | 60 | |
Season 8
| Episode No. | No. Overall | Title | Airdate | Runtime | Summary |
| --- | --- | --- | --- | --- | --- |
| 1 | 106 | Rickie Fowler & Jack Nicklaus | 2018-03-05 | 60 | |
| 2 | 107 | Tom Lehman/justin Leonard | 2018-03-12 | 60 | |
| 3 | 108 | Ray Allen/jon Lester/mark Calcavecchia | 2018-03-19 | 60 | |
| 4 | 109 | Billy Horschel/kevin Kisner/pat Perez | 2018-03-26 | 60 | |
| 5 | 110 | Paul Azinger And Boo Weekley | 2018-05-07 | 60 | |
| 6 | 111 | Rafa Cabrera-bello And Sergio Garcia | 2018-05-14 | 60 | |
| 7 | 112 | Scott Mccarron And Steve Pate | 2018-06-04 | 60 | |
| 8 | 113 | Billy Andrade And Brad Faxon | 2018-06-11 | 60 | |
| 9 | 114 | Stewart Cink And Paul Goydos | 2018-07-16 | 60 | |
| 10 | 115 | Ian Poulter | 2018-07-23 | 60 | |
| 11 | 116 | Jon Rahm & Larry Fitzgerald | 2018-08-06 | 60 | |
| 12 | 117 | Tommy Fleetwood | 2018-08-13 | 60 | |
| 13 | 118 | Kevin Nealon | 2018-08-20 | 60 | |
| 14 | 119 | Cristie Kerr | 2018-08-27 | 60 | |
| 15 | 120 | Jimmy Walker | 2018-09-03 | 60 | |
| 16 | 121 | Brilliantly Stupid Not So Special Year End Review | 2018-11-20 | 60 | |
Series Cast
| | | | |
| --- | --- | --- | --- |
| | David Feherty | as Host | |
Related News
TVMaze