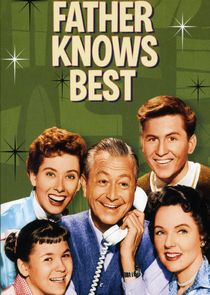 Father Knows Best portrayed a family that was surprising similar to real people. The parents managed to ride through almost any family situation without violent injury to their dignity, and the three Anderson youngsters were presented as decently behaved children who respected and loved their parents. A newspaper critic at the time wrote that "Jim Anderson may be the first intelligent father permitted on TV since they invented the thing".
Series Overview
Rating
imDb Rating: 7.4 (1,701 Votes)
Metascore: N/A
Plot
The popular radio show comes to life in this hit sitcom about a wise family man, Jim Anderson, his common-sense wife Margaret and their children Betty, Bud and Kathy.
Details
Rated: N/A
Released: 03 Oct 1954
Runtime: 30 min
Genre: Comedy, Family
Director: N/A
Writer: Ed James
Actors: Robert Young, Jane Wyatt, Billy Gray, Lauren Chapin
Language: English
Country: USA
Awards: Won 6 Primetime Emmys. Another 3 wins & 18 nominations.
Total Seasons: 6
Previous Episode
Betty's Graduation
Episode 6x32; May 23, 1960
This is a recut of season 2 episode 37. Jim discusses a letter from Kathy's school where they report Kathy is not passing her math class. Kathy tells her father that she is not really wanting to graduate from junior high school as it is the happiest time of her life. Jim recalls the story of when Betty didn't want to graduate from high school.
Previous Episodes 6x32: Betty's Graduation 6x31: Not His Type 6x30: Bud Lives It Up 6x29: Betty's Career Problem 6x28: Blind Date 6x27: Love and Learn 6x26: Family Contest 6x25: Adopted Daughter 6x24: The $500 Letter

View All Episodes
Cast
Elinor Donahue as Betty "Princess" Anderson
Robert Young as James "Jim" Anderson, Sr.
Jane Wyatt as Margaret Anderson
Billy Gray as James "Bud" Anderson, Jr
Lauren Chapin as Kathy "Kitten" Anderson
View Full Cast
Skip to:
Season 1
| Episode No. | No. Overall | Title | Airdate | Runtime | Summary |
| --- | --- | --- | --- | --- | --- |
| 1 | 1 | Bud Takes Up the Dance | 1954-10-03 | 30 | Jim and Betty help Bud learn to dance so he can go to the school dance with a girl. |
| 2 | 2 | Lesson in Citizenship | 1954-10-10 | 30 | Jim tells his kids they need to cheerfully volunteer. Bud volunteers Jim's time, Kathy volunteers his good suit to charity, Betty volunteers to be a witness to an accident for a good looking young man. |
| 3 | 3 | The Motor Scooter | 1954-10-17 | 30 | Margaret is not thrilled at all with Jim's purchase of a second hand motor scooter for Bud. Opening scene is great as Jim appears to be the worst scooter driver in Springfield. |
| 4 | 4 | Football Tickets | 1954-10-24 | 30 | Jim is to take Betty to the biggest football game of the year, but a business customer blackmails him into taking him, instead. |
| 5 | 5 | Live My Own Life | 1954-10-31 | 30 | Bud wants to live on his own terms and decides to move to a small apartment with one room. |
| 6 | 6 | Grandpa Jim's Rejuvenation | 1954-11-07 | 30 | Jim wants to feel young again and his family tries to make him feel better. |
| 7 | 7 | Bud's Encounter with the Law | 1954-11-14 | 30 | Rocket Girl Kathy loads up her rocket (new washing machine) causing problems for the whole family. |
| 8 | 8 | Thanksgiving Day | 1954-11-21 | 30 | Jim changes plans for Thanksgiving to celebrate Kathy's winning poem of the fourth grade. |
| 9 | 9 | Second Honeymoon | 1954-11-28 | 30 | Jim asks Margaret to take off with him for a weekend alone. Blooper: In the car they talk about their kids being nearly in bed but the shadows show it is mid-day. |
| 10 | 10 | Typical Father | 1954-12-05 | 30 | Betty and her boyfriend rehearse for a play and causes Jim to believe they are eloping. |
| 11 | 11 | Margaret Goes Dancing | 1954-12-12 | 30 | Feeling nostalgic and a bit neglected, Margaret decides to take private dance lessons. |
| 12 | 12 | The Christmas Story | 1954-12-19 | 30 | The family takes a short road trip to find the perfect Christmas tree but a sudden storm strands them for Christmas. |
| 13 | 13 | Sparrow in the Window | 1954-12-26 | 30 | It's a cold rainy evening and Kathy finds a motionless sparrow on the windowsill. |
| 14 | 14 | Boy's Week | 1955-01-02 | 30 | Kathy is blamed for breaking a window, and Jim must face a Boys Week Judge in court. |
| 15 | 15 | A Friend of Old George's | 1955-01-09 | 30 | A friend of a college friend drops by as the family is trying to celebrate Kathy's birthday. |
| 16 | 16 | Bud the Snob | 1955-01-16 | 30 | Bud is bashful trying to talk to girls in his school. |
| 17 | 17 | The Promised Playhouse | 1955-01-23 | 30 | Jim tells Bud the complete story of a promise to Kathy about a tree-house made years ago to explain why he is very careful about what promises he makes. |
| 18 | 18 | Jim the Farmer | 1955-01-30 | 30 | Jim's stressful work moves Jim to move to the country for a less hectic life. |
| 19 | 19 | Father of the Year | 1955-02-06 | 30 | Jim is entered into a father-of-the-year contest by his kids. |
| 20 | 20 | The Mink Coat | 1955-02-13 | 30 | After Jim tells family they must tighten belts in the family budget, he buys a mink coat for Margaret. |
| 21 | 21 | The Matchmaker | 1955-02-20 | 30 | Margaret plans a dinner for a couple to encourage him to ask his girlfriend to marry him. |
| 22 | 22 | Bud the Bridesmaid | 1955-02-27 | 30 | Margaret is hosting a wedding in her home for the couple from the last episode. |
| 23 | 23 | Proud Father | 1955-03-06 | 30 | Kathy, Bud, and Betty are all scared of something happening to them, and Jim encourages them to be brave. |
| 24 | 24 | Father Delivers the Papers | 1955-03-13 | 30 | Bud's job as delivery boy is in jeopardy and Jim completes his route keeping a promise to Bud's boss. |
| 25 | 25 | No Partiality | 1955-03-20 | 30 | Kathy is tired of hand-me-downs. trivia: when Jim calls phone number on Kathy's arm but not the same numbers. |
| 26 | 26 | Close Decision | 1955-03-27 | 30 | Bud learns a lesson after he fails to keep up with his responsibilities and proves his good character. |
Season 2
| Episode No. | No. Overall | Title | Airdate | Runtime | Summary |
| --- | --- | --- | --- | --- | --- |
| 1 | 27 | Art of Salesmanship | 1955-08-31 | 30 | Jim tries to teach Bud salesmanship skills. |
| 2 | 28 | Father's Private Life | 1955-09-07 | 30 | Jim requests some uninterrupted time and problems stack up. |
| 3 | 29 | Lessons in Civics | 1955-09-14 | 30 | The Andersons work together to save from demolition an historic town building. |
| 4 | 30 | First Disillusionment | 1955-09-21 | 30 | Bud tells the truth on his job application after urging from his dad, Jim, but his friend lies on his application and gets the job. |
| 5 | 31 | Woman in the House | 1955-09-28 | 30 | The Anderson's have an unplanned house guest, wife of a friend of Jim's that drives Margaret crazy. |
| 6 | 32 | New Girl at School | 1955-10-05 | 30 | Bud is impressed with April, a new girl in school, and Kathy has a new boyfriend that is the brother of the girl. |
| 7 | 33 | Kathy Makes Magic | 1955-10-12 | 30 | Kathy trades for a used magic set and worries when her 'magic' starts coming true. |
| 8 | 34 | Advantage to Betty | 1955-10-19 | 30 | The tennis captain is angered when Betty is chosen for publicity pictures. |
| 9 | 35 | The Big Test | 1955-10-26 | 30 | Bud wants to buy a used outboard motor, but his report card science grade interferes with his plan. |
| 10 | 36 | Father is a Dope | 1955-11-02 | 30 | After seeing a father manipulated on the "TV box" comedy, he thinks his family is doing the same to him about his planned hunting trip. |
| 11 | 37 | Spirit of Youth | 1955-11-09 | 30 | Jim and Margaret realize at a college reunion that the great times they recall were great for their age back then, but they are happier in their current family lives. |
| 12 | 38 | Bud, the Ladykiller | 1955-11-16 | 30 | Bud tries to find a way to discourage an admirer politely. |
| 13 | 39 | Margaret's Premonition | 1955-11-30 | 30 | Margaret's premonitions seem to be coming true interfering with some of the family's plans. |
| 14 | 40 | Stage to Yuma | 1955-12-07 | 30 | The cast is on holiday but Robert Young stars in this wild west episode with indians attacking a stage coach while Jim plays the part of a bad guy. |
| 15 | 41 | Bad Influence | 1955-12-14 | 30 | Bud finds out that his new friend is a thief and takes the blame for Artie stealing Kathy's piggy bank change. |
| 16 | 42 | Betty Hates Carter | 1955-12-28 | 30 | Jim arranges a date for Betty with the son of a friend when in town for a convention, but Betty isn't cooperating. |
| 17 | 43 | Jim, the Tyrant | 1956-01-04 | 30 | Jim has a bad day at the office and is impatient with his family that evening. |
| 18 | 44 | Betty's Brother | 1956-01-11 | 30 | Bud is teased as a freshman because of senior Betty's great accomplishments. |
| 19 | 45 | Betty Earns a Formal | 1956-01-18 | 30 | Betty must earn the money for an expensive formal dress. |
| 20 | 46 | The House Painter | 1956-01-25 | 30 | A very experienced house painter is put to a test of his ethics by the Anderson family. |
| 21 | 47 | Bud, the Wallflower | 1956-02-01 | 30 | Bud's school throws a girls invite the boys dance and Bud is not asked to it. |
| 22 | 48 | The Bus to Nowhere | 1956-02-08 | 30 | Betty is feeling depressed and aimless and decides to leave on a bus to anywhere $9 will take her. |
| 23 | 49 | Kathy, the Indian Giver | 1956-02-15 | 30 | Feeling neglected by the family, Kathy seeks someone for companionship. |
| 24 | 50 | The Historical Andersons | 1956-02-22 | 30 | Bud researches the history of Major Nathaniel Anderson and is asked to present it to the PTA. |
| 25 | 51 | The Grass is Greener | 1956-02-29 | 30 | Jim is feeling a bit depressed as he learns he is the least famous of his college group. |
| 26 | 52 | The Persistent Guest | 1956-03-07 | 30 | The Anderson family helps a homeless boy in the 9th grade find a new home. |
| 27 | 53 | Family Reunion | 1956-03-14 | 30 | Margaret becomes frustrated with the family not wanting to go to Lemon Falls to attend her family reunion. |
| 28 | 54 | Family Dines Out | 1956-03-28 | 30 | The Anderson's have competing same day dinner invitations. |
| 29 | 55 | Bud, the Boxer | 1956-04-04 | 30 | Bud needs to face a bully. |
| 30 | 56 | Betty, Girl Engineer | 1956-04-11 | 30 | Betty's high school offers internships in professions/trades and Betty opts in for a non-traditional women's field |
| 31 | 57 | The Martins and the Coys | 1956-04-18 | 30 | Jim and Betty's boyfriend's dad have a major business disagreement creating a feud and creating a Romeo & Juliet scenario. |
| 32 | 58 | Dilemma for Margaret | 1956-04-25 | 30 | Betty participates in a school club initiation that goes wrong |
| 33 | 59 | Hero Father | 1956-05-02 | 30 | A major Baseball team is lined up to help raise money for the hospital. |
| 34 | 60 | Father, the Naturalist | 1956-05-09 | 30 | Jim takes Kathy out to the woods to collect edible plants and roots to meet her requirements to be promoted to Indian Princess. |
| 35 | 61 | The Ten Dollar Question | 1956-05-16 | 30 | Jim wants to end the bickering and tattling by the children and creates ASPNCCOMS - Anti-Stool Pigeon and Name calling Club of Maple Street. |
| 36 | 62 | Adopted Daughter | 1956-05-23 | 30 | Kathy's friend makes her think she might be adopted. |
| 37 | 63 | Betty's Graduation | 1956-05-30 | 30 | Jim helps Kathy get over not wanting to graduate from junior high school by telling about Betty's trepidation of graduating from high school. |
Season 3
| Episode No. | No. Overall | Title | Airdate | Runtime | Summary |
| --- | --- | --- | --- | --- | --- |
| 1 | 64 | No Apron Strings | 1956-09-12 | 30 | Bud's new girl friend manipulates Bud trying to make him miss his mom's birthday celebration. |
| 2 | 65 | Never in Twain | 1956-09-19 | 30 | On a dude ranch, Betty falls in love with a cowboy only to discover the relationship won't last. |
| 3 | 66 | Betty Goes to College | 1956-09-26 | 30 | The family visits the state college Margaret and Jim attended for Betty to consider as her college. |
| 4 | 67 | Man About Town | 1956-10-03 | 30 | Bud prepares for a date with a taller and older woman by putting lifts in his shoes and powder in his hair. |
| 5 | 68 | The Homing Pigeon | 1956-10-10 | 30 | Betty decides to live with a roommate, only to find out that sharing an apartment isn't as glamorous as it seems. |
| 6 | 69 | Spaghetti for Margaret | 1956-10-17 | 30 | Margaret campaigns to help an old retired author receive some recognition for his work. |
| 7 | 70 | Betty's Birthday | 1956-10-24 | 30 | Betty shocks her family when she tells them that she doesn't want a birthday party or any presents. |
| 8 | 71 | Bud, the Millionaire | 1956-10-31 | 30 | Bud talks Jim into giving him ten dollar a week allowance. |
| 9 | 72 | The Old Days | 1956-11-07 | 30 | Betty and Bud get embarrassed and upset when their parents want to wear 1920s style clothing to a costume party. |
| 10 | 73 | Whistle Bait | 1956-11-14 | 30 | A striking beauty causes Betty to feel a lack of esteem. |
| 11 | 74 | The Great Guy | 1956-11-21 | 30 | Bud takes a job on the local newspaper. |
| 12 | 75 | The Family Goes to New York | 1956-11-28 | 30 | Betty falls in love when she goes to New York to attend her friend's wedding. |
| 13 | 76 | Betty Goes Steady | 1956-12-05 | 30 | Betty becomes a member of the "In-Crowd" at college but is attracted to an outcast. |
| 14 | 77 | The Good Prospect | 1956-12-12 | 30 | Several family members must learn the hard lesson that some people may talk a big story and make promises that they can not later honor. |
| 15 | 78 | The Angel's Sweater | 1956-12-19 | 30 | It's Christmas eve, and it takes a leaking pipe to bring a plumber that explains the meaning of Christmas to Kathy who finally understands. The whole family including the guest aunt star in this touching story set in the 1600s or before. Watch for the fastest live wardrobe change at the end of the episode. |
| 16 | 79 | The Promising Young Man | 1956-12-26 | 30 | Jim takes on his company's vice-president's adult son to try to help him succeed in his father's insurance business. |
| 17 | 80 | Margaret Hires a Gardener | 1957-01-02 | 30 | A self-employed landscaper improves Margaret's lawn and touches the entire family's heart with his dedication to the beauty of plants. |
| 18 | 81 | Swiss Family Anderson | 1957-01-09 | 30 | The family becomes marooned on a deserted island on the lake and must make do until rescued. |
| 19 | 82 | Brief Holiday | 1957-01-16 | 30 | An over-stressed Margaret takes a relaxing time-out and Jim learns that he must work to be a great husband. |
| 20 | 83 | The Lawn Party | 1957-01-23 | 30 | Bud and his friends seek help in having a lawn party. |
| 21 | 84 | Short Wave | 1957-01-30 | 30 | The whole family gets concerned and worried about helping a family on a ship that sends an SOS that the family overhears on bud's short-wave radio receiver.that no one else is hearing; the only problem is that the ship is 1,000 miles away. |
| 22 | 85 | Carnival | 1957-02-06 | 30 | Bud learns a lesson at the school of hard knocks when a carnival comes to town. |
| 23 | 86 | Betty and the Jet Pilot | 1957-02-13 | 30 | Betty is in Love with an Air force Pilot that may be transferred to Alaska. |
| 24 | 87 | Trip to Hillsborough | 1957-02-20 | 30 | Aspiring writer Bud takes trip to Hillsboro to make notes about real life for future writing source material. |
| 25 | 88 | An Evening to Remember | 1957-02-27 | 30 | The Anderson's have an unexpected famous movie star guest arrive after a fender bender. |
| 26 | 89 | Bud Buys a Car | 1957-03-13 | 30 | Bud proudly buys a $10 car, his first car. |
| 27 | 90 | Safety First | 1957-03-20 | 30 | Bud learns the hard way to improve his car driving safety habits. |
| 28 | 91 | Bud, the Hero | 1957-03-27 | 30 | Jim narrates this dramatic story of Bud the hero (surprise ending). |
| 29 | 92 | Betty, the Track Star | 1957-04-03 | 30 | Betty is in a pickle having to choose between competing college demands. |
| 30 | 93 | The Spelling Bee | 1957-04-17 | 30 | Kathy depends on a lucky penny during a spelling bee. |
| 31 | 94 | Bud, the Philanthropist | 1957-04-24 | 30 | Bud's Sunday School class buys a radio for a classmate recovering from a broken leg, but Bud thinks he wants more credit for the gift. |
| 32 | 95 | Baby in the House | 1957-05-01 | 30 | Babysitting a 1-year-old at the Anderson's home. |
| 33 | 96 | Class Prophecy | 1957-05-08 | 30 | The "Most likely to succeed" school friend of Jim and Margaret is embarrassed to be selling door-to-door for Utica Kitchen Utensils. |
| 34 | 97 | The Art of Romance | 1957-05-15 | 30 | Jim advises Bud on how to make a date with a shy girl, but Betty advises the girl thwarting Bud's advances. |
| 35 | 98 | Margaret Disowns Her Family | 1957-05-22 | 30 | Margaret has a challenging day with her family which a young mother-to-be observes and becomes discouraged until Margaret explains the value of motherhood. |
| 36 | 99 | Grandpa Retires | 1957-05-29 | 30 | Margaret, Jim, and Betty travel to visit with Margaret's parents because Dad is reluctantly retiring. |
| 37 | 100 | Shoot for the Moon | 1957-06-05 | 30 | Woodcutter Sageman teaches the Andersons about goal setting and learning to believe in yourself to achieve the goals. |
Season 4
| Episode No. | No. Overall | Title | Airdate | Runtime | Summary |
| --- | --- | --- | --- | --- | --- |
| 1 | 101 | Follow the Leader | 1957-09-25 | 30 | Bud's class' teacher unexpectedly is replaced by a new teacher and the class wants him to quit hoping their old teacher will return. Bud has to decide if he will participate in dirty tricks on the new teacher. |
| 2 | 102 | The Awkward Hero | 1957-10-02 | 30 | Betty's assigned jock to tutor is smitten with Betty, but he is clumsy and awkward. Betty begins to really like him. |
| 3 | 103 | The Good Neighbor | 1957-10-09 | 30 | Margaret is sued by her rental property's neighbor. |
| 4 | 104 | Bud, the Executive | 1957-10-16 | 30 | Bud learns leadership skills and how to deal with problems as he helps with the school class picnic. |
| 5 | 105 | Sentenced to Happiness | 1957-10-23 | 30 | Gardner Frank is back in trouble as he works to make people and plants happy. |
| 6 | 106 | Mother Goes to School | 1957-10-30 | 30 | When Margaret enrolls in Betty's English Literature class at Jr college, Betty becomes uncomfortable. |
| 7 | 107 | The Indispensable Man | 1957-11-06 | 30 | Bud learns to follow the football training rules after suffering the consequence of breaking a rule.. |
| 8 | 108 | Kathy's Big Chance | 1957-11-13 | 30 | An excited Kathy is one of her class' essay winners, but misses the greeting party with her favorite actress due to measles. |
| 9 | 109 | Margaret Learns to Drive | 1957-11-20 | 30 | Margaret becomes cross at Jim who is giving her driving lessons. |
| 10 | 110 | The Way of a Dictator | 1957-12-04 | 30 | Bud blackmails Kathy when he learns she damaged Betty's expensive fountain pen. |
| 11 | 111 | Mr. Beal Meets His Match | 1957-12-11 | 30 | Faustian story of the Devil and the Andersons. Will they all be lost to the devil's dealings? |
| 12 | 112 | Kathy Makes a Wish | 1957-12-25 | 30 | Kathy wishes on a lucky horseshoe for a horse that then appears. |
| 13 | 113 | Man with a Plan | 1958-01-01 | 30 | While Bud begins to plan for the draft, his friends think he has already enlisted and will soon be leaving, and throw a farewell party. |
| 14 | 114 | Big Sister | 1958-01-08 | 30 | Betty, Kathy, and Bud all go to a summer camp for girls. Kathy is pushed by counselor Betty to be an over-achiever. |
| 15 | 115 | Calypso Kid | 1958-01-15 | 30 | Bud trades for some bongos and learns to play the calypso. |
| 16 | 116 | Father's Biography | 1958-01-22 | 30 | One night Jim must choose attending a Chamber of commerce meeting to elect him as a leader, or being at a PTA meeting where Kathy is reading an essay about Jim's life. |
| 17 | 117 | The Rivals | 1958-01-29 | 30 | Betty's steady, Frank, gets some competition. Guest star Barbara Eden (I Dream of Jeannie) |
| 18 | 118 | Bud, the Mind Reader | 1958-02-05 | 30 | Bud wants to help Betty but will lose his allowance for three months by revealing where Betty is after an important phone call. |
| 19 | 119 | Margaret's Other Family | 1958-02-12 | 30 | Margaret, and one by one the whole family, assist a new-to-the-city door-to-door woodmaker and his family to the point that Jim thinks they are using Margaret. |
| 20 | 120 | The Trial | 1958-02-19 | 30 | Bud is accused of property damage and Betty's college class assignment leads to a family trial. |
| 21 | 121 | Revenge is Sweet | 1958-02-26 | 30 | Betty is embarrassed of Bud's appearance as he works on his car, but Betty doesn't know that Bud did a favor for her friend's father. Bud knows and considers revenge for Betty's treatment of Bud that embarrassed him. |
| 22 | 122 | Country Cousin | 1958-03-05 | 30 | Betty again must learn a lesson about the need to be nice to others when Jim's brother sends his daughter for a week to visit with Betty and the Andersons. |
| 23 | 123 | Poor Old Dad | 1958-03-12 | 30 | Bud decides from experience that married men don't get to have fun like single men and live a miserable life. |
| 24 | 124 | Betty's Crusade | 1958-03-19 | 30 | Betty organizes her friends to save their college hangout. |
| 25 | 125 | Young Love | 1958-03-26 | 30 | Bud has a crush on a girl working at the supermarket. |
| 26 | 126 | Tell It to Mom | 1958-04-02 | 30 | A pair of skates become involved in secrets and lies and it is up to Margaret to resolve the problems. |
| 27 | 127 | A Friend in Need | 1958-04-16 | 30 | The Andersons quickly adopt and love a temporarily lost dog. |
| 28 | 128 | A Medal for Margaret | 1958-04-23 | 30 | Margaret works to earn a medal to put in the family's new trophy case. |
| 29 | 129 | The Weaker Sex | 1958-04-30 | 30 | New pretty girl moves in just down the street and uses her feminine wiles to get a picnic date with Bud. |
| 30 | 130 | Jim, the Answer Man | 1958-05-14 | 30 | A very busy Jim is still able to solve all problems of the Anderson family. |
| 31 | 131 | Bud Quits School | 1958-05-21 | 30 | Bud leaves to be a beach bum in the south pacific while Betty runs for class president. |
| 32 | 132 | A Matter of Pride | 1958-06-04 | 30 | Bud is elected most popular boy of his class but finds that too small fashion shoes may prevent the award ceremony from happening. |
| 33 | 133 | Betty Finds a Cause | 1958-06-11 | 30 | Betty learns what it is like to hit her head repeatedly against a tree, or a shrub. |
Season 5
| Episode No. | No. Overall | Title | Airdate | Runtime | Summary |
| --- | --- | --- | --- | --- | --- |
| 1 | 134 | Vine Covered Cottage | 1958-09-15 | 30 | Betty's forever boyfriend proposes. |
| 2 | 135 | Be Kind to Bud Week | 1958-09-22 | 30 | A poem inspires Betty to be nicer to her brother Bud. |
| 3 | 136 | Kathy's Romance | 1958-09-29 | 30 | Does Kathy's new boyfriend want to be with her or does he really want to be around her father, Jim? |
| 4 | 137 | Voice from the Past | 1958-10-06 | 30 | Bud's ideas for school homecoming dance cause some controversy. |
| 5 | 138 | Frank's Family Tress | 1958-10-13 | 30 | The Anderson family's friend "Fronk" (Frank) is back while on a week's vacation to help the family in many ways. |
| 6 | 139 | Always Plan Ahead | 1958-10-20 | 30 | Jim plans to teach his kids that they must plan ahead, but his good plans go awry. |
| 7 | 140 | Second Wedding | 1958-10-27 | 30 | Betty convinces her parents to enjoy a second wedding, this time in a church. |
| 8 | 141 | Bud, the Caretaker | 1958-11-03 | 30 | Bud takes a job caring for a man's car, home, and bird. Note: The events are narrated by Bud speaking to the viewer. |
| 9 | 142 | Betty, the Pioneer Woman | 1958-11-10 | 30 | A reenactment during Founder's Day celebration tests Betty's determination. She pairs with Tom Wentworth (Dick York). |
| 10 | 143 | Fair Exchange | 1958-11-17 | 30 | The Andersons entertain and learn from a visiting coed college student from India. |
| 11 | 144 | Bud, the Snob | 1958-11-24 | 30 | Re-cut of an earlier episode (season 1 episode 16) not distributed in syndication. The episode has a new intro where Margaret reminds Bud of the story to help him be a better person. This was often done instead of in-season reruns when the cast/crew were on vacation/holiday, in this case, Thanksgiving week 1958. |
| 12 | 145 | Margaret Wins a Car | 1958-12-01 | 30 | Margaret wins a new car in a raffle for a children's home, but the children win the Anderson family's hearts. |
| 13 | 146 | The Great Experiment | 1958-12-08 | 30 | At a Kiwanis meeting, Jim is inspired and motivates the whole family to learn something new and learn to enjoy the process at the same time. |
| 14 | 147 | The Christmas Story | 1958-12-15 | 30 | Re-cut of an earlier episode (season 1 episode 12) not distributed in syndication. The episode has a new intro where the Andersons reminisce about a family experience at Christmas several years ago. This was often done instead of in-season reruns when the cast/crew were on vacation/holiday, in this case, Christmas week 1958. |
| 15 | 148 | The Basketball Coach | 1958-12-22 | 30 | Jim steps in when the basketball team's coach is called away to another city. |
| 16 | 149 | Kathy, Girl Executive | 1958-12-29 | 30 | President of the family's new corporation, Kathy, learns some important lessons. |
| 17 | 150 | The Good Samaritan | 1959-01-05 | 30 | Bud's creative writing teacher assigns task to help a complete stranger and learns a good Samaritan is sometimes not appreciated. |
| 18 | 151 | The Ideal Father | 1959-01-12 | 30 | Charlie the painter tells Jim his kids are ungrateful toward him because they forgot Jim's birthday. |
| 19 | 152 | Big Shot Bud | 1959-01-19 | 30 | With good intentions, Bud temporarily borrows the $10 he collected for needy children. Bad luck reigns, and he fails repeatedly to get cash back to make the donation on time. |
| 20 | 153 | Hard Luck Leo | 1959-01-26 | 30 | Kathy changes her adult second cousin Leonard's (Leo in the title but never used Leo name in episode) view on how others see him, and he turns his life around |
| 21 | 154 | Bud, the Campus Romeo | 1959-02-02 | 30 | Bud turns down an invite to a girls-ask-boys dance and the "mean girls" start an anti-Bud Anderson campaign. |
| 22 | 155 | Crisis Over a Kiss | 1959-02-09 | 30 | Bud protects Betty's honor at Prospect Point, a lover's parking spot, and learns to respect his date's wishes and reputation, too. |
| 23 | 156 | Kathy Grows Up | 1959-02-16 | 30 | Kathy is impatient and wants to be treated as an adult in the Anderson family, but she learns she likes still being a kid, too. |
| 24 | 157 | A Man of Merit | 1959-02-23 | 30 | Jim discovers a secret that he will win a community award, while Margaret is told of the selection and the rest of the family make plans to celebrate. Confusion reigns as the telegram does not arrive as promised at 9:00 PM. |
| 25 | 158 | Betty Makes a Choice | 1959-03-02 | 30 | Betty's college dance class is putting on a musical and Betty must compete against a girl who claims to never practice. |
| 26 | 159 | It's a Small World | 1959-03-09 | 30 | Margaret tries to join Jim in NY city but mishaps keep them from getting together. |
| 27 | 160 | Two Loves Has Bud | 1959-03-16 | 30 | Bud's steady girlfriend Joyce temporarily breaks up with him, and Bud starts dating new girl next door. When Joyce unbreaks up with Bud, he tries to have both as steady girlfriends. When they find out about each other, Bud finds himself in trouble and must decide between the two of them. |
| 28 | 161 | An Extraordinary Woman | 1959-03-23 | 30 | Margaret's collegiate competitor arrives unexpectedly and finds Margaret's hectic family life wonderful. Look for Bud-the-dinosaur to be "bagged" by Margaret in a great scene with Betty. |
| 29 | 162 | The Art of Romance | 1959-03-30 | 30 | Recut of season 3 episode 16 retold by Margaret to Bud and Betty. Episode not in syndicated package |
| 30 | 163 | Formula for Happiness | 1959-04-06 | 30 | Suspense, intrigue, and a bit of mixture of Alfred Hitchcock and Twilight Zone special effects make an award winning episode that will keep you on the edge of your seat. Listen for a familiar voice (Jonathan Harris, Lost in Space, Dr Smith). |
| 31 | 164 | Bud and the Debutante | 1959-04-13 | 30 | Bud Is picked by a wealthy family's daughter for a series of dates that she arranges and covers the expenses and Bud gets to drive her fancy sports car. Bud learns that she is content to go on regular dates that he can afford. |
| 32 | 165 | The Promised Playhouse | 1959-04-20 | 30 | Recut rerun of season 1 episode 17. Bud wants his dad to promise to go to a carnival but Jim says he won't make promises like that and recounts the story of Kathy's playhouse. |
| 33 | 166 | The Meanest Professor | 1959-04-27 | 30 | The high school year book feature editor, Bud is assigned task of writing the books's dedication to Professor Stark. He first writes a comedic version before he interviewed people to write a true dedication letter. |
| 34 | 167 | Live My Own Life | 1959-05-04 | 30 | Recut rerun of season 1 episode 5. Kathy is frustrated and tells her father she wants to leave home. Jim recounts when Bud left home years ago. |
| 35 | 168 | Bud Has a Problem | 1959-05-11 | 30 | Bud blames his physics teacher for his bad grades and written notice of unsatisfactory work. |
| 36 | 169 | The Great Anderson Mystery | 1959-05-18 | 30 | The Anderson family must solve a who-done-it murder mystery when the television goes out during a storm. |
| 37 | 170 | Margaret Goes Dancing | 1959-05-25 | 30 | Betty wants to arrange a romantic midnight boat ride, Margaret recounts the story as a flashback of when she took dance lessons without telling Jim. This is a re-cut rerun of season 1 episode 11 and is generally not in syndication. The networks often did episodes like this when cast/crew were on scheduled vacation times and holiday weeks. |
| 38 | 171 | The Gold Turnip | 1959-06-01 | 30 | Bud's high school graduation ceremony's traditions seem old-fashioned to Bud. |
Season 6
| Episode No. | No. Overall | Title | Airdate | Runtime | Summary |
| --- | --- | --- | --- | --- | --- |
| 1 | 172 | A Day in the Country | 1959-10-05 | 30 | Margaret is disheartened when the family is delayed in reaching a family reunion due to a car breakdown. |
| 2 | 173 | Bud Branches Out | 1959-10-12 | 30 | Bud accidentally attends a french class instead of his trigonometry class on the first day, and develops a crush on the french teacher. |
| 3 | 174 | The Gardener's Big Day | 1959-10-19 | 30 | Fronk (Frank), our favorite gardener is back this time he is selected to represent Springfield to the Governor in a new park dedication. Guest star David White as Mr. Garrett might be recognized as Darrin Stephen's boss Larry Tate from the TV show Bewitched. |
| 4 | 175 | The Imposter | 1959-10-26 | 30 | A new lawyer comes to town and Betty mistakes him for a shop keeper. The lawyer likes Betty and tries to get her to agree to a date. The lawyer is played by a very young actor who later becomes the 'dad' in the Brady Bunch series (Robert Reed). |
| 5 | 176 | Bud Plays It Safe | 1959-11-02 | 30 | Bud shows interest in his football coach's daughter to increase his chance of being picked for the team. |
| 6 | 177 | Bicycle Trip for Two | 1959-11-09 | 30 | Jim and Margaret are cleaning out old things in the attic. Jim convinces Margaret to relive the experience of a bike ride when they were datinjg in high school. Listen for Jim to call her Maggy. |
| 7 | 178 | First Disillusionment | 1959-11-16 | 30 | Bud tries to help Kathy understand that honesty is the best policy by telling (in flashback) the story of when he applied for a newspaper job but was looked over by a boy who lied on his application about his accomplishments and experience. This is a re-cut rerun of season 1 episode 4. The networks commonly did this type of rerun during vacation and holiday weeks. Not normally in syndicated packages. |
| 8 | 179 | Margaret's Old Flame | 1959-11-23 | 30 | Jim and Margaret join in some of the college's homecoming celebration and they both recall old flames. |
| 9 | 180 | Kathy Becomes a Girl | 1959-11-30 | 30 | Kathy decides it is time to be a lady to be noticed by the boys in her class. |
| 10 | 181 | Bud, the Willing Worker | 1959-12-07 | 30 | Bud sets his sights on a job at a fast pace service station. |
| 11 | 182 | Turn the Other Cheek | 1959-12-14 | 30 | Jim tries to teach Kathy how to be ethical. |
| 12 | 183 | Good Joke on Mom | 1959-12-28 | 30 | Margaret fools the family for a little while about the importance of her lady's organization position in building a new children's clinic. |
| 13 | 184 | Betty's Double | 1960-01-04 | 30 | Selected as a look-a-like for a famous starlet, Betty learns that it isn't that wonderful to just look like somebody famous. |
| 14 | 185 | Father, the Naturalist | 1960-01-11 | 30 | This is a recut of season 2 episode 34. Jim tells Kathy she can't help her with her homework as he is too busy with having to do chores around the home. Margaret tells the story in flashback of a time years ago when she needed 5 plants to finish the requirements of earning an award. |
| 15 | 186 | Bud Hides Behind a Skirt | 1960-01-18 | 30 | An out of character story has Bud and Betty driving through town with Bud driving like a mad man or gangster fleeing a bank robbery. When an officer on a motorcycle gives chase Bud jumps out of the car leaving Betty to being blamed for doing the terrible driving and getting 3 citations |
| 16 | 187 | Togetherness | 1960-01-25 | 30 | Professional insurance magazine writer wants to write an article on Jim and his family's togetherness and how that helps Jim's insurance business, but finds that Jim's family is just like all families. |
| 17 | 188 | Second Best | 1960-02-01 | 30 | Tired of finishing second best in her activities, Betty enters a fencing competition. |
| 18 | 189 | Kathy's Big Deception | 1960-02-08 | 30 | It is time for the community picnic and Kathy doesn't yet have a date, but tells her family she does have a date.. Trivia: you will 'hear' the thoughts of Kathy and the boy she wants to be her date while they are in Bud's car. |
| 19 | 190 | Cupid Knows Best | 1960-02-15 | 30 | Our friend Fronk (Frank) is back and wishes to woo a young lady, so he enlists Betty's help in writing letters to her. When the young lady asks for a photo, Frank puts in a snapshot of Jim, and confusion abounds. Trivia: Listen for Jim's thoughts in voiceover outside of the flower shop, the second time thoughts are heard this season. |
| 20 | 191 | The Big Test | 1960-02-22 | 30 | This is a recut of season 2 episode 9. Kathy wants a typewriter and Bud recalls the time he wanted an outboard boat motor and their father made a bargain to buy a boat if Bud would make a good grade on his science test. |
| 21 | 192 | Jim's Big Surprise | 1960-02-29 | 30 | An excited Jim arrives home with promise of news at 4 PM. The family tries to guess the surprise. Trivia: Kathy's swim instructor will later become the mother on the series Happy Days. |
| 22 | 193 | Time to Retire | 1960-03-07 | 30 | The corporate office sends a memo forcing uncle Arthur to retire as he has reached the mandatory retirement age. |
| 23 | 194 | Bud, the Speculator | 1960-03-14 | 30 | Bud learns about the danger of selling penny stocks as he buys 50 shares at $1 each of a new company, Blue Hill Copper Company. Trivia: A rare 4th wall scene shows the fireplace. In the same scene you will see Kathy's shadow as she waits for her cue to come through a curtained door. |
| 24 | 195 | The $500 Letter | 1960-03-21 | 30 | A $500 check arrives mysteriously for 'one' member of the Anderson family who had helped someone some years ago. They compete to convince the others it was for a good deed each had done for someone in the past. |
| 25 | 196 | Adopted Daughter | 1960-03-28 | 30 | This is a recut episode of season 2 episode 36. Kathy accidentally breaks picture frame holding her birth certificate. She asks Bud to help her fix it and they recall the story of when Kathy worried that she might be adopted. |
| 26 | 197 | Family Contest | 1960-04-04 | 30 | Betty is taking professional looking pictures of her family to enter into a Hawaiian trip contest. She offers to make an anniversary picture for their baker's family which may also be used to enter as competition in the same contest. Kathy tries to prevent them from entering as she really wants the trip for the family. Trivia: Television scripts often include the delivery milkman and their bottles in the late 50's, but rarely show a bakery delivery man. Also this is the first time Betty has been shown to be a skilled photographer and photo developer. |
| 27 | 198 | Love and Learn | 1960-04-11 | 30 | Bud needs a tutor but resists until one is a pretty girl he knows. Trivia: you will hear Betty interrupt Jim while he says "Father knows (best)" with "crows" so it is said "Father Crows (best)". |
| 28 | 199 | Blind Date | 1960-04-18 | 30 | Betty is one of three finalists for the senior class Campus Queen. Her snooty friends match her up with what they call a country bumpkin as a blind date and the entire senior class is in on the joke being played on her. Betty begins to get back at them saying "Farewell dear hearts and gentle people" and parades the poor guy around to all the parties and mixers.Quotations: Betty is livid saying "I'll get even with them just you wait!". Quotation: Bud: "Pop went Rudy's little dream and so happily ends another absorbing chapter in the life of Betty Anderson, Girl Avenger". |
| 29 | 200 | Betty's Career Problem | 1960-04-25 | 30 | Betty again must compete for a department store job against her college arch rival. |
| 30 | 201 | Bud Lives It Up | 1960-05-09 | 30 | Another episode with the same rich girl from season 3 episode 4 where Bud signs for hotel extras that spends what in 2016 would be around $2,300 and must come up with a way to pay it or be kicked out of college. |
| 31 | 202 | Not His Type | 1960-05-16 | 30 | Betty's friend Diane is planning to marry George soon after college graduation. George is upset due to Diane's possessiveness and decides he wants to date Betty, and Diane agrees if he chooses Betty (saying she is not his type, the title of the episode). Trivia: This is the last episode of the series that is not a 'recut'. However CBS ran the series in prime time for three more years as it was so popular. |
| 32 | 203 | Betty's Graduation | 1960-05-23 | 30 | This is a recut of season 2 episode 37. Jim discusses a letter from Kathy's school where they report Kathy is not passing her math class. Kathy tells her father that she is not really wanting to graduate from junior high school as it is the happiest time of her life. Jim recalls the story of when Betty didn't want to graduate from high school. |
Series Cast
| | | | |
| --- | --- | --- | --- |
| | Elinor Donahue | as Betty "Princess" Anderson | |
| | Robert Young | as James "Jim" Anderson, Sr. | |
| | Jane Wyatt | as Margaret Anderson | |
| | Billy Gray | as James "Bud" Anderson, Jr | |
| | Lauren Chapin | as Kathy "Kitten" Anderson | |
Series Crew
| | Position | Name |
| --- | --- | --- |
| | Assistant Director | Herb Wallerstein |
| | Assistant Director | Donald L. Gold |
| | Creator | Ed James |
| | Director Of Photography | Frank G. Carson |
| | Director Of Photography | Gert Andersen |
| | Producer | Eugene B. Rodney |
| | Film Editor | Richard Fantl |
| | Film Editor | Aaron Stell |
Related News
TVMaze