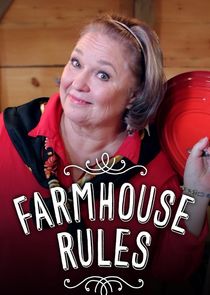 Farmhouse Rules is a lifestyle and cooking show centered on Nancy Fuller's kitchen and the Hudson Valley farming community that supplies it. Nancy is a warm, loving, mother of five and grandmother to 13, and a no-nonsense owner of a multi-million dollar business she runs with her husband. Follow Nancy as she gathers the best the land has to offer and feeds her friends and family classic, farm fresh meals.
Series Overview
Rating
imDb Rating: 5.7 (86 Votes)
Metascore: N/A
Plot
Nancy Fuller prepares recipes made with farm-fresh ingredients.
Details
Rated: N/A
Released: 01 Jan 2013
Runtime: 30 min
Genre: Reality-TV
Director: N/A
Writer: N/A
Actors: Nancy Fuller
Language: English
Country: USA
Awards: N/A
Total Seasons: 7
Previous Episode
Wholesome Harvest
Episode 7x8; Jan 08, 2017
Previous Episodes 7x8: Wholesome Harvest 7x7: Open House Brunch 7x6: Baby, It's Cold Outside 7x5: Fuller Holiday Spectacular 7x4: Canvas and Cocktails 7x3: Gigi's Thanksgiving 7x2: Motorcycle Mama! 7x1: Sweet Times at the Fairgrounds 6x13: A Hudson Summer Party

View All Episodes
Skip to:
Season 1
| Episode No. | No. Overall | Title | Airdate | Runtime | Summary |
| --- | --- | --- | --- | --- | --- |
| 1 | 1 | Fall Feast on the Farm | 2013-11-17 | 30 | |
| 2 | 2 | Square Dance in the Barn | 2013-11-24 | 30 | |
| 3 | 3 | Old-Fashioned Dinner Party | 2013-12-01 | 30 | |
| 4 | 4 | Romance at 2000 Feet | 2013-12-08 | 30 | |
| 5 | 5 | Canning Party (Ladies Who Can) | 2013-12-15 | 30 | |
| 6 | 6 | Weekend with the Grandkids | 2013-12-22 | 30 | |
Season 2
| Episode No. | No. Overall | Title | Airdate | Runtime | Summary |
| --- | --- | --- | --- | --- | --- |
| 1 | 7 | Antique Hunt | 2014-04-19 | 30 | |
| 2 | 8 | Game Night In | 2014-04-26 | 30 | |
| 3 | 9 | Poker Night with Aunt Jean | 2014-05-03 | 30 | |
| 4 | 10 | Early Birds | 2014-05-10 | 30 | |
| 5 | 11 | L.O.L. (Lots of Leftovers) | 2014-05-17 | 30 | |
| 6 | 12 | Operation: Farm Fresh | 2014-05-24 | 30 | |
| 7 | 13 | Grill Marks the Spot | 2014-05-31 | 30 | |
| 8 | 14 | Drive-In Date Night | 2014-06-07 | 30 | |
| 9 | 15 | Fuller Farm Fest | 2014-06-14 | 30 | |
| 10 | 16 | B-I-N-G-O | 2014-06-21 | 30 | |
| 11 | 17 | Fly Fishing | 2014-06-28 | 30 | |
| 12 | 18 | Dance-a-Thon | 2014-07-05 | 30 | |
| 13 | 19 | Bailey's Birthday | 2014-07-12 | 30 | |
Season 3
| Episode No. | No. Overall | Title | Airdate | Runtime | Summary |
| --- | --- | --- | --- | --- | --- |
| 1 | 20 | Aunt Jean is Back in Town | 2014-09-14 | 30 | Nancy's Aunt Jean is back in town, and Nancy is treating her to one of her favorite dishes, Fish and Chips with a Tangy Tartar Sauce and Super Simple Succotash on the side. Nancy also visits a woman who makes handcrafted bitters for the Honey Pear Icebox Trifle With Soft and Easy Ginger Snaps she makes for her aunt. |
| 2 | 21 | School Garden | 2014-09-21 | 30 | Nancy Fuller's daughter Lorinda, a school principal, is in town to help Nancy's local school start a garden, just like Lorinda did in North Carolina. Once the garden is up and running, Nancy invites a few of the kids to see her farm and enjoy a delicious dinner with some of the ingredients they grew. They all enjoy Pasta Primavera with Handmade Linguini, Herb-Buttered Corn on the Cob, Zesty Garden Vegetable Bread Salad and S'mores Chocolate Chip Cookies. |
| 3 | 22 | Farm Girl Meets City Boy | 2014-09-28 | 30 | Nancy Fuller and her husband, David, are back at the country club where they first met, where David is competing in a golf tournament and Nancy is catering. Nancy dishes up Prime Rib Sandwiches with Horseradish Sauce, Sweet Potato Steak Fries, Gopher Bars and a Back Nine Cocktail for all the golfers to enjoy. |
| 4 | 23 | Camp GiGi | 2014-10-05 | 30 | It is time for Nancy's annual "Camp GiGi," where she hosts all 13 of her grandkids for a week of food and fun at the farm. At the end of camp, the whole family enjoys a camp fire and traditional Crab and Shrimp Boil with New Potatoes, as well as Creamed Corn, Banana Pudding with Homemade Vanilla Wafers and Sparkling Apple Cider Punch, before setting off wish lanterns into the sky. |
| 5 | 24 | Bake Fest | 2014-10-12 | 30 | Nancy is hosting a bake sale festival on the farm and is busy with all the preparations. She bakes a batch of her famous Golden Biscuits before picking strawberries at a local farm for her Lattice-Topped Strawberry Rhubarb Pie. Avocado is the added ingredient in her BLTA, and she mixes up flavors with delicious results with her Neapolitan Cupcakes. Nancy serves up Strawberry Lemonade Slushies to wash down all the wonderful treats. |
| 6 | 25 | Adventure on the Hudson | 2014-10-19 | 30 | Nancy and her family are hitting the high seas of the Hudson River, to have a picnic on one of the uninhabited islands of the waterways. They enjoy Grilled Striped Bass with Fire Roasted Onions and Peppers, German Potato Salad and Grilled Banana Pound Cake with Chocolate Sauce. |
| 7 | 26 | Murder Mystery Farmhouse Dinner | 2014-10-26 | 30 | In this Halloween themed episode Nancy is hosting a Murder Mystery Farmhouse Dinner with some friends on Halloween. She makes Garlicky Chicken Parmesan, Green Broccoli Cauldron Soup, Blood Red Velvet Cake and Hemlock Cocktails for the party, which is complete with costumes, characters and a classic whodunit! |
| 8 | 27 | The Fed Baron | 2014-11-02 | 30 | Nancy Fuller whips up a delicious picnic for her family to enjoy at the Rhinebeck Air Show. Nancy and her meal of Waldorf Chicken Salad Sandwiches, Apple and Pear Fruit Salad with Honey-Lime Vinaigrette and Airplane Sugar Cookies with Royal Icing travel in style to the picnic by flying in a friend's bi-plane to her waiting family. |
| 9 | 28 | A Hunting She Will Go | 2014-11-09 | 30 | Nancy Fuller and her friend Jeanne are out skeet shooting, and meet a local who shares some of his duck-hunting catch in exchange for a dinner invite. They all enjoy Duck Cacciatore, Warm and Cheesy Artichoke Dip with Grilled Toasts, Cheesy Mashed Potatoes and Rustic Ginger Plum Tart. |
| 10 | 29 | Farmhouse Thanksgiving | 2014-11-16 | 30 | Nancy Fuller is hosting Thanksgiving dinner for her family. She makes Roasted Turkey with Herb Gravy, Oyster Stuffing, Homemade Green Bean Casserole and Perfect Pumpkin Cakes made with eggs from her daughter-in-law's chicken coop! |
| 11 | 30 | Hudson Valley Bounty | 2014-11-23 | 30 | Every year Nancy Fuller attends a big event run by a local group that strives to promote all the great produce and meats local to the Hudson Valley. This year, Nancy's making a dinner to share with her farming community. She has Pork Pot Roast with Root Vegetables, Sweet Greens with Maple Vinaigrette, Super Easy Dinner Rolls and Cheesy Potatoes Gratin, made with milk and cheese she gets from a local dairy farmer. |
| 12 | 31 | Fabric of a Farm Town | 2014-11-30 | 30 | Nancy Fuller has invited some of her best friends over to begin a community quilt. They enjoy a celebratory farm lunch of Classic Rosemary Lamb Chops, Twice Baked Potatoes, Sauteed Garlic Broccoli Rabe and Black and White Dipped Homemade Shortbread. |
| 13 | 32 | Home for the Holidays | 2014-12-07 | 30 | At Christmas the whole family is home for the holidays this year and Nancy is putting together a feast with everyone's favorites. There's Prime Rib Roast With Red Wine Au Jus, Broccoli and Cauliflower Gratin, Yorkshire Pudding Popovers and Gingerbread With Cranberry Curd. After dinner, Nancy gathers the grandchildren for a reading of a holiday classic and maybe even a visit from Santa himself! |
Season 4
| Episode No. | No. Overall | Title | Airdate | Runtime | Summary |
| --- | --- | --- | --- | --- | --- |
| 1 | 33 | Hoppy and Happy | 2015-02-22 | 30 | |
| 2 | 34 | Bonfire Bonding | 2015-03-01 | 30 | |
| 3 | 35 | A Farmers Family Tree | 2015-03-08 | 30 | |
| 4 | 36 | The Root Cellar | 2015-03-15 | 30 | |
| 5 | 37 | The Bowlerinas | 2015-03-22 | 30 | |
| 6 | 38 | The Auctionista | 2015-03-29 | 30 | |
| 7 | 39 | Bunkin with GiGi | 2015-04-12 | 30 | |
| 8 | 40 | David's Surprise Party | 2015-04-19 | 30 | |
| 9 | 41 | Jam Packed Meal | 2015-04-26 | 30 | |
| 10 | 42 | From Farmhouse to Firehouse | 2015-05-03 | 30 | |
| 11 | 43 | Mother Daughter Dinner Party | 2015-05-10 | 30 | |
| 12 | 44 | Artsy Appetizers | 2015-05-17 | 30 | |
| 13 | 45 | Hudson 500, International Farmway | 2015-05-31 | 30 | |
Season 5
| Episode No. | No. Overall | Title | Airdate | Runtime | Summary |
| --- | --- | --- | --- | --- | --- |
| 1 | 46 | Boxcar Beauties | 2015-08-22 | 30 | |
| 2 | 47 | Treasures in the Attic | 2015-08-29 | 30 | |
| 3 | 48 | The Great Outdoors | 2015-09-05 | 30 | |
| 4 | 49 | Two Ladies on the Farm | 2015-09-12 | 30 | |
| 5 | 50 | Fast Times on the Farm | 2015-09-19 | 30 | |
| 6 | 51 | Book Drive at the Barn | 2015-09-26 | 30 | |
| 7 | 52 | Reunion on the Farm | 2015-10-03 | 30 | |
| 8 | 53 | A Haunting in Hudson | 2015-10-24 | 30 | Ghoulish Halloween treats including cheesy spider dip, bursting intestines, sweet pumpkin mousse, bloodshot buckeyes and Black Death fizzes. |
| 9 | 54 | Alfresco on the Farm | 2015-10-31 | 30 | Nancy Fuller and her husband, David, are having a romantic alfresco dinner, and Nancy's whipping up the very same foods they ate on their first date! For this fresh, farmhouse-style meal, she's making Crispy Fried Lamb Chops with Fresh Mint Jelly, Shrimp Scampi with Bucatini Noodles, Fresh Bean Salad with Creamy Caesar Vinaigrette and Bourbon-Soaked Cherry Bread Pudding with Vanilla Cream Sauce. |
| 10 | 55 | All Aboard the Farmhouse Express | 2015-11-07 | 30 | |
| 11 | 56 | A Nancy Fuller Thanksgiving | 2015-11-14 | 30 | Rolled turkey breast with nutty fruit stuffing; Thanksgiving succotash; mashed potatoes with sour cream and fresh horseradish; pumpkin and apple pie. |
| 12 | 57 | Farmer's Feast | 2015-11-28 | 30 | Devils on the Water; shortrib stew with port and horseradish creme; savory garlic scones with herb cheese spread; hasty pudding with vanilla cinnamon whipped cream; Fancy Farmer's cocktails. |
| 13 | 58 | A Farmer's Family Christmas | 2015-12-05 | 30 | |
Season 6
| Episode No. | No. Overall | Title | Airdate | Runtime | Summary |
| --- | --- | --- | --- | --- | --- |
| 1 | 59 | Spring Kick-Off | 2016-03-20 | 30 | Nancy Fuller is hosting a good old-fashioned spring kick-off for all her local farmer friends! After she gets her Strawberry Jam Roll-Up Cake in the oven, she makes a quick stop at the Hudson Farmer's Market to pick up some items for the rest of dinner: Spring Greens Salad with Traditional Ranch Dressing, Shepherd's Pie with Tater Tot Topping, and Minty Spiked Vanilla Iced Tea. |
| 2 | 60 | Cozy Food and Fun on the Farm | 2016-03-27 | 30 | There's snow on the ground outside, but it's warm and cozy in Nancy Fuller's kitchen! She's inviting her son John and his family over for a hearty dinner of Warm Spinach, Olive and Artichoke Dip, Porky Pot Pie with Cheesy Drop Biscuits, and Butter-Roasted Turnips. After dinner, Nancy surprises everyone by breaking out old home videos to enjoy as they sip Homemade Hot Chocolate with Old-Fashioned Donut Sticks for dunking. |
| 3 | 61 | Teaching Little Men to Cook 101 | 2016-04-03 | 30 | Nancy Fuller is teaching her grandson, Miles, and a few of his friends how to cook! They're itchin' to get in the kitchen, so she shows them the way as they cook Foolproof Chicken Parmesan, Spaghetti and Meatballs, and Sauteed Green Beans with Creamy Lemon Dressing. For dessert, she teaches them to make Peanut Butter Bars with Salted Chocolate Ganache and Chocolate, Peanut Butter and Raspberry Milkshakes. |
| 4 | 62 | The Linen and Lace Tea Party | 2016-04-10 | 30 | Nancy Fuller is hosting a tea party for her granddaughters, full of hats, gloves and tasty treats: Salmon Wellingtons, Broccoli Salad with Goat Cheese, and Individual Pistachio Bundt Cakes with Lemon Curd Filling. Her friend, Food Network's Lorraine Pascale, joins in the fun by making Bacon Cheddar Straws, then shares her tea expertise as they head to the local tea shop to make their own Special Tea Party-Inspired Brew. |
| 5 | 63 | Here's to Another 250 Years! | 2016-04-17 | 30 | Nancy Fuller's farmhouse is turning 250, so she's inviting her closest friends and family to celebrate and giving a tour of all the home's aged glory. To toast to another 250 years, she makes a Sparkling Stone Fence Cocktail and serves Beans and Greens Bruschetta with Broiled Goat Cheese, Bacon-Wrapped Pork Roast with Potatoes and Onions, Warm Kohlrabi Salad, and Orange Ombre Birthday Cake with Chocolate Frosting. |
| 6 | 64 | If Leftovers Are Wrong, I Don't Want to Be Right | 2016-04-24 | 30 | Nancy Fuller is home alone and making the most of what's in her fridge. She's whipping up a quick, easy and delicious meal made from leftovers, including a Kitchen Sink Frittata, Leftover Meatloaf Soup, the Ultimate Brownie Bread Pudding with Coconut Chunks, Overnight Cantaloupe Oats, and to drink, a Sweet Vodka Sipper! |
| 7 | 65 | Farmer's Fiesta | 2016-05-01 | 30 | Nancy Fuller's daughter and grandkids are in town, so she's throwing a farmer's fiesta and making a Cuban-inspired menu in honor of her son-in-law! On the fiery menu are Arroz Con Pollo, Sweet and Spicy Baked Plantains Chips, Kicked-Up Cuban Salad, Cheese Flan, and Spicy Zucchini Mojitos. |
| 8 | 66 | Celebrating Mothers | 2016-05-08 | 30 | Nancy Fuller is celebrating Mother's Day with three of her beautiful daughters who are now mothers themselves! They chit-chat in the kitchen, reliving the days when Nancy was their age and telling new mothers' stories, while they give a hand making Veal Scallopini with Mushroom Marsala Sauce, Sauteed Spinach with Garlic and Thyme, Blueberry Cobbler a la Mode, and a Mother's Day Spritz to sip! |
| 9 | 67 | Potluck Party | 2016-05-21 | 30 | |
| 10 | 68 | BBQ, Baseball and Big Appetites | 2016-05-28 | 30 | |
| 11 | 69 | Breakfast for Dinner | 2016-06-04 | 30 | |
| 12 | 70 | Putt Putt with the Papas | 2016-06-18 | 30 | |
| 13 | 71 | A Hudson Summer Party | 2016-07-02 | 30 | Nancy Fuller is hosting a summer party at the local Hudson music joint for all her friends. Her favorite band is playing and she's bringing all the food: Corn Dog Bites with Strong Yellow Mustard, a Summer Shrimp Boil, Fresh Pasta Salad with Basil Vinaigrette, Butterscotch and Chocolate-Dipped Frozen Bananas with Candied Nuts and Sprinkles, and to drink, Boozy Bloody Mary Beer! |
Season 7
| Episode No. | No. Overall | Title | Airdate | Runtime | Summary |
| --- | --- | --- | --- | --- | --- |
| 1 | 72 | Sweet Times at the Fairgrounds | 2016-10-30 | 30 | |
| 2 | 73 | Motorcycle Mama! | 2016-11-06 | 30 | |
| 3 | 74 | Gigi's Thanksgiving | 2016-11-13 | 30 | |
| 4 | 75 | Canvas and Cocktails | 2016-11-27 | 30 | Nancy Fuller trades drinks in return for a painting lesson during her friend's canvas and cocktails class; lemon and oregano chicken; orzo pilaf salad; winter citrus tart with shortbread almond crust; Moscow Mule cocktails. |
| 5 | 76 | Fuller Holiday Spectacular | 2016-12-04 | 30 | Nancy Fuller hosts a holiday party; crab cakes with zesty herb tartar; marinated beef tenderloin skewers with horseradish cream; ultimate cheese fondue dip station; Grammy Carl's popcorn balls; Nancy enjoys a champagne tower. |
| 6 | 77 | Baby, It's Cold Outside | 2016-12-11 | 30 | Nancy Fuller and her husband, David, spend the day snuggled up inside with comforting classics; penne with meaty ragu; three cheese and herb garlic bread; lemon ricotta cookies; an old fashioned with rye; David presents Nancy with a surprise. |
| 7 | 78 | Open House Brunch | 2017-01-01 | 30 | |
| 8 | 79 | Wholesome Harvest | 2017-01-08 | 30 | |
Series Cast
| | | | |
| --- | --- | --- | --- |
| | Nancy Fuller | as Host | |
Related News
TVMaze