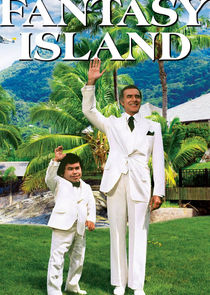 Smiles everyone, Smiles! So began this long-running (7 season) series which was one of the ABC Network's anthology/guest-cast series (along with The Love Boat) that proved wildly popular. Each week two guests came to Fantasy Island to get their wish/fantasy fulfilled. Their mysterious host, the debonair and suave white-suited Mr. Roarke, would do the sometimes impossible and grant them their wishes...but there was always some twist to the fantasy, letting the guest learn something about themselves or get something they weren't expecting. Best remembered for the presence of Herve Villechaize as the diminutive "Tattoo" and his cry of "De plane! De plane!" the show proved popular enough to go the distance and then spawn a brief revival/remake in the 1990s. A remake, Fantasy Island (1998) in the late 1990s was not as successful as its predecessor.
Series Overview
Rating
imDb Rating: 6.5 (6,030 Votes)
Metascore: N/A
Plot
Accounts of visitors to a unique resort island in the Pacific Ocean that can fulfill literally any fantasy requested, but rarely turn out as expected.
Details
Rated: TV-G
Released: 14 Jan 1977
Runtime: 60 min
Genre: Adventure, Comedy, Drama, Fantasy
Director: N/A
Writer: Gene Levitt
Actors: Ricardo Montalban, Hervé Villechaize
Language: English
Country: USA
Awards: Nominated for 1 Golden Globe. Another 9 nominations.
Total Seasons: 7
Previous Episode
Surrogate Mother / The Ideal Woman
Episode 7x22; May 19, 1984
Previous Episodes 7x22: Surrogate Mother / The Ideal Woman 7x21: Bojangles and the Dancer / Deuces Are Wild 7x20: Don Juan's Last Affair / The Final Adieu 7x19: Lost and Found / Dick Turpin's Last Ride 7x18: The Mermaid and the Matchmaker / The Obsolete Man 7x17: Awakening of Love / The Impostor 7x16: Baby on Demand / The Last Dogfight 7x15: Dark Secret / The Outrageous Mr. Smith 7x14: Lady of the House / Mrs. Brandell's Favorites

View All Episodes
Cast
Ricardo Montalban as Mr. Roake
Hervé Villechaize as Tattoo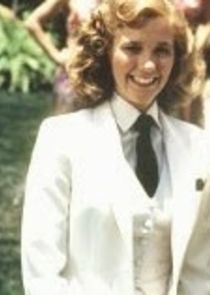 Wendy Schaal as Julie
Christopher Hewett as Lawrence
View Full Cast
Skip to:
Season 1
| Episode No. | No. Overall | Title | Airdate | Runtime | Summary |
| --- | --- | --- | --- | --- | --- |
| 1 | 1 | Fantasy Island (Pilot) | 1977-01-14 | 120 | Mr. Roarke and his assistant Tattoo greet a former reporter in World War II who wants to relive a brief romance that took place in London 30 years ago, a big-game hunter who for once wants to be the hunted and a wealthy businesswoman who wants to be a secret and silent observer at her own funeral. |
| 2 | 2 | Return to Fantasy Island | 1978-01-20 | 120 | Once again, be careful what you wish for! This is the motto as three new couples venture to Fantasy Island. The first couple want to meet the daughter they gave up for adoption 12 years ago, only to be confronted with three possibilities. In the second story, an business woman visits the island under false pretense thinking she is there for a business meeting, only to be stranded with one of her employees who confesses his undying love for her. In the final story, a young wife is suffering from amnesia caused by a mysterious incident that occurred four years ago. |
| 3 | 3 | Escape / Cinderella Girls | 1978-01-28 | 60 | |
| 4 | 4 | Bet a Million / Mr. Irresistible | 1978-02-04 | 60 | |
| 5 | 5 | The Prince / The Sheriff | 1978-02-11 | 60 | One of the last princes yearns to experience the life of a common person; A New York policeman becomes an old west lawnan and learns a lesson. |
| 6 | 6 | Family Reunion / Voodoo | 1978-02-18 | 60 | A brother and sister want to reunite their parents; A estate executor tries to discover if a young woman with amnesia is the heiress to a 30 million dollar estate. |
| 7 | 7 | Lady of the Evening / The Racer | 1978-02-25 | 60 | |
| 8 | 8 | Treasure Hunt / Beauty Contest | 1978-03-11 | 60 | |
| 9 | 9 | The Funny Girl / Butch and Sundance | 1978-03-18 | 60 | |
| 10 | 10 | Superstar / Salem | 1978-03-25 | 60 | |
| 11 | 11 | Trouble, My Lovely / The Common Man | 1978-04-01 | 60 | |
| 12 | 12 | The Over the Hill Caper / Poof! You're a Movie Star | 1978-04-15 | 60 | |
| 13 | 13 | Reunion / Anniversary | 1978-04-29 | 60 | |
| 14 | 14 | King for a Day / Instant Family | 1978-05-06 | 60 | |
| 15 | 15 | Fool for a Client / Double Your Pleasure | 1978-05-15 | 60 | |
| 16 | 16 | Call Me Lucky / Torch Song | 1978-05-20 | 60 | |
Season 2
| Episode No. | No. Overall | Title | Airdate | Runtime | Summary |
| --- | --- | --- | --- | --- | --- |
| 1 | 17 | The Homecoming / The Sheikh | 1978-09-16 | 60 | |
| 2 | 18 | The Big Dipper / The Pirate | 1978-09-23 | 60 | |
| 3 | 19 | The Beachcomber / The Last Whodunit | 1978-09-30 | 60 | |
| 4 | 20 | Best Seller / The Tomb | 1978-10-14 | 60 | |
| 5 | 21 | I Want to Get Married / The Jewel Thief | 1978-10-21 | 60 | |
| 6 | 22 | War Games / Queen of the Boston Bruisers | 1978-10-28 | 60 | |
| 7 | 23 | Let the Goodtimes Roll / Nightmare / The Tiger | 1978-11-04 | 60 | |
| 8 | 24 | Return / The Toughest Man Alive | 1978-11-11 | 60 | |
| 9 | 25 | The Appointment / Mr. Tattoo | 1978-11-18 | 60 | |
| 10 | 26 | The Flight of the Great Yellow Bird / The Island of Lost Women | 1978-11-25 | 60 | |
| 11 | 27 | Carnival / The Vaudevillians | 1978-12-02 | 60 | |
| 12 | 28 | Charlie's Cherubs / Stalag 3 | 1978-12-09 | 60 | |
| 13 | 29 | The Lady and the Longhorn / Vampire | 1978-12-16 | 60 | |
| 14 | 30 | Seance / The Treasure | 1979-01-13 | 60 | |
| 15 | 31 | Cowboy / Substitute Wife | 1979-01-20 | 60 | |
| 16 | 32 | Photographs / Royal Flush | 1979-01-27 | 60 | |
| 17 | 33 | The Stripper / The Boxer | 1979-02-10 | 60 | |
| 18 | 34 | Pentagram / A Little Ball / Casting Director | 1979-02-17 | 60 | |
| 19 | 35 | Spending Spree / The Hunted | 1979-02-24 | 60 | |
| 20 | 36 | Birthday Party / Ghostbreaker | 1979-03-03 | 60 | |
| 21 | 37 | Yesterday's Love / Fountain of Youth | 1979-03-17 | 60 | |
| 22 | 38 | The Comic / The Golden Hour | 1979-05-05 | 60 | |
| 23 | 39 | Cornelius and Alfonse / The Choice | 1979-05-06 | 60 | |
| 24 | 40 | Bowling / Command Performance | 1979-05-12 | 60 | |
| 25 | 41 | Amusement Park / Rock Stars | 1979-05-13 | 60 | |
Season 3
| Episode No. | No. Overall | Title | Airdate | Runtime | Summary |
| --- | --- | --- | --- | --- | --- |
| 1 | 42 | Hit Man / The Swimmer | 1979-09-07 | 60 | Mr. Roarke plays gracious host to a tragically handicapped girl who dreams of finding a cure for her paralysis. A bankrupt man changes his mind after planning his demise to ensure financial security for his family. With Kaye Ballard, David Doyle, Gail Fisher, Peter Graves, Eddie Mekka. |
| 2 | 43 | Goose for the Gander / The Stuntman | 1979-09-14 | 60 | |
| 3 | 44 | Tattoo: the Love God / Magnolia Blossoms | 1979-09-21 | 60 | |
| 4 | 45 | Baby / Marathon: Battle of the Sexes | 1979-10-05 | 60 | |
| 5 | 46 | The Chain Gang / The Boss | 1979-10-20 | 60 | |
| 6 | 47 | The Red Baron / Young at Heart | 1979-10-27 | 60 | |
| 7 | 48 | The Wedding | 1979-11-03 | 60 | |
| 8 | 49 | The Handy Man / Tattoo's Romance | 1979-11-10 | 60 | |
| 9 | 50 | The Dancer / Nobody's There | 1979-11-17 | 60 | |
| 10 | 51 | Class of '69 / The Pug | 1979-11-24 | 60 | |
| 11 | 52 | The Mermaid / The Victim | 1979-12-01 | 60 | |
| 12 | 53 | The Cheerleaders / Marooned | 1979-12-08 | 60 | |
| 13 | 54 | The Inventor / On the Other Side | 1979-12-15 | 60 | |
| 14 | 55 | Look-Alikes / The Winemaker | 1979-12-22 | 60 | |
| 15 | 56 | Unholy Wedlock / Elizabeth | 1980-01-12 | 60 | |
| 16 | 57 | Rogues and Riches / Stark Terror | 1980-01-19 | 60 | |
| 17 | 58 | Playgirl / Smith's Valhalla | 1980-01-26 | 60 | |
| 18 | 59 | Aphrodite / Dr. Jekyll and Miss Hyde | 1980-02-02 | 60 | |
| 19 | 60 | The Swinger / Terrors of the Mind | 1980-02-09 | 60 | |
| 20 | 61 | Nona / One Million B.C. | 1980-03-01 | 60 | |
| 21 | 62 | Jungle Man / Mary Ann and Miss Sophisticate | 1980-03-08 | 60 | |
| 22 | 63 | My Fair Pharaoh / The Power | 1980-05-10 | 60 | |
| 23 | 64 | Eagleman / Children of Mentu | 1980-05-17 | 60 | |
Season 4
| Episode No. | No. Overall | Title | Airdate | Runtime | Summary |
| --- | --- | --- | --- | --- | --- |
| 1 | 65 | The Devil and Mandy Breem / The Millionaire | 1980-10-25 | 60 | |
| 2 | 66 | Flying Aces / The Mermaid Returns | 1980-11-01 | 60 | |
| 3 | 67 | The Skater's Edge / Concerto of Death / The Last Great Race | 1980-11-08 | 60 | |
| 4 | 68 | Don Quixote / The Sex Symbol | 1980-11-15 | 60 | |
| 5 | 69 | The Love Doctor / The Pleasure Palace / Possessed | 1980-11-22 | 60 | |
| 6 | 70 | With Affection, Jack the Ripper / Gigolo | 1980-11-29 | 60 | |
| 7 | 71 | The Invisible Woman / The Snow Bird | 1980-12-06 | 60 | |
| 8 | 72 | Crescendo / Three Feathers | 1980-12-20 | 60 | |
| 9 | 73 | My Late Lover / Sanctuary | 1981-01-03 | 60 | |
| 10 | 74 | High Off the Hog / Reprisal | 1981-01-10 | 60 | |
| 11 | 75 | Elizabeth's Baby / The Artist and the Lady | 1981-01-17 | 60 | |
| 12 | 76 | The Heroine / The Warrior | 1981-01-24 | 60 | |
| 13 | 77 | The Man from Yesterday / World's Most Desirable Woman | 1981-01-31 | 60 | |
| 14 | 78 | The Chateau / White Lightning | 1981-02-07 | 60 | |
| 15 | 79 | Loving Strangers / Something Borrowed, Something Blue | 1981-02-14 | 60 | |
| 16 | 80 | Chorus Girl / Surrogate Father | 1981-02-21 | 60 | |
| 17 | 81 | Also Rans / Portrait of Solange | 1981-02-28 | 60 | |
| 18 | 82 | The Searcher / The Way We Weren't | 1981-03-07 | 60 | |
| 19 | 83 | The Proxy Billionaire / The Experiment | 1981-03-21 | 60 | A broker wants to hold on to some of the millions he handles; Doctor wants to revive the dead. |
| 20 | 84 | Delphine / The Unkillable | 1981-04-11 | 60 | |
| 21 | 85 | Basin Street / The Devil's Triangle | 1981-05-02 | 60 | A would be musician visits New Orleans in it's ragtime heyday; A film crew wants to solve the mystery of the Bermuda Triangle. |
| 22 | 86 | Hard Knocks / Lady Godiva | 1981-05-09 | 60 | |
| 23 | 87 | Man-Beast / Ole Island Oprey | 1981-05-16 | 60 | |
| 24 | 88 | Paquito's Birthday / Technical Advisor | 1981-05-23 | 60 | |
Season 5
| Episode No. | No. Overall | Title | Airdate | Runtime | Summary |
| --- | --- | --- | --- | --- | --- |
| 1 | 89 | Show Me a Hero / Slam Dunk | 1981-10-10 | 60 | |
| 2 | 90 | The Devil and Mr. Roarke / Ziegfeld Girls / Kid Corey Rides Again | 1981-10-17 | 60 | |
| 3 | 91 | Cyrano / The Magician | 1981-10-24 | 60 | |
| 4 | 92 | The Last Cowboy / The Lady and the Monster | 1981-10-31 | 60 | |
| 5 | 93 | Mr. Nobody / La Liberatora | 1981-11-07 | 60 | |
| 6 | 94 | Druids / A Night in the Harem | 1981-11-14 | 60 | |
| 7 | 95 | The Perfect Husband / Volcano | 1981-11-21 | 60 | |
| 8 | 96 | Lillian Russell / The Lagoon | 1981-11-28 | 60 | |
| 9 | 97 | Romance Times Three / Night of the Tormented Soul | 1981-12-05 | 60 | |
| 10 | 98 | A Very Strange Affair / The Sailor | 1982-01-02 | 60 | |
| 11 | 99 | House of Dolls / Wuthering Heights | 1982-01-09 | 60 | |
| 12 | 100 | The Magic Camera / Mata Hari / Valerie | 1982-01-16 | 60 | |
| 13 | 101 | King Arthur in Mr. Roarke's Court / Shadow Games | 1982-01-23 | 60 | |
| 14 | 102 | Daddy's Little Girl / The Whistle | 1982-01-30 | 60 | |
| 15 | 103 | The Case Against Mr. Roarke / Save Sherlock Holmes | 1982-02-06 | 60 | |
| 16 | 104 | The Challenge / A Genie Named Joe | 1982-02-13 | 60 | |
| 17 | 105 | Funny Man / Tattoo, the Matchmaker | 1982-02-20 | 60 | |
| 18 | 106 | Sitting Duck / Sweet Suzi Swann | 1982-03-06 | 60 | |
| 19 | 107 | Face of Love / Image of Celeste | 1982-03-20 | 60 | |
| 20 | 108 | Forget-Me-Not / The Quiz Masters | 1982-04-10 | 60 | |
| 21 | 109 | The Big Bet / Nancy and the Thunderbirds | 1982-05-01 | 60 | |
| 22 | 110 | The Ghost's Story / The Spoilers | 1982-05-08 | 60 | |
Season 6
| Episode No. | No. Overall | Title | Airdate | Runtime | Summary |
| --- | --- | --- | --- | --- | --- |
| 1 | 111 | The Curse of the Moreaus / My Man Friday | 1982-10-16 | 60 | |
| 2 | 112 | Dancing Lady / The Final Round | 1982-10-23 | 60 | |
| 3 | 113 | The Perfect Gentleman / Legend | 1982-10-30 | 60 | |
| 4 | 114 | The Angel's Triangle / Natchez Bound | 1982-11-06 | 60 | |
| 5 | 115 | Everybody Goes to Gilley's / Face of Fire | 1982-11-20 | 60 | |
| 6 | 116 | The Beautiful Skeptic / The Lost Platoon | 1982-11-27 | 60 | |
| 7 | 117 | Roller Derby Dolls / Thanks a Million | 1982-12-04 | 60 | |
| 8 | 118 | The Kleptomaniac / Thank God, I'm a Country Girl | 1982-12-11 | 60 | |
| 9 | 119 | Naughty Marietta / The Winning Ticket | 1983-01-08 | 60 | |
| 10 | 120 | Operation Breakout / Candy Kisses | 1983-01-15 | 60 | A daring man (Ben Murphy) wanting to give his life some meaning risks it to rescue a captive (Richard Jaeckel) from a prison; and a teenager (Jill Whelan) competes against a wheelchair-bound woman (Ann Turkel) in a horse race. |
| 11 | 121 | The Songwriter / Queen of the Soaps | 1983-01-22 | 60 | |
| 12 | 122 | The Tallowed Image / Room and Bard | 1983-01-29 | 60 | |
| 13 | 123 | Midnight Waltz / Let Them Eat Cake | 1983-02-12 | 60 | |
| 14 | 124 | Revenge of the Forgotten / Charo | 1983-02-19 | 60 | |
| 15 | 125 | Return to the Cotton Club / No Friends Like Old Friends | 1983-02-26 | 60 | |
| 16 | 126 | Eternal Flame / A Date with Burt | 1983-03-05 | 60 | |
| 17 | 127 | King of Burlesque / Death Games | 1983-03-12 | 60 | |
| 18 | 128 | The Devil Stick / Touch and Go | 1983-03-19 | 60 | |
| 19 | 129 | Edward / The Extraordinary Miss Jones | 1983-04-09 | 60 | |
| 20 | 130 | What's the Matter with Kids? / Island of Horrors | 1983-04-16 | 60 | |
| 21 | 131 | Love Island / The Sisters | 1983-05-07 | 60 | |
| 22 | 132 | Remember. . .When? | 1983-05-14 | 60 | |
Season 7
| Episode No. | No. Overall | Title | Airdate | Runtime | Summary |
| --- | --- | --- | --- | --- | --- |
| 1 | 133 | Forbidden Love / The Other Man - Mr. Roarke | 1983-10-08 | 60 | |
| 2 | 134 | The Big Switch / Hooker's Holiday | 1983-10-15 | 60 | |
| 3 | 135 | Nurses Night Out | 1983-10-22 | 60 | |
| 4 | 136 | God Child / Curtain Call | 1983-10-29 | 60 | |
| 5 | 137 | Roarke's Sacrifice / The Butler's Affair | 1983-11-12 | 60 | |
| 6 | 138 | Three's a Crowd / Second Time Around | 1983-11-19 | 60 | |
| 7 | 139 | The Wedding Picture / Castaways | 1983-11-26 | 60 | |
| 8 | 140 | Random Choices / My Mother, the Swinger | 1983-12-03 | 60 | |
| 9 | 141 | The Fantasy Island Girl / Saturday's Child | 1983-12-10 | 60 | |
| 10 | 142 | Goin' Home / Ambitious Lady | 1984-01-07 | 60 | |
| 11 | 143 | Games People Play / The Sweet Life | 1984-01-14 | 60 | |
| 12 | 144 | The High Cost of Living / To Fly with Eagles | 1984-01-21 | 60 | |
| 13 | 145 | Ladies Choice / Skin Deep | 1984-01-28 | 60 | |
| 14 | 146 | Lady of the House / Mrs. Brandell's Favorites | 1984-02-25 | 60 | |
| 15 | 147 | Dark Secret / The Outrageous Mr. Smith | 1984-03-03 | 60 | |
| 16 | 148 | Baby on Demand / The Last Dogfight | 1984-03-10 | 60 | |
| 17 | 149 | Awakening of Love / The Impostor | 1984-03-17 | 60 | |
| 18 | 150 | The Mermaid and the Matchmaker / The Obsolete Man | 1984-03-24 | 60 | |
| 19 | 151 | Lost and Found / Dick Turpin's Last Ride | 1984-04-07 | 60 | |
| 20 | 152 | Don Juan's Last Affair / The Final Adieu | 1984-04-14 | 60 | |
| 21 | 153 | Bojangles and the Dancer / Deuces Are Wild | 1984-05-12 | 60 | |
| 22 | 154 | Surrogate Mother / The Ideal Woman | 1984-05-19 | 60 | |
Series Cast
| | | | |
| --- | --- | --- | --- |
| | Ricardo Montalban | as Mr. Roake | |
| | Hervé Villechaize | as Tattoo | |
| | Wendy Schaal | as Julie | |
| | Christopher Hewett | as Lawrence | |
Series Crew
| | Position | Name |
| --- | --- | --- |
| | Creator | Gene Levitt |
Related News