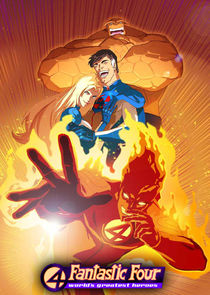 The Fantastic Four return yet again in a new cartoon series. As before, exposure to cosmic rays turn four normal people into super-powered heroes. Reed Richards, scientist extraordinaire, becomes the stretchable Mr. Fantastic. Susan Storm becomes Invisible Woman, Johnny Storm transforms into the Human Torch, and Ben Grimm becomes the Thing.
Series Overview
Rating
imDb Rating: 6.8 (1,921 Votes)
Metascore: N/A
Plot
The adventures of the Marvel Universe's premiere superhero family.
Details
Rated: N/A
Released: N/A
Runtime: 30 min
Genre: Animation, Action, Family, Sci-Fi
Director: N/A
Writer: N/A
Actors: Hiro Kanagawa, Lara Gilchrist, Christopher Jacot, Brian Dobson
Language: English
Country: USA
Awards: N/A
Total Seasons: 1
Previous Episode
Scavenger Hunt
Episode 1x26; Oct 20, 2007
Terminus, an alien scavenger, comes to steal all of Earth's resources. While the Fantastic Four try to stop him, they realize he may be unbeatable.
Previous Episodes 1x26: Scavenger Hunt 1x25: Doom's Word Is Law 1x24: Contest of Champions 1x23: Johnny Storm and the Potion of Fire 1x22: Shell Games 1x21: Atlantis Attacks 1x20: Out of Time 1x19: Frightful 1x18: The Cure

View All Episodes
Cast
Hiro Kanagawa as Reed Richards / Mr. Fantastic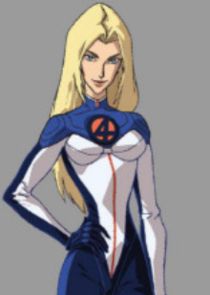 Lara Gilchrist as Sue Storm / Invisible Woman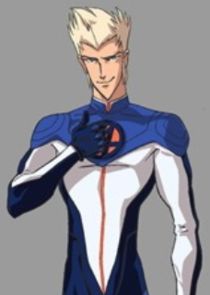 Christopher Jacot as Johnny Storm / The Human Torch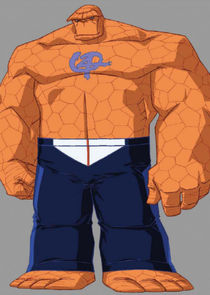 Brian Dobson as Ben Grimm / The Thing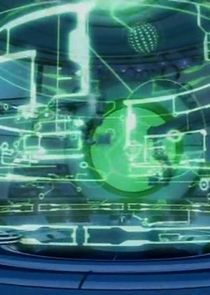 Sam Vincent as H.E.R.B.I.E.
View Full Cast
Skip to:
Season 1
| Episode No. | No. Overall | Title | Airdate | Runtime | Summary |
| --- | --- | --- | --- | --- | --- |
| 1 | 1 | Trial by Fire | 2006-09-02 | 30 | After destroying a robot, Johnny inexplicably disappears. He finds himself in a stadium filled with aliens, where he has been put on trial for crimes against the Kree empire, with Ronan the Accuser acting as judge. Meanwhile, Ben attempts to entertain the guests at a charity event. Reed is summoned to act as Johnny's lawyer, while Ben and Sue are summoned as witnesses. Unfortunately Ben and Sue's testimonies fail to help Johnny's case. Johnny is sentenced to immediate execution by robotic creatures. Ben, Sue, and Reed fight the robot executioners, one of which is accidentally thrown into the crowd. Johnny protects a Kree child in the audience from the errant robot, which inspires the crowd to demand Johnny be exonerated and released. Feeling humiliated at having to appease the crowd, Ronan releases Johnny. The Kree return to their home world, whereupon Ronan is banished from the Kree empire, while the Supreme Intelligence notes that the Fantastic Four may be useful against the Skrull. |
| 2 | 2 | Doomed | 2006-09-09 | 30 | The four return from extinguishing a fire that Johnny started, with Ben and Sue upset with him. Johnny apologizes, saying that he'll do anything to make it up to them. Doctor Doom switches bodies with Reed by injecting him with something. With Reed stuck in Doom's body, he slowly escapes the confines of Doom's lair. The next day, Johnny wakes up and finds a camera crew in his room. Sue explains that, as payback for yesterday, Johnny must be followed around by 'A Day in the Life' so viewers can find out what a day in the life of the Fantastic Four is like. When Doom, as Reed, tells Sue to cancel his lectures, the three figure out something's up. Reed, as Doom, shows up at the Baxter Building and is greeted by the four. Believing him to be Doom, they trap him. Reed eventually convinces Sue to trust him and together they stop Doom from turning the Baxter Building into a weapon while also switching their bodies back. |
| 3 | 3 | Doomsday | 2006-09-16 | 30 | Reed is accused of intentionally exposing the FF to the cosmic rays that gave them their powers. It turns out to be a plot by Dr. Doom, and Ben forgives Reed after they save the world from Doom's plan of opening a dimensional portal where monsters will go around New York and destroy all human life. |
| 4 | 4 | Hard Knocks | 2006-09-23 | 30 | Bruce Banner visits Reed at the Baxter Building. Banner changes into the Hulk and now the FF must stop his rampage in NYC and keep him from being captured by Agent Pratt who wants to use the Hulk for his own agenda. In the end, Pratt fails to stop Hulk and the Hulk is loose in the badlands. Otherwise, the Fantastic Four have saved the day again. |
| 5 | 5 | My Neighbor Was a Skrull | 2006-09-30 | 30 | Skrulls impersonate the FF's neighbors in order to collect tissue samples from the FF. In the end, Skrull commander Kl'rt tells Ronan the Accuser all samples have been collected for him to begin making the greatest warrior the universe has ever known. |
| 6 | 6 | World's Tiniest Heroes | 2006-10-21 | 30 | One of Reed's microverse experiments causes the Fantastic Four to shrink putting them at risk when H.E.R.B.I.E. mistakes them for vermin and tries to exterminate them. The Fantastic Four are assisted by Ant-Man when it comes to getting to the lab and their lives are saved when they get to the lab with Ant-Man's help. |
| 7 | 7 | Zoned Out | 2006-10-28 | 30 | Things take a turn for the worse when Johnny gives his friend Frankie an unauthorized tour of Reed's lab. When Frankie is sucked into another dimension, Johnny goes in after her to prevent anyone from finding out. But as he does so, a small bug comes through the dimensional portal. Susan, Ben, and Reed now have to deal with the bug as it multiplies and slowly destroys the Baxter Building, while Frankie and Johnny are trapped in the other dimension and look like they will be killed by worse versions of the bugs. In the end, Johnny and Frankie get back to Earth and the bugs are all put back to where they belong – except for one who remains in an old lady's fridge. |
| 8 | 8 | Imperius Rex | 2007-06-16 | 30 | Namor the Sub-Mariner arrives with a decree banning humankind from the oceans. Susan and Johnny go underwater to negotiate, but are taken prisoner in Atlantis. Ben and Reed must fight their way through sea monsters, Atlantean soldiers, and Namor to save their teammates. |
| 9 | 9 | Puppet Master | 2007-06-23 | 30 | Alicia's stepfather acquires a supply of clay irradiated from a fallen piece of Reed's ill-fated space station that allows him to control others as the Puppet Master. |
| 10 | 10 | Impossible | 2007-06-30 | 30 | The Impossible Man is brought to Earth by one of Reed's space probes and immediately starts causing trouble for everyone. In the end, the Fantastic Four convince Impossible Man that Earth isn't as fun as he is. |
| 11 | 11 | Bait and Switch | 2007-07-07 | 30 | Doctor Doom hijacks one of Reed's experiments aimed at restoring Ben Grimm to human form and causes the FF to swap powers with one another. |
| 12 | 12 | Annihilation | 2007-07-14 | 30 | The Fantastic Four are brought to the Negative Zone where they come face to face with Annihilus. As if that wasn't bad enough, Dr. Doom arrives stealing Annihilus' power source and threatening Earth. |
| 13 | 13 | De-Mole-Ition | 2007-07-21 | 30 | The Mole Man attacks the Baxter Building in hopes of luring the FF to his underground lair. |
| 14 | 14 | Revenge of the Skrulls | 2007-07-28 | 30 | Ronan the Accuser gives a Skrull the powers of the Fantastic Four, who then uses them to defeat the super-powered team. |
| 15 | 15 | Molehatten | 2007-08-04 | 30 | After kidnapping Ben, Mole Man attempts to get the Thing to join forces with him to create an underground paradise where appearances don't matter. |
| 16 | 16 | Strings | 2007-08-11 | 30 | The Puppet Master gets the city to turn on the Fantastic Four by controlling its public officials. Evicted from their home, accounts frozen, property seized, the Four must clear their good names and stop the Puppet Master from taking over the minds of everyone on Earth. |
| 17 | 17 | Doomsday Plus One | 2007-08-18 | 30 | Doombots invade the Baxter Building in the middle of the night, but their attack is just a distraction for Doom to launch the Baxter Building into space. |
| 18 | 18 | The Cure | 2007-08-25 | 30 | Reed finally cures the Thing, but the cure also takes away all of his memories since the formation of the Fantastic Four. When the Mole Man attacks, She-Hulk must fill in for the Thing while the powerless Ben Grimm must find a way to save the day. |
| 19 | 19 | Frightful | 2007-09-01 | 30 | The Wizard, Klaw, Trapster, and Dragon Man are the new team in town saving New York always one step ahead of the Fantastic Four. Reed begins to suspects that these Frightful Four are not the heroes they appear to be. |
| 20 | 20 | Out of Time | 2007-09-08 | 30 | The Fantastic Four return from a trip to the past to find Doom has changed history and is in control of the world. |
| 21 | 21 | Atlantis Attacks | 2007-09-15 | 30 | Namor the Sub-Mariner returns, but this time he needs help to defeat Attuma, who has taken over Atlantis. While Reed, Susan, and Ben head off to help free Atlantis, Johnny stays behind and faces an attack on the city from a giant mutant whale. |
| 22 | 22 | Shell Games | 2007-09-22 | 30 | After several attacks from Iron Man armors, the Fantastic Four track down Tony Stark. It turns out Doom was behind the attacks, and now the Four have to face both Iron Doom and Iron Man under Doom's control. |
| 23 | 23 | Johnny Storm and the Potion of Fire | 2007-09-29 | 30 | After exposure to a potion during a battle with the alchemist Diablo, Johnny finds his powers greatly increased -- and his personality turning evil. |
| 24 | 24 | Contest of Champions | 2007-10-06 | 30 | Frustrated by his repeated defeats at their hands, Ronan the Accuser asks the powerful Grandmaster to stage a contest that would give him the chance to beat the Fantastic Four. |
| 25 | 25 | Doom's Word Is Law | 2007-10-13 | 30 | Doctor Doom creates a super Doombot to face the Fantastic Four. The Four try and retrain this robot to be one of the good guys. In the end, Ben becomes the super Doombots friend and names him "Bruiser" , but then Doom's control is too strong and the super Doombot captures Susan and Reed. Johnny and Ben must save Susan and Reed, and fight Doom. But when Johnny is captured, Ben is left to fight Bruiser. |
| 26 | 26 | Scavenger Hunt | 2007-10-20 | 30 | Terminus, an alien scavenger, comes to steal all of Earth's resources. While the Fantastic Four try to stop him, they realize he may be unbeatable. |
Series Cast
| | | | |
| --- | --- | --- | --- |
| | Hiro Kanagawa | as Reed Richards / Mr. Fantastic | |
| | Lara Gilchrist | as Sue Storm / Invisible Woman | |
| | Christopher Jacot | as Johnny Storm / The Human Torch | |
| | Brian Dobson | as Ben Grimm / The Thing | |
| | Sam Vincent | as H.E.R.B.I.E. | |
Series Crew
| | Position | Name |
| --- | --- | --- |
| | Co-Executive Producer | Stan Lee |
| | Executive Producer | Avi Arad |
| | Executive Producer | Eric S. Rollman |
| | Developer | Joshua Fine |
| | Story Editor | Christopher Yost |
| | Executive Producer | Nicolas Atlan |
| | Executive Producer | Craig Kyle |
| | Producer | Benoît di Sabatino |
| | Producer | Christophe di Sabatino |
| | Editor | Fanny Bensussan |
| | First Assistant Director | Julien Gallet |
| | Character Design | Kamel Tazit |
| | Sound Editor | Matthieu Tertois |
| | Sound Editor | Benjamin Alves |
| | Supervising Sound Editor | Julien Alves |
| | Re-Recording Mixer | Julien Alves |
| | Animator | Julien Baret |
| | Animator | Renaud Guénon |
| | CGI Animation Artist | Bertrand Schutz |
| | Animator | Carine Touraille |
| | Animator | Philippe Lucini |
| | Special Effects | Chateau Julien |
| | Layout Artist | Marlowe Ray Garcia |
| | Background Designer | Stephane Brillon |
Related News
TVMaze