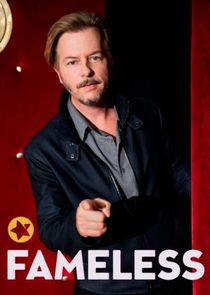 From the mischievous mind of comedian and actor David Spade comes Fameless, a genre-busting prank show about how far real people will go for a moment in the spotlight. Each week, the series features a group of unsuspecting desperate-to-be-famous individuals who believe they've been cast on a reality show. However, unbeknownst to them, they are really filming a parody with improv actors creating over-the-top scenarios that steadily increase the absurdity and ridiculousness of each situation - testing the patience of everyone NOT in on the joke.
Series Overview
Rating
imDb Rating: 4.8 (253 Votes)
Metascore: N/A
Plot
Everybody wants their 15 minutes of "Fame". So instead they get pranked and become "Fameless".
Details
Rated: TV-14
Released: 29 Jul 2015
Runtime: 30 min
Genre: Reality-TV
Director: N/A
Writer: N/A
Actors: David Storrs, Damon Zwicker, Ryan Stout
Language: English
Country: USA
Awards: N/A
Total Seasons: 2
Previous Episode
Tornado Alley
Episode 2x24; Feb 06, 2017
Previous Episodes 2x24: Tornado Alley 2x23: Spa-mageddon 2x22: The Trashed and the Furious 2x21: Guerilla Warfare 2x20: No Brain No Gain 2x19: Host Busters 2x18: Ear Factor 2x17: Fameless Holiday Special! 2x16: Through the Cooking Glass

View All Episodes
Skip to:
Season 1
| Episode No. | No. Overall | Title | Airdate | Runtime | Summary |
| --- | --- | --- | --- | --- | --- |
| 1 | 1 | Naked and Annoyed | 2015-07-29 | 30 | In the series premiere, a guitarist and karate master nearly come to blows at an audition, a wannabe cop gets lured into a high-speed chase, and a fierce competitor learns the naked truth: that this is actually a prank show. |
| 2 | 2 | Say Goodbye to Hollywood | 2015-08-05 | 30 | A wannabe producer's pitch gets slammed by a star-studded Hollywood panel, a rookie host brings life-changing news to the wrong family and the tables are turned on a prankster when he realizes that he's the one being played. |
| 3 | 3 | To Catfish a Predator | 2015-08-12 | 30 | A self-proclaimed playboy panics after a kiss goes viral; a cocky food buff can't stomach the main course; when a wannabe reality star tries to expose a catfish, he's the one caught on the hook. |
| 4 | 4 | Revenge Ink | 2015-08-20 | 30 | A nature lover falls prey to a ferocious prank; a cocky host crumbles live on the air; an aspiring rapper gets the shaft when Kat Von D inks him with a humiliating tattoo. |
| 5 | 5 | Speed Trap | 2015-08-27 | 30 | A wannabe cop becomes the suspect during a traffic stop, a rookie host gets more than he bargained for at a car auction, and a prankster's antics push a pregnant woman to her breaking point. |
| 6 | 6 | Funky Monk | 2015-09-10 | 30 | A "cop for a day" goes from fighting crime to fighting off kidnappers, a wannabe reality star is speechless after confronting a cheater in action, and David Spade, Michael Bolton and Gina Gershon return to corrupt another Hollywood pitch. |
| 7 | 7 | Match Maid in Heaven | 2015-09-17 | 30 | |
| 8 | 8 | Wheels of Misfortune | 2015-09-24 | 30 | |
| 9 | 9 | The Jumper | 2016-01-18 | 30 | A know-it-all unknowingly turns a battle of wits into a gorilla war; a wannabe star finds himself trapped inside a mental institution; a ``cop for a day'' sends a troubled stranger over the edge. |
| 10 | 10 | Unfinished Business | 2016-01-18 | 30 | An exorcism turns to puppy love during a surprising climax; something blue happens when wedding bells ring for the wrong girl; a self-proclaimed genius looking to bait crooks winds up taking the bait himself. |
| 11 | 11 | Road Rage | 2016-01-25 | 30 | |
| 12 | 12 | Issues Don't Need Tissues | 2016-01-25 | 30 | |
| 13 | 13 | The Hammer | 2016-02-01 | 30 | The walls come down for a cocky fame-seeker when he bulldozes his way into a toxic situation. Then, a pretty boy gets dirty while promoting a foul face mask, and a jealous girlfriend is on the hook for a memorable tattoo she'd rather forget. |
| 14 | 14 | Half Baked | 2016-02-01 | 30 | A woman loses her patience when a patient goes missing; a saleswoman markets a faulty tanning product; a jokester's attempt to prank Jay Leno backfires. |
| 15 | 15 | Close Encounters | 2016-02-08 | 30 | A stakeout for illegal aliens turns otherworldly; a jokester's prank has an unintended reaction; a style queen patrols for crimes of fashion. |
| 16 | 16 | Mayan Ruined | 2015-02-15 | 30 | A jealous girlfriend comes out swinging when a dating show does not go her way; a prankster's shot at fame is cursed after he accidentally ruins a museum; the Pitch Fit panel returns. |
| 17 | 17 | Dead Wrong | 2016-02-22 | 30 | A wannabe reality star hosts a funeral; a cocky competitor loses control; a man accidentally steers himself into a bank robbery. |
| 18 | 18 | Faceless | 2016-02-22 | 30 | A wannabe reality star's 15 minutes of fame turns into a life sentence; a know-it-all doctor goes rogue; a host tries selling a flawed cosmetic. |
Season 2
| Episode No. | No. Overall | Title | Airdate | Runtime | Summary |
| --- | --- | --- | --- | --- | --- |
| 1 | 19 | The Invasion | 2016-08-01 | 30 | The Invasion at 10:00pm: An aspiring news anchor's first day on the job might be her last day on Earth, a wannabe reality star finds himself fully exposed in a heated love triangle, and a slick TV host inadvertently uses his newfound powers for evil. |
| 2 | 20 | The Shawprank Redemption | 2016-08-01 | 30 | A prison prank becomes a prison break; an angry robot gets it's buttons pushed; a self-proclaimed expert on dog discipline discovers a terrifying new breed. |
| 3 | 21 | Zings and Zonks | 2016-08-08 | 30 | A drone attacks a TV Host; a dinosaur prank fails for a joker; and an insult comic goes for a ride. |
| 4 | 22 | Raiders of the Lost Art | 2016-08-15 | 30 | An aspiring TV host learns the real art of pranking when he gets cornered in a security trap. Then, a muscle-head discovers that the dream of becoming a fitness star comes with some crappy side effects, and a wild attempt to take the antiques game by storm comes to an electrifying halt. |
| 5 | 23 | High Speed Chase | 2016-08-22 | 30 | An aspiring cop's chance to be a crime fighter crumbles because of his half-baked excuse for a partner, an MC's hopes of surprising a famous pair of wrestling twins goes up in flames, and a would-be pranksters attempt at tricking a zookeeper turns grizzly. |
| 6 | 24 | The Home Wrecker | 2016-08-29 | 30 | A wannabe TV host accidentally unleashes hell; an aspiring real estate guru encounters a housing crisis; a ``con artist'' thinks he's pulling a scam. |
| 7 | 25 | Wet Gold | 2016-09-05 | 30 | Wet Gold: A wannabe treasure hunter unearths a monstrous discovery, an attempt at reuniting best friends turns ugly, and an aspiring hypnotist learns that - at corporate events - certain behavior doesn't fly. |
| 8 | 26 | Rage of Enlightenment | 2016-09-12 | 30 | A wannabe TV host learns that the energy drink he's selling has some monstrous side effects, a tomb raider discovers why a mummy is best kept under wraps, and skateboarding legend Tony Hawk pulls off a perfect 180 on an aspiring prankster. |
| 9 | 27 | The Vanishing | 2016-09-19 | 30 | A wannabe crime fighter discovers how time flies when you wind up on the wrong end of a sting; the world's most aggressive driving instructor learns the dangers of buzzed driving; and a first time magician's apprentice watches his big break vanish into thin air. |
| 10 | 28 | Flash of Brilliance | 2016-09-26 | 30 | |
| 11 | 29 | Home Is Where the Haunt Is | 2016-10-03 | 30 | |
| 12 | 30 | The Joy of Hex | 2016-10-10 | 30 | An aspiring game show host discovers his new show is not the smash hit he thought it would be, and a dog groomer has a ruff first day trying to fix a faux-paw. |
| 13 | 31 | I Robot? | 2016-11-28 | 60 | Traffic cop discovers that his job involves more labor than expected; a diva host gets a reality check; a trickster's robotic prank short-circuits; a wannabe nature expert gets egged on by his partner. |
| 14 | 32 | One Bad Egg | 2016-11-28 | 60 | |
| 15 | 33 | Locked in Time | 2016-12-05 | 30 | An amateur archaeologist gets a time-out; a wannabe salesman drives away customers; an aspiring food star chokes when a critic can't stomach his meal. |
| 16 | 34 | Through the Cooking Glass | 2016-12-12 | 60 | |
| 17 | 35 | Fameless Holiday Special! | 2016-12-19 | 60 | |
| 18 | 36 | Ear Factor | 2016-12-26 | 30 | A wannabe host pitches a product that's too good to be true; an aspiring crime fighter runs out of gas at a sting; a drill sergeant bombs a chance at stardom. |
| 19 | 37 | Host Busters | 2017-01-02 | 30 | A wannabe TV star finds a crack in a new dental product; an aspiring host takes a swing at stardom; a would-be hotel critic doesn't have a ghost of a chance. |
| 20 | 38 | No Brain No Gain | 2017-01-09 | 30 | A rookie host's train of thought completely derails just when he thinks his career is on the fast track; an aspiring model fails her makeup exam; an antique picker offends an ancient spirit. |
| 21 | 39 | Guerilla Warfare | 2017-01-16 | 30 | |
| 22 | 40 | The Trashed and the Furious | 2017-01-23 | 30 | A prankster's dirty trick turns out to be garbage; tensions rise as guests freeze on a TV show; a clueless investigator goes into the wrong sting. |
| 23 | 41 | Spa-mageddon | 2017-01-30 | 30 | |
| 24 | 42 | Tornado Alley | 2017-02-06 | 30 | |
Series Cast
| | | | |
| --- | --- | --- | --- |
| | David Spade | as Host | |
Related News
TVMaze