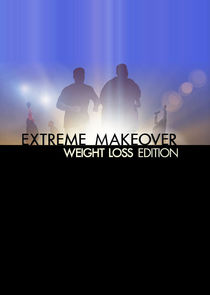 "Extreme Weight Loss" is a unique undertaking that's unlike anything you've ever seen TV. The show documents the amazing makeover of seventeen courageous, obese individuals who set out to safely lose half of their body weight over the course of a year. The metamorphosis is truly amazing. Trainer/transformation specialist Chris Powell (The 650-Pound Virgin) guides each of the seventeen participants through the process after moving into their homes. He's there to make sure the participants get the proper nourishment and exercise movement. Chris provides a fresh perspective to individuals whose lives have become unmanageable because of their weight.
Series Overview
Rating
imDb Rating: 6.0 (739 Votes)
Metascore: N/A
Plot
ABC's Extreme Makeover: Weight Loss Edition is a new weight loss show for anyone who has 200 pounds or more to shed. In this trans-formative new experience, we bring the tools and tips to ...
Details
Rated: N/A
Released: N/A
Runtime: N/A
Genre: Reality-TV
Director: N/A
Writer: N/A
Actors: Heidi Powell, Chris Powell, Rocco DiSpirito
Language: English
Country: USA
Awards: N/A
Total Seasons: 6
Previous Episode
Hannah
Episode 5x13; Sep 08, 2015
Chris and Heidi take on Hannah, a successful career woman, as their next client as she attempts to lose weight in order to be able to start a family with her husband.
Previous Episodes 5x13: Hannah 5x12: Kim 5x11: Jackie 5x10: Mitzi 5x9: John and Panda 5x8: Rachel 5x7: Pearls 5x6: Jenn 5x5: Love Can't Weight: Bryce and Amber

View All Episodes
Cast
Chris Powell as Chris Powell
Heidi Powell as Heidi Powell
View Full Cast
Skip to:
Season 1
| Episode No. | No. Overall | Title | Airdate | Runtime | Summary |
| --- | --- | --- | --- | --- | --- |
| 1 | 1 | Rachel | 2011-05-30 | 120 | |
| 2 | 2 | Alex | 2011-06-06 | 120 | |
| 3 | 3 | Dana | 2011-06-13 | 120 | |
| 4 | 4 | James | 2011-06-20 | 120 | |
| 5 | 5 | LaRhonda | 2011-06-27 | 120 | |
| 6 | 6 | Wally | 2011-07-11 | 120 | |
| 7 | 7 | Staci | 2011-07-18 | 120 | |
| 8 | 8 | Krista | 2011-07-25 | 120 | |
Season 2
| Episode No. | No. Overall | Title | Airdate | Runtime | Summary |
| --- | --- | --- | --- | --- | --- |
| 1 | 9 | Tony | 2012-06-03 | 120 | |
| 2 | 10 | Jacqui | 2012-06-10 | 120 | |
| 3 | 11 | Michael | 2012-07-01 | 120 | |
| 4 | 12 | Ashley | 2012-07-08 | 120 | |
| 5 | 13 | Nyla | 2012-07-15 | 120 | |
| 6 | 14 | Jonathan | 2012-08-05 | 120 | |
| 7 | 15 | Sally | 2012-08-12 | 120 | |
| 8 | 16 | Jarvez | 2012-08-19 | 120 | |
Season 3
| Episode No. | No. Overall | Title | Airdate | Runtime | Summary |
| --- | --- | --- | --- | --- | --- |
| 1 | 17 | David and Rebecca | 2013-05-28 | 120 | "David and Rebecca" -- Twins David & Rebecca didn't think that much about their weight as they were growing up in North Prairie, WI. David, who weighs in at 470 pounds, and Rebecca, who weighs 398 pounds, spent their childhood making people laugh. Behind the smiles there were tears of pain from a difficult upbringing that led them to use food as an outlet. After Chris Powell decides to help the twins on their 23rd birthday, he realizes they're extremely co-dependent and enable each other's poor decisions, especially when it comes to their weight. After a tearful goodbye, the twins are split up for a 90-day challenge, with Rebecca going to Arizona to work alongside Chris's wife, Heidi. At the beginning of his weight loss journey, David said he'd always wanted to go through Navy SEAL training to show his dad that "he was a man." Chris takes the twins on his toughest milestone challenge to a rigorous "Kokoro" training camp designed to forge mental toughness and modeled on Navy SEAL Hell Week. But when the twins' old habits begin to reemerge, Chris becomes concerned they may not be able to meet their weight loss goals. |
| 2 | 18 | Meredith | 2013-06-04 | 120 | Given up by her birth parents, Meredith was adopted by a loving couple who eventually had another daughter naturally. The only one in the family with weight challenges, Meredith struggled to fit in. She hopes to lose weight to gain confidence to reach out to her birth mother, and even has her goal weight tattooed on her stomach- if she makes it all the way to her goal of 155 pounds, she will qualify for skin removal surgery and can start fresh, so the tattoo will be removed. During his year with Meredith, Chris Powell helps her contact her birth mom, which ends with a surprising revelation. Chris challenges Meredith to run a full marathon, and while watching her, is inspired to run it himself. A lifelong "Baywatch" fan, Meredith gets a surprise visit from former "Baywatch" babe Nicole Eggert, and is surprised to learn that Nicole struggled with her own weight. |
| 3 | 19 | Ryan | 2013-06-25 | 120 | After losing his arm in a car accident, 23-year-old Ryan from Appleton, WI says it is more difficult to weigh 410 pounds than it is to have one arm. In the two years since his accident, Ryan has suffered a lack of self-esteem, dropped out of school and become unemployed. Deep down, he knows he might waste his second chance at life if he can't get to a healthy weight, but he spends most of his time at home and eating fast food. A former high school football player and a devoted Green Bay Packers football fan, Ryan learns that Chris Powell has chosen him to participate in a weight loss journey while visiting Lambeau Field's Packers Hall of Fame. In addition to setting his goal weight at 195 lbs., Ryan wants to overcome his fear of riding a bike. A low point during his one-year journey includes a disturbing discovery during a routine medical test; and special moments include surprise visits from Green Bay Packers linebacker Clay Matthews and famed wide receiver Donald Driver. |
| 4 | 20 | Jason And Rachel | 2013-07-02 | 120 | Transformational specialist and trainer Chris Powell chooses Jason, 35, and Rachel, 34, to be the first married couple he'll work with. Except for being severely overweight, these high school sweethearts from South Lyon, MI with five-year-old twins have a picture perfect life. But during their first workout together as a couple, Chris comes to realize that Jason only committed to the program to please Rachel, and Chris hopes the transformation process won't tear them apart. Jason's doubts about success are overshadowing Rachel's excitement and motivation. At their first weigh-in, they're both surprised when Jason comes in at 362 pounds and Rachel's starting weight is 290 pounds. If they can reach their six-month weight loss challenge, Chris promises the couple a trip to New York and the Empire State Building, where Jason proposed to Rachel 13 years ago. During their one-year weight loss journey, Jason and Rachel hope to become a stronger couple and an even stronger family, gaining support and a renewed commitment toward their marriage along the way. |
| 5 | 21 | Jami | 2013-07-09 | 120 | When trainer Chris Powell chooses 28-year old Jami from Philadelphia, PA to go on a year-long weight loss journey, he finds that Jami is an emotional wreck. Adopted from Chile at just two years old, she struggles with self-esteem and tips the scales at 292 pounds. She works at a prestigious ballet school, surrounded by slender, athletic teens -- a constant reminder that, although she preaches smart choices and good health, she herself is not practicing those skills. In a first for Chris, he decides Jami should stop counting pounds and measure her own fitness accomplishments so she can focus on regaining her physical and emotional strength. Eventually, he offers to take her back to Chile to reunite with her birth mother and complete a milestone swimming/running challenge there in the world's largest pool. Also, Jami has a shocking secret to share with Chris -- he may have saved her a from suicide attempt. |
| 6 | 22 | Mehrbod | 2013-07-16 | 120 | Mehrbod, a 32-year-old music producer and DJ now living in Los Angeles, CA, is a child of the Iran/Iraq war who fled to America with his family when he was very young. Mehrbod was taught at an early age that food was scarce and one should eat whenever food is available; he currently weighs 434 pounds. Except for the weight and a food addiction preventing him from fully enjoying his life, Mehrbod has it all -- a devoted girlfriend, a supportive family and a career full of potential. When trainer Chris Powell learns that Mehrbod has a history of losing and regaining weight, he vows to help Mehrbod safely get to his weight goal in one year. If he reaches his first weight loss milestone, Chris will help him purchase an engagement ring to give to his girlfriend. Another successful weight loss milestone could give Mehrbod the opportunity to ski with Chris in Whistler, British Columbia alongside World Cup alpine ski racer and Olympic gold medalist Picabo Street. But after his triumphant record breaking weigh-ins, a personal setback causes Mehrbod to fall back into his food addiction, jeopardizing his chances of reaching once attainable goals. |
| 7 | 23 | Trina | 2013-07-23 | 120 | At 5'4" and 290 pounds, 46-year-old registered nurse and mother of three Trina is afraid she'll soon become one of the morbidly obese patients she cares for in her hospital. She often calls herself a hypocrite for insisting her patients get their weight to manageable levels, while she continues to neglect her own growing obesity. Trina hits the ground running in the first month, really embracing her new lifestyle. She even gets the group of nurses from her hospital together for a special workout, hoping to show them all the amazing things Chris taught her at boot camp. Chris is so proud of her, he sends a fellow fitness guru, Richard Simmons, to inspire and motivate the nurses. Unfortunately for Trina, the amazing rush of losing weight and working out with one of her fitness idols is quickly lost when she and her mother resume their co-dependent relationship, which sends her back into her bad habits. Trina's husband, Eric, contacts Chris and tells him that he needs to get out to Michigan right away to help save his wife from herself. For the first time, a participant actually gains weight! Find out how Chris handles it. |
| 8 | 24 | Chantell | 2013-07-30 | 120 | Four out of five African American women are overweight or obese, but Chantell is determined to defy those odds. With her trademark flower in her hair, the 25-year-old, personable Chantell from Chicago, IL has always stood out as a stylish young lady. Now she no longer wants to use clothes to hide her 327 pounds. Her mother and other family members -- with a history of obesity, diabetes and heart disease -- don't believe Chantell has a real weight problem.. until she gets on the scale. Chantell is committed to change and inspires her mother to start her own fitness regimen. She is ecstatic when trainer Chris Powell chooses her to go on a weight loss journey. If she makes her 90-day weight loss goal, Chris is prepared to reward her with a shopping spree in Paris, France, where she can fulfill another dream of running a marathon. As a thank you to Chris for all he's done, Chantell catches him off guard and gives him a surprise of her own. There are struggles along the way, including facing her apartment building's eviction notice right before her 90-day weigh-in and difficulty in balancing weight loss with her senior year in college. Chantell knows she must lose the weight or she could lose her life, and hopes her passion and commitment will lead her to success. |
| 9 | 25 | Alyssa | 2013-08-06 | 120 | When she was just 10 years old, Alyssa was in a horrific car accident that took her mother's life. In response to that trauma, Alyssa ballooned to her present 414 lbs. Living in Kalamazoo, Michigan with her dad, Alyssa is delighted to be selected for the show. But just a few weeks into her weight loss journey, she begins vomiting during her morning workouts. Chris explains that her body is detoxifying from her poor diet, and to prove it he tries eating her past diet himself for one day - and it results in Chris vomiting! Chris then calls in celebrity trainer Drew Manning, author of Fit to Fat to Fit - he intentionally gained and lost 80 pounds in a year - to share his experience with living on a bad diet. At the 6-month mark, Alyssa gets a chance to fulfill a lifelong dream of learning to snowboard, and her teacher is none other than champion Lindsey Jacobellis. Late in the year, Alyssa admits to Chris that she has been binging and purging, and Chris brings in his wife, Heidi, who dealt with her own eating disorder, to help counsel her. Can Alyssa get back on track? |
| 10 | 26 | Mike | 2013-08-13 | 120 | Mike, from Voorhees, NJ, is a family man on the cusp of turning 50 years old, as well as celebrating his 20th wedding anniversary. He hopes to safely lose up to half of his 417 pounds so he can be a superhero to his three kids and a knight in shining armor to his deserving wife. Mike was once a tremendous athlete in college, maintaining a vigorous nutrition and weight lifting regimen. But his body forgot what healthy living was like following his father's untimely death, and Mike shifted his focus from fitness to family. Mike's intense desire to now reverse his unhealthy slide was unlike anything trainer Chris Powell has encountered. But when Mike becomes the first participant to ever fail the routine medical exam at boot camp, how will Chris move forward with Mike's weight loss journey? For one of his milestones, Chris wants to give Mike a once-in-a-lifetime opportunity and box five-time World Heavyweight Champion Evander Holyfield. |
| 11 | 27 | Ashley | 2013-08-20 | 120 | |
| 12 | 28 | Cassandra | 2013-08-27 | 120 | "Cassandra" -- Once a four-time All American athlete, Cassandra no longer plays any sports and now weighs 364 pounds. After a messy divorce, the heartbroken 45-year-old from Quartz Hill, CA turned to food to bury her sorrows. A high school guidance counselor and coach for the track and field team, she tells her students they can achieve anything they put their minds to. Yet when it comes to losing weight, she is unable to follow her own advice. To help Cassandra with her diet and nutrition, trainer Chris Powell brings in celebrity chef Rocco DiSpirito to show her how to make quick and healthy meals. But during her journey, her unhealthy food habits start to creep back in. To help her, Chris breaks precedent and gives Cassandra weekly goals, as opposed to 90-day goals. He hopes to bring out the athlete she once was and, for one of her milestones, to reward her with a singles adventure, whitewater rafting trip to Costa Rica. However Cassandra is reluctant since she fears falling out of the boat and not being able to pull herself back in. As her confidence builds, Cassandra discovers she can push herself out of her comfort zone by trying new things, including speed dating. |
| 13 | 29 | Bob | 2013-09-03 | 120 | At nearly 450 pounds, Bob is a Wisconsin police officer in danger of losing his job. He is now required by the state to pass a "Fit for Duty" test, and in desperation he reaches out to Chris Powell for help. Though Chris takes him on, they hit a roadblock during the first workout when Bob re-injures his knee with a loud "pop!" and must decide whether to continue with the program or delay til next year. He commits to work on his weight loss and uses boxing and swimming as his main fitness regimens. At the 6-month mark, Bob and his wife, Kelly, travel to Paris to renew their vows, and Bob rides the last leg of the Tour de France with Chris. However, he injures his other knee before the year is out and must undergo surgery, which takes him away from the program for a full month. Can he lose the weight and save his job? |
Season 4
| Episode No. | No. Overall | Title | Airdate | Runtime | Summary |
| --- | --- | --- | --- | --- | --- |
| 1 | 30 | Ty and Charita | 2014-05-27 | 120 | |
| 2 | 31 | Kathie and Josh | 2014-06-03 | 120 | Over the past 21 years, Kathie and her only child, son Josh, have slowly eaten their way into obesity as a way of dealing with the absence of Kathie's husband - Josh's father - who abandoned the family when Josh was only nine months old. Last year, Kathie wrote a letter to Chris Powell asking for help. Ultimately, both Kathie and Josh will have to work separately to become stronger people together during their year-long transformation. |
| 3 | 32 | Jayce | 2014-06-17 | 120 | Jayce grew up dreaming of becoming a famous musician. His father was a songwriter, but Jayce always dreamed of performing on stage. As a child, Jayce was dyslexic and struggled in school. Shy and introverted, he started overeating, weighing 175 pounds by the end of sixth grade and 320 pounds by the time he finished high school. By the time he ballooned to 417 pounds as an adult, Jayce knew it was time to ask for help. |
| 4 | 33 | Bruce | 2014-06-24 | 120 | As a child, Bruce turned to food for comfort after allegedly suffering mental and sexual abuse by his now-jailed father. In this episode, he'll take on the challenge of losing half his body weight and confront the underlying issue behind his weight gain during his year-long transformation. |
| 5 | 34 | Melissa | 2014-07-01 | 120 | When Melissa's military husband, Mike, returned from Afghanistan, he seemed to have become a different person. Later diagnosed with Post-Traumatic Stress Disorder (PTSD), he committed suicide in 2009, leaving behind Melissa and their two sons, one of whom has also been diagnosed with PTSD. In the years following Mike's death, Melissa turned to food for comfort, eventually reaching 301 pounds. Last year, Melissa wrote to show trainer Chris Powell's wife, Heidi Powell (also a trainer and transformation specialist), asking for help. Melissa's yearlong physical and emotional journey will be documented. |
| 6 | 35 | David | 2014-07-08 | 120 | As a child, David often served as caretaker of his younger brothers and sister while his parents were at work. When he was 17, David eschewed his responsibilities for one night and went to a party with his friends. While he was gone, one of his two younger brothers broke into their father's gun cabinet and accidentally killed David's other brother. Mere weeks later, David fell asleep before giving his epileptic sister her medication and she died of a seizure in her sleep. Unable to deal with the guilt from their deaths, David became an excessive eater, eventually reaching 413 pounds. |
| 7 | 36 | Brandi | 2014-07-15 | 120 | As a child, Brandi fell in love with beauty pageants after watching them on television with her mother. A born performer, she took ballet plus tap lessons and competed in pageants for years. By the time she was 12, Brandi weighed more than 250 pounds, and comment cards from pageant judges told her over and over that she was too heavy to compete. Crushed by the criticism, Brandi quit competing and continued to put on weight throughout high school and well into her 20s. After reaching 329 pounds, she wrote a letter to trainer and transformation specialist Chris Powell asking him for help. |
| 8 | 37 | Georgeanna | 2014-07-22 | 120 | For the past 20 years, 44 year-old Georgeanna has devoted her life to her husband, who is a local pastor, and their two daughters. Often referred to as "Martha Stewart" by her family and friends, for whom Georgeanna bakes, decorates, sews and crafts, she neglected taking care of herself and is now more than 150 pounds overweight. Georgeanna will take on the challenge of losing half her body weight during her year-long transformation. |
| 9 | 38 | Cassie | 2014-07-29 | 120 | Cassie, who was physically fit throughout her childhood and adolescence, became pregnant unexpectedly at age 21, ultimately making the heart-wrenching decision to give her son up for adoption. That decision has haunted her for the past 18 years, and she punished herself by overeating, gaining nearly 200 pounds in the process. Though Cassie desperately wants to meet her son for the first time, she is ashamed to reach out to him before losing her excess weight. Last year, Cassie wrote a letter to trainer and transformation specialist Chris Powell asking for help. |
| 10 | 39 | Sara | 2014-08-12 | 120 | Though she often jokes about being "vertically challenged" (at 4'5"), Sara has faced a lifelong struggle with her height and her weight. At 39 years old, Sara is nearly 150 pounds overweight. Believing her weight is holding her back from her true potential, Sara wrote a letter to trainer and transformation specialist Chris Powell asking him for help. |
| 11 | 40 | Kenny and Christy | 2014-08-19 | 120 | Kenny (410 pounds), a former Marine, and Christy (380 pounds), a caretaker for her ailing mother, both hope to improve their lives by losing up to half of their body weight, but only one of them will make it to the final weigh-in. The other will become the first participant ever to be kicked off the show for bad behavior. |
| 12 | 41 | Rod | 2014-09-02 | 120 | |
| 13 | 42 | Jeff and Juliana | 2014-09-09 | 120 | Jeff and his daughter Juliana have a strained relationship. Juliana was born to Jeff and his wife late in life (her two siblings are more than a decade older). As a result, Juliana struggled to connect with her father, and often felt ignored and overlooked. Now 15, Juliana can no longer keep her resentment toward Jeff buried inside. Realizing he needed to be a better father and role model to his daughter, Jeff wrote a letter to trainers and transformation specialists Chris and Heidi Powell asking for help. Jeff and Juliana's yearlong physical and emotional journey together - an inspiring story of the importance of family, love and perseverance. |
Season 5
| Episode No. | No. Overall | Title | Airdate | Runtime | Summary |
| --- | --- | --- | --- | --- | --- |
| 1 | 43 | Robert & Raymond | 2015-05-26 | 120 | Avid basketball fans, twins Robert and Raymond -- who start out at 381 and 378 pounds, respectively -- get the chance to meet players Kobe Bryant, Steve Nash, Byron Scott and James Worthy along their weight loss journey. |
| 2 | 44 | Josh & Kelli | 2015-06-02 | 120 | A tragic accident inspires a 399-pound firefighter to change his life; a 331-pound former college basketball player wants to overcome her depression and reclaim her life and her health. |
| 3 | 45 | Love Can't Weight: Tiffany and Cain | 2015-06-23 | 120 | Chris and Heidi help a formerly fit couple get back in shape for their wedding day; David Tutera, Rocco DiSpirito and Duff Goldman help the couples plan their big day. |
| 4 | 46 | Love Can't Weight: Shane and Marissa | 2015-06-30 | 120 | A couple who have put their wedding on hold due to weight gain work to get in shape before their big day. |
| 5 | 47 | Love Can't Weight: Bryce and Amber | 2015-07-07 | 120 | A couple who connected through online dating and a shared love of food work to get in shape for their nuptials. |
| 6 | 48 | Jenn | 2015-07-14 | 120 | A woman with a terminally ill husband learns healthy habits so she can live longer for her children; chef Rocco DiSpirito offers quick and healthy breakfast options. |
| 7 | 49 | Pearls | 2015-07-21 | 120 | Tiffany strives to lose weight so she can continue to parent her autistic son. |
| 8 | 50 | Rachel | 2015-07-28 | 120 | A dancer who turned to food to deal with difficult feelings sets out to regain control of her life. |
| 9 | 51 | John and Panda | 2015-08-11 | 120 | A former professional football player wants to get in shape; a 313-pound camp counselor named Panda. |
| 10 | 52 | Mitzi | 2015-08-18 | 120 | Chris and Heidi face their first dual-addiction client when they help a 53-year-old woman who turned to food and material possessions after being left by the man she loved. |
| 11 | 53 | Jackie | 2015-08-25 | 120 | A woman put on 100 pounds after her child suffered brain damage at the hands of the nanny. |
| 12 | 54 | Kim | 2015-09-01 | 60 | Aspiring dress designer Kim turns to Heidi and Chris for help in losing her excess weight before taking the fashion industry in New York by storm. Through the course of her transformation, celebrity chef Rocco DiSpirito gives her nutrition advice to help her along. |
| 13 | 55 | Hannah | 2015-09-08 | 60 | Chris and Heidi take on Hannah, a successful career woman, as their next client as she attempts to lose weight in order to be able to start a family with her husband. |
Season 6
| Episode No. | No. Overall | Title | Airdate | Runtime | Summary |
| --- | --- | --- | --- | --- | --- |
Series Cast
| | | | |
| --- | --- | --- | --- |
| | Chris Powell | as Chris Powell | |
| | Heidi Powell | as Heidi Powell | |
Related News
TVMaze