On Extra Virgin, actress Debi Mazar and her Italian husband, Gabriele Corcos, invite you into their home as they share their tremendous passion for Tuscan food and for each other.
Series Overview
Rating
imDb Rating: 8.2 (100 Votes)
Metascore: N/A
Plot
Debi Mazar and Gabriele Corcos share their love of Tuscan cuisine.
Details
Rated: N/A
Released: N/A
Runtime: 30 min
Genre: Reality-TV
Director: N/A
Writer: N/A
Actors: Gabriele Corcos, Debi Mazar
Language: English
Country: USA
Awards: N/A
Total Seasons: 5
Previous Episode
A Day for Lola
Episode 5x13; Apr 01, 2015
There is a bocce ball court on Gabriele's property that nonna Lola used to play all the time, but since Gabriele moved to the states the court has fallen apart. Now, he wants to repair it and bring it back to its former glory. When it's ready, he'll get the whole family out there, including nonna Lola, for a big feast and inaugural bocce ball tournament to officially open the court again. Of course, all of the food for the feast will be favorite recipes of nonna Lola. And for an added treat, Gabriele will take the whole family to the medieval town of Colle di Val d'Elsa to learn how to make Lola's favorite cookies, Ricciarelli's, and bring a bunch back for the party.
Previous Episodes 5x13: A Day for Lola 5x12: Tuscan Safari 5x11: A Day of Food and Beauty 5x10: Livorno 5x9: Tools of the Trade 5x8: Life on the Farm 5x7: The Pizza Oven 5x6: School's Out 5x5: A Day with the Girls

View All Episodes
Cast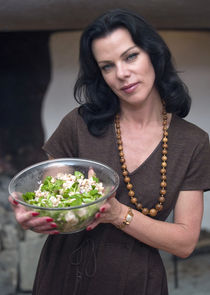 Debi Mazar as Debi Mazar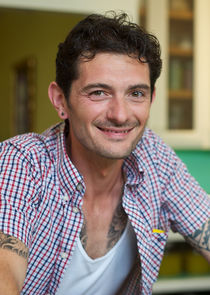 Gabriele Corcos as Gabriele Corcos
View Full Cast
Skip to:
Season 1
| Episode No. | No. Overall | Title | Airdate | Runtime | Summary |
| --- | --- | --- | --- | --- | --- |
| 1 | 1 | Holy Guacamole | 2011-01-19 | 30 | Debi Mazar and Gabriele Corcos share their love of Tuscan cuisine in this series. In the premiere, they build a pizza oven in their yard and have a summer barbecue for friends. Dishes include grilled marinated chicken, caprese salad and grilled vegetables. |
| 2 | 2 | Chickens Come Home | 2011-01-26 | 30 | After making the family a breakfast scallion frittata Gabriele longs for the days when he had fresh chicken eggs straight from his grandmother's Tuscan farm. Debi reluctantly decides to support his idea of getting chickens but when they bring the chickens home the backyard becomes a three-ring circus. After a day of chasing chickens, Debi and Gabriele decide to end the chaos with Italian comfort food - Spaghetti with red sauce and Spinach Gnocchi balls made with sage and butter. |
| 3 | 3 | Marry Me... Again! | 2011-02-02 | 30 | Debi is treated to a wonderful ricotta pancake birthday breakfast that Gabriele makes with their daughters Evelina and Giulia. After breakfast Debi's best friend Robert takes her shopping while the rest of the family plans her biggest birthday surprise to date. Gabriele and the girls pick out a new vow renewal ring so Gabriele can ask Debi to remarry him in Tuscany. Gabrielle pops the renewal question during Debi's birthday party where he makes homemade pizza and Orecchiette pasta with fresh radicchio. |
| 4 | 4 | Motorcycle Diary | 2011-02-09 | 30 | With their daughters at camp all day Debi and Gabriele plan their first romantic picnic. To prepare they visit a local gourmet to pick up delicious cheeses and olives before heading home to make Gabriele's Tuscan biscotti, a traditional Panzanella salad and mixing up a spicy honey dipping sauce. Gabriele surprises Debi by renting a sexy red motorcycle to make their date extra special, but getting Debi to jump on and hold tight proves to be a struggle. |
| 5 | 5 | Food Truck Fun | 2011-02-16 | 30 | Debi and Gabriele raise money for a local Los Angeles Food bank, Midnight Mission, by selling a few of their Tuscan homemade favorites on the streets of Los Angeles. For the event they make bruschetta with sauteed mushrooms, turkey meatballs and one of Gabrielle's family recipes - Arancini di Riso (risotto croquettes). Debi is in her element as she uses her best waitress skills to sell their food from the window of a food truck. |
| 6 | 6 | Mozzarella and Magic | 2011-02-23 | 30 | With their impending Tuscan trip just days away things are more hectic then ever at the Mazar home. Debi and Gabriele decide to take a breath and plan a special day for their daughters Evelina and Giulia. They treat the girls to a magic themed party in their backyard complete with Gabriele as the head magician. Evelina and Giulia help with the preparations and make homemade mozzarella cheese from scratch. Later Debi and Gabriele finish the party's menu, which includes homemade pizza, bruschetta with mozzarella and tomato, pasta with pesto, and organic marble cupcakes. |
| 7 | 7 | Debi Get Your Gun | 2011-03-02 | 30 | Debi and Gabriele's day begins with them making a homemade pasta lunch with fresh zucchini for their daughters Evelina and Giulia to take to camp. As they send the girls off for the day Gabriele asks Debi to go to a shooting range with him so they can take in some target practice. Debi is shocked by this request and even more shaken to find out that Gabriele thinks it's important because the land that their Tuscan home sits on is overrun by wild boar. Debi reluctantly agrees to go to target practice, but it turns out she's a natural born shooter. The day's activity inspires Gabriele to make a traditional hunter's meal for dinner |
| 8 | 8 | Lasagna to the Rescue | 2011-03-09 | 30 | Tuscany vow renewal preparations are in full swing when Debi gets a call that her dress probably won't be ready in time for their ceremony in Italy. She begins to panic, but Gabriele swoops in to calm her down with a special treat, Affogato, a warm espresso drink topped with rich vanilla ice cream. Their wedding stress calls for homemade Tuscan comfort food and the two decide to make their traditional three-meat lasagna (Lasagne alla Bolgnese) and sit down for a romantic dinner. |
| 9 | 9 | What About Dolores? | 2011-03-16 | 30 | Before the family heads to Tuscany for Debi and Gabriele's vow renewal they need to make sure Debi's 18-year-old poodle gets a clean bill of health to travel from her vet. Debi's planned an entire day of pooch pampering, but Gabriele has invited friends over for dinner so they can help him write a special surprise song for their upcoming vow renewal reception. Gabriele agrees to tag along with Dolores if Debi helps him make dinner. Together they make a traditional beef stew with polenta and string beans with cherry tomato for their guests. |
| 10 | 10 | Tuscany or Bust | 2011-03-23 | 30 | It's finally time for the Mazar clan to head to Tuscany for a little "R&R" and for Debi and Gabriele to renew their vows, but the preparations are anything but relaxing. And before they go, Debi and Gabriele also decide to teach Evelina and Giulia the value of a dollar so they have their own money for Tuscan souvenirs and keep sakes. The family decides to open their very first bruschetta stand to raise a little money. Meanwhile, Debi and Gabriele realize they can't leave their chickens alone during their trip so they begin a search for a qualified chicken nanny. For Dinner Gabriele makes a meal straight out of the country traditions of Tuscany - Turkey sausages with beans (Sausages with Fagioli all "Uccelletta), fried artichokes and a traditional Florentine cake for dessert (Schiacciata alla Florentina) |
| 11 | 11 | Welcome to Tuscany | 2011-03-30 | 30 | The Mazar family is finally in Tuscany. Debi and her daughters, Evelina and Giulia, spend the first morning roaming their country property, picking fresh berries and figs. Their first day brings plenty of family bonding time, with Gabriele's family stopping by for a Ricotta and fresh berry breakfast. After breakfast, Gabriele teaches Debi to drive a stick shift on the streets of Fiesole, but Debi soon realizes that she's not quite cut out for life in the fast lane. Debi still manages to get to town with Robert and her poodle Delores for a sightseeing trip at the ancient roman ruins. For dinner, Gabriele has a few of his Florentine friends over for a meal of pasta with pig cheek (Pasta alla Gricia), porterhouse steak (Tagliata alla Fiorentina), pork sausages, garlic sauteed spinach, and grilled potatoes. |
| 12 | 12 | Romance and Tiramisu | 2011-04-06 | 30 | With the family settling in to life in Tuscany and the vow renewal ceremony just a few days away, Debi and Gabriele make plans for bachelor and bachelorette parties. Debi spends some quality time with her mother-in-law, Anna Lisa, making her own tiramisu recipe. Everyone at the bachelorette party enjoys the delicious homemade tiramisu and toasts to Debi. Meanwhile, Gabriele cooks up a feast at his best friend Patrizio's Florence apartment. Gabriele's guests join them for a dinner of octopus salad and spaghetti w/ anchovies, garlic, tomato, capers and olives (Spaghetti alla Puttanesca). At the end of their evening, Debi and Gabriele reunite for a romantic evening in the place where they first met, and enjoy Debi's homemade tiramisu. |
| 13 | 13 | Love, Italian Style | 2011-04-13 | 30 | It's the day before their vow renewal ceremony, and after visiting a medieval castle with their daughters, Debi and Gabriele decide to test cook two of the recipes for tomorrow's reception - a pesto lasagne and a shrimp, farro and watercress salad. While making their homemade pesto with a mortar and pestle, Gabriele's grandmother, Nona Lola, stops by for a visit and is introduced to Delores. Before eating their dinner, Debi and Gabriele venture to their basement to gather olive oil made from the olives on their property. The next morning is finally the big day. The guests arrive and the happy couple walks down the aisle once again. With a menu full of the delicious and traditional flavors of Tuscany, including the pesto lasagne, shrimp, farro and watercress salad, meats, cheeses, and a multitude of all things Tuscan, the party is a success. |
Season 2
| Episode No. | No. Overall | Title | Airdate | Runtime | Summary |
| --- | --- | --- | --- | --- | --- |
| 1 | 14 | Garage Sale | 2011-10-19 | 30 | In the chaos of just having moved into their new home, Debi and Gabo decide to throw a yard sale and invite the entire neighborhood but not before Debi makes sure the chickens are presentable with a bubble bath. |
| 2 | 15 | Dog Days of Dolores | 2011-11-02 | 30 | It's been a tough year for Debi. She's sold her home of 15 years and her beloved poodle, Dolores died. In honor of Dolores she's decided to host a fundraiser for a dog charity event in her new home inviting Kathy Griffin and other friends to have their photos taken with their beloved pets. |
| 3 | 16 | Bees and Booze Housewarming Party | 2011-11-09 | 30 | Debi & G prepare for a housewarming part by learning to make sepciality cocktails then don Bee Keeper outfits to carve out some fresh honeycomb for recipes before coming home to host a housewarming dinner for friends. |
| 4 | 17 | Evelena's Super Fabulous Birthday Bash | 2011-11-16 | 30 | Debi is shocked when her 9 year old daughter announces that all she wants for her birthday is to go skydiving. Being a white-knuckle flier, this is Debi's worst nightmare! Gabo finds a way to make it happen and surprises the family with an indoor skydiving experience. |
| 5 | 18 | Going Green! Yay! | 2011-11-23 | 30 | The last season of Entourage wraps up and Debi Mazar is sharing one final toast to the successful run with her co-star Adrian Grenier. She decides on a menu of fresh, organic ingredients picked up from a local urban farm. The menu consists of homemade Ricotta served on crostini, Debi's Yellow Tomato Lumaconi, Insalata Di Fagiolini Verdi and finished off with Lemon Brule Tart. Adrian joins in by helping out in the kitchen stuffing Fried Squash Blossoms. |
| 6 | 19 | Blind Date for Robert | 2011-11-30 | 30 | Debi Mazar and Gabriele Corcos make a quick lunch for their friend Robert and let him know that they've decided to set him up on a blind date. They open their home up for the introductory dinner with a menu of Duck Ragu With Homemade Pasta, plus their own sausages. To top it all off, Debi is a making a Love Potion -- a strawberry balsamic cocktail topped with Elderberry cream. |
| 7 | 20 | An Old Family Recipe | 2011-12-14 | 30 | Debi Mazar and Gabriele Corcos track down their friend Joe Mantegna's old family recipes straight from Italy and make him a meal from his childhood. They also make artisanal Burrata cheese with an Italian friend. Then, they astonish Joe and his wife with a meal straight from his memory: Heirloom Tomato Caprese with their own homemade Burrata cheese, a Sicilian specialty of Orange, Red and Olive Salad and Orechiette al Ragu di Braciole. |
| 8 | 21 | Biker Bash | 2011-12-21 | 30 | Debi surprises Gabrielle by wanting to learn how to cook pizza in the wood fire oven. After a couple of attempts she's throwing pizza like a pro and adds her own twist to pizza by creating a beautiful basil oil to garnish the wood fired snack. Then it's off to a special event - they've been invited as guests to the popular Los Angeles Motorcycle show and have decided to present a special lunch to event goers. Porchetta sandwiches AND caprese sandwiches, plus pasta primavera and a salad of chopped Romaine hearts with Salsa Verde. |
| 9 | 22 | Olive You! | 2011-12-28 | 30 | It's time for fun on the farm as Debi Mazar experiments with olive oil concoctions for beauty products and Gabriele Corcos catalogs the trees on the farm. After some fun with olive oil, they start a special meal to serve his Grandma Nola with dishes like Chicken Cacciatore, Mashed Potatoes With Olive Oil and Pancetta, Tapenade and Olive Oil Gelato. |
| 10 | 23 | Toscana Road Trip | 2012-01-04 | 30 | The family takes to the road for an excellent artisans adventure through Tuscany. Stopping first at an organic Dairy farm to make cheese - and Debi decides she wants to try and milk one of the cows. Then it's off to make authentic Tuscan bread with a baker who shows them the old ways. Finally, they meet an Italian Nona who teaches them how to make fresh ravioli. They take everything back to Gabriele's mother's home and create an artisanal feast from everything they discovered. |
| 11 | 24 | Gone Fishin' | 2012-01-11 | 30 | The family heads out to the coast to escape the hot weather and enjoy the fruits of the sea. Gabriele Corcos and Debi Mazar go on a fishing trip and hook some Branzini for dinner. They grill a gorgeous meal from the sea on a fantastic oceanfront beach that sits directly in front of them with a menu of Branzino a Cartoccio, Cozze Alla Tarantina, Grilled Eggplant, Zucchini and Peppers, Pinzimonio, Annalisa's Speciale and Aperol Spritz. |
| 12 | 25 | Tuscan Sun Festival | 2012-01-18 | 30 | G & D have been invited to put on a cooking demo at the prestigious Tuscan Sun Festival in Cortona. They whip up a shrimp risotto and a peach and fennel salad that empresses festival goers. Then they're under the gun as they go to the villa made famous by author Frances Mayes in her book "Under The Tuscan Gun" to cook a special lunch for some important VIPs in the Italian culinary world. The pressure is for Gabriele to perform in his homeland! |
| 13 | 26 | The Cookbook Cookoff | 2012-01-25 | 30 | The pressure is on for Debi & G as they take over a Los Angeles restaurant and test out recipes for their new cookbook on some famous foodies - Susan Feniger, and several others. |
Season 3
| Episode No. | No. Overall | Title | Airdate | Runtime | Summary |
| --- | --- | --- | --- | --- | --- |
| 1 | 27 | Jetlaggin' in Italy | 2012-11-07 | 30 | Debi, Gabriele and their daughters have just arrived at their home in Italy. Everyone is exhausted from jetlag and the stress of travel. All Debi and the girls want is to relax but Gabriele has invited friends and family over for dinner so there's no time. Instead they pick apricots off their own trees, which they will grill for an appetizer, and head to a local goat farm to buy two delicious cheeses to go with them. They make homemade ice cream for dessert and harvest cherries for a compote to ladle over the sweet treat. Then, to top it all off, Gabriele builds a fire in the heat of the day to make pasta alla Norma with grilled eggplant and Debi makes a salad with green radicchio and a lemon and olive oil dressing. It's wonderful to see their loved ones after being away from Italy for so long and the food is a big hit. In the end, the fact that they pushed themselves to stay up is probably a good thing because now, after all their hard work, and with bellies full of Gabriele's delicious Tuscan food, they will all sleep like babies. |
| 2 | 28 | Road Trip to Siena | 2012-11-14 | 30 | Debi and Gabriele, their girls and "Uncle" Robert are headed to Siena to see a play that some friends are putting on and then to make their pals a congratulatory meal. Siena, although in Tuscany, is on the other side of the region, so has a totally different cuisine - but Gabriele is determined to make his friends their favorite dishes even though he's never cooked them before - it will be a challenge. As his ace in the hole, Gabriele goes to a man named Bagoga, a master of pici pasta, a hand rolled, spaghetti-like pasta that is a specialty of Siena - serving pici should give him a leg up with his mates. For the pici, Gabriele makes a simple sauce with olive oil, garlic, hot pepper and tomatoes. In addition to which he makes a lardo crustini - mashed pig fat with herbs and spices on toasted bread and Debi makes a zucchini carpaccio, with lemon, olive oil and mint. The meal is a hit and Gabriele is happy that he passed this culinary test! |
| 3 | 29 | Boys and Their Bikes | 2012-11-21 | 30 | Gabriele's brother, Fabio, is about to celebrate a birthday and Gabriele and Debi want to give him a party to remember. They make a plan to ride motorcycles, something Gabriele and Fabio have loved since they were kids, and cook a meal for Fabio, with all of his favorite dishes, in the track's restaurant kitchen. While driving to the raceway, Debi and Gabriele stop to make tortalone (oversized, triangular ravioli) with an adorable old couple who are said to make some of the best. From there, it's on to the track for the celebration. The ride is very scary for Debi and her girls but it's a lot of fun for Gabriele and Fabio. But what's even better is sharing a meal of porcini mushroom crustini, the tortalone with a three-meat Bolognese sauce and profiteroles for dessert. Fabio clearly appreciates all the effort that Gabriele and Debi have gone to and the thoughtfulness of making his favorite food. Buon Compleanno - which means happy birthday in Italian. |
| 4 | 30 | The Heart of Florence | 2012-11-28 | 30 | Debi and Gabriele are in Florence, by the Arno River, where they kissed for the first time eleven years ago. To celebrate what they remember fondly as the launch of their relationship, they have planned a romantic dinner at a fancy restaurant. Gabriele heads home to make sure their girls are taken care of while Debi meets Robert for lunch and a little shopping. Unfortunately, Gabriele is held up in traffic on his way back to Florence and they miss their reservation. Debi is upset but she gets over it when Gabriele offers to cook her a special meal at home to make up for his mistake. Knowing that her husband's food is better then any restaurant, no matter how fancy, Debi readily agrees. Gabriele makes risotto with speck and cantaloupe, arugula salad with grilled calamari and as a surprise, zabaglione, Italian custard over fresh fruit. While Gabriele makes the dessert, Debi heads to the bedroom to freshen up for a little after dinner fun. Gabriele brings up the dessert but just as they are about to start the second, ever sexier, phase of their evening, the girls return home - ah life! It's never quite what you want it to be. But for Debi and Gabriele, it's always delicious. |
| 5 | 31 | Welcome to Brooklyn | 2012-12-05 | 30 | Debi, Gabriele and their girls have moved from Los Angeles to Brooklyn, NYC. There's tons of unpacking left to do but Debi is eager to show Gabriele her old neighborhood - hopefully he'll love it as much as she does. Getting out of the house turns out to be a great idea - they have fun learning to brew beer, they find a wonderful butcher and a fantastic corner store. While out, Debi and Gabriele buy the supplies for their first backyard barbecue and invite some new friends to join them. But, of course, this being Gabriele, the menu is ribs, sausages braised in beer and spices, potatoes grilled en cartoccio (in foil packets) and beet and pear salad with gorgonzola cheese - Super Tuscan by any standard. |
| 6 | 32 | Up on Arthur | 2012-12-19 | 30 | Gabriele is fascinated by all of the American food that is marketed as Italian, like a massive ham and salami sandwich that Robert brings home, which bears no similarity to any food Gabriele knows from his home country. But Gabriele is convinced that not all Italian-American food has strayed so far from it's roots and Robert offers to take him and Debi up to Arthur Avenue, the epicenter of Italian culture in New York, for some research. They make traditional pasta with a third generation pasta maker, mozzarella with a second generation deli man, they get homemade Italian salami from the local pork store, they play bocce and the visit the garden of a beautiful Italian grandma who hardly speaks any English at all. But what Gabriele really takes away from his fun-filled day is that Italian-American food is really it's own cuisine, neither completely Italian nor completely American is can be a wonderful amalgam of the two. And in honor of that concept, Gabriele makes his version of baked ziti, a beautiful cake of pasta with mozzarella, pork and red sauce, wrapped in slices of eggplant. He also makes a fresh green salad and, for dessert, cannoli with orange liquor and orange zest. Viva Americano! |
| 7 | 33 | Happy Birthday, Debi! | 2012-12-26 | 30 | The morning of her birthday, Debi comes down stairs expecting Gabriele to acknowledge the special day. Instead he says he's going to get a tattoo - what a disappointment! Debi is meeting he best friend, Robert, so she and Gabriele head out in separate directions. What Debi doesn't know is that Gabriele is conspiring with Robert to throw Debi a surprise birthday party. While Robert distracts Debi with a pedicure, a boat ride in Central Park, a delicious lunch and much more, Gabriele is running around like a crazy man, buying the ingredients, gathering Debi's friends and preparing a delicious meal that starts with a charcuterie platter, continues with eggplant parmesan and asparagus involtini and ends with a beautiful birthday cake! Debi is blown away, grateful that her friends are there and ecstatic that her husband did actually remember! Happy Birthday! |
| 8 | 34 | Dinner Under the Tuscan Gun | 2013-01-02 | 30 | Gabriele and Debi have been living in New York for a while now and Gabriele is eager to get his name known in the culinary circles of the City. To do so he wants to have a super Tuscan "coming out dinner party" for as many food luminaries as he can get to come. Debi agrees. Gabriele heads to Eataly, the premiere Italian market in the five boroughs. He wants to get inspired, see what's fresh and what sparks his imagination - it's a wonderland of Italian treats - and it works, he knows just what he's going to make ribolita (Tuscan vegetable soup), beef tartar, roasted potatoes and rabbit cacciatore. The big day comes and the guest list surpasses even Gabriele's wildest hopes - twenty-four famous foodies are there to eat including the likes of Drew Nieporent and Michael White, two of New York City's premiere restaurateurs and Dana Cowin, editor-in-chief of Food & Wine magazine. Gabriele has to work very hard to please such expert eaters but he pulls it off with gusto and everyone loves the meal. Gabriele has definitely announced his presence. |
| 9 | 35 | A Tuscan Remedy | 2013-01-09 | 30 | Gabriele and Debi are in the city for a stroll along a riverside park. As they look out over the Hudson they see majestic boats and Debi suggests that for their 11th wedding anniversary, which is coming up soon, they take a romantic sunset sail - Gabriele loves the idea. But later, back at home, Gabriele has fallen ill and Debi has to nurse him to health before they can take their cruise. First, she makes him some healthy juice. Then, with a fresh cut of beef that they've just bought, Debi makes Gabriele a traditional Tuscan broth - just like his nonna Lola used to make. Finally, with the meat from the broth and other ingredients, Debi makes Lesso Rifatto, a hearty Tuscan stew much beloved in Italy. The fortifying effects of this super Tuscan food works and the following morning Gabriele is up before Debi preparing for their boat trip with a picnic of pears and pecorino cheese, melon and prosciutto, amaretto cookies and bottle prosecco to toast their anniversary - what a romantic sail it is! |
| 10 | 36 | Coney Island Calling | 2013-01-16 | 30 | Gabriele and Debi are having lunch with their daughters, Evelina and Giulia when the girls tell them that they miss Los Angeles and their friends there. Debi and Gabriele are sympathetic to the girls but they also want them to bond to their new home, Brooklyn, and make new friends here. So they take the girls to Coney Island to show them what fun New York can be and, boy, is it fun. The girls go on rides and play games and shop along the boardwalk - it's a blast. The following weekend they throw the girls a party and invite lots of local families with kids. There is a cotton candy machine, pin the tail on the wild boar (the Tuscan version of pin the tail on the donkey) and a pi?ata. Gabriele serves delicious fish tacos with a Tuscan spin on guacamole, beet chips and a delicious and imaginative fruit punch. It's super Tuscan and super fun! |
| 11 | 37 | The Man of Montauk | 2013-01-23 | 30 | Gabriele has been hired as the executive chef at the Montauk Yacht Club on the southern tip of Long Island. He's there to check on things - make sure the dishes are being made to his specifications, reconnect with the line chefs and maybe make a few tweaks to the menu. The rest of the family is happy to be out of the city and, while they're there, visit good friends Tony Bourdain and his wife Ottavia. The restaurant is doing well but could use a lighter dish in the heat of the summer. Gabriele goes fishing to get inspired, catches some stripped bass and comes up with something great. Later, at Tony's, Gabriele prepares tuna tartar with basil, lobster arrabiata and a delicious caipirinha cocktail to cool off. Tony, a chef himself, Ottavia and Debi all love the food. Gabriele really is the man, when it comes to Montauk. |
| 12 | 38 | Meatopia! | 2013-01-30 | 30 | It's early afternoon at the Mazar/Corcos home and Gabriele is grilling a bisteca Fiorentina for Debi. Beside the thick cut steak, he's making grilled endive and radicchio, with gorgonzola and sage-infused olive oil, and roasted sunchokes with salsa verde. It is super Tuscan all the way and tastes fantastic. Gabriele is buttering Debi up because he wants to do a big cooking event called Meatopia. Over two thousand people attend so it will be a lot of work but she agrees. Unfortunately, the night of the event, Debi's got a red carpet affair that she must attend - she'll get to Meatopia, but late. At the meat-lovers fair Gabriele is going nuts trying to pull the whole thing together. He's got a truck with a brick oven on the back for making pizzas, on top of which he's going to place rosemary, parsley, baby arugula, lemon zest and his meat - carpaccio. To do all of that for so many people is virtually impossible but thankfully Debi shows up at the last minute and they are able to make it happen. The crowd loves their dish! Success! |
| 13 | 39 | Urban Green | 2013-02-13 | 30 | No house is truly a home for Debi and Gabriele unless they can grow their own veggies and herbs. In their tiny Brooklyn backyard, Gabriele is trying to recreate a bit of the garden he has in Italy but if he's going to make it work he'll need help from some local folks who know how to make urban green. He and Debi go to Riverpark Farm to learn about creating a little garden plot in the city and then to Prospect Park with master forager Steve Brill to learn about what they can harvest in nature. Inspired by everything they see, and with some fresh ingredients they've collected, Gabriele and Debi make seared quail with a sauce from cornelian cherries and American black cherries that they gathered in the park, greens they've just picked, and polenta - it doesn't get greener than that. |
Season 4
| Episode No. | No. Overall | Title | Airdate | Runtime | Summary |
| --- | --- | --- | --- | --- | --- |
| 1 | 40 | Weekend on the Cheap | 2014-04-02 | 30 | New York is an expensive city, but it doesn't have to be! Debi and Gabriele are determined to do a New York weekend on the cheap. They'll take a bike ride over the Brooklyn Bridge, enjoy some inexpensive treats at a local sweet shop and visit a unique bakery in Spanish Harlem. Then they'll cap it all off by making dinner for the whole family for under $15. |
| 2 | 41 | Classic Car Cookout | 2014-04-09 | 30 | Gabriele loves cars and Debi loves classic style. Their passions collide as they head to Oyster Bay for a Classic Car Cruise Night. Together they'll check out some beautiful vintage cars, meet the car enthusiasts that own them and maybe test-drive one or two of their favorites. If Debi can manage to pull Gabriele away from the engines they cook up a little feast and feed their car-loving friends in the parking lot surrounded by beautiful, classic automobiles. |
| 3 | 42 | Tuscany on the Hudson | 2014-04-16 | 30 | Gabriele is homesick for the beautiful Tuscan countryside and Debi wants to show him that he can get a taste of Tuscany just by driving a couple of hours north. Debi and Gabriele head to N.Y.'s Hudson Valley for some fresh air and good, farm-fresh ingredients. Back home, they settle in and put their ingredients to use by cooking up a big family meal to eat outside in their backyard. After a fun filled day and delicious food, Gabriele will feel like he's home. |
| 4 | 43 | End of Summer BBQ | 2014-04-23 | 30 | Debi and Gabriele decide to throw the ultimate barbecue and they turn their backyard into a petting zoo! On the menu are Mint and Lime Lamb Chops, Roasted Pepper and Mozzarella Skewers, Farfalle With Anchovies and Sun-Dried Tomatoes and Hazelnut Gelato. |
| 5 | 44 | Truffle Hunting | 2014-04-30 | 30 | Truffles are a delicacy all over the world, and hunting for them can be just as fun as eating them. In this episode Debi and Gabriele are surprising the girls with an afternoon adventure to Pisa where they'll meet up with a well-known truffle hunter and tag along with him and his dog as they scour the woods looking for the rare and tasty mushroom. Later in the show, Gabrielle and Debi will use any truffles they find to make a delicious meal for the whole family to enjoy. With recipes for Crostini With Porcini and Stracchino, Simple Omelet With Shaved Truffles and Ravioli With Parmesan and Truffle Butter Sauce. |
| 6 | 45 | Liquid Gold | 2014-05-07 | 30 | Debi and Gabriele are in Italy for olive harvest season and Gabrielle is eager to share this time-honored tradition with his girls. But first, he gets the family fueled up with some of his Olive Oil Muffins. He invites the neighbors and gets the whole family involved to shake the olives from trees. From there, we'll see just how the family olive oil is made. With their fresh olive oil in hand, Deb and Gab get started on some simple and delicious Tuscan dishes -- first, Pasta e Fagioli, then Pollo al Mattone, a traditional chicken dish on the fire and, finally, Fire Roasted Chestnuts. It's the perfect harvest feast! |
| 7 | 46 | Nonna's 90th Birthday | 2014-05-14 | 30 | Gabriele's Nonna has turned 90 and he wants to celebrate! Debi and Gabriele head to the local pastry shop to learn how to make the Torte Della Nonna, a mouthwatering local specialty. Before the family arrives, Debi and Gabriele make a Chicken Liver Crostini appetizer. And then they get started on the birthday feast of Wood Oven Spit Roasted Guinea Fowl and Treviso e Fagioli. It's a birthday Nonna will never forget! |
| 8 | 47 | Better Than Bacon | 2014-05-21 | 30 | Gabrielle has always wanted to visit Colonnata to experience the unique and unbelievably tasty Colonnata lardo; it's a delicacy that both he and Debi adore. Before their trip, the couple make an easy delicious Tuscan Kale and Lardo Crostini. Once in Colonnata, they'll meet with the master lardo makers to see what goes into the six month to two year process to make one of the world's most delicious luxuries. And of course, they can't leave without trying it! Debi and Gabrielle will feast on the world's best lardo before heading back to their kitchen to make Coniglio Fritto and Tortiera di Carciofi. |
| 9 | 48 | Chianti Romance | 2014-05-28 | 30 | What's more romantic than Italian wine country? Debi and Gabriele are taking the afternoon to explore the Chianti region, and pick up the ingredients for a fabulous dinner. Before they head out, they make a quick Panino Chianti Giano. They end their romantic afternoon at the breathtaking Fattoria di Montecchio, one of the most beautiful wineries in Tuscany. Back in their kitchen, Debi and Gabriele keep the romance going with Ragu di Cianghiale and they make it a sweet ending with Ricotta Cheesecake. Romance is always in the air in wine country! |
| 10 | 49 | Camping | 2014-06-04 | 30 | Debi, Gabriele and the kids have never gone camping together as a family. Gabriele has always wanted to go, but it has taken a long time to convince Debi how fun camping can be. Finally, Debi has agreed to give camping a shot -- for just one night -- so they pack up the car, the kids and Robert and head upstate to a campground in the Catskills. Gabriele gets the fire started and makes a delicious Camp Fire Flatbread. They take in some local activities, before firing up the grill for the perfect campside stew, Impruneta Peposo. And Debi creates a tasty Farm Stand Salad. It's the perfect camping experience ... until Mother Nature steps in. |
| 11 | 50 | Tuscan Soul Food | 2014-06-11 | 30 | One of Debi's oldest friends Fab Five Freddy has lived in Harlem for years and wants to show Debi and Gabriele some of his favorite haunts. They're leaving the girls behind today, so Debi and Gabriele whip up a Torta di Carote for an after-school snack. In Harlem, Freddy introduces them to chef and restaurateur Alexander Smalls. They all head to Alexander's apartment for a delicious dinner of Polenta Incanita with Pork Belly Cubes and Alexander's Black-Eyed Peas and Arugula Salad. Tuscan Soul Food at its finest! |
| 12 | 51 | All About the Girls | 2014-06-18 | 30 | Family time is a priority to this clan, and Debi and Gabriele always make sure they each have quality time with their daughters. Debi and Giulia cook up a delicious breakfast Fritatta, while Gabriele and Evelina head to the Brooklyn Botanical Gardens for some father-daughter time. And Debi has a full circle moment when she takes her daughters to her childhood home. Back in the kitchen, Debi and Gabriele make some family favorites, Polenta Pasticciata and Lentil Salad With Burrata. After a long day, they sit down and enjoy a delicious family meal. |
| 13 | 52 | Music Man | 2014-06-25 | 30 | These days Gabriele's known for his cooking, but his other passion has always been music. Debi and Gab are off to the iconic jazz club Birdland to see their friend Arturo O'Farrell play, but not before Gabriele makes a Cafe Shakerato, a quick pick-me-up! Gabriele makes a deal with Arturo that if he cooks for him, he can play in his next show at Birdland. Gabriele and Debi cook up a wonderful Tuscan meal of Shaved Artichoke on Arugula and Parmesan, Bresato Al Barolo and Gabriele recreates an old family recipe when he makes Panelle. Arturo is true to his word and Gabriele gets to fulfill a lifelong dream. |
Season 5
| Episode No. | No. Overall | Title | Airdate | Runtime | Summary |
| --- | --- | --- | --- | --- | --- |
| 1 | 53 | Gift to the Neighborhood | 2015-01-07 | 30 | Debi and Gabriele have been living in their Brooklyn neighborhood for a couple of years now and they have really grown to love it. Their neighbors have welcomed them with open arms and they feel a very strong connection to all of the local shops and restaurants. Now they want to give back the only way they know how -- by cooking for them. In this episode, they'll take over one of the neighborhood's restaurants for the day, cook a variety of Tuscan recipes and serve their neighborhood friends a meal. And of course, since they're cooking for the neighborhood, they'll be shopping in all of their favorite local shops for ingredients for the big feast. |
| 2 | 54 | Deb's Fashion Show | 2015-01-14 | 30 | Gabriele has his motorcycle passion, but Debi has always had a thing for fashion. In this episode, Debi takes Giulia (who inherited her mom's love of fashion) to her friend, fashion designer Zac Posen's studio for a behind the scenes tour and a dress fitting. Meanwhile, Gabriele has gone to the Fulton Fish Market to get fresh seafood for dinner. Later that day, Zac comes over to help cook a seafood-inspired Tuscan dinner. |
| 3 | 55 | James Beard Supper | 2015-01-21 | 30 | Gabriele and Debi have been asked to cook at the James Beard house in New York. The James Beard foundation is well known throughout the culinary community for its educational programs, industry awards and scholarships. The James Beard house hosts frequent meals, usually headlined by important figures from the culinary community. In this episode, Gabriele and Debi will have an opportunity to add their names to the prestigious list of guest cooks. It's a huge honor and they're going to create the best possible culinary experience that they can for an intimate group of friends that will get to share the evening with them. |
| 4 | 56 | The Drill | 2015-01-28 | 30 | Today, Gabriele and Debi have decided to take a day to prepare the family for the possibility of another major disaster, like Hurricane Sandy, in what they're calling "The Drill." Can the family go the whole day without electricity or any modern conveniences? Can Gabriele and Debi cook dinner for the family without electricity or gas? Can Debi and the girls go a day without the internet? And finally ... what will Robert think of all of this? |
| 5 | 57 | A Day with the Girls | 2015-02-04 | 30 | Deb has a few close friends that always talk about getting together for dinner but it seldom happens. In this episode, Deb finally gets together with three of her best friends, all of whom happen to be of Italian American heritage, Drena De Niro, Kathrine Narducci and Aida Turturro. Today, they're all meeting up at Debi's house and hitting the neighborhood for a little shopping. Meanwhile, Gabriele will be hitting a local distillery and a neighborhood honey producer to pick up ingredients for a special cocktail for the girls. Then for dinner, it's all hands on deck as everyone takes turns helping Gabriele cook up some delicious Italian recipes. |
| 6 | 58 | School's Out | 2015-02-11 | 30 | For Evelina and Giulia, the best time of year is finally here -- the last day of school. While the girls take it in, Debi and Gabriele have one more afternoon to themselves and they've decided to use the time to explore the Brooklyn neighborhood Red Hook. They'll stop by the Red Hook Winery for some wine tasting and then they'll hit Cacao Prieto to sample and pick up fresh chocolate to use for dessert. Then they'll pick up the girls at school and head home to cook a special meal to celebrate the end of school and the beginning of summer. |
| 7 | 59 | The Pizza Oven | 2015-02-18 | 30 | When they lived in L.A., Gabriele and Debi built a pizza oven in their backyard. The oven gave them many great memories and even more delicious meals! They promised themselves they'd build another pizza oven someday, and while the backyard in Brooklyn is pretty tight, their property in Italy is just begging for a pizza oven. In this episode, the family has just arrived back in Tuscany and Gabriele is eager to get started. While their oven is being constructed, Debi and Gabriele head to Tuscany's historic central market to pick up ingredients for their first pizzas. And of course, to christen the oven, they'll have a big party with family and friends to enjoy some homemade pizzas. |
| 8 | 60 | Life on the Farm | 2015-02-25 | 30 | It's pretty well established at this point that Gabriele dreams of a life on the farm. While she's more of a city girl at heart, Debi has always supported and encouraged him to pursue his dream. On their property in Italy they have the patch of country land, all they need are the animals. In this episode, Debi and Gabriele will get their farm started by restoring the old chicken coop and going to a local farm to buy some chickens. Then they'll cook up a big farm-inspired feast to celebrate. |
| 9 | 61 | Tools of the Trade | 2015-03-04 | 30 | Every good chef needs a good set of tools. When Debi and Gabriele are in Tuscany, they try to cook with unique Tuscan tools whenever possible. And, like any chef, they're always looking to add to their arsenal. In this episode, they'll take the kids and Robert to a flea market go on the hunt for traditional cooking utensils. But first they take them for a picnic at the local zip line adventure park. Back home, after the zip lines and flea market, they'll cook a delicious dinner using the day's finds. |
| 10 | 62 | Livorno | 2015-03-11 | 30 | It's July in Tuscany and it's hot. Debi, Gabriele and the girls need a break from the heat so Gabriele decides to take them to the Mediterranean coastal town of Livorno for some fun in the breezy sea air and some fresh, light seafood. They'll stop at a local restaurant for some traditional cuisine, take in the boardwalk scene and then they'll hit the big fish market to buy some fresh seafood to take home and cook tomorrow. For dinner, they'll make a Livorno-inspired meal with Gabriele's signature Tuscan twist. |
| 11 | 63 | A Day of Food and Beauty | 2015-03-18 | 30 | One of Debi's favorite places to go in Florence is the 400-year-old Pharmacy at the Santa Maria Novella. Part museum, part store selling traditional and modern elixirs, oils, soaps and perfumes, Debi has been going here for years. She and Gabriele decide to spend the day showing the girls all of the different ways that the herbs from their land can be used to make fun beauty treatments and delicious food. Debi will give Robert and the girls a "spa day" in their kitchen, then Gabriele will cook a dinner using recipes that highlight the same local Tuscan herbs. |
| 12 | 64 | Tuscan Safari | 2015-03-25 | 30 | Tuscany is full of wild game; deer, rabbit, pheasant and, of course, boar. The animals have had a major influence on the traditional food of the region and it's a constant topic of conversation. One of Gabriele's friends runs a Tuscan safari -- a trip through the wilderness that gives visitors an up close look at some of that Tuscan wildlife -- so today, he's taking Debi and the girls on safari. Then for dinner, they'll cook some delicious recipes that feature the most celebrated local wild game, the mighty boar. |
| 13 | 65 | A Day for Lola | 2015-04-01 | 30 | There is a bocce ball court on Gabriele's property that nonna Lola used to play all the time, but since Gabriele moved to the states the court has fallen apart. Now, he wants to repair it and bring it back to its former glory. When it's ready, he'll get the whole family out there, including nonna Lola, for a big feast and inaugural bocce ball tournament to officially open the court again. Of course, all of the food for the feast will be favorite recipes of nonna Lola. And for an added treat, Gabriele will take the whole family to the medieval town of Colle di Val d'Elsa to learn how to make Lola's favorite cookies, Ricciarelli's, and bring a bunch back for the party. |
Series Cast
| | | | |
| --- | --- | --- | --- |
| | Debi Mazar | as Debi Mazar | |
| | Gabriele Corcos | as Gabriele Corcos | |
Related News
TVMaze