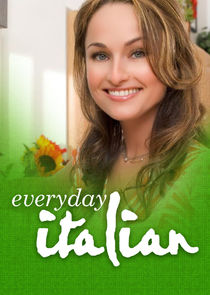 Italians are masters at transforming simple, everyday ingredients into dishes that are quick, healthy and satisfying. In Everyday Italian, Chef Giada De Laurentiis shares updated versions of the homey recipes she grew up with in her Italian family. She'll show you easy dishes that are perfect for every occasion: a weeknight meal, entertaining a crowd, or a cozy dinner for two. Buon appetito!
Series Overview
Rating
imDb Rating: 7.7 (289 Votes)
Metascore: N/A
Plot
Giada De Laurentiis shows viewers how to make traditional Italian dishes with an American twist.
Details
Rated: TV-G
Released: N/A
Runtime: 22 min
Genre: N/A
Director: N/A
Writer: N/A
Actors: Giada De Laurentiis
Language: English
Country: USA
Awards: 3 wins & 4 nominations.
Total Seasons: 15
Previous Episode
Italian Picnic
Episode 12x12; Aug 23, 2008
Previous Episodes 12x12: Italian Picnic 12x11: Cakes, Cookies and Ice Cream 12x10: Flavors of Sardinia 12x9: Hotel Style Luxury 12x8: Pasta for Every Season 12x7: Kids Camping 12x6: Osteria 12x5: Great on the Grill 12x4: Giada's Vegetarian Favorites

View All Episodes
Skip to:
Season 1
| Episode No. | No. Overall | Title | Airdate | Runtime | Summary |
| --- | --- | --- | --- | --- | --- |
| 1 | 1 | Polenta Party | 2003-04-03 | 30 | |
| 2 | 2 | All Day Sunday | 2003-04-10 | 30 | |
| 3 | 3 | Romantic Meal | 2003-04-17 | 30 | |
| 4 | 4 | Weeknight Dinner | 2003-04-24 | 30 | |
| 5 | 5 | Pasta Primer | 2003-05-01 | 30 | |
| 6 | 6 | Cocktail Party | 2003-05-15 | 30 | |
| 7 | 7 | Italian American Night | 2003-05-29 | 30 | |
| 8 | 8 | All About Lasagna | 2003-06-05 | 30 | |
| 9 | 9 | In Nonna's Kitchen | 2003-06-12 | 30 | |
| 10 | 10 | Italian Comfort Food | 2003-06-19 | 30 | |
| 11 | 11 | Straight from the Pantry | 2003-06-26 | 30 | |
| 12 | 12 | Quick Pasta Classics | 2003-07-03 | 30 | |
| 13 | 13 | Seafood Feast | 2003-07-10 | 30 | |
Season 2
| Episode No. | No. Overall | Title | Airdate | Runtime | Summary |
| --- | --- | --- | --- | --- | --- |
| 1 | 14 | Seafood Delights | 2003-10-04 | 30 | |
| 2 | 15 | Brunch | 2003-10-11 | 30 | |
| 3 | 16 | Birthday Party | 2003-10-18 | 30 | |
| 4 | 17 | Dessert Party | 2003-10-25 | 30 | |
| 5 | 18 | One Pot Meals | 2003-11-01 | 30 | |
| 6 | 19 | Antipasti Party | 2003-11-08 | 30 | |
| 7 | 20 | Holiday Side Dishes | 2003-11-15 | 30 | |
| 8 | 21 | Sandwiches | 2003-11-29 | 30 | |
| 9 | 22 | Holiday Dinner Party | 2003-12-11 | 30 | |
| 10 | 23 | Risotto Cravings | 2003-12-27 | 30 | |
| 11 | 24 | Light Pasta Classics | 2004-01-03 | 30 | |
| 12 | 25 | Dinner and a Movie | 2004-01-31 | 30 | |
| 13 | 26 | Family Favorites | 2004-02-14 | 30 | |
Season 3
| Episode No. | No. Overall | Title | Airdate | Runtime | Summary |
| --- | --- | --- | --- | --- | --- |
| 1 | 27 | Italian Vegetables | 2004-01-10 | 30 | |
| 2 | 28 | Chocolate | 2004-02-07 | 30 | |
| 3 | 29 | Stuffed Pastas | 2004-02-21 | 30 | |
| 4 | 30 | Dinner Party Delivery | 2004-02-28 | 30 | |
| 5 | 31 | Lavish Leftovers | 2004-03-06 | 30 | |
| 6 | 32 | Casual Dinner Party | 2004-03-27 | 30 | |
| 7 | 33 | Easter Celebration | 2004-04-03 | 30 | |
| 8 | 34 | Quick Italian Dishes | 2004-04-17 | 30 | |
| 9 | 35 | Weekend Lunch | 2004-04-24 | 30 | |
| 10 | 36 | Italian Restaurant Classics | 2004-05-01 | 30 | |
| 11 | 37 | Italian Picnic | 2004-05-22 | 30 | |
| 12 | 38 | Power of Pesto | 2004-05-29 | 30 | |
| 13 | 39 | Al Fresco Dining | 2004-06-05 | 30 | |
Season 4
| Episode No. | No. Overall | Title | Airdate | Runtime | Summary |
| --- | --- | --- | --- | --- | --- |
| 1 | 40 | Burgers and Fries | 2004-07-17 | 30 | |
| 2 | 41 | Italian Salads | 2004-07-24 | 30 | |
| 3 | 42 | Marinades and Sauces | 2004-07-31 | 30 | |
| 4 | 43 | Italian Seafood Boil | 2004-08-07 | 30 | |
| 5 | 44 | Grilling Show | 2004-08-08 | 30 | |
| 6 | 45 | Rustic Italian Cooking | 2004-08-14 | 30 | |
| 7 | 46 | Hot & Spicy | 2004-08-21 | 30 | |
| 8 | 47 | Soups and Stews | 2004-08-28 | 30 | |
| 9 | 48 | Under the Tuscan Sun | 2004-09-11 | 30 | |
| 10 | 49 | Back Home to Rome | 2004-09-18 | 30 | |
| 11 | 50 | More Sandwiches | 2004-09-25 | 30 | |
| 12 | 51 | Viewer Requests | 2004-10-16 | 30 | |
| 13 | 52 | Italian Ladies | 2004-10-30 | 30 | |
Season 5
| Episode No. | No. Overall | Title | Airdate | Runtime | Summary |
| --- | --- | --- | --- | --- | --- |
| 1 | 53 | Olive Oil Crush | 2004-09-27 | 30 | |
| 2 | 54 | Cooking for Kids | 2004-10-09 | 30 | |
| 3 | 55 | Simply Sweet | 2004-10-23 | 30 | |
| 4 | 56 | Italian Southern Comfort | 2004-11-06 | 30 | |
| 5 | 57 | Italian Thanksgiving | 2004-11-13 | 30 | |
| 6 | 58 | Italian Cookie Swap | 2004-12-02 | 30 | |
| 7 | 59 | Roasting Show | 2004-12-11 | 30 | |
| 8 | 60 | Lazy Days | 2004-12-25 | 30 | |
| 9 | 61 | Eggilicious | 2005-01-01 | 30 | |
| 10 | 62 | No Sauce Pastas | 2005-01-15 | 30 | |
| 11 | 63 | Gooey Good Food | 2005-01-22 | 30 | |
| 12 | 64 | First Time Dinner Party | 2005-02-05 | 30 | |
| 13 | 65 | Italian Fusion | 2005-02-19 | 30 | |
Season 6
| Episode No. | No. Overall | Title | Airdate | Runtime | Summary |
| --- | --- | --- | --- | --- | --- |
| 1 | 66 | The Lighter Side of Italian | 2005-01-03 | 30 | |
| 2 | 67 | Game Night | 2005-01-29 | 30 | |
| 3 | 68 | Romantic Dinner | 2005-02-12 | 30 | |
| 4 | 69 | Foods That Refuel | 2005-03-05 | 30 | |
| 5 | 70 | Wedding Shower | 2005-03-12 | 30 | |
| 6 | 71 | Beach Party | 2005-03-19 | 30 | |
| 7 | 72 | Italian Fast Food | 2005-03-26 | 30 | |
| 8 | 73 | Everyday Desserts | 2005-04-02 | 30 | |
| 9 | 74 | Meaty Italian Meals | 2005-04-09 | 30 | |
| 10 | 75 | Stress Free Italian | 2005-04-16 | 30 | |
| 11 | 76 | Girls Night In | 2005-04-23 | 30 | |
| 12 | 77 | Personal Day | 2005-05-07 | 30 | |
| 13 | 78 | Personal Chef | 2005-05-14 | 30 | |
| 14 | 79 | Sinful Vegetables | 2005-06-04 | 30 | |
| 15 | 80 | Spicy Comfort | 2005-06-11 | 30 | |
| 16 | 81 | Pasta Potluck | 2005-06-18 | 30 | |
| 17 | 82 | Meet and Mingle | 2005-06-25 | 30 | |
| 18 | 83 | Easy Weekend Entertaining | 2005-07-02 | 30 | |
| 19 | 84 | Wine Tasting Party | 2005-07-09 | 30 | |
| 20 | 85 | Light and Healthy Seafood Dishes | 2005-09-10 | 30 | |
Season 7
| Episode No. | No. Overall | Title | Airdate | Runtime | Summary |
| --- | --- | --- | --- | --- | --- |
| 1 | 86 | Panini Night | 2005-07-30 | 30 | |
| 2 | 87 | Summers in Capri | 2005-08-06 | 30 | |
| 3 | 88 | Pizza Party | 2005-08-20 | 30 | |
| 4 | 89 | Good Things Come in Small Packages | 2005-08-27 | 30 | |
| 5 | 90 | Hearty Italian | 2005-09-03 | 30 | |
| 6 | 91 | Eating Across America | 2005-09-17 | 30 | |
| 7 | 92 | Fashionable Foods | 2005-09-24 | 30 | |
| 8 | 93 | Friend in Town | 2005-10-01 | 30 | |
| 9 | 94 | Recipe Postcards from Italy | 2005-10-08 | 30 | |
| 10 | 95 | Happy Halloween | 2005-10-22 | 30 | |
| 11 | 96 | Just For Two | 2005-10-29 | 30 | |
| 12 | 97 | Cook with Your Kids | 2005-11-05 | 30 | |
| 13 | 98 | Thanksgiving Leftovers | 2005-11-19 | 30 | |
| 14 | 99 | My Family's Favorites | 2005-11-26 | 30 | |
| 15 | 100 | Tree Trimming Party | 2005-12-03 | 30 | |
| 16 | 101 | Holiday Cookies | 2005-12-11 | 30 | |
| 17 | 102 | Breakfast | 2006-01-01 | 30 | |
| 18 | 103 | Feel Good Food | 2006-01-02 | 30 | |
| 19 | 104 | Comforting One Pot Meals | 2006-01-21 | 30 | |
| 20 | 105 | I Love Chocolate | 2006-02-11 | 30 | |
Season 8
| Episode No. | No. Overall | Title | Airdate | Runtime | Summary |
| --- | --- | --- | --- | --- | --- |
| 1 | 106 | Sunday Suppers | 2006-02-18 | 30 | |
| 2 | 107 | Cooking for One | 2006-02-25 | 30 | |
| 3 | 108 | Awards Party | 2006-03-04 | 30 | |
| 4 | 109 | Italian Street Food | 2006-03-11 | 30 | |
| 5 | 110 | Afternoon Dessert | 2006-04-01 | 30 | |
| 6 | 111 | Spring Cleaning | 2006-04-08 | 30 | |
| 7 | 112 | Day Ahead Dishes | 2006-04-15 | 30 | |
| 8 | 113 | Little Late Night Suppers | 2006-04-22 | 30 | |
| 9 | 114 | Vegetarian Italian | 2006-04-29 | 30 | |
| 10 | 115 | Breakfast in Bed | 2006-05-13 | 30 | |
| 11 | 116 | Date Night | 2006-05-20 | 30 | |
| 12 | 117 | Giada's Secret Garden | 2006-05-27 | 30 | |
| 13 | 118 | Mixed Grill | 2006-06-03 | 30 | |
| 14 | 119 | Summer Beach Party | 2006-06-17 | 30 | |
| 15 | 120 | Light Summer Nights | 2006-06-24 | 30 | |
| 16 | 121 | Picnic Planner | 2006-07-01 | 30 | |
| 17 | 122 | Seafood | 2006-07-08 | 30 | |
| 18 | 123 | Frozen Treats | 2006-07-15 | 30 | |
| 19 | 124 | Sicilian Summer | 2006-07-22 | 30 | |
Season 9
| Episode No. | No. Overall | Title | Airdate | Runtime | Summary |
| --- | --- | --- | --- | --- | --- |
| 1 | 125 | Trattoria Cooking | 2006-09-16 | 30 | |
| 2 | 126 | Fast Food That Won't Weigh You Down | 2006-09-23 | 30 | |
| 3 | 127 | Giada's Drive-In | 2006-09-30 | 30 | |
| 4 | 128 | Sweet and Savory | 2006-10-07 | 30 | |
| 5 | 129 | The Art of Antipasti | 2006-10-14 | 30 | |
| 6 | 130 | Candy/Halloween | 2006-10-21 | 30 | |
| 7 | 131 | Ingredients in 15 Minutes | 2006-10-28 | 30 | |
| 8 | 132 | Kids' Cooking Class | 2006-11-04 | 30 | |
| 9 | 133 | Thanksgiving for Two | 2006-11-11 | 30 | |
| 10 | 134 | Entertaining the In-Laws Italian Style! | 2006-11-25 | 30 | |
| 11 | 135 | Holiday Gifts from Home | 2006-12-02 | 30 | |
| 12 | 136 | Light and Healthy | 2007-01-06 | 30 | |
| 13 | 137 | Giada's New York Twist | 2007-01-13 | 30 | |
| 14 | 138 | Comfort Food | 2007-01-20 | 30 | |
| 15 | 139 | GDL Foods | 2007-02-03 | 30 | |
| 16 | 140 | North and South | 2007-02-17 | 30 | |
| 17 | 141 | Potluck Party | 2007-02-24 | 30 | |
| 18 | 142 | Vineyard Visit | 2007-03-03 | 30 | |
| 19 | 143 | Special Single Servings | 2007-03-10 | 30 | |
| 20 | 144 | Freeze It | 2007-03-17 | 30 | |
Season 10
| Episode No. | No. Overall | Title | Airdate | Runtime | Summary |
| --- | --- | --- | --- | --- | --- |
| 1 | 145 | Everyday Lunches | 2007-04-14 | 30 | |
| 2 | 146 | Giada's Kitchen Basics | 2007-04-21 | 30 | |
| 3 | 147 | Weeknight Wonders | 2007-04-28 | 30 | |
| 4 | 148 | Friends and Family Feast | 2007-05-12 | 30 | |
| 5 | 149 | Giada's Bake Sale | 2007-05-19 | 30 | |
| 6 | 150 | The Food of Genoa | 2007-05-26 | 30 | |
| 7 | 151 | Dressing Up BBQ | 2007-06-02 | 30 | |
| 8 | 152 | Giada's Bikini Ready Dinners | 2007-06-09 | 30 | |
| 9 | 153 | Great Weekend Hors D'Oeuvres | 2007-06-16 | 30 | |
| 10 | 154 | Cooking from the Heart | 2007-06-23 | 30 | |
| 11 | 155 | The Perfect Pre-Concert Dinner | 2007-06-30 | 30 | |
| 12 | 156 | Giada's Summer Entertaining | 2007-07-07 | 30 | |
| 13 | 157 | Island Hopping | 2007-07-14 | 30 | |
| 14 | 158 | Viewer's Choice | 2007-07-21 | 30 | |
| 15 | 159 | Giada's Dating Tips for the Bachelor | 2007-08-04 | 30 | |
| 16 | 160 | Greek Fusion | 2007-08-18 | 30 | |
| 17 | 161 | Friday Night Dinner | 2007-08-18 | 30 | |
| 18 | 162 | Care Packages | 2007-09-22 | 30 | |
| 19 | 163 | Chocolate Tasting Party | 2007-10-20 | 30 | |
Season 11
| Episode No. | No. Overall | Title | Airdate | Runtime | Summary |
| --- | --- | --- | --- | --- | --- |
| 1 | 164 | Fun With Food | 2007-10-27 | 30 | |
| 2 | 165 | Kid Friendly Dinners | 2007-11-03 | 30 | |
| 3 | 166 | Sensational Thanksgiving Sides | 2007-11-10 | 30 | |
| 4 | 167 | Italian Supper Club | 2007-11-24 | 30 | |
| 5 | 168 | Christmas Brunch | 2007-12-01 | 30 | |
| 6 | 169 | Perfect Pairings | 2007-12-22 | 30 | |
| 7 | 170 | Après Ski | 2007-12-29 | 30 | |
| 8 | 171 | Giada's Spa Weekend Brought Home | 2008-01-05 | 30 | |
| 9 | 172 | Warming Up Winter | 2008-01-12 | 30 | |
| 10 | 173 | Italian Comfort | 2008-01-19 | 30 | |
| 11 | 174 | Game Day | 2008-01-26 | 30 | |
| 12 | 175 | A Cut Above the Rest | 2008-02-02 | 30 | |
| 13 | 176 | Cooking Outside the Box | 2008-02-16 | 30 | |
| 14 | 177 | Dining In, With Style | 2008-02-23 | 30 | |
| 15 | 178 | Penny Stretcher | 2008-03-01 | 30 | |
| 16 | 179 | Spring Forward | 2008-03-08 | 30 | |
| 17 | 180 | Cooking for Beginners | 2008-03-15 | 30 | |
| 18 | 181 | Neapolitan | 2008-03-22 | 30 | |
| 19 | 182 | Venetian Holiday | 2008-03-29 | 30 | |
| 20 | 183 | Baby Shower | 2008-04-05 | 30 | |
Season 12
| Episode No. | No. Overall | Title | Airdate | Runtime | Summary |
| --- | --- | --- | --- | --- | --- |
| 1 | 184 | Healthy Snacks | 2008-04-19 | 30 | |
| 2 | 185 | Quick and Easy | 2008-04-26 | 30 | |
| 3 | 186 | Working Lunch | 2008-05-17 | 30 | |
| 4 | 187 | Giada's Vegetarian Favorites | 2008-05-24 | 30 | |
| 5 | 188 | Great on the Grill | 2008-05-31 | 30 | |
| 6 | 189 | Osteria | 2008-06-14 | 30 | |
| 7 | 190 | Kids Camping | 2008-06-21 | 30 | |
| 8 | 191 | Pasta for Every Season | 2008-06-28 | 30 | |
| 9 | 192 | Hotel Style Luxury | 2008-07-19 | 30 | |
| 10 | 193 | Flavors of Sardinia | 2008-08-02 | 30 | |
| 11 | 194 | Cakes, Cookies and Ice Cream | 2008-08-16 | 30 | |
| 12 | 195 | Italian Picnic | 2008-08-23 | 30 | |
Season 13
| Episode No. | No. Overall | Title | Airdate | Runtime | Summary |
| --- | --- | --- | --- | --- | --- |
Season 14
| Episode No. | No. Overall | Title | Airdate | Runtime | Summary |
| --- | --- | --- | --- | --- | --- |
Season 15
| Episode No. | No. Overall | Title | Airdate | Runtime | Summary |
| --- | --- | --- | --- | --- | --- |
Series Cast
| | | | |
| --- | --- | --- | --- |
| | Giada De Laurentiis | as Giada De Laurentiis | |
Related News
TVMaze