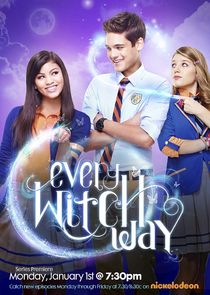 Every Witch Way follows 14-year-old Emma Alonso, as she moves to Miami and her ordinary life is turned upside-down when she discovers that she is a witch. Luckily Emma quickly finds a friend in tomboy Andi but when Emma develops a crush on the boy next door, Daniel, she also has to deal with his Queen Bee ex-girlfriend Maddie, a girl who has her own magical family secret.

Just as Emma's new found witch skills start to materialise, she also has to negotiate the halls of Iridium High. Maddie and her clique The Panthers run the school and the boys on the swim team, the Sharks, are always up to something to win or impress a girl. Plus there's no chance of getting away with any social blunders as Miss Information, the school gossip, documents everything on her blog read by the entire school.
Series Overview
Rating
imDb Rating: 4.9 (1,820 Votes)
Metascore: N/A
Plot
A teenage girl deals with moving to a new town, growing up and falling in love, all while realizing that she's a witch.
Details
Rated: TV-G
Released: 01 Jan 2014
Runtime: 23 min
Genre: Comedy, Drama, Family, Fantasy, Romance
Director: N/A
Writer: N/A
Actors: Paola Andino, Nick Merico, Daniela Nieves, Tyler Alvarez
Language: English
Country: USA
Awards: 2 wins & 9 nominations.
Total Seasons: 4
Previous Episode
A Girl's Sacrifice
Episode 4x18; Jul 30, 2015
Previous Episodes 4x18: A Girl's Sacrifice 4x17: Mommie Dearest 4x16: Stop Emma 4x15: Frenemies 4x14: What If? 4x13: Power In A Bottle 4x12: Back To Square One 4x11: Van Pelt Reunion 4x10: Diego's Wipedown

View All Episodes
Cast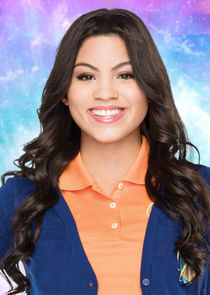 Paola Andino as Emma Alonso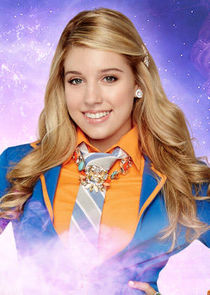 Paris Smith as Maddie Van Pelt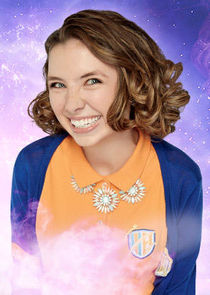 Autumn Wendel as Sophie Johnson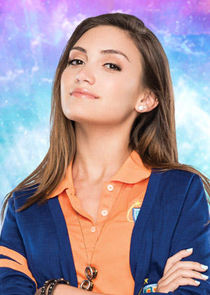 Daniela Nieves as Andi Cruz
Isaac Hollingsworth as Mike
Jackie Frazey as Melanie Miller
View Full Cast
Skip to:
Season 1
| Episode No. | No. Overall | Title | Airdate | Runtime | Summary |
| --- | --- | --- | --- | --- | --- |
| 1 | 1 | Discovery | 2014-01-01 | 30 | |
| 2 | 2 | The Big Rescue | 2014-01-02 | 30 | |
| 3 | 3 | The Big Chill | 2014-01-03 | 30 | |
| 4 | 4 | I'm a Witch | 2014-01-06 | 30 | |
| 5 | 5 | Magic Fight Club | 2014-01-07 | 30 | |
| 6 | 6 | Monkey Business | 2014-01-08 | 30 | |
| 7 | 7 | Monkey Business II | 2014-01-09 | 30 | |
| 8 | 8 | Mac-sic-cle | 2014-01-10 | 30 | |
| 9 | 9 | I Said, Upside Down | 2014-01-13 | 30 | |
| 10 | 10 | I-Guana Dance With You | 2014-01-14 | 30 | |
| 11 | 11 | I-Guana you Back | 2014-01-15 | 30 | |
| 12 | 12 | I Heart Beau | 2014-01-16 | 30 | |
| 13 | 13 | Pantherized | 2014-01-17 | 30 | |
| 14 | 14 | Walk Like a Panther | 2014-01-21 | 30 | |
| 15 | 15 | Beach Ball | 2014-01-22 | 30 | |
| 16 | 16 | Lily Frog | 2014-01-23 | 30 | |
| 17 | 17 | Witches' Flu | 2014-01-27 | 30 | |
| 18 | 18 | Hexoren Squared | 2014-01-28 | 30 | |
| 19 | 19 | Which Witch is Which | 2014-01-29 | 30 | |
| 20 | 20 | The Chosen One | 2014-01-30 | 30 | |
Season 2
| Episode No. | No. Overall | Title | Airdate | Runtime | Summary |
| --- | --- | --- | --- | --- | --- |
| 1 | 21 | Jax Of Hearts | 2014-07-07 | 30 | |
| 2 | 22 | Runaway Witch | 2014-07-08 | 30 | |
| 3 | 23 | Love Pie Redux | 2014-07-09 | 30 | |
| 4 | 24 | Powers by Proxy | 2014-07-10 | 30 | |
| 5 | 25 | The Fool Moon | 2014-07-11 | 30 | |
| 6 | 26 | Daniel Who? | 2014-07-14 | 30 | |
| 7 | 27 | No Can Do | 2014-07-15 | 30 | |
| 8 | 28 | Werewolves in Siberia | 2014-07-16 | 30 | |
| 9 | 29 | The No-Sleep Sleepover | 2014-07-18 | 30 | |
| 10 | 30 | Outta Hand | 2014-07-21 | 30 | |
| 11 | 31 | Double Trouble | 2014-07-22 | 30 | |
| 12 | 32 | The Emma Squad | 2014-07-23 | 30 | |
| 13 | 33 | Missminion | 2014-07-24 | 30 | |
| 14 | 34 | The Breakup | 2014-07-25 | 30 | |
| 15 | 35 | Emma Wants a Cracker | 2014-07-28 | 30 | |
| 16 | 36 | Stormageddon | 2014-07-29 | 30 | |
| 17 | 37 | About A Wizard | 2014-07-30 | 30 | |
| 18 | 38 | Beach Birthday Bash | 2014-07-31 | 30 | |
| 19 | 39 | Zombie Boyfriend | 2014-08-01 | 30 | |
| 20 | 40 | Andi & Philip, Sittin' in a Tree | 2014-08-05 | 30 | |
| 21 | 41 | BF-Never | 2014-08-06 | 30 | |
| 22 | 42 | The Abyss | 2014-08-07 | 30 | |
| 23 | 43 | Emma vs. Emma | 2014-08-08 | 30 | |
Season 3
| Episode No. | No. Overall | Title | Airdate | Runtime | Summary |
| --- | --- | --- | --- | --- | --- |
| 1 | 44 | The Beachside 7 | 2015-01-05 | 30 | |
| 2 | 45 | Rebel Emma | 2015-01-06 | 30 | |
| 3 | 46 | It's Always You | 2015-01-07 | 30 | |
| 4 | 47 | Breaking All the Rules | 2015-01-08 | 30 | |
| 5 | 48 | Neverending Summer | 2015-01-09 | 30 | |
| 6 | 49 | Daniel Darko | 2015-01-12 | 30 | |
| 7 | 50 | No More Mr. Nice Guy | 2015-01-13 | 30 | |
| 8 | 51 | Spider No More | 2015-01-14 | 30 | |
| 9 | 52 | Back to Back | 2015-01-15 | 30 | |
| 10 | 53 | El Cristal de Caballero | 2015-01-16 | 30 | |
| 11 | 54 | Kanay vs. Kanay | 2015-01-19 | 30 | |
| 12 | 55 | Invisible Me | 2015-01-20 | 30 | |
| 13 | 56 | The Truth About Kanays | 2015-01-21 | 30 | |
| 14 | 57 | Zombie Rescue Team | 2015-01-22 | 30 | |
| 15 | 58 | Kangaroo Jax | 2015-01-26 | 30 | |
| 16 | 59 | Defiance | 2015-01-27 | 30 | |
| 17 | 60 | Magical Throwdown | 2015-01-28 | 30 | |
| 18 | 61 | The Kanay Strikes Back | 2015-01-29 | 30 | |
| 19 | 62 | New Witch Order | 2015-01-30 | 30 | |
Season 4
| Episode No. | No. Overall | Title | Airdate | Runtime | Summary |
| --- | --- | --- | --- | --- | --- |
| 1 | 63 | A World Without You | 2015-07-06 | 30 | Emma's decision to pick Jax triggers an unusual break, and now Emma is the only person who can remember Daniel. |
| 2 | 64 | Road Trippin' | 2015-07-07 | 30 | When a magical private investigator gets a lead on Daniel's location, the gang takes a road trip to the Everglades to find him. |
| 3 | 65 | Ever In The Everglades | 2015-07-08 | 30 | Emma finally locates Daniel and tries to get him to remember their life together; the gang tours the Everglades in an airboat. |
| 4 | 66 | Stuck In A Storm | 2015-07-09 | 30 | When Katie, Sophie and Gigi are lost in the Everglades as a big storm approaches, an unexpected visitor turns up to rescue them. |
| 5 | 67 | A Tale Of Two Lives | 2015-07-10 | 30 | When Emma triggers another Continuum break, Daniel and all of his family members are put in grave danger. |
| 6 | 68 | Twisted Sister | 2015-07-13 | 30 | With time running out, Emma tries her best to restore Daniel's memory; Jax meets his long lost sister. |
| 7 | 69 | Lunch At Lola's | 2015-07-14 | 30 | The gang travels to a restaurant in Miami called Lola's; the group has a magical encounter with Talia. |
| 8 | 70 | Monkey Face Emoji | 2015-07-15 | 30 | Daniel believes that Maddie is his girlfriend; Jax begins searching for information about his mother. |
| 9 | 71 | The Final Countdown | 2015-07-17 | 30 | Jax learns the truth about his family; Emma does everything she can to restore Daniel's memory in the few hours that he has left. |
| 10 | 72 | Diego's Wipedown | 2015-07-20 | 60 | After the Continuum break ends, Emma works hard to restore her relationship with Jax; Maddie tries to get Diego to forgive her. |
| 11 | 73 | Van Pelt Reunion | 2015-07-21 | 30 | Emma misses her mother and becomes consumed with finding out more about her; an unwelcome guest appears at the Van Pelt reunion. |
| 12 | 74 | Back To Square One | 2015-07-22 | 30 | Emma considers going back in time to save her mother; Daniel wants to return to the Everglades; Jake and Jessie go into hiding. |
| 13 | 75 | Power In A Bottle | 2015-07-23 | 30 | Jax discovers where Jake and Jessie are hiding; Emma continues to abuse her magic and strips the Council of its powers. |
| 14 | 76 | What If? | 2015-07-24 | 30 | Emma's search for a time manipulation spell causes a huge rift between her and Andi; Diego searches for more Kanays. |
| 15 | 77 | Frenemies | 2015-07-27 | 30 | Emma works to become more powerful even though she is alienating all of her friends; Jake attempts to see his family again. |
| 16 | 78 | Stop Emma | 2015-07-28 | 30 | Emma's friends decide that they must do something to stop her for good; Jake has surprising information for Jax. |
| 17 | 79 | Mommie Dearest | 2015-07-29 | 30 | The group decides to stage a ``witchervention'' for Emma; Jax finally learns the truth about his family. |
| 18 | 80 | A Girl's Sacrifice | 2015-07-30 | 30 | |
Series Cast
| | | | |
| --- | --- | --- | --- |
| | Paola Andino | as Emma Alonso | |
| | Paris Smith | as Maddie Van Pelt | |
| | Autumn Wendel | as Sophie Johnson | |
| | Daniela Nieves | as Andi Cruz | |
| | Isaac Hollingsworth | as Mike | |
| | Jackie Frazey | as Melanie Miller | |
| | Jason Drucker | as Tommy Miller | |
| | Jimmie Bernal | as Rick Miller | |
| | Katie Barberi | as Ursula Van Pelt | |
| | Kendall Ryan Sanders | as Tony Myers | |
| | Louis Tomeo | as Robert 'Robbie' Miller | |
| | Mavrick Moreno | as Mac Davis | |
| | Melissa Carcache | as Lily | |
| | Michele Verdi | as Principal | |
| | Nick Merico | as Daniel Miller | |
| | Rafael De La Fuente | as Julio | |
| | Rene Lavan | as Francisco Alonso | |
| | Tyler Alvarez | as Diego Rueda | |
| | Whitney Goin | as Christine Miller | |
| | Zoey Burger | as Gigi Rueda | |
| | Denisea Wilson | as Katie Rice | |
| | Rahart Adams | as Jax Novoa | |
| | Elizabeth Elias | as Mia | |
Related News
TVMaze